Shower enclosures are becoming popular for homeowners lately. Aside from its modern features, it also brings a sense of luxury to your shower areas. Some shower enclosure has elegant designs, while some only feature minimalist designs. Picking the right shower enclosure that will go with your bathroom is hard, but we have just the right product for you!
OVE Decors is a company that features a lot of shower enclosures you can pick from. Whether you want a shower enclosure that is elegant or sophisticated, or, perhaps, minimalist or simple, OVE Decors is the right brand for you.
Why Ove Shower Enclosure Reviews
Featuring tons of shower enclosures, you can choose from, the brand of OVE Shower Enclosures is being popular for homeowners across the country. We have listed all the shower enclosure products that OVE Decors provide with their pros and cons, along with OVE shower enclosure reviews from buyers, to help you pick out the perfect shower enclosure for your bathrooms.
But before we get to that, you have to know the first thing any homeowners purchasing a shower enclosure should know about.
A common mistake a homeowner often do is purchasing a grand or spacious shower enclosure without considering the space the bathroom holds. You have to measure the available space between the bathtub and the height of the ceiling. After doing so, you can decide which type of shower enclosure best fits your bathroom.
This ultimately keeps you from purchasing a shower enclosure that is either too big or too small for your bathrooms. So, as homeowners, you have to dedicate the time to measure your bathroom to avoid this mistake. It also saves money and time.
As shower enclosure becomes popular nowadays, there are different types of categories available in the market. The wide range of shower enclosures includes a pivoting shower enclosure, a sliding shower enclosure, a bi-fold shower enclosure, or a d-shaped shower enclosure. It is up to you, as homeowners, to pick which of these styles will fit your taste or will fit your preferences.
Each type of shower enclosure has its functions and benefits. For example, sliding and bi-fold shower enclosures can make it easier for you to clean your tub or your shower. However, the d-shaped shower enclosure and the pivoting shower enclosure are what you should consider when you want easier access to your bathtubs or showers. All of these types of shower enclosures have their advantages.
OVE Decors Shower Enclosure Product Reviews:
After carefully considering the available space and type of shower enclosure you want to purchase, we can now choose from a wide range of OVE Shower Enclosures by reading its fast facts and product reviews. Here are the benefits of the products and some OVE shower enclosure reviews that would, hopefully, help you make your decision.
1.  OVE Decors Breeze Polished Chrome with Reversible Sliding Door and Shower Base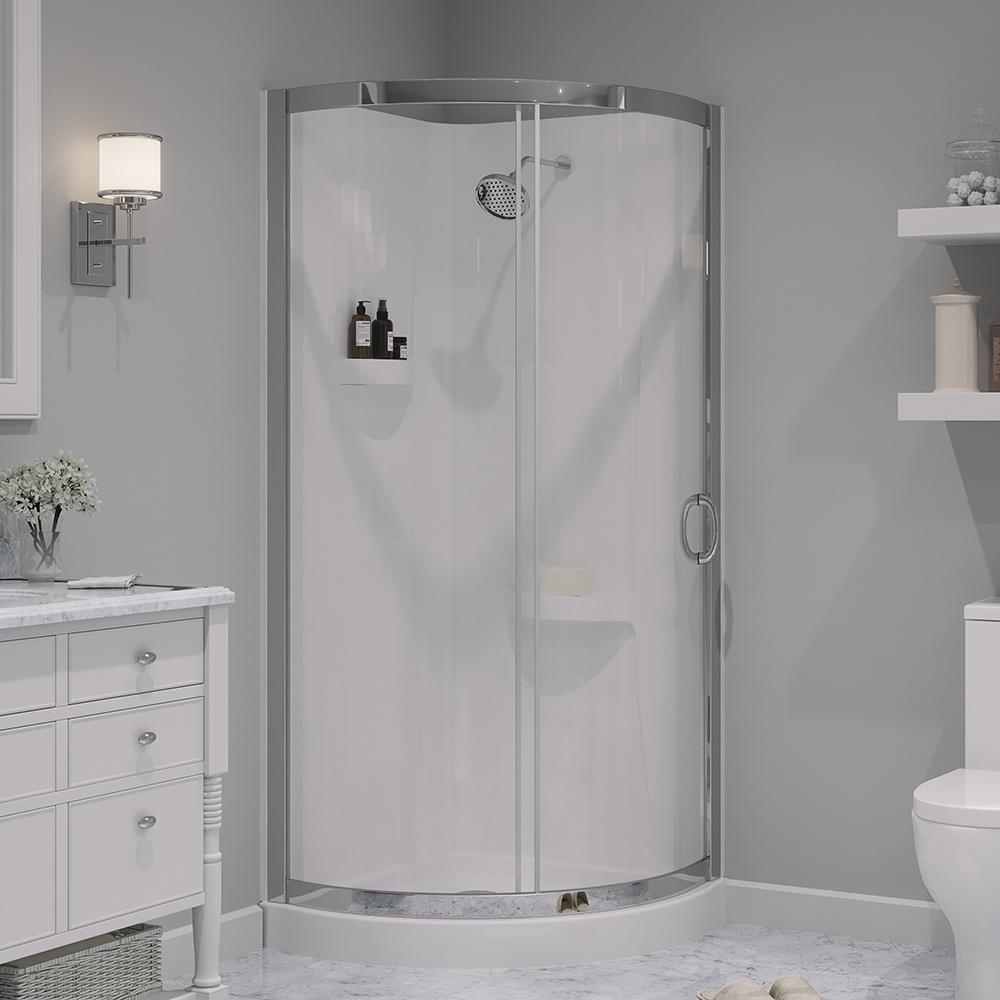 With its easy glide and reversible-framed sliding door, OVE Decors' Breeze Polished Chrome provides easy access for homeowners. It's also perfect for mid-sized bathrooms as it hardly takes up any space at all.  The glass is also 6mm thick which gives you the right amount of privacy but doesn't make it hard for you to clean the glass. Pretty amazing, right?
However, mounting of the two glass door panels can be challenging for some homeowners. According to a review made on Amazon Prime, some buyers do not recommend this product because of this challenging task. It is also not fit for tall people as the glass door is made for small to medium-sized bathrooms.
So, when you buy this product, make sure you have an extra pair of hands that will help you and that this shower enclosure, preferably, should be installed in your kids' bathrooms.
Highlighted Features:
Includes glass panel and door, acrylic base, hardware, and acrylic walls
Low profile style, high acrylic base featuring a corner drain and planned on 2 sides; perfect for acrylic or tile walls
A framed reversible sliding door
Adjustable wall jambs for out-of-plumb walls
Available in 32-in, 34-in, and 36-in
Pros
Easy to clean
Hassle-free installation
Sophisticated touch
Cons
The challenge of mounting the two panels
Not appropriate for tall persons
2.  Ove Decors Montebello Polished Chrome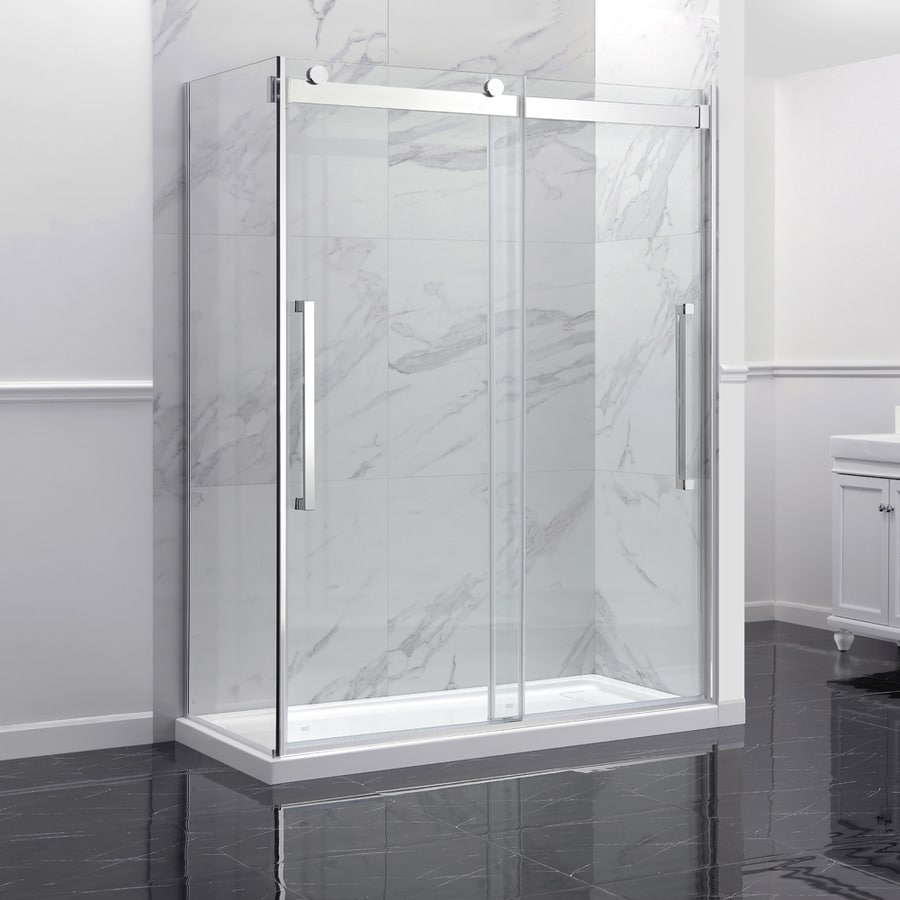 If you're looking for sliding doors for your shower enclosure, then the OVE Decors Montebello shower enclosure is the perfect product for you. It features two sliding glass doors that guarantee easy access for homeowners. It is also perfect for medium to large-sized bathrooms because of its 78-in height. No need to worry about your sense of privacy!
Contrary to the first product, the glass of this shower enclosure is actually heavier. This is because of its 10-mm thick tempered glass which allows medium to large-sized frames to use this without worrying about their privacy. It is also difficult to install according to some homeowners who purchased this product. When you buy this shower enclosure from OVE, make sure you have someone who will help you install this in your bathroom.
Highlighted features:
Barn door style bypass sliding doors
10mm thick tempered glass
Reversible design for easy right or left installations
It has built-in adjustability for convenient out-of-plumb walls installations
Includes two polished chrome finish hardware and oversized pull handles
Pros
Easy access
For medium to large-sized bathrooms
Cons
The glass is heavy
Difficult to install (mainly because of its weight)
3.  Ove Decors Savannah Brushed Nickel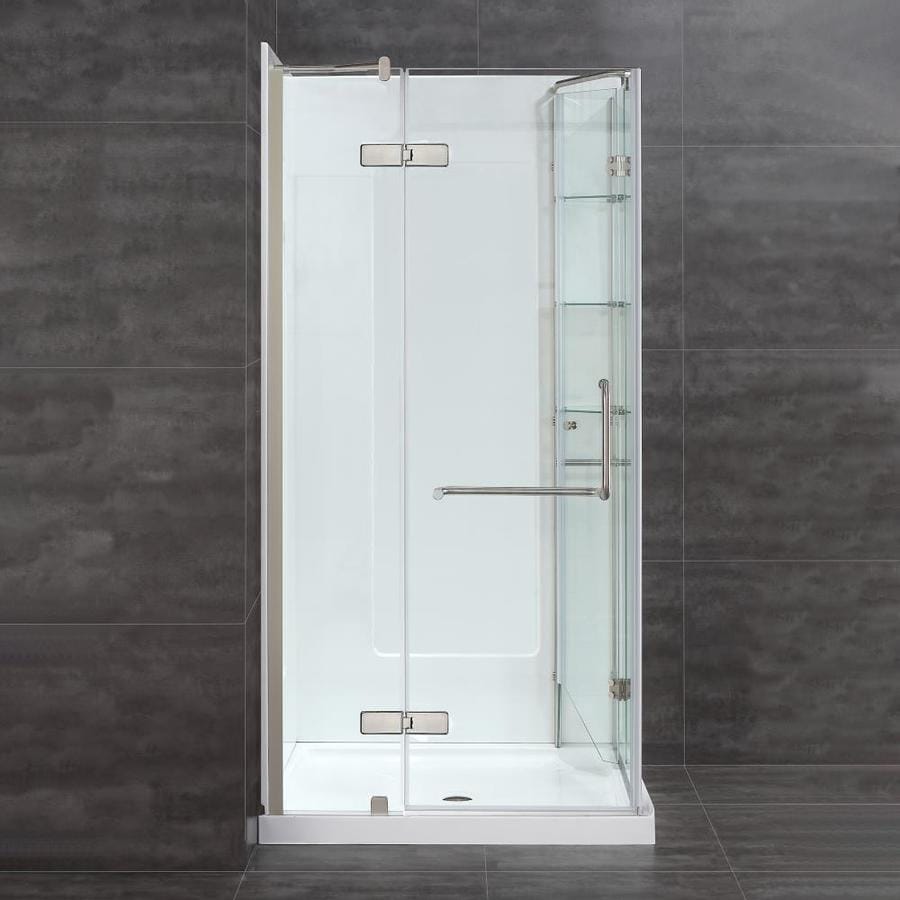 Looking for a shower enclosure that is light in weight but assures your privacy and easy access? OVE Decors' Savannah Brushed Nickel shower enclosure is the right product for you. With its glass frame measuring 38-in wide x 30.5-in, it is designed for a small to medium-sized bathroom.
It also features a corner shelf unit with 3 glass shelves and a towel bar. Its 10-mm thick glass door and panels also assure you that it will be easy to clean.
Aside from the additional benefits, this product will give you, we also have to consider some of its disadvantages. Like almost half of the OVE shower enclosure products, many buyers from Amazon found installing this product harder than they actually thought. It is always important to keep in mind its size and the thickness of the glass before installing this in your bathrooms. Always ask for help from someone whenever you do. I'm afraid installing this product is not a one-man job.
Highlighted Features:
With glass frame designed to fit a 40-in wide x 32-in space
Includes front glass panel, hinged glass door, and side glass panel for convenient corner installations
Features a corner shelf unit with 3 glass shelves, a glass door, and a towel bar
10 mm thick tempered glass door and panels
Pros
Easy access
Easy to maintain
Sophisticated touch
Cons
Conclusion:
With its growing popularity over the years, shower enclosures are becoming part of the appliances a homeowner considers. Aside from showcasing sophistication or luxury, shower enclosures also function as doors that make your bathrooms feel like home. For when a homeowner is inside, he or she feels the peace and privacy the shower enclosure gives.
As homeowners, you also have to consider a lot of factors before choosing and finally settling on a shower enclosure. You should consider your bathroom space, the type of shower enclosure you want to get, and also, your budget. The list of OVE shower enclosure reviews above only serves as a guide. It is still up to you as homeowners to pick out the shower enclosure you think will be the best for your bathrooms.
The task of choosing may be hard, but when you finally find the best product, the peace you will get whenever you use the bathroom is priceless!