American Standard toilets are some of the best toilets that you can find because of their quality. It's no surprise that a lot of people buy these toilets for their households. American Standard is actually a leading brand when it comes to bathroom appliances for both residential and commercial places.
Being a market leader for many years, American Standard has a lot of models of toilets with many different features and functions to make them distinct from one another. With the number of models that American Standard offers, it's really difficult to find the best one for your bathroom. In order to make the right choice, you have to compare all of the features of the best American Standard toilets you can find.
Of course, this may take quite a long time. That's why we made a list of some of the best American Standard toilet models. Our list was crafted by comparing each individual feature of American Standard models until we've narrowed down our choices to 7. With these 7 choices, you can be able to see which one is the most suitable for your own personal needs and wants.
That said, let's get started with these American Standard toilet reviews.
American Standard Product Reviews
1.  American Standard H2Option Dual Flush Toilet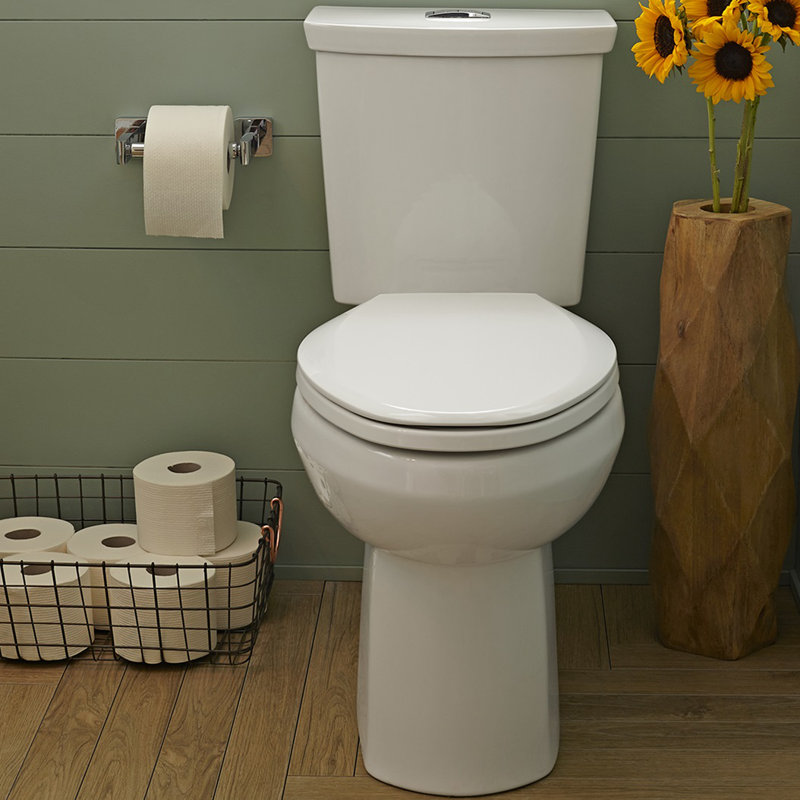 This American Standard model is a part of the H2Option collection which is very durable and also very easy to clean. It comes with an EverClean surface for an extremely smooth surface with glazing. The glazing is made of a special material allowing the toilet to not carry molds, mildew, or rust. This feature also makes it very long lasting. Its long shelf life allows users to keep it there for quite a long time without the need for a lot of repairs or maintenance.
What Customers Have to Say:
According to customers, it is really easy to install and very easy to clean. It may not be a luxury looking toilet, but it has a very versatile design allowing it to fit with pretty much any bathroom design. According to most of them, you won't have a problem when using this toilet because it's fully functional.
Special EverClean Surface for easier cleaning
EPA WaterSense certification for water saving capabilities
2 water flushing options
Two-piece toilet design
2.  American Standard Studio 1.6 GPF Two Piece Toilet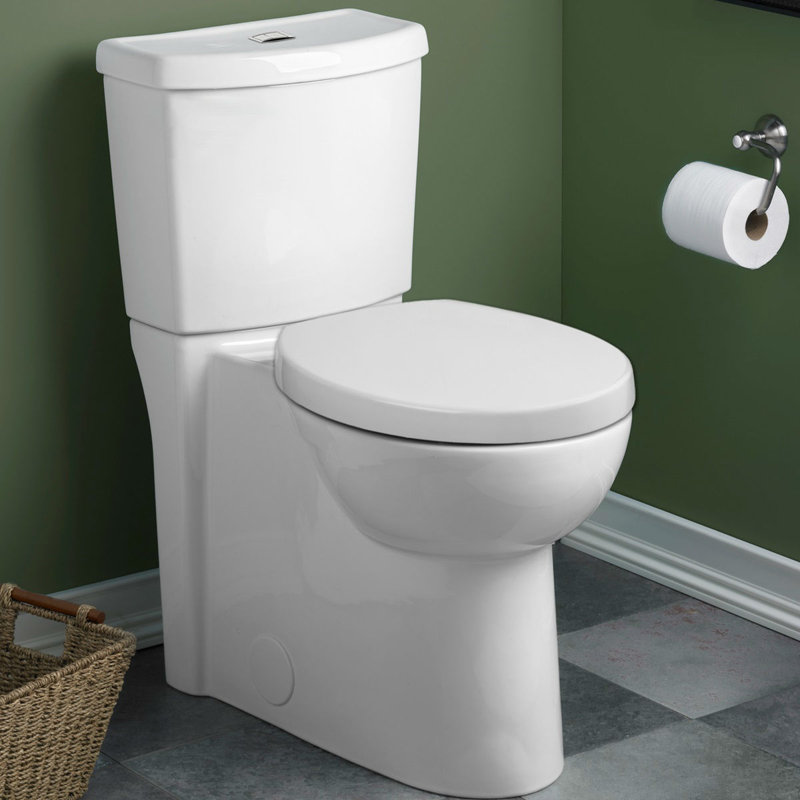 When it comes to luxury performance, this American Standard model does not disappoint. First, it boasts of a siphon jet bowl and a concealed trapway. Another thing that you'll love about this toilet is that it has a 1.6 GPF flush that uses 21% less water but does not scrimp on total power. Just like the previously mentioned toilet, there is also an EverClean surface for easy cleaning.
What Customers Have to Say:
A lot of the customers have commented on how compact the size of the toilet is. It's great for both small and big bathrooms. While the size is compact, it's not small. The built is really just pretty sleek, which is why so many of the customers love it. Another thing that most customers have commented on is the flush. They have stated that while the flush does not seem like it uses that much power, it can take anything down easily.
Siphon action jet bowl
6 GPF and 1.1 GPF dual flush
Water saving feature
PowerWash rim for a cleaner bowl
EverClean surface
3.  American Standard Aqualyn 1.28 GPF Round Toilet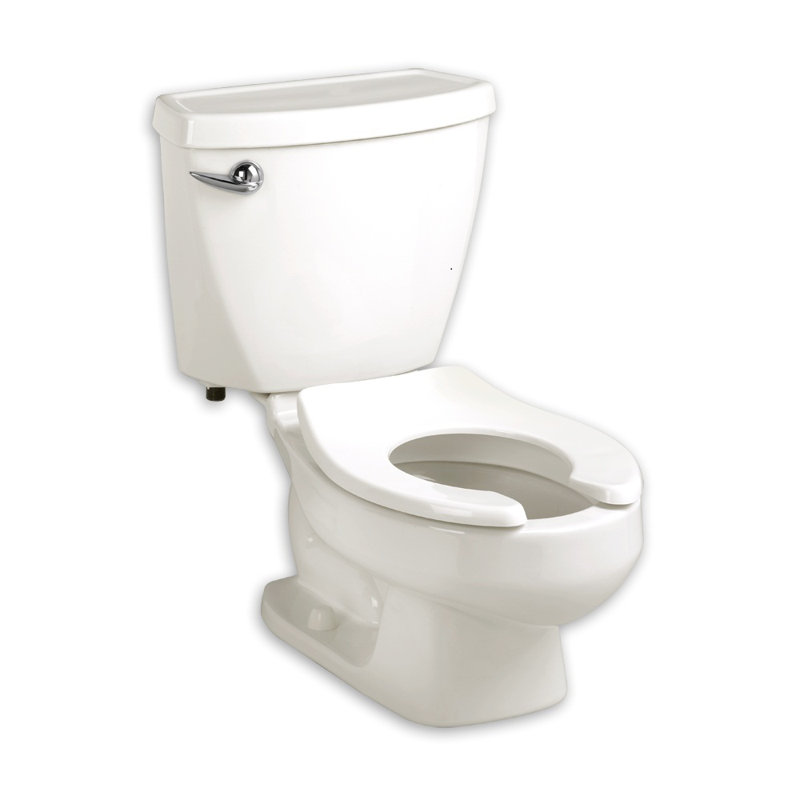 This American Standard model is great for the kids. Its size and height are built for children of up to two to three years old. It also has an empty space near the rim to make it pretty easy for the kids to sit down or use. Another thing you'll notice is that it saves a lot of water. It uses 20% less water than most of the other brands you'll find.
What Customers Have to Say:
The most common thing that most of the customers have to say is that it's great for the household. While it's made for children, the customers all say it's great for pretty much everyone in the house as well. It even has a nice design that fits any bathroom.
EPA WaterSense water saving
Two-piece toilet design
4.  American Cadet 3 1.28 GPF Toilet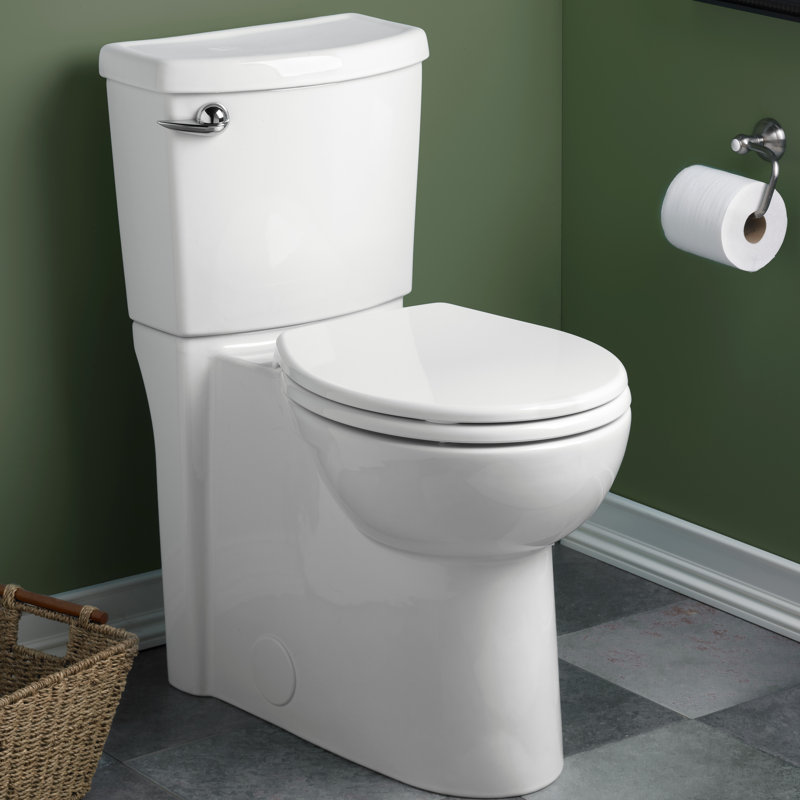 If you check a number of American Standard toilet reviews on the internet, you'll see that this one always pops out as one of the top models simply because it's one of the strongest and highest performing out there. It comes in either one-piece or two-piece builts and uses a 1.28-gallon flush to help you save water. However, it makes use of a Cadet 3 flushing system, making it really powerful.
What Customers Have to Say:
While most of the customers commented about how heavy it is, they were also quick to say how heavy-duty it was. It was commended as a strong toilet with a calm flush. It was also commended as very easy to clean as there were not many crevices on the toilet.
Perfect height for average people
Round shape bowl
Powerful Cadet 3 flushing system
Sleek and smooth finish
EPA WaterSense certification
28 gallons per flush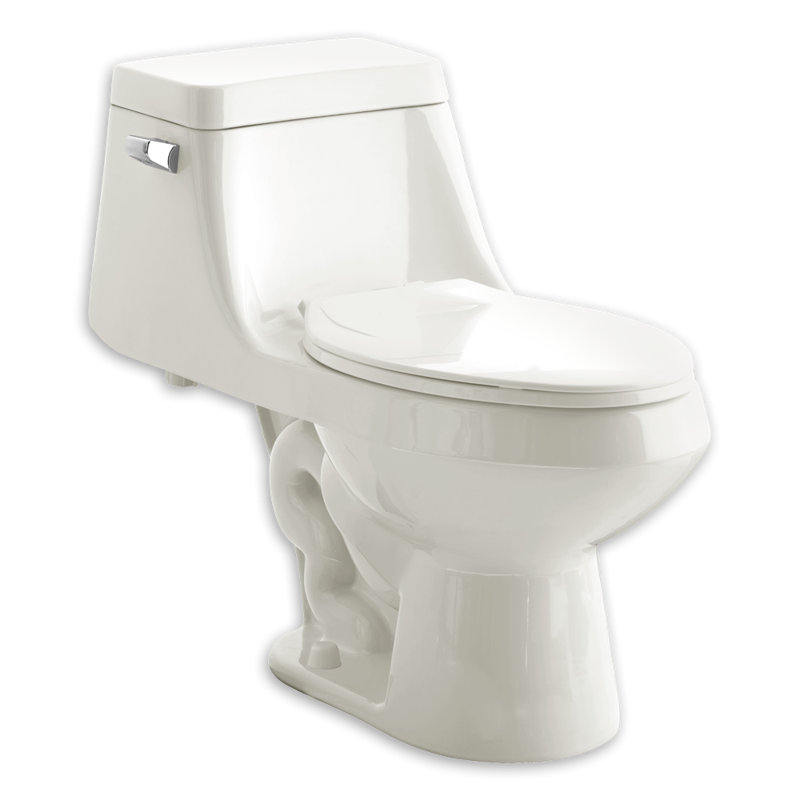 The first thing that you'll notice about it is its design. It's got a really nice design that looks good in most luxury bathrooms. It's a bit bulky, but that's what adds to its overall charm anyway. You'll really like this toilet if you're into something that looks good in luxury bathrooms.
What Customers Have to Say:
Customers were quick to point out its modern design. It's a very unique looking toilet that looks really good with contemporary designed bathrooms. While it does use quite a bit of water when it flushes, the flush is still quite powerful according to most of its customers.
Solid plastic covering
Siphon action feature
Elongated one-piece design
6 gallon per flush power
6.  Yorkville Pressure Assisted 1.6 GPF Toilet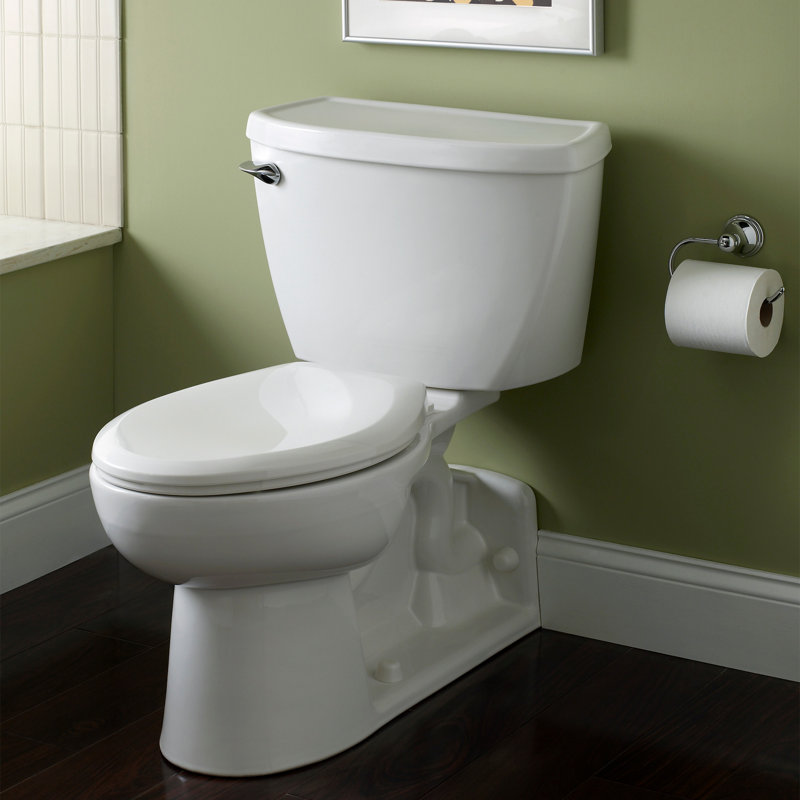 If you're looking for an eco-friendly toilet, then this is a good one to check out. It is a pressure-assisted model, making it have a very powerful flush which uses 1.6 GPF of power. What makes it really cool is that it is built to be easily cleaned with just some soap and water. That way, you won't have to use any detergents. Also, you'll be saving costs on buying detergent and using fewer chemicals that are bad for the environment. With that, it's fully functional and good for the environment.
What Customers Have to Say:
Since it is already mounted, it is so easy to install. This is one of the things that most customers are raving about. They had it installed in just a day without having that much problems. Customers also raved about how easy and nice it is to use. Overall it's a great toilet to have.
Freestand floor mounting
EverClean surface for easy cleaning
Flushometer tank
Elongated design
Pressure-assisted flush
6 GPF power
Metal chrome tip
Glazed trapway
7.  Boulevard Elongated One Piece Toilet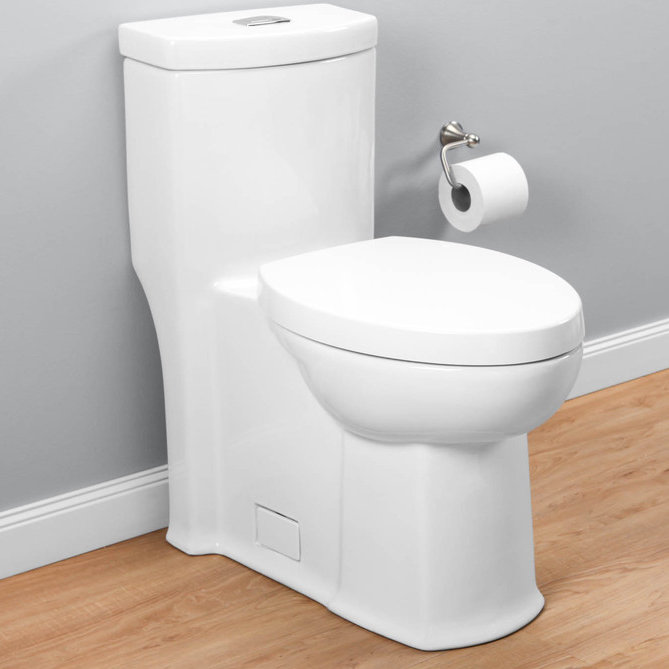 This model, being a part of the Boulevard collection, is known for its overall design which is specially made for residential homes. It is known for its 1.6 GPF flushing power as well as its elongated bowl shape. It's also got a sleek and thin design, making it great for toilets that have somewhat of a contemporary interior. It also comes with a toilet seat and a flushometer valve.
What Customers Have to Say:
This is known by customers as a high-end and very strong toilet that's very easy to clean. It's an all around jack of all trades with great features such as an EverClean surface, a 1.6 GPF power flush, and a great design.
6 GPF power flush
EverClean surface
EPA WaterSense certification
20% less water saving
10-year warranty
Elongated bowl shape
Flushometer valve
Conclusion
The comparison of all the features will really be able to help you choose the right American Standard toilet for your washroom. That's how we got our list for this American Standard toilet reviews. With all the features listed, you just have to choose the one most suited for your own needs and wants.
However, if we were to choose the best one out of the 7, the clear winner would be the American Standard Yorkville Pressure Assisted 1.6 GPF Toilet. It has a very powerful flush with a pressure-assist feature. It also uses a glazed material for its architecture so that you'll have an easier time cleaning. It also comes with a flushometer valve, elongated design, and a metal chrome tip. Plus, it's very easy to install because it's floor mounted.