These days, one piece toilets are getting more popular because of their sleeker and more contemporary look. They are also more compact and overall more convenient to use.
With that in mind, you'll want to choose the best one piece toilet that you can find. However, you may have a hard time choosing the best one because of the choices available. To make things easier, we've made a list of one piece toilet reviews to help you out.
Which Is Better One Piece or Two Piece Toilet?
People are probably more familiar with two piece toilets because these are the more traditional types in the market. For us, one piece toilets are the better choice as compared to two piece toilets.
Here are a few reasons why we think so:
Smaller Size
As mentioned above, the size factor is one of the most attractive points of a one piece toilet. It is much easier to handle and fit into smaller sized toilets than a two piece toilet bowl. If you need compact sized toilet bowls for a small bathroom, one pieces types go a long way.
Ease of Installation
Since one piece toilets are less bulkier than their two piece counterparts, they're much easier to install. In fact, you can install one piece toilets by yourself if you know a thing or two about toilet installation.
Ease of Cleaning
With regard to design and structure, one piece toilets have fewer curves and crevasses. This means that one piece toilets don't really have hard-to-reach space. For that reason alone, you'll have an easier time with cleaning.
Shelf Life
Lastly, one piece toilets have a longer shelf life. The best flushing one piece toilets are made out of a solid ceramic material that doesn't expose any of the piping, flushing systems, and other parts. Those two aspects make these toilet bowls really durable and long lasting.
As you can see, one piece toilet bowls do offer a number of benefits as compared to two piece toilet bowls. Sure, one piece toilet bowls tend to be more expensive than one piece types but that's because of their advantages over the traditional toilet bowl.
10 Best One-Piece Toilet for Modern Homes
1.  Swiss Madison St Tropez Dual Flush Toilet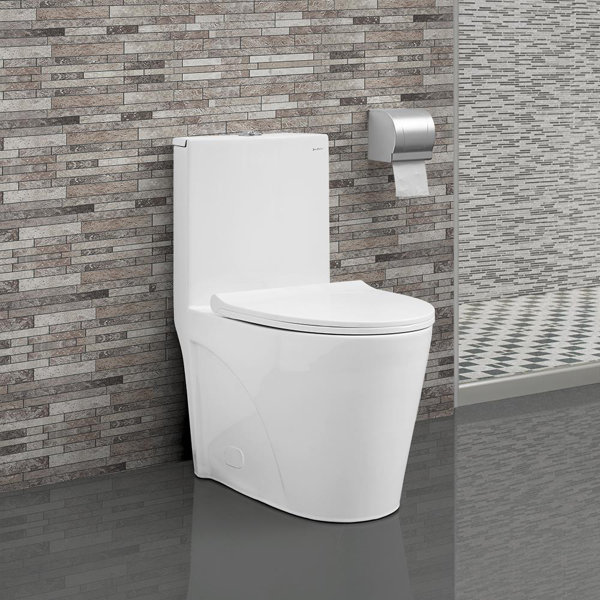 The simplistic design of the Swiss Madison St Tropez model is what gives it its overall charm. Its design goes very well with contemporary toilet interior designs since it is compact and sleek.
Aside from looks, you'll also see that it has a powerful dual flush of 1.28 GPF for a full flush and 0.8 GPF for a partial flush. It's both a pretty and a powerful toilet at the same time. Its well-roundedness makes it a good candidate for the best dual flush one piece toilet in the market.
Best Features:
Dual flush of up to 1.28 GPF
Easy to clean structure
Beautiful porcelain design
Gentle closing lid
Easy installation
2.  Woodbridge Dual Flush Elongated Toilet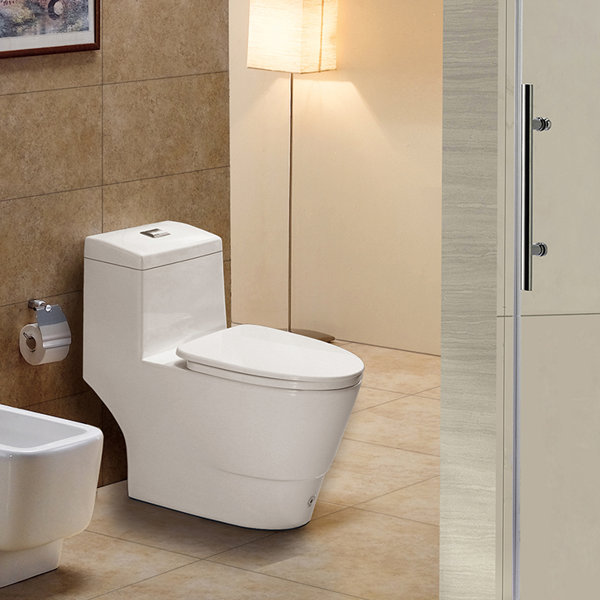 This toilet has one of the smoothest flushing systems you'll ever find. It makes use of a special siphon flushing system that allows complete flushing without any clogging. Also, you'll notice that the flush of this toilet is extremely strong at 1.28 GPF for full flushing and 1.0 GPF for partial flushing.
Finally, it has a very quiet operation. When you flush the toilet, you won't hear the usual loud flushing toilet noise. It'll just be a small flush sound. If you want a toilet with a smooth flush, this is your choice.
Best Features:
Luxury contemporary design
No hard-to-clean areas
Powerful dual flushing
Optimal height design
Stainless steel seat hinge
3.  American Standard Champion Elongated One Piece Toilet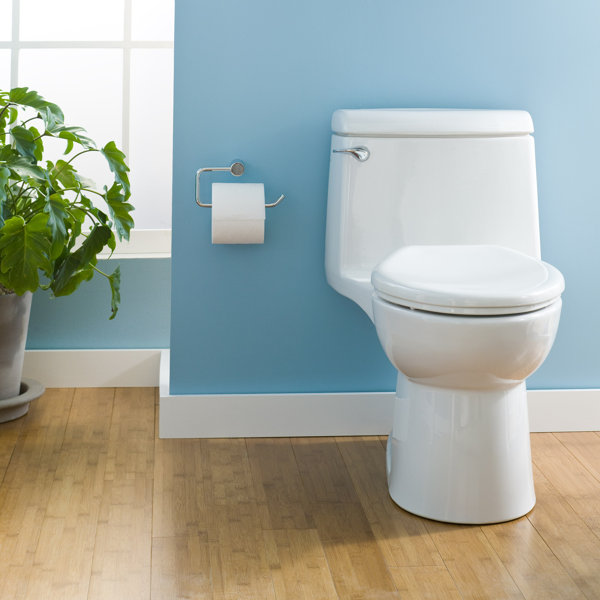 If there's one thing that this toilet can offer, it's raw flushing power. This toilet has the flushing power of 1.6 GPF which is extremely high– higher than the 1.28 GPF of most other toilets. That's because it makes use of a special flushing system known as the Champion flush system, making it stronger than a lot of mainstream toilets.
Other than its flush, it also has other cool qualities such as its ideal comfort height and anti-microbial surface. It has a powerful flush and a stain preventing surface all in one.
Best Features:
Antimicrobial surface that prevents stains
Self-closing seat
Sleeker design
6 GPF flush
Mold and mildew resistant material
Very easy to clean with Everclean surface
4.  EAGO Ceramic Dual Flush Toilet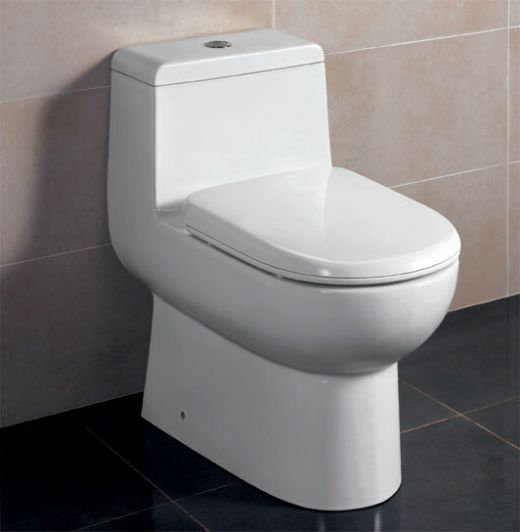 The EAGO Ceramic Dual Flush is a good choice to make if you're after saving water. This toilet is EPA Watersense Certified. With that kind of certification, the company guarantees that this product is able to use 20% less water than standard toilets. This allows you to save 20% on your water bill as well.
Aside from being able to save quite a substantial amount of water, this toilet also has a pretty good dual flush with 1.28 GPF for solid waste and 0.8 GPF for liquid waste. Other notable features can be found below:
Best Features:
Easy installation
Has a big jet hole
Saves 20% more water than the standard
Standard dual flush power
5.  Kohler San Souci One Piece Toilet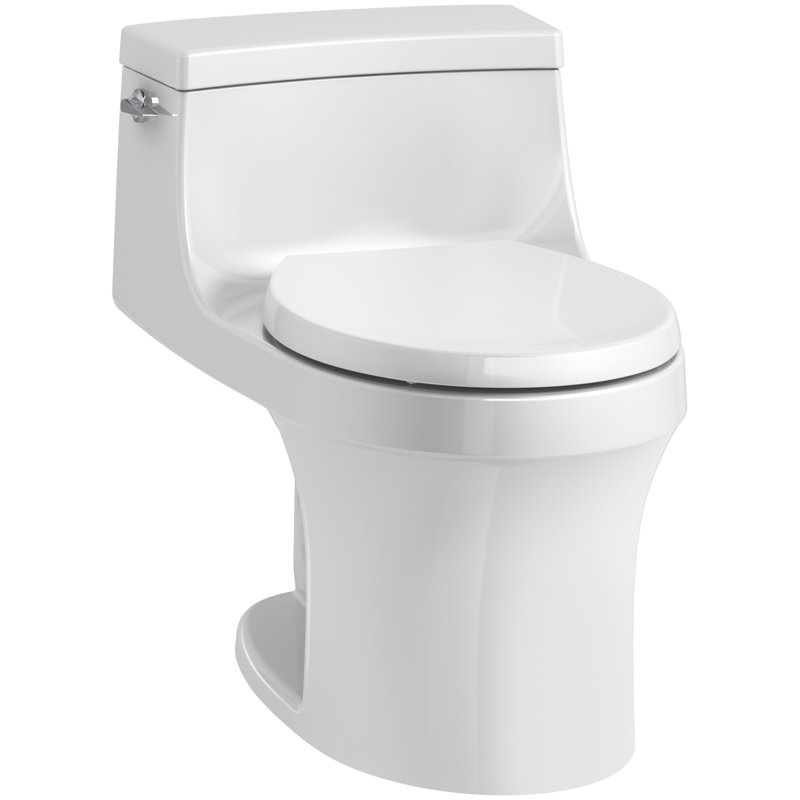 The Kohler San Souci is known for its unique yet appealing design. From the tank, the toilet curves down to the bowl giving the lower back a lot of space. This sleek design allows you to actually save some space when you install this toilet in your bathroom.
It also looks really amazing in any bathroom setting with its succinct silhouette. It also has a pretty good water saving feature, allowing you to save up to 16,500 gallons per year.
Best Features:
Sleek and curvy design
Very unique look
Water saving feature that can save you 16,500 gallons in a year
Grip Tight reveal that prevents the seat from crashing down
Dual flush of up to 1.28 GPF
6.  Best Living International Agrius Dual Flush Toilet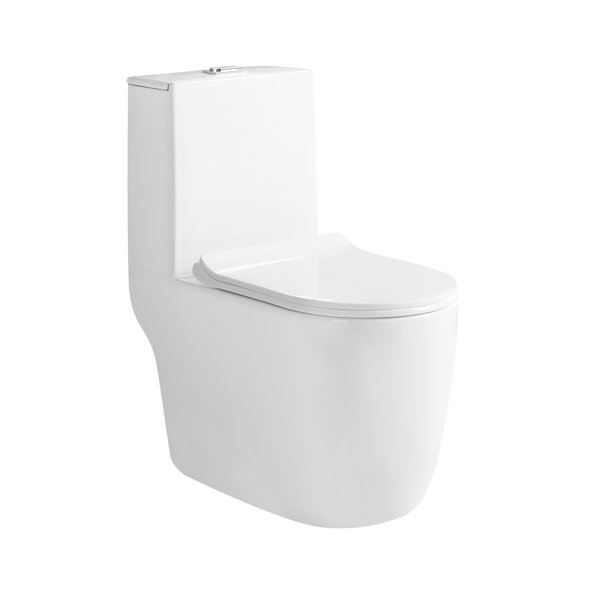 The cool thing about the Best Living International Agrius Dual Flush toilet is that it has a built in bidet that allows you to rinse after you're done. With this feature, you don't need to worry about installing a separate bidet since there is already one here.
Other than the bidet, it also has a pretty powerful flush to go along with it. At 1.6 GPF, this flush offers power that can bring down any waste.
Best Features:
Full glaze tank
Built in bidet
6 GPF flush
Soft close seat
7.  Toto Supreme Elongated Toilet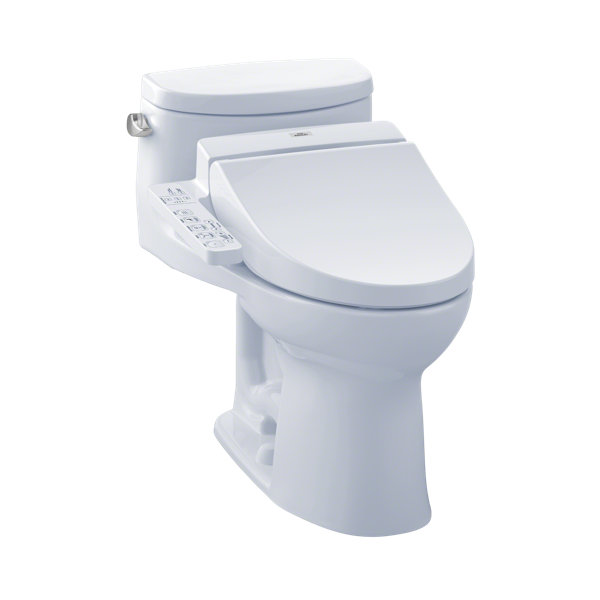 The Toto Supreme Toilet is another toilet that has a built-in bidet. The only difference is that this bidet is a little more sophisticated. This Toto model makes use of the Washlet bidet that you can control using a remote attached to a cord. With this bidet, you can control the water supply and add a mist effect that will prevent waste from sticking to the sides of the bowl. You can also control temperature with it.
Best Features:
Washlet Bidet
Premist feature
Five water pressure settings
Softclose seat
Seat heating
28 GPF max power
8.  Ariel Bath Adonis Toilet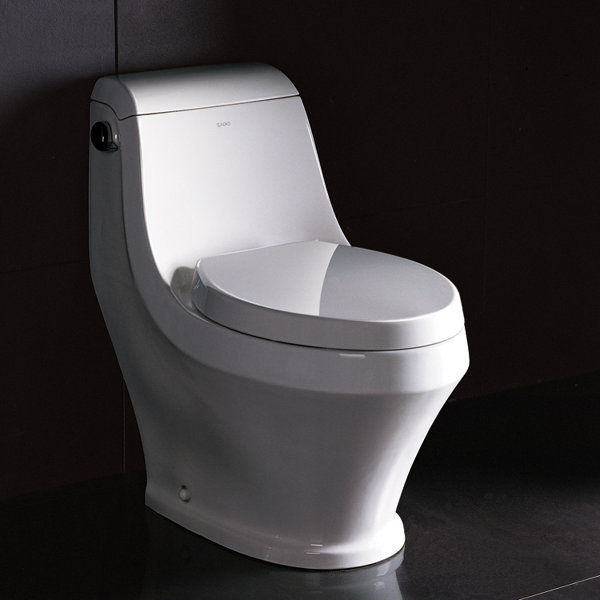 Ariel Bath is a pretty well-known brand in the toilet manufacturing industry. Hence, it is no surprise that the Ariel Bath Adonis does not disappoint. This is probably one of the most durable toilet bowls that you can find on this list being made of only the best quality materials.
With its white finish, it is not only durable but also very long lasting. Its finish is also glazed, making it very resistant to mold and mildew growth. This finish also keeps the toilet really clean and unattractive to bacteria and other unwanted substances.
Best Features:
Soft close seat
6 GPF flush
White finish
Made of high-grade materials
9.  Kohler Numi Elongated Dual Flush Toilet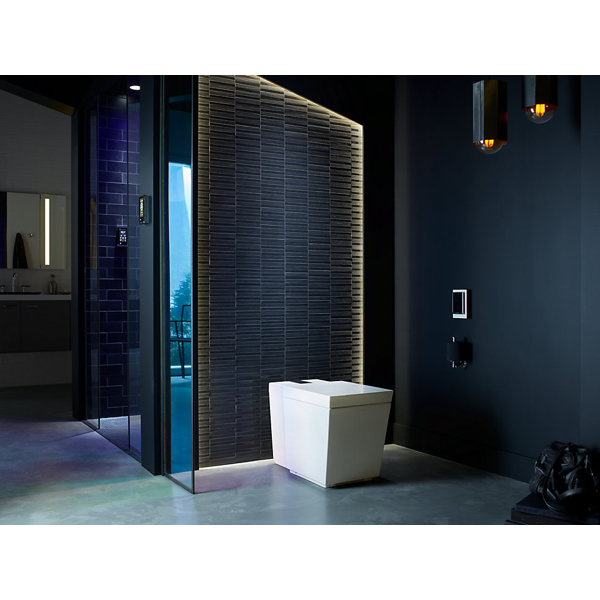 From afar, the Kohler Numi looks like a porcelain box. Upon inspection though, you'll discover that it is an intelligent toilet built with some of the best tech features that a toilet can have. It has a motion sensor to detect whether it needs to open or close the seat. It also has a self-cleaning feature with an air dryer.
It also has Bluetooth connectivity and an MP3 player in case you want to listen to music. This is the type of toilet that can give you an overall unique bathroom experience because of the tech features that it can provide.
Best Features:
Comfortable height
Motion sensor
Bidet cleansing feature
28 GPF max flush
Self-cleaning and deodorizing feature
Bluetooth connectivity and an MP3 player
10.  Toto Neorest Dual Flush Toilet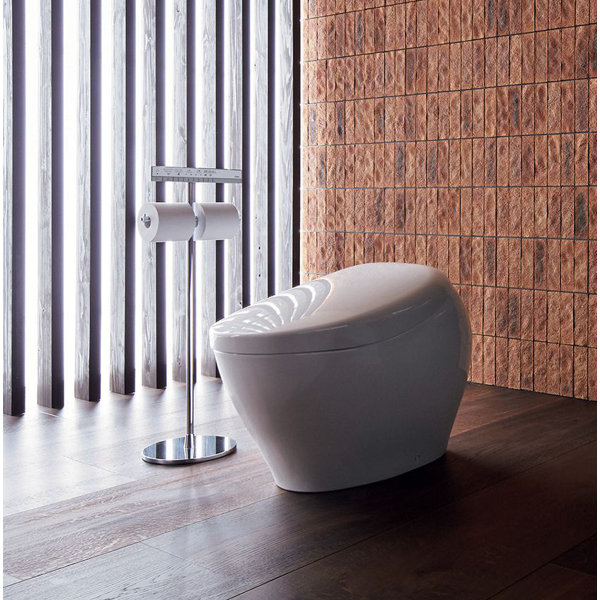 This is another smart toilet that has a lot of cool, tech features. The difference is that these features are focused more on enhancing strength and comfort rather than luxury features. An example is the Tornado Flush, which is a siphon jet flushing system making the flush faster and more powerful.
The flush is extremely strong but also does not use much water as it only has a 1.0 GPF for full flush and 0.8 GPF partial flush. Other than the flash, you've also got other cool features like a pulsing washer, a washlet, and motion sensors for opening and closing.
Best Features:
Powerful Tornado Flush with 1.0 GPF and 0.8 GPF Dual Flush
Washlet with pressure control
Cefiontect ceramic finish
Motion sensor
Oscillating washer
5 Frequently Asked Questions
Now that we've gone over our top 10 picks for the best flushing one piece toilet brands, we'd like to answer some questions that you may still have regarding one piece toilets. We pieced together 5 of the most commonly asked questions about one piece toilets and provided some answers as well.
Here are the top FAQs and their respective answers below:
Where is the tank of a one piece toilet?
The tank of the one piece toilet is already integrated in the bowl. This is different from the two piece toilet wherein the tank is separated. This is why one piece toilets are very compact and small in size.
Do one piece toilets use less or more water than two piece toilets?
One piece toilets actually use less water than two piece toilets. This is why a lot of people prefer one piece toilets since it can save them a bundle on their water bill. Being able to use less water is also good for the environment.
Does less water mean a weaker flush?
Not necessarily. The flush of a one piece toilet is still very strong and at par to that of a two piece toilet even if it does use less water.
Is it hard to maintain one piece toilets?
Not really. In fact, one piece toilets are actually easier to maintain than two piece toilets because they are sturdier and more compact, making them more durable. Because of their built, one piece toilets hardly leak.
What are some factors that I should consider when looking for the best one piece toilet?
You have to take into consideration the toilet bowl dimensions, the bowl type, the height, and the flushing power. You may also want to take into consideration the amount of water that the bowl uses. Some use less water than others, giving more chances to save water while you're at it.
Conclusion
Those are 10 of the best one piece toilet brands that we know and love. If you're looking for the best of the best, then we recommend you with our Toto Neorest Dual Flush One Piece Toilet. Sure, it might be on the more expensive side, but its features make up for the price. Its washing system, washlet bidet, tornado flush, and smooth glaze finish all make it a great toilet to have in your bathroom.
It is also a smart toilet that has motion sensors automatically opening and closing the lid. This makes it more convenient for you so that you won't need to always close or open the lid when you use the toilet.