If you are looking for a sleek shower panel, look no further than this Anzzi shower panel review. For a great product that not only looks good but also provides value for money, read on. The Anzzi shower panel is one of the best shower panels that you will find. And it comes with a host of features that are difficult to beat. I have looked, and this shower panel stands out.
The Anzzi SP-AZ021 Full Body Shower Panel System is not only stylish and affordable but also has a host of features that make it stand out against other shower panels. The AP-AZ021 can be installed in a newly constructed house or an existing washroom.
The plumbing in the shower panel is preinstalled. All you have to do is connect it to your hot and cold water outlets and fix the panel on the wall and you are set to go.
The sleek design and the tempered glass panel with a mahogany finish fit in beautifully and aesthetically in any washroom. This shower panel, which is value for money, will make your washroom stand out.
Review of SP-AZ021 Full Body Shower Panel System
This shower panel comes from Anzzi, which produces world-class hardware and fixtures for the home. Anzzi uses high-quality materials to create kitchen and bath faucets, shower panels, and bathtubs that are works of art.
The SP-AZ021 is a sleek full body shower panel system that has:
a tiltable showerhead
three adjustable body jets
a handheld shower with a 60" reach
a rough-in valve to control the cold and hot water mix
a mahogany wood finish shower panel with a tempered glass front panel
three spray patterns: full, jet, massage
The shower panel looks stunning and is easy to install. The panel features:
certified 304 steel Rhino Alloy crafted front controls
solid brass valves
tempered deco-glass panel
water diverter to customize your showering experience
limited lifetime warranty
Customer Reviews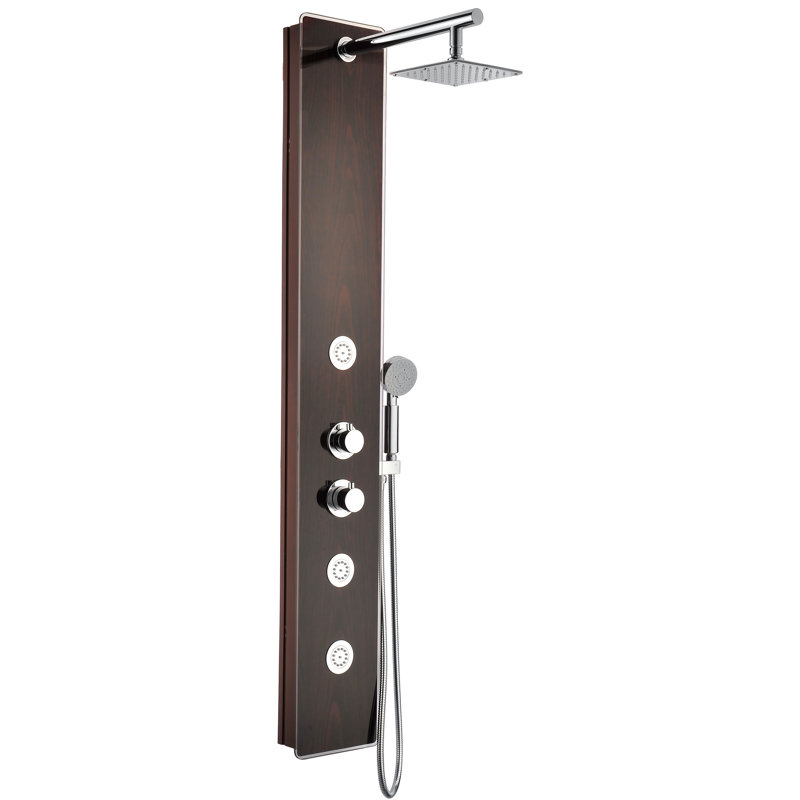 The Anzzi shower panel reviews by customers were generally favorable. There were many positive reviews and a few complaints.
Some of the positive reviews included
Looks great. Works perfectly!
Easy to install! Great product!
Stylish and distinctive. Our guests compliment us on the installation
High quality, beautiful design
Great shower panel. But we did have to get a professional to install it. Works great
Love the sleek design. Easy to clean and maintain
Among the negative reviews:
Not worth the money! Cheap parts that look cheap. Plastic nuts that get damaged. Very bad pressure on the showerheads.
Not easy to install
The package was open when it arrived and some parts were missing.
However, the Anzzi store representatives made sure to respond to the negative queries offering replacements as and where it was possible.
Common Questions
Can this product be used outdoors?
No, this product is only for indoor use.
Is the box of the shower panel made of wood? It looks like mahogany.
No, the box of the shower panel is not made of wood. It is plastic, with a laminate made to give a mahogany look. The front panel is tempered glass.
Does the shower panel require installation?
Yes, installation is required. You can download the installation manual and do it yourself, or you can call and ask for help with installation. However, the installation is very easy.
Can the showerhead be tilted?
Yes, the showerhead can be tilted. You can also set the shower patterns to full, jet, or massage.
Can the body jets be turned or rotated?
Yes, they can be turned a little bit to change the flow direction.
How many gallons per minute can this Anzzi shower panel provide?
This shower panel system can deliver 1.8 gallons per minute. This is subject to your water tank having the necessary pressure to maintain this flow.
Final Verdict
We hope you found this Anzzi shower panel system review helpful. This is a great product. Value for money. It looks good and performs better than expected. The product is easy to install. In case of any problems, you can always call customer care of the store where you purchased the shower panel. It is a good buy? Yes. What are you waiting for? Order yours today!
You can check this Anzzi shower panel system here.