Bathing is more than just a necessity that you need to do on a daily basis. It has become a relaxing activity that lets our mind rest and our body reset. With the help of new tech and innovation, more of us look forward to showering every day. In that aspect, one of the brands that excel in this feat is Vigo.
As you go over these Vigo shower panel reviews, you can find three of the best products which have taken the market by storm with their exceptional quality and numerous features.
With that said, this Vigo shower panel review will delve deeper into two main things: what makes the brand so exemplary and what made customers love the Vigo shower panels they bought.
Why Choose Vigo Shower Panel
We all want luxury at some point. However, there is one thing most of us admire more than "expensive" – cost-effectiveness. Ultimately, this is precisely what Vigo offers their clientele and their customers.
To prove this point, this article goes over a good number of Vigo Shower Panel System reviews. Most of the feedback refers to their purchase as worthwhile, which says a lot about what the brand offers.
The early beginning of Vigo started way back in 2009. Back then, the brand did not identify as a cutting-edge supplier of bathroom products. However, this is a brand that produces shower panels that are functional and practical.
Because of this, you can say that the brand isn't even a front liner for fixture design. Still, they make such sleek, timeless pieces that can easily suit any home. To seal the deal, reviewers hailed Vigo as the best manufacturer of commercial-style bathroom and kitchen elements.
With that said, let's continue with Vigo shower panel reviews of their best products. This article will tackle why these three take the lead in the market. Moreover, you might discover that Vigo is more than just style and charm.
Products Review
In this section, you will find an overview of the top three best shower panels from Vigo. It goes over the best aspects of each product – from features to their pros and cons.
Collective feedback from different users is also included. You see, while many love these products, we cannot guarantee that they are the best ones for you. So, this article contains a bit of comparing and contrasting.
Through this objective approach, you can gauge if the product is for you. That being said, let's dive in.
1.  Vigo Gardenia Retrofit Shower Panel with Dual Head and Diverter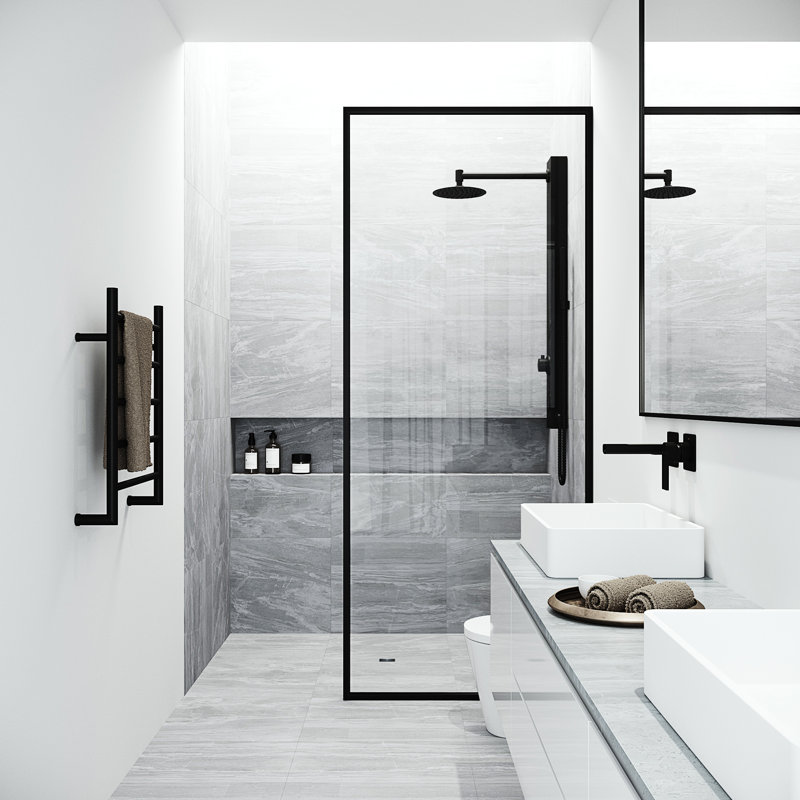 Highlighted Features:
Manufacturers essentially constructed a shower panel system with lightweight yet durable stainless steel. In fact, it is one of the leading Vigo shower panel system with rain shower head models in the market.
Vigo outfitted the metal components with a premium finish. This makes the shower panel resistant to rust, corrosion, scratch, and tarnish.
This rain shower has a retrofit design with a top-down style. Aside from this, its pressurized water jets give users the ultimate body massage experience. It has a consistent flow rate of 1.8 gallons per minute, complete with easy faucet volume control.
Lastly, it has certifications from the UPC, IAPMO, CSA, and Vermont Act 193 Compliance. The purchase as well includes commercial and product warranties. 
Pros of this Vigo Gardenia Retrofit Shower Panel
Users claim to have a therapeutic shower experience with Gardenia
The product benefits include improved circulation and tension relief
It has a reasonable price point and can easily suit most bathroom layouts
It is lead-free, and users can install the product outdoors.
It makes for a great addition to any garden or pool area.
Cons of the Shower Panel
The shower does not have an adjustable spray pattern
Poor temperature control may affect the mixer valve of the product.
Some components of the handheld shower are plastic
2.  Vigo Mateo Shower Panel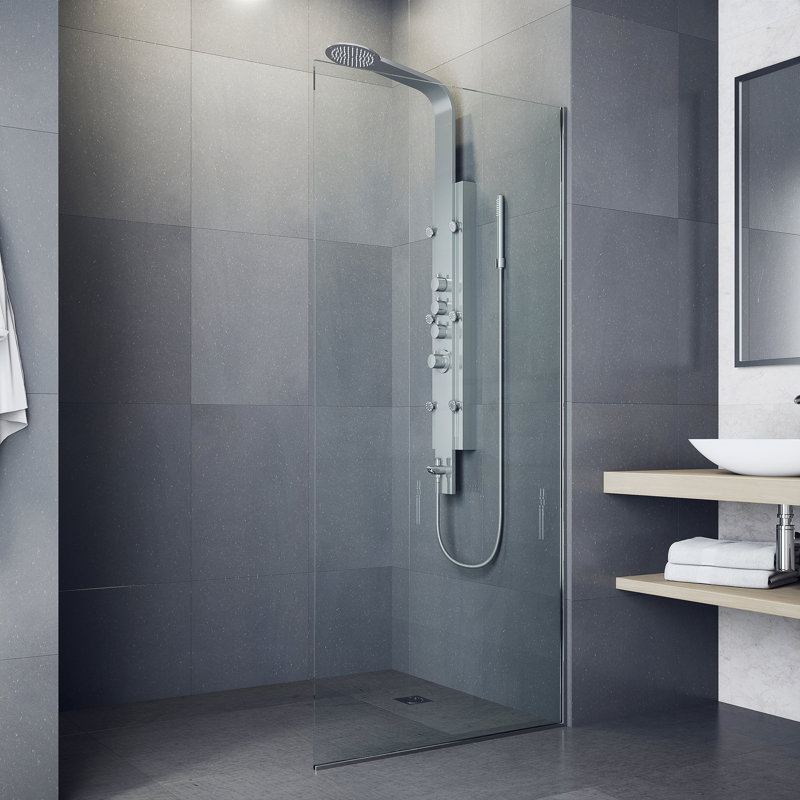 Highlighted Features:
Many consider Vigo's Mateo as the best shower panel in their lineup. This may be because of its reasonable cost while still delivering a high-quality product.
It has four main features: a rain shower head, a body spray jet massager, an alternative hand shower, and a tub spout. Indeed, this shower panel has a lot to offer. Mateo's panel system is a construction of light yet strong stainless steel. So, it is simple to install and convenient to use on a daily basis.
It has an adjustable spray pattern and a consistent flow rate of 2.5 gallons per minute. Generally, the Mateo shower panel is a practical and affordable product under Vigo. 
Pros of this Vigo Mateo Shower Panel
Mateo is a shower panel that has water conservation features.
Users can use both rain shower and body jets at the same time.
Its technology has temperature memory.
The angles of the body massage jets are adjustable to various angles.
Cons of the Shower Panel
It only has a single certification. Namely, it is only UPC certified.
The bottom part of the panel does not have a covering. Because of this, the interior plumbing of the product is exposed.
3.  Vigo Dilana Waterfall Shower Panel with Diverter and Jets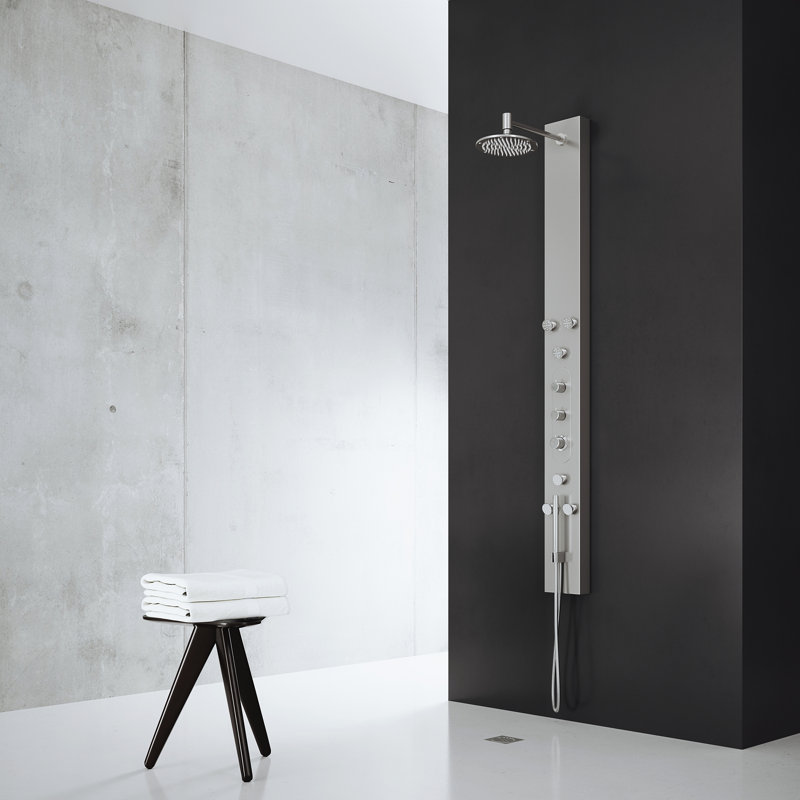 Highlighted Features:
A showcase of water's comforting and therapeutic powers, Dilana is a game-changer in the industry. This can easily be the best shower panel Vigo has to offer.
Its sleek design is minimal and nice to look at. Because of this, it has a panel body of solid brass with a stainless steel premium finish. This panel system includes a hot and cold feature. Also, the thermostatic valves are adjustable. This redirects and diverts the water into various functions.
Lightweight and strong, this product gives value to your money. Also, the adjustable flow rate of Dilana is 2.5 gallons per minute.
Lastly, Dilana is UPC and IAPMO certified. The purchase as well includes a lifetime warranty under limited terms.
Pros of this Vigo Dilana Waterfall Shower Panel
Temperature memory is one of its best features.
The pre-plumbing design makes Dilana easy to set-up, install, and use.
It has a hand shower and six body jets for the ideal body massage experience.
It is an excellent addition to newly remodeled modern bathrooms.
The components of the shower are all metal and do not include plastic
Cons of the Shower Panel
This does not have an adjustable spray pattern.
The overhead shower flow and the body jets cannot work simultaneously. It has to be one or the other.
Conclusion
Overall, Vigo is a brand most people can rely on and trust for their shower panels. Generally, they have great indoor bathroom fixtures as products. In addition to this, their outdoor showering products are also incredibly effective.
Even the best ones in the market have a reasonable price point. This makes the excellent shower experience accessible to all.
It may not be the best in design and material choice. Still, Vigo shower panels suit the modern middle-class bathroom. This is because it is adequately functional. Also, it does not compromise quality and beauty. To sum it all up, you can guarantee Vigo's cost-effectiveness and superb performance.
With that, these Vigo shower panel reviews come to a close. At this point, hopefully, you are more guided on the installations for your home. Good luck!