Shower panels are increasingly becoming more popular, especially with the drive to conserve water and a bathtub used less frequently.
The best shower panels all have one thing in common – they give your bathroom a luxurious feeling, imbibing a spa-like feel. Add to this a handheld shower head and a glorious overhead rain shower head, with a few even having the option of a steam shower, and you have the personification of pure, decadent luxury.
Please carry on and take a look at a few of the best rated shower panels around.
Our top shower panel reviews
1. ELLO&ALLO Stainless Steel Shower Panel Tower System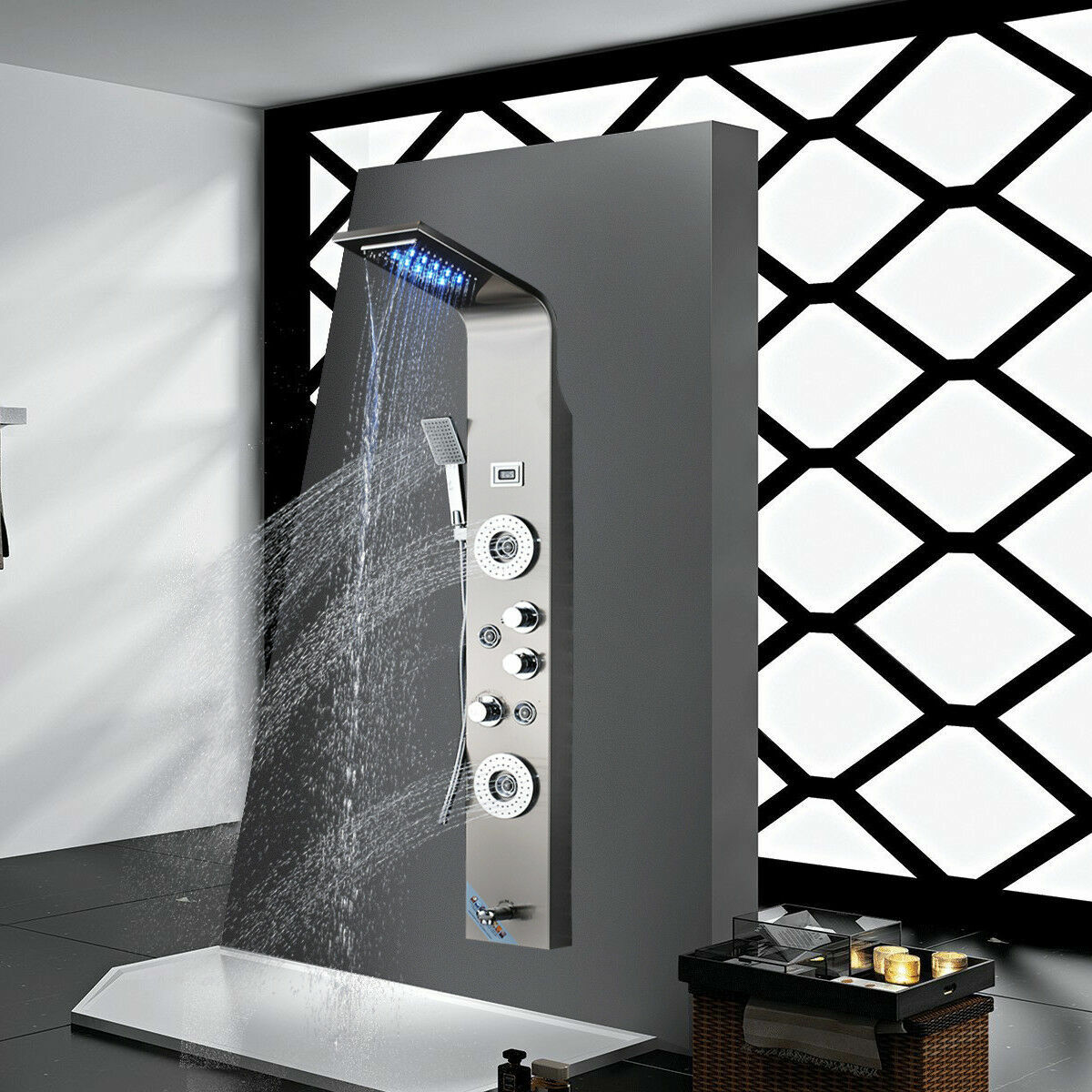 Constructed from the highest quality stainless steel, this shower panel system also has a gorgeous brush stainless steel finish. Opulent and beautifully designed, this system is sure to give you hours of showering pleasure.
The added benefits include:
LED overhead and temperature display
Multi-outlet switches controlling multiple water effect combinations
Four adjustable jet nozzles allowing a power mist massage
3-setting handheld shower fixtures
Option to turn off two features at a time, giving you better water pressure
2. Temperature Control Tower Shower Panel System Diverter by AKDY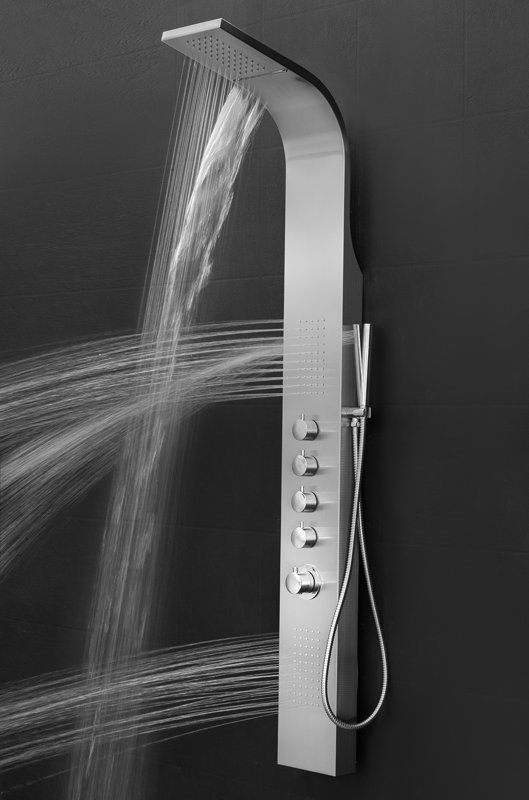 A system that includes a constant temperature system and a beautiful chrome-plated shower and wand hose, not to forget the waterfall shower head, and two body sprays.
The benefits of this product include:
A constant temperature control system sporting a valve that senses and controls hot and cold water flow
Reinforced back pipes connecting to standard plumbing systems
Temperature control by means of a thermostat
Mounting brackets on the back
3. Stainless Steel  Shower Panel with Massage System by Luxier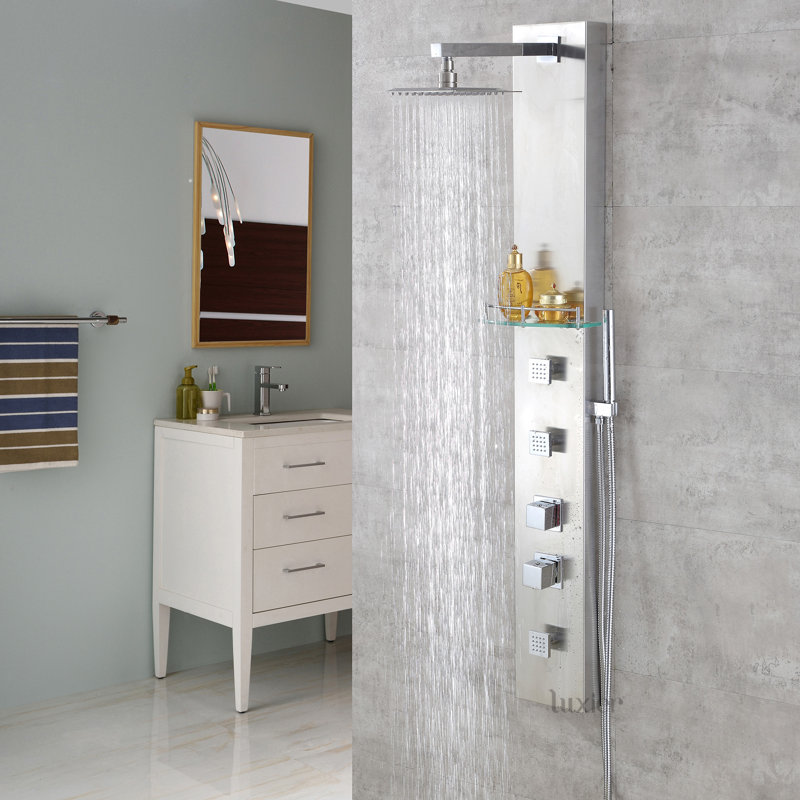 A rainfall shower panel massage system with a stainless steel thermostatic rainfall shower, this system has a three-stage rainfall shower massage function. Add to this the hand shower, and you have an elegant, durable addition to your bathroom
The added benefits of this shower panel
Has a silver stainless steel frame
Glass shelf included is made of tempered glass
The hand shower hose is of stainless steel
The ultra-thin shower head is equipped with 81 nozzles
The three-stage shower function includes rainfall, waterfall, and horizontal massage spray
The three adjustable massage jets each have 16 nozzles
It is thermostatically controlled
 4. Lifestyle Shower Panel Diverter by Valore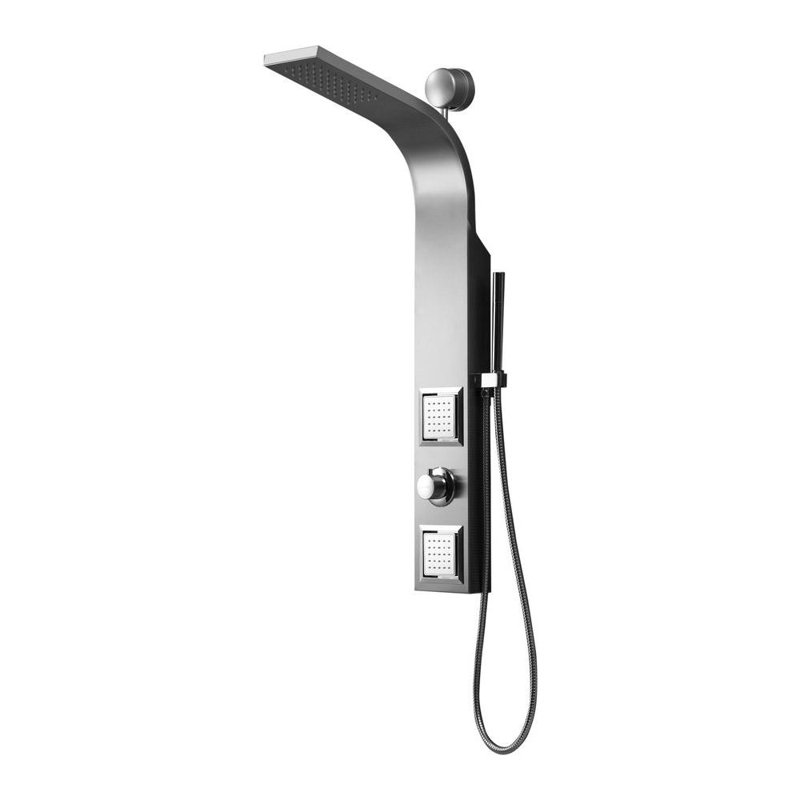 This rain panel features two large, adjustable shower jets, each with a 25 silicone jet nozzle. Added to this, it has a brass, single-spray shower wand with a hose encased in stainless steel. The only drawback to this product is the fact it does not have a temperature control valve
The added benefits of this shower panel
Sports three different spray modes
The rainfall shower head has fifty jet nozzles
The panel is ergonomically designed to provide optimum shower coverage
Made of premium grade stainless steel
Coated with a compound that prevents water stains and fingerprints
5. Sutherland Volume Control Rain Shower Head Shower Panel by VIGO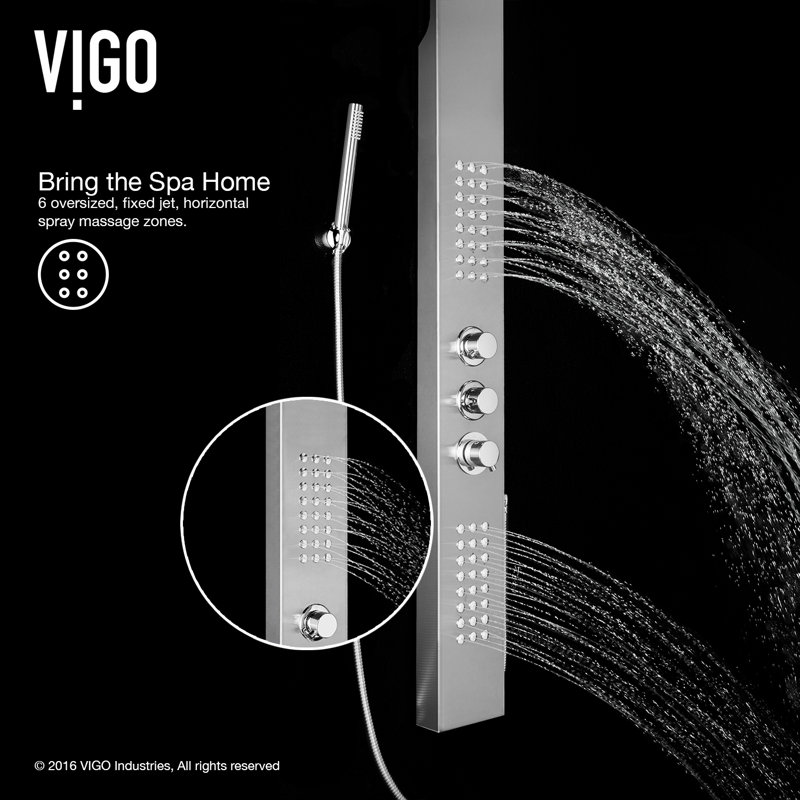 This product included a rain showerhead, hand shower, hose and two, large, fixed body jets. It also includes horizontal spray massage zones.
The added benefits of this shower panel
A thermostat is included
Has a three-divert valve that controls water flow
It is already plumbed for easy installation
Includes a hand shower and long, sixty inch hose
Sports a rain shower head
6. Pixie Diverter LED Shower Panel with Hand shower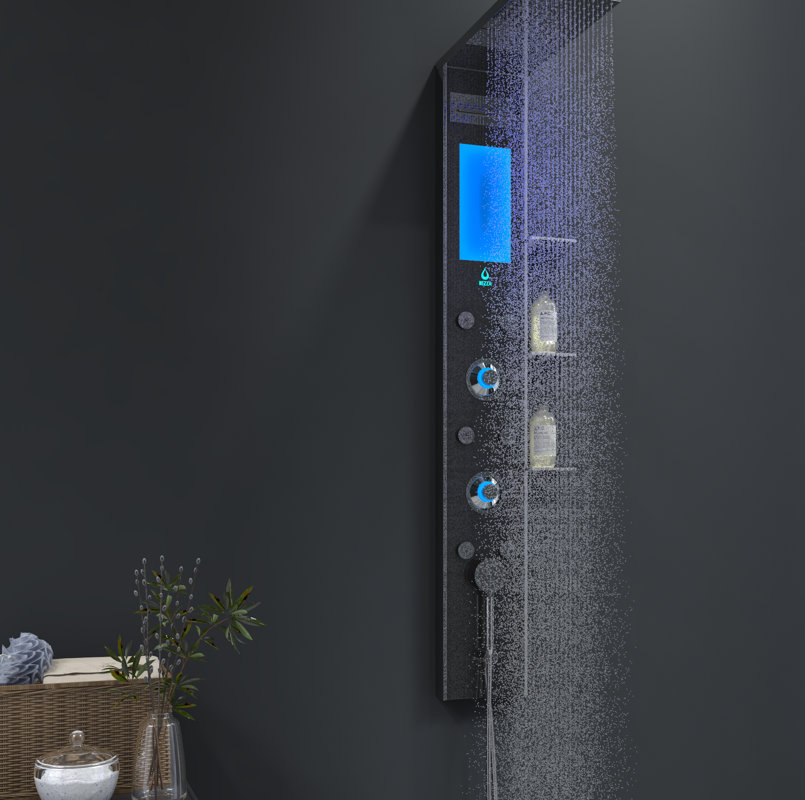 A product with a panel made of heavy duty stainless steel for durability that will never tarnish, discolor, or ultimately fade. The added bonus are the hand shower, top lighted shower, and six body jets. The only downside is you cannot use two functions at the same time
The added benefits of this shower panel
Six body jets for a great spa experience
Has a hand shower
Top lighted with LED lights – no battery needed as power is generated by water
Hand shower hose is included with purchase
7. Barcelona Diverter Shower Panel by Pulse Showerspas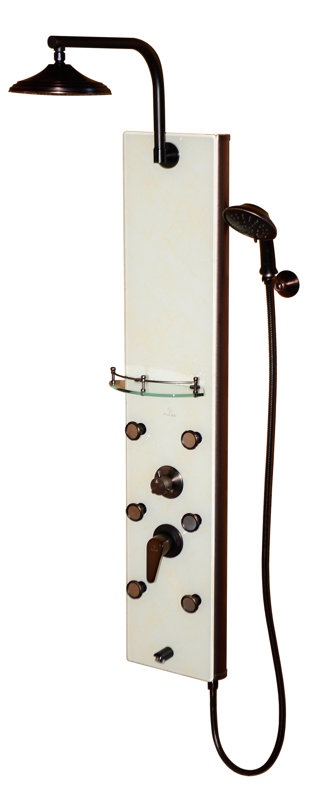 If it is a complete shower transformation you want, the Barcelona shower spa may be your cup of tea. Made of elegant Venetian glass, you get a soothing rain shower experience that is situated on a pivoting arm. Easy to install in your hot and cold water supply lines, it secures to your wall with an easy to mount system.
The added benefits of this shower panel
Has 6 silk-spray body jets
A multi-function hand shower
A glass shelf for convenience
The shower head has air injected bubble technology that saves on water while giving a soft, natural feel
Your desired function is easily selected by means of the simple four ways diverter
The product is completely pre-plumbed for easy installation
8. Verona Five Handle Shower Panel by Fresca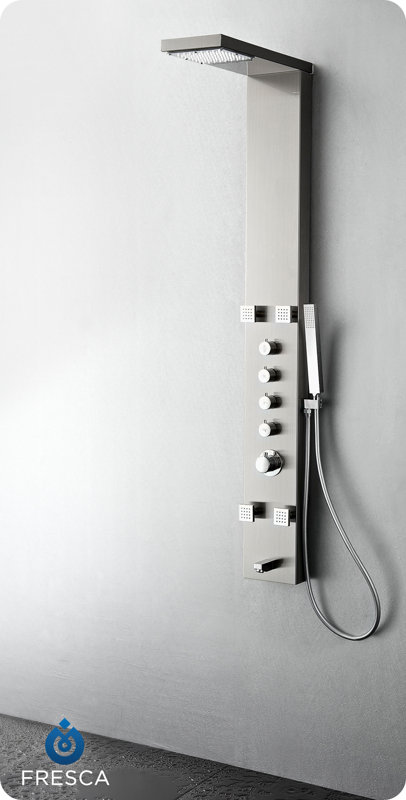 The Verona from Fresca has a contemporary, square shower head, hand shower, four massage jets, and even a tub filler spout. Everything you may need for installation is included with your purchase.
The added benefits of this shower panel
Square-shaped waterfall shower head has a contemporary design
Has four square massaging controls that are independent of each other
Hand shower with hose included
Includes a tub filling water spout
The thermostatic valve system controls water temperature
There are separate controls for volume and temperature
9. Tower Pressure Balanced Thermostatic Rain Shower Panel by AKDY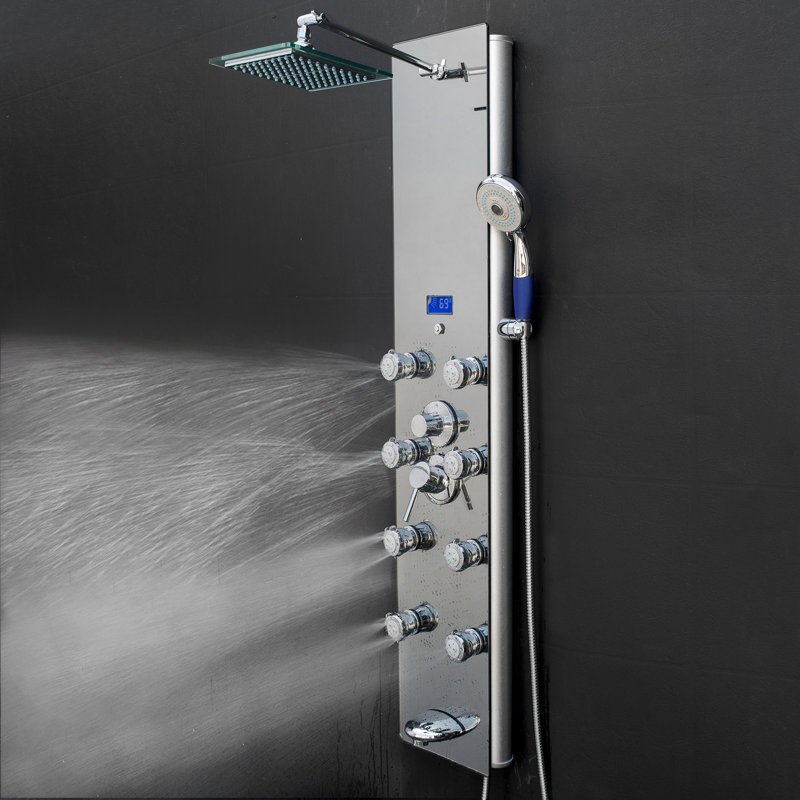 The stunning contemporary design that includes an adjustable rainfall shower head 8 body massage jets, handheld multi-function wand, and so much more, makes this rain shower head makes this one of the best shower panel systems around.
The added benefits of this shower panel
Rain shower head is adjustable
The handheld wand has a number of different functions
Includes eight body massaging jets
Has a tub filler
Includes a LED temperature display – battery operated
The brass hose is chrome plated
Pipes at the back are reinforced
There is a standard plumbing connection
All functions work independently of each other
10. Rainfall Shower Panel Systemby Boann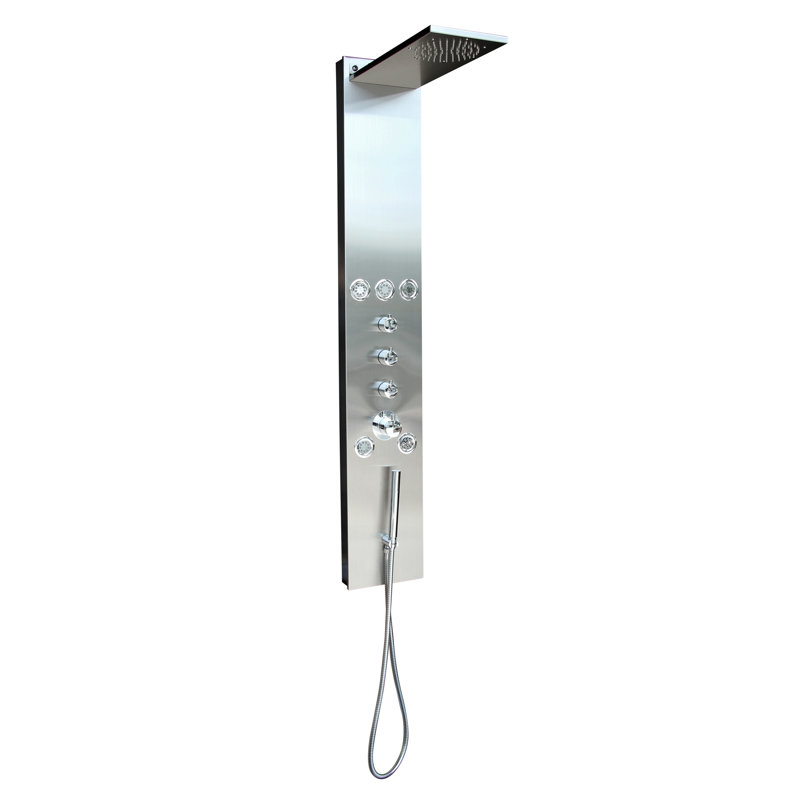 This product sports an all-in-one package with all the extras. It has a beautiful, modern, chrome finish for easy cleaning.
The added benefits of this shower panel
The product includes a fixed, seven inch rainfall shower hear
There are five adjustable body jets sporting silicon heads
A chrome plated handshower is included
Thermostatic water mixing valve ensures the perfect water temperature
11. Shower Panel by Ove Decors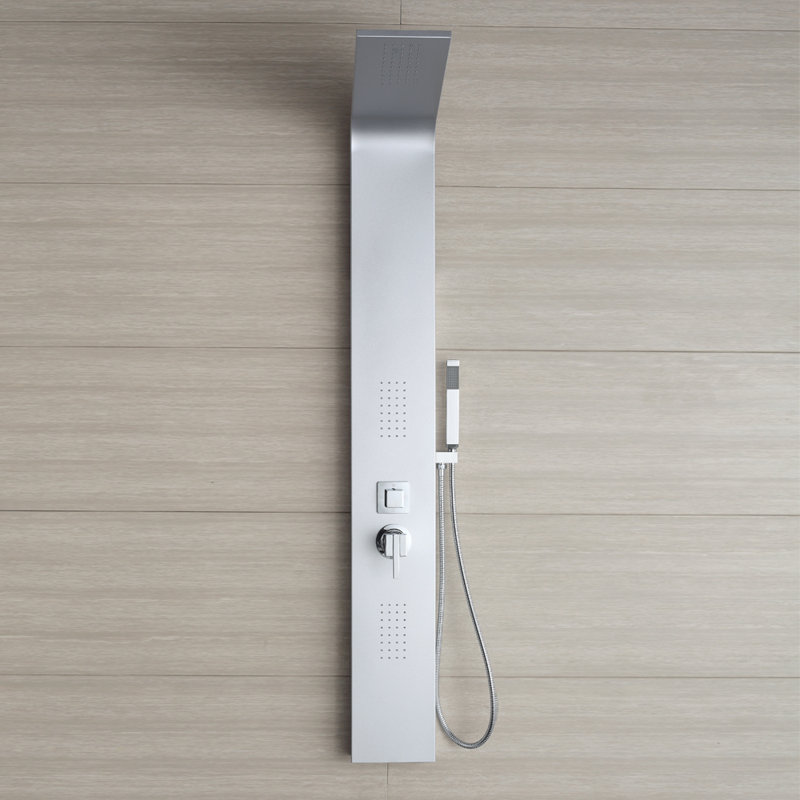 The  Shower panel sports a white look for the ultra-modern in bathroom styles. Added to this the balance pressure that prevents temperature changes and you have something different all around.
The added benefits of this shower panel
Stainless steel construction
Balanced pressure prevents changes in water temperature
Stylish, integrated rain shower head
Four body jets that are adjustable
Handheld shower spray in brass with hose included
Bathtub faucet adds extra appeal
Product fits any shower and plumbing system
12. PULSE ShowerSpa by Pulse Showerspas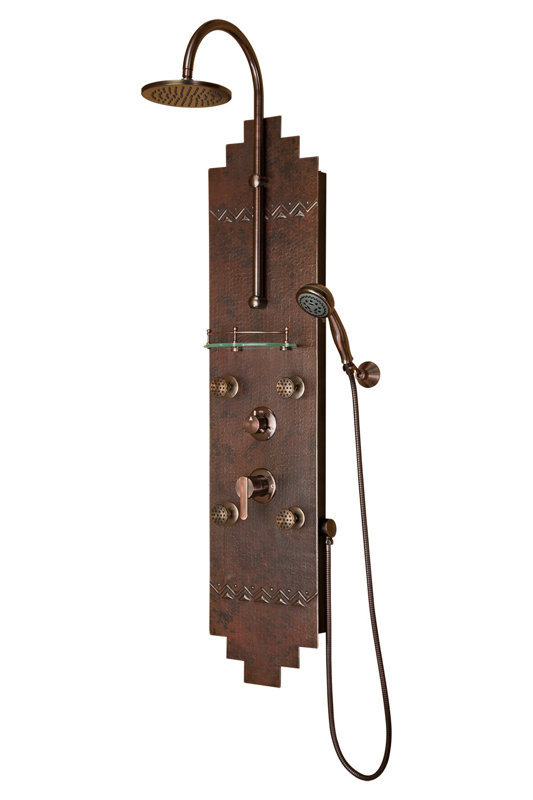 If your taste is borderline steampunk, you might consider this option, although it looks beautiful in any redone bathroom as well! The hand-forged copper panel with its oil-rubbed bronze features blends modern with a touch of whimsy to perfection.
The added benefits of this shower panel
Has a rain shower head
Four three-function brass infinity jets provide a spa experience
The hand shower is multi-functional
The brass diverter allows easy switching between shower head, body jets, and the hand shower
13. Shower Panel by American Imaginations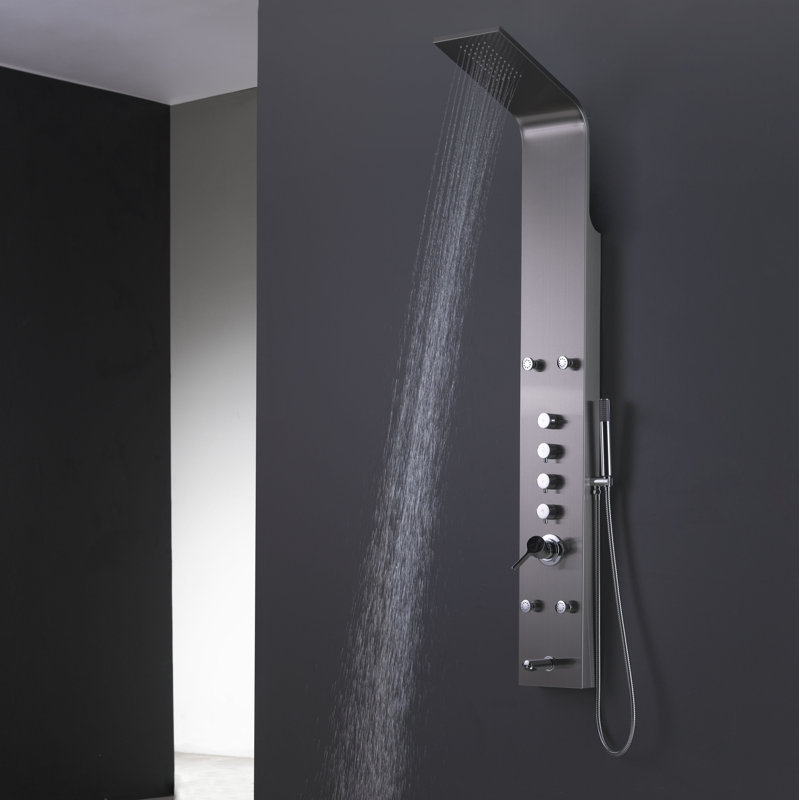 A stainless steel shower panel with an anti-fingerprint stainless steel casing makes this modern shower panel a surefire contender.
The added benefits of this shower panel
The casing has a full stainless steel matt finish
The product does not show fingerprints
Has a solid brass spout while the shower hose is fully extendable
The four adjustable body sprays are of brass and have a chrome finish – and tilts 180 degrees
Temperature control and pressure balance are both built in
Hydro-jets each have eleven rubber nozzles
14. Chloe II Pressure Balance Shower Panel (WA18041) by Malta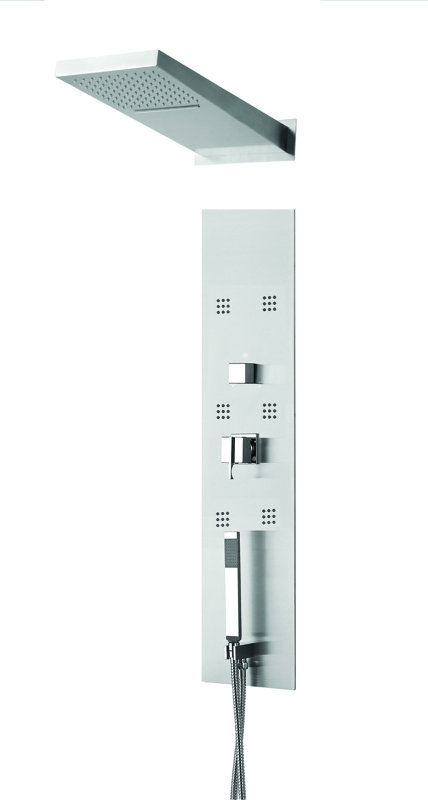 Stylish, sleek, modern, and sophisticated are what comes to mind about this shower panel. The twin shower unit has a built-in multi diverter valve and top quality finishes.
The added benefits of this shower panel
Constructed of brass and stainless steel and boasts ceramic disc technology
A built-in multi diverter as well as a pressure balance valve
Rainfall and waterfall shower head
Sports six body jets
15. Shower Panel System by Dyconn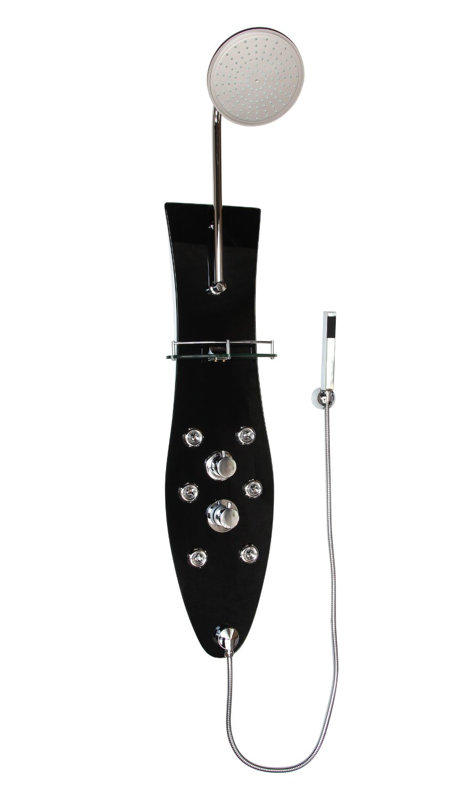 A contemporary, organic design allows this shower panel to stand out from the crowd. It takes the art of relaxation to a whole new level.
The added benefits of this shower panel
Thermostat shower panel system with lever handles
Rain shower head
Six adjustable massage jets
A thermostatic mixture and brass hand shower
Made of aluminum alloy
Includes a tempered glass shelf
Showerhead and jets can be used simultaneously
Why you should consider installing a shower panel
There are a number of reasons why shower panels are the way forward in bathroom design.
1. They fit in any bathroom
Bathroom size is not an issue when it comes to shower panels. All you need is a connection and you are good to go. They fit in a regular shower enclosure, or even where your bath and shower fit the same space. At the end of the day, you still have your spa effect.
2. They are easy to install
They usually fit into your existing plumbing, saving you money.
3. They save water
Shower panels adhere to water saving programs, helping reduce your utility bill.
4. You save time on the cleaning
Keeping a shower panel clean is quick and easy. All that is needed is a quick wash with water, and a rub down with a soft cloth, ensuring that it sparkles like the day it was installed.
5. They are not too expensive
When comparing pricing to bathtubs and shower enclosures, you will find that a shower panel is much more economical. Price, of course, depends on the model, material, color, and added features.
6. They save on space
A shower panel is easy to mount on an existing wall. Because no alterations are needed, you can mount it in the same spot as your previous shower, saving you the bother of finding more space. They are therefore perfect for both large and small bathrooms.
7. They are versatile
Depending on your specific needs, you can pick a shower panel that suits you. Do you want a rain shower experience with the added benefit of a massage? You got it! Do you just want a regular shower with the benefit of a handheld shower head? You got that too! Shower panels cater any or even all of your showering needs.
Conclusion
At the end of the day, the best shower panels around are limited by one thing – personal choice. We, for example, like luxury, and because of this, opted to vote for the 1040 Barcelona Diverter Shower Panel by Pulse Showerspas as our personal shower panel of preference. What got our attention was not only its impeccable functionality but the fact that it is finished in Venetian glass, adding a touch of pure luxury and decadence. The handy glass shelf and air injected bubble technology are also plus points not to mention the luxurious six silk-spray body jets to help ease the muscles after a long day at the office.