To protect the eyes of swimmers from salt water and chlorine, one must wear swimming goggles. There are numerous types of anti-fog goggles in the market. Thus, it is difficult to identify the right one that will suit all your wants and needs. In this article, we will review some of the best anti fog swim goggles in the market to help you with your decision.
Types of Swimming Goggles
There are different types of swimming goggles in the market designed for various purposes. These include:
These goggles have a low profile and close fit to the eye socket to reduce water drag. With smaller eye sockets, these goggles are great to use for dives and turns. They are great for racing; however, they may not be very comfortable for everyday use.
Just as the name suggests, practice goggles are ideal for everyday use since they are less technical. These goggles are very comfortable as they feature more gasket rubber that reduces the pressure against your eyes. Therefore, swimmers use them during long periods of training.
Swim masks, ideal for snorkeling and scuba diving, have a much bigger profile. The large profile offers a great suction on your face, and this helps to reduce leaks. They are also very comfortable and can be used for water sports and open water competitions.
7 Best Anti Fog Swim Goggles Reviews
1.  Aegend Swim Goggles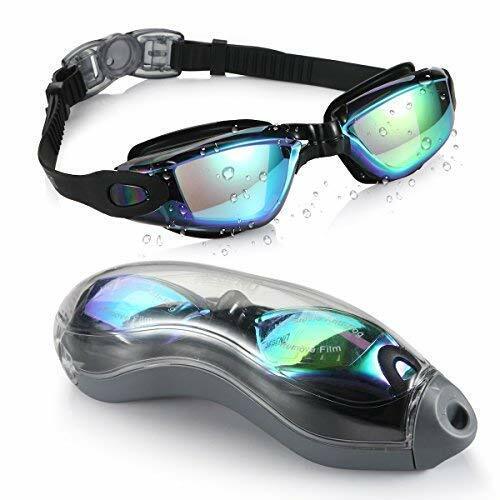 If you are in the market looking for comfortable swim goggles to use for both children and adults, then you may want to consider Aegend swim goggles. These unisex swim goggles come with all the important features that will make your swimming sessions excellent.
These slightly tinted goggles provide a better vision and are great to use in indoor environments. They also offer a clear eye sight during cloudy daylight conditions. Furthermore, the lenses feature an anti-fog coating and poly-carbonate material for durability.
Aegend swim goggles feature a flexible silicone frame which adapts to various faces and ensures a snug fit. It, therefore, doesn't leak water into your eyes. The silicone frame and the nose-piece are also very comfortable. In addition, they don't leave any marks or pain on the face and nose after prolonged use. These glasses have a convenient clip that makes it easy to put on and off without the straps pulling your hair.
Pros:
Offers clear vision
Ideal for indoors and cloudy daylight conditions
Durable lenses
Anti-fog coating and UV protection
Extremely comfortable
Suitable for novice and advanced swimmers
Doesn't leak
Cons:
Gets blurry underwater in some cases
2.  i-Sports Pro Swimming Goggles
The I Spots Pro Swimming goggles is another pair of best anti fog swimming goggles that are designed for men, women, youth, and even children. One thing that stands out about these glasses is their soft silicone molds that prevent salt water and chlorine from getting into the eyes.
The silicone gaskets cushion the eyes to ensure that you experience great performance while swimming. Meanwhile, the molds, nose piece, straps, and lenses perfectly fit the facial structure of all users.
It is important for your child to have a clear vision as they take on an adventure in the water. To ensure this, I Sports pro swimming goggles come with anti-fog coating for a fog-free swimming experience. Plus, they are easy to remove without pulling the hair.
Pros:
Suitable for all ages
Fog-free for clear underwater vision
Doesn't leak
Extremely comfortable
Adjustable straps
Easy to use
Cons:
3.  Speedo Hydrospex Classic Swim Goggle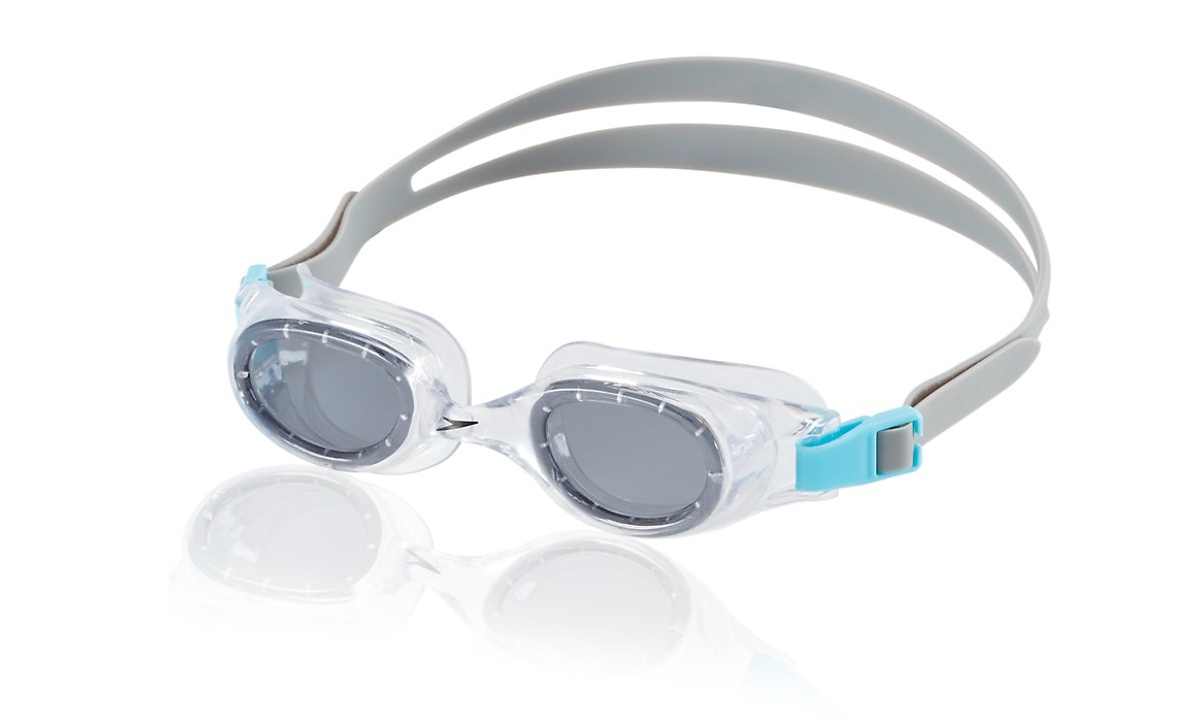 Speedo Hydrospex classic goggle is a recreation model that comes with a soft one-piece frame that has a comfortable fit. The lenses have UV protection and anti-fog properties to prevent water condensation. This ensures clear underwater vision and eye protection from harmful UVB and UVA rays.
The gasket shape offers a universal outer eye fit that ensures comfort and flexibility. In addition, this goggle is very easy to don on as it features a split latex-free silicone head strap. Thus, you can concentrate on other things like breathing without missing on the fun.
Pros:
Soft and comfortable one-piece frame
Fog-free
Ergonomic design
UV-protection coating
Easy to adjust
Cons:
4.  Speedo Jr. Vanquisher 2.0 Swim Goggles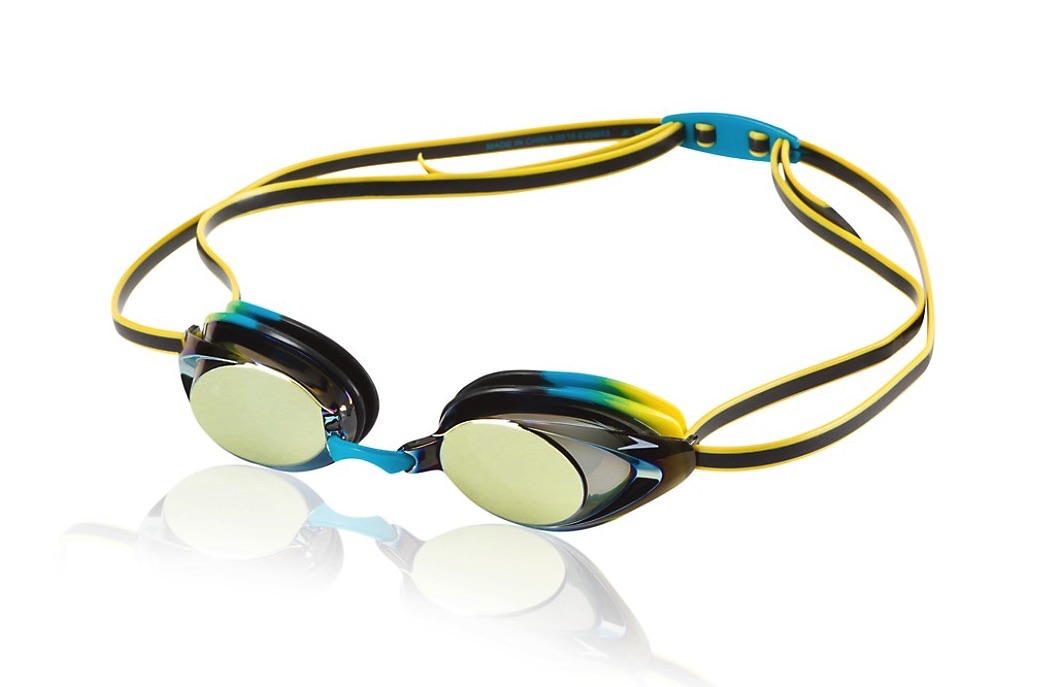 If you are looking for swimming goggles for your child between the ages of 6 to 14 years old, then you want to try the Speedo swim goggles. The G.O. fit system of these goggles makes ita good training and racing gogglesbecause of its snug, low profile fit in the inner eye.
The anti-fog property of the glasses makes it easier for swimmers to visualize their under the swimming area. Additionally, the anti-fog lens provides UV protection for the eyes. Therefore, they are suitable for use on both indoor and outdoor conditions.
Speedo Jr. Goggles have 4 interchangeable nose piece options to choose from. Hence, these glasses goeswell in any facial structure. The low profile silicone seal offers 25% more vision compared to other regular goggles.
Pros:
Standard anti-fog and UV protection
Clear visibility
Features 4 interchangeable nose pieces
Maximum field of view
Great for indoors and outdoors
Latex free
Cons:
Breaks easily after months of heavy use
On the expensive side
5.  Arena Cobra Swim Goggles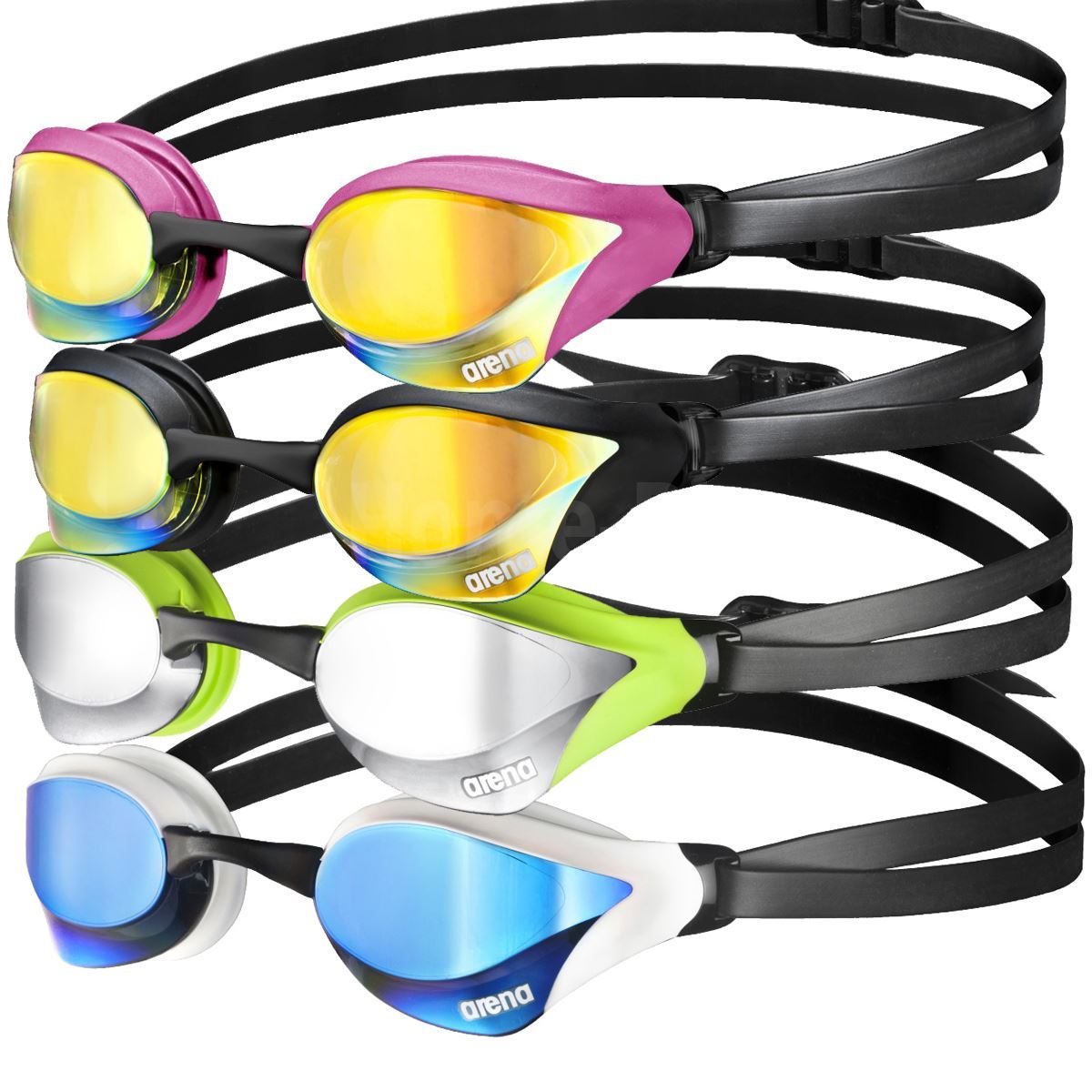 Arena Cobra swim goggles are racing goggles that come with a lot of features for competitors. They are great goggles for both practice and competition. Furthermore, these goggles allow swimmers to have a great performance while maintaining comfort, thanks to their low-profile lens.
With mirror coated lens, these glasses are effective to use for training and racing. The thin gasket provides a watertight seal to prevent water leakage.
Equipped with dual strap for racing adjustment, you can glide through the pool with peace of mind and maximum comfort. Additionally, there are four interchangeable nose bridges that adapt to various faces. The side temples of these glasses provide superior durability and stability even in harsh conditions.
Pros:
Suitable for racing and training
Perfect fit
Fog-free
No leaking
Adjustable strap for a secure fit
UV protection and impact resistant lenses
Cons:
A bit small
Seal silicone fades after a while
6.  Aqua Sphere Kayenne Junior Swim Goggle
The Aqua Sphere is ideal for both young professional and novice swimmers who are looking to take on a swimming adventure. These goggles look best on children at the age of 6 years old at every experience level. Furthermore, these goggles have clear lens technology that works best in dark conditions and indoor pools.
These goggles feature a curved lens technology that offers up to 180 degrees of vision. This will enable your kid to explore the underwater without much difficulty. Additionally, the lens is also made from polycarbonate which renders it strong and durable.
Impressively, they have UV and anti-fog protection to deliver top-notch performance for the young swimmers. Plus, they sit on the middle orbital of the wearer's eye socket.
Pros:
Delivers 180 degrees of vision
Offers a snug and leak free fit
Fog-free
Scratch-resistant
Adjustable buckle
Comes in a range of cool designs
Cons:
Lacks adjustable nose
Strap breaks often
7.  NAK Fitness Swim Goggles Anti Gog No Leaking Swimming Goggles
NAK fitness swim goggles are comfortable and flexible goggles that provide protection for the eyes while ensuring clear visibility. These goggles feature mirrored lenses that are made from shatter proof polycarbonate. Unlike most goggles that hurt to wear, NAK fitness have a soft silicone that gives comfort to the eye gaskets and nose piece.
These goggles offer comfort without compromising on style. They come in sleek, stylish designs to suit all kind of swimming including competitive, water sports as well as leisure snorkeling.
This swim goggle is waterproof and comes with adjustable double head strap that fits heads of different sizes and prevents water leaking. With anti-fog and UV protection, these goggles are the best swimming goggles for those who are after clarity under water. Plus, they come with a plastic case for proper storage after use.
Pros:
Stylish designs
Comfortable fit
Anti-fog and UV protection
Ensures tight seal
Accommodates a wide range of facial shapes and sizes
Cons:
Extremely dark for some people
How to Choose Swimming Goggles
With so many models of anti-fog swimming goggles in the market, it can be daunting to identify the best goggles that would suit all your needs. Here are some factors to keep in mind when choosing the best anti fog swim goggles.
Anti-fog Protection
One of the challenges that most swimmers face is when their swimming goggles get foggy. For this reason, it is important to look for swimming goggles that feature the anti-fog system to prevent fogging. Before you make your purchase, ensure that you go through the anti fog swim goggles reviews to determine if the model you are considering is indeed fog-free. 
Color of Lenses
The color of lens depends on whether you plan to swim indoors or outdoors. If you swim outdoors, models with darker and polarized lenses are a great option. In high level light, polarized lenses reduce the glare, and they do this without dimming your field of vision. Most goggles lose their anti-fog as time goes by and dark lens tend to get darker. They help to protect your eyes from the reflections of the sun.
Meanwhile, opt for clear lenses if you intend to swim inside or in cloudy/ low light conditions. This is because clear lenses give the best visibility in these areas. On the other hand, tinted or colored lenses are suitable for both indoors and outdoors environments since they offer medium protection against bright light and the sun.
Mirrored lenses blocks out the reflection and glare of the sun and are great for outdoor swimming. Alternatively, you can opt for photochromatic lenses that are designed to work well in both indoor and outdoor pools. These goggles can automatically adjust to changing light conditions and aid in reducing eye fatigue.
Materials
Today, most goggles are manufactured with polycarbonate lenses. This material makes glasses more durable and long-lasting. Goggles made of silicone are also very common and a great choice because of their strength and durability.
Size
The best way to determine the right size of goggles for you is by simply trying them on. You want to ensure that you find the right size that are neither too big nor too small; but fit snugly on your eyes and nose. First, you have to look for goggles that fits well to your eye socket without leaving any space in the gasket. If you are too busy to try different sizes, opt for one-size-fits-all swimming goggles that have adjustable straps. You can also adjust the nose bridge for a snug fit.
Conclusion
If you need a pair of swimming goggles, it is important to consider factors such as color of lenses, type of goggles, size, and material used. The above review focuses on some of the best anti fog swim goggles in the market that will allow you to take your swimming skills to the next level.
These goggles are packed with essential features that will help give you maximum comfort and visibility underwater. They also have anti-fog protection that ensures your lenses don't cloud or fog each time you place your goggles on your forehead. With these features, you will without doubt enjoy every moment in the pool or sea.