Swimming goggles are a great help to see underwater, and they come in various types. Each type has its own specs best suited for a specific purpose. This guide will help you learn more about goggles and how to choose best swimming goggles.
What to Look for When Choosing Swimming Goggles
Choosing the right swimming goggles is a personal matter. It is also a matter of preference. It is no different when choosing swimsuits, earplugs for swimming, headphones for swimming,  waterproof mp3 player for swimming,  or waterproof fitness trackers for swimming. It all depends on you and what you want them to do.
What do you need from your swimming goggles' lenses?
There are different types of lenses when it comes to swimming goggles, and they each have a different purpose.
Firstly, clear lens goggles:
These are most probably the most common lenses around and are great for winter use or for overcast conditions. They work great when there is not too much light.
Swimming goggles with colored lenses:
These lenses, whether blue or yellow, are the favorite of open-water swimmers because they maximize underwater visibility. They are also great at reducing glare. Many competitive swimmers believe it gives them a psychological advantage, for some reason or other.
Ultimately, though, colored lenses are a matter of choice, but they do help for some swimmers with specific visions issues. Colored lenses are also said to reduce stress on the eyes while swimming, more or less like sunglasses does when driving.
Prescription goggles:
Prescription goggles are not really 'true' swimming goggles because they are made to correct your particular eye problem. They also come in different types, e.g. for open-water swimming, training, competitions, and the Swedish type (more on that later). Tinted prescription swimming goggles, however, are not available, so you are a little limited as to style as far as they go.
Choosing the correct swimming goggles frame for your needs
The most important thing about choosing the right swimming goggles frame is 'what do you need it for?' In other words, do you just want goggles to protect your eyes for leisure swimming, are you an open-water swimmer, or perhaps take part in competition swimming? Your choice of the frame depends on your answer.
If you are a triathlete or open water swimmer, your main consideration might be the swimming goggles frame's durability. These athletes need frames that are durable and can withstand all kinds of conditions, including rougher water as well as cloudy conditions or bright sunlight.
So the question is, what kind of frames should I choose for my swimming goggles?
Leisure/open water swimming goggles
These are often called frame goggles although they might be marketed as leisure of fitness goggles.
These goggles are usually quite comfortable and the best choice for beginners, intermediate swimmers, and triathletes. Many open-water swimmers also use this type of goggles.
The lenses in these goggles are flat and mounted into sockets in the frame that and usually have a silicone gasket. The gasket is either a built-in part of the frame or an attachment so that you have a waterproof seal. The frame and nose bridge are normally one unit, while the nose bridge is not adjustable. Some swimming goggles do, however, come with an interchangeable nose bridge that fits most types of faces.
The gasket helps your frame during rough conditions in open water, but it does become ineffective as a water seal over time.
Although the clear or light colored frames allow in more light, they in no way enhance your visibility. Prices vary, depending on the type you buy and the kind of lens you choose.
Training/Competition swimming goggles
The lenses in these goggles are larger and more rounded and provide better visibility for all swimming conditions. It is the perfect choice for competition swimming and triathlons. Although it is also usually fitted with a sealing gasket, it is smaller than that of the leisure swimming goggles and not as hardy.
These goggles look smaller and have different types of lenses, e.g. dark, clear, mirror, or colored. The tinted lenses are the favorite of many pool swimmers for competition purposes, and the nose bridge is usually adjustable.
These comfortable goggles can withstand most types of rough water. The comfort they provide is a plus point during long training sessions.
Swedish swimming goggles
Swedish swimming goggles are also called racing or competition goggles. They are quite smaller than other types of goggles and very streamlined. This makes them perfect for swimming competitions in pools as they have much less resistance in the water.
The lenses and frame are made out of a single piece of hard plastic. The seal is created due to the lenses sitting directly against the skin – these goggles do not have a rubber gasket.
To make things easier, these goggles have to be personally fitted and assembled. They take some getting used to, but once you have your perfect fit, your visibility is unparalleled while they are very effective for the purpose they were intended. Swedish goggles are also extremely durable.
The straps on your swimming goggles should be a perfect fit
Although the lenses and frame are important aspects when it comes to choosing the correct swimming goggles, the straps are of importance too.
Swedish swimming goggles have simple, elastic, adjustable straps allowing you to conveniently get the perfect fit. Once adjusted, you need not worry about that aspect again.
Most of the other types of swimming goggles, however, have a buckle system that needs adjusting, or a push-button system that makes for quick releasing. Yet others have a pull strap with a ratchet that makes tightening easier.
Anti-fog Characteristics
In choosing the best swimming goggles, anti-fog characteristics should also be taken into consideration. This is generally a standard feature but it is always best to check. If the goggles do have anti-fog, this feature is not expected to last for long.
12 Best Swimming Goggles Reviews
1.  Aquashpere Polarized Kayenne Goggles
The Aqua Sphere Kayenne regular goggles are wide and weigh about 4 ounces. This goggle is made in Italy. It has an ergonomic design that promotes greater comfort. The curved Aqua Sphere Eye Protection technology design of the lens is patented. It aims to provide all swimmers' needs, regardless if swimming in a pool or in the open waters.
This is a great product for rough-water swimmers, triathletes, and the normal guy.
Pros:
The Plexisol lens allows a 4-point, 180-degree visibility
The goggles come with a one-touch, quick-fit buckle allowing for easy adjustments, fitting, and removal
A comfortable fit due to the stabilizing nosebridge
The silicon strap provides added comfort and ease
The lenses are UV protected
The anti-fog lenses allow for clarity
Cons:
The anti-fog wears off with frequent use
They may not be suitable for competition speed swimmers
The lenses may scratch easily
See a review on Youtube
2.  Aegend Clear Swimming Goggles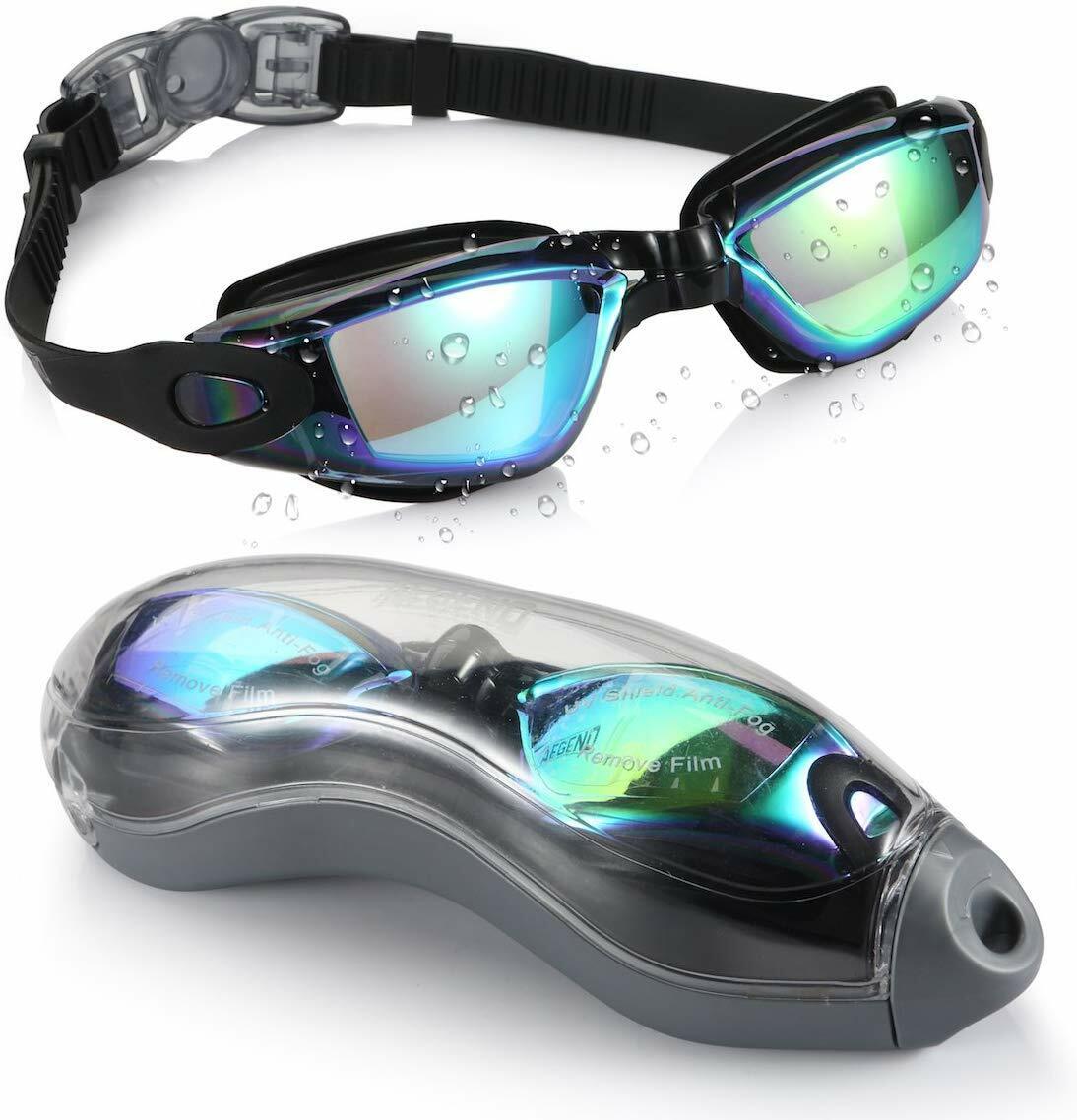 This is among the best swimming goggles for toddlers, adults, and even triathletes. It is very comfortable, with a flexible gasket and frame made with silicon for maximum comfort. The lenses are made of polycarbonate, so these are shatter-proof. To further enhance the swimming experience, this goggles has very effective anti-fog coating with good UV protection. Lenses are clear, without any artificial colors or tints.
These goggles seem to be great for most swimming conditions.
Pros:
Has a flexible silicone frame and gasket that provides a measure of comfort
Large clear light blue lenses aid underwater visibility
Lenses are made of shatterproof polycarbonate
The lenses are UV protected
The clasp is easy to close and undo
Cons:
Has a very hard nose bridge
The anti-fog feature is not long-lasting
The lenses tend to scratch easily
Needs some adjustment to ensure a tight fit and no leakage
See a review on Youtube
3.  Speedo Vanquisher 2.0 Mirrored Swim Goggles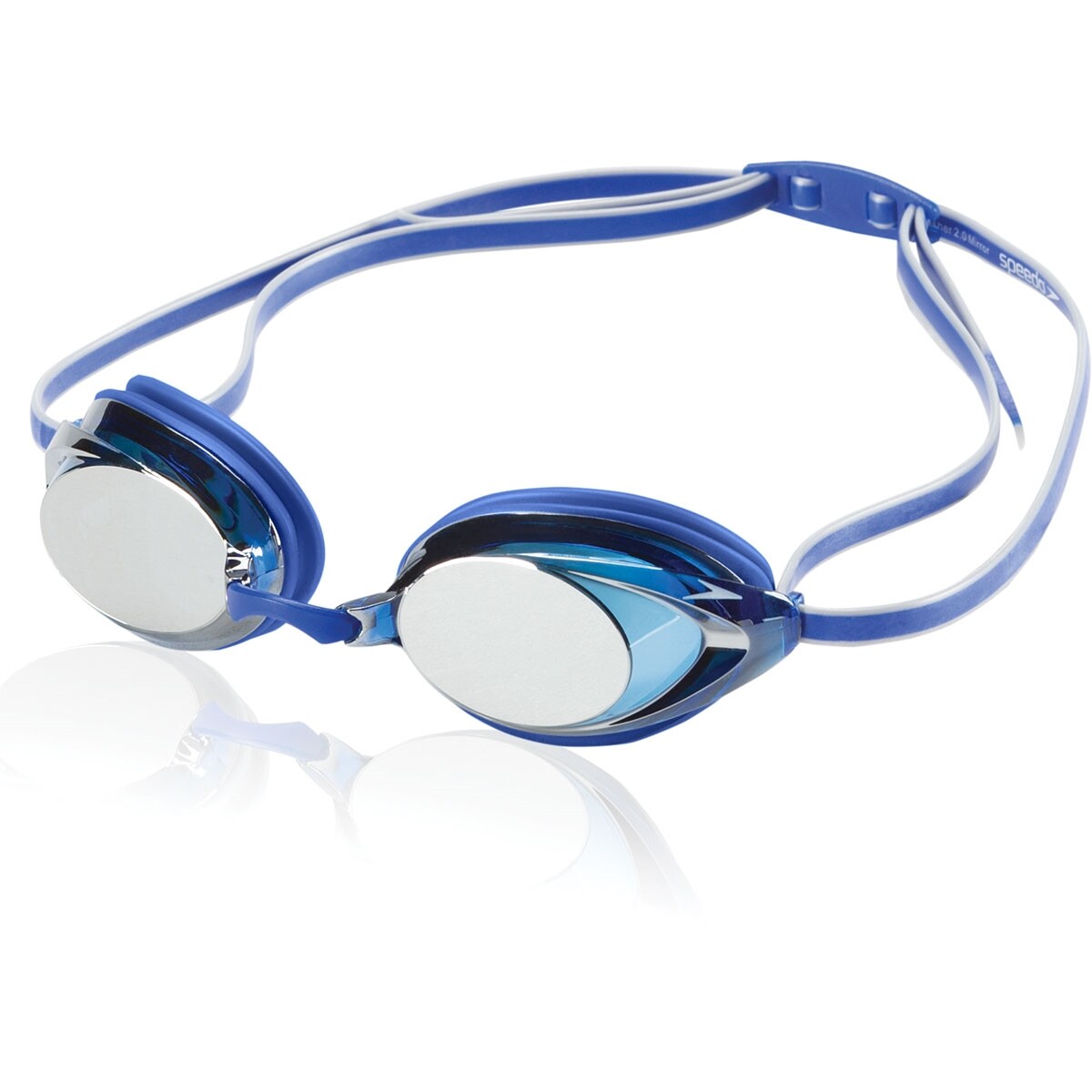 This is among the top selling goggles made by the world's leading swim brand, Speedo. It gives 25% better peripheral vision compared to the previous version of the Vanquisher. The lens has a mirror coating and widest panoramic view. The lens also has effective UV protection and anti-fog treatment.
This product has a sleek, precision fit that sits comfortably on most faces.
Pros:
Double silicone head strap for easy fitting
Easily adjustable clip
Lenses are UV protected, anti-fog, and PVC free
Glare is reduced because of mirrored lenses
The goggles have four interchangeable nosepieces to ensure the perfect fit
Cons:
The anti-fog wears of relatively quickly
They start leaking after a while
The nose bridges are not very hardy
See a review on Youtube
4.  AqtivAqua® Premium Swim Goggles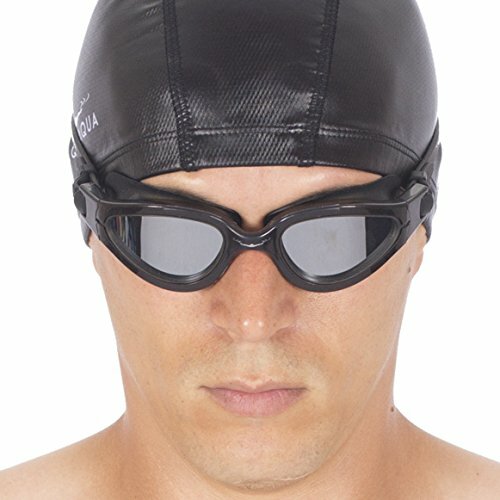 This is among the best swimming goggles for adults. It has anti-fog and UV protection technology. The panoramic view is wide, allowing as wide as 180-degree views. The clear vision is attributed to the polycarbonate, optical-grade lenses. The optimal vision can be expected in both indoor and outdoor lighting conditions.
Pros:
A soft silicone double gasket that expands and contracts to fit your face perfectly
Clever, easy adjustment strap system
Polycarbonate lenses provide undistorted vision
Lenses are UV protected with an anti-fog coating
Comfortable fit
Cons:
Tend to fog up after a while
Leak if care is not taken for proper adjustment
5.  U-FIT Performance Swimming Goggles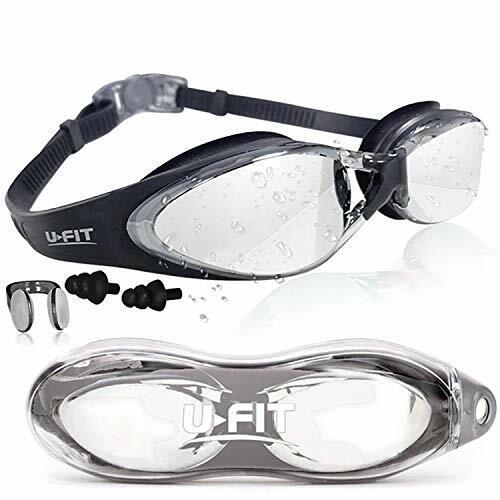 Durable lenses and comfortable fit.
Pros:
Easy removal system (patent pending)
Comfortable goggle straps
UV protected
Anti-shatter technology lenses
Anti-fog coating
Smart fit soft silicone molds to face
Cons:
Goggles lack a nose adjustment function
Tend to fog with use
Does not fit all face shapes
See a review on Youtube
6.  Exclusive Swimming Gear Bundle by Swim Elite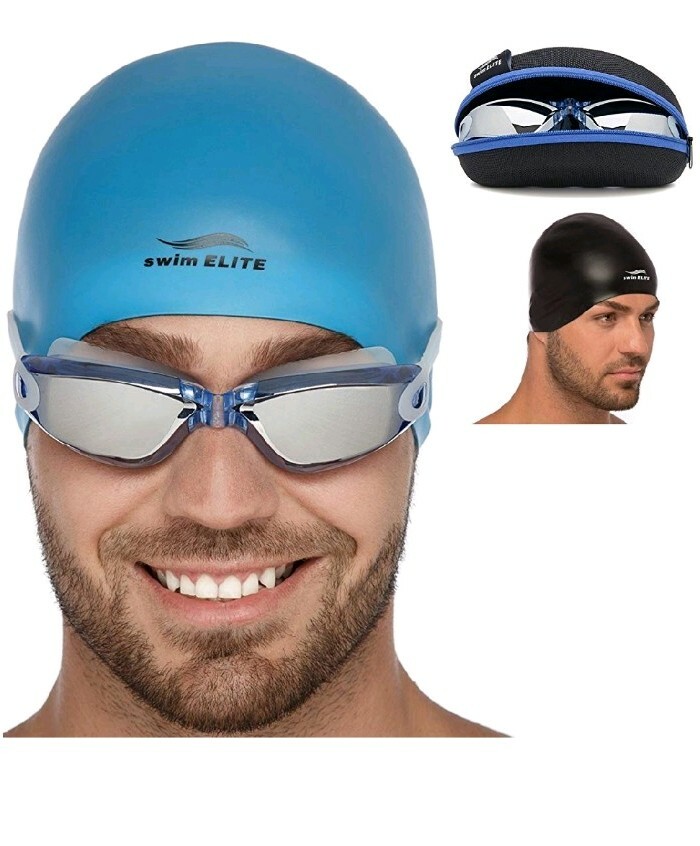 This bundled product features one of the best swimming goggles on the market. Furthermore, it comes with a free swimming cap and a protective case. The goggle lenses have an anti-shatter feature, adjustable head-strap, and no blur and no glare finishes. The soft silicone frame and nose bridge of the goggles add comfort while protecting the eyes from irritation.
Pros:
The swimming goggles look good and have features that will add to the swimmer's comfort (e.g. adjustable head strap, leak prevention etc.).
It has a 100% UV protection lenses, making it usable for both outdoor and indoor swimming activities.
The free swim cap is reversible, so you can choose between two colors (e.g. from clear black to grey).
It comes with a protective case to store the goggles and cap when not in use.
The bundle is cost-effective. Purchasing the limited offer means saving half of all the products' costs.
Cons:
The head straps may not fit large heads as reported by some customers.
7.  Prescription Swimming Goggles by RX Optical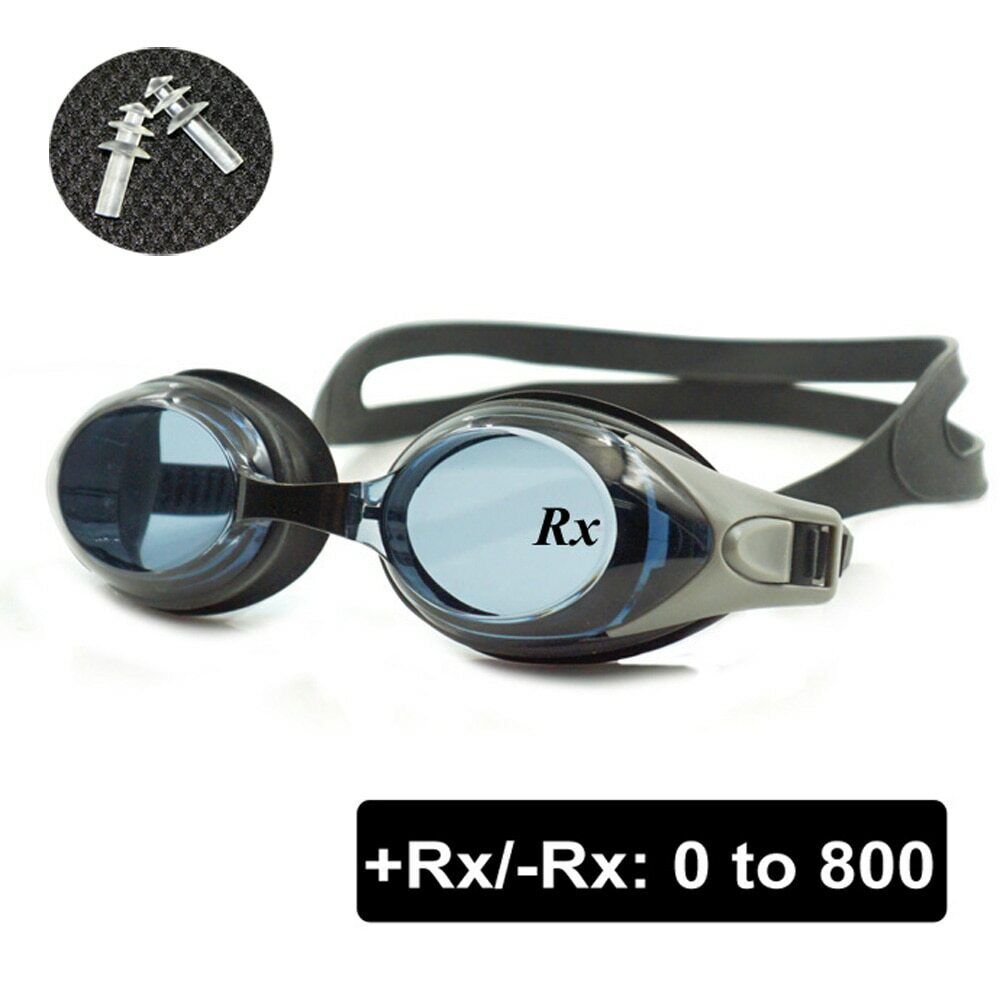 RX Optical's goggles has corrective lenses perfect for farsighted or presbyopic swimmers. It is also one of the few prescription swimming goggles that offer customized eye strength options. This makes it is a good choice for those who need different strengths in their left and right eye. It also comes with 3 nose-bridge options for added customization.
Pros:
Its customized corrective lenses are attractive for those who need additional eye strength while swimming.
The product comes with 3 nose-bridge options.
The smoke color lens and anti-fog treatment provide further eye protection, alongside its 100% UV protection.
The goggle straps are made of high-quality platina silicone.
Cons:
Some customers complained about its suction not functioning well.
Free shipping means no case and no pre-assembly.
8.  Cobra Mirror Swim Goggles
The lens is made from 20% silicone (strap), 70% polycarbonate (lens) and 10% thermoplastic elastomer (TPE; seal). The lens is low profile and provides a clear view underwater. The side bridge system is unique and promotes a secure fit. The dual straps are made with silicone material, has easy adjustment features and 4 nose pieces that can be interchanged for a better fit.
A great product for professional swimmers and divers.
Pros:
Comes with a comfortable silicone strap that is easily adjustable
Polycarbonate lens
Lens provides clear underwater views
Bridge system allows for a secure fit
Four interchangeable nose bridges
FINA approved
Lenses are anti-fog and UV protected
Cons:
Goggles are slightly small for a 'regular' sized face
The strap breaks fit frequent use
Not a product suitable for all adults
See a review on Youtube
9.  Sable WaterOptics RS 101 Mirrored Swim Goggles
Clearest vision while swimming underwater is to be expected from the lenses equipped with optical precision technology. Distortion is eliminated by the use of Aspherical and Flat Lens Technology. The silicone gaskets are soft and ergonomically designed to prevent any pressure on the eyes.
Pros:
Distortion eliminated due to the aspherical and flat lens technology
Lenses offer UVA and UVB protection
FUBA rated
Eye pressure eliminated due to the ergonomically designed silicone gasket
Individualized fit ensured by narrow, medium and wide nose bridges
Easily adjustable non-slip straps
Cons:
Possible leakage when diving
Tend to fog up over time
Sight compromised when swimming in cloudy/darker conditions
10.  Michael Phelps XCEED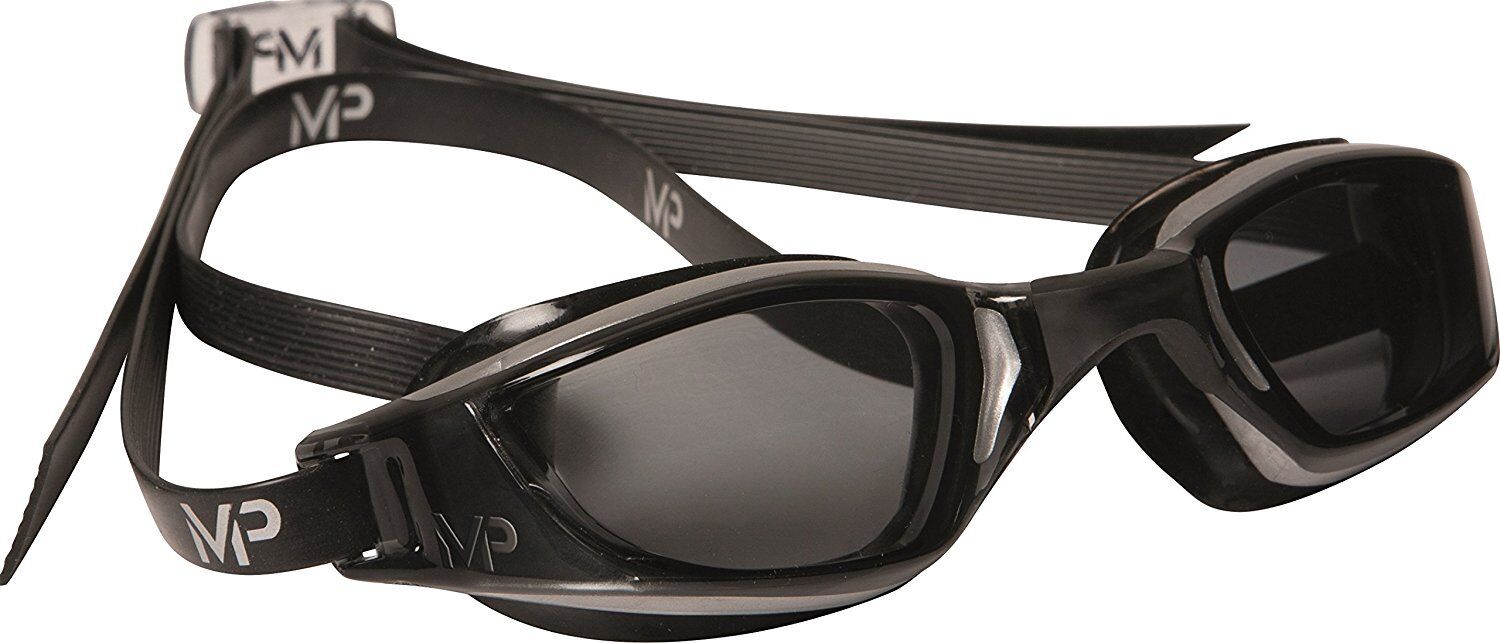 This competition goggles is good enough for the world's top swimmer, it is god enough for other, too. The goggles feature a curved lens technology that is patented. It has a low profile that is hydrodynamically efficient. This gives swimmers perfect clarity and a competitive edge.
Pros:
Incorporates exo-core technology for maximum performance
The Softeril gasket allows a water-tight seal
Strength and stability is maximized by a rigid exoskeleton
An enhanced field of vision
Cons:
The mirrored lenses make it unsuitable for indoor swimming
Does not fit all face types
Seal is not very wide
See a review on Youtube
11. Aqua Sphere K180+ Mirror Goggle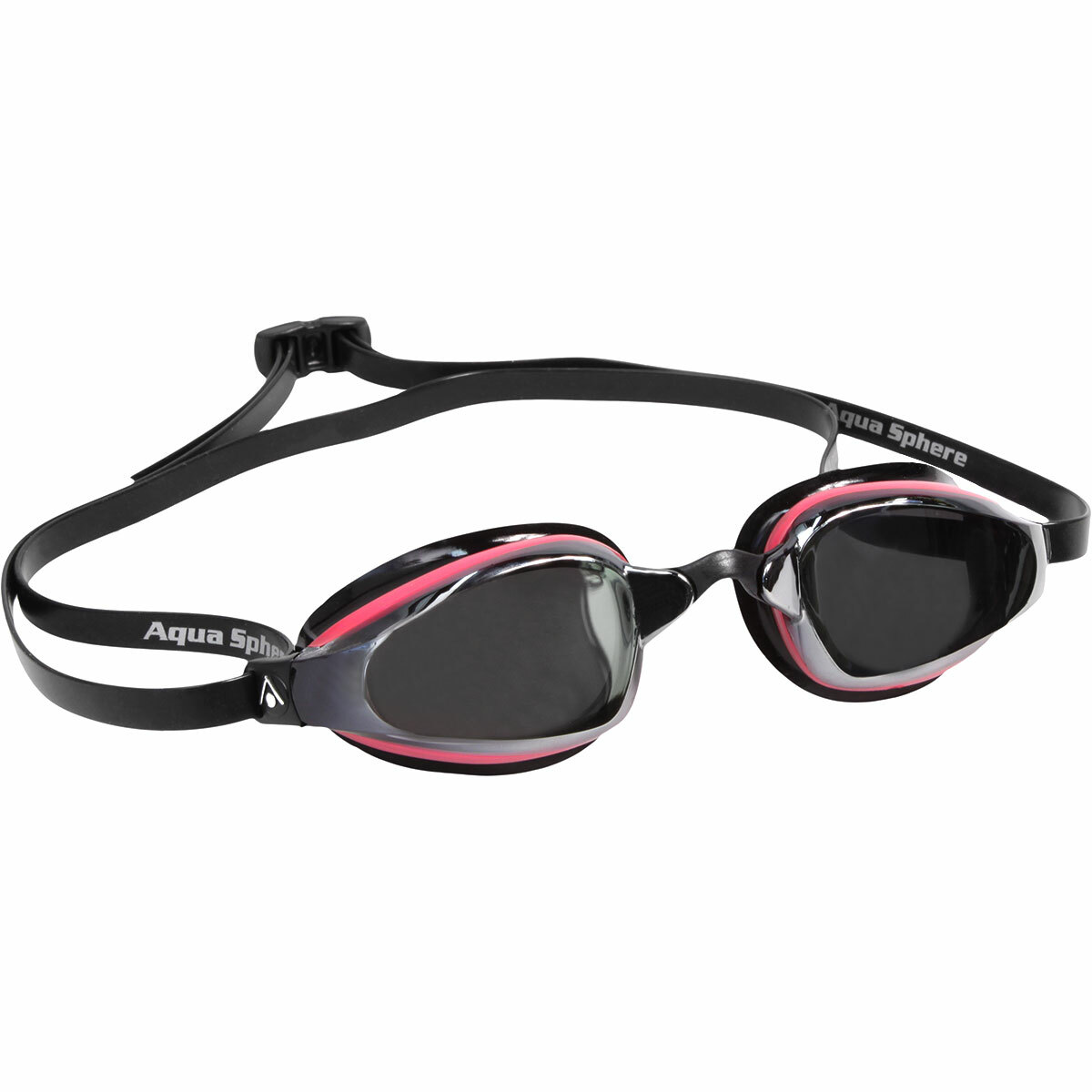 This effectively fights UV radiation and glare when swimming outdoors and in the open water. It provides 100% protection against UVA and UVB. The lens is scratch-resistant and anti-fog. Panoramic view is wide, at 180 degrees.
This product has a great streamlined, anatomic shape.
Pros:
Curved lens enhances hydrodynamics
Mirrored lenses
UVA and UVB protected
Provide an 180-degree line of sight
Softeril micro gasket offers a water tight fit
Three nose bridges to customize fit
Adjustable head strap
Cons:
May have slightly blurry underwater vision
Could hurt your eye sockets with prolonged use
Fog up with use
May not fit all face shapes
See a review on Youtube
12.  Aphotic: Photochromic Swim Goggle by HUUB Design
The Aphotic swimming goggles is first of its kind to utilize a photochromic technology. It means the goggles lenses can self-adjust according to the position of sunlight relative to the lenses. This technology gives swimmers additional clarity of vision, thus making it easier for them to move around despite the obstacles.
Pros:
Its photochromic lenses enable swimmers to maximize their vision while swimming.
The technology also protects the eyes from strain due to overexposure to sunlight.
It only takes approximately 60 seconds to go from dark to clear.
Aphotic goggles is comfortable to use as it are made with a density of silicone and TPR to perfectly fit the face regardless of the swimmer's profile.
Cons:
Some customers reported not being able to maximize their peripheral vision when using the goggles.
How to take care of your swimming goggles
The best way to ensure your swimming goggles last is to take care of them properly.  Event the best quality goggles will not work as they should if you are rough with them.
So how do I take care of my goggles?
Rinse them with clean water every time after use
Do not touch the insides of the lenses as it makes the anti-fog deteriorate quicker
If the anti-fog stops working, you have two courses of action: either lick or spit on the inside lens or use a homemade anti-fog solution of half baby shampoo and half water when rinsing
Tips for use of swimming goggles
Goggles care is very important, as well as proper use. Even the best and most expensive goggles will be no good with improper use.
Take these guidelines to properly use of swimming goggles.
Hold the goggles by the lenses, against the eye sockets, with one hand.
Pull the strap with the other hand, up over the head. Rest the strap against the back of the head in a comfortable position.
The sides of the strap should be positioned right above the ears.
Adjust the fit using the buckles on the sides of the frame.
Slightly tug at the strap and insert a finger. Run the finger along the strap to remove any trapped hair. Hair can break the seal around the goggles.
FAQs about swimming goggles
What is the best type for beginners? 
Any type can be good for beginners. The most important thing is that the goggles are comfortable and delivers the needs of the swimmer.
Should children be given goggles? 
Most experts believe that children and any beginner swimmer should first get used to the water's effects on the eyes. The swimmer, even children, should be able to see underwater without goggles. What goggles do is to enhance vision but the swimmer should not rely on it to see underwater.
Conclusion
Goggles are so varied. It can easily get overwhelming when choosing the best swimming goggles. However, with the right knowledge and good background of the best brands and types, choosing should now be a breeze than before.