There has been an unending debate as to which bathroom cleaner formulation is the best. Some say the gel formula is the best option while others consider the powder one as the best.
To guide you which is the best bathroom cleaning products that suit your needs, I listed the different bathroom cleaner types and include the best formulation for each. I also compiled the top 8 best bathroom cleaner options in the market recently.
Let's get started!
Types of Bathroom Cleaners
Toilet Bowl Cleaners
The toilet bowl is the number one part of the bathroom that needs constant cleaning. It is a breeding ground for bacteria that can cause illness if not killed instantly.
Thus, it is very important to choose a bathroom cleaner with a strong antimicrobial ingredient to eliminate bacteria and other harmful microorganisms. Cleaners with bleach content are also great options.
Since toilet bowls are a bit difficult to clean as dirt and bacteria can cling to the crevices of the bowl and its structure, it is recommended to use a gel form cleaner.
The gel formulation clings to the side of the toilet bowl, thus killing the bacteria that hide the crevices.
Bathroom Floor Cleaners
Same with the toilet bowl, bathroom floor also needs regular cleaning to avoid mold and germ buildup. If you think that you can merely clean the floor by just spraying water on it, then you couldn't be more wrong.
Think about the soap, hair products, footprints, and germs that you bring with you when you shower. These dirt and product residue need more than just water spraying.
Luckily, a lot of bathroom cleaner reviews reveal that you can use various types of cleaners for the bathroom floors. You just have to consider the type of flooring you have.
If you have the standard tile floor, then using a strong cleaner is okay, whether it's a powder or a liquid cleaner. I think the powder cleaner is the best though as it can clean the floor grout efficiently.
However, if your bathroom floor is made of wood or linoleum flooring, then consider getting a mild cleaner, as strong cleaners tend to damage these types of flooring.
Shower or Bathtub Cleaners
Lastly, you need to clean your shower area and bathtub, of course. For the shower floor, you can follow the same principle when cleaning the bathroom floor.
However, if you have a shower & tub, then you need to get an antibacterial spray cleaner. The spray cleaner is an easier way to clean and reduce the buildup of hard water or chemical residue on your tub every after taking a bath. You just have to spray the cleaner to the sides and floor of the tub and leave it to work its magic.
But what if you don't have the time to clean your tub every day? Then you need an abrasive powder cleaner. After a couple of weeks, the bathtub already needs deep cleaning, and spray cleaner can no longer handle that.
The powder cleaner, whether it contains bleach or not, can soften the buildup so that it is easier to scrub clean the tub using a sponge.
The Top 8 Best Bathroom Cleaner Reviews (For Toilet Bowls, Floors, & Bathtub!)
1.  Kaboom Scrub-Free Powder Bathroom Cleaner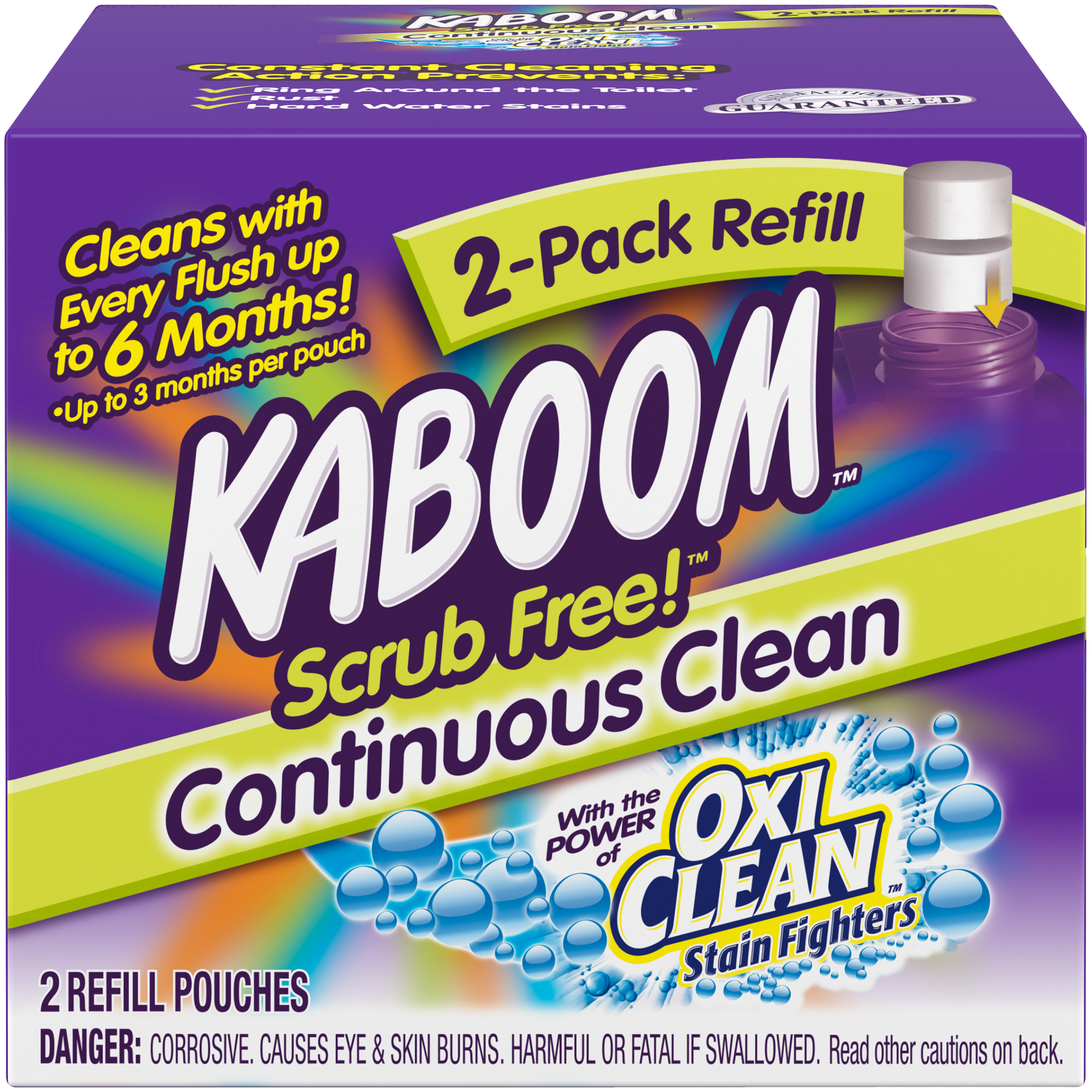 Kaboom is a popular bathroom cleaner brand online. ThisKaboom Bathroom Cleaner is in a powder form and is efficient in removing stains in your toilet bowl, bathroom floor, and shower.
If you want a versatile bathroom cleaner that you can use in various bathroom areas, then Kaboom Scrub-Free Powder Bathroom Cleaner is a great option.
This keeps the toilet clean for up to six months.
Safe to use in toilet tank parts, as well as on septic systems
Easy to use and set up
It's a refillable cleaner.
Keeps your toilet bowl clean every time you flush
2.  Clorox Gel Toilet Bowl Cleaner

This toilet bowl cleaner is a gel cleaner that is specially formulated to kill 99.9 percent of germs and bacteria found in bathrooms. Clorox is known to be an effective disinfectant that can instantly make your bathroom sparkling clean.
If you are very particular in keeping your bathroom germ-free, then the Clorox Gel Toilet Bowl Cleaner is your answered prayer.
This has a mild rain scent, making it a perfect choice for those who have sensitive sense of smell.
It's a non-abrasive formula, so it doesn't cause damage to your toilet bowl.
Has a wide nozzle included, which helps coat the inside of the toilet bowl
Safe to use on septic tanks
Ideal for stubborn stains that cling to the toilet
3.  Bon Ami No Harsh Chemical Powder Bathroom Cleaner
If you are looking for the best shower cleaner that is earth-friendly, then look no further than Bon Ami Bathroom Cleaner. It contains no harsh chemical and is made from renewable coconut and corn oils.
This is also a multi-purpose cleaner that you can use in ceramic tiles in the kitchen, on stainless steel, and on granite countertops. It's an all-around cleaner indeed!
This helps absorb bad odor, thus keeping your bathroom fresh smelling.
Made from five effective ingredients only, namely: Soda Ash, Soda, Surfactant, Limestone, and Feldspar
A multipurpose cleaner, perfect for bathroom and household cleaning.
Scratch-free formula. No need to worry about scratching or damaging your bathroom tiles
Has no chlorine, dye, or any harmful chemicals
Doesn't have a strong chemical scent, so it is safe to use around pets and children
4.  Kaboom Bowl Blaster Toilet Bowl Cleaner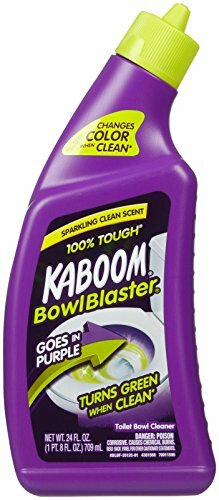 Sometimes, dirt and grime are not the only things that we need to get rid of. Hard water stain is also a common issue when we talk about bathroom cleaning.
This another Kaboom cleaner is being offered in a gel formula. You can apply this cleaner to the bowl, leave it for a few minutes, and observe the change of color. If the color changes from purple to green, then this indicates that toilet is now clean.
Please note that this cleaner is strong, so wearing gloves while using the product is highly recommended.
Easy to use and really efficient
Removes and cleans hard water stains quickly
This gel cleaner has a thick consistency that securely holds onto the sides of the bowl for a thorough cleansing.
It washes off easily without leaving chemical residue on the toilet.
5.  Lysol Power Spray Bathroom Cleaner
Lysol is one of the best bathroom spray cleaners. The brand itself has already gained recognition worldwide for its impressive cleaning ability. This Lysol spray cleaner, however, is specifically made for bathroom cleaning.
Say goodbye to 99.9 percent viruses and bacteria as this spray cleaner kills them instantly upon contact. What's even more admiring abut this spray cleaner is that it has a sunshine scent, which I think is very important to make your bathroom fresh smelling.
Lysol is a trusted brand known for their antibacterial cleaning products. Hence, you can guarantee that this spray cleaner is indeed effective.
I love that it is a spray type of cleaner as it can also be sprayed on the air to freshen the bathroom space.
Aside from using it to clean bathrooms, toilets, and showers, Lysol Power Spray Bathroom Cleaner also works when used on indoor Jacuzzis and hot tubs.
Very easy to use; just spray it!
No fumes during application, unlike other abrasive powder bathroom cleaners
6.  Don Aslett's Cleaning Center Foam Toilet Bowl Cleaner
Not familiar with Don Aslett's Cleaning Center? Well, let me tell you that it is a reputable cleaning product supplier in the world. Don Aslett is recognized as the #1 cleaning expert in the world. The center has been producing amazing products for 50 years now.
This Foam Toilet Bowl Cleaner, specifically, is both a cleaner and a deodorizer. It creates foam when use; the foam helps dissolves the hard water rings in the bowl. Furthermore, it brightens the toilet and leaves a deodorizing smell after the foam has been washed out.
Its foamy consistency is an excellent stain and hard water ring remover.
Cleans fast and works efficiently
Ready to use; no need to mix any solution
The clean fresh smell after using the cleaner last for more than a week.
A little goes a long way, so you can expect to consume the cleaner for a long time.
7.  Empire Cleaning Supply Powerful Bathroom Concentrate Cleaner
Another impressive bathroom cleaner that I discover online is the Empire Cleaning Supply Powerful Bathroom Cleaner. This is a concentrated cleaner, which you can use to clean your tub, shower, toilet, and bathroom floor.
When it comes to efficiency, a lot of its users vouch for the product's effectiveness. In fact, some consider this cleaner as the best bathroom cleaner for rust, soap scum, and water deposit.
It's a very versatile bathroom cleaner, perfect for the different cleaning tasks in the bathroom and in the other parts of the house.
Ideal for removing hard water rings and deposits, soap scum in the shower and tub, as well as for removing rust in the metal fixings in your bathroom.
It's a concentrate, so you can expect this product to work really well. If you want a mild solution, just mix the cleaner with 4 parts water.
Leaves a fresh mint smell after cleaning
Non-abrasive cleaner, so it won't scratch your ceramic tiles and toilet bowl
8.  Ecogreen Tri State All Natural Bathroom Tile and Grout Cleaner
Some bathrooms need an abrasive cleaner as it is only cleaned maybe twice a month. But for those who have the time to clean the bathroom regularly, an all-natural cleaner is a perfect choice.
Unlike, other abrasive cleaning solutions, the Ecogreen Tri State Cleaner works wonder in cleaning your bathroom tiles and grout. This EPA-approved cleaner is a non-toxic solution that is safe to use around pets and children.
Earth-friendly; no harmful chemicals used
A plant-based formula that is easy to dissolve in water; thus, it doesn't leave any residue
Made in the U.S.A
Efficiently breaks down dirt, stains, and deposits
This is available in different sizes
Conclusion
A dirty bathroom speaks so much of your character. You don't want to be branded as a messy person, do you? If you want to maintain a fresh and clean bathroom, then it is very important to choose your bathroom cleaner carefully.
From the 8 best bathroom cleaner options above, I have two favorites. These are the Empire Cleaning Supply Powerful Bathroom Concentrate Cleaner for a thorough bathroom cleaning and the Ecogreen Tri State All Natural Bathroom Tile and Grout Cleaner for everyday bathroom cleaning.
I love the fact that the Empire cleaner is a multi-purpose cleaner that effectively cleans rust, deposit, soap scum, stain, and other mess in the bathroom. At the same time, I love the all-natural formulation of Ecogreen, as well as its water-soluble formula.
How about you? Which bathroom cleaner is your favorite? Let me know in the comment section below!