No matter how small your bathroom is, all the corners, fixtures, and bath amenities need regular cleaning, especially the bathtub.
Just because your tub is washed with clean water every single time that you use it doesn't mean that germs and bacteria don't thrive on its surface, drainage and pipe. In fact, bathtub can be easily contaminated since it is exposed to soap and hair products, as well as other bath essentials.
Here, we've listed the best cleaner to use, from the best cleaning tools to the best cleaning solutions.
Check them out below!
8 Best Bathtub Cleaner Reviews and Recommendations
A.  Bathtub Cleaning Tools
1.  Drillbrush All-Purpose Scrubber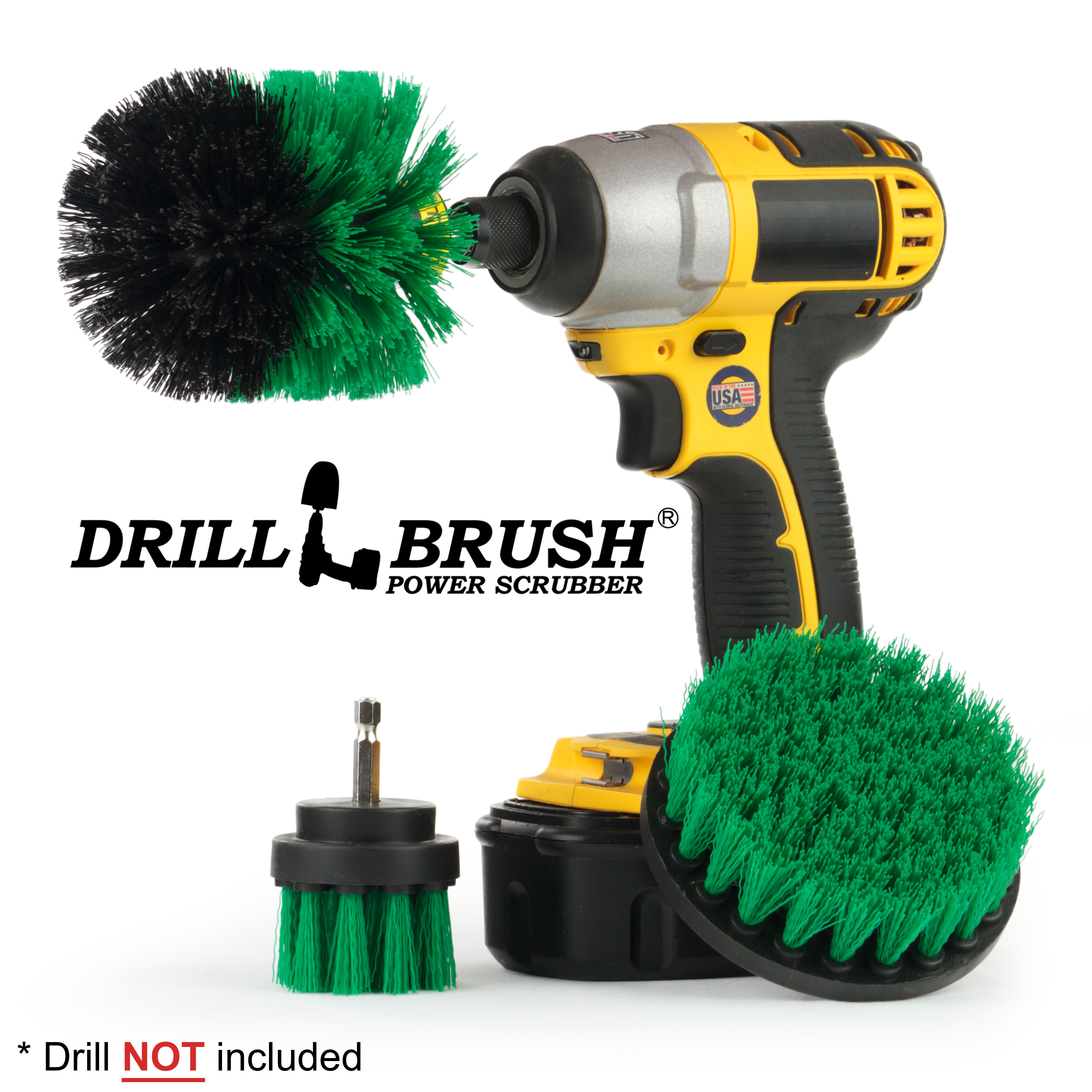 A scrubber is perhaps the best tub cleaner that ever existed. This all-purpose scrubber by Drillbrush can cut through the scum produced by soaps and hair products.
If you have a drill power tool, then you should maximize the tool's potential and purchase this drill brush scrubber. Instead of damaging your hands by exerting rigorous effort to scrub off the dirt and stains, the powerful and fast rotation of the drill will do the work for you.
Why Do People Love It?
You don't have to exert too much effort to get rid of the stains. The drill brush can effectively wipe off the dirt and stains in no time.
Spending too much time cleaning is unpractical if you know there are ways to complete the task faster. This is why users of this Drillbrush scrubber are really amazed by how much time they save when using this product.
This scrubber is made of nylon brushes, so it doesn't scratch the surface of your tub.
The scrubber comes in three different sizes to adapt whatever cleaning tasks you have in mind.
Aside from using it to clean your bathtub, this powerful scrubber can also be used in kitchen sinks and countertops.
2.  Clean Magic Eraser Cleaning Pad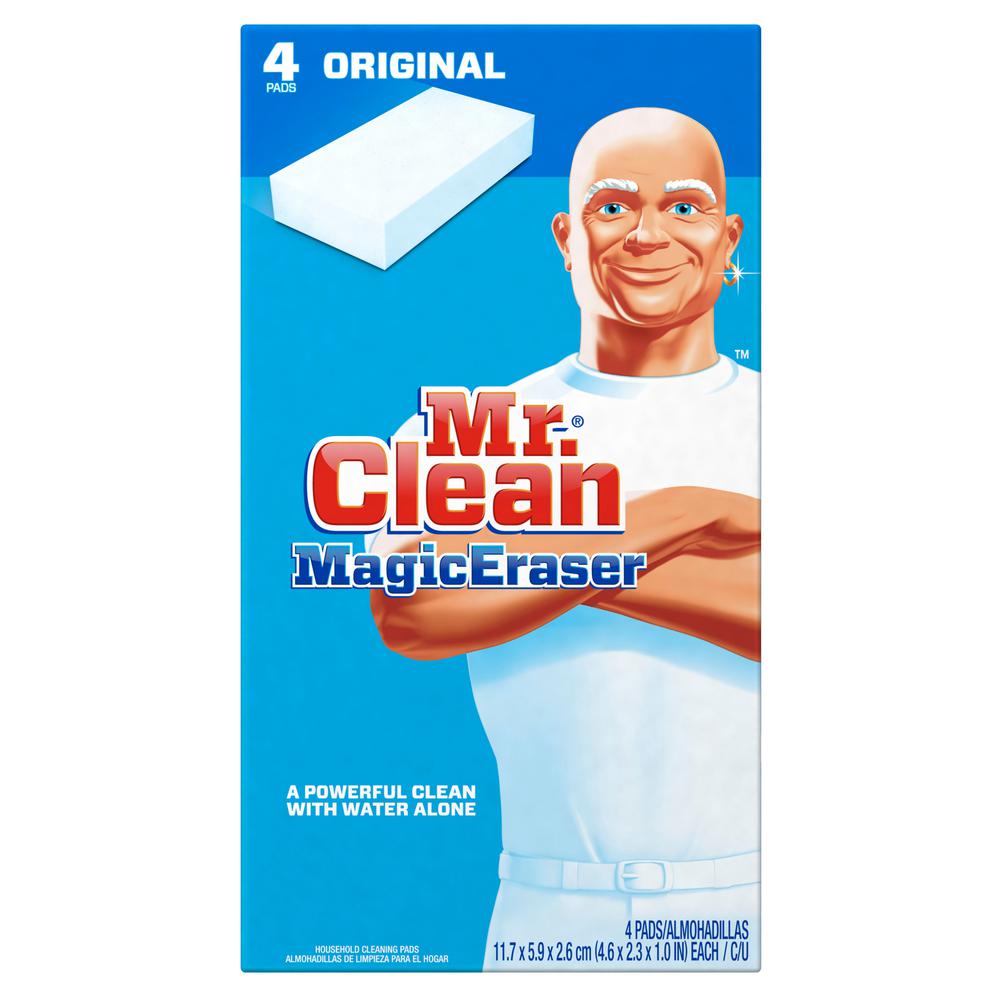 Have you ever experienced in which a stain is just too stubborn that scrubbing it isn't enough? Well, we have the answer to this dilemma.
Use Mr. Clean Magic Eraser cleaning pad to wipe off stubborn stains like magic. This cleaning pad is made from Durafoam, which is 4 times stronger than the average cleaning pads.
What's even more amazing with this Durafoam pad is that it works well if you are mainly using soap to clean your bathtub.
Why Do People Love It?
Its cleaning performance is superb as it can erase stains in one go.
The Durafoam cleaning pad is really strong and can last long.
You can also use this cleaner to clean plastic furniture and the toy bath accessories of your children.
Using this Magic Eraser scrubber is pretty easy. Just wet, squeeze, and use it.
This can do the cleaning job well even just by using water.
3.  OXO Wiper Blade Squeegee
Blade Squeegees are originally used to clean glass windows, but this useful cleaner is now strategically used to clean bathtubs.
This blade squeegee by OXO is one of the most popular bathtub cleaning tools nowadays. People reveal that they use the squeegee to get rid of excess water or moisture that clings to the tub after using it.
You see moisture is a breeding environment for certain bacteria. So, if you use this squeegee to wipe off any water streak from the tub, then you are minimizing the possibility of these bacteria to grow and multiply.
Why Do People Love It?
It's a very versatile bathtub cleaner that also makes a good shower cleaner.
You can use this squeegee to clean shower doors, bathroom windows, and even mirrors.
This has a flexible handle that has an excellent grip.
Users of this product vouch that it has a precise edge, thus giving you consistent clean results.
Storing this squeegee is easy as it has a rotating hook.
4.  Homitt Electric Spin Bathtub Scrubber
Earlier, we introduced a drill brush scrubber that you can just attach to your drill power tool. This time, we have an even more amazing cleaner.
The Homitt Electric Spin Bathtub Scrubber is a cordless bathroom scrubber that is powered by a built-in 3.65 Volt 4300Mah battery that is rechargeable. You can now clean your tub without the interruption of messy wires.
This scrubber has an impressive working hour of up to 50 minutes, enough for you to thoroughly clean the bathtub.
Why Do People Love It?
Some friends have this cordless scrubber, and feedback from them reveal that this scrubber is quite effective in removing stains from the bathtub.
This powerful scrubber also comes with 4 replaceable brush heads to adapt to whatever cleaning tasks you have.
With its 21-inches extendable handle, you can clean hard-to-reach corners of your tub. The extended handle also helps minimize crouching a lot, which causes back pains and fatigue.
Its round bristle head is perfect for cleaning the concave body of your bathtub.
If you like cleaning the other areas of your house, such as the kitchen, then you can use this electric scrubber too.
B.  Bathtub Cleaning Solutions
5.  Black Diamond Stoneworks Ultimate Grout Cleaner
When using different cleaning tools are no longer enough, then it is time to get your back-up plan moving. Using a grout cleaner for tile cleaning is one way to upgrade your cleaning method.
Grout cleaners are known to not just perform tile and grout cleaning, but they are also effective in removing stains from your ceramic or tile bathtub.
This Ultimate Grout Cleaner by Black Diamond Stoneworks has an impressive formula, which can safely deep clean your bathtub. All you need to do is spray this solution to the areas that need deep cleaning, leave it for a few minutes, and come back to scrub off the dirt and stains.
Why Do People Love It?
A lot of the users love the fact that it is a spray cleaner, which is really easy to use.
There are a lot of available sizes for this product. You can get a small bottle of 32 ounce or buy the 2 gallons bottle.
It is also important to note that it being acid-free is what makes it popular among homeowners. So, it doesn't damage your bathtub in the long run.
Really effective in removing stains, dirt, and soap scum
This is the best tub cleaner for ceramic and marble bathtub.
6.  The Floor Guys Grout-Eez Tile and Grout Cleaner and Whitener
Another great option for grout cleaning is this Grout-Eez tile and grout cleaner by The Floor Guys.
This is a heavy-duty cleaner that is well-loved by professionals. If you want a versatile cleaner to clean not just your tub but as well as your bathroom sink and bathroom floor, then this could be the right cleaner for you.
Why Do People Love It?
It's a heavy-duty cleaner that is also versatile.
You can use this to clean bathroom sinks and floors.
Comes with a free grout brush for you to use on stubborn stains
This is the number 1 grout cleaner choice of most cleaning companies.
Using this product is very easy. You only need 5-10 minutes for it to do its job.
7.  RMR-86 Instant Mold and Mildew Stain Remover
Okay, so you have the cleaning tools and the grout cleaners ready. But what about the mold and mildew in your bathtub?
Sure, some grout cleaning solutions can double up as mildew remover, but if you are very particular with cleanliness in your bathtub, then buying a mold and mildew remover to spray on your tub every after use is the wisest thing to do.
This RMR-86 mold and mildew spray remover can instantly clear your tub from mold and mildew. It can get rid of mildew in just 15 seconds!
Did you know that mold and mildew if not remove instantly can give you illnesses and irritations? That's right! So, get those nasty things out of your tub as soon as possible.
Why Do People Love It?
It's very easy and fast to use.
Versatility in cleaning is what the cleaner promises. You can use this on any surfaces.
This is also ideal to use on vinyl, fiberglass, ceramic, and other tub materials.
The bleach-based formula of this cleaner allows you to remove stubborn dirt in not time.
8.  Oh Yuk Jetted Tub System Cleaner
If you have a jetted tub system, then you need a bathtub cleaner that works well with the system. Introducing Oh Yuk's Tub Cleaner!
This cleaner is specially formulated to remove contaminants in the water so that you can enjoy a safe and clean soak in the bathtub. This helps clean the tub, as well as the water in it.
Why Do People Love It?
This is a scientifically engineered formula, and field test reveals it has amazing results.
It only takes you 15 minutes to clean the tub and water using this cleaner.
You can guarantee that your tub's septic system is safe when using this cleaner.
Doesn't irritate your skin.
Conclusion
We would like to recommend the best bathtub cleaner on the list, but in all honestly, these cleaning tools and cleaning solutions are a must to deep clean your bathtub.
However, if there is one cleaning tool that you should buy first, then we suggest you should go for the Homitt Electric Spin Bathtub Scrubber. It's the perfect bathtub cleaner for first-timers, not to mention that it cleans the tub efficiently.
For the cleaning solutions, we suggest you try a couple of cleaners and choose the one that works for you.
Thanks for reading and happy cleaning!