Vanities are bathroom cabinetries which are originally intended to cover the pipework and give additional storage space. Regardless of your reason of buying one, it must fit to the space available, your decorating theme, and your lifestyle.
Whether it's a simple wash basin that covers plumbing fixtures or a big double-sink model with numerous drawers and cabinets, the vanity can be a great addition to your bathroom. However, before you can find the best bathroom vanities, you must first know about the different types of vanities and which one can fit your home and lifestyle.
Different Types of Bathroom Vanities
One effective formula to save money is to place the newly acquired vanity in the same spot where the old one was. Rerouting the plumbing system will substantially increase the cost of a bathroom renovation. Also, it's far less costly to choose the same type of vanity you intend to replace. But if you're determined to buy a new one, here are the different types of bathroom vanities to pick from:
Single vanities:
If you're living by yourself or has a small bathroom area, the best choice would be a single vanity. This type of vanity usually comes with a small bathroom mirror.
Double vanities:
These vanities are best for master bathrooms. Double vanities provide two sinks and bathroom faucets and commonly include lots of storage. It can easily accommodate a shared space between two people.
Freestanding vanities:
The most common type of bathroom vanity, it provides good storage in the form of cabinets and drawers below the sink. It takes little space and is known for its utilitarian design. It can fit bathrooms of any shape and size. Freestanding vanities are not affixed to the wall, so installation is not necessary.
Wall mounted:
These bathroom vanities look trendy and delicate. They can free up floor space since they are hung on the wall. However, they are less durable and often prone to damage from forceful impacts. Keep in mind if you are planning to switch from freestanding to wall mounted vanity, you are obliged to reroute your plumbing. It means more effort and budget is required.
Corner vanities:
These vanities are best for a small guest bathroom or powder room. These are intended to be stuffed into a corner and usually have only one little cabinet for storage.
Product Reviews of the Best Bathroom Vanity
With a staggering number of bathroom vanities in the market, it's hard to check each one of them to know which one is perfect for your needs. That is why we have narrowed down your choices to the best bathroom vanities based on features, customer satisfaction, durability, and more.
1.  Reynal Single Bathroom Vanity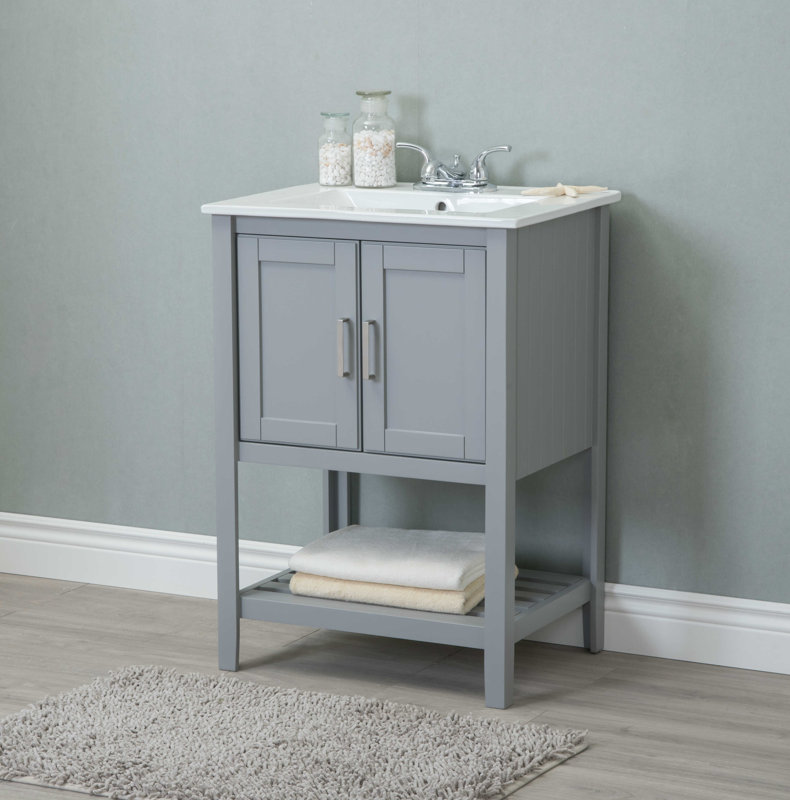 This Reynal is a freestanding vanity made by Andover Mills. Its does not only have an elegant design but is also multifunctional. It provides multiple storage with a cabinet below the sink and a rack at the bottom. Its gorgeous white ceramic top and porcelain sink blend well with the gray poplar wood and veneer base. Though the base is pretty solid, the top is only attached to it with the use of professional seal tape, so there might be questions about its durability.
Works well for limited space
Easy tool-free set up
Elegant design
May not be as durable as other vanities
2.  Ambudkar Single Bathroom Vanity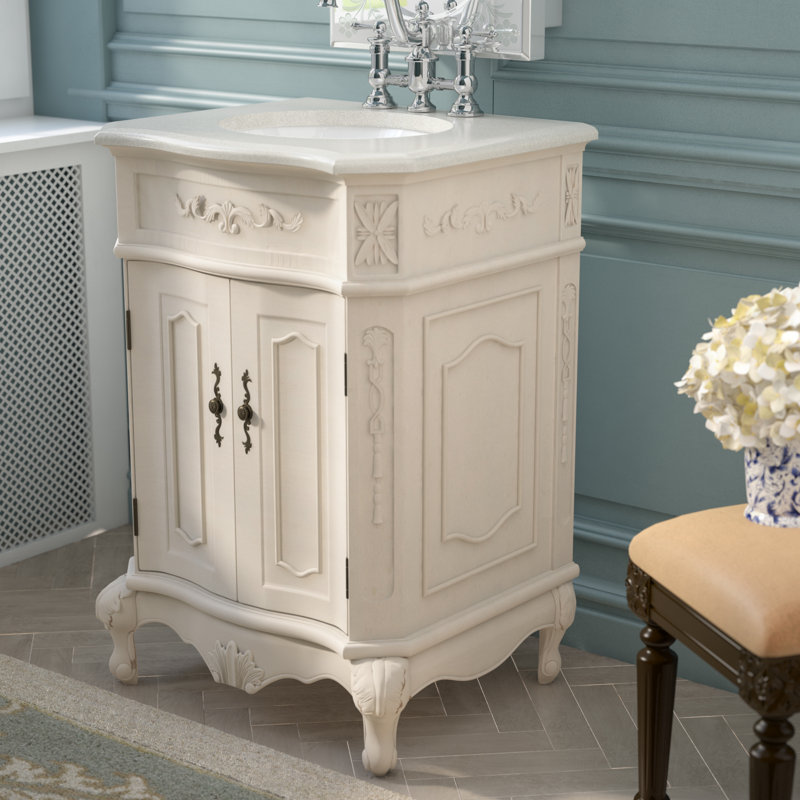 The Ambudkar vanity has a regal design, which is apparent in its paneling, embellished moldings, and intricately sculpted details. To complete the design are a rough apron, a plinth top, and Queen Anne-style furniture feet. The base is made of solid birch while the oval sink is made of ceramic. It has shelved storage where you can keep your bathroom essentials. This freestanding vanity will suit any powder room or European style bathroom.
Simple but has a classy design
Frame is made out of hardwood
No assembly required
With its design, it might not fit some modern bathrooms
3.  Guzman Single Bathroom Vanity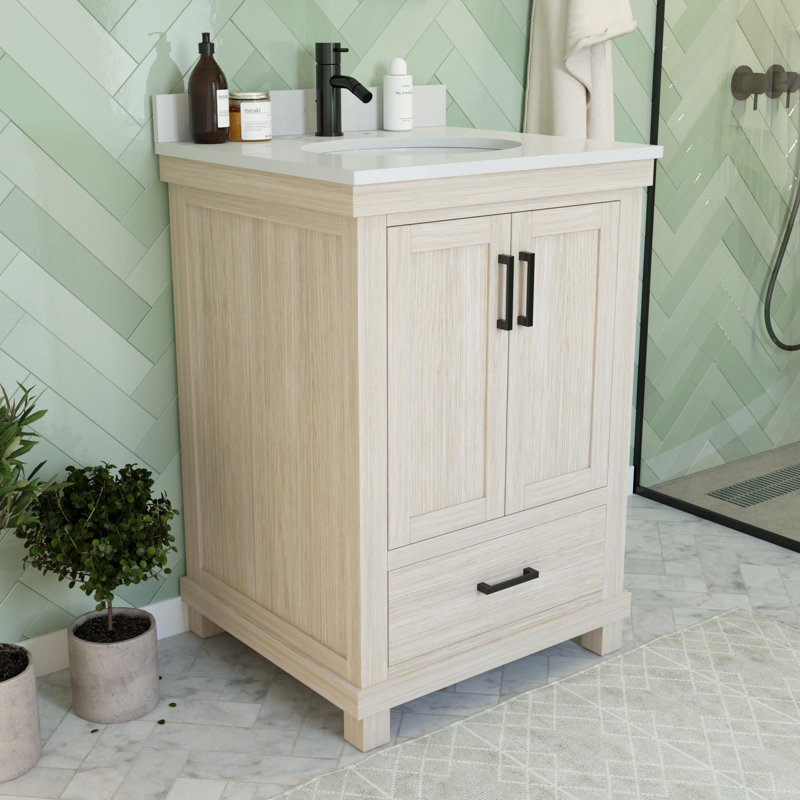 This free-standing vanity is crafted with the highest quality of solid plywood. The porcelain sink has the most interesting design, flowing in just above soft closing doors. With its overall dimensions of 34.6"H 24" W  17.5 D", it is an excellent space-saver. Its cabinet comes with chrome hardware.
Offers a deep porcelain sink
Easy to install
Does not come with a faucet
4.  Wheatley Single Bathroom Vanity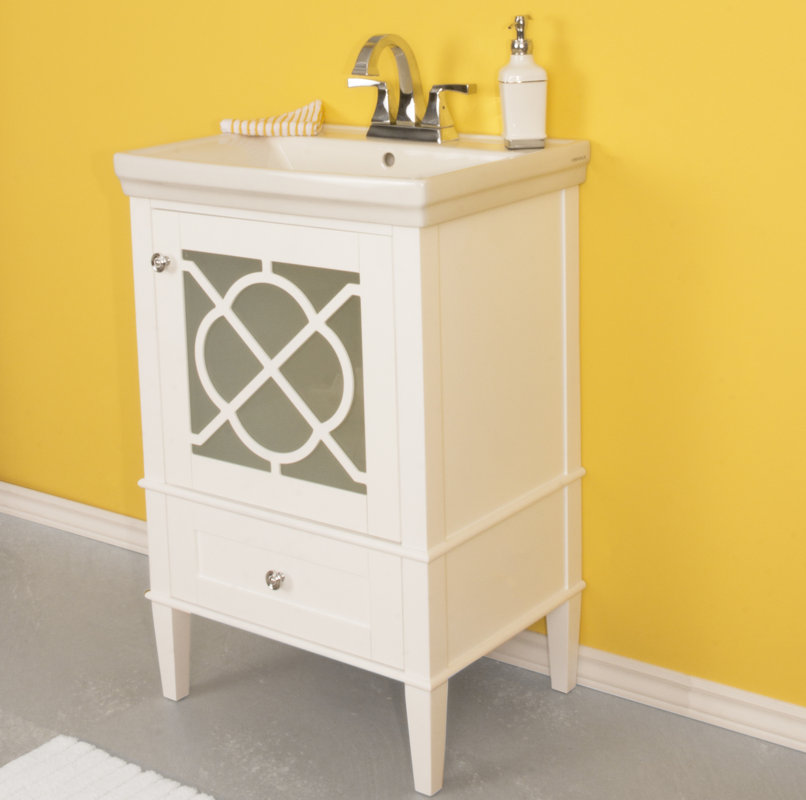 This vanity set features a white ceramic counter and a sink with three holes. The sink is made of vitreous china, which is scratch and stain resistant. Its base is made with poplar tree. While the solid wood is durable enough, it's prone to cracking. The upper cabinet has an opaque glass door while the bottom drawer is made from solid wood. Both can be opened with a chrome knob. Standing at 35.5" H x 23.63" W x 17.88" D, it can fit in the smallest bathrooms
Made from solid wood
Strong vitreous china sink
Durable sink
Ample storage area
Prone to cracking and needs white caulking to repair
5.  Betio Single Bathroom Vanity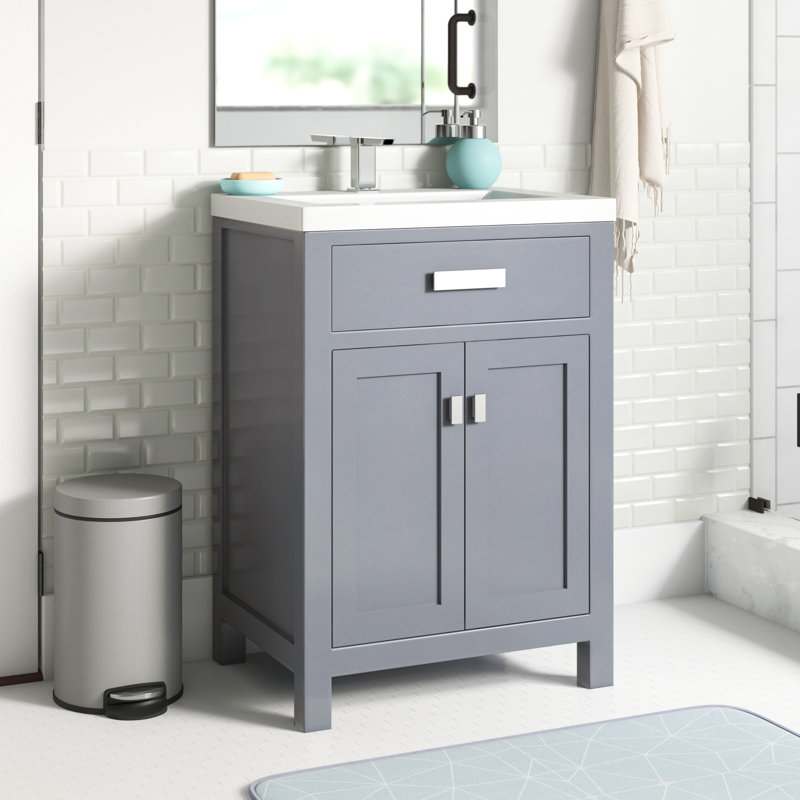 This single vanity set features a snappy white ceramic top fitted with an integrated sink and  a decorative MDF base. This easily complements a glossy silver-framed wall bathroom mirror and a striped shower mantle. You can attach the top to the base with the use of industrial double sided tape or caulk. There's a cabinet below for storage. Its soft closing doors doesn't make extra noise. Because there's no backing to this vanity, it can be a bit flimsy.
Comes with soft close drawer doors
Provides plenty of storage space
Comes with a matching framed mirror
6.  Langenfeld Single Bathroom Vanity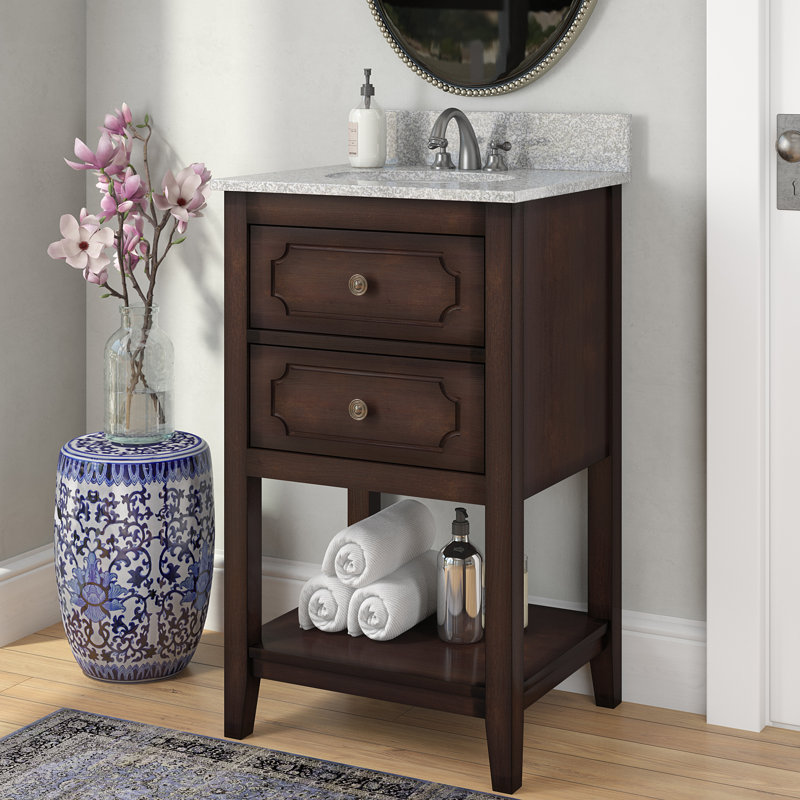 If you have a compact powder room, then consider this single type vanity. It has a conventional design and comes with a polished walnut-finished manufactured wood frame with a gray granite top. It has three faucet holes that are located behind the sink. In addition, it has a single drawer and an uncovered shelf for storing toiletries and towels.
Granite vanity top
Durable vitreous china sink
Easy to clean
Narrow legs with adjustable leg levelers
The sink is a little bit shallow
7.  Caldwell Single Bathroom Vanity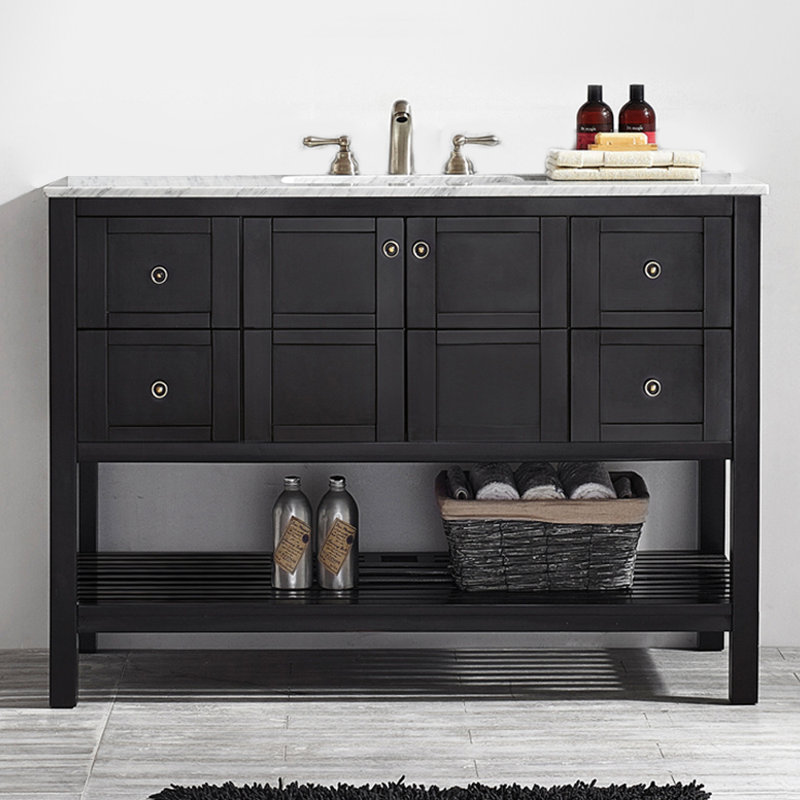 This single style bathroom vanity will be a sophisticated add-on to your bathroom or powder room. Placed it below a clean-lined and frameless wall mirror to give a casual and comfy ambience. The Carrara white marble top with nickel-finished soap dispensers complement its steel hardware. For an effective solution of your storage problem, you can use the bottom display shelf to store folded towels and additional toiletries. It has also two drawers and cabinets to provide more storage place.
Offers plenty of storage
Italian Carrara white Marble top
Soft Close drawers and doors
Made from solid wood
Higher than standard vanity
8.  Newtown Double Bathroom Vanity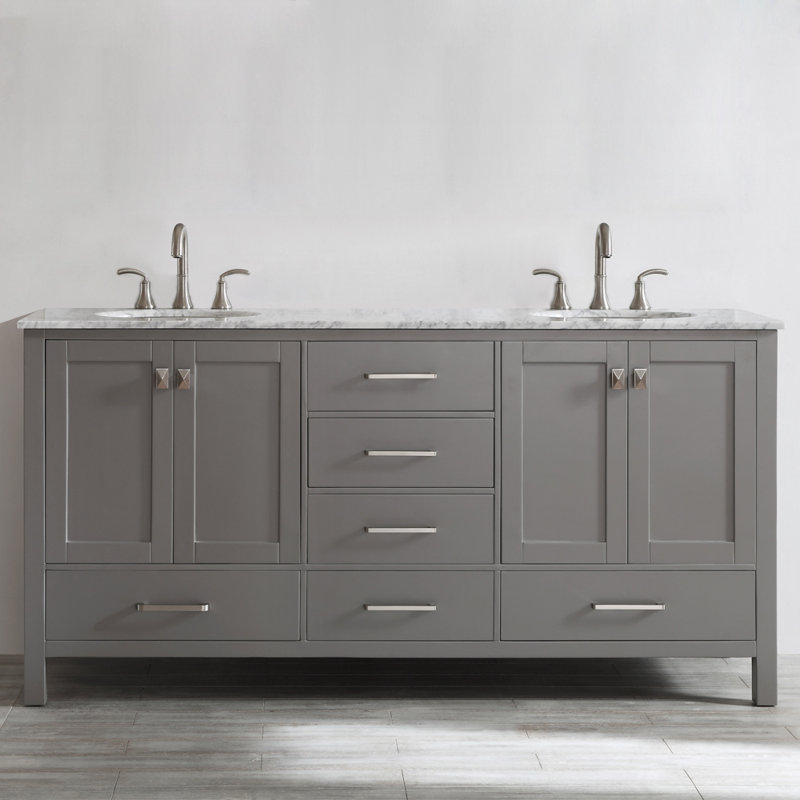 This double type vanity bathroom is made of manufactured oak wood and carrara white marble top. Its sleek steel hardware adds a bit of metallic attraction. The smooth lines and touch up paint gives it a clean look. You can use the four paneled cabinets and four drawers to keep all your beauty and bath products. It has a matching mirror that can be fixed on the wall.
Gives a sufficient of storage space
Comes with matching mirror
Comes with only one size
Extremely heavy
9.  Stian Double Sink Bathroom Vanity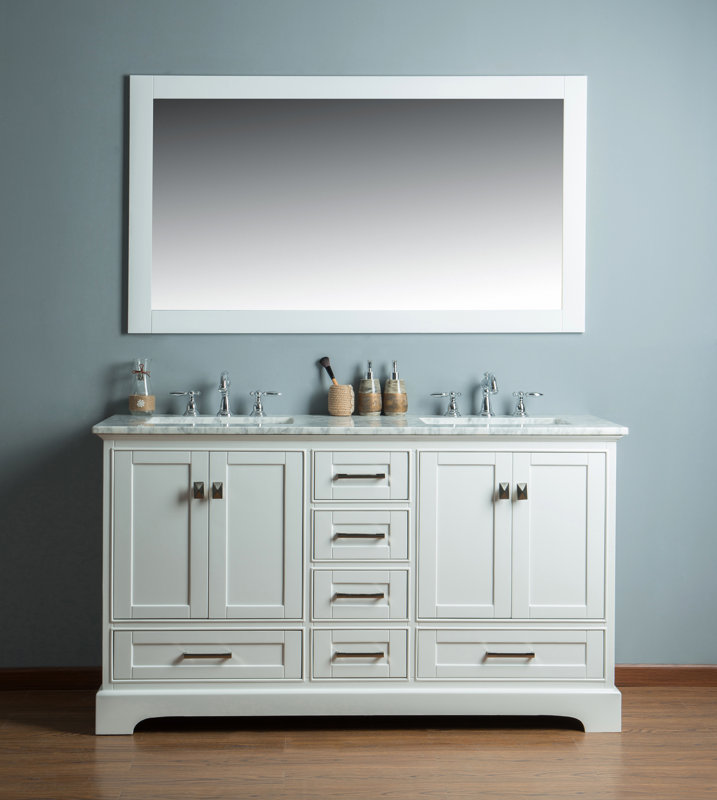 This vanity set has a stone marble top that can give an elegant flair to your bathroom interior decoration. The grenola or gray finish perfectly complements the marble top. It measures 36.5" H x 60" W x 22" D with a generous storage space. However, because the vanity comes in one piece, it's pretty heavy. With its dual undermount sinks and groomed nickel hardware can fit any bathroom.
Provides ample space storage
Durable construction
Only comes in a single size
10.  Tenafly Wall-Mounted Double Bathroom Vanity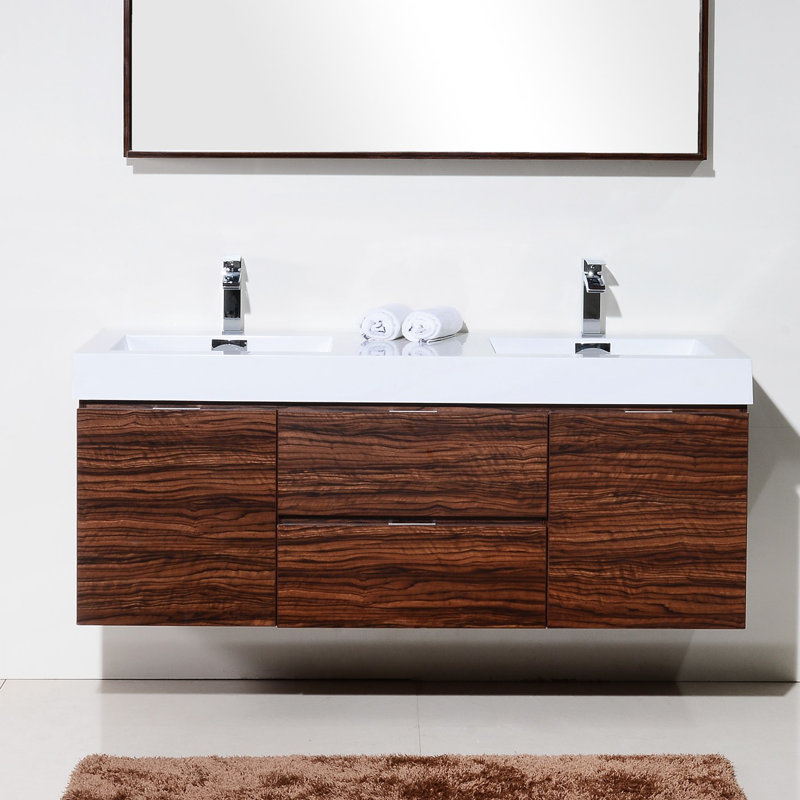 This wall-mounted vanity set is one of the most elegant bathroom vanities. It has a double polymarble acrylic sink. The bottom is made of Medium Density Overlay (MDO) wood that is completely air-dried and water-proof.  It also comes with high a quality European hardware that gives a velvety closing movement. It's overall dimensions are  23.75" H x 59.25" W x 18.5" D and has two cabinets and two perfectly usable drawers.
Provides a lot of storage space
Reinforced acrylic composite sink with overflow
Moisture and water resistant
Installation hardware included
Open back for easy plumbing access
Because it does not have a back panel, it can't take too much weight
11.  Ankney Double Bathroom Vanity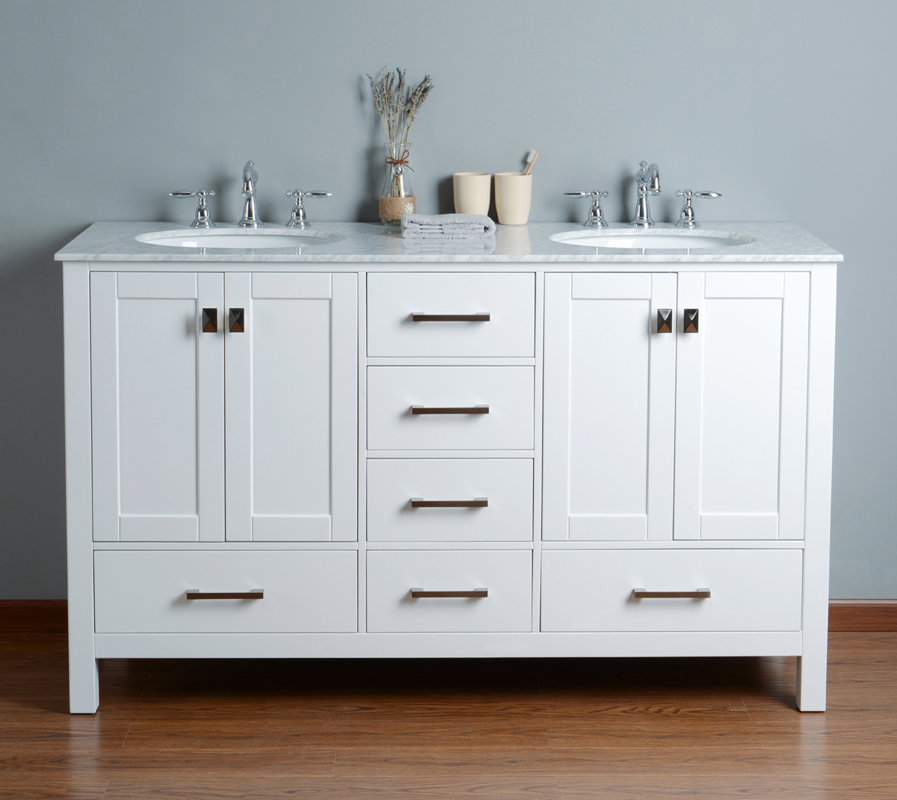 Organize and modernize your bathroom with this double vanity. Made out of birch wood, its base has 6 drawers and two of them are cut out to make space for plumbing. It also has a spacious open shelf below to accommodate toiletries. It features a Carrara white marble countertop that is noticeable at top. It comes also with two oval undermount ceramic sinks that can cater two people at the same time. Finally, it has a chrome-finished fittings that add more elegance in this vanity.
Gives a contemporary flair
Permits for uncomplicated plumbing and faucet installation
Spacious storage
Soft-closing door hinges
Sides of the unit are fully furnished like the front
Doesn't come with a faucet
Higher than normal vanity
12.  Knighten Single Bathroom Vanity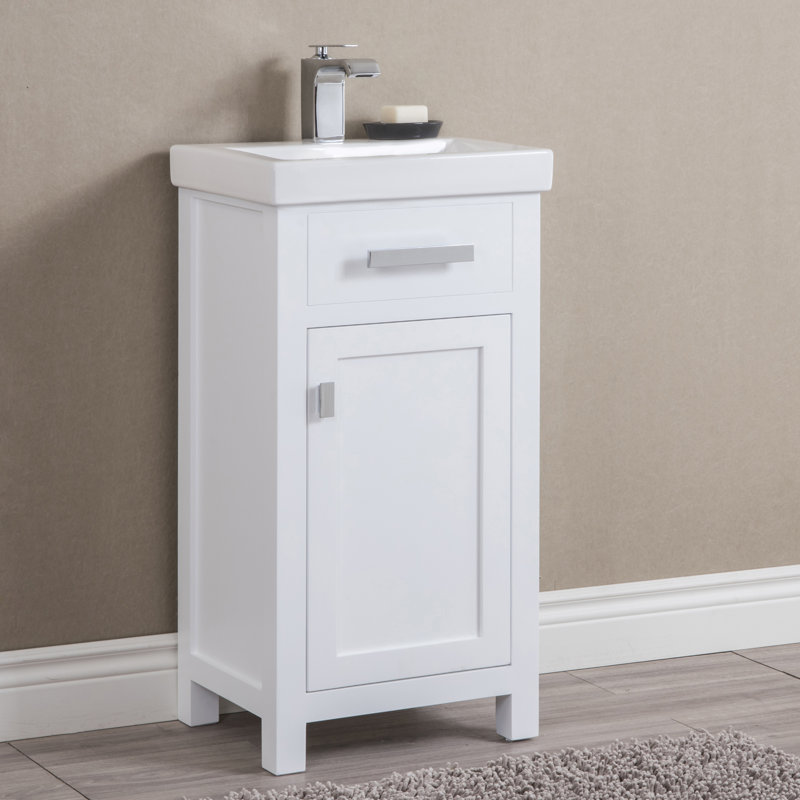 This freestanding vanity has a timeless design with a modern construction– a display of beautiful craftsmanship by Water Creation. The panels are made of Medium Density Fiberboard (MDF) while the countertop and sink are made of ceramic. Its overall dimension is 34.4" H x 18" W x 13.2" D, thus it's small enough to fit the tightest bathroom spaces. It has soft close drawers for storage. The best thing about this vanity is that it is properly finished and sealed to prevent fading and peeling.
Ceramic basin appropriate for widespread faucet
Solid wood base
Hassle-free setup
Has hard to close and open drawers
Final Thoughts
Thisbathroom vanities review should give you the most important things you should know about buying one for your bathroom. There's no single best bathroom vanity as each homeowner has to consider their own preference and needs. However, our personal favorite is the Caldwell Single BathroomVanity. Though higher than standard vanities, it offers plenty of storagecompared to otherthose with the same size. The Italian Carrara white Marble top and the solid oak base create a solid and ingenious design.