The best copper bathtubs have one thing in common – their patina. This is something not even the best luxury bathtub or cast iron bathtub can emulate. Before going through our list of copper bathtub reviews, however, please take a look at the facts you need to take into consideration before purchasing your new tub.
The Transition to Copper Bathtubs
Most people, in colonial days, used wooden bathtubs. Although they worked relatively well, they tended to spring a leak on occasion and were quite difficult to cart around. This could be one of the reasons they bathed so little, coupled with the fact that bathing water had to hauled into the home and heated over a fire before taking a bath.
Another problem was soap, which had to be handmade. Soap, at the time, was made with animal fat, some wood ash, and soda, with the addition of flowers or herbal oils to add a little scent. Hard soap, on the other hand, was usually made using lime, soda, and olive oil, with the same herbs and oils added. But these ingredients were quite expensive, so many people had to do without.
A long, warm bath, was, essentially, a luxury that very few people could manage.
The advent of copper bathtubs changed things somewhat, with some people even installing them in their barns and laying copper pipes to bring in hot and cold water. Because these bathtubs were designated a specific area, they no longer had to lug around a heavy bath. The age of the bathing room, or bathroom, had started.
Why You Should Consider a Copper Bathtub
These days, with the advent of more common materials used for building bathtubs, a copper tub is quite unique. But nothing beats a copper bathtub when it comes to style or sophistication, as each is unique while its patina ages in time, taking on a richer, deeper hue. They are also available in myriad styles and can fit into just about any bathroom, no matter the size.
Looking After a Copper Bathtub
It is very easy to look after a copper bathtub. They are also virtually indestructible. To clean, just use products that are not abrasive and rinse. Then you are done!
If living in an area with hard water, it is a good idea to pat your bathtub dry after cleaning to avoid any mineral buildup.
The Benefits of a Copper Bathtub
A copper bathtub has antibacterial properties, so the chances of bacterial buildup are very small.
Copper has what is known as a 'living finish'. This means that the patina becomes deeper with age.
It is this change in patina that allows a copper bathtub to heal itself. When scratched, the damaged area, over time, fades as the copper's patina changes.
Copper also has an amazing, positive effect on those plagued by conditions associated with inflammation, such as arthritis, rheumatism, osteoporosis, and tendonitis. Your body absorbs tiny quantities of copper every time it makes contact with the surface of your bath, allowing your body to replenish itself of this essential mineral.
Copper heats up quickly and retains heat much longer than most other materials used in building baths. This saves you money, as you do not have to constantly top up your water, and your heating costs are also cut.
Because of the different shapes and sizes that copper bathtubs come in, they are suitable for just about any bathroom size and style.
Copper bathtubs come in different finishes, from a glossy surface to a beaten one. Whichever you choose, your bathroom is ensured a unique finish.
Copper is recyclable. This means it is an environmentally friendly addition to your home.
Copper bathtubs can be made from recycled copper because copper is virtually indestructible and can be used again and again.
Choosing The Best Copper Bathtub for You
The first thing when choosing a copper bathtub is the space you have available. This determines the size of your bathtub.
Weight is a factor. Copper is quite soft and malleable, so do not go for one that is less than 16 gauge to ensure it does not dent easily. This will ensure your bathtub lasts, and looks great, for years to come.
The manufacturing process is another factor to take into consideration. The seams of copper bathtubs that are joined by means of soldering are usually weaker than those that are welded and tend to break apart after a while. Welded seams are much stronger and less easy to detect.
If your bathtub has a hammered finish, take a look at the detail. Is the hammering uniform or irregular? The latter indicates that the bathtub is handmade, while the former is probably done by a machine.
Take a look at the edging around your bathtub. It should be smooth, curved, and even in size.
Your finish should be even, with the patina not looking as if it has been wiped or brushed on.
Choose Your Style
Just like with regular bathtubs, copper bathtubs come in different styles. This means that you get to pick the style that resonates with you and fits in with your bathroom décor. Of course, some manufacturers even make custom pieces, if you are so inclined.
There are two copper bathtub styles, however, that are the most common. These are pedestal bathtubs and clawfoot tubs.
A pedestal bathtub can be placed anywhere you want in the bathroom and has a regular finish on all sides.
A clawfoot bathtub, although a freestanding tub like a pedestal, tends to be a little bigger and is fitted with four feet. They also tend to give your bathroom a more traditional look. They do, however, tend to need a little more room due to their larger size, generally speaking, while adding a shower attachment may be a little inconvenient and may not suit the style.
To make choosing a copper bathtub, or to take a look at what is available, please read our copper bathtub reviews. We are sure you will find something that will delight you.
Copper Bathtub Reviews
1.  Heisenberg Soaking Bathtub by Sinkology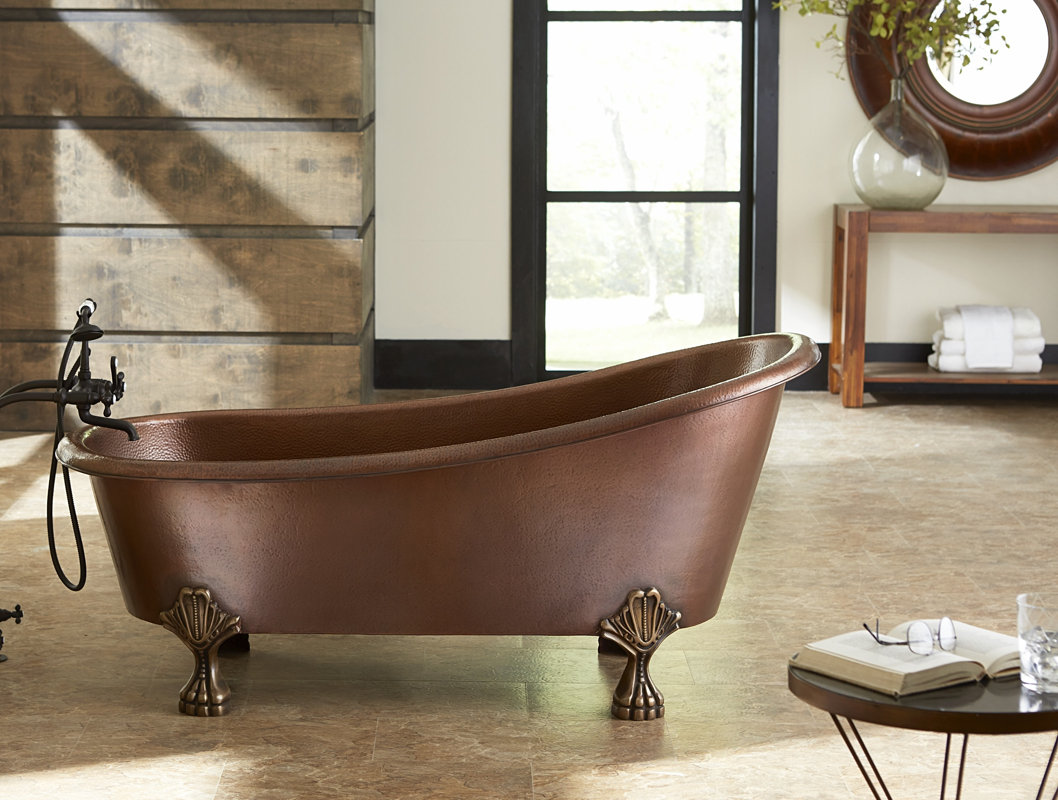 The epitome of luxury, the bronze colored copper soaking tub from Sinkology takes you back to the Victorian era. The handcrafted traditional slipper design and meticulous detailing of the cast solid bronze feet put this bathtub on the contender's list for "best copper freestanding tub".
The best features of this bathtub include:
A pre-cut overflow hole that allows for easy installation
Hand cast solid bronze feet that make a luxury statement
Built from 14 gauge pure solid copper
Each tub is individually handcrafted
See more: Sinkology Bathtubs on Wayfair
2.  Hammered Copper Double Slipper Bathtub by Premier Copper Products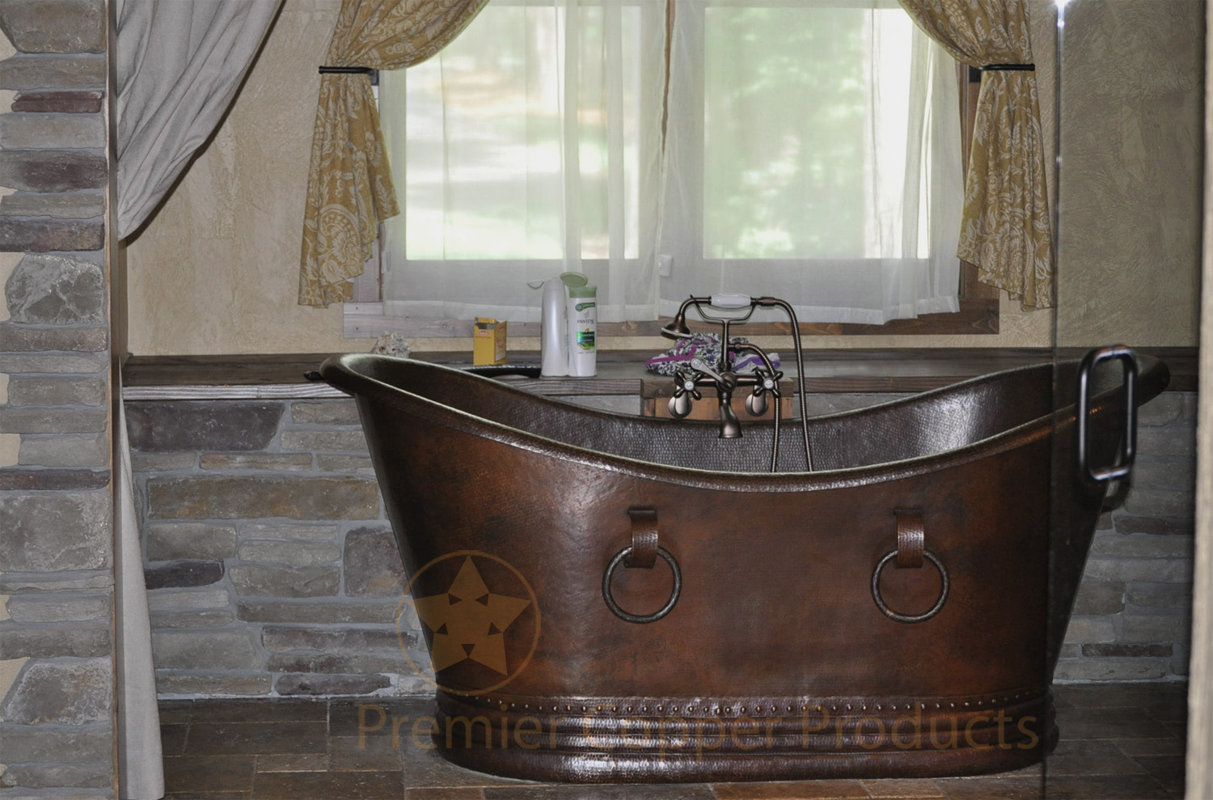 This double slipper bathtub makes one reminisce about your great-grandma's kitchen when the copper tub was put in front of the fire (before she had a bathroom tacked on to the kitchen) and everyone had a turn in the bath. This time around, however, you get an antique copper bathtub feel with the addition of modern extras.
The best features of this bathtub include:
It is a double slipper tub
The design has a copper hammer finish with decorative rings
It is a surface-mount installation
It is handmade, making each one individual
This is a 100% recyclable product
See more: Premier Copper Products Bathtubs on Wayfair
3.  Freestanding Soaking Bathtub by Native Trails, Inc.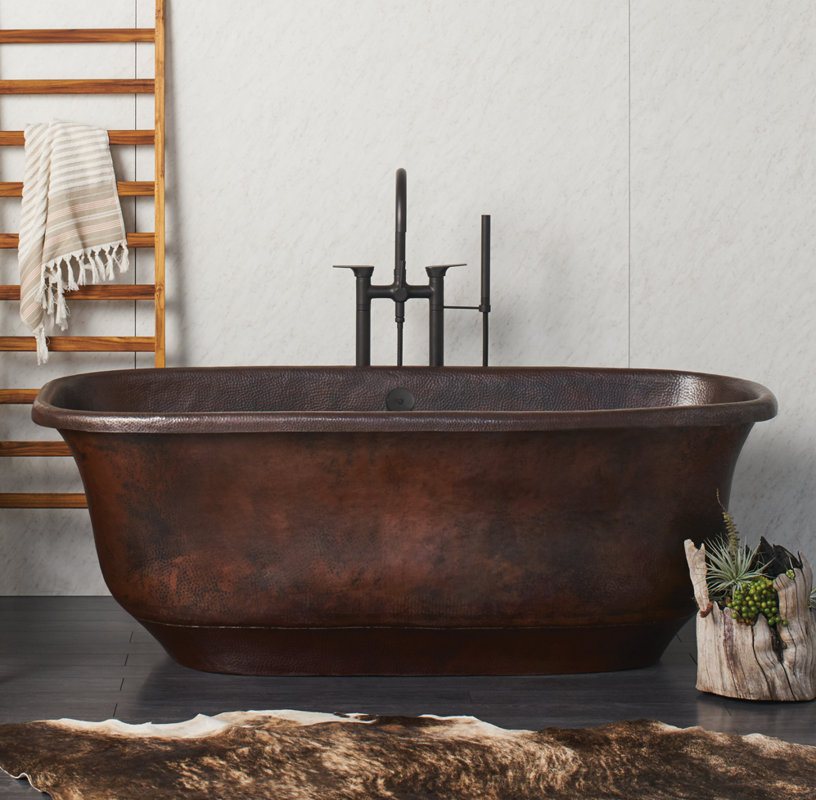 A traditional style, oval shaped, freestanding bathtub sans the legs. This pedestal tub with its warm copper finish is easy to clean.
The best features of this bathtub include:
A copper, pedestal bathtub that makes placement easy
An easy to clean surface
A center drain placement
An overflow drain is included in the design
See more: Native Trails, Inc. Bathtubs on Wayfair
4.  Juliana Copper Large Slipper Tubby D'Vontz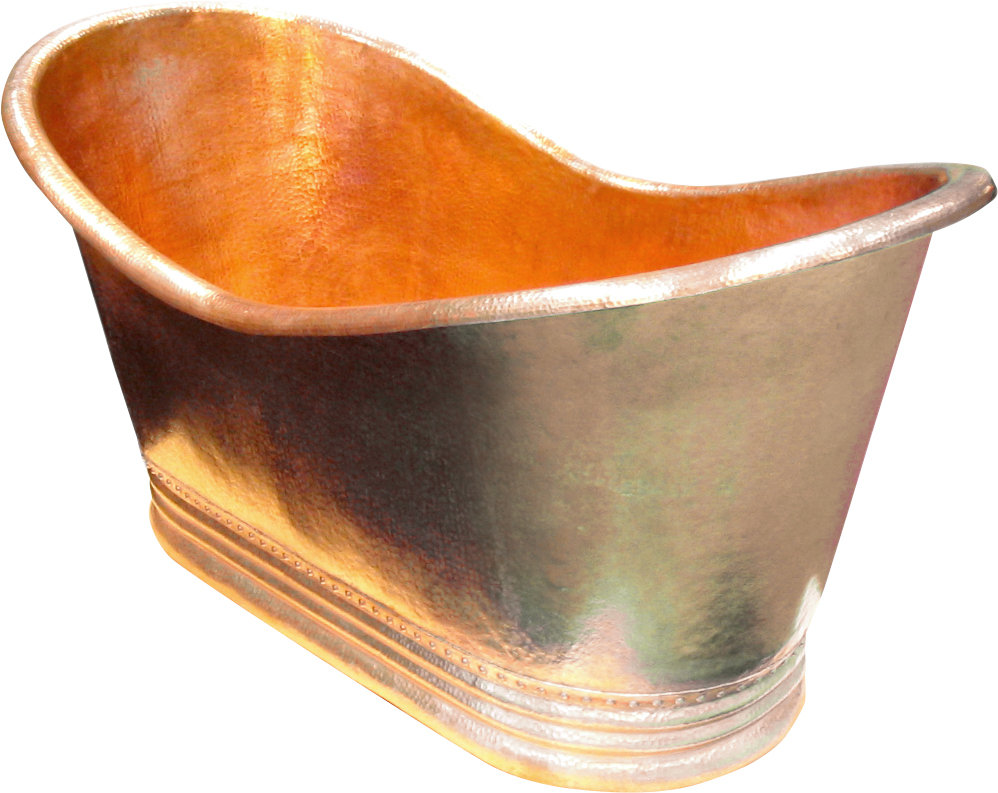 Each of these handmade copper bathtubs has it own individual patina finish. This means that each of these tubs is a stand-alone individual.
The best features of this bathtub include:
A beautiful bright, copper patina finish
Each tub is individually handcrafted
Carries an SGS Q Mark certification, making it compliant with all international, federal, state, and local plumbing codes
Made of copper
Drain placement is either to the center, left, or right, according to your personal specifications
It is a double slipper pedestal design and large enough to soak two adults
See more: D'Vontz Bathtubs on Wayfair
5.  Bathhaus Freestanding Bathtub by Whitehaus Collection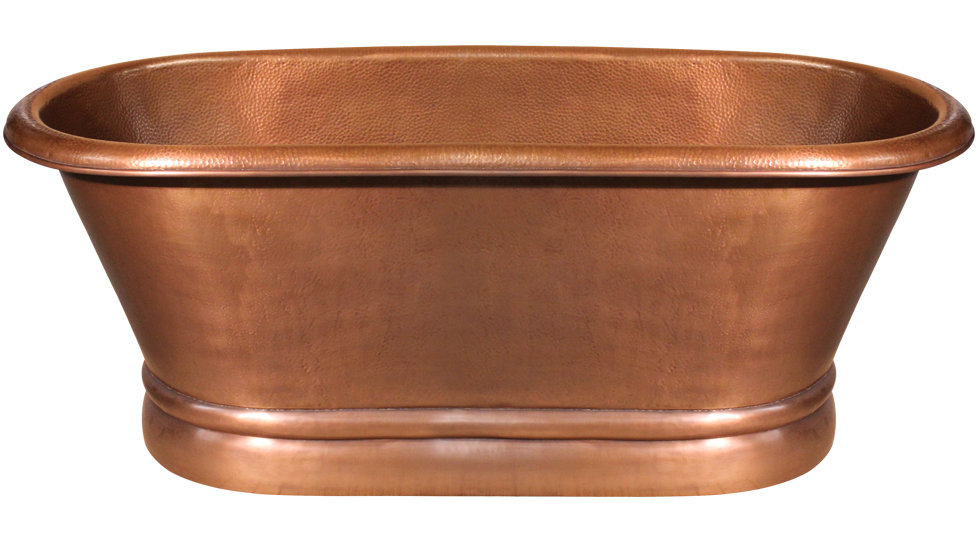 This beautiful copper bathtub has rounded trimmings and a gorgeous sheen. The hammered exterior contrasts beautifully with the lightly hammered interior.
The best features of this bathtub include:
Made of 16 gauge hammered copper
It is freestanding and double ended
Has a hammered exterior and lightly hammered interior
Product is handmade
Has a reversible drain placement
See more: Whitehaus Collection Bathtubs on Wayfair
6.  Dakota Freestanding Copper Bath Tub Soaking Bathtub by Novatto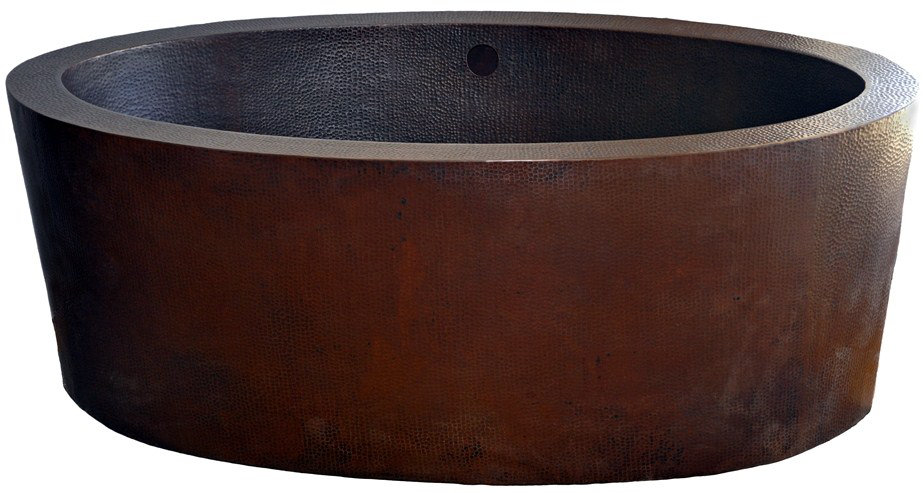 This is a viable option for the discerning buyer who prefers the individual, artisanal touch. Here you have an individually crafted copper bathtub that has a design that can either be described as ultra modern or oriental, depending on your frame of mind.
The best features of this bathtub include:
It has double walls
It is an artisan handcrafted bathtub
It is easy to maintain, while the living finish does not show any fingerprints
The patina continues to develop over time
It is a pedestal design
The drain placement is in the center
See more: Novatto Bathtubs on Wayfair
7.  Acrylic Faux Copper Clawfoot Bathtub by The Tub Collection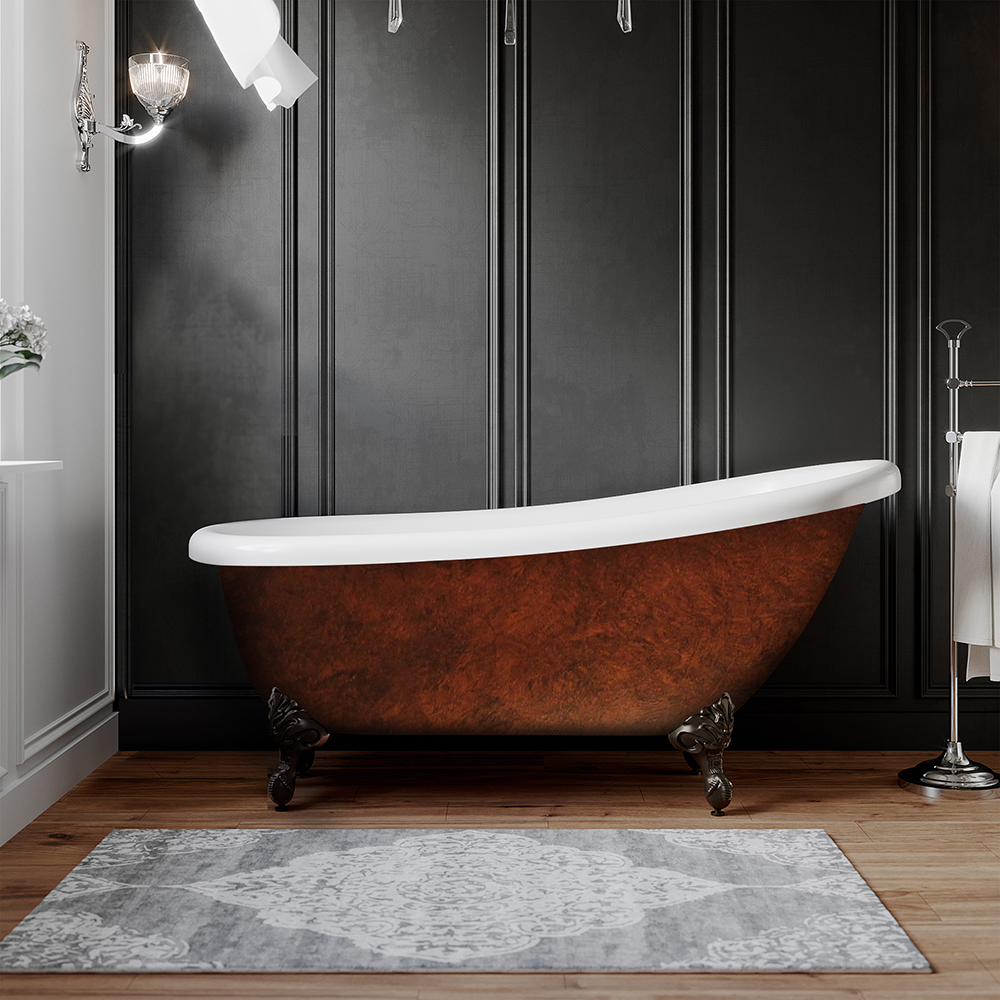 The "Copper Maries" clawfoot tub has a beautiful faux copper exterior and white interior with oil rubbed bronze claw feet. Made of lightweight acrylic, no structural changes are needed for installation, allowing you the beauty of a copper lookalike tub without the added weight.
The best features of this bathtub include:
A hand-painted faux copper bronze exterior and glossy white interior
Oil rubbed bronze claw feet (available in several finishes)
The beauty and style of a slipper bathtub
Made of lightweight acrylic
Frequently Asked Question
Are copper bathtubs safe to use?
Yes, a copper bathtub is perfectly safe to use. In fact, it has some health benefits, especially for those who have certain health conditions that are a result of inflammation, e.g. arthritis.
Conclusion
Copper bathtubs are available in a number of different styles, shapes, and finishes. They add a sense of sophistication and style to any finish, with their gleaming bronze hue adding an extra touch of appeal. They need minimum care, continue to develop a beautiful patina over time, and last for many years.
Deciding on our favorite from our copper bathtub reviews was a difficult decision to make. We are going to go with the BT-DAK Dakota Freestanding Copper Bath Tub Soaking Bathtub by Novatto, however. This is because it is so different from the others we reviewed and gives a bathroom an oriental feel that is clean yet elegant at the same time.