Do you happen to own a big garden that has a lot of room for added decorations and centerpieces?
If so, then why not get a good hardtop gazebo. These are great centerpieces to add if you want a place to put your garden furniture under.
Of course, you need to find the best hardtop gazebo so you can be assured of quality and stability. To find the best hardtop gazebos take a look at our list of hardtop gazebo reviews and buying guide to make things easier.
Buying Guide: Choosing a Hardtop Gazebo that Fits Your Style
Before we check out the best hardtop gazebo products, let's first understand how to choose one out of the choices. In our list, we have 12 that you can choose from. You can't really buy all of them for your garden. You need to buy one that can fit you and your garden's style.
How do you make that choice? By simply following our buying guide on how to choose the best patio gazebo for your needs.
Take a look at these factors:
Size
The first thing that you need to take into consideration is the size. In order to determine the size, you must decide how much space in your garden you want your gazebo to occupy. From there, do some measurements and look for the gazebo that suits those measurements.
Just to give you an idea, some of the most popular sizes include 10×10, 10×12, 12×12, and 12×16. You can use that as your guide when determining how much space to conserve.
Durability
The next thing you need to take into consideration is the durability of your gazebo. First of all, you need to see just how sturdy your gazebo is. This is dependent on its built (you can check to see if it collapses easily or not by doing a test) and the materials used to make it (we'll go through that later).
But more importantly, you'll want to make sure that it is weather resistant. During the stormy seasons, you'll need a gazebo that doesn't rust easily because you'll be leaving it outside when it rains. This is especially important if you live in a country that rains or snows a lot.
Aside from being rust resistant, you also need to make sure the roof is strong enough to protect you from UV rays from harsh sunlight. This is very useful during the summer time.
We recommend that you get a gazebo with UV protection ability at a minimum of UPF 50+.
Materials
There are so many materials that can be used to make a gazebo. You can use wood, plastic, and metal.
In our opinion, the material you'll choose will ultimately depend on your preferences as well as factors that may affect the durability of the gazebo.
For example, you'll probably want to get an aluminum gazebo if there are rain storms pretty often in your state. That's because aluminum is rust resistant and is also sturdy enough to take strong winds.
If aluminum doesn't suit the style of your garden, maybe you can try wood as it is also rust proof and sturdy. The only problem with wood gazebos is that they're vulnerable to termites and may contract molds. In any case, the choice is really yours to make.
Ventilation
During the hot weather, you may need to have ventilation in your gazebo to make sure the airflow is consistent. This is especially needed if you have an aluminum hardtop gazebo which can trap hot air inside. For those types of gazebos, ventilation is an important feature to have.
Style
The style and color will really depend on your own style preference. Material is one thing, but the color and style of the structure must also be taken into consideration.
We recommend that you first take a look at the existing garden decoration and try to match your gazebo with it. This factor is a little bit more subjective than the others so just bring out your creative juices for this one.
Other Features
Other than the factors that we've already talked about, you may also want to take a few other miscellaneous features to take note of. Other things that can enhance your overall gazebo experience include mosquito netting, designer drapes, screens, dividers, and built-in lights.
Branding
We can all agree that quality is extremely important when it comes to buying gazebos. If you buy a cheap one, there's no guarantee that it can survive the next storm or break down when you're under it.
In order to get the best outdoor gazebo for your garden, you need to buy products that come from brands that can ensure quality. The products that come from well-known and reputable brands can at least guarantee durability and expected performance.
For that reason, we only included products that are from brands that have solid reputations among customers in the market.
12 Best Hardtop Gazebo for Your Home Needs
1.  Sojag Genova Aluminum Gazebo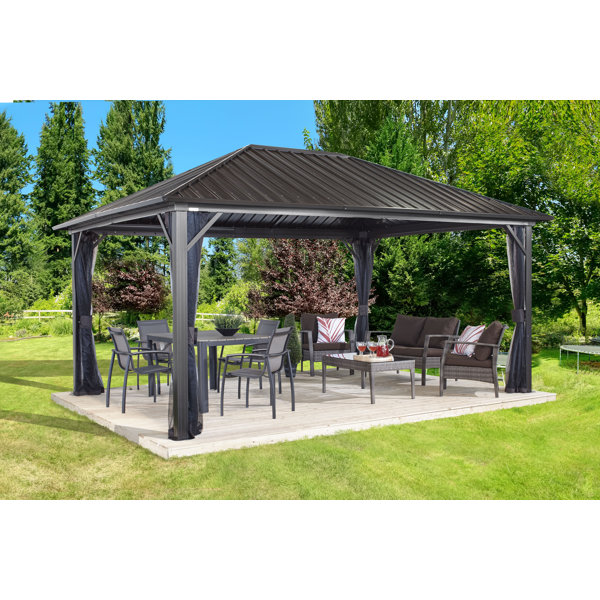 This hardtop gazebo is ideal for outdoor dinners. The design itself is rather classy and beautiful giving your garden an air of sophistication. With its sleek black look, it can go with almost all garden designs.
At the same time, it is also really durable. So, even if it rains or snows, the steel roof and the powder coated aluminum frame can keep it from wearing out. Aside from that, the roof is solid enough to protect you from exposure to harsh sunlight.
As a whole, it offers you both aesthetic appeal and also overall protection from the elements.
Best Features:
Galvanized steel roof
Powder coated aluminum body frame
Mosquito net to protect from bugs
Weather resistant
Comes with mesh netting
Solid steel roof that blocks UV rays
How Assemble a Sojag Gazebo
2.  Sojag Portland Patio Gazebo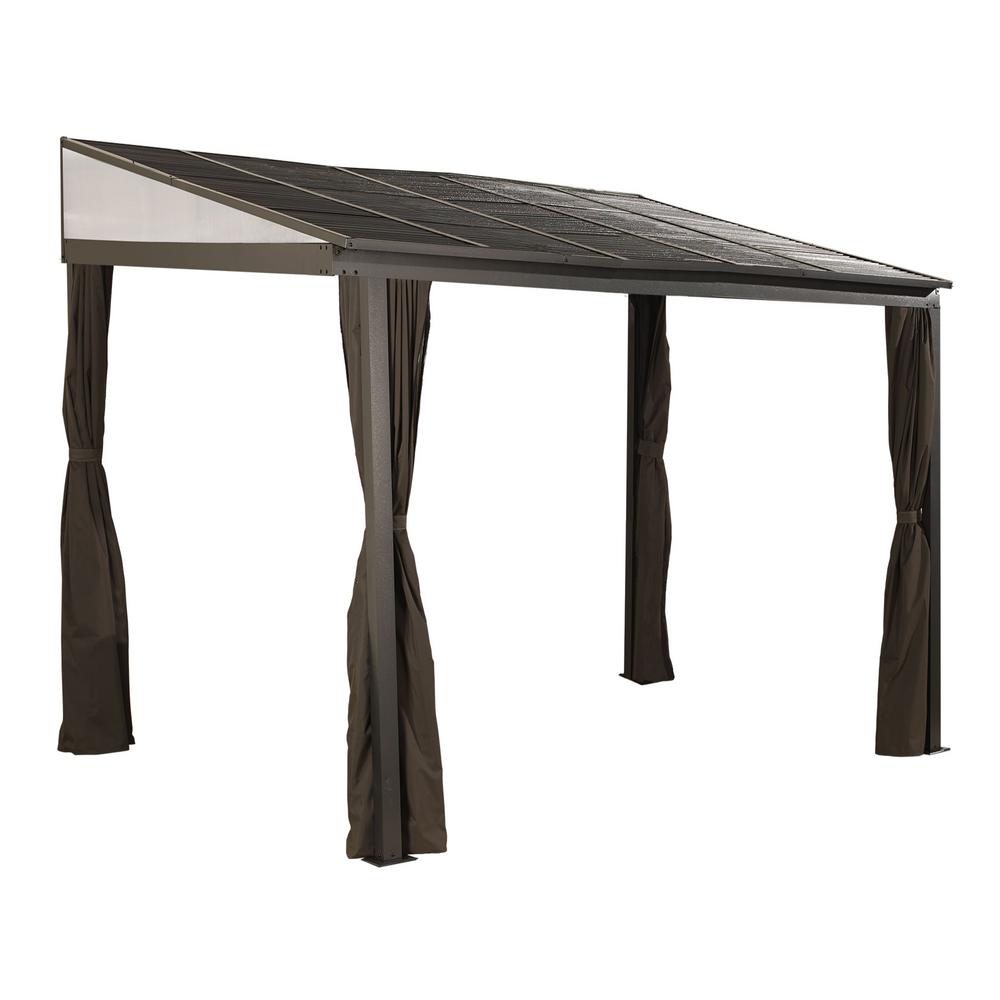 Unlike most traditional patios, this one can be attached to the wall of your house. With this type of design, it won't be like the patio is a separate accessory of your house. Rather, it is now a part of your house's decoration. That saves up some space in your garden and gives your house a whole new dimension.
However, it doesn't just act as an accessory. It's also a great addition to your porch where you can put the porch furniture under. It also comes with some curtains for the poles to give it an extra sophisticated look. It will surely impress visitors that will visit your home and have a drink by your garden.
Best Features:
Strong steel roof
Wall mounted design
Rust resistant frame
Comes with side curtains for the poles
Includes screens
3.  Kozyard Caesar Aluminum Gazebo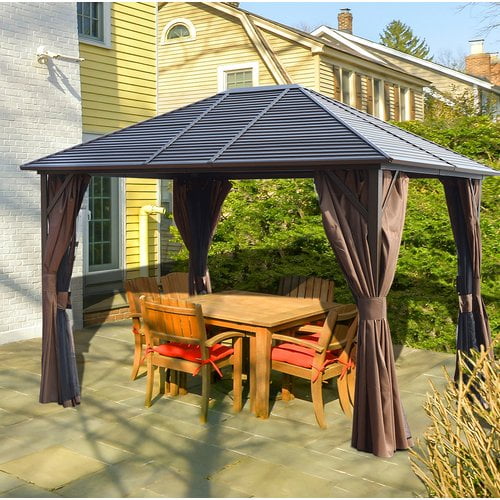 This is one of the coziest gazebos to have. It is colored dark brown to give it a very Zen feel when you plan to relax in your garden. It's rather durable being rust or deform proof. But what makes it really impressive is its mosquito netting.
This gazebo has one of the best mosquito nettings you can find in any gazebo. The netting is made of PBV coated polyester material which can totally block off any bug, no matter how small.
Another pretty impressive thing about this is that it comes with a double track system. This double track system allows you to easily add another layer of side wall. This allows even more privacy than before.
Best Features:
Relaxing, dark brown color
Aluminum frame
PBV coated mosquito net
4 Side steel railing
Double track system
4.  Yardistry Meridian Wood Patio Gazebo
While metal gazebos are known for their durability, wood gazebos have a different charm to them. Wood patios are more for those who prefer the more natural look for their gardens.
This one, in particular, is made out of light-colored wood— cedar lumber with natural cedar stains to be specific. The beautiful wood gives a very warm and cozy feeling for when you're in your garden.
Another great thing about this product is that it is very easy to assemble. It comes with a DIY assembly kit with all the parts you need to build it. If it's your first time having a wooden gazebo, this one is the suggested one to buy.
Best Features:
Easy to read assembly kit
Beautiful Cedar lumber
Aluminum roof
Anchored installation
Solid wood
Yardistry Gazebo Unboxing!
5.  Gazebo Penguin Metal Gazebo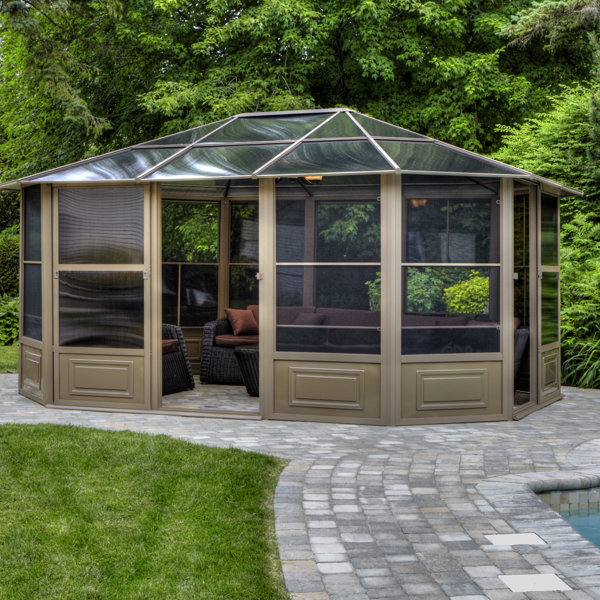 Are you looking for a uniquely designed gazebo that's a little more stylish than your average Gazebo? This one is what you may be looking for. If you take a look at this gazebo, it actually doesn't exactly look like a gazebo. Rather, it looks like a small metal-framed glass shed where you can chill inside. This is a great gazebo for those who often like relaxing outside with friends. It's also a great place to have dinner when you want to be outside of the house. If you want to add a small, beautiful "house" to your garden, why not get this gazebo?
Best Features:
Comes with windows and side walls
Weather resistant and very sturdy
Strong plastic roof
Comes with screens
Durable metal frame
6.  Palermo Aluminum Gazebo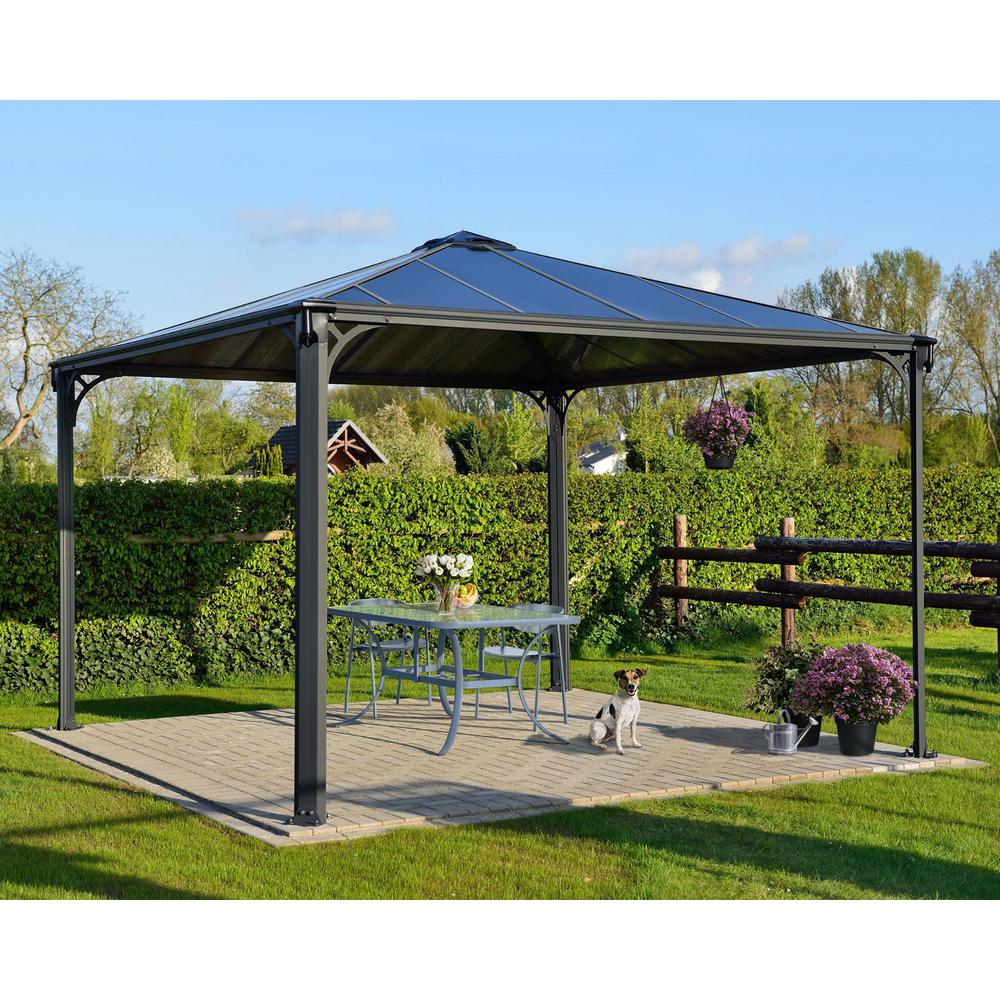 This Gazebo has been built specifically for making sure you can still enjoy yourself under it even during the rain.
First of all, it is compatible with a solid netting that not only keeps the bugs away but also protects you from getting wet.
Other than that, it also has a gutter system. What the gutter system does is that it brings the rain away from the sides so that it doesn't hit you. With this kind of system, you don't even need to worry about having an outdoor dinner in the storm. It's also pretty durable.
If you're worried about wind, you can be at ease because the built is really sturdy so the frame won't move an inch.
Best Features:
Gutter system
Powder coated steel frame
Rust and corrosion resistant
Durable polycarbonate roof
Compatible with solid netting
7.  Outdoor Living Today Bayside Cedar Gazebo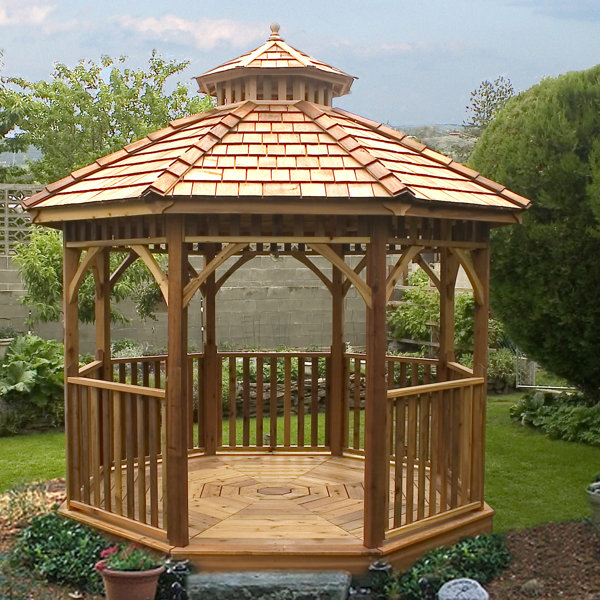 If there's one thing that'll grab your attention, it'll probably be its design. The Outdoor Living Today Bayside Cedar Gazebo's design follows somewhat of an Eastern or oriental style. If you have a Zen-inspired or Asian-inspired garden, then this is the best hardtop gazebo to buy.
The unique design will really stand out and give your visitors an eyeful when they go to your garden. Of course, it is also pretty sturdy being made of solid wood. You can also expect it to last a pretty long time without really wearing out.
Best Features:
Oriental style design
Solid wood and durable
Comes with assembly kit with complete screws and nails
With in-built flooring and railing
Natural wood color
8.  PalramMartinque Aluminum Gazebo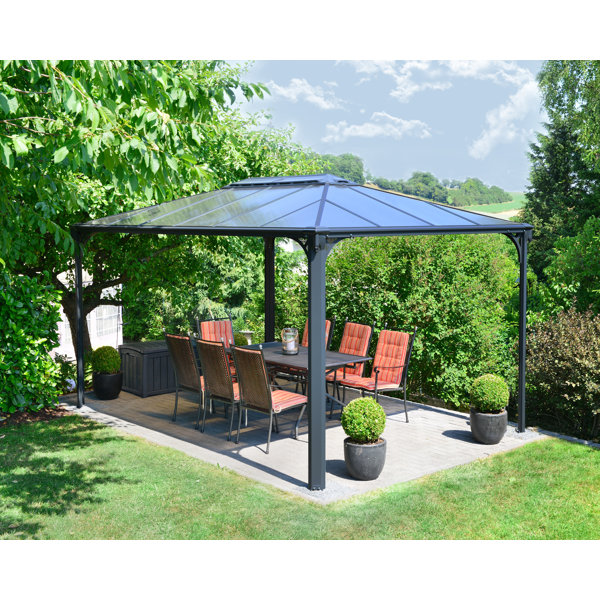 When it comes to overall weather protection, this gazebo does not disappoint. First of all, it offers good rain protection since it has a very efficient gutter system. The gutter system allows the gazebo to divert the water to the corners so that you don't get wet.
However, it's not just the rain you'll be protected from. It can also protect you against humidity and very dry temperature. That's because it comes with a vent that can regulate the flow of air under the gazebo allowing you to breathe properly.
It's also good for making sure that smoke doesn't stay in the air while you're under the roof. You can actually have a barbecue in the gazebo if you want.
Best Features:
Built in ventilation
Durable powder coated frame
Polycarbonate roof panels
Comes with UV protection bronze glazing
Gutter system
Corrosion and rust resistant
Easy to install
9.  Paragon Outdoor Santa Monica Gazebo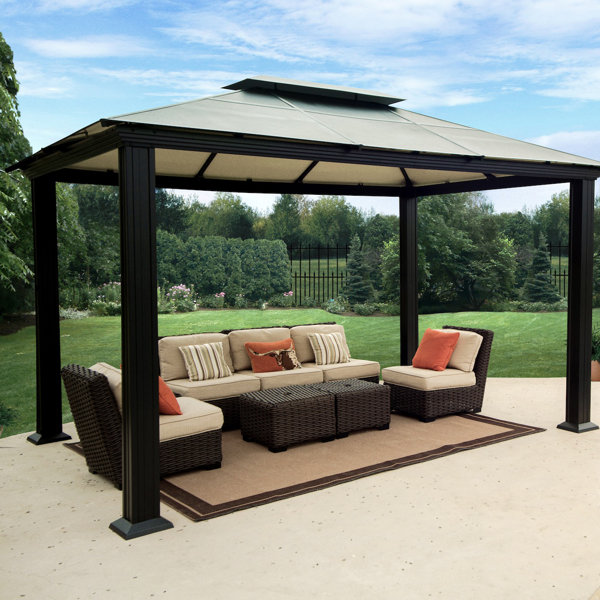 You can say that this gazebo is commercial grade because of the parts used to make it. First of all, the frame is made out of aluminum layers. To make it even sturdier, it has a polyethylene core along with various coatings used for finishing.
Overall, this one is a good choice to have if you're looking for something that can last and won't topple over in any weather. At the same time, it's quite pretty to look at. In fact, we can say that its design is rather versatile and can fit many garden styles.
Best Features:
Versatile architectural design
Has ability to block sun rays
Heat protection feature
Polyethylene core with layers of finishes
Illuminating color
10.  Paragon Outdoor Newport Gazebo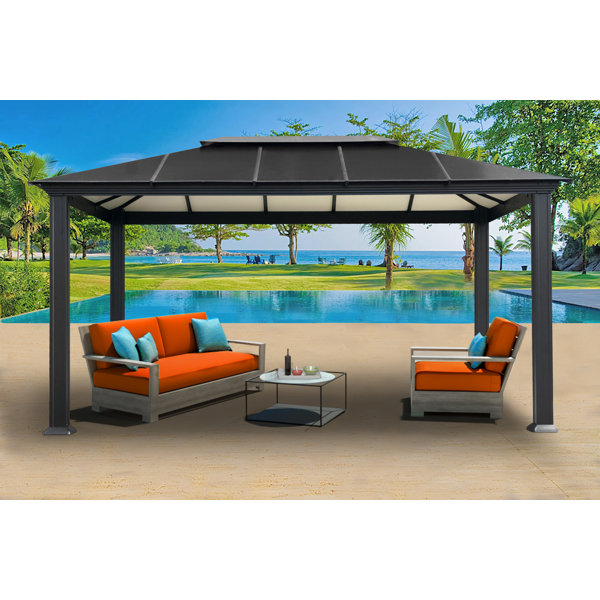 This one is pretty similar to the previously mentioned Paragon Outdoor product variant except that this one is longer with regard to its width. This allows you to spread out the furniture more, giving you more space to add long furniture like patio benches, porch sofas and the like.
This is great to have if you own a backyard with a pool. It'll add to the whole summer vibe when the sun is out in its full form.
Best Features:
Strong aluminum frame
Offers strong UV protection
Weather resistant roof
Subtle design
Commercial grade structure and built
11.  Outsunny Steel Gazebo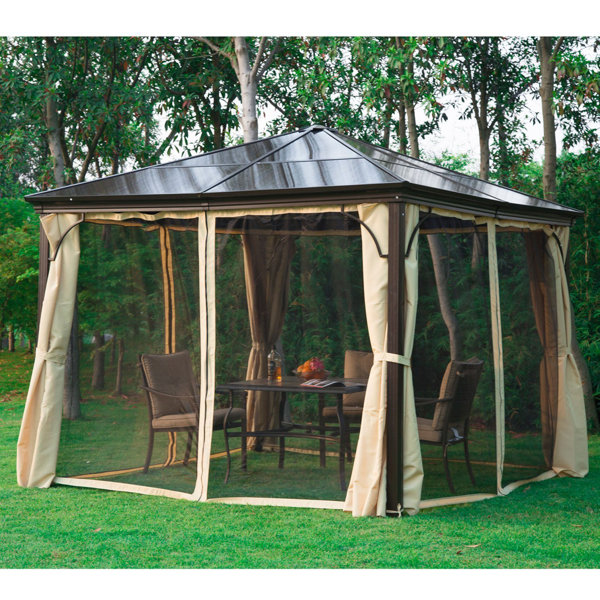 The whole design and color scheme of the gazebo and the curtains give this one a really elegant look. If you happen to be into sophisticated designs, this is a good choice to have.
The cream-colored curtains go extremely well with the dark colored frame giving it a classy air around it. Other features that this gazebo has include UV protective curtains, mesh nets, and waterproof side walls.
Best Features:
Elegant and classic design
UV protection
Waterproof curtains
Strong steel frame
Stake anchor installation
12.  Sunjoy North Hampton Steel Gazebo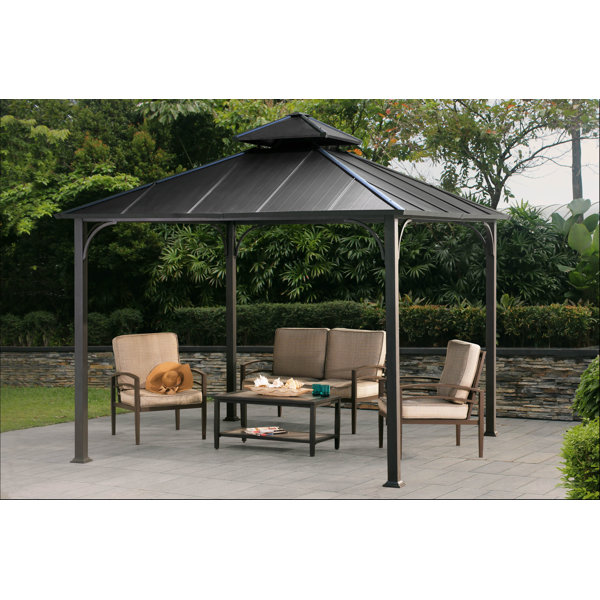 Probably the most unique feature of this Gazebo is its cupola that hangs over it. This cupola gives the gazebo a better ability to protect everything under it from falling debris and even rain.
It also comes with a vented canopy that can give overall protection from really strong winds. When it comes to design, there's not much that you can say about it because it's really simple.
However, its simplicity gives you more chance to customize it and add extra accessories to it. It can be a pretty good choice if you're not looking at the style but rather, at the functionality.
Best Features:
Overhang cupola
Built-in vented canopy
Very spacious underneath
Simple style
Comes with a hook for lighting
Conclusion
If you're having a tough time looking for a good hardtop gazebo for your garden parties and gatherings, our little guide should have at least narrowed down the choices for you to just 12 of the best ones.
To pick out the one for your garden, you can simply follow the buying guide to determine what you need. If you're still having a hard time picking out the best for you, then maybe you'd like to take a look at our favorite pick.
Our top choice for the best hardtop gazebo is none other than the PalramMartinque Aluminum Gazebo.
We consider this the best pick out of all the choices because it provides you with everything you need from a gazebo. It offers a very good ventilation system, a gutter system, and high-level UV protection from bronze glazing.
Other than those aspects, it's one of the most durable gazebos on the list. It has a steel powder coated frame making it resistant to weather conditions. It also has a very sturdy polycarbonate roof, further protecting you from bad weather.
When it comes to overall reliability, we will definitely choose this product.