Are you a proud owner of a decent sized yard in your home?
Do you like having people over and hosting parties and gatherings?
We have the best temporary solution for hosting all the parties you want in your yard no matter the weather—pop-up gazebos.
We present you with the best pop-up gazebos in the market today and answer all the questions you might have about them so that you can choose the best gazebo for you.
The 10 Best Pop-Up Gazebos
Here are our top 10 best pop-up gazebos selected strictly for their great features and their amazing reviews from actual buying customers.
We provide you with a brief overview of each model along with its highlighted features to help you find the best pick of pop-up gazebos for you.
1.  Outdoor Living Suntime Pop-Up Gazebo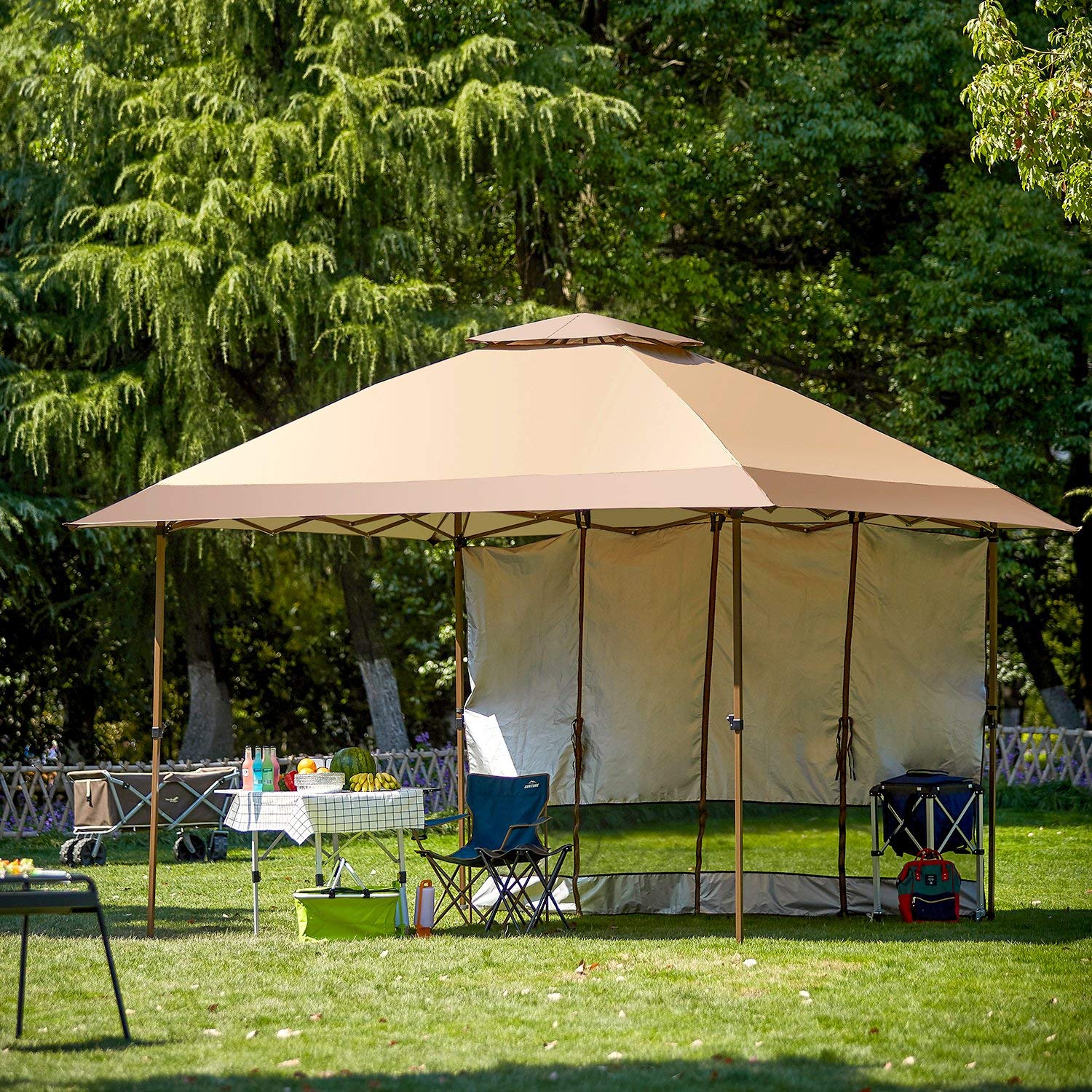 One of the best pop-up gazebos on this list with only the best pop-up gazebo reviews, this model comes with detachable ventilation netting to let the breeze in and the bugs out. It also has solar lights to keep the party going even in the dark, and great fire retarding and water-resistant fabric to keep you all dry and safe.
This is an example of a very well-thought of pop-up gazebo that can suit a wide range of uses and weather conditions too.
Highlighted Features:
UV resistant, Fire retarding, water resistant polyester
4 Solar LED Lights
Velcro removable sidewalls
Ventilation netting sidewalls
Push-up easy set-up and guy cord to nail down
2.  Aleko hardtop pop-up gazebo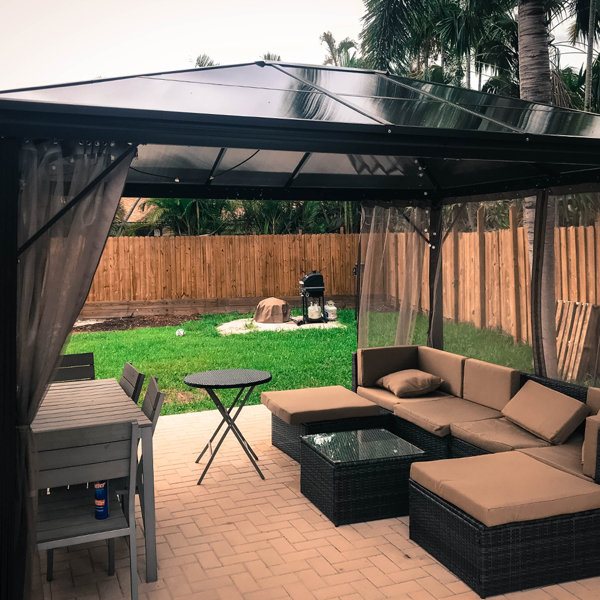 A sturdy model, this pop-up gazebo from Aleko has a hardtop roof made out of polycarbonate. It has removable mesh walls too and an opaque cover for privacy if needed.
Featuring a pop-up model, it is easy to put up and take down and is also water, UV, and rust resistant. It is even able to withhold a snow capacity of around 20 pounds on its hardtop roof alone.
Highlighted Features:
Polycarbonate hardtop
Detachable zip-up mesh sidewalls
Opaque side curtains
Pop-up installation model
Water, UV, and Rust resistant material
3.  Sunrise Outdoors Limited Pop-Up Gazebo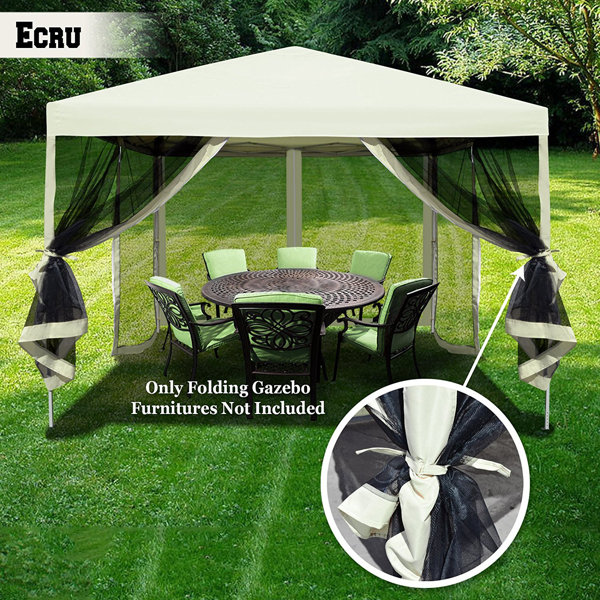 A simpler, no frills type of pop-up gazebo, this is a great gazebo to have and use for quick gatherings and picnics. It comes with mesh side panels so that you can keep the mosquitoes away during summer, or you can simply pull them back to enjoy the sun and breeze more directly.
This is a unit that most average families can enjoy having in their backyard for Sunday brunch or roast dinners.
Highlighted Features:
Easy assembly pop-up frame
Full mesh side walls with zippers
Includes a storage bag
Rust resistant steel frames
Durable polyester roof material
4.  Suntime Pop-Up Gazebo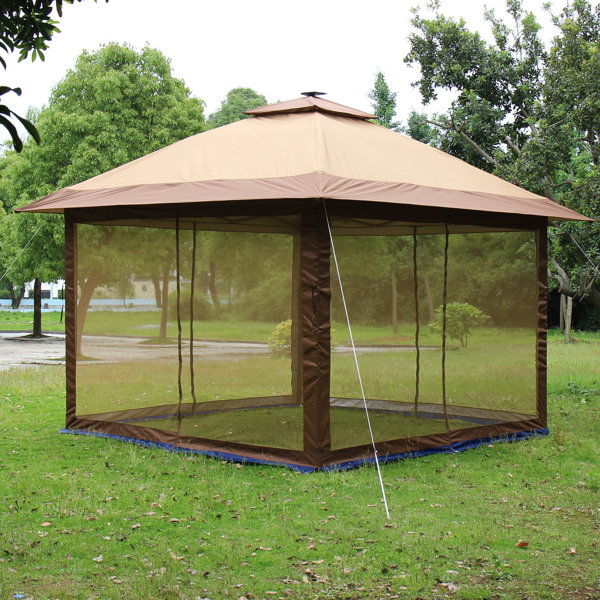 One of the best gazebo for camping purposes, this aluminum pop-up gazebo from Suntime is one of the most durable pop-up gazebos on this list. It also comes with a great wheeled storage bag that you can bring along easily.
You can bring this pop-up gazebo with you anywhere and just relax without having to worry about the bugs getting to you too thanks to its mesh side paneling.
It is a great way to have your kids and family enjoy the outdoors without getting severely sunburnt or bitten.
Highlighted Features:
Weather resistant material
Includes mesh screens that can be used with curtains
50 pound snow load capacity
Portable wheeled bag
Weather and Mildew resistant
5.  Freeport Park Camelford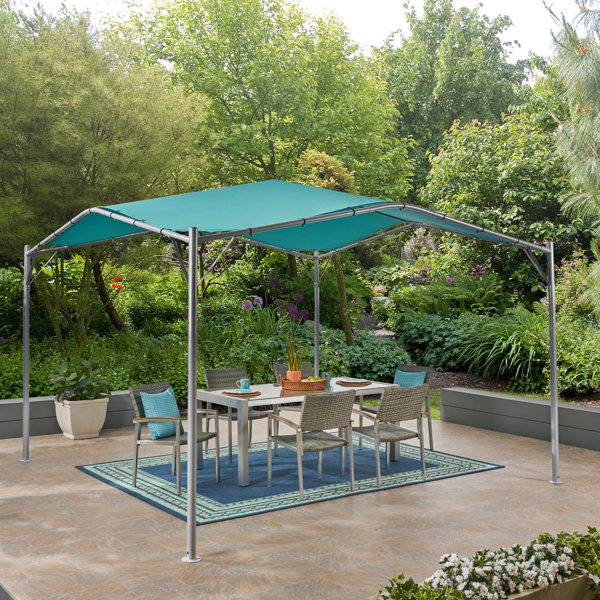 Freeport Park's Camelford is one of the more classic, outdoor event canopy-type model of pop-up gazebos. It's the perfect cover for sunny day brunches or outdoor events so that you and your guests can relax and hang out without getting burned or overheating.
It comes in a beautiful sky-blue shade and a more muted beige one. It is one of the best examples of what an open-face pop-up gazebo is.
Highlighted Features:
Metal framing
Soft-top polyester roof
Water-resistant canopy top
Pop-up assembly design
Silver frame finishing
6.  Backyard Expressions Luxury Pop-Up Gazebo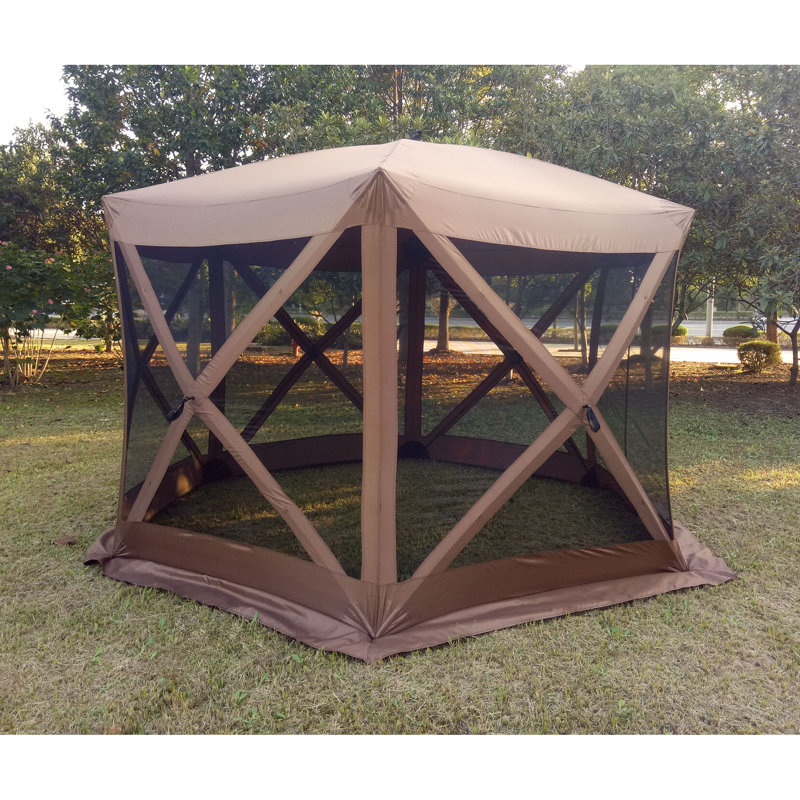 A uniquely designed pop-up gazebo different from all the ones we've mentioned so far, this luxury pop-up gazebo from Backyard Expressions is a soft top model with mesh screening with an X-shaped overlay.
It is made to be spiked into the ground, providing more stability especially in windier weather conditions. Its pentagonal shape is also a unique feature as it is the only model that is not either a square or a rectangle.
Highlighted Features:
Includes storage bag
Weather resistant canvas roof
Includes Mesh screens
Spiked installation method
Weather and UV resistant
7.  Quictent Canopy Gazebo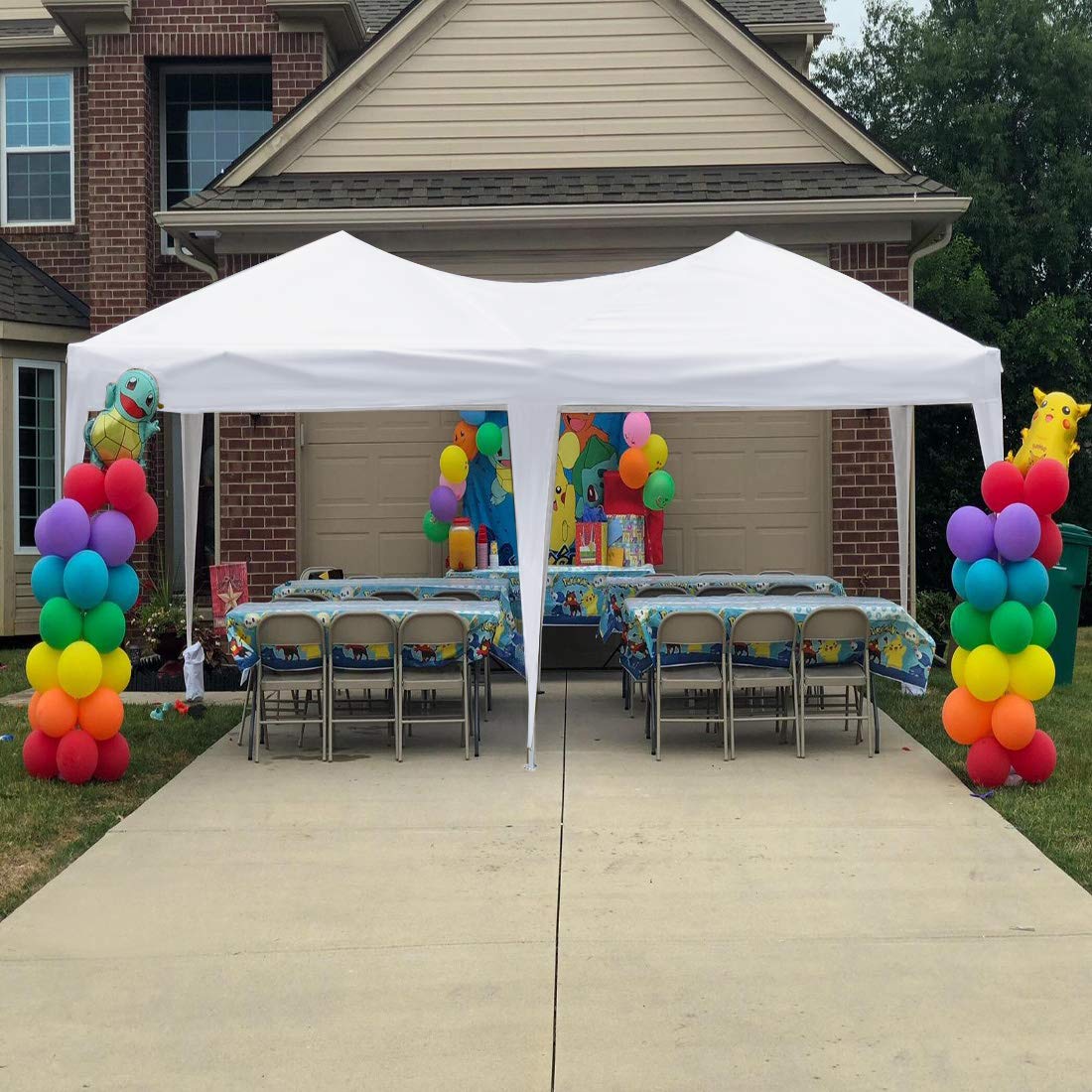 One of the bigger-sized pop-up gazebos on this list, it nonetheless is one of the easiest to set up and disassemble. It comes with a popup canopy feature and quick release legs, making it a convenient temporary gazebo to own. It even has a roller bag for even better portability and transport.
These types of pop-up gazebos are better suited to larger crowds and gatherings and do a great job in keeping people under the safety of shelter whilst still out in the great outdoors.
Highlighted Features:
PU-coated, waterproof and UV resistant coating
Fully assembled easy pop-up frame
Quick release button legs for safety
Includes a roller carrier bag
Three different height adjustments
8.  Lake and Trail Sun Shade Gazebo
A pop-up gazebo that promises comfort and convenience to whoever needs it, Lake and Trail's Sun Shade Gazebo comes with three different height adjustability settings.
The model promises to be easy to maintain and upkeep owing to its fade resistant canopy material. It is also very easy to assemble, disassemble, and carry around thanks to its accordion set-up system and portable roller bag.
Highlighted Features:
Accordion-type assembly system
Includes a portable roller bag
Water and Fade resistant canopy
Three adjustable height levels
Includes side curtain panels
Currently unavailable.
9.  ABC Canopy Instant Pop-Up Gazebo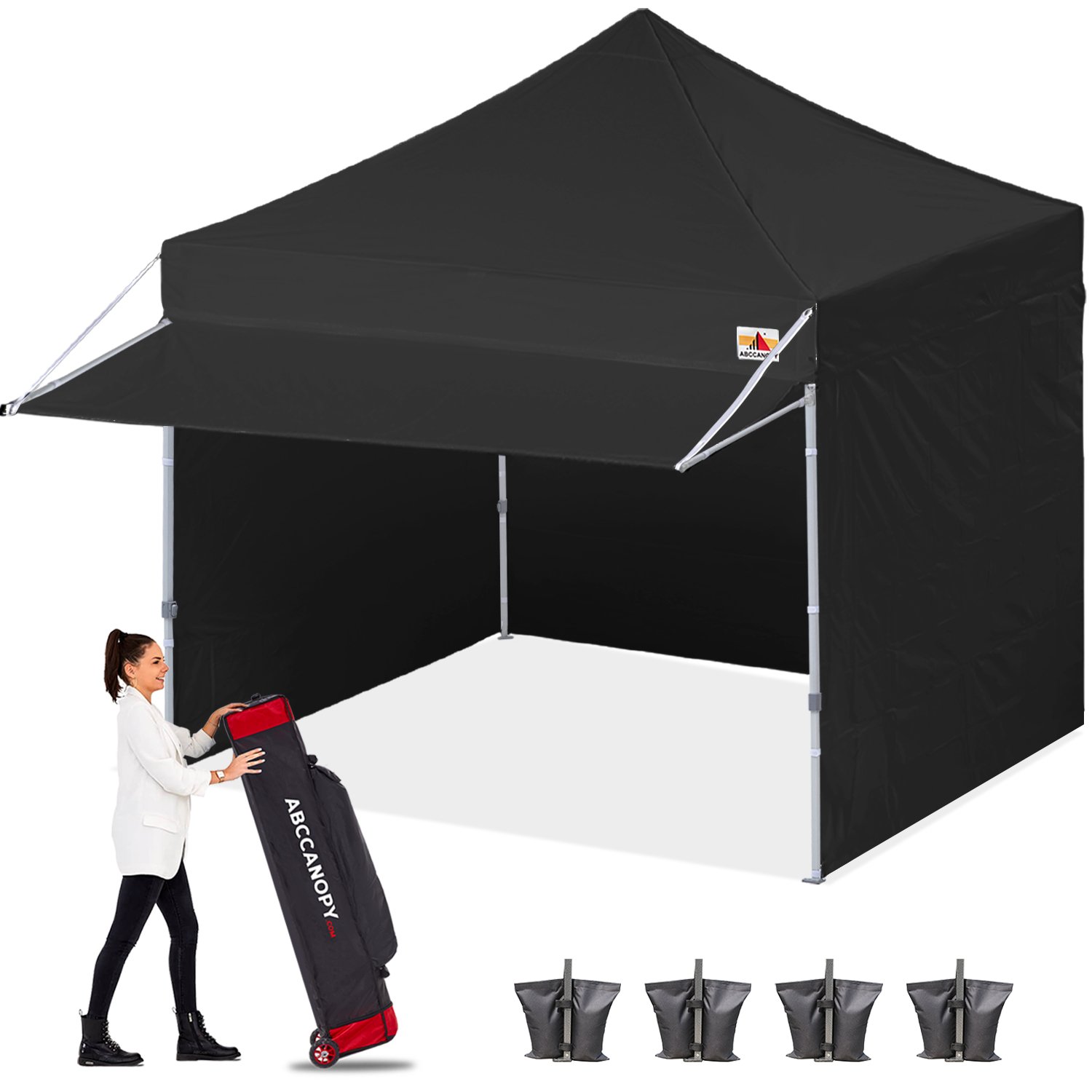 One of the more commonly seen pop-up gazebos during weddings, sporting or arts showcases, and derby games, this instant pop-up gazebo from ABC Canopy comes in a wide array of colors.
It is a whopping 10 by 20 feet long tent with one open face and three closed sides. It has several wall adjustment settings and the paneling to go with it so that you can set-up the gazebo in any style you want.
Highlighted Features:
Three different height levels
Can withstand up to 50km/h wind
Fire retardant and 100% waterproof material
Easy assembly, thumb-latch system
500 Denier Polyester Canopy material
10.  Abba Patio Canopy Gazebo
This very classy model from Abba Patio is a great open and enclosed garden gazebo that comes with built-in mosquito netting. This is to keep you from getting bitten while you enjoy a nice summer spread.
It promises nice cooling air thanks to its double vented roof feature and is also one of the stronger models of pop-up gazebos in the market thanks to its durable steel constructed framework.
Highlighted Features:
Double vented roof
Durable Steel Constructed Frame
Built-in mosquito net side panels
Water resistant polyester canopy
Smart steel reinforcements
Frequently Asked Questions About Pop-Up Gazebos
Q: How expensive are Pop-up Gazebos
A: The price of a pop-gazebo depends on several different elements. It depends on size, canopy material, durability, special features, and even branding.
The typical range of an average-sized gazebo is somewhat around the $200 range but this is not an absolute answer. It's better for you to look at the individual features of a pop-up gazebo too instead of just basing things off of its price as a cheaper gazebo can prove to be better than a pricier one depending on your needs.
The quality of a pop-up gazebo isn't really based on what it costs but more on how many of your needs and requirements or even preferences it is able to satisfy and meet. You may even come across several models that suit you from then which you can choose a cheaper or more expensive one.
Q: How do you clean a pop-up gazebo?
A: The cleaning method of pop-up gazebos differ slightly from model to model. Generally, however, simply giving it a nice hose down or a wipe with detergent and water will be enough for more general cleaning sessions.
You can either opt to take the canopy off the steel frames first or just keep it on too while cleaning depending on the model you have. The cleaning for the side panels and walls of a pop-up canopy is most often done after you detach them from the main framework.
It is also wiser for you to always make sure to read the manual that comes with your pop-up gazebo so that you can clean it according to what is specified. This will allow you to keep and use your pop-up gazebo for longer.
Q: Do I have to nail my pop-up gazebo to the ground?
A: Once again, whether or not you have to nail your pop-up gazebo generally depends on the type of pop-up gazebo you get.
Some models already come with spikes or nails intended to be used to keep your gazebo in place. Other models simply rely on its innate weight and sturdy corner framework to keep it upright in windy weather.
It's best to understand the typical weather conditions of wherever your pop-up gazebo will be most frequently used so that you can find one that suits it the best. Nailing a gazebo down is something you want to consider if you are expecting heavy rain and or wind.
If your pop-up gazebo doesn't already come with its own spikes or nails, you can easily go get yourself some and pin down your pop-up gazebo if you feel that it's necessary to do.
Q: What's better, closed gazebos or open-type gazebos?
A: In terms of durability, whether or not your gazebo is an enclosed type or an open-type does not really affect anything. However, if you are wondering which type is better for general use, this is once again something that wholly depends on you and your purposes for the pop-up gazebo.
There are some models that can be easily transitioned from a fully-enclosed mode to a completely open mode with a few minor panels switches you can do.
Before you go ahead and get yourself your very own pop-up gazebo, make sure you have a general idea as to where and what types of situations it will most frequently be used.
Q: What are some of the best pop-up gazebo features available?
A: Pop-up Gazebos come with all sorts of extra features to it in order to be more unique or to be more attractive to buying customers. These features can either be design-wise or function-wise. Some popular and more commonly added features in pop-up gazebos include being fire retardant, UV ray resistant, Water resistant, Weather resistant, and so on.
They also come with mosquito net-like mesh side panels, opaque side panels, and even horizontal to column-like panels to allow you more freedom in customizing the pop-up gazebo to suit your preferences. There is no definite end to what kind of features your pop-up gazebo can have.
In fact, some of them come with built-in solar lights and even convenient roller carry bags too. 
Conclusion
Of all the different types of pop-up gazebos we have shown you so far, our personal pick among our best pop-up gazebos has got to be the ABC Canopy Instant Pop-Up Gazebo.
Although a rather large model for residential use, this pop-up gazebo is a durable, safe, and convenient model that can be altered and adjusted to the shifting needs and purposes of all the different events or gatherings it can be used for.
This pop-up gazebo lets you feel like you own several different ones thanks to how you can readjust the paneling to give a fresh look every time.