All of the best plastic sheds have one thing in common – they are designed for a specific purpose. The fact that they are also made of plastic, means that they are easy to clean. Included windows also mean that they are light and airy.
In most cases, your best plastic garden storage is made out of high density, high-quality material that is also UV resistant and designed to blend into an outdoor garden setting.
10 Best Plastic Shed Reviews
When looking for the best bike shed or the best outdoor storage shed, you probably have your specific needs in mind. Are you looking for something in which to keep your garden tools or just an extra storage space for your Christmas and other decorations? Whatever your needs, size would matter, especially when taking your garden size and décor into consideration.
1.  Side Entry 14 ft. 8 in. W x 7 ft. 9 in. D Plastic Storage Shed by Lifetime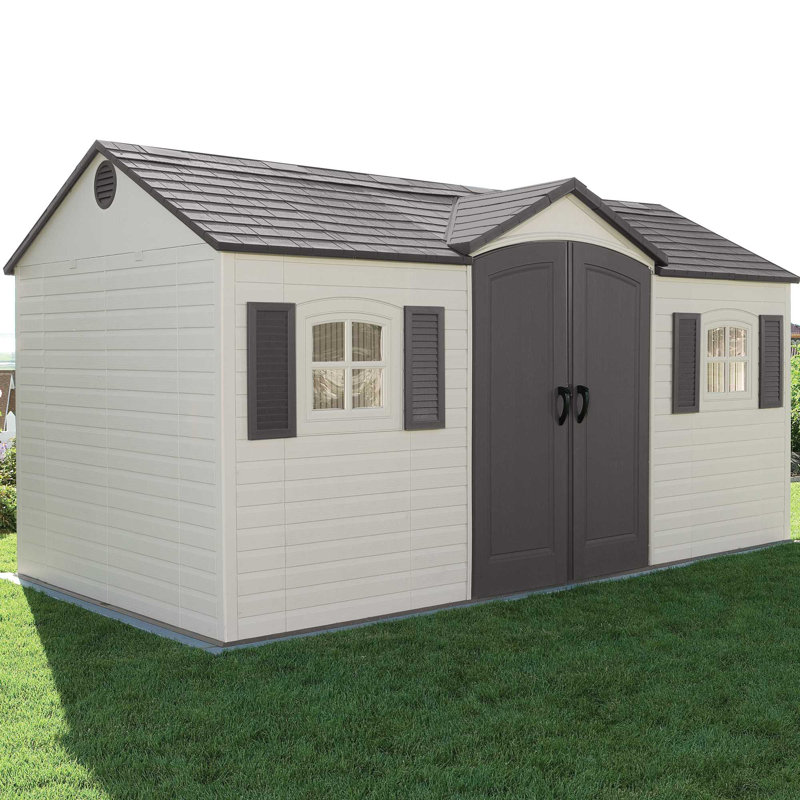 A product designed for functionality, this may be one of the best plastic garden sheds to consider if you need to keep your tools safe and sound. Also, the gable design of the roof is in keeping with a more traditional style.
The best features of this product include:
Two built-in shelves are included with the purchase
The plastic storage shed has great ventilation
Two windows provide ample natural light while a built-in floor allows for placement on just about any flat surface
Extra light is provided by means of the skylight
This shed is very easy to assemble
Screened vents keep the shed pest free
2.  Tremont 8 ft. 5 in. W x 10 ft. 2 in. D Storage Shed by Suncast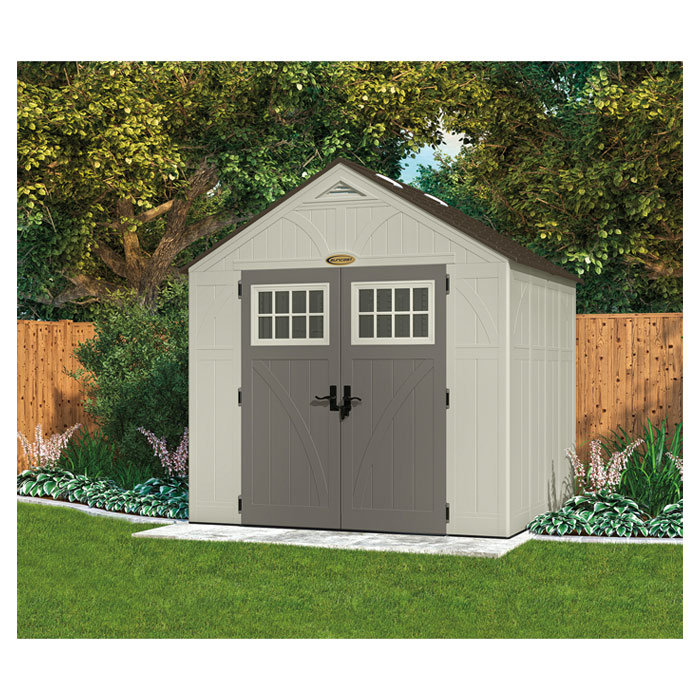 This shed has two windows, a skylight, and great ventilation. Add to that a storage capacity of 547 cubic feet, and you have a space for all your gardening or storage requirements.
The best features of this product include:
Great ventilation
Two windows plus a skylight that supply enough light
A storage capacity of 547 cubic feet
A shed that is both weather resistant, water resistant, and UV resistant
3.  Factor 8 ft. 5 in. W x 6 ft. D Plastic Storage Shed by Keter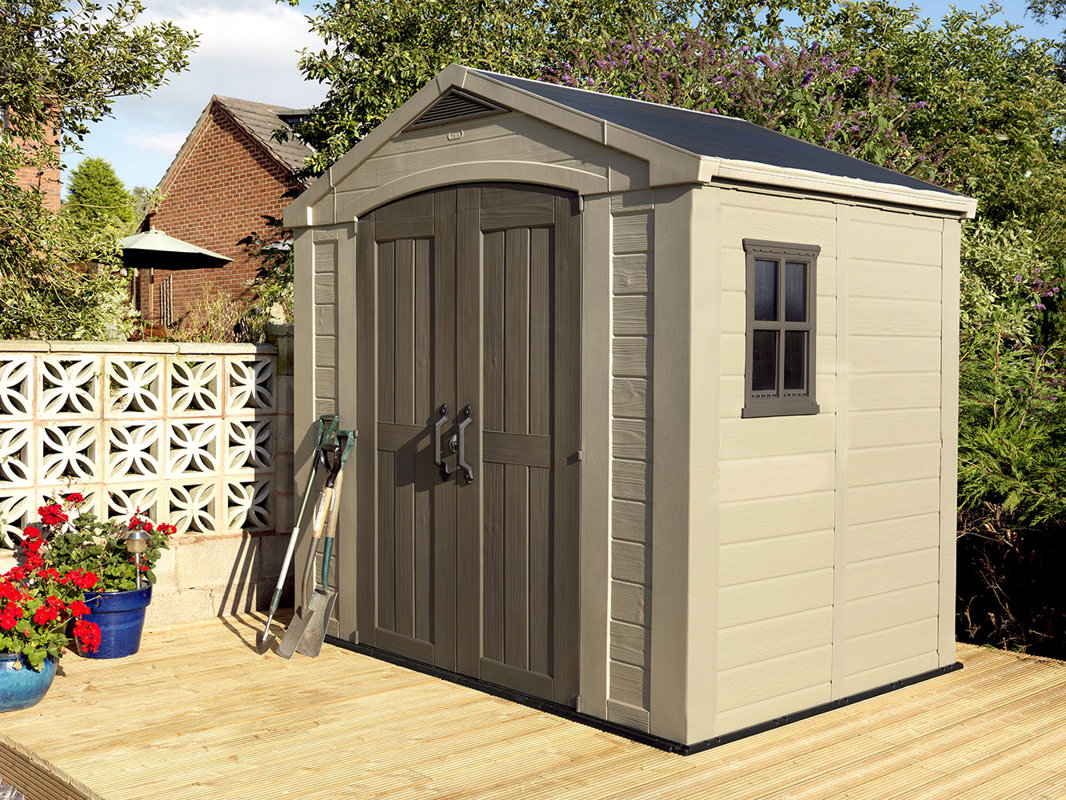 A storage shed with lockable doors and that withstand a wind rating of 55 MPH means safety under most conditions. Add to this the fact that it is weatherproof and UV protected, and you may have an outdoor shed for years to come.
The best features of this product include:
Extra security due to its lockable door
Strategically placed vents that ensure enough ventilation
The purchase includes two shelves with brackets which is ideal for storing smaller outdoor tools safely
The two windows and skylight ensure you get more than enough natural lighting
Made of durable plastic, the shed is also weather, water, and UV resistant
4.  WoodBridge 10 ft. 5 in. W x 5 ft. 2 in. D Plastic Storage Shed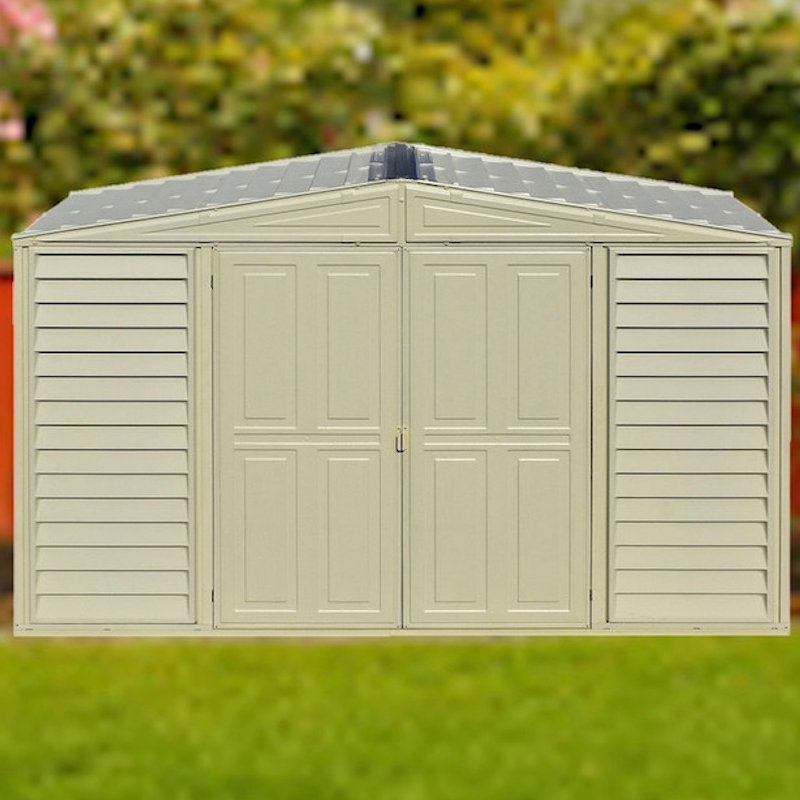 The WoodBridge plastic storage shed has solid metal reinforced wall columns and a foundation. Due to the metal reinforcing, you can hang either shelves or garden tools easily.
The best features of this product include:
This shed is tall and has wide, double doors
Ventilation, a skylight, and foundation are included
It has a storage capacity of 318 cubic feet
The product is water, weather, and UV resistant and built to withstand winds of up to 80 MPH
5.  SkyLight 6 ft. 1 in. W x 7 ft. 7 in. D Polycarbonate Storage Shedby Palram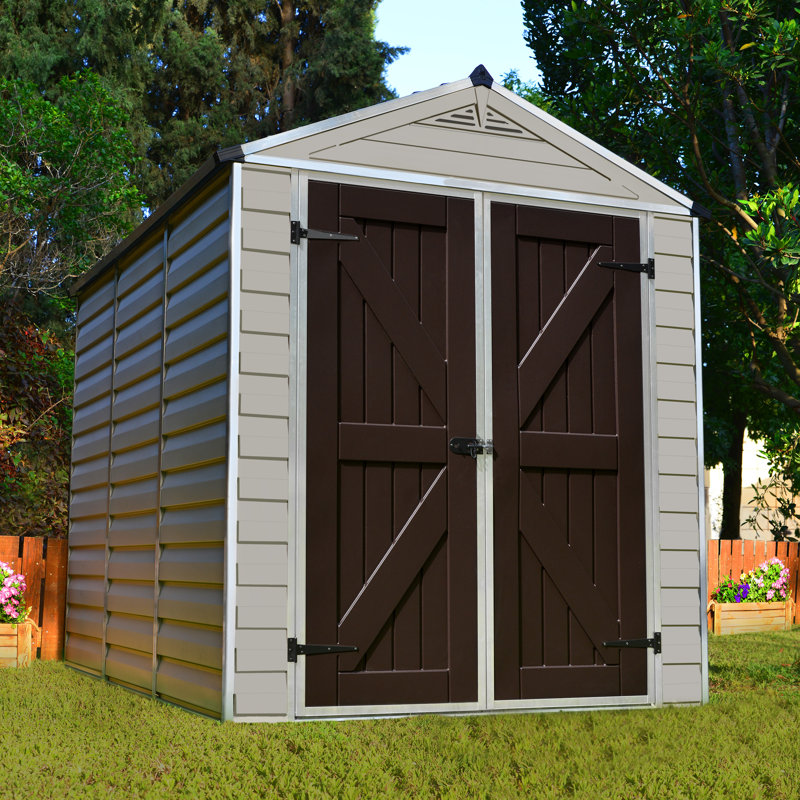 As this storage shed is made of durable polycarbonate, it is virtually indestructible. It has an extremely high impact resistance, meaning it will not crack, warp, or discolor, no matter the temperature or weather.
The best features of this product include:
It has roof panels that allow filtered lighting
Made of polycarbonate, this product requires virtually no maintenance
The polycarbonate panels making up this storage shed are mounted on a heavy-duty aluminum frame and easily lock into place, giving a strong, rigid, water-tight structure
The floor has anti-slip capabilities, meaning you will not slip even during wet weather conditions
This shed can withstand winds of up to 56 miles per hour
6.  4 ft. 5 in. W x 2 ft. 9 in. D Plastic Vertical Tool Shed by Suncast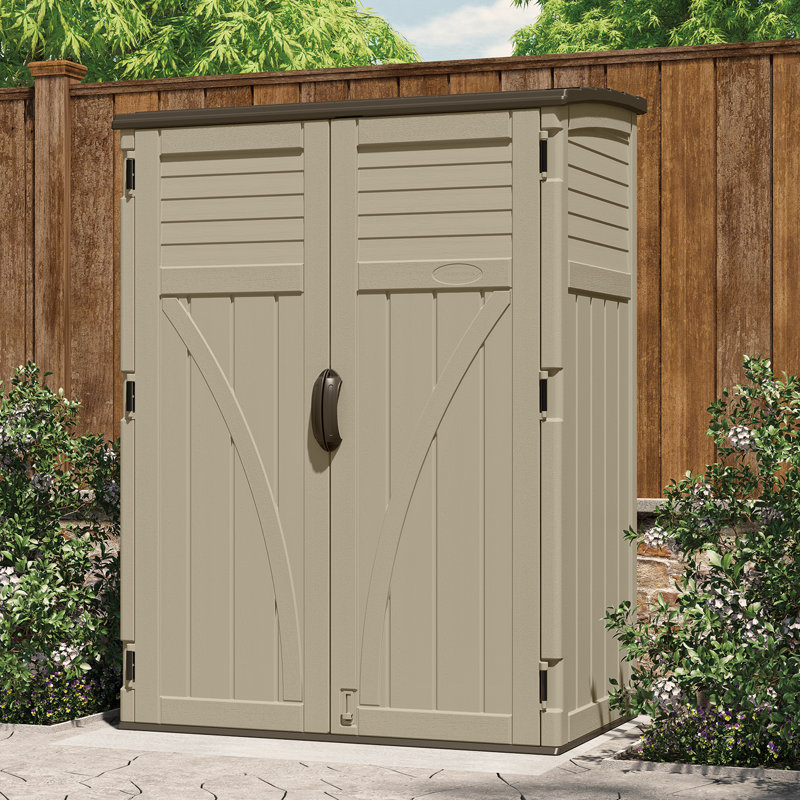 The skinny design of this plastic tool shed is ideal for the smaller garden or where space is an issue. But it still packs a powerful punch when it comes to adding extra storage space with its 52 cubic feet storage capacity.
The best features of this product include:
Adequate ventilation
A floor
A storage capacity of 52 cubic feet
It is weather resistant, water resistant, and UV resistant
This tool shed can withstand winds of up to 65 miles per hour
7.  Factor 5 ft. 10 in. W x 3 ft. 9 in. D Plastic Tool Shed by Keter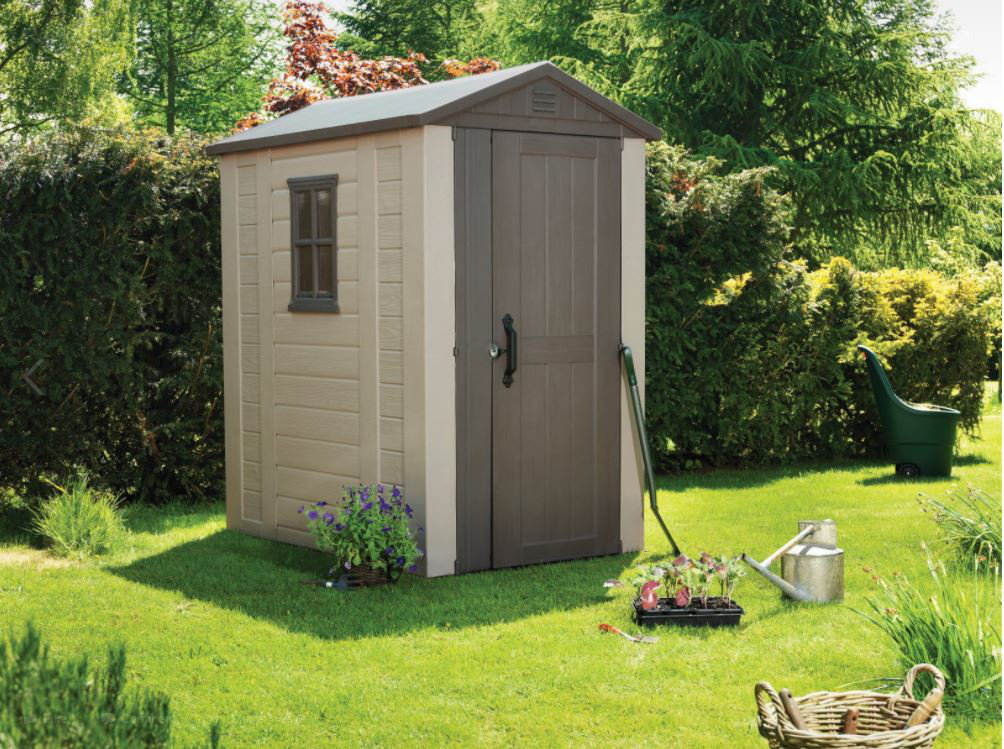 Compact, yet spacious, this shed is great for a small yard space while being able to withstand most weather conditions.
The best features of this product include:
This shed sports a steel-reinforced polypropylene resin construction that makes it weather resistant and hardy
Two windows, a sturdy floor panel, and skylight are included
It is able to support a shelving unit
The walls have a wood-like texture while the roofline is extended
This product is lockable
8.  Store-It-Out MIDI 4 ft. W x 2 ft. D Plastic Horizontal Garbage Shed by Keter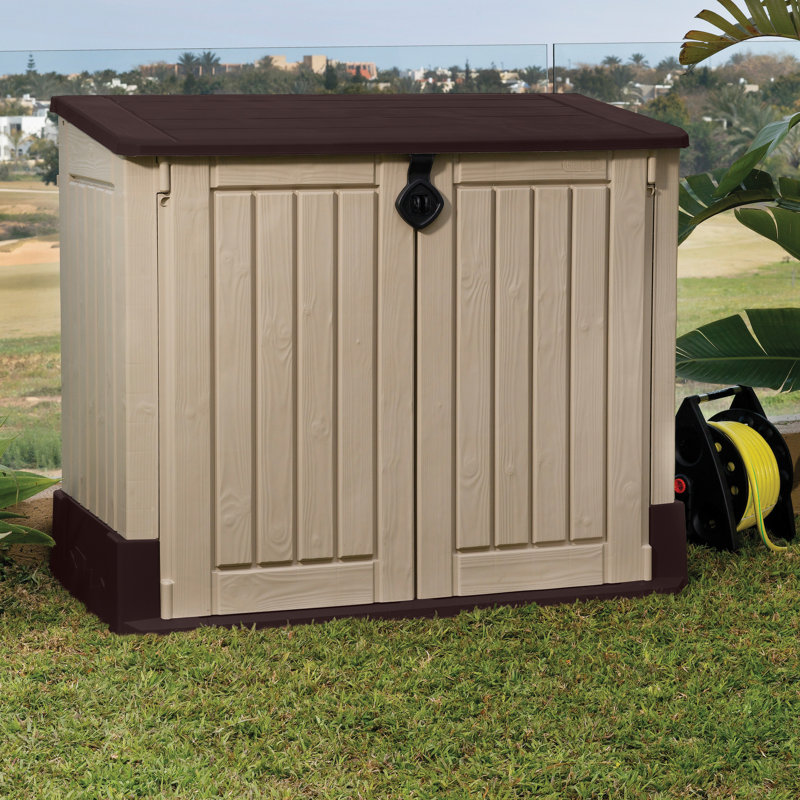 A plastic horizontal garbage shed that is constructed out of polypropylene resin that will give you years of use.
The best features of this product include:
A beige finish that blends into most garden settings
An angled top that ensures runoff
Large enough to hold a few garbage cans
The two front panel doors are lockable
The product is weather, water, and UV resistant
Can be used for storing various garden equipment, or even cushions
9.  Utility 4 ft. 4 in. W x 2 ft. 8 in. D Plastic Horizontal Garbage Shed by Suncast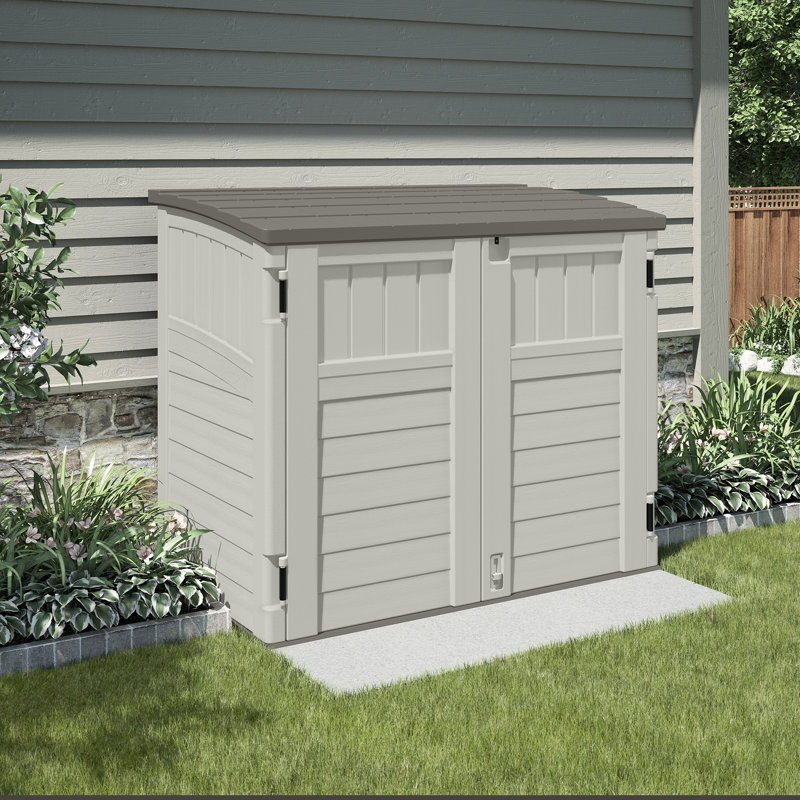 A small shed that is large enough for storing lawn and garden supplies, cushions, and even bicycles. Because of the low profile, this shed is easy to place under a fence, on a patio, or next to your house.
The best features of this product include:
The contemporary design of this garbage shed allows it to fit into any backyard décor
The horizontal shed includes four sturdy, double-wall resin sides and a sturdy floor
It has a storage capacity of 34 cubic feet
It carries a wind rating of 64 miles per hour
10.  4 ft. 3 in. W x 2 ft. D Plastic Horizontal Garbage Shed by Rubbermaid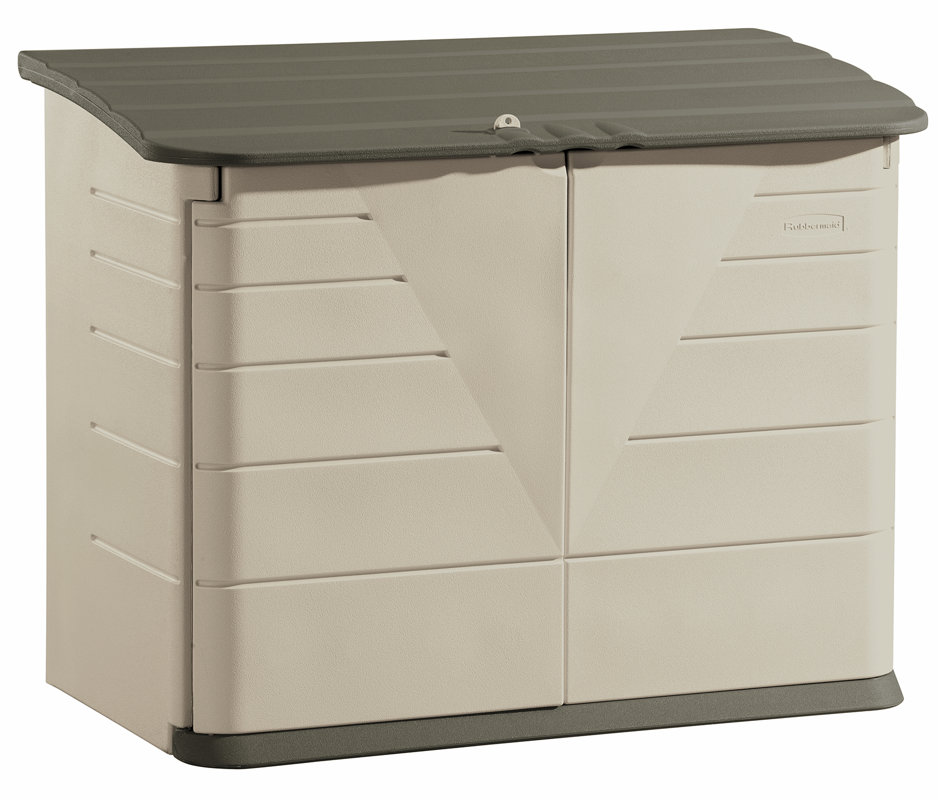 This horizontal garbage shed is a heavy duty product with an impact resistant floor.
The best features of this product include:
A heavy duty impact resistant floor
The shed is durable, leak, dent, and weather resistant
It easily accommodates one wooden shelf
The product is lockable
Has a storage capacity of 32 cubic feet
The Pros and Cons Attached to Even The Best Plastic Storage Sheds
Everything in life tends to have an up-side and a down-side. The same goes when it comes to anything made out of plastic. But then, again, it does depend on a number of factors, such as the different components found in the specific plastic product.
The pros of plastic sheds
1.  Maintenance
One of the plus points when it comes to a plastic storage shed is that there is virtually no maintenance if any, that you need to concern yourself about. They do not rot, and they do not rust. You never have to paint them or treat them for any kind of pest infestation. You don't even need to sand them down in order to repaint – unless you absolutely feel the need to paint your shed, of course. And cleaning is easy! All you need is some soapy water, a stiff brush, and some elbow grease. A pressure washer also works great on this type of product.
A wooden or metal counterpart, on the other hand, requires you to keep them in good shape if you want them to last for a long period of time. Metal, if not looked after, will rust, while wood, on the other hand, may rot. Plus you need to make sure to paint or treat these materials in order to protect them from the wind and rain.
2.  Weather resistance
When it comes to weather resistance, plastic sheds also tend to pass with flying colors. They are impermeable, meaning that water cannot soak through to your stored valuables. They thus keep whatever your store inside dry, and safe. The weather, whether sun, rain, sleet, or snow, makes no impact on plastic sheds, especially considering the more advanced plastic materials they are made from these days.
3.  Longlasting
While plastic sheds got a bad rap when they just came out, those made today are manufactured using the latest technological processes and upgraded plastic materials. This not only means that they are long lasting, but it also gives them a competitive edge in those areas submitted to lots of water or runoff, as plastic effectively insulates anything on the inside of your shed.
4.  A fashion statement
Let's face it – the plastic sheds built today look good. In many cases, much better than their home-built wood or metal counterparts. Their neat appearance and sturdiness improve the look of your property in general, and your garden in particular. Plus, they add a lot of extra storage space as well.
5.  With regards to pricing…
Generally speaking, these sheds tend to be priced quite well. They also give you a whole lot of extra storage space. Do remember, though, that while many of them may need you to put down a foundation, some do not need this, as long as they are placed on a level area of your garden. Also, remember that they all come with a floor included. You no longer have to worry about any water seepage from the bottom.
6.  Putting things together
Most plastic sheds are delivered to your door in a kit form. Luckily, you do not have to have much building experience in putting them together. Doing so is relatively simple. They usually arrive in large panels that you simply need to put together, many times just by snapping everything into place. It is as simple as that.
The cons of plastic sheds
Plastic sheds don't really have many cons, except perhaps that of safety. Many people are worried about having a plastic shed in their backyard, feeling their belongings might be a little exposed.
Many plastic shed manufacturers, however, have overcome this concern by adding a feature that makes them easy to lock up by means of a simple padlock. You would, however, need to ascertain for yourself how strong this feature is and how much pressure someone would have to put on the lock for it to break.
Many sheds are steel reinforced, and some even have steel locking mechanisms. If safety is your main concern, we advise you to take a look at these aspects before deciding on the perfect shed for your requirements.
Conclusion
Plastic sheds, in general, offer the homeowner a safe, affordable, and stylish way of putting their gardening tools or even outside cushions away safely. It all depends on your particular needs, and space. Going through our list of best plastic sheds reviewed, we have opted to pick the WoodBridge 10 ft. 5 in. W x 5 ft. 2 in. D Plastic Storage Shed by Duramax Building Products as our overall favorite. We liked that fact that it is tall, has wide double doors, and that the metal reinforcing makes it not only structurally strong but allows you to easily hang shelves and garden tools.