The best hot tub gazebo like those found in most hotels and resorts built right in your own backyard is a luxury that you surely would not mind having.
Hot tub enclosures offer ample covering for your Jacuzzi to protect it from debris and to give you a more private – and even intimate – setting. As they can be quite expensive, we've put together this quick yet comprehensive review to help you find the one that fits your practical, aesthetic, and budgetary requirements.
Reviews of the Best Gazebo Products for Your Hot Tub
We've narrowed down the different Jacuzzi gazebos available and have come up with 7 that we know you'll find worthy of considering:
1. Gazebo Penguin 12 by 12 Feet All Season Solarium
This gazebo is made of the powder-coated aluminum structure and UV treated polycarbonate roof. This means that it offers some form of protection from the harsh rays of the sun.
This gazebo comes with hooks so you can hang light fixtures and other decorations you want to add. It comes with a sliding door and is 100% rust proof.
Many resorts use this type of gazebo in their spa enclosures. Getting this gazebo may give you a feeling of having your own private spa at home.
Customers who have bought this product loved how this product was able to keep the bugs out and how the sliding doors made it easy to get in and out. Others loved it because of how roomy it is and how well it was able to withstand strong winds.
Pros:
Sturdy materials that can withstand strong winds
Kept our tubs clean from leaves
Has hooks for light fixtures
Cons:
You may need an extra pair of hands to put up
The 'square' shape may not be for all especially for people with rectangular or oblong shaped tub
Not great for added weight
2. 10 x 12 Chatham Steel Hardtop Gazebo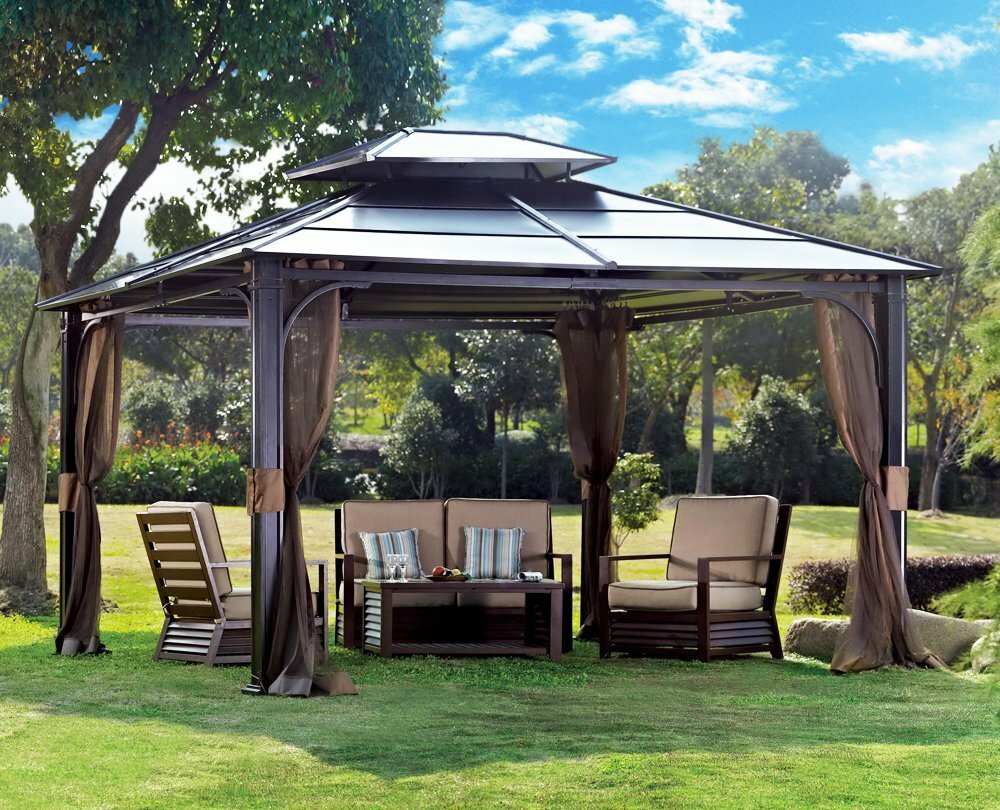 This gazebo can be used like an outside patio or a cover for your hot tub. Made with hard top metal roofing, this gazebo is durable and can last a long time. The metal steel body is powder coated. This means that it is resistant to rusting, chipping, and corrosion.
This gazebo has a vented roof that helps circulate the air within the gazebo. If you're worried about the gazebo flying off when there are strong winds, don't be because it can be bolted down.
The Chatham Steel Hardtop Gazebo is easy to assemble and does not require additional help from a professional. The easy to understand instructions will help you assemble the gazebo easily. It keeps rain and the harsh heat of the sun away so you can lounge lazily and comfortably.
Pros:
Simple and easy to assemble
Keeps rain, heat, and bugs away
Less expensive than other Jacuzzi gazebo options
Cons:
Strong winds may blow the screens open
Screens can get stuck when opening and closing
Brackets need to be securely bolted so there's no shaky
3. Savanah 10×10 Metal Permanent Gazebo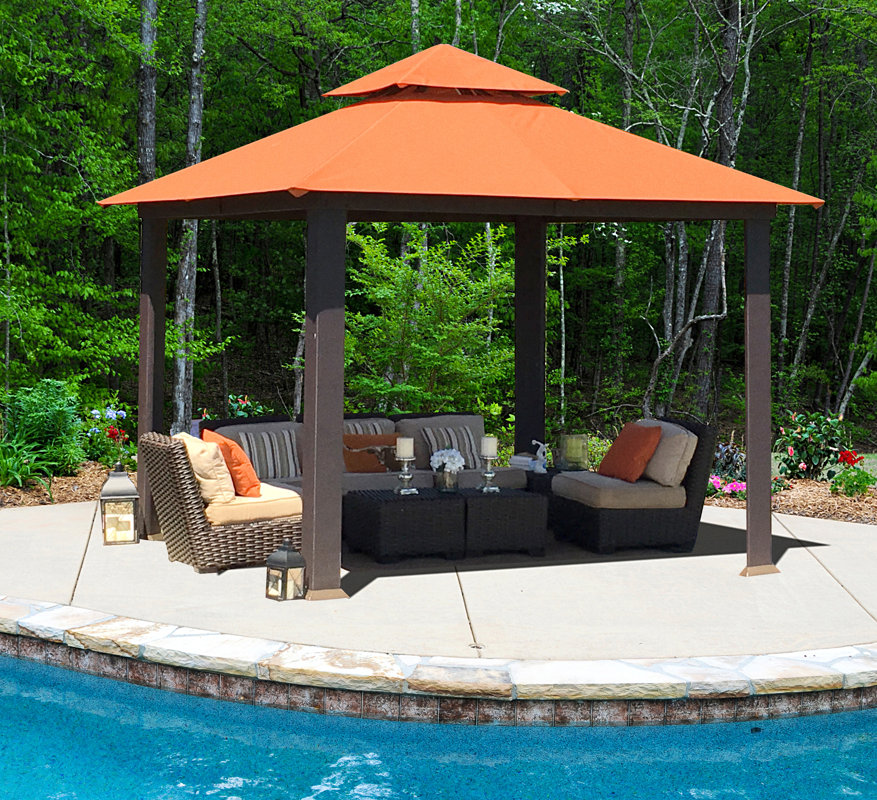 This is a more permanent addition to your home. Among the other gazebos on this list, this one can be mounted permanently on cement or the ground and it can easily be assembled.
This gazebo's frame is made of metal, aluminum, and steel, making it one of the most durable and best gazebo models you can buy today. It is also made of rust resistant material and easy to clean Sunbrella fabric.
This can easily fit over a small inflatable hot tub or a few chaises. Under the canopy of this gazebo, you can relax and keep away from the rain or the sun and enjoy the breeze as you lounge and just laze around.
Pros:
The gazebo is sturdy and looks like it could last a long time.
The permanent mounting make it a great addition to any home.
The solid base and rooftop won't shake.
Cons:
The permanent mounting means this gazebo can't be easily transported.
It does not have a covering or screen that will keep the bugs away.
The design does not allow for much additions and decoration.
4. Charleston Solarium 12×12 Aluminum Permanent Gazebo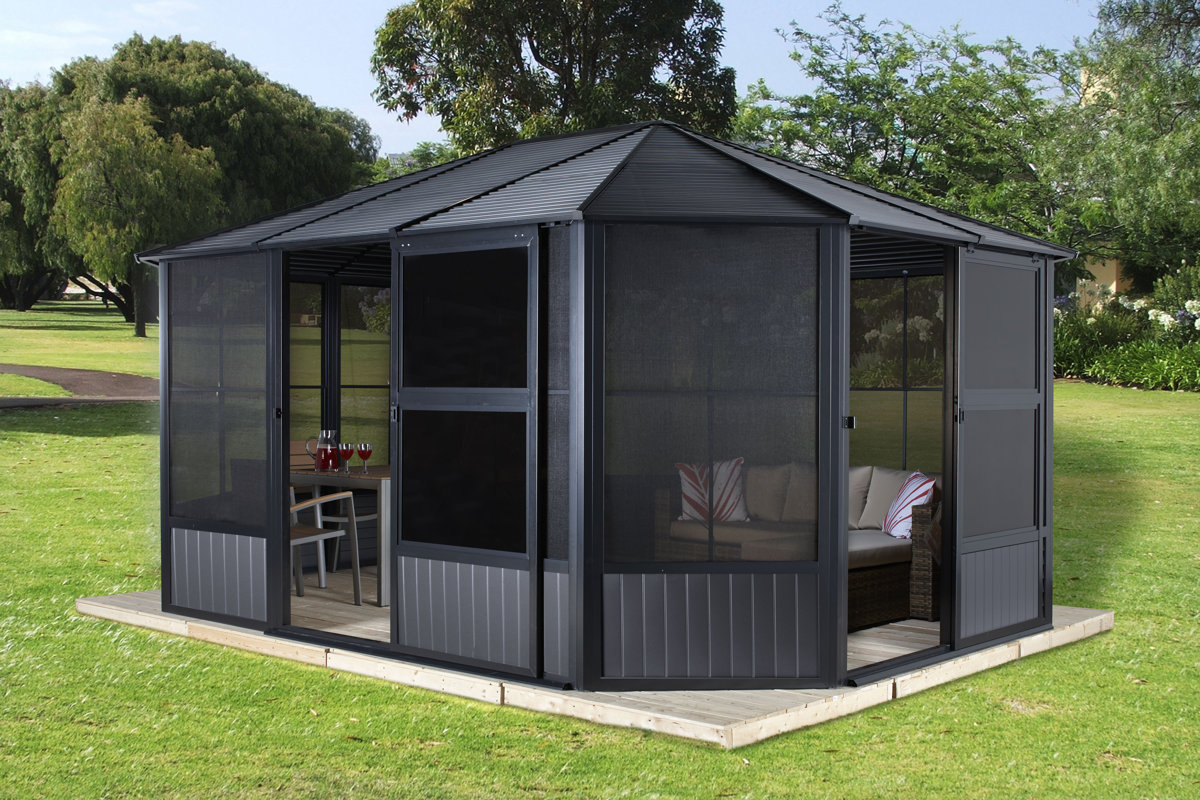 This is a bigger gazebo that comes with a sliding door and a screen protection so you can keep the bugs away while keeping the cool air in. To allow you to relax in private, the windows and screens can be fully opened, semi-open, or closed and you'll still get that fresh breeze from the outside.
Inside the solarium you can fit in chairs, tables and even a small above ground pool. An above ground pool enclosed in the Charleston Solarium will allow you privacy as you swim to your heart's content.
The darker color of the gazebo makes it easy to blend in with any outdoor design. If darker color isn't your cup of tea, you can easily paint over it.
This gazebo can be mounted permanently on wood or cement. This is easily one of best hot tub gazebo models because of the wide expanse and secure enclosure.
Pros:
Made with sturdy material.
The elegant darker color works great for all home design.
The screen enclosure opens and closes as needed.
Cons:
The doors don't open the entire way.
Building the gazebo can take time and a lot of effort.
You may need another pair of hand or a professional to set it up.
5. 11 x 14 Metal Permanent Gazebo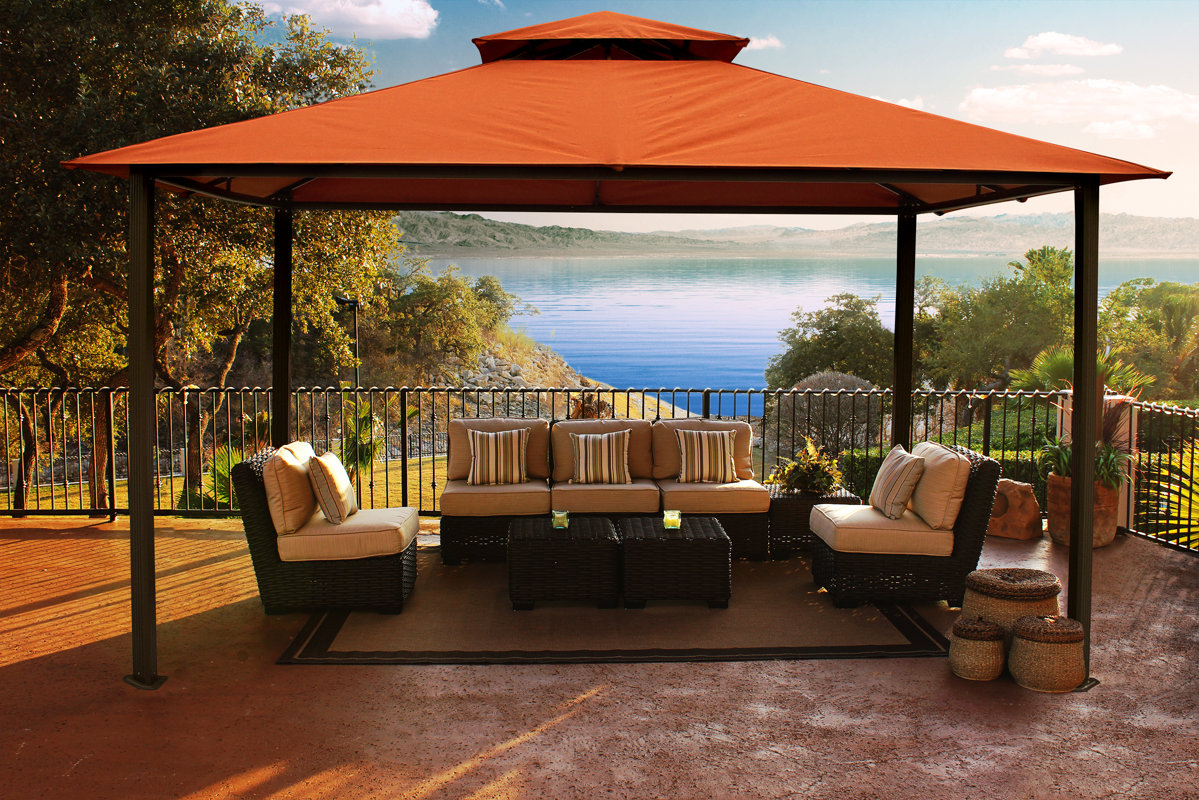 A bigger version of the Savannah, this gazebo has an open design that allows you to see the outside easily and not be obstructed by screens. If you must have some form of covering, you can easily hang curtains.
This permanent gazebo is large enough to accommodate a huge sofa and some matching chairs. You can build a small fire pit in the middle so you can warm up during the cooler months.
If you mount this permanent gazebo on a hill, you get a panoramic view of everything from the sky to the ground below. It's also a great way to create a private hub where you and your partner can have an outdoor massage.
The structure of this gazebo is pretty solid and you can mount it on cement, wood, and other permanent fixtures.
Pros:
Because there is no screen, you can get an unobstructed, panoramic view of the scenery.
The building materials are sturdy and won't shake even with strong winds.
The large space ensures that a lot of things can be placed in it.
Cons:
The open design may not allow for a lot of privacy.
The permanent mounting of the gazebo does not allow for easy movement.
Some people prefer enclosure with a screen door.
6. Santa Monica Four Season 11×14 Metal Permanent Gazebo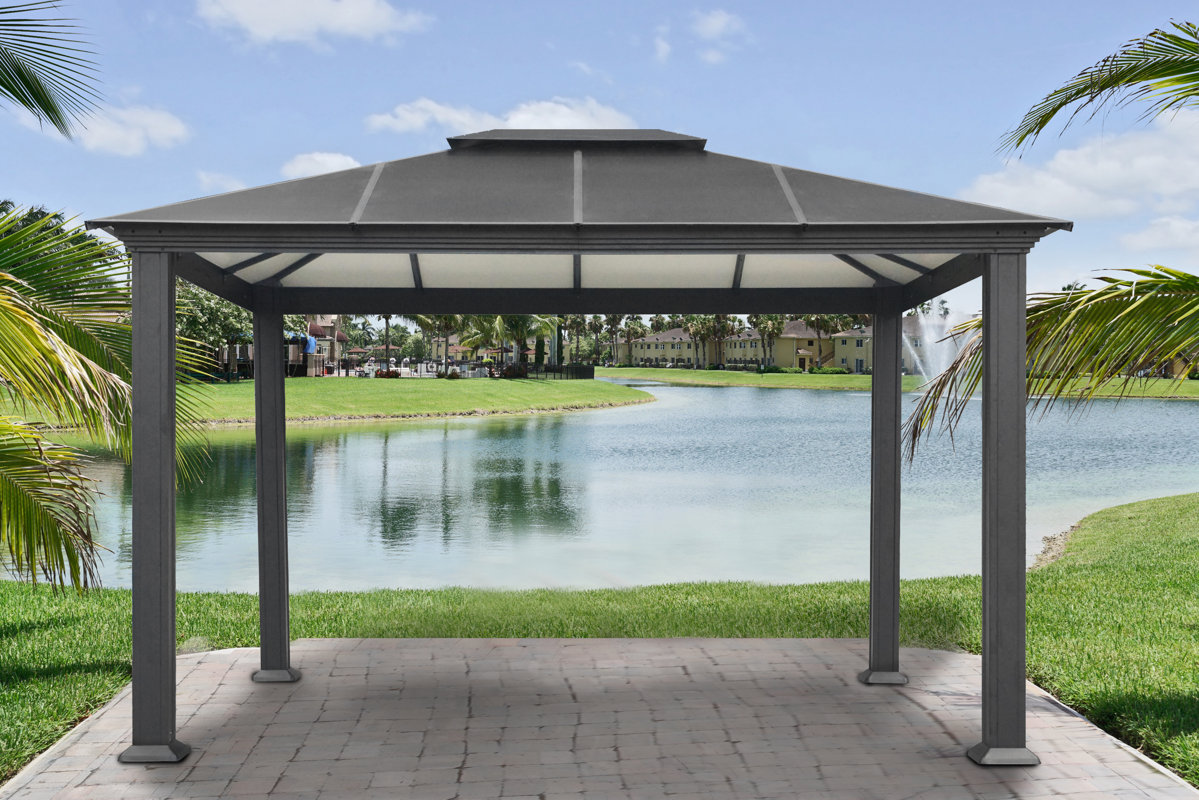 Another open design from Paragon, the Santa Monica Four Season is bigger than others. You can add a larger sofa or a lounge chair under this gazebo.
The beauty of this open design gazebo is that you can use it as an extension of your home. Here, you can add elements such as a grill and some dining tables and chairs and just have a wonderful time with family and friends.
The permanent mounting means that you'll need to find the perfect location to put up the gazebo. Mount it on cement, wood, and other ground surfaces outside your house.
The only thing this thing is missing is a screen. In the summer, you may want to buy a separate screen or curtain to keep the bugs away.
Pros:
Open design allows cool breeze to permeate throughout the space.
This design is great addition to any home.
You can use this gazebo as an extension of your home.
Cons:
The design may look too simple for some people.
Does not have an interior rail for curtain or screen attachment.
Does not have screen cover permanently attached.
7. Freemont 12 ft. Vinyl Pergola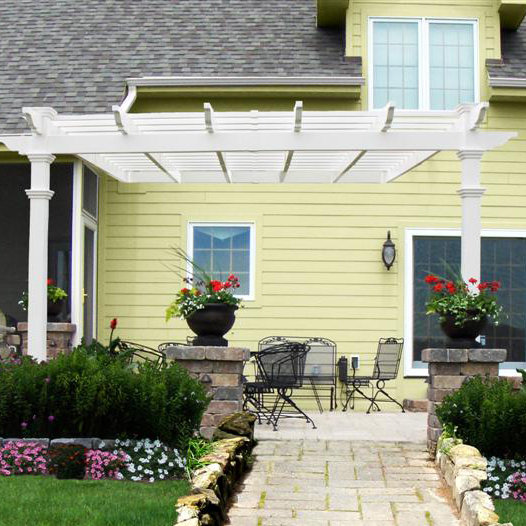 If you're not totally committed to having a gazebo at home, a pergola is a great way to ease into the idea of having an extra outdoor space. This white vinyl pergola looks great with any house and you can build it on a wall outside your house or build it separately away from the house.
Unlike a gazebo, a pergola's roof is a lot more open. It allows light to come through which is perfect for a small outdoor garden or an open area where you can have cookout with a grill and some friends.
The vinyl pergola is not as expensive many types of gazebos. It is affordable and easy to put up. If you are looking for a great addition to your home, this pergola is a great start.
Pros:
The clean white color makes it a great addition to any home.
The solid base is sturdy and won't break easily.
Durable and will last a long time.
Cons:
Does not provide ample protection from heat or rain.
Requires a separate covering to get privacy.
The limited space does not allow for bigger furniture or hot tub.
All You Need to Know About Gazebos
Gazebos are great additions to any home. Whether you are getting one to cover up your Jacuzzi or just want an outside extension of your home, outdoor gazebos are the way to go.
Gazebo designs can be open or enclosed with a screen cover. It can be made of metal, aluminum, wood, or steel.
Advantages of Having a Gazebo
There are many advantages to having a gazebo at home. Here are some of them:
It's the perfect size for an extension of your home.
A screen-enclosed gazebo allows you privacy from prying outside eyes.
It protects you from the heat of the sun and the cold rain and snow.
The extra space outside allows you to have outdoor grill, picnics, and other outdoor activities.
A gazebo gives you more space to entertain guests and have parties in the open areas of your home.
How to Select the Right Gazebo
The right gazebo will depend on your need and the space that you currently have. Measure your space and select the right sized gazebo.
Think of the purpose why you want the gazebo in the first place.
Decide whether you want it to be open or enclosed. An enclosed gazebo keeps bugs away while giving you privacy and an open design lets you take in a beautiful view outside.
Another thing to look for in a gazebo is the material used. Sturdier gazebos are made of metal, although it may be tougher to put up than those made of aluminum and less heavy materials.
Before You Use a Gazebo
Before buying and using a gazebo, you must be aware about some things:
Make sure to check the bolts and nuts that come with the gazebo. Make sure that you have the right number and sizes.
Once the gazebo has been delivered, check if all parts are complete.
Be safe and don't try to put up the gazebo by yourself especially if you are not an expert builder.
Ask for help when you need to while building the gazebo.
Wear protective gear while setting up the gazebo.
These safety measures will help ensure that you have all your fingers and toes intact so you can enjoy a relaxing time under your gazebo.
Frequently Asked Questions (FAQs)
Question #1: How long does it take to put up a gazebo?
Answer: Depending on the size and complexity of the design of a gazebo, it should take less than a week. If you're good at building things, you may complete it in less than 3 days.
Question #2: Where can I place a gazebo?
Answer: Beside your outdoor pool, on your yard, or any space where you wish. As long as the area is flat and can accommodate your gazebo, you can build it there.
Question #3: Is it expensive?
Answer: The price of your gazebo will depend on the size and material that it is made of. The price varies too so choose the best one that fits both your lifestyle and your budget.
Conclusion
The best hot tub gazebo models are those that complete your home's look. Finding the right one may be a daunting task but with this guide, it should be a piece of cake.
A gazebo will protect you from outside elements and provide you with an extension of your home outside. Choose the right gazebo that fits your needs and enjoy the outdoors without leaving your home.