AquaRest spas are known for their portability and ease of use. Maintenance is also minimal and less hassle. It's a great addition to any home that's in want of a hot tub. With so many brands in the market, though, it might be challenging to choose which one you should buy. Reading AquaRest spa reviews before you make your final decision seems like the most reasonable thing to do. Thus, we've compiled here a list of the best of the best so you won't have to hop from webpage to webpage.
All About Aquarest Spa Hot Tubs
AquaRest Spas has been known as an innovative player in the hot tub industry. They have been in the hot tub manufacturing business for 25 years. Through creative engineering, AquaRest Spas is known for creating special hot tubs that have very innovative features. They are the ones behind the patented EZ Kleen filter with 100% water filtration complete with digital equipment. Other features also include smooth interior made of stainless steel, strong massage jets, and LED Backlit Waterfall.
Why AquaRest Spa is One of the Best Brands of Hot Tubs
When buying hot tubs, the most important question to ask is which brand to buy? Why is Aquarest the brand that you should take a look at when choosing hot tubs? Here are a few reasons why AquaRest Spas is a hot tub brand that you shouldn't miss:
AquaRest Spa Is the Top Rotomolded Spa Manufacturer
When it comes to rotationally molded spas, AquaRest has been in the business since 1997 with it being one of the first to create this feature. This innovation on their part was able to get them a lot of satisfied clients.
AquaRest Spa Treasures Quality
AquaRest ensures quality for all the tubs that they manufacture. They make sure that each spa goes through a screening process. This makes sure that none of the parts are defective.
AquaRest Spa Are Easy to Install
One of the best things about AquaRest is that the hot tubs from this company are lightweight and portable, which means they have great indoor and outdoor tubs. In fact, it is possible to install a portable tub in the bathroom just right below your shower head. Unlike other spas, AquaRest Spas are light and easy to move around.
AquaRest Spa is Eco-Friendly
Lastly, AquaRest Spas is eco-friendly. Their eco-friendly products use recyclable materials which help reduce carbon emissions and reduce any manufacturing waste. The tubs also meet all the energy efficiency standards of CEC. This is to make sure that not much energy is used when the tub is turned on. This is because they make use of spa insulation, which allows the tubs to keep the heat in.
Things to Consider Before Buying an AquaRest Spa
The best hot tubs you can buy are those that are energy efficient with durability that will make it last for a long time. These are what you can get from an AquaRest spa. However, there's a range of AquaRest spas that you can choose from depending on your needs. Before you purchase one, make sure you answer the following questions:
What jets are in the AquaRest spa?
Stainless steel hydrotherapy jets that are adjustable are the standard for this kind of tub. This kind of jet is perfect for you back while you are relaxing in the hot tub. However, you must look into the placement of the jet. It should be strategically positioned to pinpoint muscle groups that hold tension and create the optimal water spa experience.
Does it have enough power?
Almost all plug-n-play AquaRest Spa do not go over 110v with 15 amp service. However, you do have options to convert it to a higher power. For you to do this, though, there must be a switch setting, and the hot tub must be able to connect to a GFCI cord.
You usually only have to plug the AquaRest spa to any standard electric outlet, and you're good to go. There's no need for any special wiring or anything. However, you must remember that you can only put the spa in a place where there is a solid foundation. This hot tub can weigh 34 kg or more, so make sure that the ground can hold that weight.
What color options are available for AquaRest Spa?
These hot tubs can come in a variety of colors. The most common ones are graystone, cobblestone, and brownstone.
What comes with the AquaRest Spa?
Standard accessories that come with the hot tub include insulated covers, locking straps, filtration system, backlit waterfall light system, foam barrier, armrests, and cup holders.
Many things are taken into account when it comes to determining the total cost of a hot tub. There's the initial price you pay for the hot tub itself and the level of upkeep. Determine what you have to do to maintain your AquaRest spa. Also, know how often you have to do it by reading some AquaRest Spas hot tub reviews that will give you a clearer idea on the price range.
Top AquaRest Spa Hot Tub Reviews
Now that you know what you must consider when looking for the best hot tub for your home, you can start your search for that perfect product for your home. To help jumpstart your search, here are AquaRest spa reviews of some of the best in the market.
1.  Aquarest Spas Premium 300 2-Person 20 Jet Hot Tub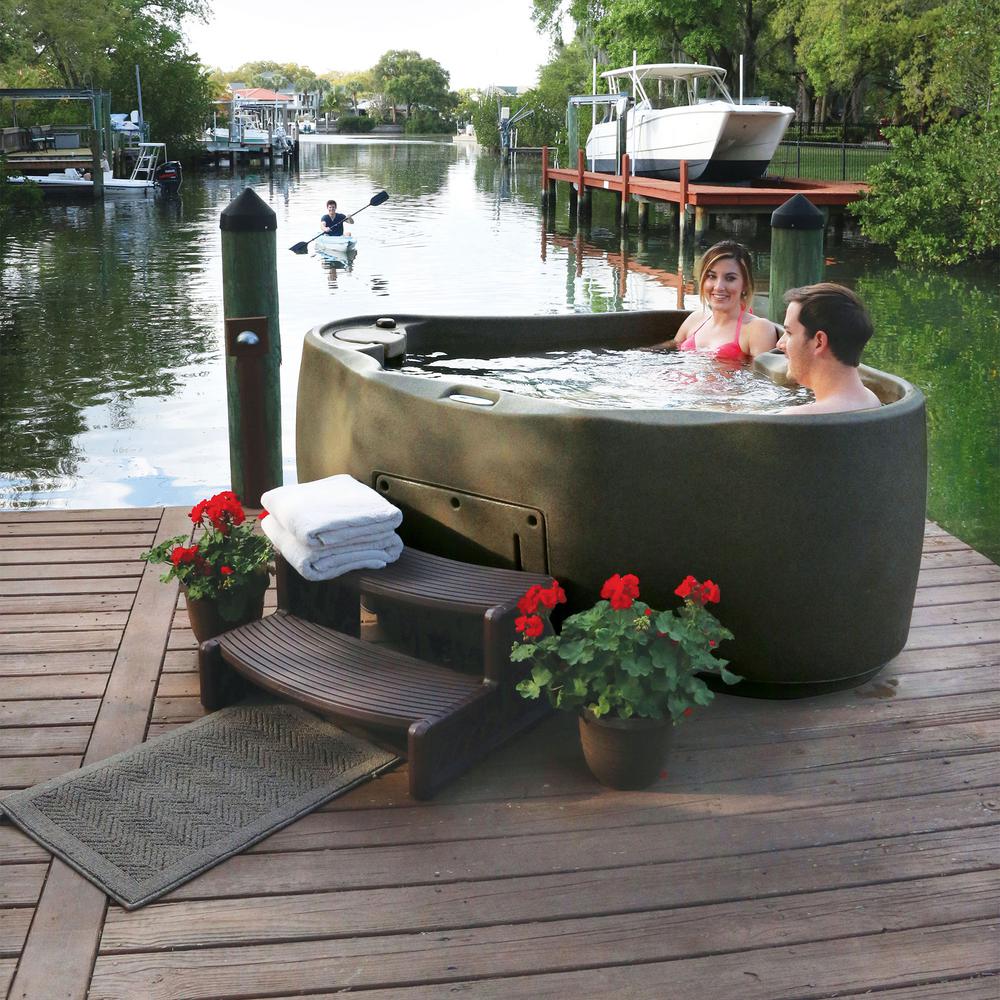 This spa can host 2 people comfortably, and it is very easy to install and maintain.
Besides, it comes with one of the most impressive upgrades with two-speed pumps, two bucket loungers, an ozone purification system, and 20 powerful hydrotherapy jets. These interesting features offer a fantastic wellness experience to users.
With this hot tub, you will get top-quality hydrotherapy for a very reasonable price. More importantly, you can convert the AR-300 Premium from 120v 1kW to 240v 4kW by installing a 30 or 50 Amp 240v electrical service.
Now you and your partner are able to enjoy the therapeutic relaxing experience without paying a lot of money. All you need to do is to install the hot tub and enjoy it whenever you feel tired or you need some quality time with your loved one.
The Pros of This Aquarest Spas Premium 300
Uses less water
Can fit comfortably in any small space
Easy to use with Plug and Play
Quick heating
Powerful and adjustable jets
Easy filtration and can be easily drained
Cons of The Aquarest Spas
Does not have a headrest
The shallow has rough tub surface
Who should own this model?
This model is designed for two people, therefore, it is perfect for couples or whoever owns a holiday home. Besides, it comes with a reasonable price, so couples who are tight on budget will be interested in it.
Features of the Aquarest Spas premium 300:
Spacious: The triangular form makes you feel like you have more room than other tubs with the same dimensions. There is no need to worry about bumping into the other person because you can stretch your legs in the same direction.
Keeps the heat well: It can retain heat well and save energy thanks to full foam insulation and an insulated cover.
Portable: It is lightweight so you can easily move it using a sledge.
Well design: It has an outstanding, luxurious design that will catch the attention of any person. It is also durable thanks to thick and solid plastic. It won't be broken if you jump in it.
Easy and quick setup: There are clear instructions for setup and installation. However, you probably don't need it because it is so easy with the Plug and Play feature.
Waterfall with LED lights: The lights give users different options for setting the right ambiance for a romantic evening or a relaxing night.
This model is an affordable and comfortable option
Customers Reviews
Almost everyone will look for customer reviews before they decide to purchase a product. Therefore, we will include this section in the Aquarest Spas premium 300 reviews.
"We love the hot tub! It was light enough for the delivery guy, myself and my wife to carry it into our backyard" That's how DomDuo feels about this model after purchasing it. Also according to him, "it works great on 120V! Only lost one degree after running the pump on high for one hour (the heater doesn't run when the pump is on high). The jets on our back and neck are very strong."
Another user Simxray reviews that it is "just the right size for two adults. Seems to heat up quite rapidly, only 190 gallons." In general, it has "good jets, two speeds, nice waterfall with rotating light colors. Thick insulated cover fits well and does retain heat. Can be folded and removed easily. Easy to get in and out."
However, an unknown user is not happy with it as "the spa started leaking two months after the 1 year plumbing warranty expired. With the roto molded construction, tracking down the leaks is nearly impossible." He also mentioned that "Aquarest customer service doesn't return phone calls."
Read more: Aquarest Spas Premium 300 Reviews
2.  Aquarest Spas Select 150 4 Person Hot Tub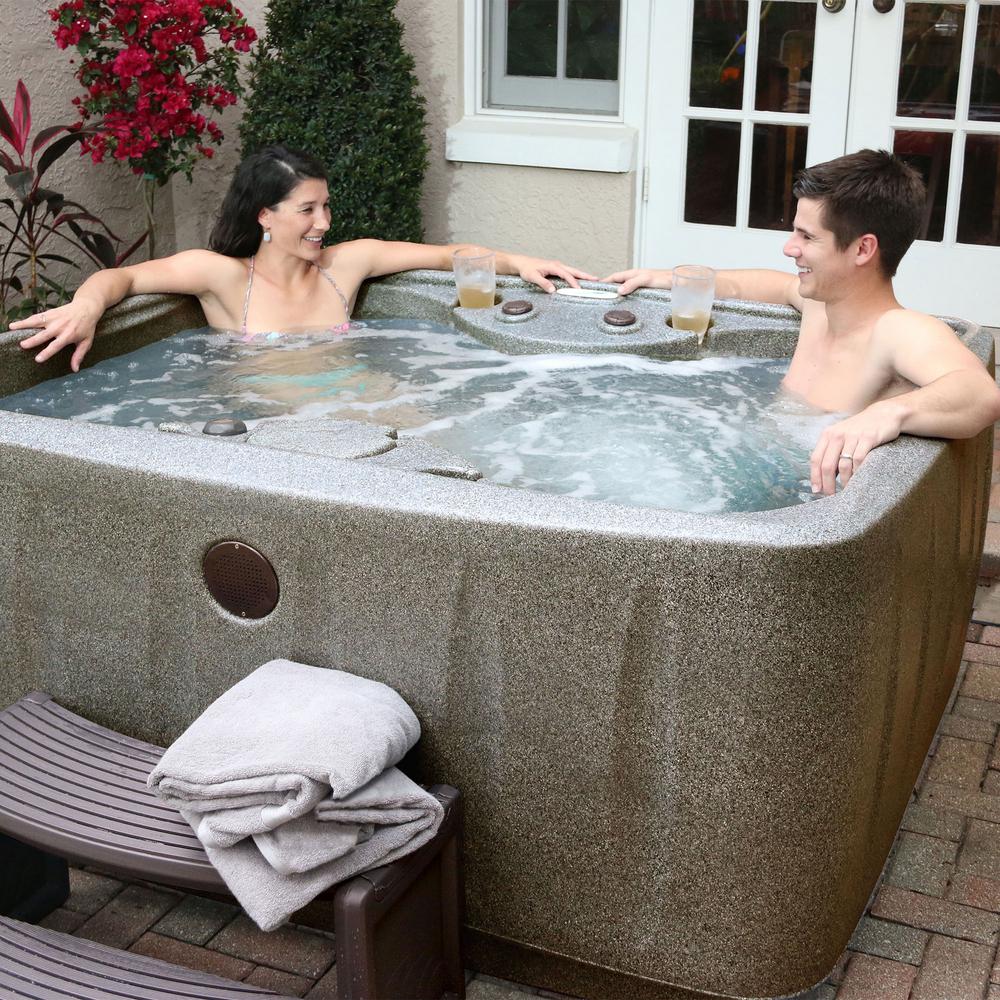 This hot tub allows you to enjoy the luxury of a spa without occupying much space. The cabinets are constructed using rotational molding technology that ensures durability regardless of the weather conditions. It is designed for 4 people. However, some reviewers note that it would be hard for 4 people to fit in comfortably.
It is equipped with 12 stainless underwater jets that deliver soothing pressure to relax your muscles. Besides, this model is energy efficient as it features a sealing cover, full foam cabinet insulation and a heater and pump that have efficiency features.
With the 100% filtration system, you can keep easy knowing that your water is clean and free from contaminations.
The Pros of This Aquarest Spas Select 150
Built to last
Energy efficient
Great performance
Allows for customizable experience
Made in the USA
Cons of The Aquarest Spas
Shallow instructions
Difficult to fit 4 people comfortably
Key features of the Aquarest Spas Select 150
12 Stainless Steel hydrotherapy jets: This model makes you feel comfortable and relaxing thanks to the hydrotherapy jets. It offers you a real spa experience at your own house.
Use less energy: You can spend a lot of time in your hot tub knowing that it uses less energy because of full foam insulation and locking safety cover.
Perfect for 4 people: The 4-seat hot tub is ideal for a family of three and four. As a couple, you probably don't need a lot of seats. However, if your family is growing, you should get this model.
It is easy to install and use
Frequently asked questions
What jets does it use? All models from Aquarest Spa come with stainless steel hydrotherapy jets. They are adjustable and excellent for you if you need to relax in the hot tub. Make sure to position your muscle groups at the right place so the jets could create the optimal spa experience.
Does it have enough power? This model can perform well with 110v with 15 amp service. But if you want to use a higher power, you can. Just make sure to connect it to a GFCI cord.
How to install it? As we mentioned earlier, it is easy to install the Aquarest Spa. All you need to do is to place the hot tub in a solid foundation and plug it to a standard electric outlet.
Customers Reviews
Since this model is an outstanding product from Aquarest Spa, you can expect many people have used it. Here are a few reviews you should take a look at:
According to a user named Jim, "the product overall is of very good quality." He had been using it for over 2 weeks and "everything works as stated. Seems to be durable and is holding heat very well with the included cover." It is "great for 2 people, ok for 3 and 4 is a stretch." He likes the "price, quality, LED lighting, Waterfall, 100% filtration daily." And what he doesn't like about the model is that "pump cover screws are just lazily tapped into the roto-mold and there are no retainer clips."
Another customer with an account name  svc1964 is happy with his investment as "this hot tub is affordable and well made". He and his wife love it. "I have had two back surgeries and this helps my back. It's my therapy and my wife has a very stressful job as a teacher of young kids. She finds this to be very relaxing at night when she gets home."
However, Warren who "owned it for about a year" is not satisfied with his hot tub as "temp control shot. Set temp then it counts down till it shuts off."
Read more: Aquarest Spas Select 150 Reviews
3.  Aquarest Spas Select 400 Hot Tub Reviews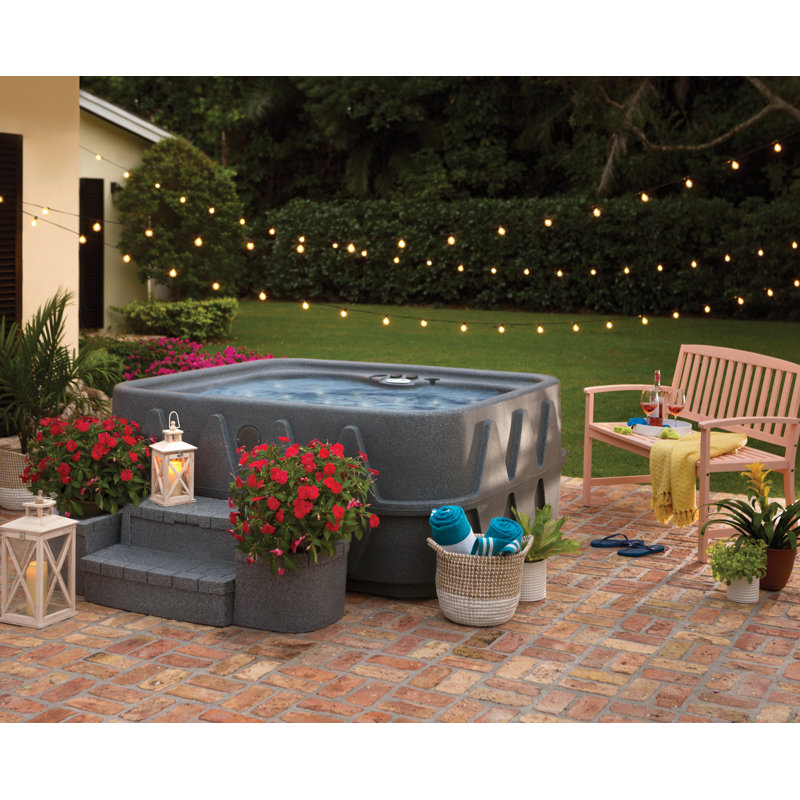 The Select 400 has a perfect size and design for 4 people. So if your family has two children, you must take a look at this model. The hot tub comes with four seating buckets so you and other members can sit comfortably inside.
If you don't have kids, you can relax in this home spa with your friends. The capacity of this spa is amazing, at 190-gallon weight lifting. That can explain to you why this model is such a great option for your family.
Similar to any other home spas from the famous brand, the Spa is made of stainless steel which makes it easy for maintenance and cleaning. And the full-foam insulation and a deluxe cover makes it durable.
Besides, this model comes with digital controls that allow you to control it with a few touches. That just tells you how easily this spa can be controlled and used.
Enjoy hot water massage and relieve your back pain or sore muscles with this hot tub is an excellent idea.
The Pros of This Aquarest Spas Select 400
Has 4 seats for 4 people
20 powerful jets for incredible massage and therapy
Durable with deluxe cover
Comes with LED waterfall and digitally controlled
It has full-foam insulation
Easy to set up
Cons of The Aquarest Spas
It is a little bulky
Not easy to move from one place to another
Key features:
Backlit LED waterfall: This feature creates a relaxing atmosphere for you while spending time in the hot tub.
20 hydrotherapy jets: These powerful jets will work on all muscles that need a treatment.
Easy to clean: It can be cleaned with the water draining method, which makes cleaning so easy for you.
Two side air controls: This feature allows you to adjust how much water pressure you want to get.
Customers reviews
Mark, a verified buyer from Saltillo, MS considers buying this hot tub a "great experience for me. The hot tub itself was easy to set up. We have used it almost every night since delivery. Great price for a good hot tub."
According to Kevin from OG: "So far so good. Perfect size really. It says 4 people but I'd struggle to get 4 of me in it as 3 is perfect. Keeps the temp so far with no issues and no leaks" and it was a "great buy if you ask me!"
Harold from York Haven, PA thinks it is a "great spa, just perfect." "The spa works great, heats great, space is perfect. I read the walls were rough, not at all, very comfortable. I run a bromine set up because its inside, spa selections chemicals, couldn't be easier."
Richard from Junction city, OR has a concern as it "works great but makes a loud whistling sound when the jets are running. Interior was slightly scratchy at first but I hope it will grind down a bit."
Frequently asked questions
Should I put the spa on grass, soil or cement?: The hot tub needs to be put on a solid and flat surface, either concrete slabs or decks to support the weight.
How do you drain the hot tub for cleaning?: The hot tub has a drain, so you don't really need to worry about it.
What comes with the spa?: Every Aquarest Spas model comes with standard accessories. They are cup holders, insulated covers, armrests, locking straps, foam barrier, filtration system, and backlit waterfall light system.
Read more: Aquarest Spas Select 400 Reviews
4.  Aquarest Spas Elite 500 5-Person 29-Jet Hot Tub: The Good and the Bad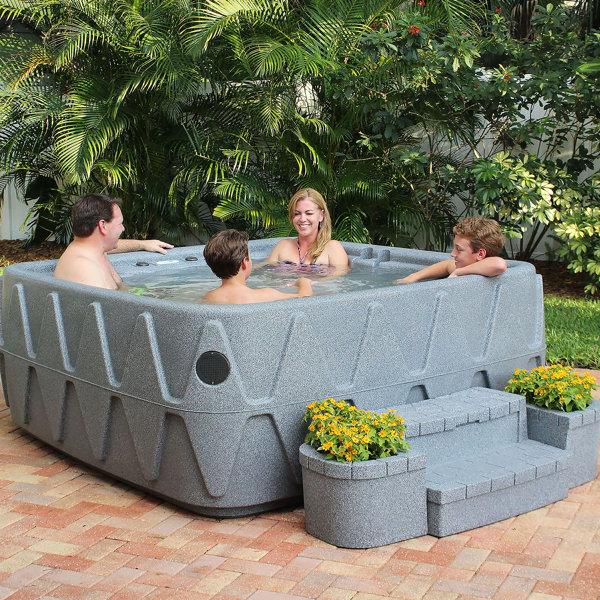 Whether you are looking for the best luxury hot tub for your hydrotherapy needs or entertainment, this hot tub from AquaRest Spas is what you need. This spa is designed with comfort, value and quality in mind in order to give worth for your money.
The therapeutic arch support allows you to have a relaxing time and is especially great for alleviating achy backs. This model offers a relaxing hydrotherapy experience thanks to the 29 stainless steel hydrotherapy jets. The dual side air controls allow you to customize your massage the way you want it.
This outstanding spa is packed with energy saving features such as a cabinet insulation, energy efficient pump and heater as well as a spa cover that locks heat in. These features will help keep your water hot while keeping your electric bill low.
Elite 500 is designed with 100% water filtration system that keeps the spa clean at all times. This system is combined together with the ozone purification system that kills contaminants to keep the water clean, and eliminates the use of chemicals by 75%.
Pros of this Aquarest Spas Elite 500
Easy to set up with a standard 120V outlet included
A portable spa that can be used indoors and outdoors
Durable polyethylene build
Energy-efficient with full foam insulation and safety cover
Fun features like LED backlights, cascading waterfalls, and pre-installed cup holders on the spa.
Cons of The Aquarest Spa Hot Tub
A little cramped for 5 adults and can only comfortably fit 4 persons
It takes about 24 hours for the water to really heat up and ready for use
Who is This Product For?
If you want a basic and tough spa for your home, this will be great for you and your home. The Aquarest Spas Elite 500 is great for small families who want a relaxing time.
Key Features
29 Hydrotherapy Jets – These 29 stainless steel hydrotherapy jets have dual side controls that let you be in full control of the nozzle direction. You can strategically place the nozzle in any part of your body to relieve the stress. Aquarest Spas ensures that they use actual water therapy jets instead of air injectors in all their spas.
Safe and Clean Water – It has an EZ Kleen Filtration System that helps filter out the dirt that comes into your spa and has an easy to change the filter as needed. The Ozone Purification System, on the other hand, produces ozone gas in your spa water that kills bacteria. This means less chemical use for your home spa.
If you want a dependable starter spa that is easy to plug in without the tricky wiring installations, the Aquarest Spas Elite 500 is for you. However, the long warming time might not be best if you're the type who wants a soak on a whim. For me, the water retention feature kind of makes up for it so I think it is worth the wait.
Customer Reviews
The Aquarest Spas Elite 500 reviews are mostly positive, citing its affordability and practicality as its greatest asset.  Here are the positive reviews I saw online:
One user named Jane said "This is an amazing hot tub. Easy to clean and looks great. We are very happy about buying this."
Irene also said "I think you have to remember what you are getting and set your expectations accordingly. We wanted to check if it was something we enjoyed before investing in more luxurious and expensive models."
FAQs
What's the highest temperature can the Aquarest Spas Elite 500 get? The Aquarest Spas Elite 500 can heat up to 104° F (38°-40°C). The water in your spa must NOT be warmer than 104° F to avoid health issues.
What colors is the Aquarest Spas Elite 500 available? It is available in Graystone, Brownstone, and Keystone.
What is its weight and dimension? The Aquarest Spas Elite 500 weighs 295 lbs. It measures      79" (L) × 79" (W) × 32" (H).
Additional Tips
Avoid soaking longer than prescribed to avoid hypothermia.
The Aquarest Spas Elite 500 is intended for residential use only is not suitable for commercial use.
Setting Up your AquaRest Spa
Read more: In-Depth Analysis of Aquarest Spas Elite 500 Reviews
5.  Aquarest Spas DayDream 6-Person 45-Jet Hot Tub Reviews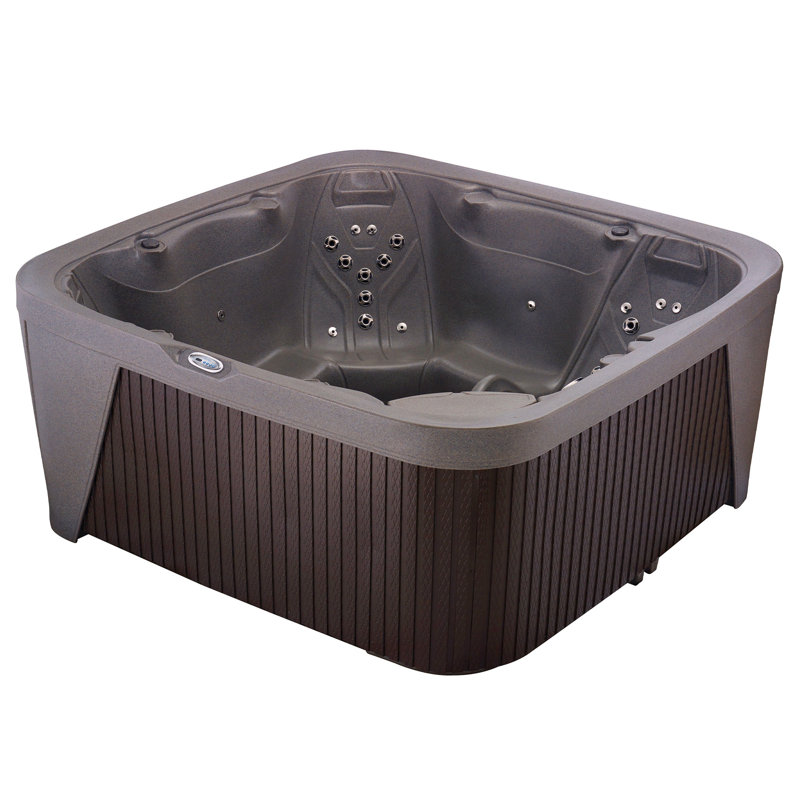 The Aquarest Spas Daydream 6-Person is a 6-person spa with 45 stainless steel jets, an E-Insulation, and 100% Easy Clean filtration made out of fully recyclable and incredibly durable polyethylene. Other than that it is also energy and time-efficient and is easy to set up.
Moreover, this product is manufactured by Aquarest which is widely known as the top manufacturer of roto-molded spas.
Things We Liked:
Energy-Saving Feature
Made of 100% recyclable material and is eco-durable
Relieves stress and alleviates sore muscles
Less maintenance time
Portable and easy to set up
Things We Disliked:
Takes up to 4 days before heating to 100 degrees
Heat quickly drops when left without a cover
Malfunctions at 120v wiring thus must be set up at 220v
What makes the Aquarest Daydream 6-Person Spa special?
E-Insulation and ASTM certified thermal cover Feature
100% Easy Kleen Filtration
Warm hydro-massage feature
Plug and Play
Multi-color LED Lighting
It seems that the Aquarest Daydream is quite loaded with high-performing features that make it worth the budget.
Best Suits Who?
We would definitely recommend having portable spas for people who have little to no time to go outside for leisure activity. If you're a person with a tight schedule, full-time mom, working at home, and the like, then you must have little to no chances to leave your homes and may want to consider making your comfort areas a little bit more relaxing by adding in a home spa.
Key Features Explained
E-Insulation and ASTM certified thermal cover Feature – the Aquarest Daydream offers you an energy-saving feature that includes cabinet insulation and a stainless steel electric heater that enables quick temperature change. The Aquarest Daydream also has an ASTM certified sealing cover that locks up heat inside the tub making it energy efficient.
100% Easy Kleen Filtration – this feature ensures clean and crisp water by injecting ozone gas into the water and killing bacteria 50% faster than normal filtration. Thus, less time on maintenance and more time on leisure activity.
Warm hydro-massage feature – The daydream spa is also equipped with 45 hydrotherapy jets made out of stainless steel and has a digital control panel giving you full control over the massage experience. The jets are placed at multi-levels which helps alleviate back pain and the spa also has lumbar arch support.
Plug and Play Feature – This does not need any professional installation and can easily be used by setting it up on the best spot, filling it up, and plugging it in. The spa is also lightweight and portable.
Multi-color LED Lighting – Levels up your relaxation experience with this aesthetic feature. Enables you to enjoy your solo or group hydrotherapy session even during night time.
Customers' Reviews
"Good spa but do note of the following problems you may encounter: delivery a week longer than expected, took 4 days before it heats up to 100 degrees, will not hold heat without the cover, and must be set up to 220v wiring. Other than that, everything is excellent, and we couldn't ask for a better one. Say goodbye to back pains." (4 out of 5 stars) –Danielle, VERIFIED BUYER on Wayfair 
"I love it. Easy to set up and is just outstanding performance.". (5 out of 5 stars) –Sandra, VERIFIED BUYER on Wayfair 
"Still runs perfectly even after having it for a year!" (5 out of 5 stars) –Jessica, VERIFIED BUYER on Wayfair
Answering FAQs
"Does it have a solid bottom?" No, the bottom is not solid.
"How many gallons is its water capacity?" Up to 318 gallons.
"Would a 30 amp supply suffice?" Yes, the spa can already run with that.
AquaRest DayDream Hot Tub Spa Review on Youtube:
Read more: Aquarest Spas Daydream 6-Person Reviews
6.  Aquarest Spas Elite 600 reviews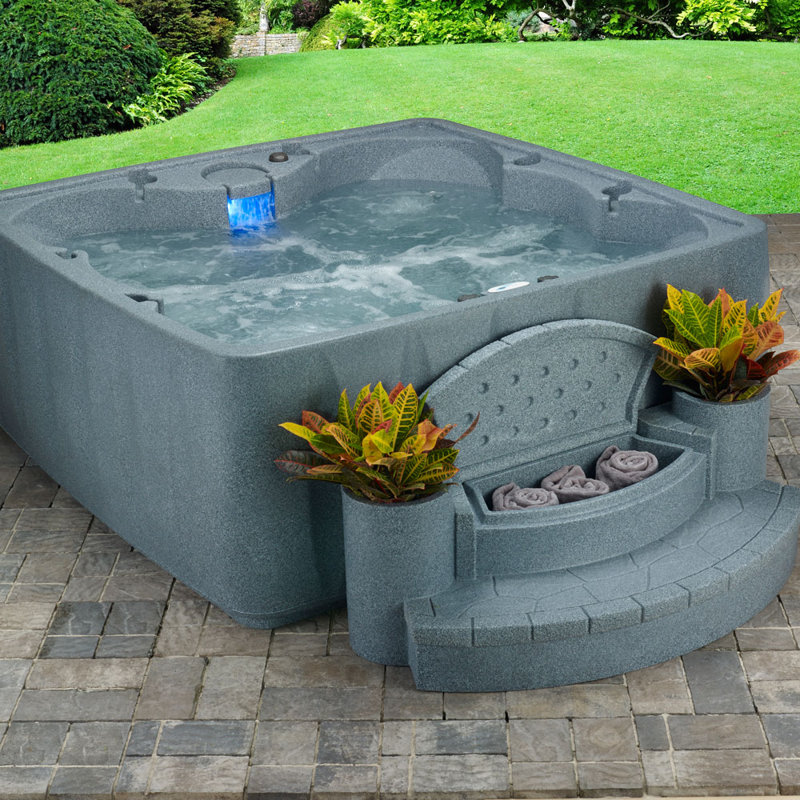 As we mentioned earlier, Aquarest Spas normally don't have a lot of jets. However, this model is for 6 people, so it has more than normal amount which is 29 hydrotherapy jets. In addition, it comes with an impact-resistant polyethylene shell. When using this hot tub, users will have full control over the jets. This model is also highly durable, so you can rest assured that it can be used for a long time. Not to mention, the multi-colored cascading waterfall adds to the perfect ambiance for your spa.
The Pros of This Aquarest Spas Elite 600
It has a durable tub design and construction
Low maintenance
Portable
Easy to use
Cons of The Aquarest Spas
Quite difficult to control the temperature
Not very powerful jets
Key features:
When choosing the right hot tub for your family, you need to look at the key features that it comes with. The Aquarest Spas Elite 600 reviews provide a few outstanding features associated with this model.
100% water filtration: It comes with the Easy Klean Filtration System that provides 100% water filtration. Therefore, you will be able to enjoy crisp and clean water. Besides, it allows you to change the filter when needed.
Ozone keeps water clear, clean and fresh: This feature helps keep your spa clean as it eliminates organic and inorganic contaminants. With ozone, you don't need to use a lot of chemicals so you don't have to worry about your skin being dried. You can use either the power or natural Oxygen to keep your spa clean.
Save the energy: This model comes with cabinet insulation and a sealing spa cover that helps you optimize heat and energy efficiency and save the energy.
Easy set up: The model just needs to be plugged right into a standard 120 V outlet. You don't have to be an electrician or need to hire one to install the Elite 600 to your home. All you need to do is to fill your hot tub, plug it in and enjoy!
Who is this spa suitable for?
This spa is large and can host up to 6 adults comfortably, therefore, it is perfect for a big family. Besides, it has 6 convenient beverage holders. So you can install it at your vacation property. You will have more ideas to spend time with friends or family once you own this model.
Customer reviews
It is very important to read reviews and feedback from people who have actually used this product. That's why we include a customer reviews section here for your recommendation.
According to a user named Phoebe from Hampton, VA, the Elite 600 is "easy to set up, and works perfectly. Delivery was sooner than expected, and the crew was very helpful!" She was very happy with the hot tub!!
Sean from Raleigh, NC thinks that "It's amazing. Ours fired right up with no issue. Haven't used it in the winter yet but it maintains heat well so far." The family are in love with it and use it every day.
Tracy from TX reviewed that "It was easy to move into place, filled up quickly. By the next morning it had reached temperature." In addition, "it looks great on the back porch." And for the price point, the family is extremely pleased with it.
On the other hand, Matthew from WI "had a few issues after purchase, but almost one year later, this was a great purchase!"
Read more: Aquarest Spas Elite 600 reviews
Benefits of Using a Hot Tub
Hot tubs have always been known for their health benefits, which is why there are many people who actually buy hot tubs or even install hot tub features in their bathtub. Here are a few benefits that you can get from using hot tubs:
Improved Sleep Quality
First, you'll notice that your sleep quality will improve if you sleep right after you soak in your walk in tub. This is because the body tends to sleep better when it is all warmed up as compared to when it is cold. With this, your sleep will be more comfortable when your body has been warmed by the hot tub.
Lower Blood Sugar
The New England Journal of Medicine conducted a study that found out that soaking in hot tubs helps lower the blood sugar levels of the body. This study shows that hot tubs are very beneficial to those who are suffering from type 2 diabetes as it helps lower the patient's' blood glucose.
Lower Blood Pressure
Aside from sleep, hot tubs can also help regulate blood pressure. When you soak in your soaking tub, your heart beats faster and your body releases more heat. Due to this, your blood circulation becomes faster and your body produces more oxygen. Overall, this causes your blood pressure to go down.
Reduced Stress
Hot tub soaking can help reduce stress because of the combination of hot water and the jets that can massage the body. All of these features can help reduce stress from the body.
Healthier Looking Skin
Because of reduced stress, it is possible to get healthier-looking skin. Hot tubs can also help moisturize the skin, giving it a moist and smooth look.
Improves Muscle Aches and Pains
If you are suffering from muscle pains, hot tubs can actually help relieve the pain. This is because you can increase blood circulation in your body, which helps relax the muscles and relieve the inflammation in the muscles and joints.
Conclusion
In the round-up of the five choices based on the top Aquarest Spa Reviews, the clear winner of this lineup would be number 5, the Aquarest 29 SS Play Spa (6-Person). This is the best because it has every great Aquarest feature that can satisfy buyers of the product. With regard to features, it has all the features that are guaranteed to make you have a good hot tub experience. It is also very stylish and durable. Just like all other Aquarest tubs, it is also easy to use and very light. Aesthetically, it is very beautifully designed. Along with the LED waterfall, it can give the tub a great ambiance for relaxation. It also has a plug and play feature, which is easy to use. Moreover, it comes with a very powerful jet and can fit 6 people inside. Lastly, it comes with an ozonator that can easily kill bacteria in the water.
The only con of this product is that it uses a lot of energy as compared to the other Aquarest tubs, but that is to be expected since it makes use of a lot of features anyway. If you want to save energy, then you have the option of not using all the features all at once and only choose the ones that suit you at the moment. Also, you don't have to use the waterfall all the time to get that relaxation effect. You use lavender essence instead to calm your senses and help you relax. Overall, it is a product that has everything that you need in a tub. With regard to the price, it is already quite reasonable given all the features that it has.