AquaRest spas are known for their portability and ease of use. Maintenance is also minimal and less hassle. It's a great addition to any home that's in want of a hot tub. With so many brands in the market, though, it might be challenging to choose which one you should buy. Reading AquaRest spa reviews before you make your final decision seems like the most reasonable thing to do. Thus, we've compiled here a list of the best of the best so you won't have to hop from webpage to webpage.
All About Aquarest Spa Hot Tubs
AquaRest Spas has been known as an innovative player in the hot tub industry. They have been in the hot tub manufacturing business for 25 years. Through creative engineering, AquaRest Spas is known for creating special hot tubs that have very innovative features. They are the ones behind the patented EZ Kleen filter with 100% water filtration complete with digital equipment. Other features also include smooth interior made of stainless steel, strong massage jets, and LED Backlit Waterfall.
Why AquaRest Spa is One of the Best Brands of Hot Tubs
When buying hot tubs, the most important question to ask is which brand to buy? Why is Aquarest the brand that you should take a look at when choosing hot tubs? Here are a few reasons why AquaRest Spas is a hot tub brand that you shouldn't miss:
AquaRest Spa Is the Top Rotomolded Spa Manufacturer
When it comes to rotationally molded spas, AquaRest has been in the business since 1997 with it being one of the first to create this feature. This innovation on their part was able to get them a lot of satisfied clients.
AquaRest Spa Treasures Quality
AquaRest ensures quality for all the tubs that they manufacture. They make sure that each spa goes through a screening process. This makes sure that none of the parts are defective.
AquaRest Spa Are Easy to Install
One of the best things about AquaRest is that the hot tubs from this company are lightweight and portable, which means they have great indoor and outdoor tubs. In fact, it is possible to install a portable tub in the bathroom just right below your shower head. Unlike other spas, AquaRest Spas are light and easy to move around.
AquaRest Spa is Eco-Friendly
Lastly, AquaRest Spas is eco-friendly. Their eco-friendly products use recyclable materials which help reduce carbon emissions and reduce any manufacturing waste. The tubs also meet all the energy efficiency standards of CEC. This is to make sure that not much energy is used when the tub is turned on. This is because they make use of spa insulation, which allows the tubs to keep the heat in.
Things to Consider Before Buying an AquaRest Spa
The best hot tubs you can buy are those that are energy efficient with durability that will make it last for a long time. These are what you can get from an AquaRest spa. However, there's a range of AquaRest spas that you can choose from depending on your needs. Before you purchase one, make sure you answer the following questions:
What jets are in the AquaRest spa?
Stainless steel hydrotherapy jets that are adjustable are the standard for this kind of tub. This kind of jet is perfect for you back while you are relaxing in the hot tub. However, you must look into the placement of the jet. It should be strategically positioned to pinpoint muscle groups that hold tension and create the optimal water spa experience.
Does it have enough power?
Almost all plug-n-play AquaRest Spa do not go over 110v with 15 amp service. However, you do have options to convert it to a higher power. For you to do this, though, there must be a switch setting, and the hot tub must be able to connect to a GFCI cord.
You usually only have to plug the AquaRest spa to any standard electric outlet, and you're good to go. There's no need for any special wiring or anything. However, you must remember that you can only put the spa in a place where there is a solid foundation. This hot tub can weigh 34 kg or more, so make sure that the ground can hold that weight.
What color options are available for AquaRest Spa?
These hot tubs can come in a variety of colors. The most common ones are graystone, cobblestone, and brownstone.
What comes with the AquaRest Spa?
Standard accessories that come with the hot tub include insulated covers, locking straps, filtration system, backlit waterfall light system, foam barrier, armrests, and cup holders.
Many things are taken into account when it comes to determining the total cost of a hot tub. There's the initial price you pay for the hot tub itself and the level of upkeep. Determine what you have to do to maintain your AquaRest spa. Also, know how often you have to do it by reading some AquaRest Spas hot tub reviews that will give you a clearer idea on the price range.
Top AquaRest Spa Hot Tub Reviews
Now that you know what you must consider when looking for the best hot tub for your home, you can start your search for that perfect product for your home. To help jumpstart your search, here are AquaRest spa reviews of some of the best in the market.
1.  AquaRest Spas Premium 300 Hot Tub with Stainless Steel Heater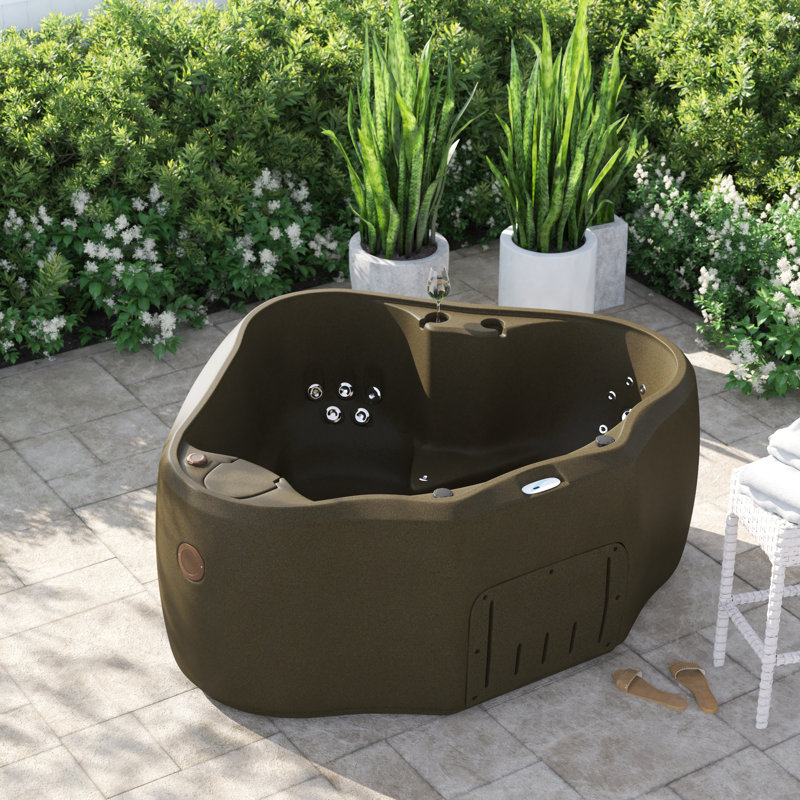 This AquaRest spa comes with one of the most impressive upgrades. It is complete with two-speed pumps, an ozone purification system, and 20 hydrotherapy jets. It delivers top-quality hydrotherapy with two side air controls. With nine color light settings, you can create the best ambiance as well.
Highlighted Features:
Impact-resistant polyethylene shell
Upgraded Ozonator
ASTM certified cover and locks
Digital control
Nine multi-color LED lights
120V with 15 amp plug-and-play
Ir has room for two people
Uses less water
Can fit comfortably in any small space
Does not come with a headrest
Shallow with rough tub surface
2.  AquaRest Spas Select 150 Hot Tub with LED Waterfall and Stainless Jets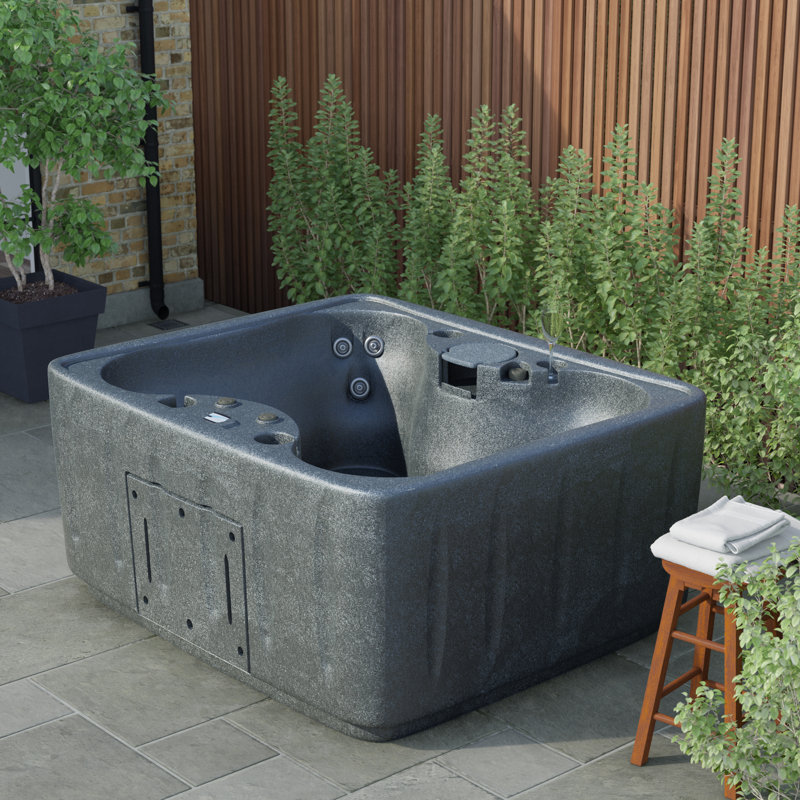 Select 150 has all the therapeutic benefits of an AquaRest spa and more. It comes with full-foam, thus using less energy. It is engineered to be tough and resist impact so that it will last for a long time. With its lumbar arch support, it can alleviate aching back muscles. It also comes with multiple jets that are placed strategically to massage the back.
Highlighted Features:
Impact-resistant polyethylene shell
EZ Kleen Filtration System
Multi-color LED lights
4 cup holders
120V with 15 amp plug-and-play
Easy to set up
Easy to use
Does not make a lot of sounds
Does not come with comprehensive instructions
Has a minor filter issue
3.  Select 400 Hot Tub with LED Light and Waterfall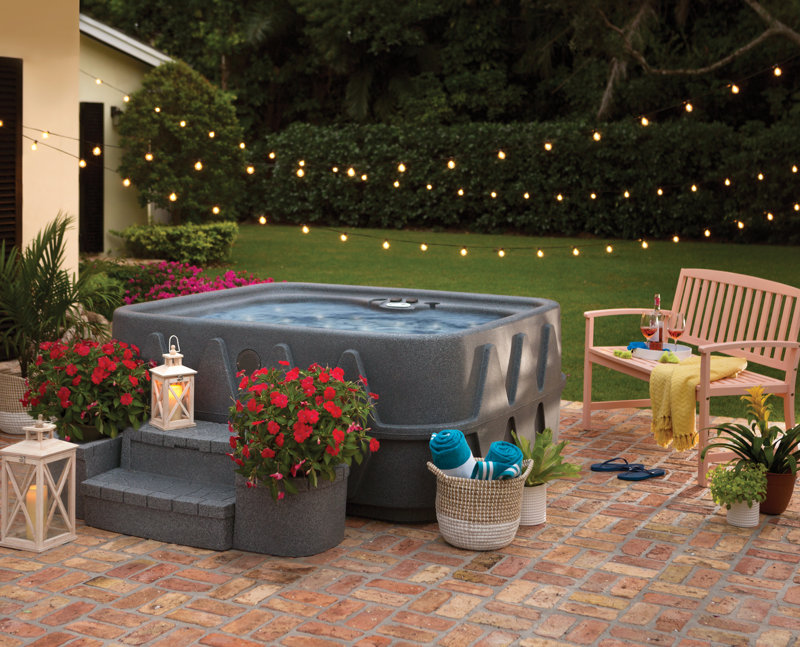 This one has 20 hydrotherapy jets with two side air controls, so you have complete freedom in adjusting just how much water pressure you get. It also has lumbar arch support and a multi-color backlit waterfall to complete the spa set. It's not only easy to set up and use, but it is also comfortable. This AquaRest spa should be good for two to four people.
Highlighted Features:
Impact-resistant polyethylene shell
EZ Kleen Filtration System
Multi-color LED lights
ASTM certified cover and locks
120V with 15 amp plug-and-play
Lightweight and quick to set up
Great value
Waterfall light creates an amazing ambiance
Needs pump before heater works
Too cramped for four people
4.  AquaRest Spas Premium 400 Hot Tub with Ozonator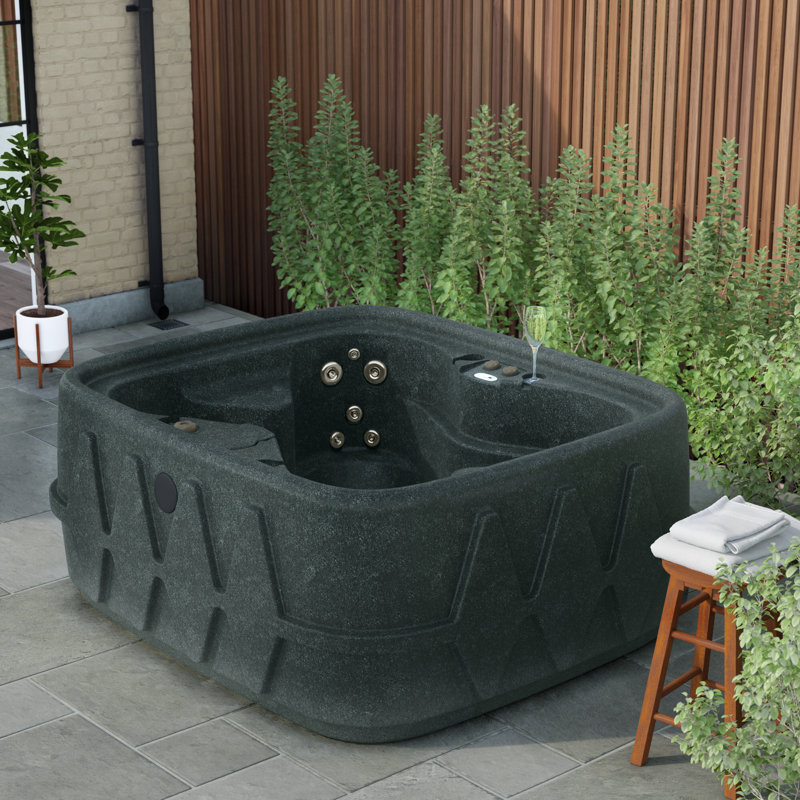 With a 2 HPR speed pump, 20 hydrotherapy jets, and ozone, the Premium 400 is one of the best AquaRest spas in the market. This is especially good for those having problems with their lower back. It comes with complete foam insulation and ASTM certified lock and cover, too. This 4-seat tub comes with jets that have a more adjustable flow of direction. While the spa is a plug-and-play 120 V/15 amp, you can convert it to a 240V electric service.
Highlighted Features:
2 zone air controls
EZ Kleen Filtration System
Ozonator
Multi-color LED lights
ASTM certified cover and locks
120V with 15 amp plug-and-play convertible to 240 V with 50 amp
Has enough room for four people
Venturi air valves add more jet power
Surface a little rough
Manual is a bit confusing
5.  AquaRest Spas Select 200 Hot Tub for Five People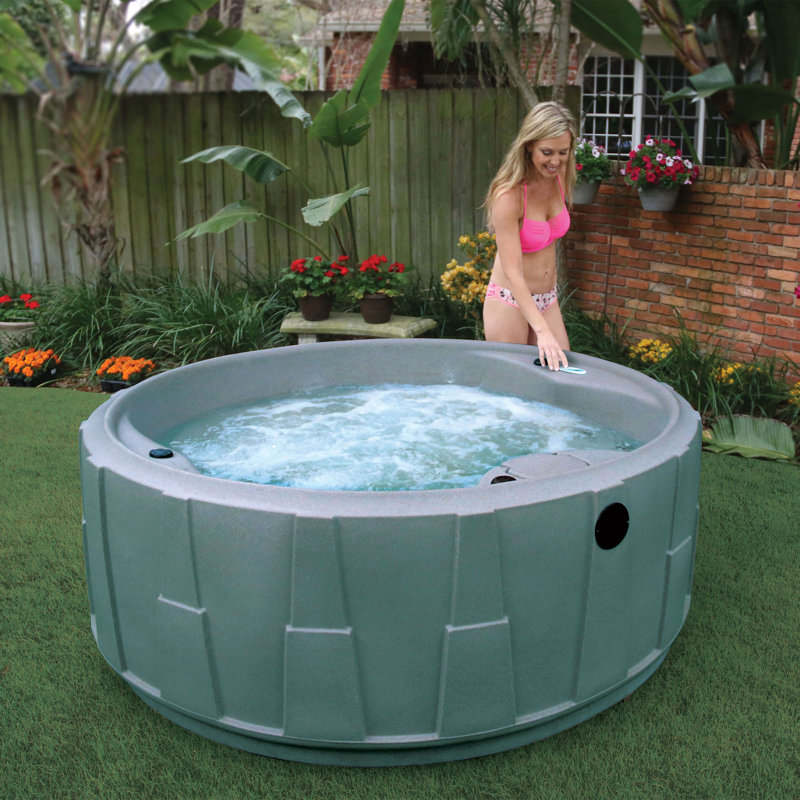 This round hot tub is perfect for five people. It has complete foam insulation and an energy-efficient heater and pump. With a Kleen filtration system, the water is kept clean and crisp. The spa itself is designed to optimize relaxation and hydrotherapy. The 20 stainless steel waterway jets can be controlled to massage the exact areas that you need to massage.
Highlighted Features:
EZ Kleen Filtration System
Multi-color LED lights
Cover and locks
120V with 15 amp plug-and-play
Great features for a low price
Good for five people
Jets can apply high pressure on the muscles
Jet positioning often hits mid-back instead of the lower back.
The heater is not enough during winter.
6.  AquaRest Spa Elite 500 Hot Tub with Ozonator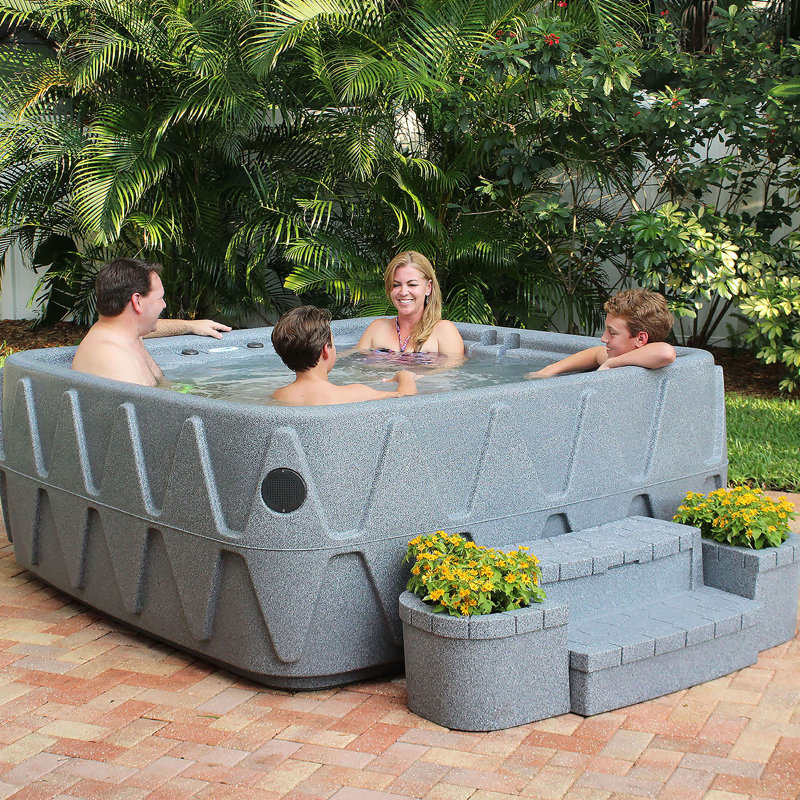 The Elite 500 is a large and roomy spa that can easily fit five people. It features standard seating but with comfortable lounger. By using the EZ filtration system instead of bulky filter returns, it leaves more room for you to stretch out. It also comes with 29 stainless steel jets with two side air controls. What's more, is that it comes with lumbar arch support to give you that complete alleviation for aching backs.
Highlighted Features:
EZ Kleen Filtration System
Ozone purification system
Multi-color LED lights
Built-in seating
Cover
4 cup holders
120V with 15 amp plug-and-play
Simple set up and easy to use
Plenty of room to stretch out
It may take sometime before it adequately heats up.
It makes noticeable noise.
7.  Premium 200 Hot Tub for Five People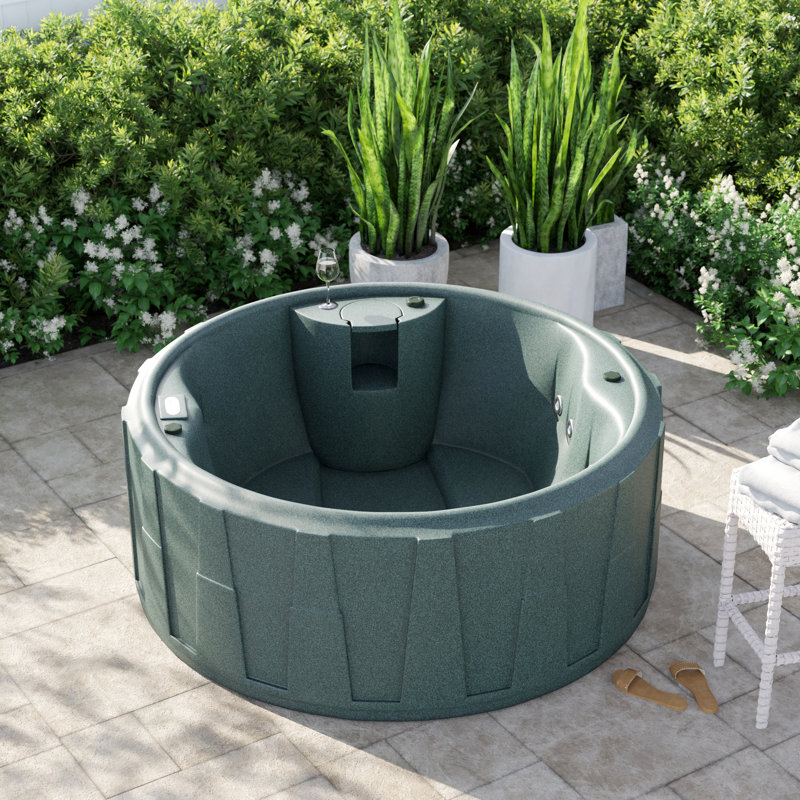 This is an upgrade package that's complete with ozone, EZ filtration system, 20 jets, and two-speed pumps. Because it's built for plug and play, you have a lot of installation options to customize your set up. The water of the spa is kept clean and crisp all the time because of the Ozonator. Thus, you will spend less time cleaning the inside of your AquaRest.
Highlighted Features:
EZ Kleen Filtration System
Ozonator
LED lights
ASTM certified cover and locks
120V with 15 amp plug-and-play
Good for more than two people
Design optimizes comfort
May not drain completely
Not very easy to set up
8.  AquaRest Spa Elite 600 Hot Tub for 6 People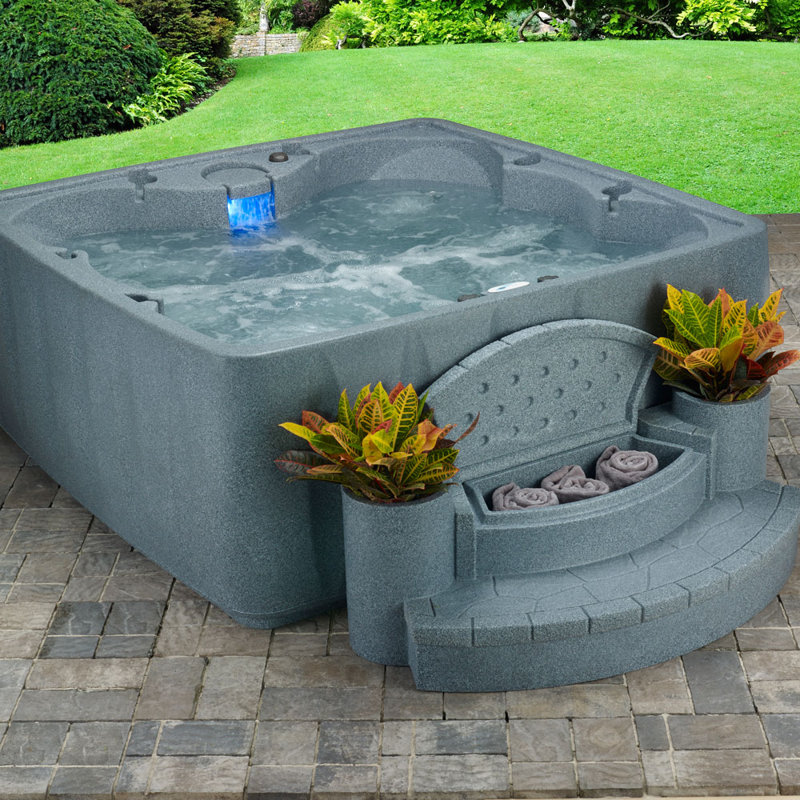 This AquaRest spa comes with 29 hydrotherapy jets and an impact-resistant polyethylene shell. You have full control over the jets, so it is highly effective in massaging back muscles. And because it is highly durable, you'll be able to use it for a long time. Also, the multi-colored cascading waterfall creates the perfect ambiance for your spa.
Highlighted Features:
EZ Kleen Filtration System
Ozonator
Multi-colored LED lights
ASTM certified cover and locks
Built-in seating
6 cup holders
120V with 15 amp plug-and-play
Tub design and construction is durable
Low maintenance
Difficult to control the temperature
Jets are not so powerful
9.  AquaRest Spa Daydream 6-Person Hot Tub
This AquaRest spa has 45 stainless steel hydrotherapy jets. It has a lounger and enough space for six people. Engineered to be eco-friendly and durable, it lasts for a long time without using a lot of energy. Daydream boasts comfortability, performance, and high-quality hydro-massage. You can make use of the lumbar arch support and control the water pressure and direction of the water jet.
Highlighted Features:
45 hydrotherapy jets
EZ Kleen Filtration System
Ozone purification system
Multi-colored LED lights
ASTM certified cover and locks
120V with 15 amp plug-and-play convertible to 240 V with 50 amp
Comfortable seating
Keeps temperature well
It takes a long time to heat up
Benefits of Using a Hot Tub
Hot tubs have always been known for their health benefits, which is why there are many people who actually buy hot tubs or even install hot tub features in their bathtub. Here are a few benefits that you can get from using hot tubs:
Improved Sleep Quality
First, you'll notice that your sleep quality will improve if you sleep right after you soak in your walk in tub. This is because the body tends to sleep better when it is all warmed up as compared to when it is cold. With this, your sleep will be more comfortable when your body has been warmed by the hot tub.
Lower Blood Sugar
The New England Journal of Medicine conducted a study that found out that soaking in hot tubs helps lower the blood sugar levels of the body. This study shows that hot tubs are very beneficial to those who are suffering from type 2 diabetes as it helps lower the patient's' blood glucose.
Lower Blood Pressure
Aside from sleep, hot tubs can also help regulate blood pressure. When you soak in your soaking tub, your heart beats faster and your body releases more heat. Due to this, your blood circulation becomes faster and your body produces more oxygen. Overall, this causes your blood pressure to go down.
Reduced Stress
Hot tub soaking can help reduce stress because of the combination of hot water and the jets that can massage the body. All of these features can help reduce stress from the body.
Healthier Looking Skin
Because of reduced stress, it is possible to get healthier-looking skin. Hot tubs can also help moisturize the skin, giving it a moist and smooth look.
Improves Muscle Aches and Pains
If you are suffering from muscle pains, hot tubs can actually help relieve the pain. This is because you can increase blood circulation in your body, which helps relax the muscles and relieve the inflammation in the muscles and joints.
Conclusion
In the round-up of the five choices based on the top Aquarest Spa Reviews, the clear winner of this lineup would be number 5, the Aquarest 29 SS Play Spa (6-Person). This is the best because it has every great Aquarest feature that can satisfy buyers of the product. With regard to features, it has all the features that are guaranteed to make you have a good hot tub experience. It is also very stylish and durable. Just like all other Aquarest tubs, it is also easy to use and very light. Aesthetically, it is very beautifully designed. Along with the LED waterfall, it can give the tub a great ambiance for relaxation. It also has a plug and play feature, which is easy to use. Moreover, it comes with a very powerful jet and can fit 6 people inside. Lastly, it comes with an ozonator that can easily kill bacteria in the water.
The only con of this product is that it uses a lot of energy as compared to the other Aquarest tubs, but that is to be expected since it makes use of a lot of features anyway. If you want to save energy, then you have the option of not using all the features all at once and only choose the ones that suit you at the moment. Also, you don't have to use the waterfall all the time to get that relaxation effect. You use lavender essence instead to calm your senses and help you relax. Overall, it is a product that has everything that you need in a tub. With regard to the price, it is already quite reasonable given all the features that it has.