Aquarest has always been known as one of the market leaders in the hot tub industry because of their creation of top quality and innovative hot tubs. If you are looking for a good hot tub, Aquarest is definitely a recommended brand. Check out some of the best Aquarest Spa Reviews and choose the one that meets your standards!
All About Aquarest Spa Hot Tubs
Aquarest has been known as an innovative player in the hot tub industry. They have been in the  hot tub manufacturing business for 25 years. Through creative engineering, Aquarest is known for creating special hot tubs that have very innovative features. They are the ones behind the patented EZ Kleen filter with 100% water filtration complete with digital equipment. Other features also include smooth interior made of stainless steel, strong massage jets, and LED Backlit Waterfall.
Why Aquarest is One of the Best Brands of Hot Tubs
When buying hot tubs, the most important question to ask is which brand to buy? Why is Aquarest the brand that you should take a look at when choosing hot tubs? Here are a few reasons why Aquarest is a hot tub brand that you shouldn't miss:
Aquarest Is the Top Rotomolded Spa Manufacturer
When it comes to rotationally molded spas, Aquarest has been in the business since 1997 with it being one of the first to create this feature. This innovation on their part was able to get them a lot of satisfied clients.
Aquarest Treasures Quality
Aquarest ensures quality for all the tubs that they manufacture. They make sure that each spa goes through a screening process. This makes sure that none of the parts are defective.
Aquarest Spas Are Easy to Install
One of the best things about Aquarest is that the hot tubs from this company are lightweight and portable, which means they have great indoor and outdoor tubs. In fact, it is possible to install a portable tub in the bathroom just right below your shower head. Unlike other spas, Aquarest spas are light and easy to move around.
Aquarest is Eco-Friendly
Lastly, Aquarest is eco-friendly. Their eco-friendly products use recyclable materials which help reduce carbon emissions and reduce any manufacturing waste. The tubs also meet all the energy efficiency standards of CEC. This is to make sure that not much energy is used when the tub is turned on. This is because they make use of spa insulation, which allows the tubs to keep the heat in.
How Choose the Best Aquarest Hot Tub For You
When choosing the best Aquarest hot tub for your home, here are a few things to consider:
Features
Advantages
Style
Durability
Price
Take into consideration these factors when looking for your ideal Aquarest tub. It also pays to look at some Aquarest spa reviews in order to know which ones are the best to buy. The next section shows some good hot tub reviews from Aquarest spas.
Five AquaRest Spas Product Reviews
1. Aquarest AR-300P Premium Spa (2-Person)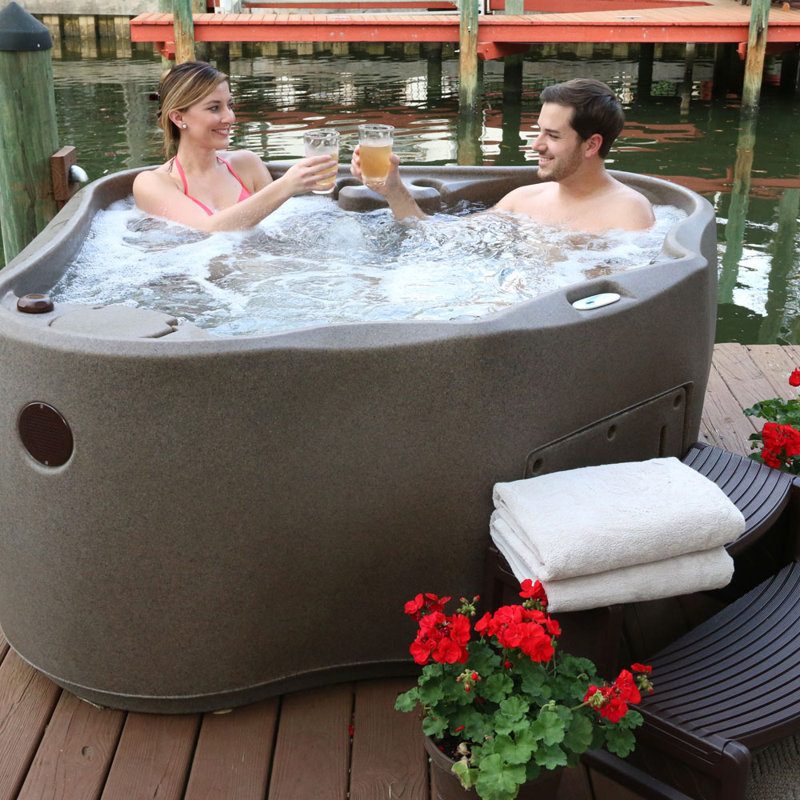 This hot tub is most well-known for its heater and ozone features. The built-in ozonator is able to keep the water in the hot tub clean and free from chemicals through an ozone gas that is placed in the spa water. This is able to kill bacteria more effectively than chemicals.
It is very roomy and spacious.
Its ozonator is able to kill bacteria faster than chemical treatment.
It has an effective built in heater.
2. Aquarest AR-150 Play Spa ( 4-Person)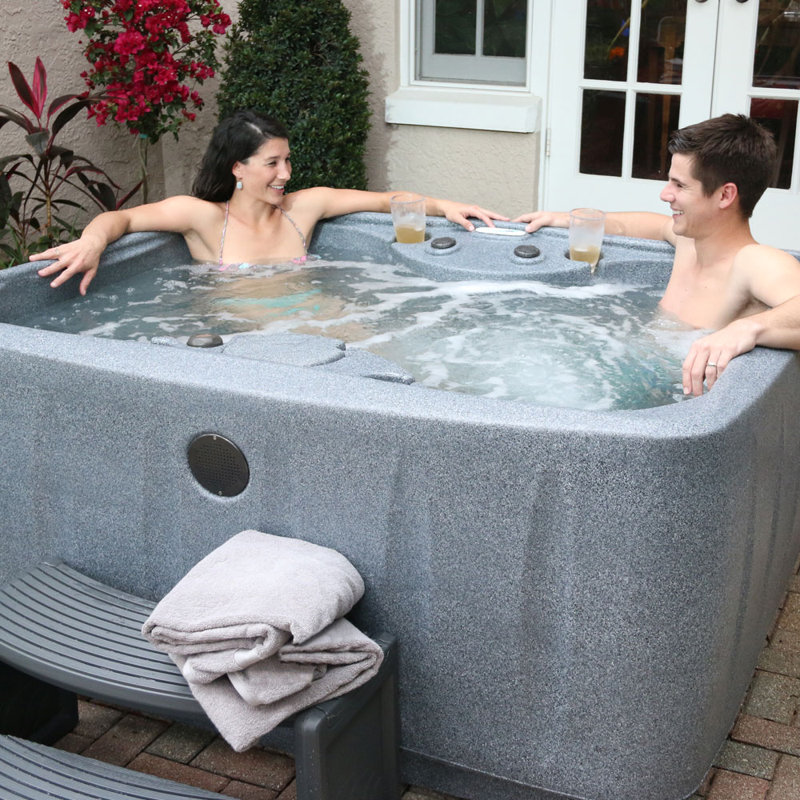 The Plug and Play feature is one of the best features offered by Aquarest products. You just need to plug into a 120-volt outlet for you to use it. It also comes with a really good LED waterfall that looks nice and gives an ambiance for relaxation.
It comes with a Digital Control for easy control.
It has the patented Easy Kleen filtration.
It comes with stainless steel jets.
It has a nice LED waterfall.
The drain only has the ability to drain water halfway.
3. Aquarest AR-200 Play Spa (4-Person)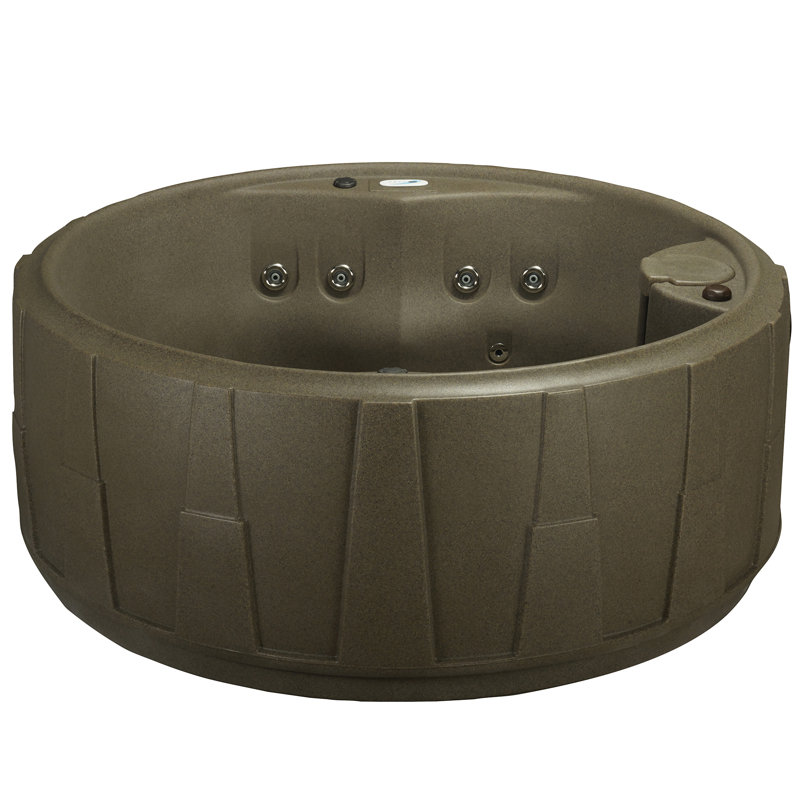 Just like the previous Aquarest product, this one has a plug and play feature and a nice looking LED waterfall. The difference is that this one is able to fit 4 people instead of just two. This means that a whole family can enjoy being in this tub.
It has a beautiful LED light waterfall.
It is very spacious and can fit four people inside.
It has a plug and play feature.
It has a very powerful 14-jet.
It does not have a drain line and cut off valve.
4. Aquarest AR-500 Spa (5-Person)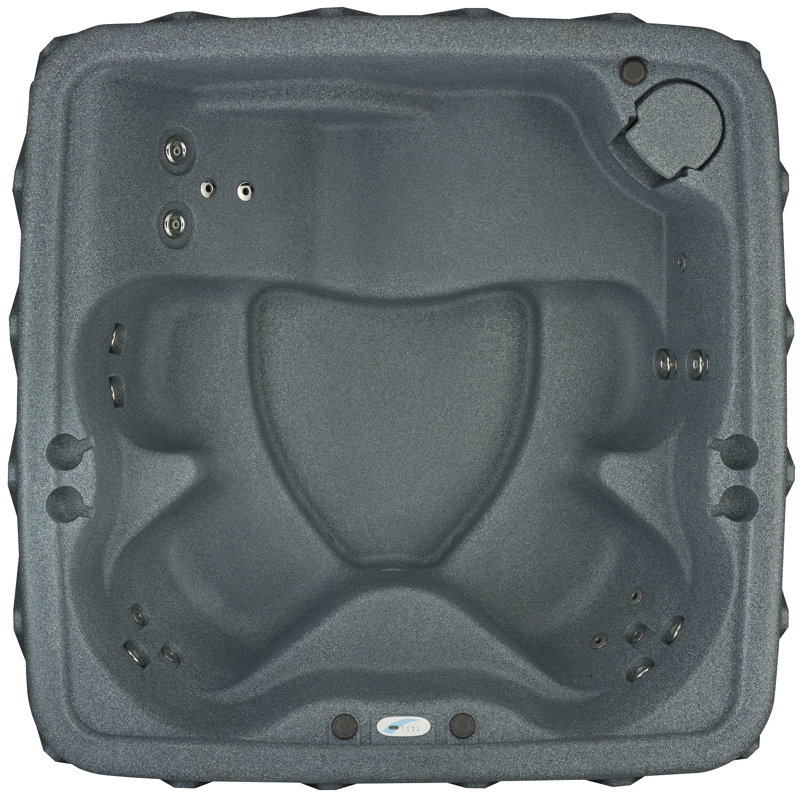 This plug and play spa has an even more powerful jet than the last and even comes with a LED waterfall. It is a 5-person tub with a lounger where you can even lie down a bit.
It can fit five people in it.
It has a plug and play feature.
It comes with a LED waterfall.
It has a very powerful underwater jet.
The air lock release feature is pretty hard to use.
5. Aquarest 29 SS Play Spa (6-Person)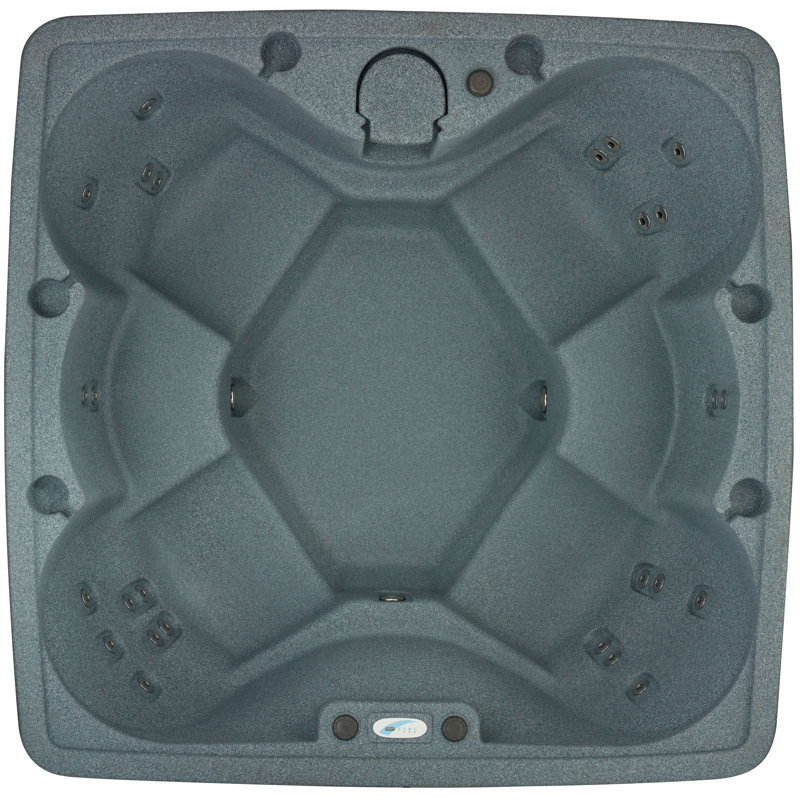 This 6-person hot tub is complete with everything you need for a home hot tub system. It comes with the LED waterfall, plug and play system, and the ozonator.
It has a very powerful 29 SS underwater jet.
It has a plug and play feature system.
It comes with a LED waterfall.
It has an ozonator.
It is one of the most spacious of all Aquarest hot tubs.
It consumes more power than the other hot tubs on this list.
Benefits of Using a Hot Tub
Hot tubs have always been known for their health benefits, which is why there are many people who actually buy hot tubs or even install hot tub features in their bathtub. Here are a few benefits that you can get from using hot tubs:
Improved Sleep Quality
First, you'll notice that your sleep quality will improve if you sleep right after you soak in your walk in tub. This is because the body tends to sleep better when it is all warmed up as compared to when it is cold. With this, your sleep will be more comfortable when your body has been warmed by the hot tub.
Lower Blood Sugar
The New England Journal of Medicine conducted a study which found out that soaking in hot tubs helps lower the blood sugar levels of teh body. This study shows that hot tubs are very beneficial to those who are suffering from type 2 diabetes as it helps lower the patient's' blood glucose.
Lower Blood Pressure
Aside from sleep, hot tubs can also help regulate blood pressure. When you soak in your soaking tub, your heart beats faster and your body releases more heat. Due to this, your blood circulation becomes faster and your body produces more oxygen. Overall, this causes your blood pressure to go down.
Reduced Stress
Hot tub soaking can help reduce stress because of the combination of hot water and the jets that can massage the body. All of these features can help reduce stress from the body.
Healthier Looking Skin
Because of reduced stress, it is possible to get healthier looking skin. Hot tubs can also help moisturize the skin, giving it a moist and smooth look.
Improves Muscle Aches and Pains
If you are suffering from muscle pains, hot tubs can actually help relieve the pain. This is because you can increase blood circulation in your body, which helps relax the muscles and relieve the inflammation in the muscles and joints.
Conclusion
In the round-up of the five choices based on the top Aquarest Spa Reviews, the clear winner of this lineup would be number 5, the Aquarest 29 SS Play Spa (6-Person). This is the best because it has every great Aquarest feature that can satisfy buyers of the product. With regard to features, it has all the features that are guaranteed to make you have a good hot tub experience. It is also very stylish and durable. Just like all other Aquarest tubs, it is also easy to use and very light. Aesthetically, it is very beautifully designed. Along with the LED waterfall, it can give the tub a great ambiance for relaxation. It also has a plug and play feature, which is easy to use. Moreover, it comes with a very powerful jet and can fit 6 people inside. Lastly, it comes with an ozonator that can easily kill bacteria in the water.
The only con of this product is that it uses a lot of energy as compared to the other Aquarest tubs, but that is to be expected since it makes use of a lot of features anyway. If you want to save energy, then you have the option of not using all the features all at once and only choose the ones that suit you at the moment. Also, you don't have to use the waterfall all the time to get that relaxation effect. You use lavender essence instead to calm your senses and help you relax. Overall, it is a product that has everything that you need in a tub. With regard to the price, it is already quite reasonable given all the features that it has.