From working non-stop five to six days a week, you deserve to be pampered at least on the weekends.
If you don't fancy going out to chill or the idea of being in a crowded mall or café is not your cup of tea, then don't lose hope just yet.
There are many ways to still get the relaxation you deserve without leaving the comfort of your home.
How to do it?
Invest in the best hot tubs!
How to Choose the Best Luxury Hot Tub Spa for Relaxation
In this section, we'll focus more on the features that you should look for if your aim is to relieve stress and feel relaxed as you soak in your hot tub.
Adequate Temperature
Of course, a hot tub is not a hot tub if it can't give you the desired heat to relax those strained muscles, right?
According to Medical News Today, soaking in a hot bath with a water temperature between 34 to 38 degrees Celsius promotes blood circulation, thus reducing muscle soreness and fatigue.
Number of Jets
Most standard hot stub spa have around 20 to 30 Jets. However, the best luxury hot tub spa tends to have more jets that are strategically placed so that you can feel the water pressure hitting the areas where the massage is likely needed.
Most Luxury Hot Tub Jet Spas have, more or less, 45 to 60 jets. The more jets the hot tub spa has, the better. This means more body parts get to feel the relaxing water pressure that mimics the massage.
Lighting System
Believe it or not, but chromotherapy is real. This is a type of therapy that uses light to improve one's mood and boost the energy levels.
So, if you want a holistic hot tub spa relaxation, we would highly suggest you pair it with chromotherapy.
The best luxury hot tub should have a multi-colored LED lighting system that allows you to change the light color depending on your mood.
Glass Holder
To bring your relaxation time to another level, why not enjoy your favorite fruit juice while soaking?
While it is not recommended to drink alcohol in a hot tub, you can drink refreshing juices instead. You can also indulge in your favorite fruit tea while taking your time in the hot tub.
Well, this will be all good if your hot tub has enough flat surface where you can put the glass. In fact, some hot tubs have glass holder feature.
How amazing is that?
11 Top Rated Luxury Hot Tubs in the Market Reviews
1.  QCA Spas Sicily 2-person Plug and Play Jet Spa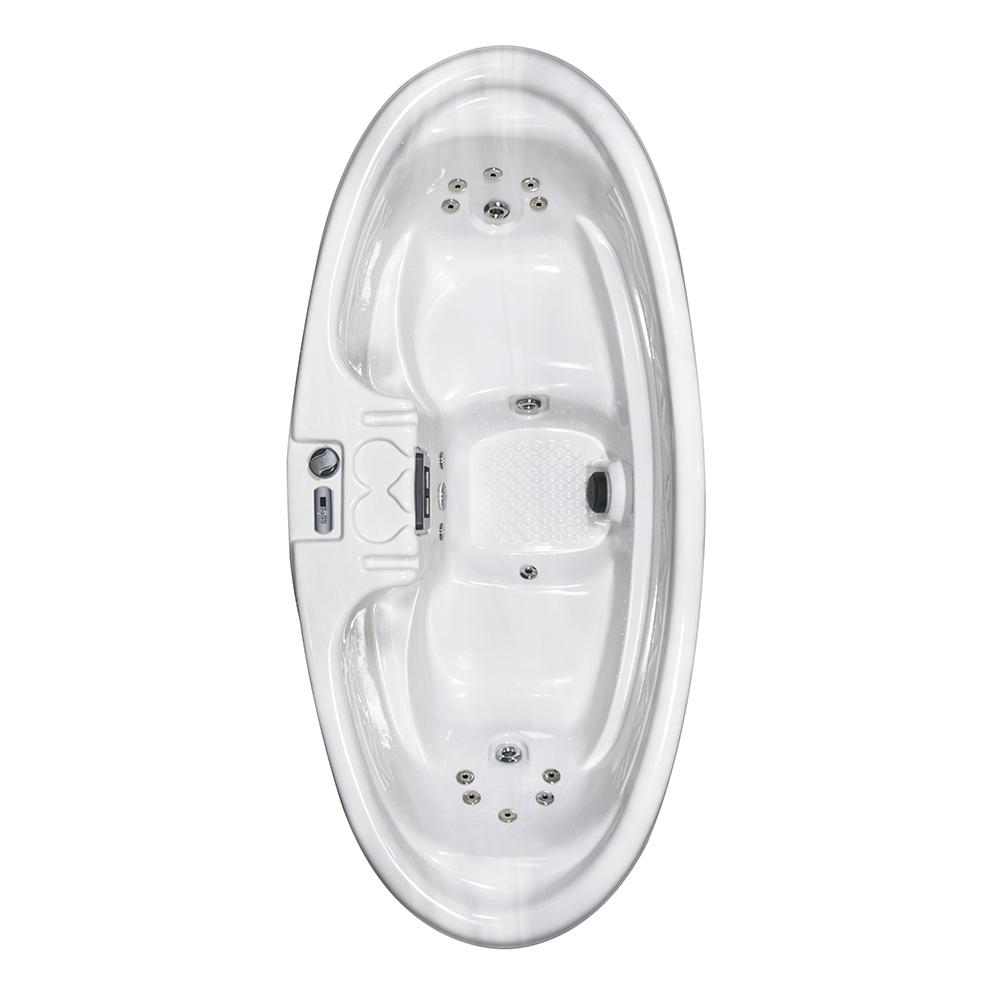 The Sicily's oval-shaped spa shell is made from Lucite-Xtra acrylic with an ABS base layer for extra strength and durability. This luxury hot tub is perfect for couples who look forward to getting a relaxing bath after a long day. It features 16 jets that focus on relaxing your tired muscles, thus offering a calming massage in every session.
The hot tub operates on the Econo-boost heat recovery system which enables it to generate as little energy as possible. Aside from that, it also consists of a heater and stainless steel jets that provide warming technology up to 104 degrees Fahrenheit.
Highlighted Features:
16-stainless jets for high-flow pump
Topside soft-touch control for adjustments
Lucite-Xtra acrylic spa shells for durability
Energy-efficient operation
Space-friendly friendly
Comes with a quiet operating motor
2.  Lifesmart Coronado DLX (LS600DX) 65-Jet, 7-Person Spa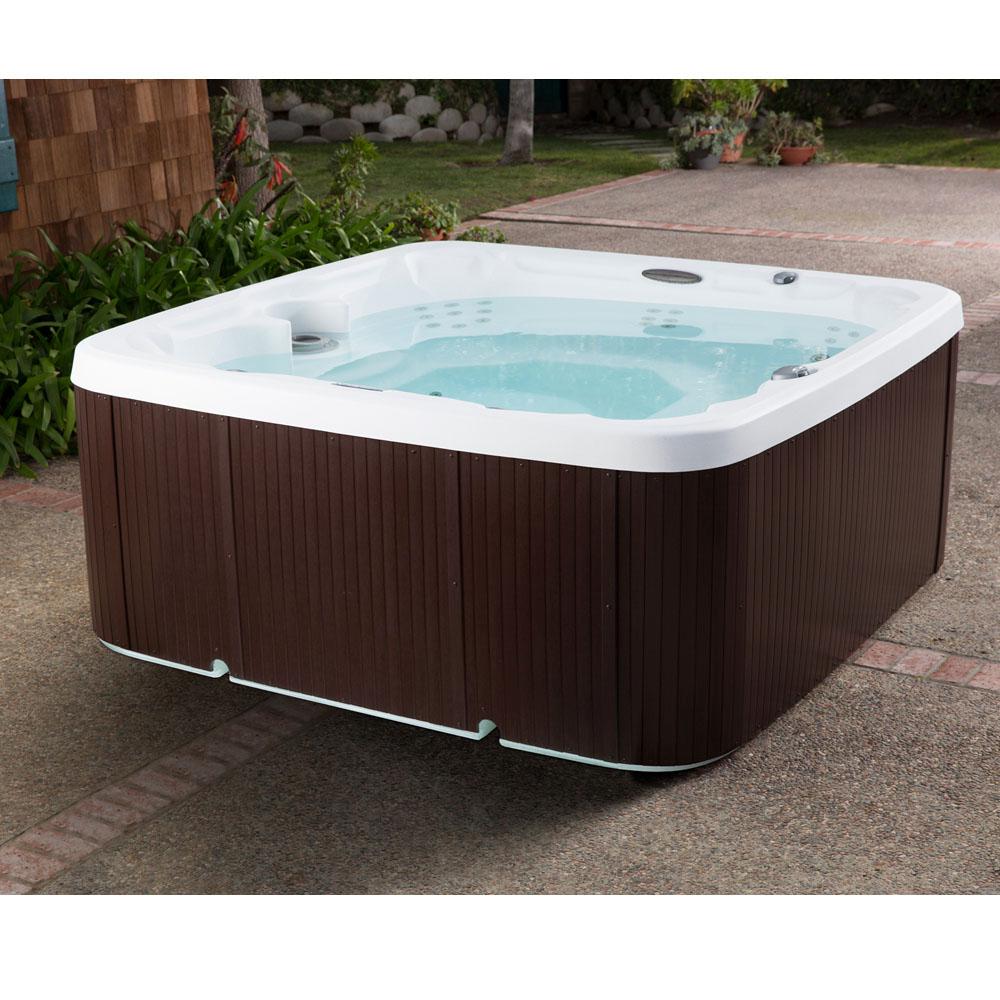 If you are searching for the best luxury hot tub for your family, then this product is a perfect solution for you. Thanks to its 7-person capacity, you can get the ultimate rest you deserve and get that perfect back and foot massage. That is paired with its 14-jet nozzle turbo blaster. It's also very easy to control the temperature, light, and jets with the use of its digital dials.
Since the Coronado DLX Spa uses a technology that allows it to automatically turn down when no one is using it, you will be able to save a lot of energy. Additionally, it comes with a stylish and clean design with an arctic white shell and espresso-colored wood cabinet.
Highlighted Features:
Ozone water care system for safety from chemicals
Maximum long-term heat retention
65 hydrotherapy jets for full relaxation
Includes waterfall effect
7-person capacity
Easy control for the ideal air and water mix
Energy-efficient with its automatic turnoff feature
Steps are not included
Installation by a professional is required
3.  Futura Spa's 8-Person 88-Jet Hot Tub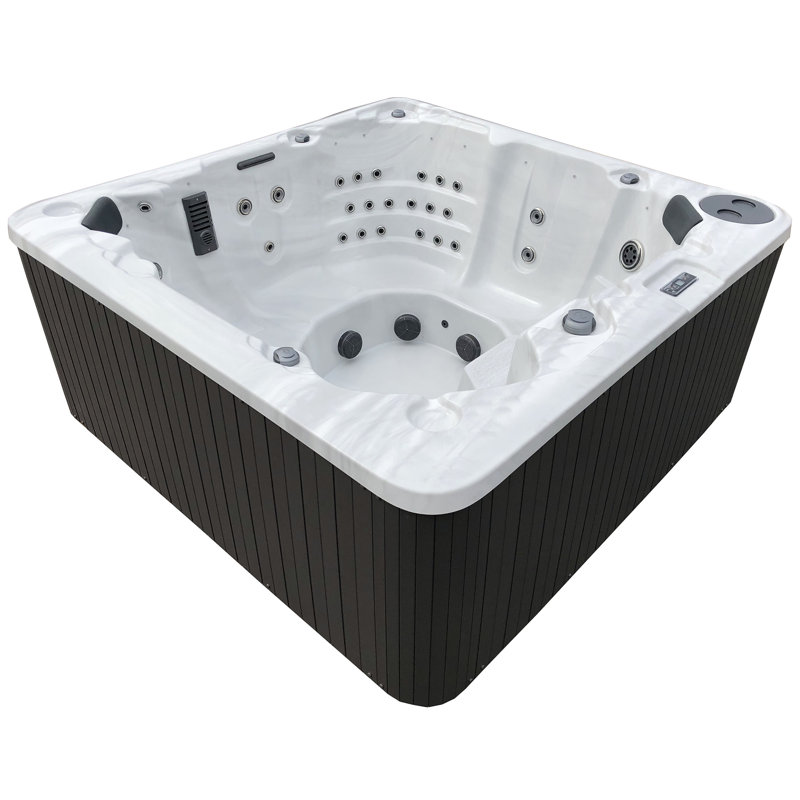 For those who like the best luxury hot tubs without spending too much, the Futura Spas 88-Jet hot tub makes for the perfect choice. Aside from its 8-person capacity, it can also let users enjoy the bucket seats for neck therapy. Not only is it crafted for a family setting, but it also works well with couples, thanks to its unique cuddle corner that lets you spend quality time together.
Made with a maintenance-free permawood cabinet and durable Lucite Cast Acrylic, this can be considered one of the best hot tub products to have in your household.
Highlighted Features:
425-gallon water capacity
Tri-zone hydrotherapy: two pumps, single-valve power, and ten horsepower
Easy-cuddle seat
Self-cleaning product
Includes a staircase for easy access
Professional installation is required
4.  Essential Spas Riviera 5-Person 100-Jet Hot Tub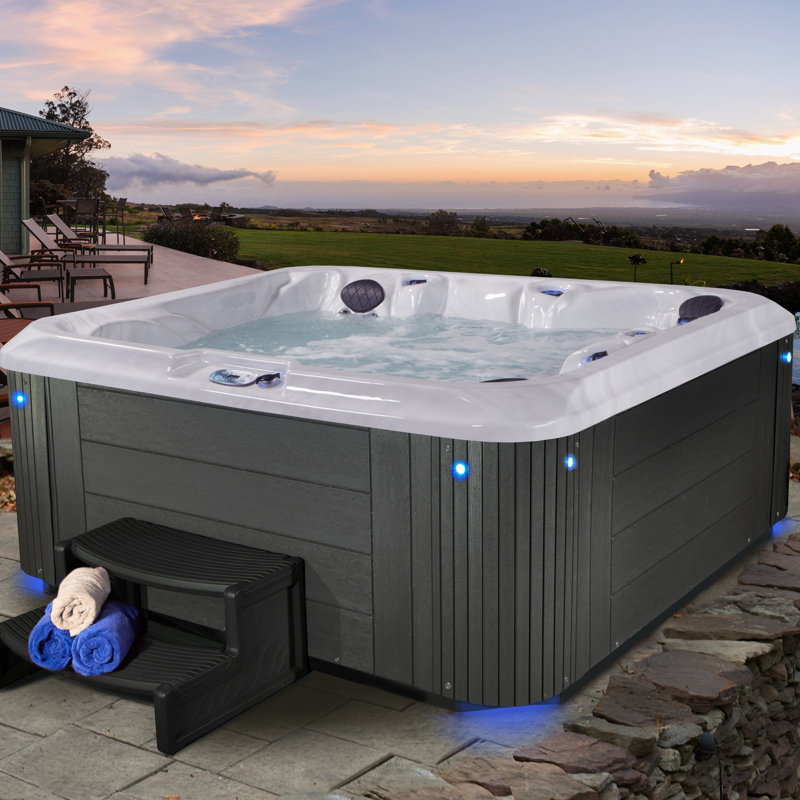 Treat yourself to a luxurious hot spa at home with Essential Spa's 5-person hot tub. With it, you can enjoy bathtub sessions with your family since it can accommodate up to 5 people. Of course, you can choose to indulge in your solo time with its full-body lounger and a chair-style setting. With 100 adjustable jets, it can provide you with a perfect home relaxation hot tub experience.
Not only is it designed for warm weather, but you can also maximize its full potential even during the coldest weather due to its all-season Balboa stainless steel heater.
Highlighted Features:
Built-in seating
Full hydrotherapy massage
400-gallon capacity
Includes an air blower and steps
100  adjustable jets
No foot spa feature
Only 5-person capacity
5.  QCA Spas Salerno 8-Person Hot Tub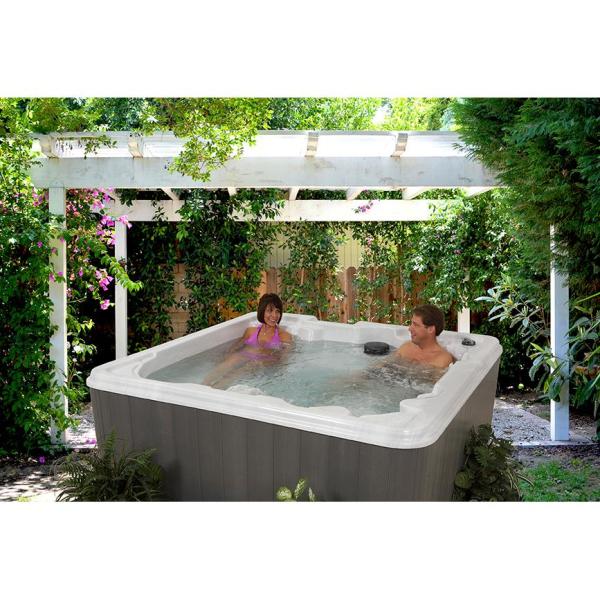 Are you planning for a relaxing weekend with family and friends? If so, then you might want to surprise them with this Salerno 8-person hot tub for an unforgettable spa experience. With its multi-level seating capacity, huge footwell, and convenient walk-in steps, you'll be able to maximize the product's full potential and get the best experience you could get. 
It also features an eco-friendly heat recovery system and uses recycled heat to ensure the warmth of the spa shells and water. These two make it a very energy-efficient product. Moreover, since it's manufactured with spa standard materials, you can be assured of the product's durability and longevity.
Highlighted Features:
14 nozzle, 7 nozzle jets, and 90 steel jets
Ozone water sanitation system
Balboa control system
Soft-touch controls
Includes a 12-volt multicolored starburst LED light
Includes a weather-resistant hardcover
Does not include cup holders
6.  Home and Garden Spas 6-Person 90 Jet Spa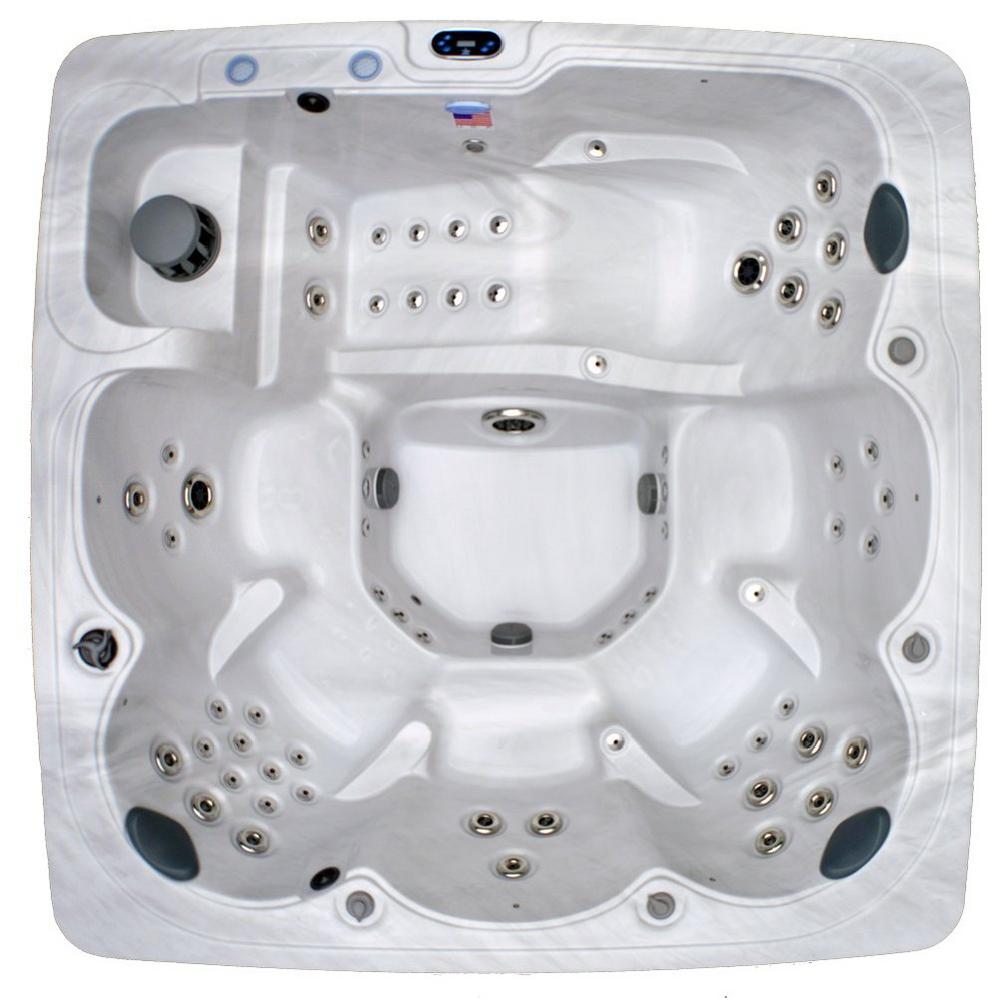 If you want to indulge in a private hot tub spa right in the comfort of your own home, then Home and Garden Spa's jet spa is no doubt one of the best luxury hot tubs you can consider. Manufactured and designed with an innovative style that focuses on giving consumer comfort, the bathtub includes 90-jet including 4-7 massage inserts. 
Aside from that, it also includes five seats and one lounge seat alongside foot, neck, shoulder and calf jets for a maximum bathtub experience. You can invite your friends and family over and take pleasure in this hot tub while listening to your favorite music.
Highlighted Features:
MP3 auxiliary to hook up with speakers
Multi-layer fiberglass slip-resistant material
Includes a weather-resistant cover for protection
Consists of 2 cup holders
7.  Canadian Spa Company Toronto 6-person 44-Jet Spa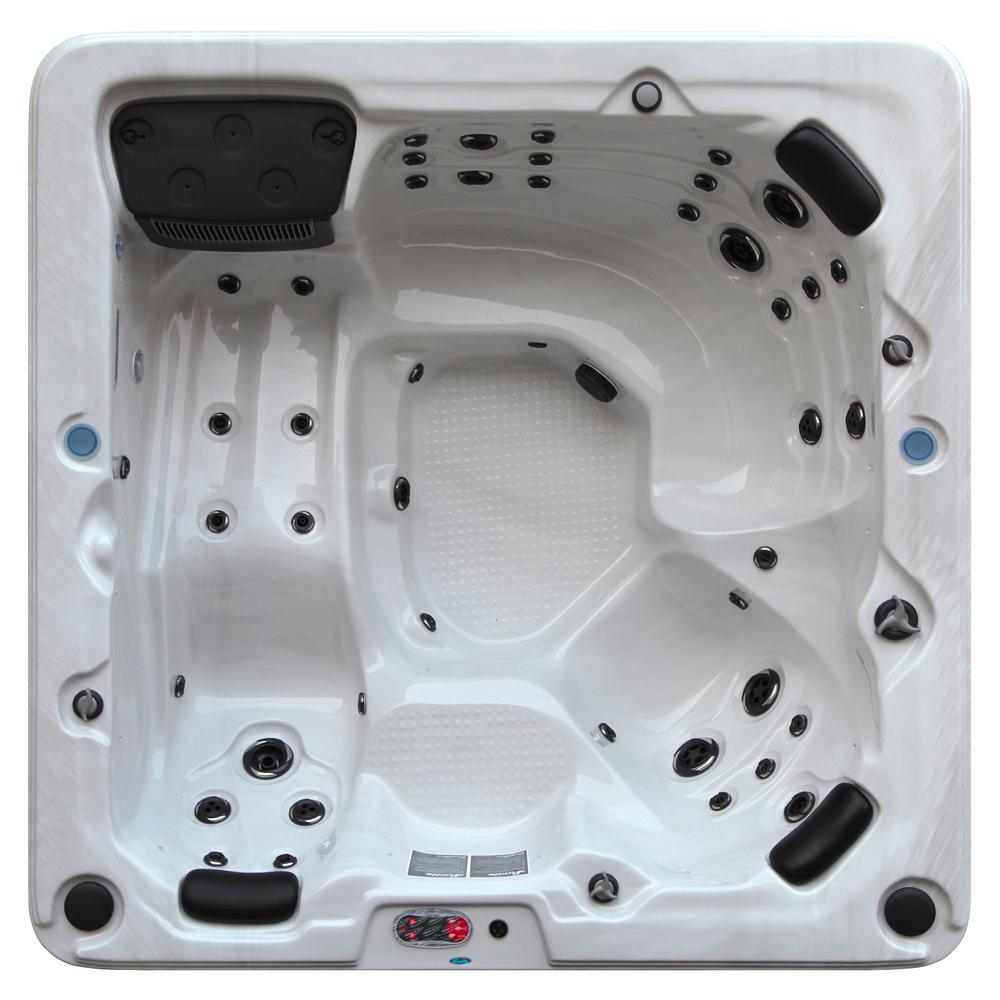 To make sure that you can get your money's worth, Canadian Spa Company provides you with one of the well-equipped luxury hot tubs you can find on the market. This product does not only provide you with the ultimate combination of quality and features, but it also offers you that ultimate satisfaction. 
The genius balance of subtle LED lights, relaxing music from its digital audio system, and various scents included for aromatherapy will surely make your spa experience extraordinary.
Highlighted Features:
44 hurricane jets for customization to adjust the pressure
Microban glacier filter and ozone water purification
3 layer infrared cabinet layers
Includes an aromatherapy canister
Includes both hardtop and top-mount covers
8.  Evolution Spas Oxford 121-jet, 7-person Spa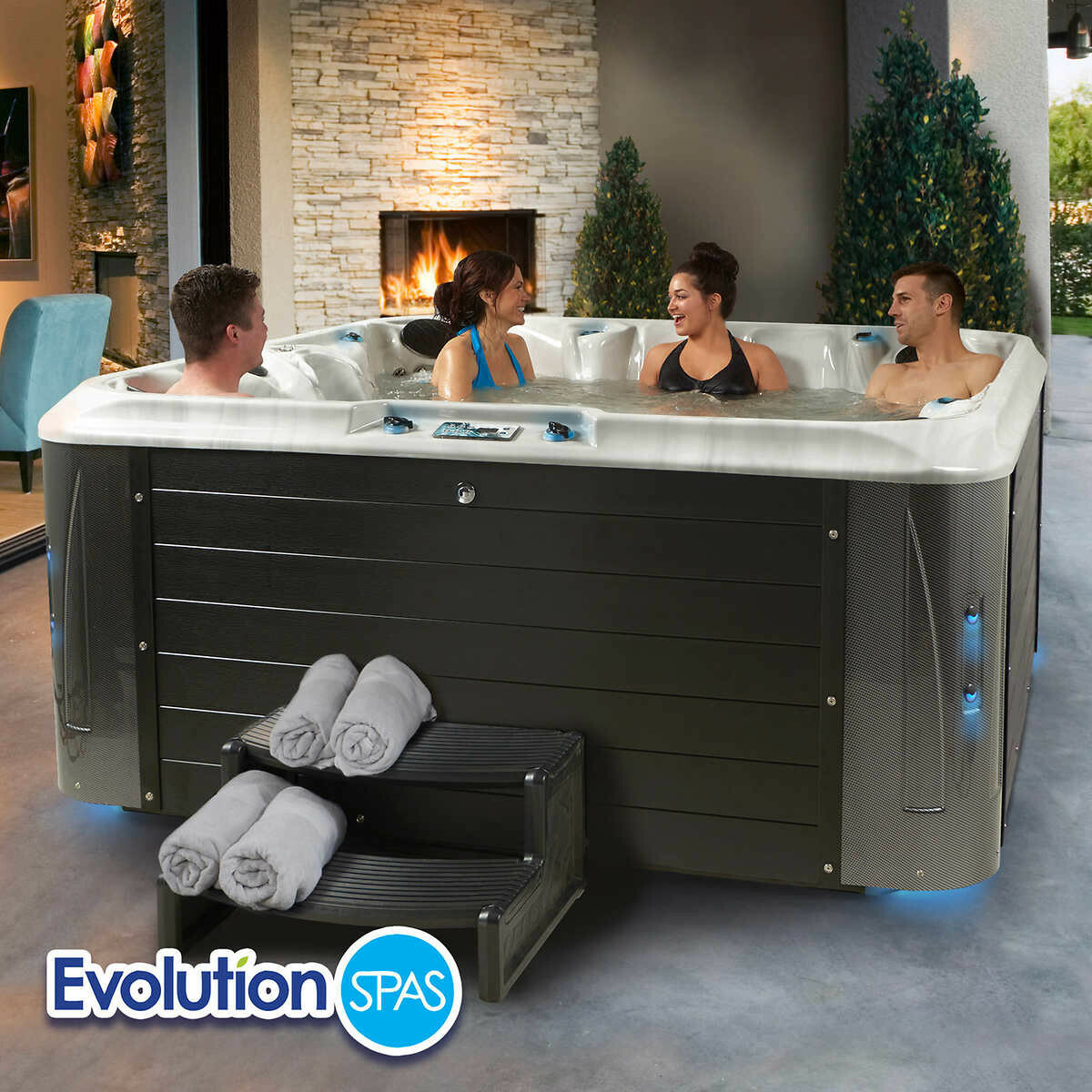 Bring your family and friends to an experience they will never forget with Oxford's Evolution Spa which is considered as one of the best swim spa products out there. Take your spa experience to the next level with its hydrotherapeutic spa benefits. 
Elegantly made by Oxford to suit the needs of consumers, this product consists of 4 total pumps and 121 jets for the back, legs, neck, and shoulder, and foot. Aside from that, it also comes with LED lighted control knobs to provide you with easy control. 
Highlighted Features:
Made of sleek-faux fiber
Good insulation with proper heat retention
Features a Strong bond Shell construction
Comes with Bluetooth ready systems with two speakers
Needs ample space in the backyard
9.  Divine Hot Tubs Sinclair 115-Jet, 6-Person Spa
If you're dreaming of a perfect hydrotherapy massage, then you can turn your dreams into reality by getting this one which is deemed one of the best luxury hot tubs on the market. The Sinclair hot tub offers a hand-sculpted zero-gravity lounger for a relaxing and soothing hydrotherapy experience. 
Aside from that, it is equipped with adjustable ProLoc jets for easy adjustments and customization. It's also fitted with the Comfort Valve Controls Technology to allow you to adjust the water flow. The multicolored LED lights will add to your unforgettable spa experience too.
Highlighted Features:
Quadrupled layers ABS backed-acrylic and fiberglass
Reduces the use of chemical with UV
With 115 adjustable hydrotherapy jets
Made with high-quality materials
Comes with a built-in Bluetooth stereo
Includes an insulated cover lift system
6-person capacity
Does not include cup holders
Needs more space
10.  Canadian Spa Company St Lawrence Swim Spa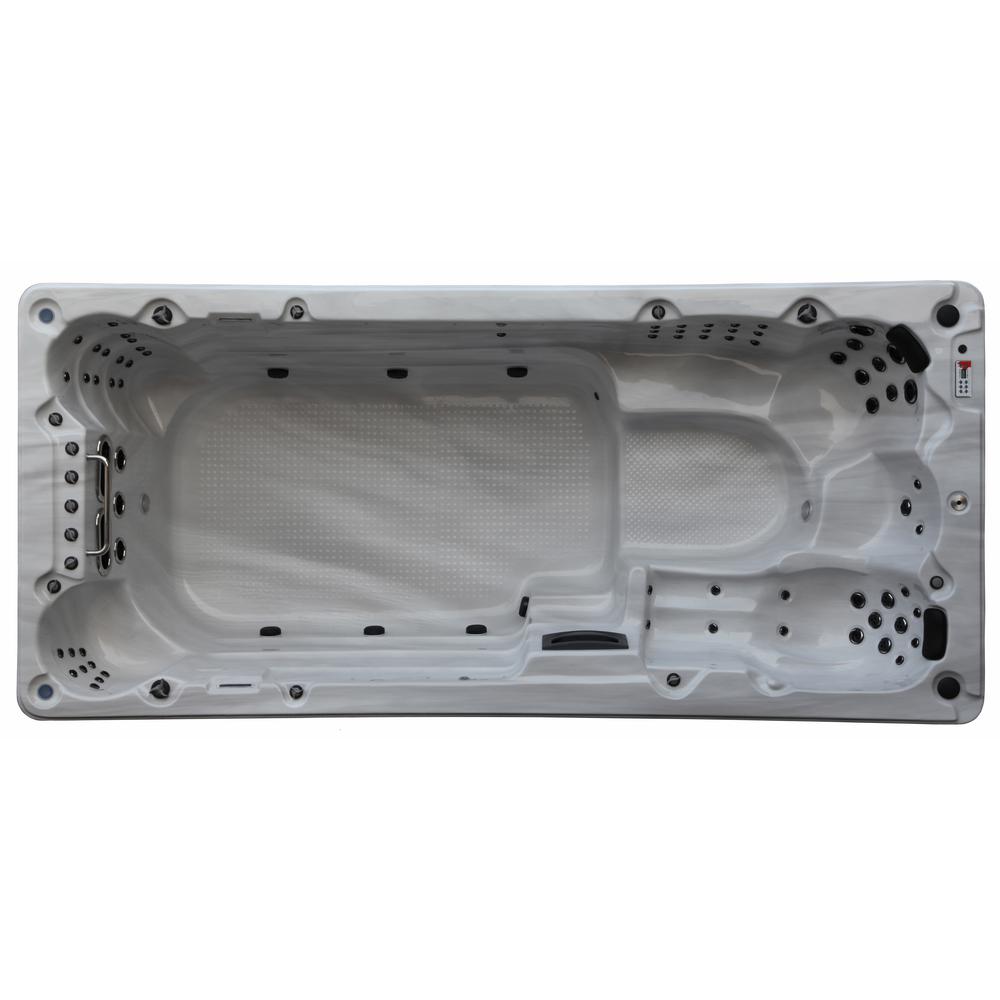 Although it came at a competitive price, this product from Canadian Spa Company is a pure delight to someone who looks forward to coming home for a relaxing hot tub spa. The 16-ft spa also comes in with 3 resistance jets and 2 profile-aligning jets. 
You can indulge in a calming massage in the multi-jet loungers right after a good, active swim. You can opt for a gentle, subtle touch, or hard deep muscle massage to suit your needs. Perfect for modern backyard settings, this bathtub is created with high-quality materials for durability.
Highlighted Features:
Heat retention blanket for added energy-efficiency
16 ft. swim spa operated by four 16.4 Amp pumps
72 hurricane hydromassage jets
Spacious and family-friendly
Made using high-quality materials
Takes up too much space
Pricey
11.  American Spas 7-Person Hot Tub 56 Jet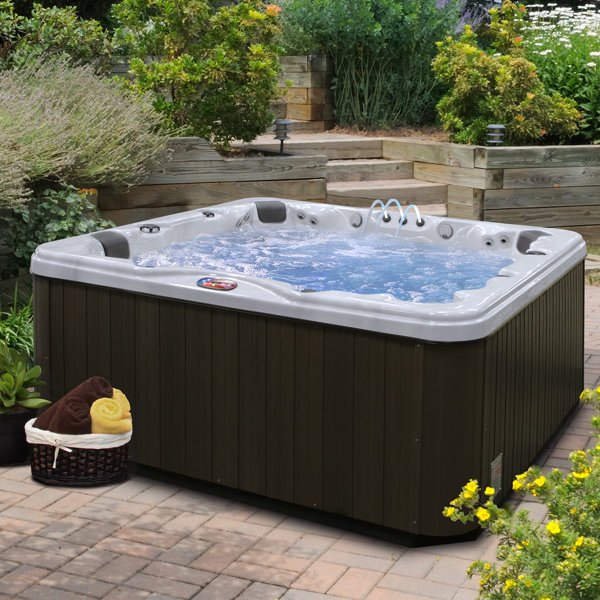 What we love about American hot tub spas is its keen eye in the hygiene aspect. Take this
7-person spa for instance.
Not only does it have amazing features for relaxation, it also has an Ozonator, which acts as a powerful sanitizer.
Highlighted features:
Has a built-in ozonator for sanitation
Equipped with 56 jets
You can also enjoy your favorite music with its Bluetooth stereo system.
Accommodates up to 7 people (sitting position only)
Has waterfall jets and LED lighting that can instantly boost your mood
With built-inseating and air blower
Conclusion
It can be a little overwhelming when you are trying to choose from a variety of hot tubs available. When you choose which among the best luxury hot tubs you want for your home, consider some factors. While some hot tubs offer extras on their products, focus on the essentials and its intended purpose.
With this luxury hot tubs reviews, one feature that should be looked into is the durability of the item and its material. The Divine Hot Tubs Sinclair 115-Jet, 6-Person Spa has quadruple layers with each shell being supported by EcoSpra. This will make sure that the weight-bearing areas are sturdy. Due to that, this product deserves to be at the top out of the other products on this list.
Ready to buy a luxury hot tub spa? Let us know which one's your favorite so far!