From working non-stop five to six days a week, you deserve to be pampered at least on the weekends.
If you don't fancy going out to chill or the idea of being in a crowded mall or café is not your cup of tea, then don't lose hope just yet.
There are many ways to still get the relaxation you deserve without leaving the comfort of your home.
How to do it?
Invest in the best hot tubs!
How to Choose the Best Luxury Hot Tub Spa for Relaxation
In this section, we'll focus more on the features that you should look for if your aim is to relieve stress and feel relaxed as you soak in your hot tub.
Adequate Temperature
Of course, a hot tub is not a hot tub if it can't give you the desired heat to relax those strained muscles, right?
According to Medical News Today, soaking in a hot bath with a water temperature between 34 to 38 degrees Celsius promotes blood circulation, thus reducing muscle soreness and fatigue.
Number of Jets
Most standard hot stub spa have around 20 to 30 Jets. However, the best luxury hot tub spa tends to have more jets that are strategically placed so that you can feel the water pressure hitting the areas where the massage is likely needed.
Most Luxury Hot Tub Jet Spas have, more or less, 45 to 60 jets. The more jets the hot tub spa has, the better. This means more body parts get to feel the relaxing water pressure that mimics the massage.
Lighting System
Believe it or not, but chromotherapy is real. This is a type of therapy that uses light to improve one's mood and boost the energy levels.
So, if you want a holistic hot tub spa relaxation, we would highly suggest you pair it with chromotherapy.
The best luxury hot tub should have a multi-colored LED lighting system that allows you to change the light color depending on your mood.
Glass Holder
To bring your relaxation time to another level, why not enjoy your favorite fruit juice while soaking?
While it is not recommended to drink alcohol in a hot tub, you can drink refreshing juices instead. You can also indulge in your favorite fruit tea while taking your time in the hot tub.
Well, this will be all good if your hot tub has enough flat surface where you can put the glass. In fact, some hot tubs have glass holder feature.
How amazing is that?
9 Top Rated Luxury Hot Tubs in the Market 2019 Reviews
1.  LifeSmart 7-Person 600DX Hot Tub Jet Spa
LifeSmart has a wide selection of luxury hot tubs and best swim spa choices. At first glance, you can already tell that this 600DX 7-person hot tub spa by LifeSmart has a good quality.
From its smooth edges to its waterfall jets, this hot tub is a good product for first-time buyers.
Has a total of 65 jets that include waterfall jets
This is an energy-saver product
Perfect for 6 people when in sitting position
The jets rotate fully
The jets' placement is perfect for whole body massage: back, feet, and sides.
Has a turbo blaster for ultimate back massage
With an LED lighting system that changes mood lens
See more: Lifesmart Spas Hot Tubs on Wayfair
2.  American Spas 7-Person Hot Tub 56 Jet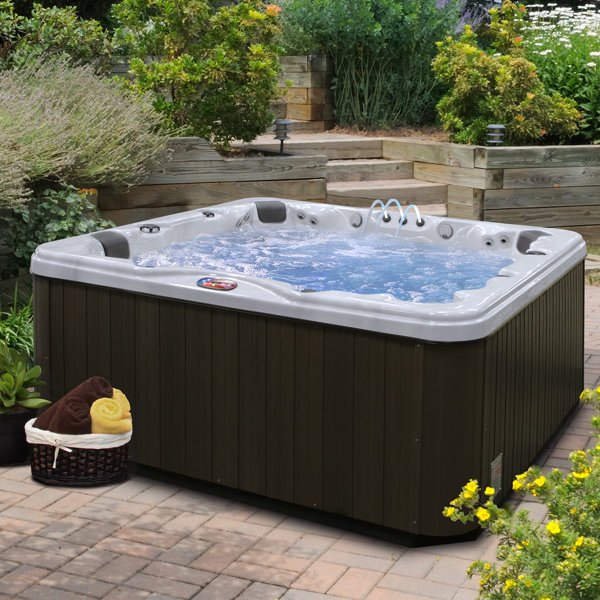 What we love about American hot tub spas is its keen eye in the hygiene aspect. Take this
7-person spa for instance.
Not only does it have amazing features for relaxation, it also has an Ozonator, which acts as a powerful sanitizer.
Has a built-in ozonator for sanitation
Equipped with 56 jets
You can also enjoy your favorite music with its Bluetooth stereo system.
Accommodates up to 7 people (sitting position only)
Has waterfall jets and LED lighting that can instantly boost your mood
With built-inseating and air blower
See more: American Spas Hot Tubs on Wayfair
3.  Essential Spas Riviera 5-Person Hot Tub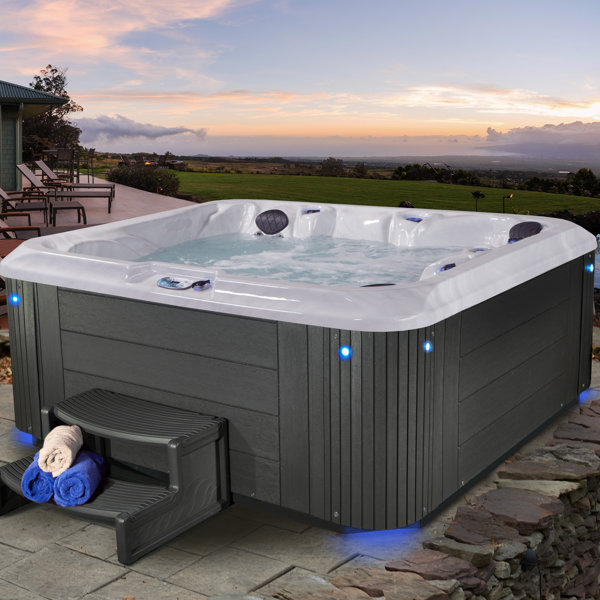 Another favorite of ours is this 5-person hot tub spa by Essential Spas. This is a luxury hot tub complete with lighting system, comfortable seating, and powerful water jets!
This one has a total of 100 jets.
Riviera hot tub boasts a mood lighting system that helps set your mood.
With an ozonator
Includes waterfall jets
Also has a full body lounger and comfortable seating
With two continuous pumps and one air pump
Gives you a full hydrotherapy massage experience
See more: Essential Spas Hot Tubs on Wayfair
4.  Starlight Hot Tubs Sirius 6-Person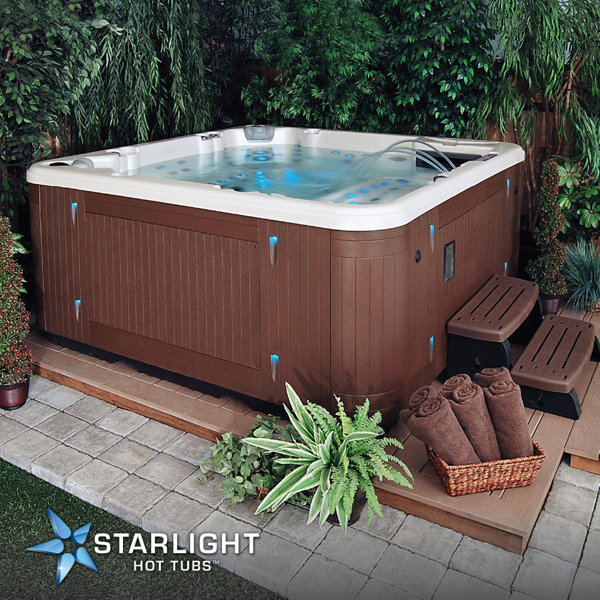 Sirius hot tub spa by Starlight Hot Tubs is a perfect for individuals with a hectic working schedule. With its powerful hydrotherapy jets and mood lighting system, you can have a spa-like experience any time you want it.
Has 115 water jets in total
Includes a locking cover
Also has an ozonator
Water jets are strategically placed in the tub
Has waterfall jets for a more relaxing experience
Feature a Bluetooth stereo system and mood lighting
Allows you full control on the water pressure, water flow, and even the air bubbles
See more: Starlights Hot Tubs on Wayfair
5.  Tropic Spa Hurricane 7-Person Hot Tub Jet Spa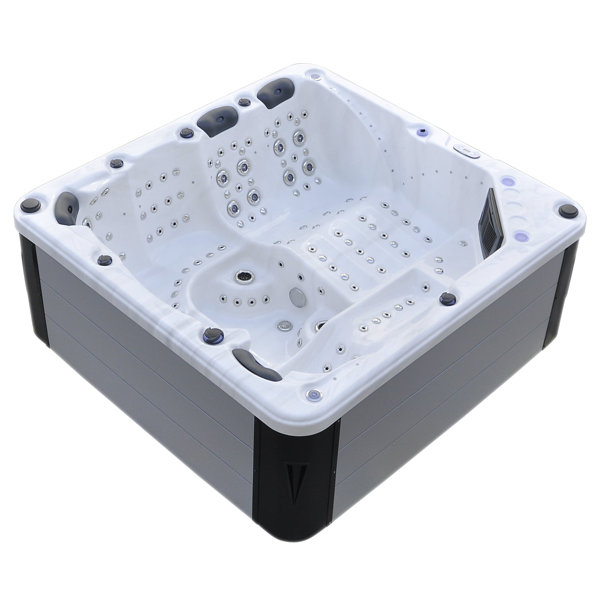 Some hot tub brands are very innovative when it comes to hot tub features. Just like this Hurricane 7-person hot tub jet spa by Tropic Spa.
We are already amazed by its 164 water jets, but we are even more surprised to find out that it boasts Bluetooth and Wi-Fi connectivity as well.
Has a bluetooth and Wi-Fi system, thus allowing you to control your spa from every corner of your house
Enjoy a total of 164 water jets that target a strategic point of your body
Also includes waterfall jets
With a contemporary design, plus built-in seating
Has an LED lights to boost your mood and energy level
See more: Tropic Spa Hot Tubs on Wayfair
6.  Canadian Spa Toronto 6-Person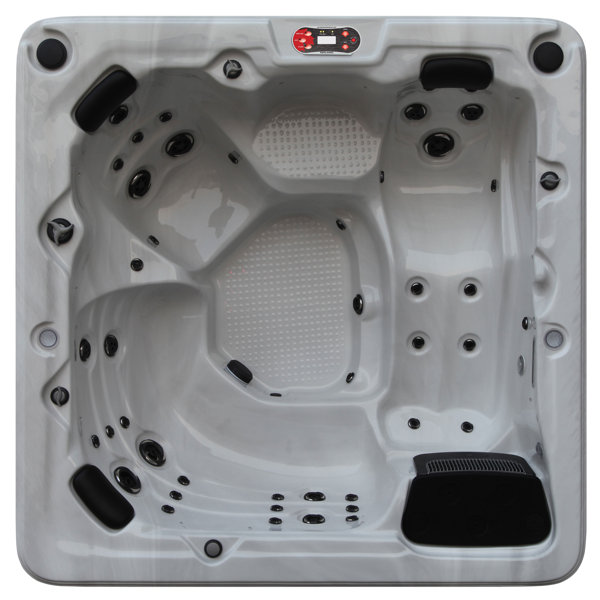 Those who want an infrared-reflecting type hot tub will enjoy this 6-person Toronto hot tub by Canadian Spa.
It has a classic look with amazing features, not to mention powerful water jets that can give you a full-blown body massage.
Has a total of 44 adjustable water jets
Includes a lounger for a more comfortable hot tub soaking experience
It also has waterfall jets, LED lighting system, and a locking cover.
With built-in ozonator, which helps keep the hot tub germ-free
People love how comfortable the spa is.
See more: Canadian Spa Co Hot Tubs on Wayfair
7.  Allwood Wood Fired Hot Tub
Those who are aiming for a more traditional hot tub spa experience should get this Wood Fired hot tub by Allwood.
It has a water capacity of 250 gallons and gives a good heat therapy session. Although it doesn't really feature a lighting system.
It has a molded seating.
Also include vinyl tub lid
Keeps the heat much longer than the other hot tub spas in the market
Suitable for both softwood and hardwood
Can be set up anywhere, perfect for off-grip locations
Its vinyl liner material is easy to maintain
8.  Snorkel Hot Tubs 7-Person Cedar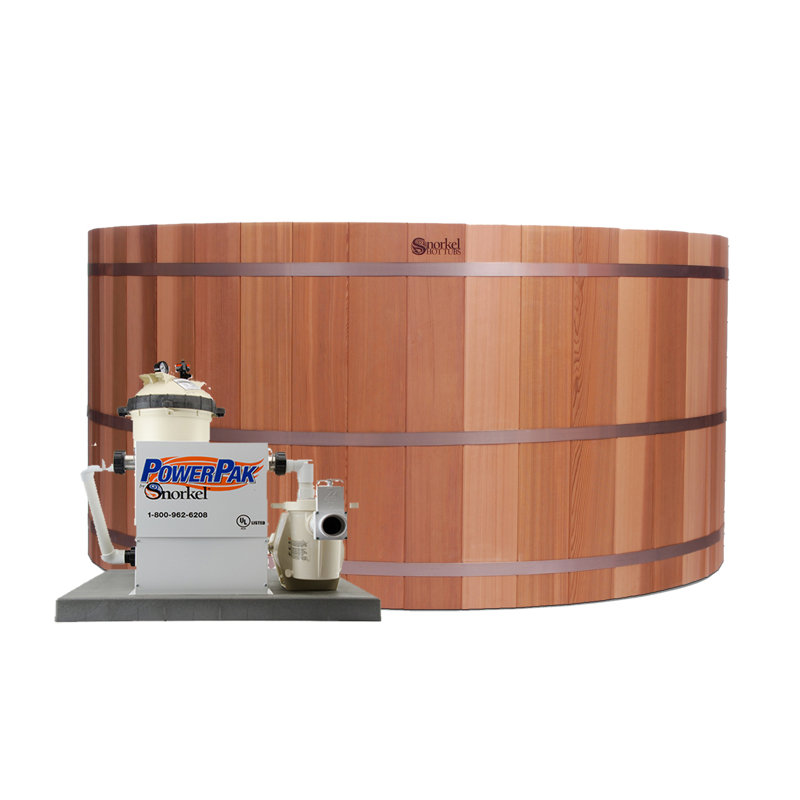 Another wood hot tub spa that impresses many people is this Cedar Hot tub Jet Spa by Snorkel Hot Tubs.
This is made from red cedar wood, which is one of the best wood materials for hot tubs. It is sturdy, durable, and works really well as a heat therapy soaking tub.
The cedar wood material is rot-resistant
Equipped with 316 grade stainless bands that protect the tub from rust and corrosion
Has built-in bench seats that can accommodate up to 8 people
Easy to assemble and set-up since all components are pre-wired and pre-plumbed
Also has a Wi-Fi feature so that you can control the tub from your smartphone anywhere
See more: Snorkelhottubs Hot Tubs on Wayfair
9.  Swim Spa True Zone Aerobic
How about a hot tub that keeps you feel relaxed but can also double as an aerobic swim spa? Sounds great, don't you think?
That is exactly what you can get with this Aerobic hot tub spa by Swim Spa True-Zone. This is the best swim spa that offers fun and relaxing way of beating stress and body soreness.
100% made in the U.S.A
This is a self-cleaning spa
Offers an all-natural water treatment
Suitable for both heat and cold therapy (AnyTempChiller option is at an additional cost though)
Has a temperature level of 62 degrees to 104 degrees Fahrenheit
Conclusion
A luxury hot tub is worth buying if, in turn, you get to improve your health and boost your mood and energy. Since we work for five or six days straight a week, letting ourselves indulge in a satisfying heat therapy is undoubtedly something we deserve.
Our top pick from the list? It's the American Spas 7-Person Hot Tub Jet Spa. Throughout the years, the brand is nothing but impressive. It's hygienic, has powerful water jets, and a Bluetooth stereo so that you can listen to relaxing music as well. Plus, it features chromotherapy lighting system. All in all, it gives you a holistic relaxation.
Ready to buy a luxury hot tub spa? Let us know which one's your favorite so far!