A spa is a place where spring water or seawater is used to give baths and is believed to be medicinal. Spa resorts, spa towns, and hot spring resorts usually offer a variety of health treatments. Its history dates back to the primeval times, specifically in the Greek and Roman times, and is popular worldwide, particularly in Japan and some countries in Europe.
See more: Lifesmart Spas Hot Tubs on Wayfair
5 Lifesmart Spa Reviews
LifeSmart is a company famed for its luxurious spas, which also uses ECO SMART technology that aims to save energy when in use. The company exceeded the California Energy Commission Standards for spa and hot tubs and is officially authorized for sale in all the states. Due to the company's reputation, a lot of their products are commended by their customers. Here are some of the reviews of their products:
1. LifeSmart 3-4 Person AquaSpa with 90-Jet Portable Square Spa
This LifeSmart 3-4 Person AquaSpa features multi-layered PVC and offers soothing bubble massage from its 90 air jets. It is an inflatable hot tub. However, this is for seasonal outdoor use only and shouldn't be used in temperatures below 40 degrees.
You can read my article reviews about Inflatable Hot Tub
It has 90 air jets that provide extreme therapy. Jets can move the stream of water in different directions which can massage your body and relieve soreness and back pains.
It has a carry bag to transport the spa. Since this is an inflatable spa, the bag can help you transport the spa in places that you want.
The spa has a heat conservation function, which makes the heat of the water last longer and can make you have longer bath time.
It also has an inflation kit to help you set the spa easily.
The cover is made of Polyester PVC. It makes the product resistant to dirt, and UV rays.
It also includes a drain hole, making it easy to remove water from it.
This is for outdoor use only. So, if you want to buy a spa that you can use inside your home, this is not what you're looking for.
The temperature should be below 40 degrees. One must make sure to monitor the heat of the spa.
The spa is limited to 3 to 4 persons only.
2. Lifesmart 4-Person Luna Spa With 13 Jet-Plug and Play Spa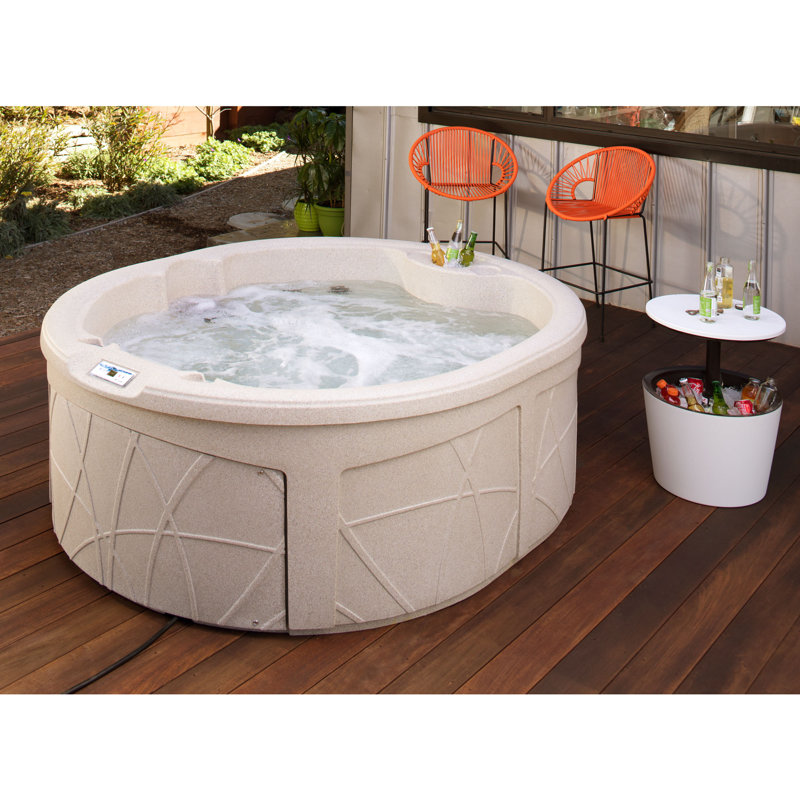 The Lifesmart Luna Spa, a 3-4 people deep bucket seats spa that offers great accessories and ease. It is a 110-volt Plug and Play Spa that keeps it easier for installation. Lifesmart Spas full foam insulation system and 3-inches thick energy-saving spa cover are intended to save money by involving less energy and not sacrificing the quality of its performance.
It has a digital command which features spa light with changeable mood lens cap. It adds mood to one's relaxation.
A lock kit is included in the package. It can help you maintain the spa for longer use.
The spa has 13 jets, including 2 Vortex jets. Vortex jets make a whirlpool in the water.
Just like the first spa mentioned above, this spa also has a heat recovery system to maintain the temperature of the water.
The spa can be used as cold in summer and hot in winter. It makes the spa usable for the whole year round.
Once the temperature setting has reached, it will automatically shut itself so that you don't have to worry about monitoring its temperature. You just have to dig in and relax.
The filter is not included, which makes it hard for water removal. You have to buy a separate filter.
The waterfall is not included. Waterfall can make you feel that you are standing in a natural waterfall, and it can also make you feel relaxed.
It cannot be used with an extension cord, so be careful when setting up.
3. LifeSmart 4-Person Plug and Play Spa with Upgraded 20 Jets
The spa can accommodate 4-person capacity and is built having thermoplastic. It requires less energy for its performance. It is known for being sturdy and keeps the water hot for long periods so that you can take baths for longer periods.
It has a portable 110-volt plug and play tub.
It has full-foam insulation system, meaning it can trap heat for a longer time.
It can be plugged into any standard outlet, so it will be convenient for you.
The spa has a digital topside control center for jets, making you control which direction the bubbles would go.
It has a waterfall feature, and you can adjust it which way suits you.
It has an Ozone water care feature that traps harmful chemicals or debris in the water, keeping it clean for a longer time.
It is built using thermoplastic, which means it has the tendency to soften if exposed to too much heat.
It only has 20 jets for therapy.
4. Lifesmart Spas 5-Person Plug and Play Spa with 28 Jets, Waterfall, and Ozone System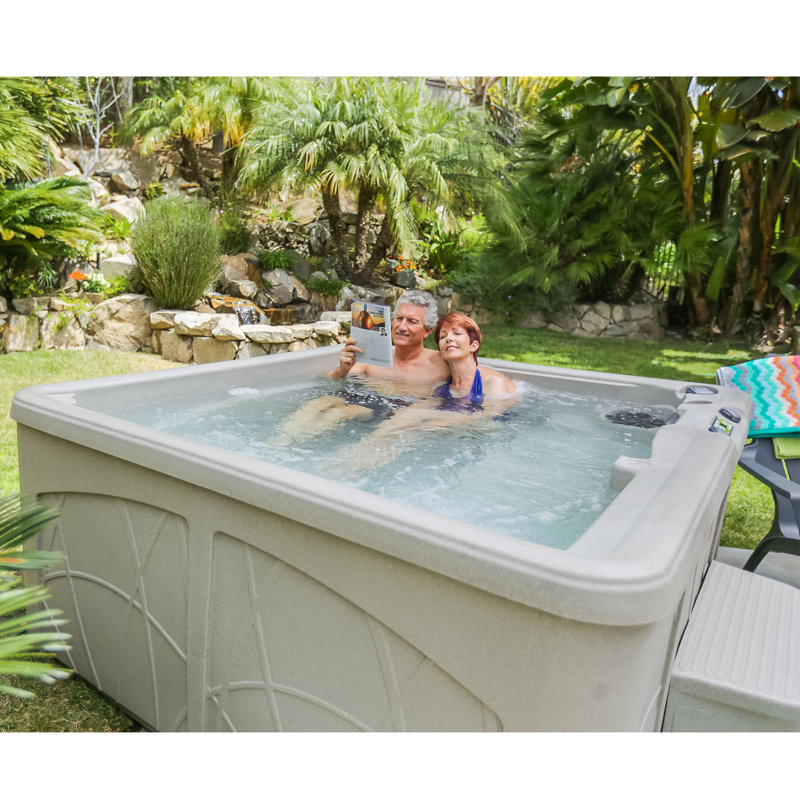 The Lifesmart Retreat DLX 5-Person Spa has a lot of upgrades. It has notable 28 jets and still has a 110-volt Plug & Play spa. It also has an exceptional seating plan, which makes it chic and fashionable.
It has 3" thick hardcover, which makes it more durable than other tubs mentioned above.
It has an Ozone Purification System, which eliminates 75% of harsh chemicals in the water and maintains the water, making it clean and safe for you.
It has a luxurious digital control that makes it stylish and user-friendly.
It has 6-color digital light. Lighting can set the mood up for relaxation.
It includes GFCI connector.
It is safe to use with an extension cord.
It has a unique seat plan that makes it extraordinary from other tubs.
The heater is not included in the package, so you will have to buy a separate heater for it to function well.
The filter is not included, so you have to buy a separate filter to drain the water.
There are no steps included for this spa.
5. Lifesmart Spas 7-Person Hydromaster DLX Spa With 65 Jets, Waterfall, and Ozone System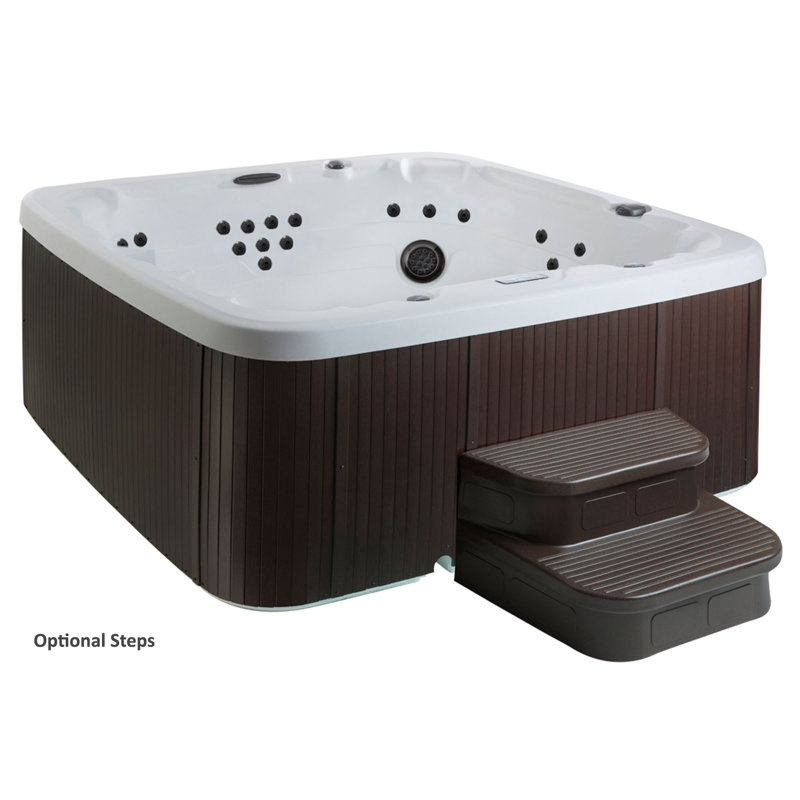 The Lifesmart Hydromaster DLX is a stylish 7-person spa. It also features 65 jets, as well as a waterfall and Ozone System. Moreover, it features dual speed pump, which makes it quieter than a single speed pump when filling up the tub. It can also be interchanged to hot or cold, making it great for summer or winter. The Lifesmart Hydromaster DLX can also be placed on a patio where one can really enjoy and relax having great scenery.
It's a Rock solid indestructible shell (arctic white with free espresso cabinet), so you can be assured of its durability.
It's has a Dual Speed pump. It's considered the most powerful pump and also noiseless when in use. Plus, the speed is much faster than other tubs.
It also has a 50 square foot top load filter with floating skimmer container to entrap floating debris.
It has Deluxe digital control that makes it fashionable.
It also has a 6-color digital light just like the LifeSmart Retreat DLX.
The lock kit is already included in this spa.
It also has an Ozone generator.
The spa also has a full foam insulation for the operation of temperatures less than 20 degrees.
It's a 4KW stainless steel heater that makes it more unique than other tubs and can entrap heat faster and longer.
The step is not included in the spa. It's the only thing that's not included in the package.
Check Out These Lifesmart Spa Reviews Guidelines!
In the present time, the spa is mainly used for relaxation, indulgence, health, and beauty. People should be knowledgeable in choosing the best hot tubs to have their body soaked into. Choosing the right bathtub will surely give the customer a variety of things to consider. Here are some of the things you might want to consider in purchasing your tub:
In choosing the right tub, you should be selective specifically with regards to the appropriate size for your body and also for the location where you're going to designate your tub. Size matters for it also sets the mood for relaxation. If one uses a tub that's too small for his body size, it would lead to being uncomfortable during bath time, and the main purpose of relaxing would be neglected. Remember, your main goal in having this tub is to relax.
To some people, they would look primarily at how much it would cost them. They like cheaper deals. Who wouldn't like cheap products? However, it is also practical if one would do research about the product that they will purchase. Don't hesitate to ask questions about the product and decide if the price is reasonable enough for you to buy it.
In the market, appearance has a great impact in almost all the products. It's what the customer sees at first hand. Is the style of the tub intended to be outdoors? Is it for indoor? Is it a style for the challenged individuals? If, however, one is limited for movements then it's better to have a walk in tub. One should really be specific on what he/she wants or how it suits him/her. This all goes down to one's need and preference.
Features are important in selecting the tub you want. It talks about what things or capabilities the tub has to offer like a shower head, lights, hot tub ozone generator, and the like. Some even like to have bathroom scales readily available near their hot tub. Moreover, are you specific for its digital controls, lightning, or jets? Tubs nowadays have their high technology features that would surely put you in awe and will make you want to have one inside your house or your patio.
Try These Helpful Ways To Relax at Home after Work – Preventing Illness, Staying Healthy
Conclusion
There are a lot of reviews out there on the web, and all of them seems to have totally the same features, making it hard for the customer to choose what to purchase wisely. Nevertheless, all the products mentioned above have their own unique capability, and they are all built by LifeSmart. As mentioned earlier, it is a company that is renowned for its quality spas and uses ECO SMART technology that passed the California standard for spas. Hence, all the five products reviewed are of best quality.
One stood out for being an all-in-one package – the LifeSmart Hydromaster DLX 7. It has all the features that can make you achieve the relaxation and pampering you need when taking long baths. It's stylish and big enough to accommodate seven people. It has the biggest and most efficient pump than all the other products. It's not only stylish, but it can be good for one's health for it has ozone generator that filters debris and harmful chemicals.
Thank you for reading, and I hope you find this review helpful!
Best Hot Tubs For Family on The Market