People have been using hot tubs since time immemorial- from public spa houses in Ancient Rome until today. Hot tubs are a good investment. It promotes relaxation, pain relief, stress reliever, and a lot more. Bathing in a hot tub is not only a good family get together, but it also adds beauty to your home. However, like any other investment, choosing the best hot tubs should be carefully researched.
To help you in your decision making, we've made a Lifesmart Spa review. Read further to know our best hot tub picks, including commendable features, and customers comments about the product.
Why Choose Lifesmart Hot Tub
LifeSmart is a company famed for its luxurious spas, which also uses ECO SMART technology that aims to save energy when in use. The company exceeded the California Energy Commission Standards for spa and hot tubs and is officially authorized for sale in all the states. Due to the company's reputation, a lot of their products are commended by their customers. Here are some of the reviews of their products:
9 Best Lifesmart Spa Reviews
1.  Lifesamrt LS300 3 person plus 17 Jet Spa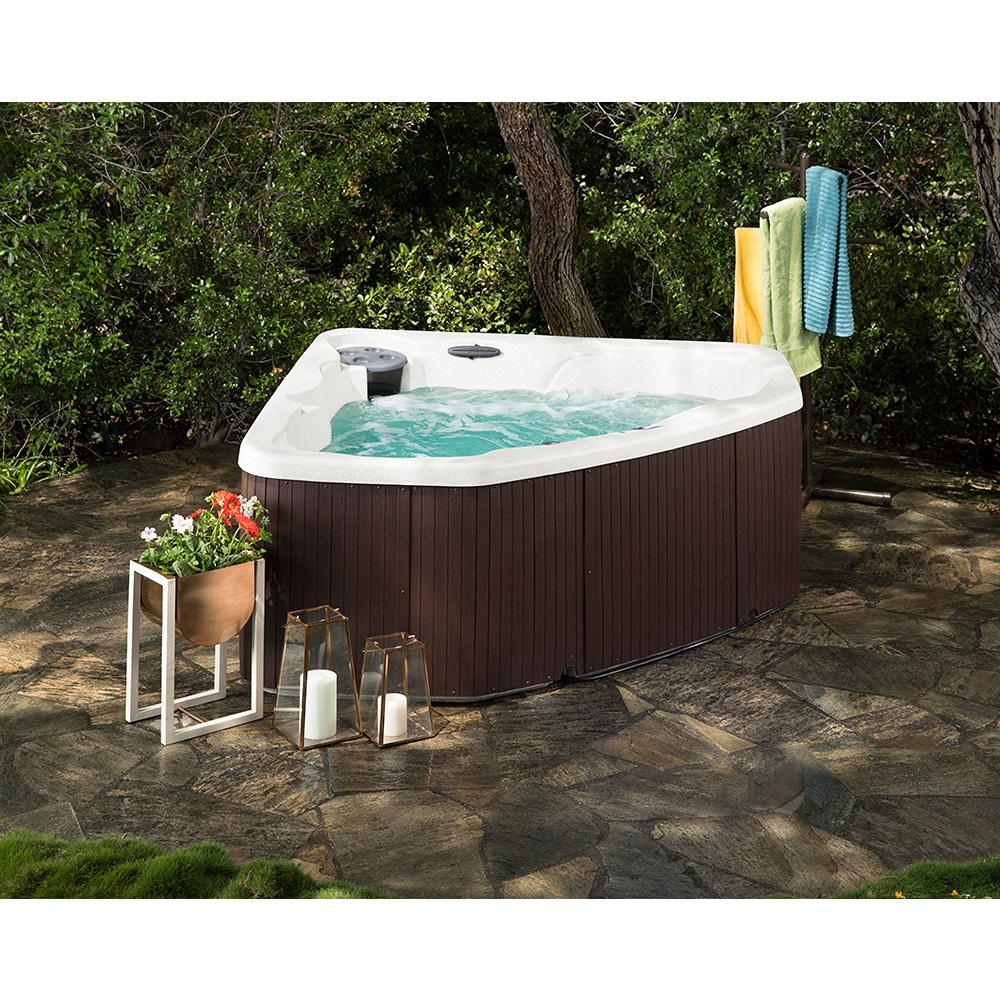 Lifesmart LS300 often comes the top in Lifesmart hot tubs reviews. This hot tub can accommodate 3 persons, a good spot to relax alone or with a partner. It has 13 graphite jets located to the seats of the tub. It has an ozone care system and waterfall feature. It is an electrical energy saver because you'll only need 110v to operate.
Customers highly recommend the product for its durability and friendly price. The product is not as difficult to set up as any other hot tub. It is lightweight and such a big saver for consumers in terms of electrical bills. Thus, for those looking for affordable and energy-efficient yet top-quality products, this is a good pick.
Lightweight design
Ease of set up
Works with 110v outlets
Ozonator for cleansing water
13 jets therapy may not be ideal for some customers
Reduced capacity for users having huge body structures
2.  Lifesmart Bermuda LS100 4 Person 13 Jet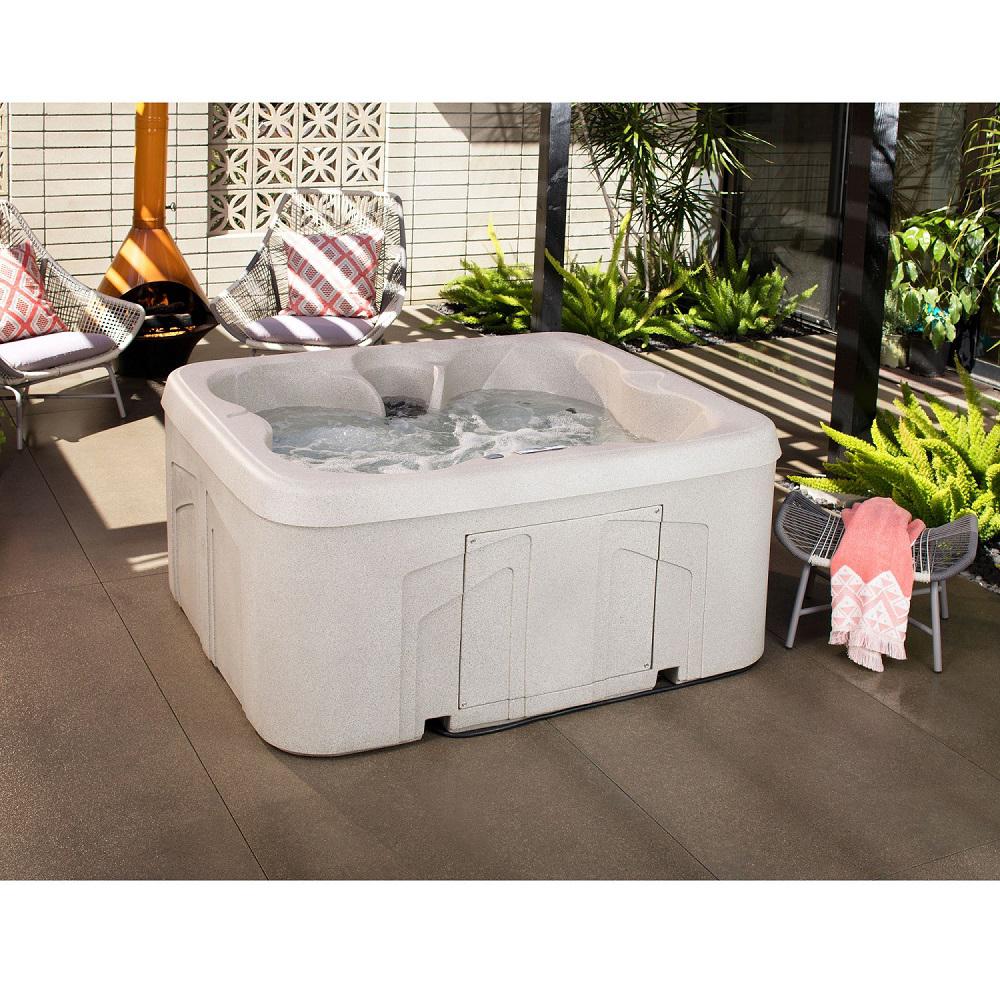 The Lifesmart Bermuda LS100 is a 4 deep seats hot tub that offers amazing features and ease to users. It comes with 13 jets and promises easy installation, thanks to 110v plug and play feature. The product includes a dust cover, an ozone care system, LED Light, and an adjustable waterfall. Everything you are looking for in a small tub at an affordable price could definitely be found here.
Some Lifesmart hot tub reviews reveal that most customers seem to love the product because of the lock kit for the thermal cover and foam insulation feature. Such a feature would make electricity bills low while enjoying the spa experience for a long period of time.
Digital command for changeable LED light
Reduced electricity consumption
Lock kit to maintain the quality of the spa and for longer use
Heat recovery system to keep the water temperature
No filter. Additional cost if you buy a separate filter
It could not be used on an extension cord. Extreme diligence and care are required while setting up.
3.  Lifesmart Bermuda DLX LS100DX 4 Person 20 Jet Spa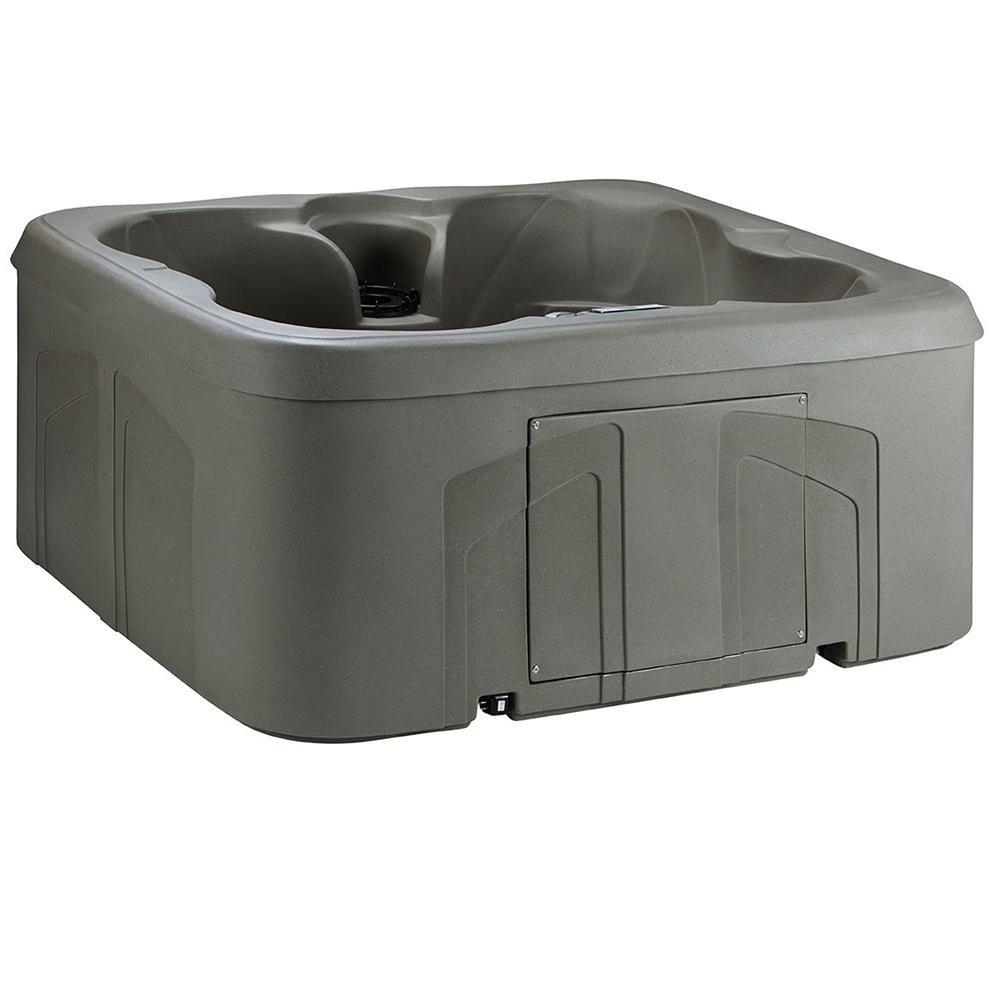 If you want an affordable, electricity efficient, and easy to use hot tub, this particular item is the best option. It has 20 jet that offers relaxing streams and powerful, at-home spa experience.  It is also lightweight, perfect for apartments. It comes with thermal friction as a heating system and an Ozonator for healthy and clean water.
Most customers love this product because of its design and size. It is minimalistic and perfect for couples. They also love the built-in bucket to place your water bottle or glass of wine. Indeed, an amazing hot tub for intimate or romantic dates.
Lightweight and easy to set-up
Jets are perfect for hydrotherapy
Digital control makes it convenient to use
Works with standard outlets at home
Small size, not recommended as a family hot tub
4.  Lifesmart Antigua LS400DX 5 person 22 Jet Spa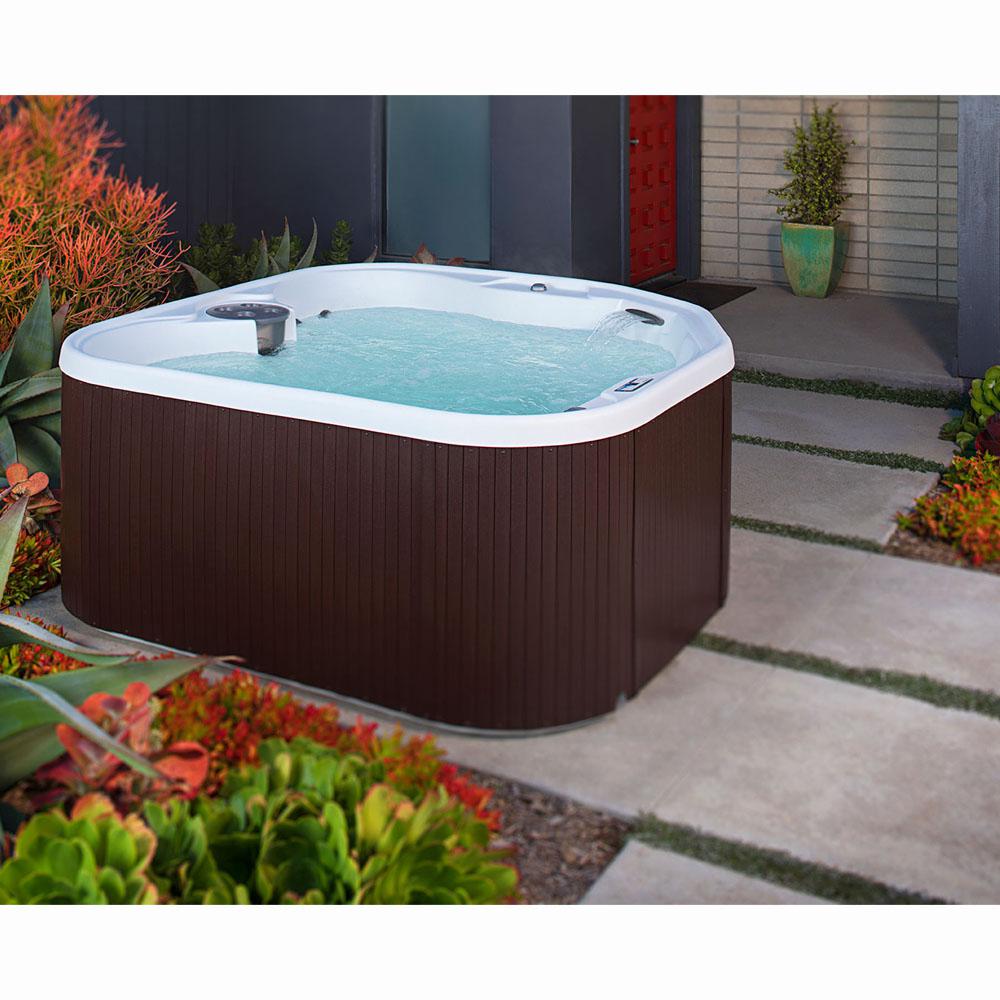 Treat yourself and relax after a busy work schedule with Lifesmart Antigua LS400DX. Equipped with the most advanced technologies, your best spa experience you deserve is guaranteed. The product has 22 jets and 5 built-in seats. It is also equipped with an LED light with various colors, waterfalls, and a built-in Ozonator for water cleansing.
Aside from the usual hot tub features, users are fond of the lock thermal cover of this hot tub. It maintains temperature while having a long relaxation time under the water. The colors of the LED light is admired by the customers as it enhances the mood in a good way. Thus, if you're feeling stressed, turn on the LED and soak in the water to uplift your mood.
Desirable design that never gets old through the years
LED light colors to uplift one's mood
22 jets are placed appropriately to target the body parts for better hydrotherapy massage
Locking thermal cover for better heat temperature
Water capacity is not much but is fine for small families
A bit expensive
5.  Lifesmart Bahama DLXLS350DX 5 Person 28 Jet Spa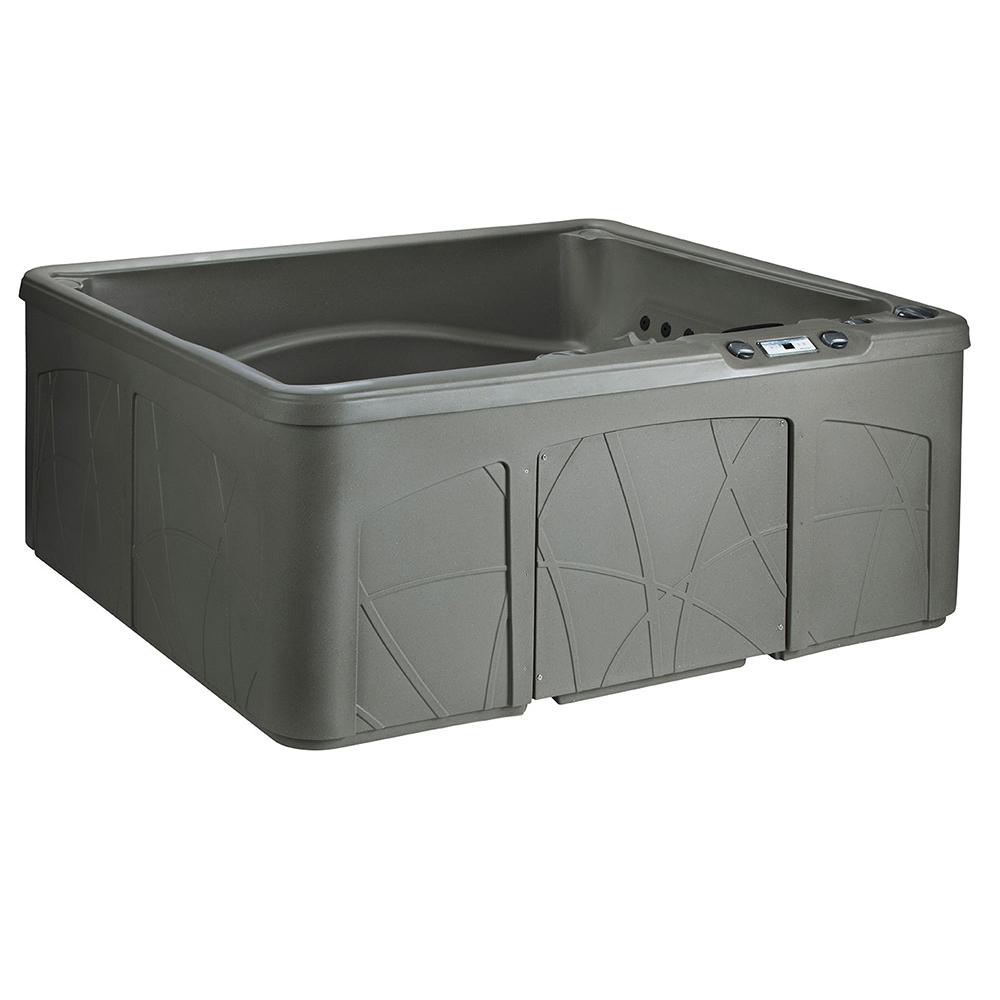 The Lifesmart Bahama DLXLS350DX has many amazing features. It operates on 110v outlet and comes with a notable 28 Jets. It has an ozone system, a changeable waterfall feature, and a good seating plan which makes it classy and chic. If you're looking for a hot tub upgrade at home, this one is the best.
Customers are fascinated with the ease of installation. The product comes with all the fixings for a ready-to-use hot tubs. The filtration, thermal cover, digital control, horsepower pump, built-in lights satisfy the customers. Though a bit expensive, this product is definitely a worthwhile investment.
Setting up procedure is no hassle
Digital control makes the hot tub easier to use
Lightweight
Thermal cover protects the tub from elements thus would ensure life long use
The cord is long
In demand, may not be available to some countries
Expensive for a hot tub which is not capacious, but the quality of the materials are top-notch
6.  LifeSmart Spas LS500 5-Person 23 Jets Plug and Play Hot Tub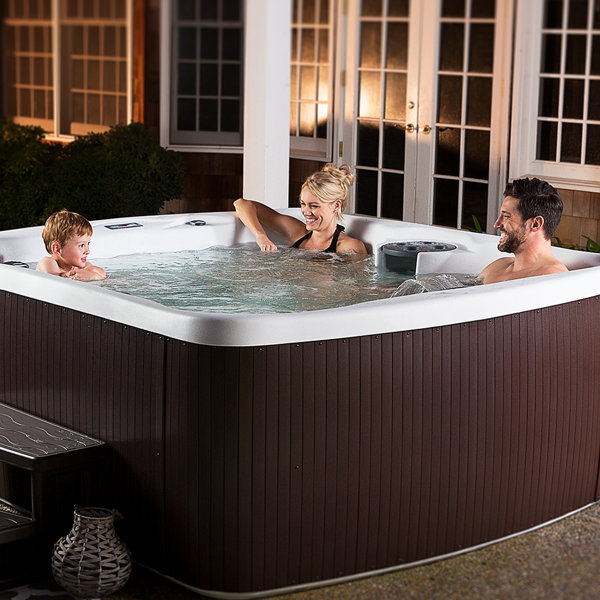 Sometimes, we just want to treat ourselves and feel relaxed after a busy week at work. And that is exactly what this Life Smart LS500 hot tub spa is aiming for.
Equipped with advanced hot tub spa technologies, you sure can get the relaxation that you deserve. In addition, this hot tub has that classic and elegant feel, perfect for indoor and outdoor spa indulgence.
This hot tub has a timeless design that would never get outdated even in the years to come.
In terms of water capacity, this one can hold up to 290 gallons, not much but enough for small families.
Plus, its LED lighting system has various colors. Did you know that lighting also helps enhance our mood? So, if you're feeling tired and stressed, turning on the lights as you soak the tub can lift up your mood.
It has a total of 23 water jets placed in locations that target the body parts that need hydrotherapy massage the most.
With a built-in ozonator, the tub can clean and sanitize its own and the water inside.
It also has a locking thermal cover and foam insulation that keep the heat much longer.
If the users have bigger body structure, this can only accommodate around 3 to 4 people.
It's a bit expensive, but for the quality and performance of the product, we say it's worth it.
7. Lifesmart Spas 5-Person Plug and Play Spa with 28 Jets, Waterfall, and Ozone System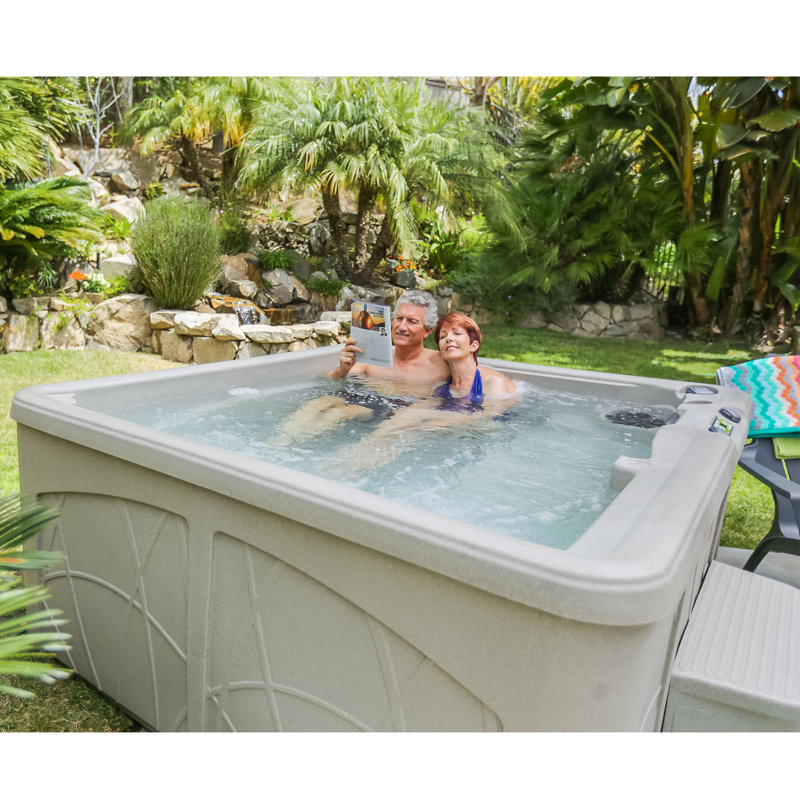 The Lifesmart Retreat DLX 5-Person Spa has a lot of upgrades. It has notable 28 jets and still has a 110-volt Plug & Play spa. It also has an exceptional seating plan, which makes it chic and fashionable.
It has 3" thick hardcover, which makes it more durable than other tubs mentioned above.
It has an Ozone Purification System, which eliminates 75% of harsh chemicals in the water and maintains the water, making it clean and safe for you.
It has a luxurious digital control that makes it stylish and user-friendly.
It has 6-color digital light. Lighting can set the mood up for relaxation.
It includes GFCI connector.
It is safe to use with an extension cord.
It has a unique seat plan that makes it extraordinary from other tubs.
The heater is not included in the package, so you will have to buy a separate heater for it to function well.
The filter is not included, so you have to buy a separate filter to drain the water.
There are no steps included for this spa.
8.  Lifesmart Coronado DLX LS600DX 7 Person 65 Jet Spa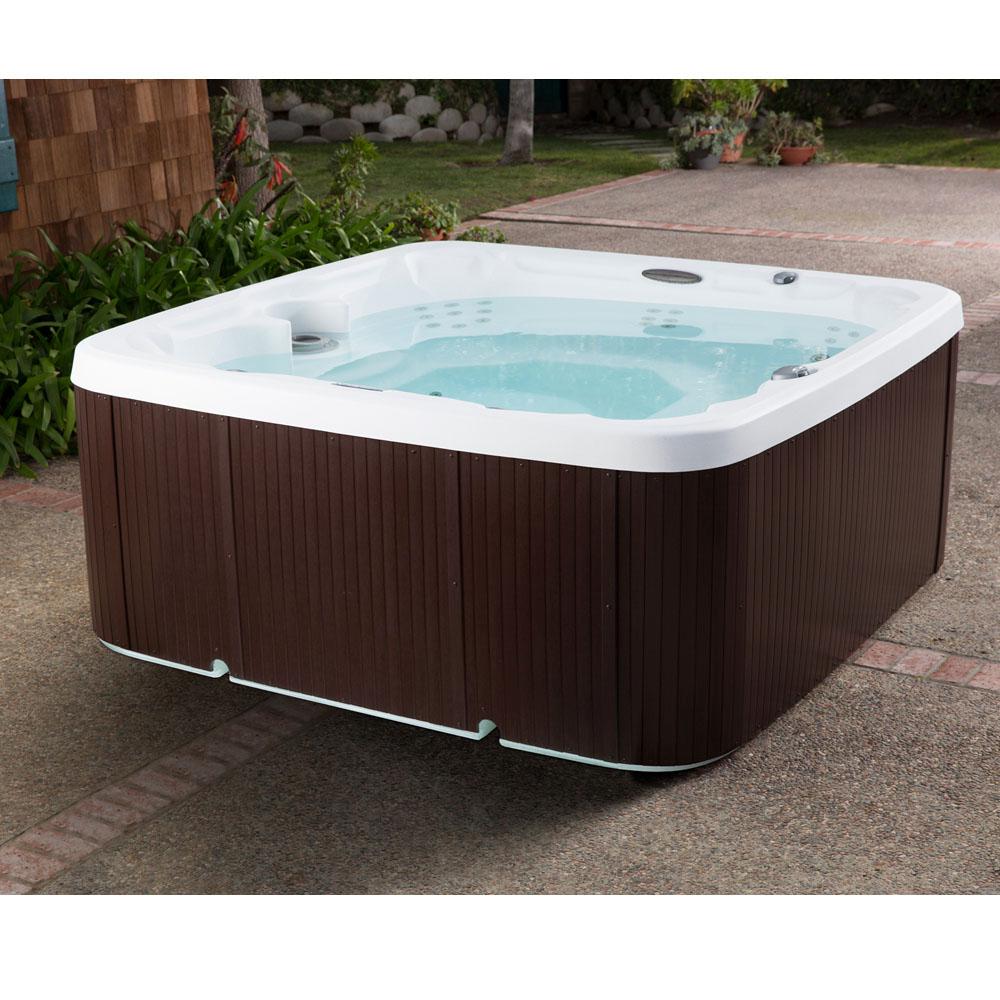 There are instances when you want to splurge your money and spend on a product that has everything you are looking for. Well, this particular product is the one that may satisfy you. This item by Lifesmart has 65 adjustable jets, perfect for reducing stress and muscle pains. It comes with an Ozonator, LED light, and the best waterfall feature. It needs 220v for it to be used, thus an electrician may be necessary upon installation.
Because of its incredible features, Lifesmart Coronado 600 DX is among the top choices of every customer. The customer commends the durability of the product. Most of them only ask the customer service for the set-up procedure and no major problems that would need a warranty. However, the only downside is that buyers should equip the 220v outlet and ask for a licensed electrician for the setup.
Mini malist hot tub that can accommodate 7 people
Adjustable waterfall and LED Light feature
Built-in Ozonator
Retains heat temperature for long hours of use
Energy saver as proven by California Energy Commission
Additional cost for the set up because the electrician is required
Quite pricey but justifiable considering the features it has
9.  Lifesmart LS700DX 7 Person 90 Jet Spa with underwater light and ozone care system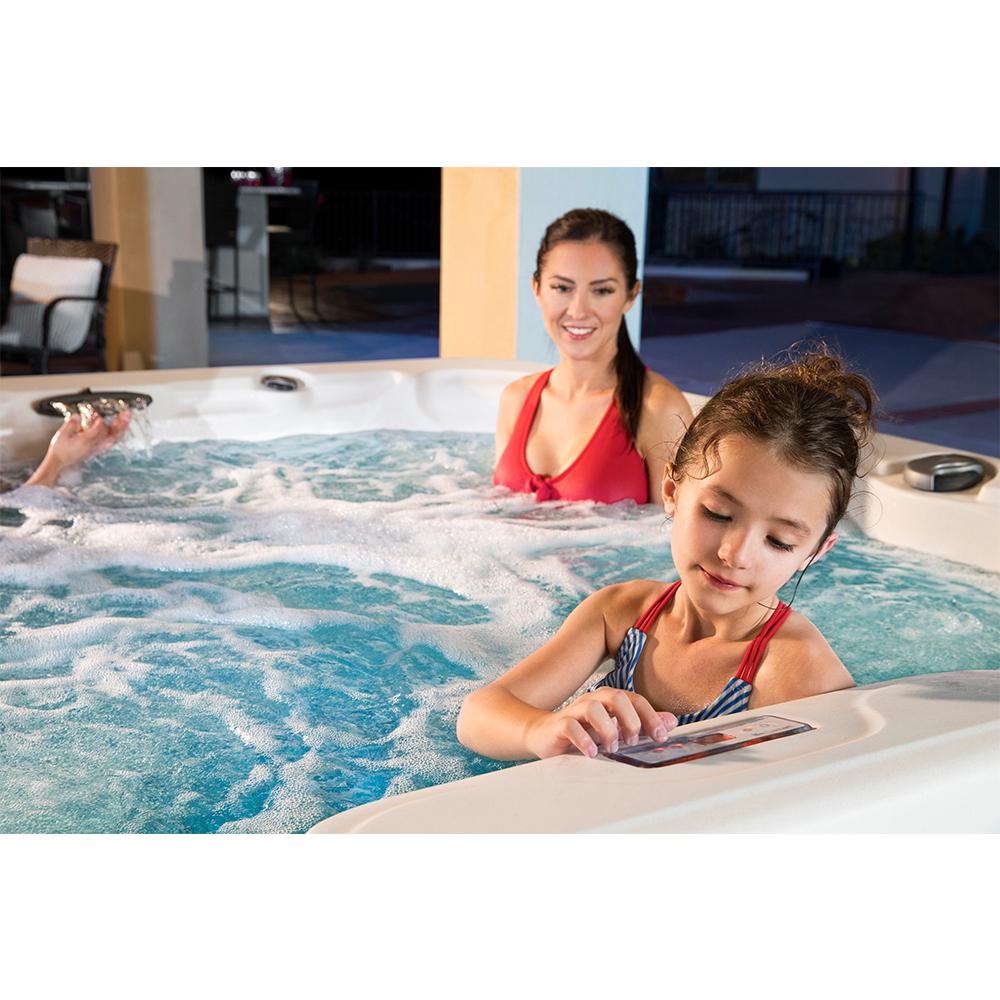 Need a spa that can accommodate many people? Check out this gorgeous and high-quality hot tub. The product comes with an ozone system, full-foam insulation, 90 stainless steel jet, and many exciting features. Overall, with the quality of the material, good looks, and amazing features, it is value for money.
The 90 Jet is admired by users. The jets are distributed to different locations to ensure a full body massage. It heats well and adapts to weather conditions. However, the downside is the need for an electrician for construction. It needs a 220v outlet, thus not a plug and play kind of hot tub.
Made of high-quality materials, certainly indestructible
Its numerous jets are perfect hydrotherapy
Led Light has various color to choose from
Filter and ozone make the hot tub maintenance easy
Ideal as a family hot tub
Not suitable if you only have standard outlets
An electrician is needed for set-up
Check Out These Lifesmart Spa Reviews Guidelines!
In the present time, the spa is mainly used for relaxation, indulgence, health, and beauty. People should be knowledgeable in choosing the best hot tubs to have their body soaked into. Choosing the right bathtub will surely give the customer a variety of things to consider. Here are some of the things you might want to consider in purchasing your tub:
Size
In choosing the right tub, you should be selective specifically with regards to the appropriate size for your body and also for the location where you're going to designate your tub. Size matters for it also sets the mood for relaxation. If one uses a tub that's too small for his body size, it would lead to being uncomfortable during bath time, and the main purpose of relaxing would be neglected. Remember, your main goal in having this tub is to relax.
Cost
To some people, they would look primarily at how much it would cost them. They like cheaper deals. Who wouldn't like cheap products? However, it is also practical if one would do research about the product that they will purchase. Don't hesitate to ask questions about the product and decide if the price is reasonable enough for you to buy it.
Style
In the market, appearance has a great impact in almost all the products. It's what the customer sees at first hand. Is the style of the tub intended to be outdoors? Is it for indoor? Is it a style for the challenged individuals? If, however, one is limited for movements then it's better to have a walk in tub. One should really be specific on what he/she wants or how it suits him/her. This all goes down to one's need and preference.
Features
Features are important in selecting the tub you want. It talks about what things or capabilities the tub has to offer like a shower head, lights, hot tub ozone generator, and the like. Some even like to have bathroom scales readily available near their hot tub. Moreover, are you specific for its digital controls, lightning, or jets? Tubs nowadays have their high technology features that would surely put you in awe and will make you want to have one inside your house or your patio.
Conclusion
If you want to relax your mind, body, and soul, nothing beats a spa experience in a Lifesmart hot tub. When investing in a hot tub, of course, you want to make sure it is not a waste of money. Hence, educating yourself with some Lifesmart spas reviews is of necessity.
We wish we have helped you decide the best Lifesmart hot tub worthy of your money. It is guaranteed that all of them are a good investment, you just have to choose which one may work for you.