Getting into or out of your patio hot tub during the cooler months may seem a bit daunting. That chill can bite you to the bone. But this problem could be overcome if you make use of a patio heater. The question now arises: "What is the best patio heater?" Well, this actually depends on you. To make things a little easier, we have checked up on a number of different patio heaters. Here is what we have come up with.
What Are Different Patio Heater Types?
A lot of you, our dear readers, have been asking us about patio heaters. And majority of the questions are specifically about the types of patio heaters.
So, in this section, we are finally going to talk about this topic:
What are the different patio types? Which type is best for my home? Are there any dangers that I should know about?
All these questions will be discussed right here, right now!
Let's get started!
Basically, there are various types of patio heaters, depending on the design as well as the fuel types. Let's tackle the different heater types by design in this article.
Freestanding Patio Heaters
The freestanding patio heaters are one of the most popular heater types, and this will continue to gain massive attention. For one, this type doesn't really need any kind of mounting. Thus, making it user-friendly, especially for first-time users.
This type of heaters is commonly designed to be high and tall (like a tower shape) and the base is wider than its top. The base is weighted with sand to prevent the heater from toppling or falling over.  In fact, the pyramid outdoor heaters are selling like hotcakes recently.
The Pros:
Very easy to use
No mounting needed
Can cover bigger spaces
Easy to move around
The power is hidden in its base, so it looks sleek and stylish
Also helps set the mood of the patio
Provide strong and powerful heat
The Cons:
Can be quite heavy since the base is weighted
Works well only on flat surfaces
Wall-Mounted Patio Heaters
Just like what the name entails, this patio heater type is also one of the favorites in many patio heater reviews. This provides gentle heat and lighting, enough to make the patio warm and cozy.
Wall-mounted patio heaters are also versatile and can be fixed either on the walls or even on the ceilings.
The Pros:
This offers a discreet heat source.
Ideal for small spaces as it doesn't consume much space
Can be mounted on almost all types of walls
Safe to use around children since it is placed on high areas (somewhere children can't reach)
Stumbling accidents are minimized since the heaters are above ground.
The Cons:
They don't provide as much heat as the freestanding type.
Also requires more maintenance check (replacement in every 2-3 years)
Professional installer is highly recommended
Table Top Patio Heaters
Table top patio heaters are like freestanding, but they are usually put on top of a table. Hence, they are the mini version of freestanding patio heaters.
So, what makes this type special?
First of all, table top patio heaters are designed to be lightweight and portable. The size is just enough to set it up on the table. This can instantly give your patio table a fresh new look while also emitting warmth in close vicinity.
The Pros:
Super lightweight; you can move this around the patio without hassle
Aside from functioning as a heater, this type also makes a stunning decorative piece.
Ideal for picnics and outdoor adventures like camping
The Cons:
Due to its smaller size, this doesn't give much heat as compared to the bigger and heavier freestanding heaters.
Not suitable for bigger areas
Hanging Patio Heaters
Finally, the last patio heater type on our list is the hanging patio heaters. These heaters are suspended in the air with only a thin yet strong string holding and supporting them.
They work best in patios and gazebos that have ceilings or are covered. In addition, they are suitable for indoor uses in rooms with bigger spaces like open garages, gardens, and tool sheds.
The Pros:
These heaters look absolutely stunning.
Very fancy decorative piece, as well as being functional
Provides fantastic lighting
Also emits gentle warmth enough for small to medium-sized spaces and rooms
The Cons:
The heat distribution is somewhat narrow and in downward directions.
Not a great heater for bigger spaces
Not suitable for open patio spaces and gazebos since it needs a ceiling or a roof to hang onto
Best Patio Heater Reviews
We have gone through quite a number of different patio heaters and compiled a list of the best outdoor heaters we could find. Enjoy browsing through them!
1.  Hammered Bronze and Stainless-Steel Barnhart Propane Patio Heater by Sol 72 Outdoor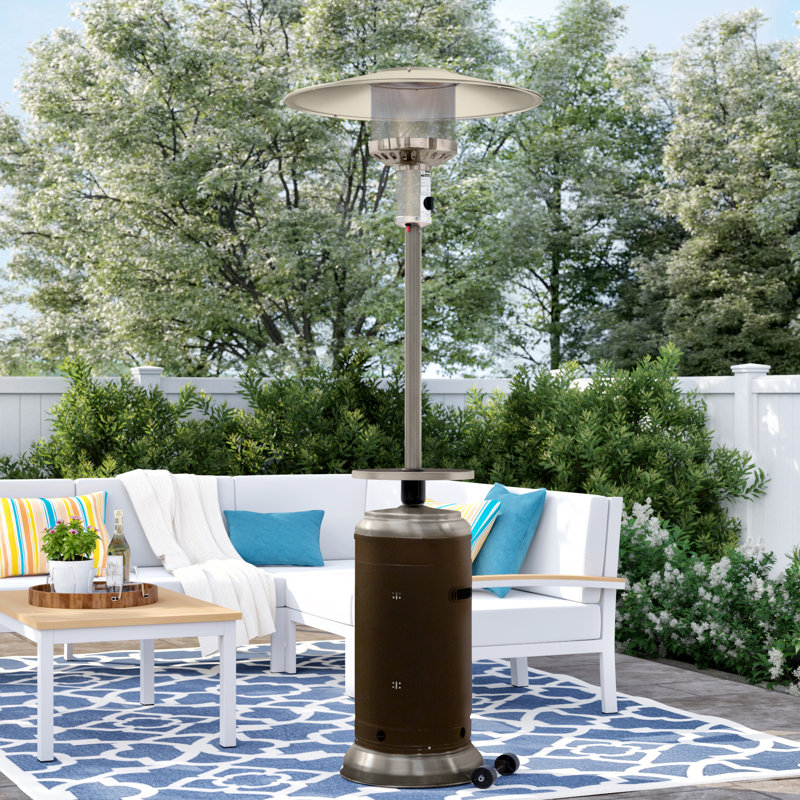 If you're looking for the best patio heater, this one from Sol 72 Outdoor can be the perfect choice for you. It's designed to keep you warm and cozy, especially during cold nights.
Since it is made of metal, it goes well with any patio or deck design. In addition, this patio heater also offers 48,000 BTUs of heat – the highest amount among patio heaters. As a result, it's perfect for keeping you warm during cold weather.
Lastly, it also has an anti-tilt switch that activates and turns off the pilot when you tilt the unit, making your outdoor area safer for everyone.
Highlighted Features:
A matching adjustable table is included
Has 48,000 BTUs
Has an anti-tilt switch
Pros:
Easy to operate
Takes only a few minutes to set up
Has a nice powder coat finish
Cons:
Reports of getting bent easily
Lighting it can be tricky
2.  Stainless Steel Triplett Propane Standing Patio Heater by Arlmont & Co.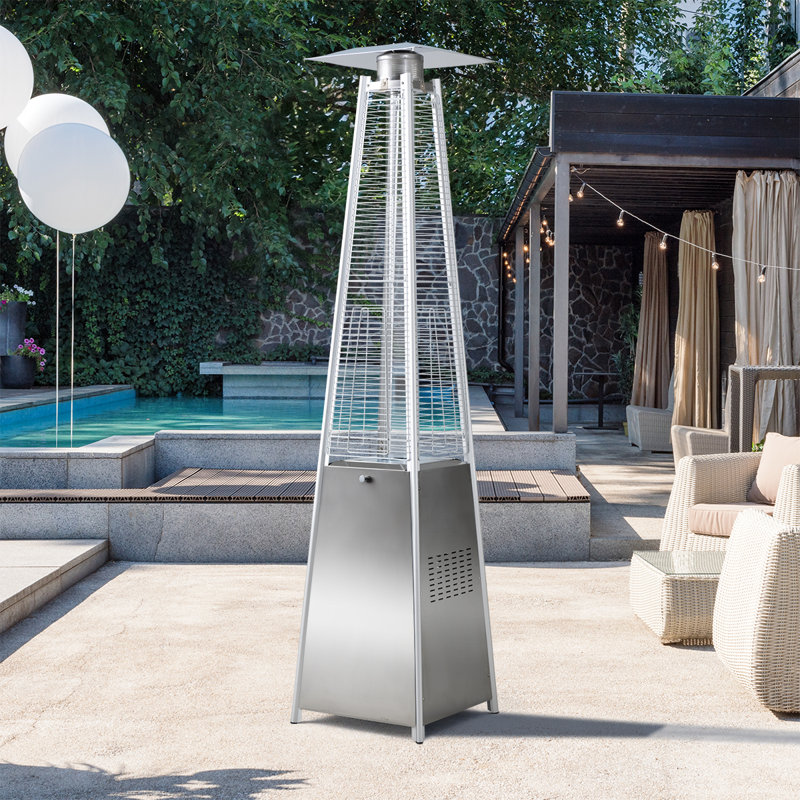 This outdoor propane standing patio heater from Arlmont & Co. is an excellent choice because it has a built-in control valve. Because of this, you can set the temperature you want with it. In addition, it also has a tip-over protection feature. So, when this patio heater is tilted, it will shut off automatically because of its safety valve.
Moreover, you can enjoy 42,000 BTUs of constant heat through its easy pulse ignition, keeping you warm throughout the night.
Overall, it can heat any space that is up to 18 feet in diameter. Moreover, it can make any space ambient because of its glass flame tube. So, your visitors will be mesmerized with its lasting stainless-steel material.
Furthermore, moving this Arlmont & Co. patio heater is easy because of its wheel assembly. As a result, you can entertain guests more easily when you move this heater to your chosen area.
Lastly, it also comes with a fit and fade-resistant cover. Therefore, you can easily open and close it because of the zipper, making storage more convenient.
Highlighted Features:
Has a tip-over switch
Weather-resistant
Has wheels and cover
Pros:
Looks beautiful
Provides a good amount of heat
The flame is adjustable
Cons:
Consumes a lot of propane
Can be tricky to ignite
3.  Hammered Bronze Propane Standing Patio Heater by Hanover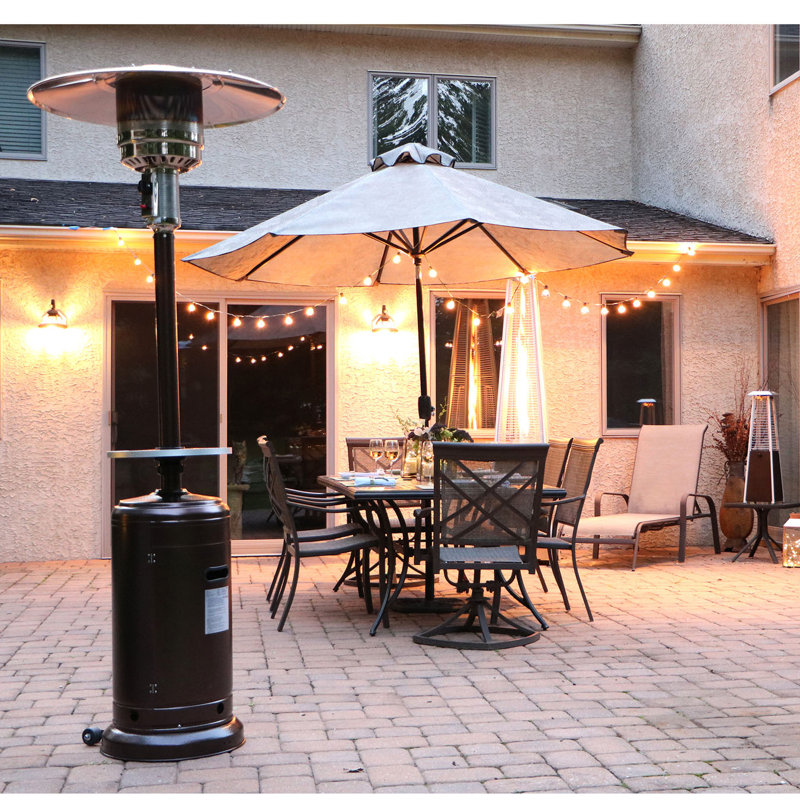 This is the best propane patio heater from Hanover, and it's part of the brand's collection of lasting steel propane patio heaters. Because it is made of steel, you can guarantee that this unit will last for a long time. In addition, you and your guests can all enjoy 48,000 BTUs of heat that has a 16.4 feet range.
Another notable feature it has is the control valve that allows you to customize the temperature, depending on the season. Lastly, you won't have a problem incorporating this Hanover patio heater into your yard because it is available in different finishes.
Highlighted Features:
Has 48,000 BTUs of comforting heat
Made of durable steel
8 hours on low and 4 hours on high is the estimated operating time per tank
The design is certified by the CSA
Pros:
Made of sturdy materials
Produces much heat
The small movable table is innovative
Cons:
Assembly can be challenging
The door is a little shaky
4.  Propane Patio Heater by Deconi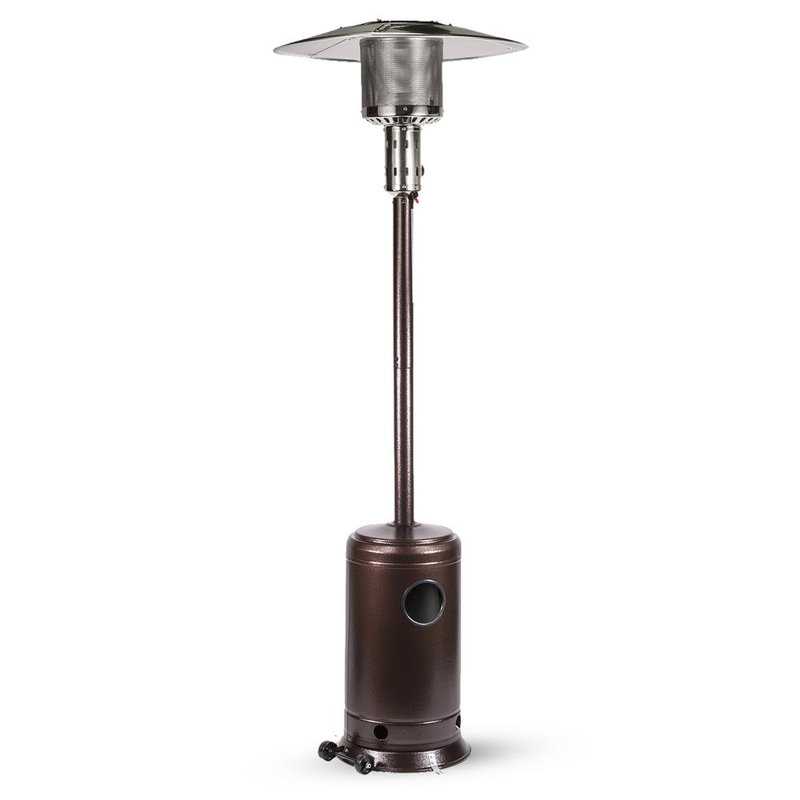 Deconi propane patio heater is a premium patio heater that provides 45,000 BTUs of heat. Therefore, this is a good unit when you use it in a cold outdoor area.
In addition, it can also provide relaxing, consistent, and quiet heat to a large area. Moreover, you don't need to worry about open fires or smoke with this, making it the best patio heater from Deconi. Lastly, it's easy enough to set up, especially if you follow its instruction manual.
Highlighted Features:
Safe and convenient
Has a 15-lb tank capacity
Has a push-and-turn ignition type
Pros:
Easy to use
Hassle-free assembly
Radiates a good amount of heat
Cons:
Reports of the unit being crooked
Slightly more expensive
5.  Hammered Square Flame Propane Standing Patio Heater by Fire Sense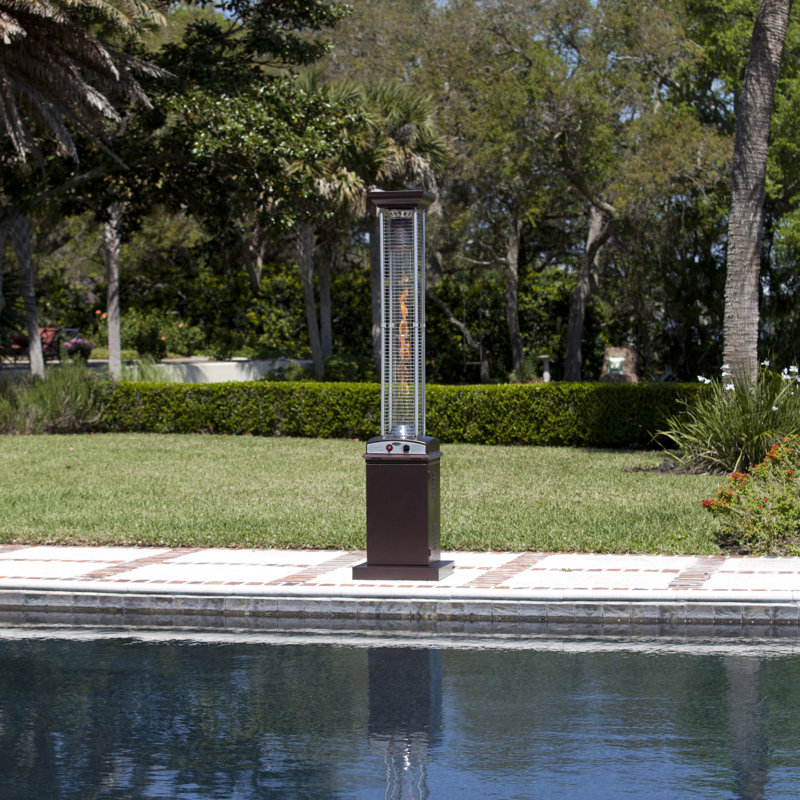 Are you looking for a patio heater that can level up your outdoor heating? If so, you can consider this new and patented hammered square flame patio heater from Fire Sense. It serves as a great centerpiece outdoors.
Aside from being classy, this heater has a unique flame that gives off heat in various directions. Compared to other patio heaters available in the market, this Fire Sense patio heater can generate more heat due to its built-in emitter and impressive burner feature.
Lastly, it has a tip-over switch for protection and wheels for easy transportation for your safety and convenience.
Highlighted Features:
Has a powder-coated finish
Has a 20-lb fuel capacity
Can be used under a covered patio
Pros:
Generates a lot of heat even on the low setting
Sturdy and well-made construction
Has a unique appearance compared to other standard pyramid style heaters
Cons:
The glass tube is very fragile
The paint on top melts a little because of heat
6.  Silver Barton Propane Patio Heater by Sunjoy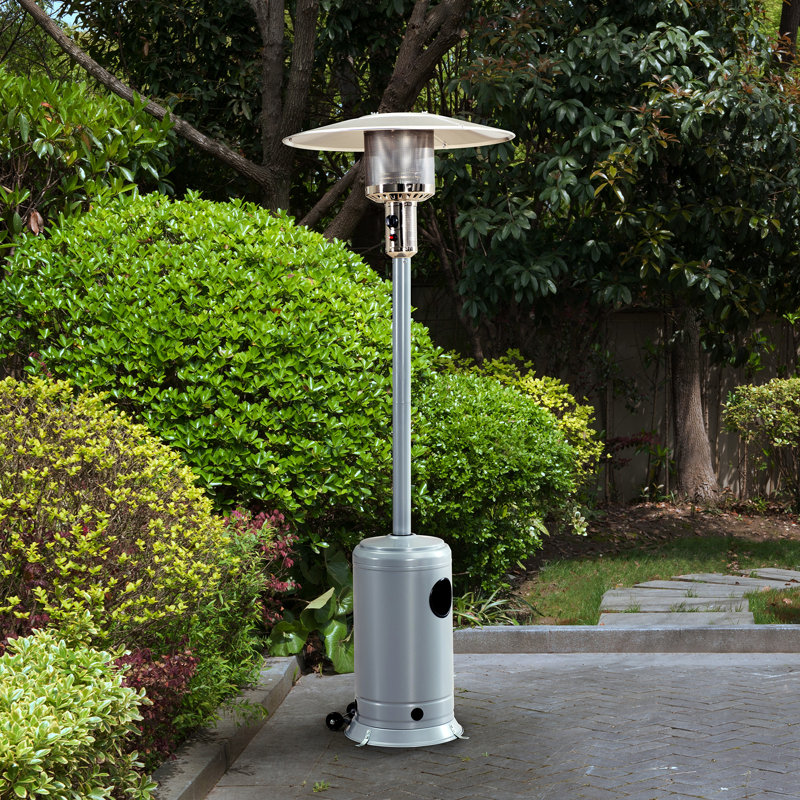 The Sunjoy propane patio heater has a heat output of 47,000 BTUs that can be adjusted to your needs and preferences. This temperature capacity makes it one of the hottest patio heaters in the market.
However, you don't have to worry about incorporating it into your other outdoor decor because it comes in four colors.
Overall, this patio heater is great for those who are looking for basic but functional patio heaters. It's also safe because it has a shut-off safety switch that turns the heater off when tilted. Lastly, you and your guests can warm your hands with it, even while standing up.
Highlighted Features:
Comes in silver, copper, gray, and black
Has a heat output of 47,000 BTUs
Weather-resistant
Pros:
Very powerful
Easy to use
Great height
Cons:
Reports of the pole being a little crooked after installation
7.  JDS Propane Patio Heater by JJ Designs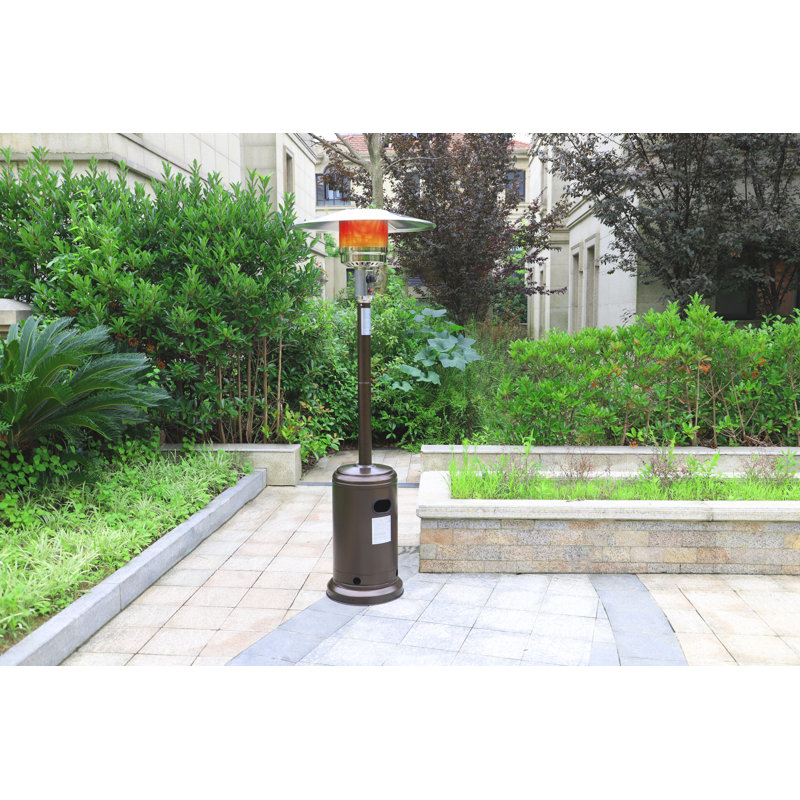 The JJ Designs propane patio heater has 48,000 BTUs, making it one of the hottest heaters around. In addition, it can perform well anywhere, whether it's used for home, retail, and commercial patios. In fact, you get a professionally made base that keeps your gas tank.
Although its design may look basic, it's still practical and beautiful. Moreover, its adjustable valve knob provides enhanced convenience because it allows you to adjust the temperature quickly. Moreover, its 20-feet heat range diameter can provide ample heat coverage, even in a large area.
Highlighted Features:
Comes with a Piezo-electric ignition system
Has an adjustable valve knob for setting the temperature
Made of steel
Pros:
Generates much heat
Has durable construction
Value for money
Cons:
Basic Design
Difficult to start a flame
8.  Propane Patio Heater by Fire King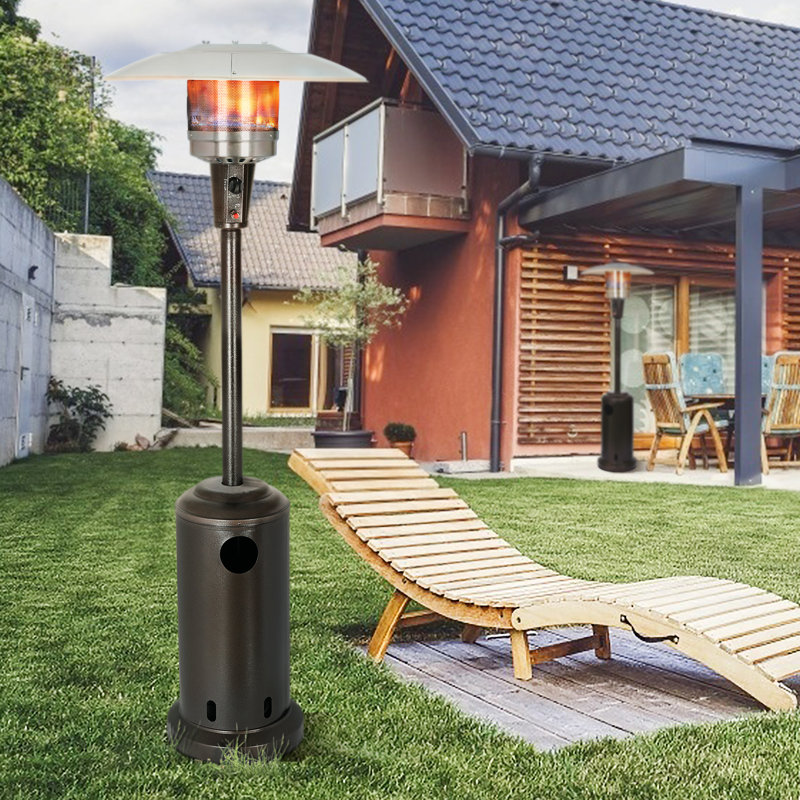 This best propane patio heater from Fire King can be beneficial when entertaining guests or dining outside. This is because it can make your patio or other outdoor space cozier and warmer.
In fact, homeowners aren't the only ones to benefit from this heater, but restaurant and business owners can also enjoy what this heat has to offer. Moreover, because it has a durable construction, it can last for an extended period. In addition, it's recommended for those who like to entertain guests in large spaces.
Furthermore, it's relatively easy to operate; you only need to push the button to light the heater. This button is run by an electronic ignition system which makes the unit fast and easy.
Lastly, you can also set it on high and low heat settings thanks to its heat control knob. Overall, it can generate up to 40,000 BTUs of heat, even in areas that are up to 20 feet in diameter.
Highlighted Features:
Produces 40,000 BTUs of heat
Has an easy electronic ignition system
Has a heat control knob
Pros:
Easy to put together
Very tall
The bronze finish makes the unit look attractive
Cons:
Not weather resistant
No cover included
9.  Hammered Bronze Propane Patio Heater by AZ Patio Heaters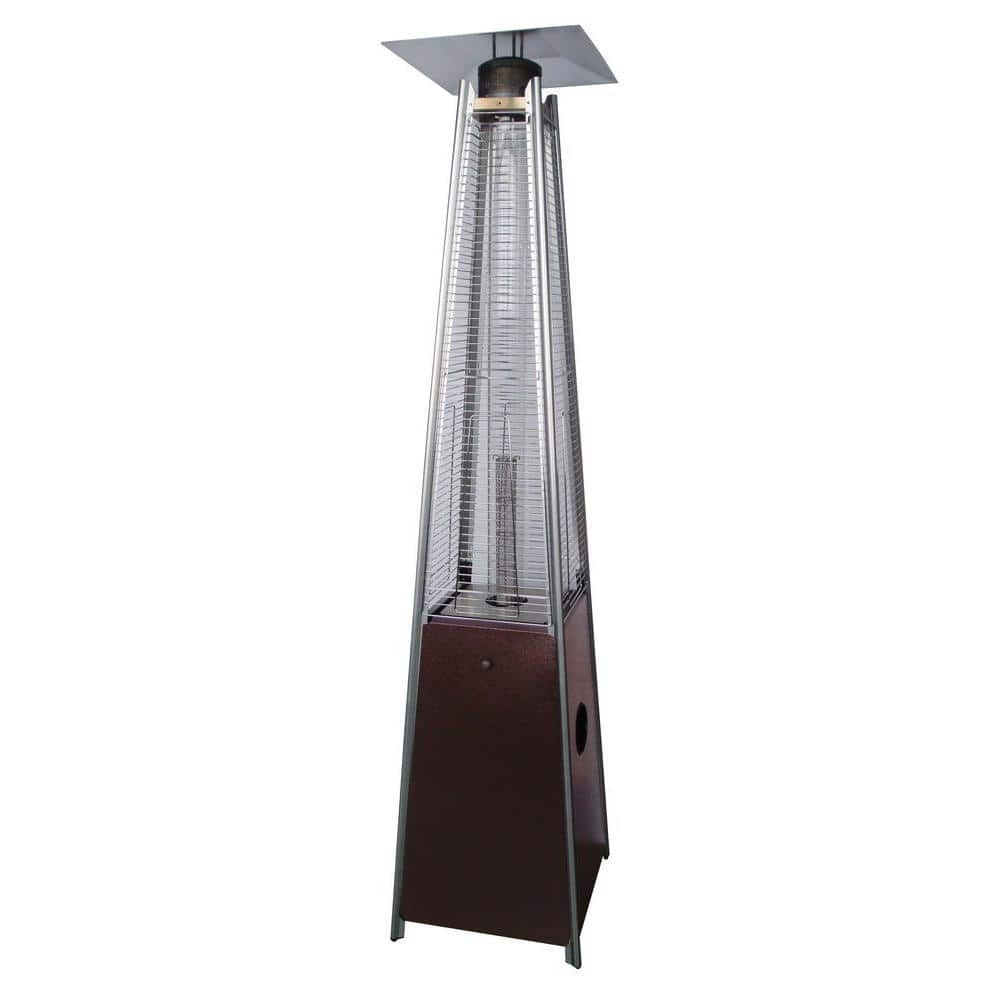 One of the most notable features that make this the best patio heater is that it does not feel hot to touch. As a result, it's a safer alternative, especially when you have children or pets at home.
In addition, it has an aesthetically pleasing design because of its quartz glass tube, making any outdoor space more elegant. Moreover, when tilted, the safety valve automatically shuts the heater off.
Lastly, the wheel attachment makes moving this patio heater around easy, making it a more portable and convenient option.
Highlighted Features:
Generates 40,000 BTUs of heat
Has wheels for easy transfer
Has a glass tube made of quartz
Comes with an access door design
Pros:
Easy to assemble
Made of quality materials
Safe when there are children
Cons:
Much heat moves to the top because of its height
Quality can be better
10.  Tripod Infrared Electric Patio Heater by Heat Storm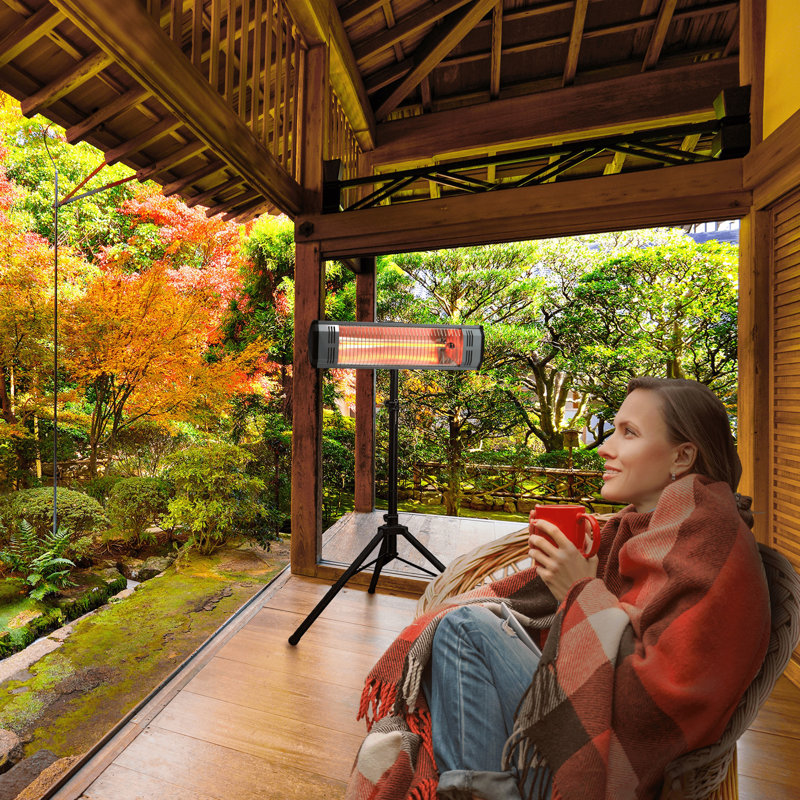 The Heat Storm electric patio heater is ideal for off-site heating because it's incredibly portable. Moreover, it also provides more flexibility for your heating needs. In fact, you can take this heater with you anywhere when you install the tradesman heater on the tripod.
Furthermore, the rubber feet of the unit make it more stabilized. Lastly, because this electric patio heater is made of durable steel, you don't have to worry about its components rusting.
Highlighted Features:
Provides instant heat
Has a tripod design
Has 5,100 BTU
Pros:
Adjustable
Operates silently
Value for money
Cons:
Instructions can be better
The amount of heat produced is limited
11.  Fire Sense Propane Patio Heater – Stainless Steel Pro Series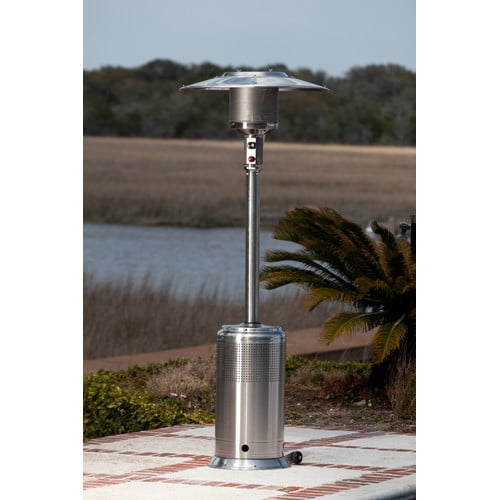 If you're looking for the best propane patio heater, this Stainless Steel Pro Series is professional grade. Although this heater was designed for commercial use, you can still use it in your home.
Something notable about this product is that it is crafted with durability in mind. The gauge is thicker compared to the usual and it has stainless steel and #304 heavy-duty. It's also weather-resistant.
The head has a panel that is easily accessible. In addition, Fire Sense offers a lifetime warranty, which means that you can have damaged parts replaced easily.
Furthermore, this 46,000 BTU heater has an automatic safety shutoff to avoid any accidents. It can also be placed anywhere outside thanks to its in-built wheels.  The weighted base also adds to its security and prevents it from tipping over due to strong winds. The heating lasts up to 10 hours and can be adjusted.
Highlighted Features:
Weather-resistant
Adjustable heat
46,000 BTUs
Stainless steel
Has electronic ignition
Includes an automatic safety shutoff
Anti-tilt
Battery Operated
Weight: 55 lbs
Pros:
Lifetime warranty
Includes a heavy gauge reflector
Has an Automatic Safety Shutoff
Anti-Tilt
Weather-resistant
Portable
Cons:
For outdoor use only
Needs overhead clearance
Assembling can be time-consuming
12.  Fire Sense Telescoping Standing Patio Heater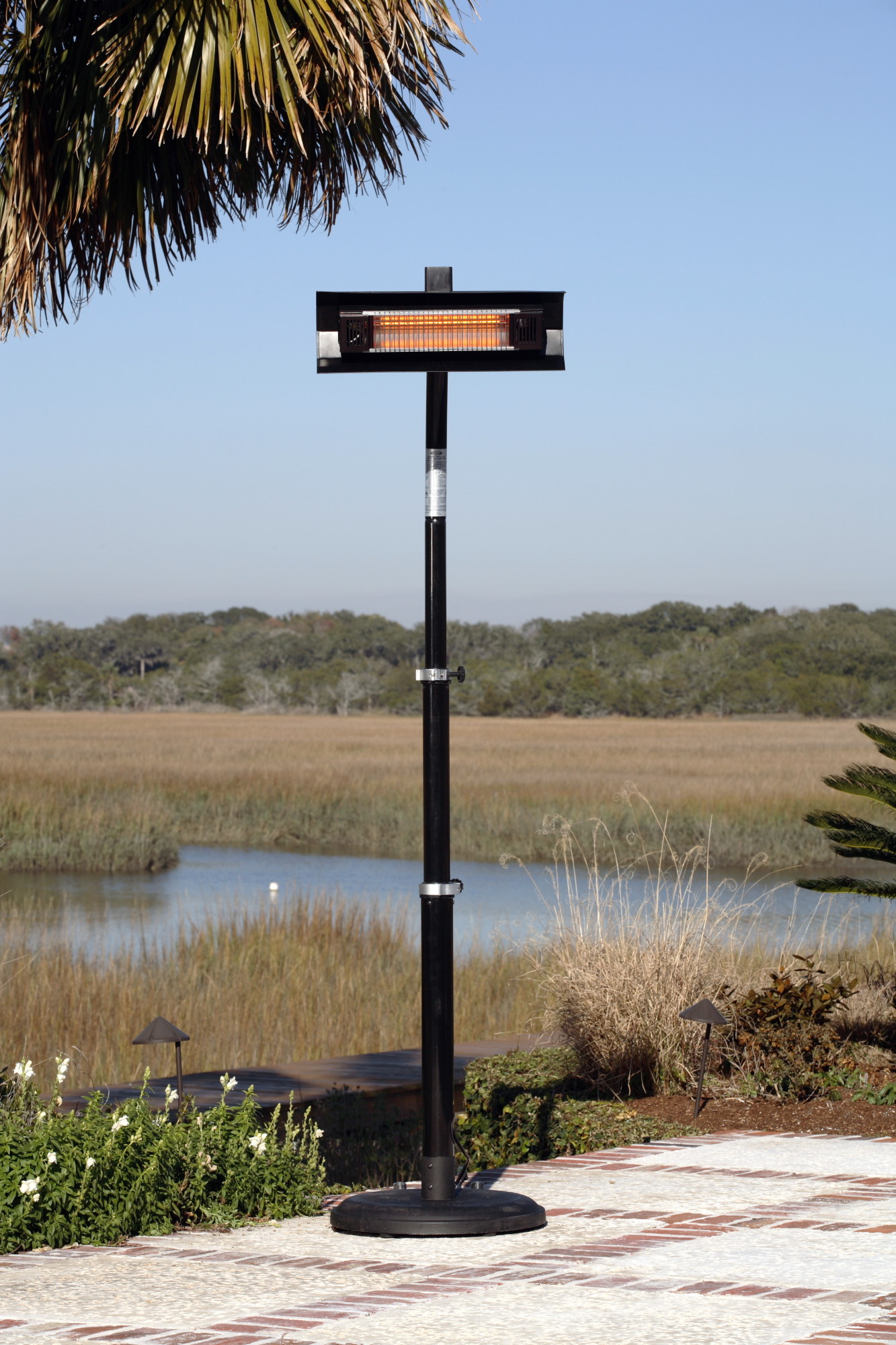 Another versatile patio heater from Fire Sense is this Telescoping Standing Patio Heater. It has built-in wheels to make it mobile and easy to move around.
This 1500-watt electric heater also includes a PVC cover to keep it protected. Nevertheless, you should make sure that it's in a well-protected area since it's not entirely weather-proof. It has a 90% energy conversion and a 9 ft. heating range diameter.
The telescoping patio heater can also be used on a screen porch. It operates silently and doesn't emit UV rays. Plus, the heat can be adjusted. However, you will need a remote control for this, which isn't included.
The base is heavily weighted, so it won't easily tip over. To ensure you get heating safely, this unit is designed with an automatic safety shutoff. This 41,000 BTU heater is stylish and has a black steel finish that makes it look elegant in any household. It has a 1-year warranty.
Highlighted Features:
9 ft. heating range diameter
Has a telescoping offset pole
Infrared heater
Includes wheels
Anti-Tilt
Includes Automatic Safety Shutoff
Pros:
1-year warranty
Portable
Adjustable height
Stylish
Easy to move around
Cons:
Not weather-resistant
Outdoor use only
13.  Fire Sense Electric Ceiling Mounted Patio Heater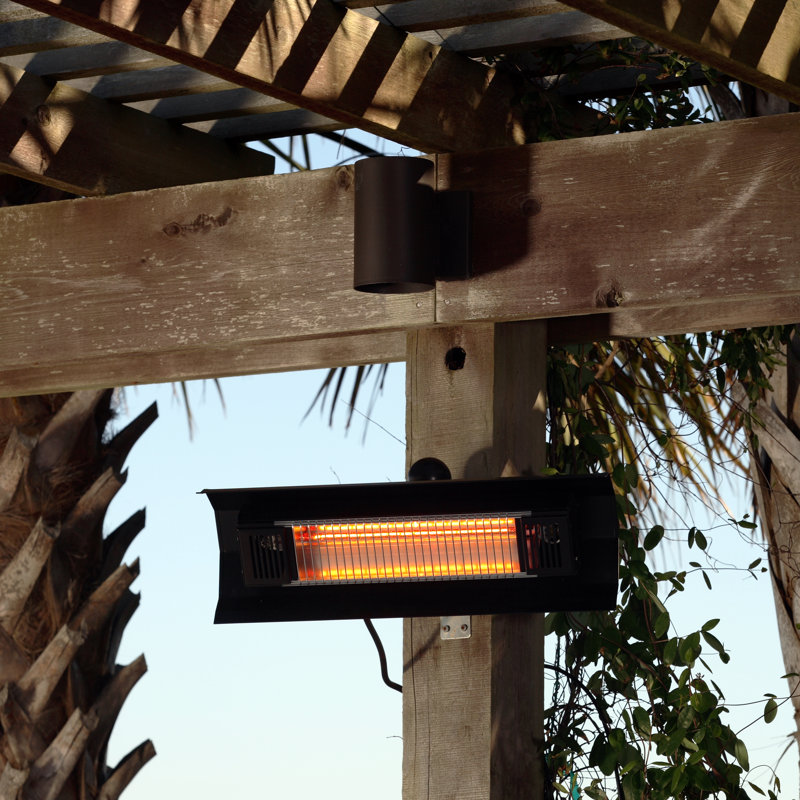 If you're looking for efficiency, this 1500-Watt electric heater may be what you're looking for. This unit operates at 90% efficiency and uses infrared to heat your outdoor space.
Since it uses infrared, it's not as costly as propane patio heaters. It runs on a lower electric current, so you won't need to break the bank to enjoy the outdoors.
Fire Sense's Ceiling Mounted Patio Heater is also flexible. It can be used both indoors and outdoors. Moreover, it comes with a moveable mounting bracket that lets you place it wherever you need it.
Since this heater runs on electricity, the heat won't be blown away by the wind. It's also more convenient since it doesn't have a propane tank that needs to be refilled after a few uses.
However, if you need to cover larger areas, this might not be enough. It's best used for heating enclosed patios or if you need to partially cover an area only.
Highlighted Features
9 ft. heat range diameter
1500 watts
Aluminum with powder-coated finish
Electric
4100 BTU output
1-year warranty
ETL Listed
Weight: 8.8 lbs
48-inch wire plug
Pros:
Adjustable heat
Great for indoor and outdoor use
Electric
Affordable
Energy efficient
Cons:
No remote control
Not weather resistant
Installation is required
Read more: The Ultimate Fire Sense Patio Heater Reviews
14.  Hampton Bay 48000 BTU Stainless Steel Patio Heater Review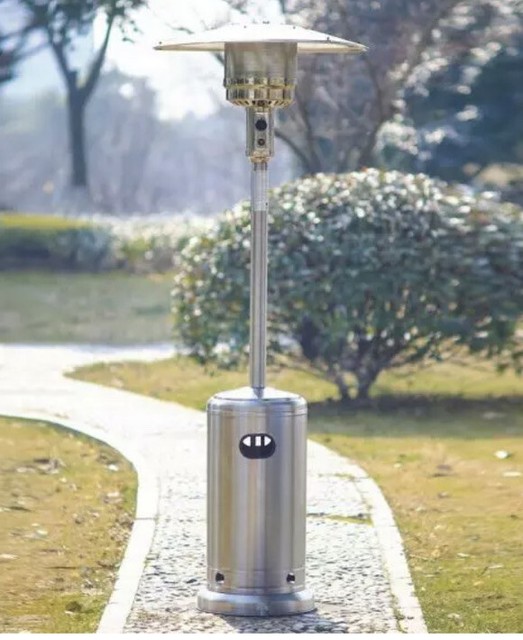 The Hampton Bay Patio Heater is a powerful patio heater at a great price. It can warm up 200 square feet outdoors perfect even for parties. This heater is crafted with a blend of functionality and style, making it perfect for outdoor use.
This heater has been produced by Hampton Bay, which manufactures outdoor products like patio heaters, light fixtures, ceiling fans, and path lights.
Pros of this Hampton Bay Patio Heater
Automatic shut-off to save on gas
Durable steel construction
Easy to setup
Sleek and modern design that will look great outdoor
Quick start with a piezoelectric ignition
Competitively priced
Cons of the Patio Heater
Stainless steel prone to rusting
Omits wheels included for easy transfer in the outdoor area
The height is not adjustable
Tank freezes when propane level gets low
Key Features:
Type: Freestanding
Fuel Type: Propane
Total BTU: 48,000
Heating Area: 200 sq ft
Weight: 33 pounds
Dimension: 87.3" x 32.3" x 32.3"
Highlighted Features and Benefits:
Produces 48,000 British Thermal Unit (BTU)
This patio heater produces 48000 BTU heat that is enough to reach anyone within 8 ft of the patio heater. Since it uses a propane tank same as the one used for grills, the heat is similar to a comfortable bonfire.
With the strong heat it gives off, this model can cover a lot of ground. According to one hampton bay patio heater review, this unit gives off impressive heat even with a lot of people on the terrace.
This function lets you adjust the temperature to the desired level. Plus, it is easy to operate and you can choose to put the heat in low or in high.
Starting this patio heater is very easy thanks to the piezoelectric ignition.
This patio heater from Hampton is designed with a storage compartment that keeps it grounded to prevent it from falling. Plus, you can stake it to keep it in place.
This heater is impressive for heating medium-sized spaces. Some Hampton Bay Patio Heater reviews say it easily rusts so you need to invest in a cover to extend its life. This will great if you have a shaded area to store your heater after use.
Verdict
The Hampton Bay 48,000 Patio Heater is a good buy because of its durable stainless steel construction. I also like that it comes with an adjustable heat control setting for easy customization.
Who Is It For?
Hampton Bay Patio Heater may be the best propane patio heater if you have an outdoor space like a terrace or pool deck in your home and want to make it more entertaining. This heater produces a large heater reflector that offers the right temperature for evening relaxation.
It is also perfect for get-togethers since it produces enough heat to warm everyone. Since it can only comfortably heat up to 200 sq. ft, I recommend getting another one if you have a larger area.
Hampton Bay 48,000 BTU Stainless Steel Patio Heater Assembly
Read more: The Ultimate Hampton Bay Patio Heater Reviews
15.  Propane Patio Heater by Garden Radiance 34,000 BTU
This is a beautiful heater with crisp, modern lines that adds a touch of class to your patio area. Its pyramid construction allows for heat to be given off along the heater's entire length, and not only at the top.
The best features of this product include:
A four-foot tall ceramic glass tube conducts heat for up to fifteen feet
It has a solid, seamless, stainless steel construction with a front door that conceals the temperature controls
The heater features a solid statepush-button igniter and a 20lb propane tank that gives up to 10 hours' worth of heat when used at the highest setting
It has a 34,000 BTUs variable control
The product is propane-fueled
16.  Tall 48,000 BTU Propane Patio Heater by AZ Patio Heaters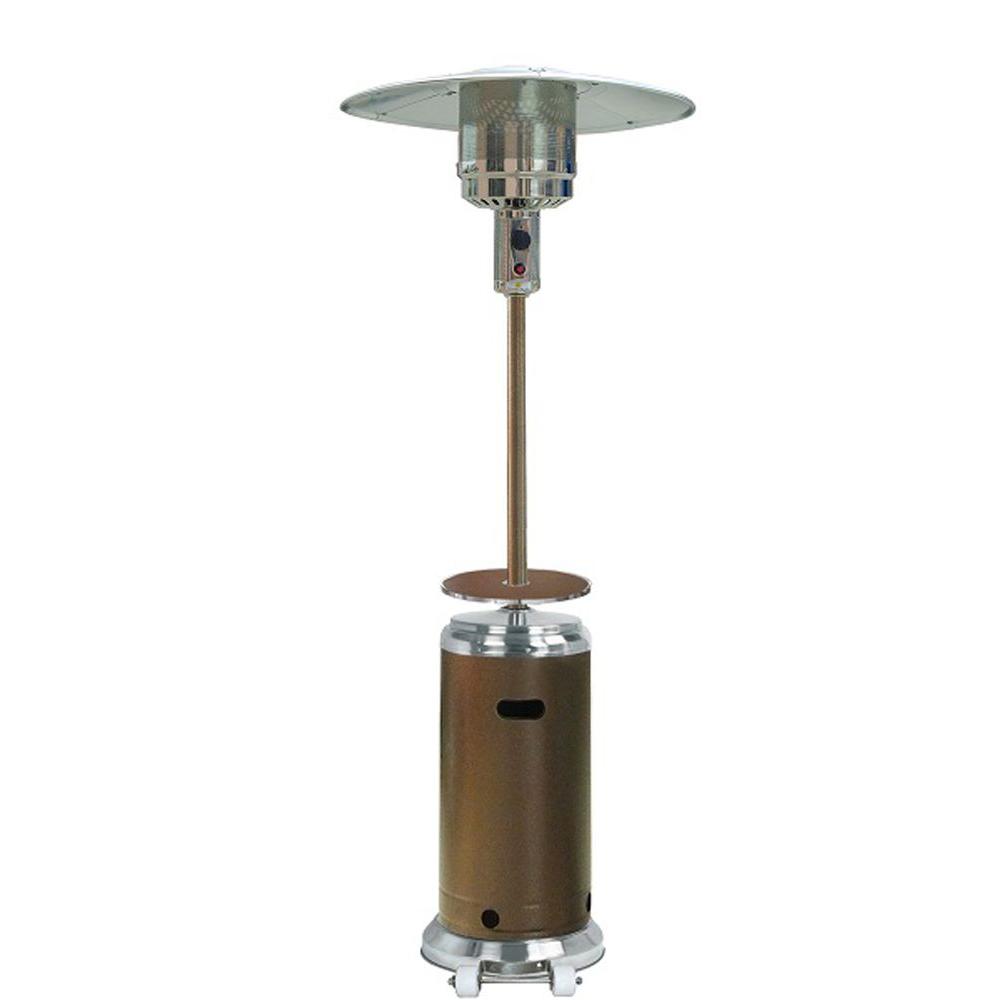 Wheels allow you to move around this tall patio heater with no help. It is a great addition to a patio or deck during colder days or nights.
The best features of this product include:
This portable heater has an access door design that opens when the tank needs changing
It has a propane heat source with a 48,000 BTU output
This product heats up an area of approximately twelve feet
A safety shut off is included in the design
17.  Natural Gas Patio Heater by Garden Radiance 41,000 BTU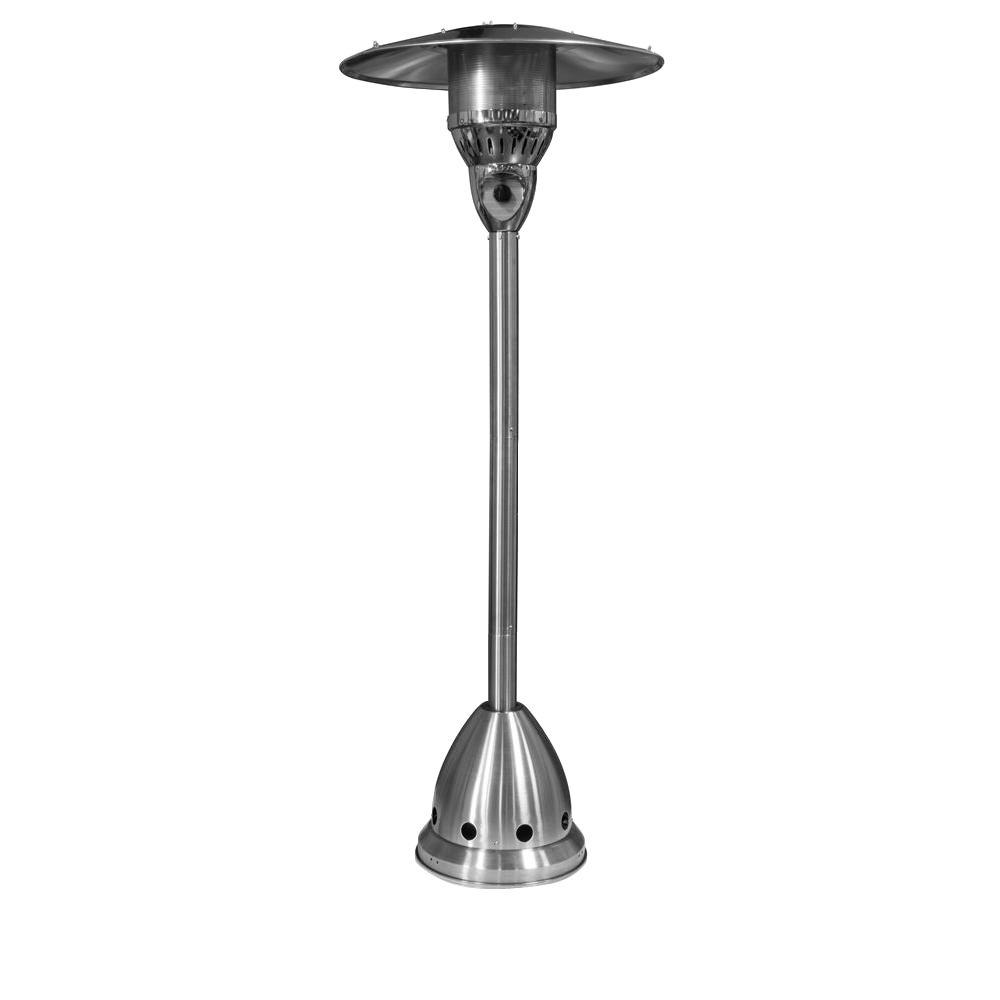 When style is of the essence and comfort a premium concern, this elegant heater certainly finds itself as a contender for 'best patio heater'.
The best features of this product include:
Sand or water can be used to fill the weight bladder in order to stabilize the heater
The variable-heat control know allows you to choose your preferred heat settings
The product features an anti-tilt shut off mechanism for added safety
The heater is constructed from stainless steel, brass, and aluminum, while an steel lined, vinyl wrapped hose set with brass couplers and mounting brackets are included in case of a permanent installation
This patio heater may withstand relatively high wind velocities
18.  Hanging Infrared 1500 Watt Electric Hanging Patio Heater by EnerG+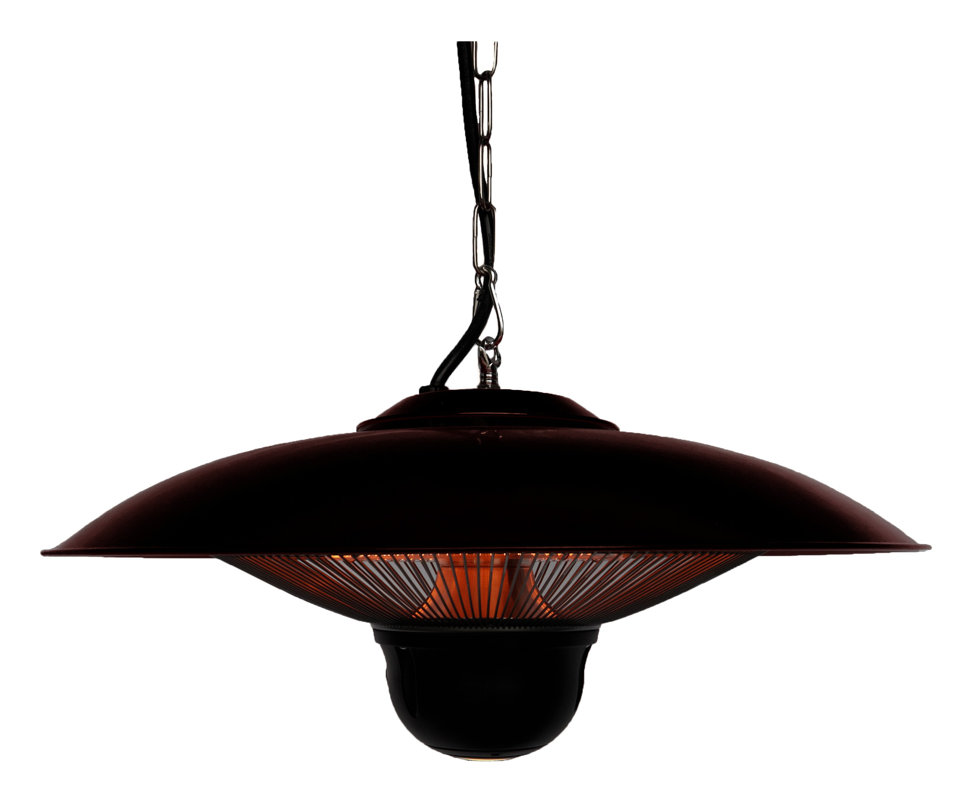 If you are looking for an infrared patio heater that takes up no space, this product may be ideal. The hanging outdoor infrared heater is a study in versatility and safely tucked out of the way because it hangs. It is ideal not only for a covered patio, but gazebos, balconies, garages, and workshops as well.
The best features of this product include:
It has LED lights that create ambiance
It is environmentally friendly and emits no harmful gasses
The product has three different heating levels to choose from
The three infrared lamps are each individually activat4ed
The carbon filament lamp has a 5,000-hour long life expectancy
The product is portable and needs an electric power source
19.  1500 Watt Electric Patio Heater by EnerG+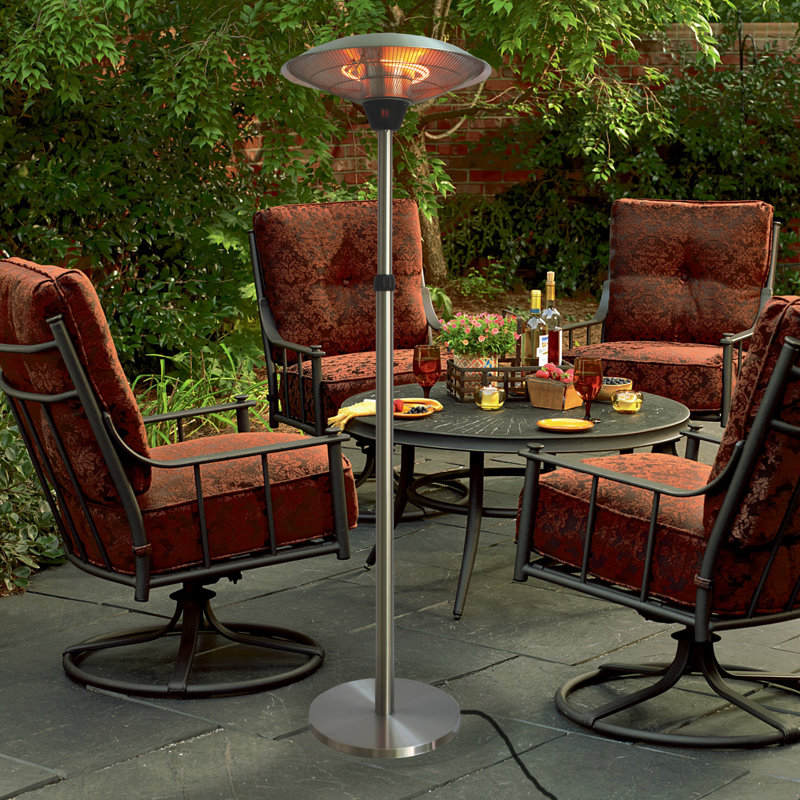 Economy and practicality are combined aspects of the 1500 Watt Electric Patio Heater by EnerG+, characteristics that put it up as a contender as the best electric patio header title.
The best features of this patio heater include:
The product has very low operating costs
Besides being an efficient infrared heater, this unit uses any standard ac wall outlet
The height of the heater is easily adjusted
The two heating elements combine either 700-800 Watts or 1500 Watts, depending on whether they are both used simultaneously or not
The individual bulbs each last approximately 5,000 hours
The product has a 5100 BTU output
20.  Lamarr 46,000 BTU Propane Patio Heater by Mercury Row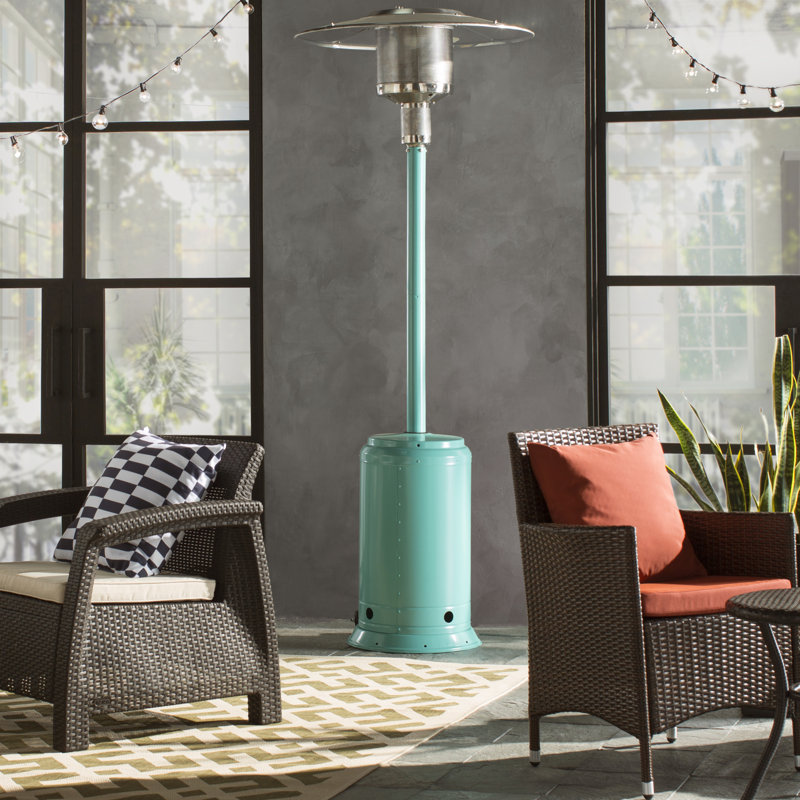 The powder coating on the steel-constructed standing patio heater not only looks good but makes it rust resistant and easy to clean.
The best features of this product include:
This is a commercial grade standing patio heater
It has an easy to clean powder coat finish
It has a propane heat source and has a 46,000 BTU output
The product has a 20-pound fuel capacity and a heating range up to 18 feet
It has an anti-tilt safety device and a safety shut off switch
The product is portable as it is on wheels
You can adjust the heat according to your personal preference
21.  Golden Flame 46,000 BTU Propane Patio Heater with Wheels
The Golden Flame Patio Heater is a standard stainless steel commercial patio heater with a wheel attachment for easy movability.
The best features of this product include:
Made of durable stainless steel
The attached wheels make the heater easy to move around as and where needed
It is fueled by propane gas
Currently unavailable.
22.  Belleze 48,000BTU Premium Patio Heater, Propane
A natural gas patio heater that incorporates a wonderful safety mechanism, theBelleze 48,000BTU Premium Patio Heater, when tilted at a 30° angle, completely shuts down the gas flow. This ensures no inadvertent fires.
The best features of this patio heater include:
The wheels added to the frame of the heater makes it easier to position the heater exactly where you need it
The patio heater sports a safety tile shut off valve for added safety
You can control your heat settings by means of the adjustable heat control knob
The sturdy steel construction allows this heater to withstand the onslaught of both harsh sun and salty sea air
The weight bladder can be fiddled with either water or sand to ensure stabilization
Available in four colors: hammer bronze, hammer black, stainless steel, and mocha
Uses propane gas as a power source
Currently unavailable.
Why You Should Consider An Outdoor Patio Heater
Your patio tends to become an extended area of your home, with many of us seeing them as a part of our lifestyle. Yet, come the cooler months, we tend to stay away from this outside space simply because it gets too cold to make use of it. The perfect solution to extend its use during the colder months is by means of a patio heater. And here is why:
Your Time Outdoors is Extended
As Americans, we tend to love outdoor activities. Entertaining by means of a BBQ is no exception to this rule, and the place we mostly do this is on the patio. But our time entertaining outside is usually brought up short when fall sets in, with chilly evenings sending us scuttling indoors. Heating this outdoor 'room' of your home with an outdoor heater, however, extends your entertaining abilities by a couple of months, and in some cases, to a year-round activity.
Most manufacturers of outdoor heaters are known to strictly take note of safety standards. These heaters do not produce open flames, while their bases are known to be cool to the touch. This means both pets and children are, strictly speaking, safe around them. Many of these heaters also have a cut off switch, as well as a weight bladder that can be filled with either water or sand. This means they are quite weighty and not easy to accidentally push over. Some styles can even hang out of the way.
Many Styles to Choose From
When it comes to style, there are very many to choose from. Plus, these heaters are not necessarily standing, movable fixtures – many of these can hang. And when it comes to the heat source, you get the option of choosing from varieties that work from either gas or electric.
Few luxuries are really affordable to the average Mr. Joe Citizen. But when it comes to outdoor heaters, they are, generally speaking, affordable luxury, meeting your heating requirements at a cost to pocket that works out great.
Many patio heaters of the standing variety have wheels attached, making them very easy to move around to where you want them. They can also be safely placed in the garage or the shed for when they are not in use. Those working with gas and that have no wheels attached are also relatively easy to move once the gas attachment is disconnected.
Patio Heater Safety Tips
No matter how fancy and lavish your patio heaters are if safer is compromise, then it is a waste. Safety should be on top of priority, and we fully understand its importance.
That is why we will share some tips on how to maximize these of your patio heater sans the dangers and accidents.
Never use your patio heaters indoors! The patio heaters are designed to be used outdoors like in patios. For your safety follow this instruction to avoid fire damage and accidents. This is particularly true with the freestanding type since it provides really strong heat.
Keep flammable materials away. Curtains, pillows, and table cloth can easily catch fire. Although patio heaters are usually made with tempered glass to contain its flame inside. Fire accidents can still happen when the emitter screen and dome of the heater gets too hot.
Avoid putting on grass. As mentioned, patio heaters are meant to be placed on flat and solid surface. The surface must be stable to avoid tipping. Remember, the outdoor heaters are usually powered by fuel, so when they tip over, the heater may perform poorly or cause accidents.
Activate the Tilt-Switch. This is a feature that experts recommend that all patio heaters should have This safety feature serves as an automatic shut-off valve that turns off the heater when it is tipped over or gets knocked down.
Keep propane patio heaters six feet away from the source of heat. Propane is a liquefied gas, so they are pretty dangerous when put near heat. Unless, your propane gas is put in space with heat protection, better keep it away from heat source.
Do an electric outdoor heater and one using natural gas give off the same amount of heat?
The answer is not as simple as a 'yes' or a 'no'. Both those working off electricity and natural gas have different heat outages, depending on their design. So some could give off the same amount of heat, and others not. It is best to decide on the type of outdoor heater you are looking for and then decide on the heat outage your think is best for your needs.
How long can a propane tank last when used on a patio heater? 
Many patio heaters generate about 40,000 BTUs every hour. This means that a 20-lb propane tank can give more than 10 hours of heat when the highest setting is used.
How can I manually light my patio heater?
The first thing you have to do to light a patio heater manually is to twist the control knob to the pilot position. Therefore, you have to twist it counterclockwise at about 45 degrees. You can refer to the instruction manual of your patio heater in case you encounter any trouble.
After moving the knob to the pilot position, this is the time you light your patio heater. You can do this using any lighter you have on hand. The safest to use is a candle lighter because you prevent burning your fingers. You should see a match lighting opening and then insert the candle lighter there. Your patio heater should begin to warm up once the candle lighter is inside the opening.
Using the control knob, you can now set how intense the heat will be coming from your patio heater. You can twist the knob on the highest or middle setting, depending on the amount of heat you want.
How can I clean a pilot tube on my patio heater?
You can use steel wool or any sponge with abrasive to rub the thermocouple gently. You rub until you remove the soot from the thermocouple. Using a pencil eraser, you can clean between the threads of the thermocouple attaching screw and attach it again to the pilot tube after you finish cleaning.
How does an IR (infrared) patio heater operate?
Many people opt for electric infrared patio heaters because they are a great substitute for gas heaters. IR patio heaters use an infrared bulb to generate heat using the glow inside the bulb. Because this kind of heater does not affect the air, the wind does not affect it. They are also more affordable compared to gas heaters in terms of how they operate.
What is the cost of operating a gas patio heater?
An outdoor gas patio heater that works on liquid propane can have an average cost of $1.60 every hour to operate. The basis for this is a 50,000 BTU rating. It is also based on how an outdoor gas heater operates and the average price to fill a propane cylinder. The cost is around $16 to load a regular 20-lb cylinder. When used in an outdoor gas heater, a regular 20-lb propane cylinder can last for around 10 hours.
Natural patio heaters are less inexpensive to operate than propane patio heaters because there are no direct fuel expenses. An outdoor gas patio heater that works on natural gas can have an average cost of $.476 every hour to operate.
Should I get a gas or electric patio heater?
There are no indoor or outdoor heaters that are 100% environmentally friendly and safe. The electricity that goes around your home can affect the environment in some way. Nevertheless, when it comes to a better patio heater option, it is an electric patio heater. That is because it is more affordable, efficient, and user-friendly. It is also more environmentally friendly because it generates less COs emission compared to gas patio heaters.
Do patio heaters consume a lot of electricity?
For electric patio heaters, they can consume a lot of fuel when they are left running. The heat loss from using fuel is the difference in temperature between the area you are trying to warm up and outdoors. Therefore, there is too much use of fuel from your electric patio heater because it has to keep up with the continuous loss of heat, making them more costly.
Is it okay to use my patio heater when it is windy?
It is highly recommended not to use a patio heater if the wind goes over 10 miles every hour. That is because open patio heaters can be taken away when there are high winds. Moreover, they perform less when used on windy days.
Is it okay to leave my patio out in the rain or snow? 
Even though patio heaters are meant to be used outdoors, leaving them open to different elements such as rain or snow can quickly deteriorate the parts and the finish in the long run.
Can I place my patio heater under a gazebo?
It is safe to place your patio heater under a gazebo and other identical structures such as a canopy. Nevertheless, you have to keep in mind to place it away from ceilings and walls to be safe. That is why a free-standing heater is a better option.
Is it okay to use my gas patio heater inside?
Natural gas and propane patio heaters are only meant to be used outdoors. Suppose there is enough clearance given between people, animals, or flammable items and the heater. In that case, electric patio heaters can be used indoors.
What are the types of gas patio heaters available?
Outdoor gas patio heaters are units that utilize liquid propane and natural gas to provide heat outdoors. Gas patio heaters are units that utilize liquid propane. These are available in various units such as tabletop, standing, portable, wall and ceiling mount, and hanging. Gas patio heaters that utilize natural gas are available in hanging walls, ceilings, and standing units.
Is it okay if I leave my gas patio heater in the rain?
You might be under the impression that gas patio heaters can withstand different weather conditions since they are outdoor products. Nevertheless, leaving them out in the run can damage their functioning parts and coating.
How are natural gas and propane patio heaters different from each other?
A natural gas patio heater needs to connect to a gas line. You can use them continuously without the need to refill fuel cylinders. However, you cannot easily transport them. On the other hand, a propane gas patio heater easily connects to a regular 20-lb liquid propane cylinder to operate. Once this cylinder becomes empty, you need to replace it. Unlike natural gas patio heaters, propane patio heaters are easy to move and carry.
Conclusion
Patio heaters have, without a doubt, besides a patio umbrella and a few patio sofas, become a homeowner's best friend, especially when it comes to extending your quality of life outside during the colder months of the year. Choosing the best patio heater for your buck, however, depends on your personal preference. Nobody can choose it for you. There are too many variables. We, however, are opting for the Fire Sense Propane Patio Heater – Stainless Steel Pro Series. We love the clean, modern crisp lines of this heater.