Some people are not able to enjoy their outdoor living area due to the lack of shade. A great and cost-efficient answer to this is to install a pergola in your backyard. Yet, with plenty of choices out there, choosing the best one can be difficult. But, worry not, we have shortlisted some of the best pergola options in the market to make buying easier for you. Here are they
10 of the Best Pergolas on the Market
1.  Wirksworth Metal Pergola with Canopy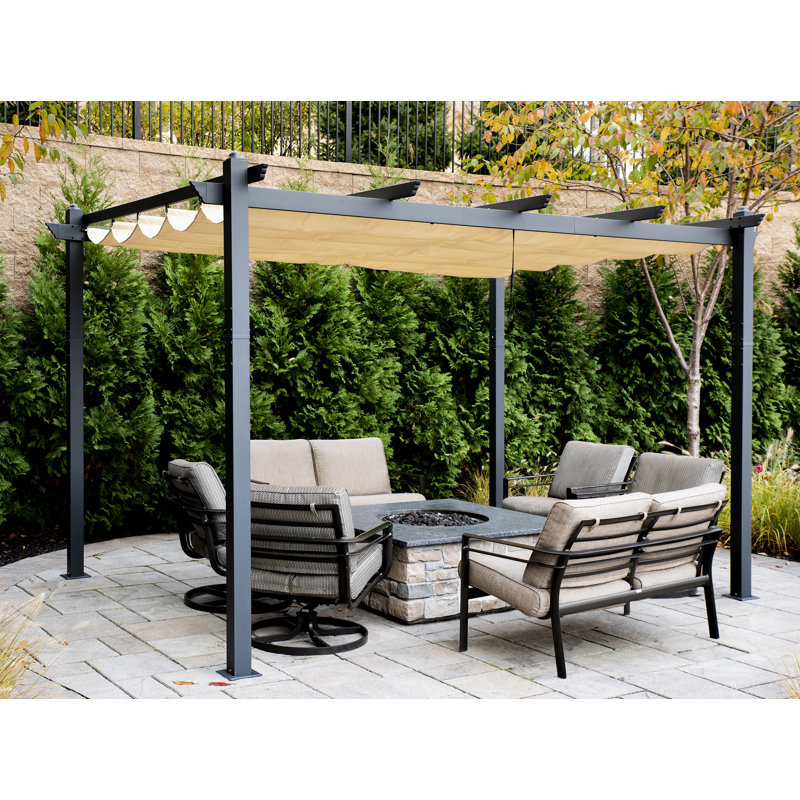 The Wirksworth metal pergola has a modern design and sun shield. It includes a polyester shade, which is what provides UV protection. Besides, you can adjust the shade to your preference. You have full control over your comfort and how much sun you want.
Aside from that, this pergola is 13 ft. full and 7 ft long. It can provide shade for a banquet table or a couple of lounge chairs without any problems.
Also, it is made out of durable metal material. The metal post is colored in dark grey while the canopy is neutral beige. This makes it easy to match with pre-existing backyard chairs and tables.
The installation process of this pergola is very easy. All you will need are its anchors and poles. Once you have established the base and the anchors are put in, the pergola is now ready to use. It can withstand winds as strong as 40 miles per hour if it is installed correctly.
Does not provide rain cover
The paint on the metal poles flakes off over time.
2.  Naples Metal Pergola with Canopy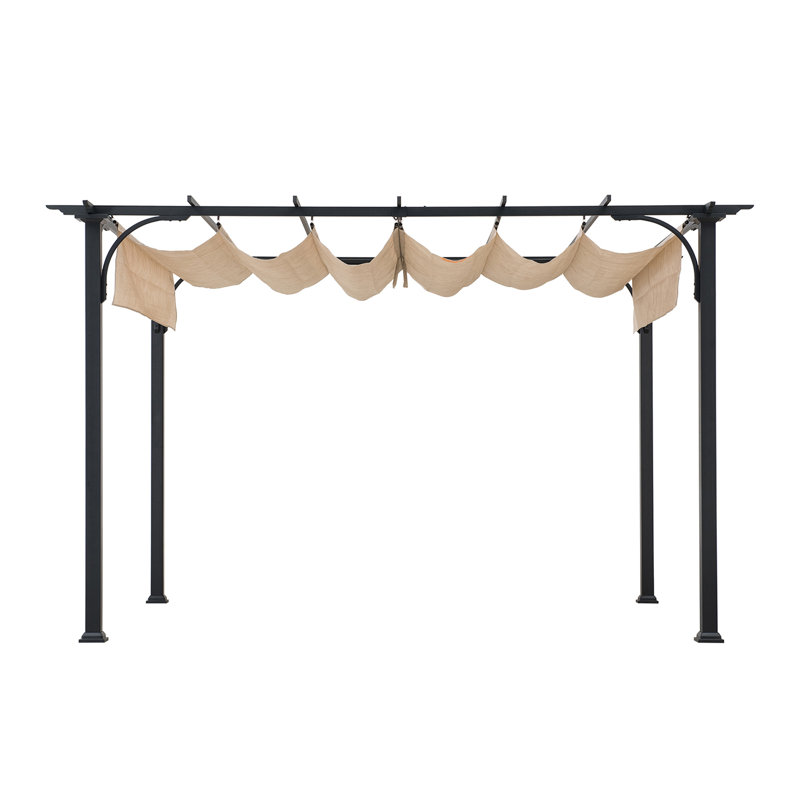 The Naples metal pergola is another option for budget-conscious individuals. This pergola is around 7 ft long and 10 ft wide. That size allows 2 to 3 lounge chairs to have generous shade thanks to this pergola's canopy. Furthermore, you can adjust how much shade you want because the canopy is fully adjustable.
The frame of this pergola is mainly made out of steel. Steel is a durable material, especially for outdoor spaces, as it does not quickly rust or decay. It has a black sesame finish with powder coating to make it weather-resistant.
Aside from that, the canopy fabric is made out of polyester. It is a durable cloth and it is easy to clean as well. It is beige, so it looks relaxing to the eyes.
Low-profile
Durable
Low-priced
The installation manual could be better.
3.  Moderna Aluminum Pergola
The Mordena is a sleek and simple pergola, yet it has a degree of sophistication that would alleviate the overall design aesthetic of a space. You can put it next to a hot tub or pool. You can put on its full shade during the day and retract it at night for stargazing thanks to its convertible top back.
Another notable feature of this pergola is its aluminum frame. Although it looks like a dark color wood, it is made out of aluminum. Aluminum is lightweight, and it has weather defense, which makes this pergola usable all year round.
Aside from that, this pergola is available in 3 different size options. It can easily be considered as one of the best pergola kits out there.
Modern design
Wood-like frame
Adjustable canopy
It is a hurdle to assemble.
4.  Cedar Solid Wood Pergola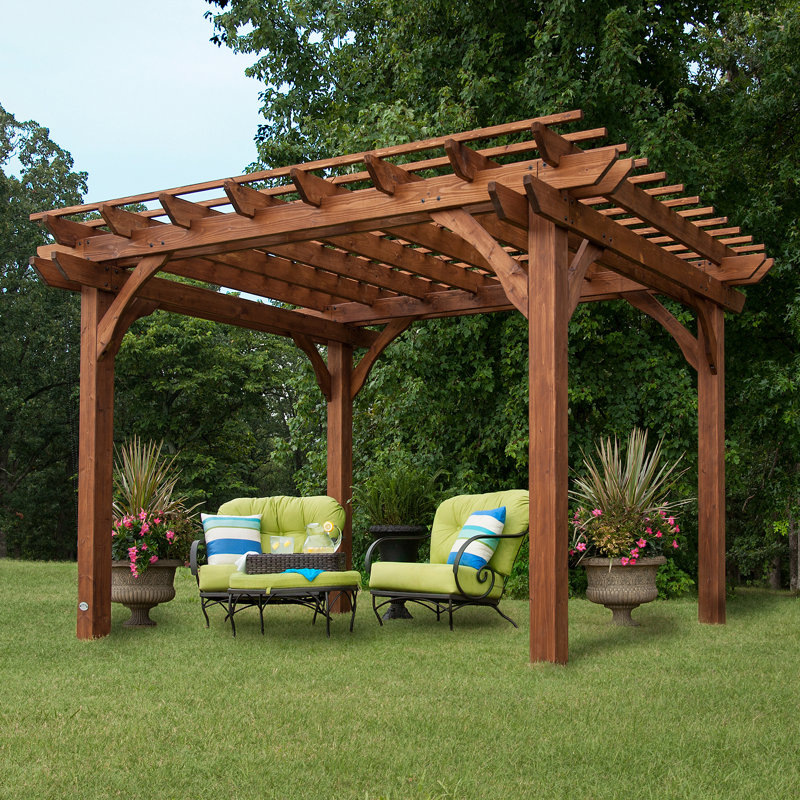 If you are looking for a solid wood pergola to match your backyard theme, then you might want to consider this one. It is made out of cedarwood, so the frame is sturdy, and it has a natural redwood hue. But, it does not have a canopy unlike other pergolas, but you can put vine plants for more natural shade.
This pergola can cover an area of 63 sq ft, which will allow you to have that much shade when you put vine plants on its roof. It is 10ft by 12 ft in size, so it looks airy and roomy.
Upon purchase, you will also get the anchors, mounting kit, and brackets. The installation process is fairly easy to follow. You can do it on your own without expert help. But, you might want to ask some friend's assistance for the heavy lifting because the solid cedar wood can be dense.
Natural wood finish
Spacious and tall
Sturdy
Durable
Easy to assemble
Some pre-drilled holes do not line up.
5.  Suncast Solid Wood Pergola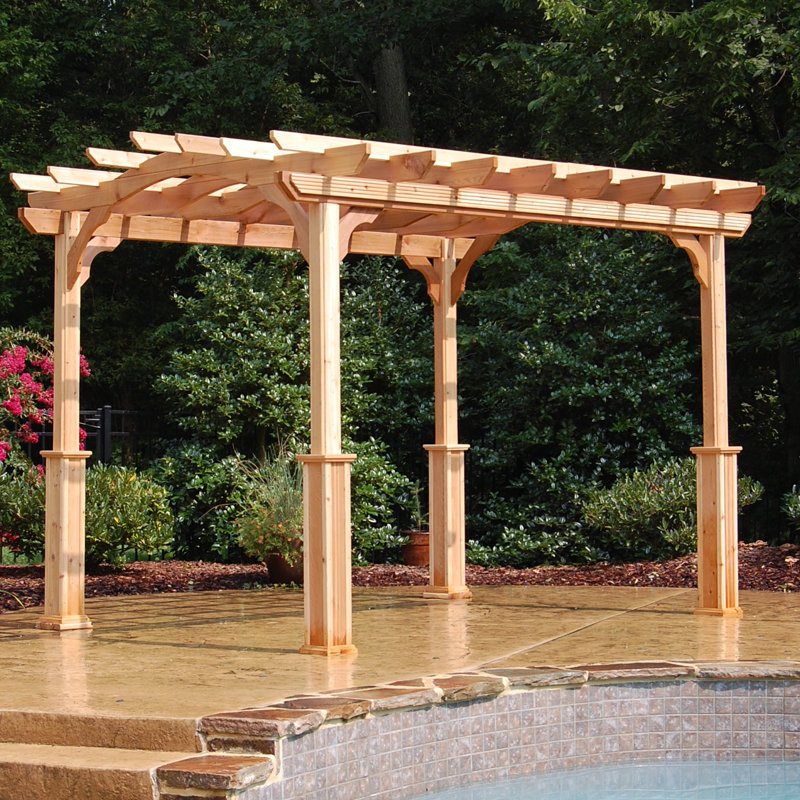 Here's another solid wood pergola. This one is made out of natural white cedarwood. Its design can complement almost any pre-existing garden or backyard setting because the frame has a natural wood finish.
When you buy this pergola, you will receive all the tools and parts needed for the installation. You have the choice to have it done by an expert or by yourself. If you do decide to do it on your own, the manual is very helpful and detailed, so you will not face a lot of difficulties. You can install this pergola in cement, concrete, wood, and lawn surfaces.
Fit for vine plants
Durable frame
Natural wood finish
Does not provide rain cover
6.  10 Feet by 12 Feet Solid Wood Pergola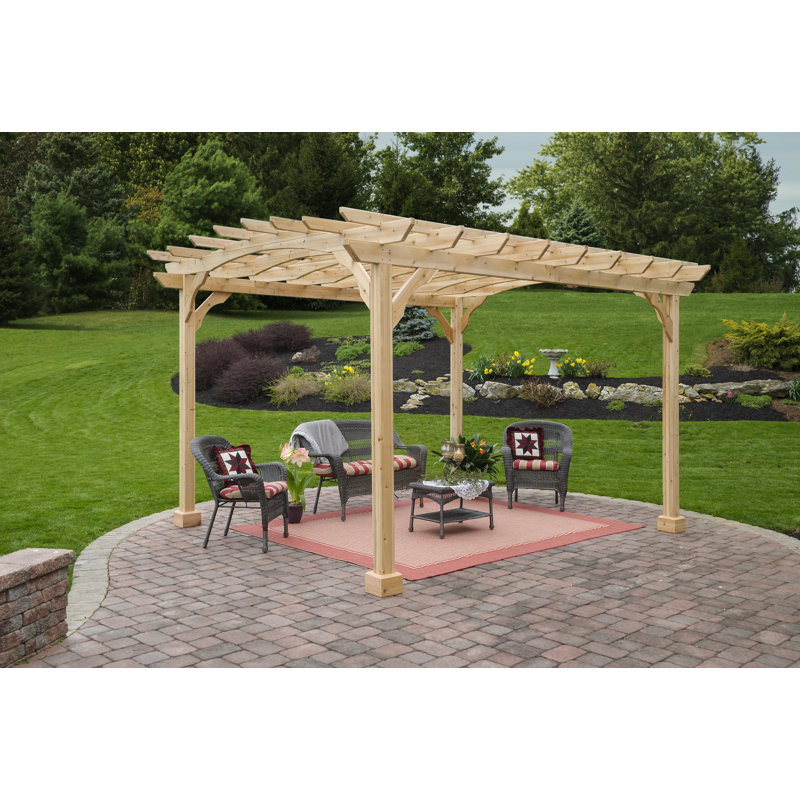 This solid boxy pergola is 20 feet by 10 feet. You can place it on the side of a swimming pool or a hot tub. It does not have a built-in canopy, but you can put natural vine plants to act as a shade. By using vine plants, this pergola will look more like a natural addition to the garden or backyard design.
A feature of this pergola that makes it unique is its half-moon vinyl brace. Its structural stability gives the frame resistance against wind and other outdoor factors. It also enables the roof to be sturdy enough to hold natural vine plants.
Reasonably priced
Three color
Easy to install
The color of the finish differs from the picture.
7.  Verona Metal Pergola with Canopy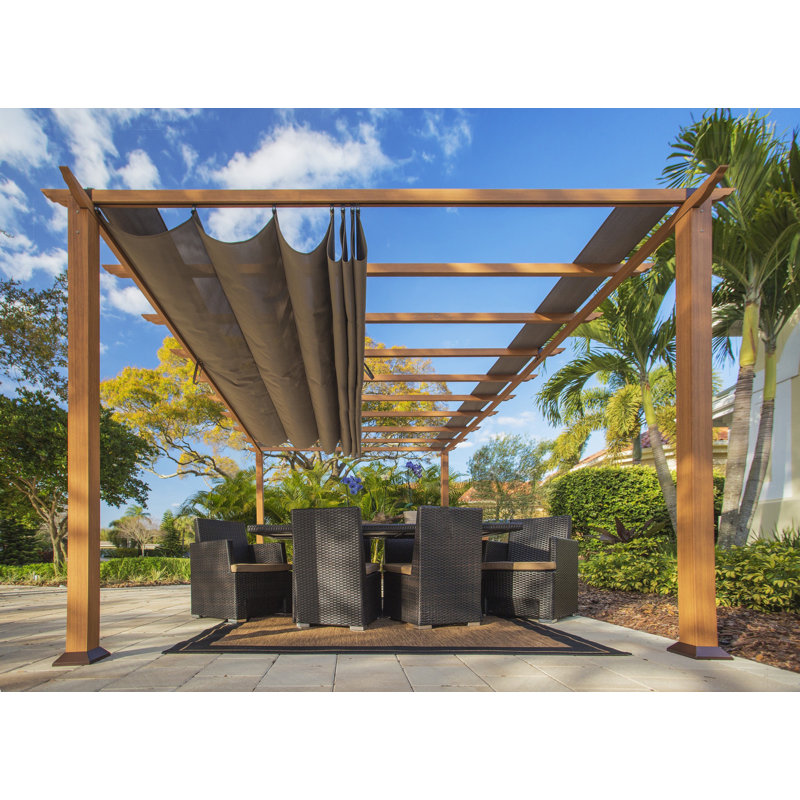 The Verona pergola has an aluminum frame, which makes it look sleek and simple. The frame is coated with a rust-free and maintenance-free product to make it last longer without the hassle of cleaning it always.
Aside from that, it comes with a canopy for added privacy and sun shield. It has a convertible top back, which allows you to adjust the shade depending on your preference. These features will allow you to enjoy your garden or backyard comfortably even though the sun is high up.
This pergola can be installed on lawn, cement, or concrete surfaces. All the bolts and ground stakes needed are already included in the purchase of this product.
Easy care
Fairly priced
Modern design
The installation can be a challenge.
8.  Regency Vinyl Pergola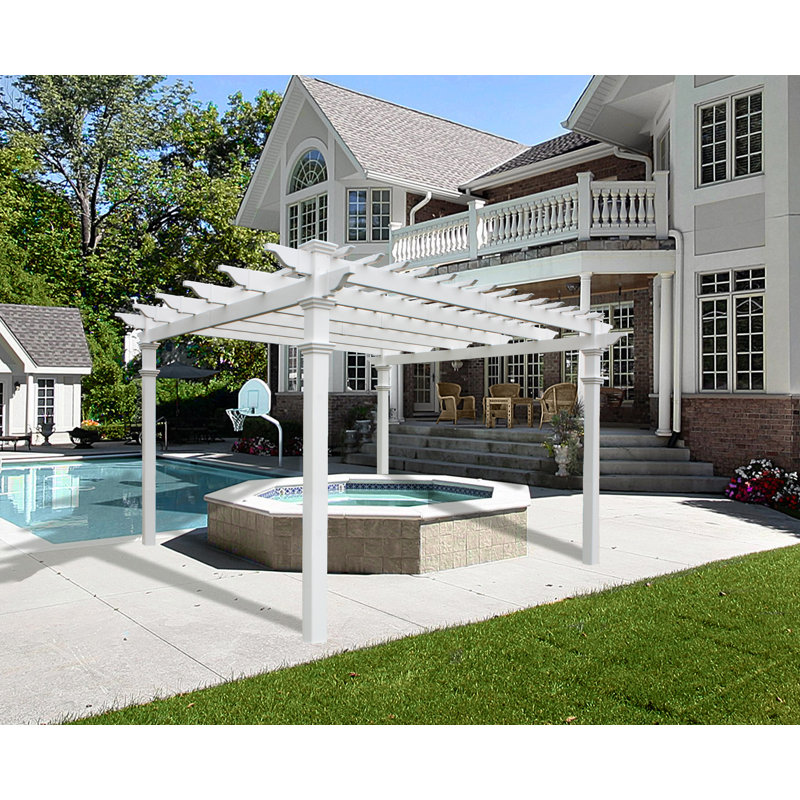 This particular pergola will go well over a hot tub or on a deck. It is 12 feet by 12 feet in dimension, which allows it to cover plenty of space underneath. It is plant-compatible so you can put real vine plants over the roof, and they will grow beautifully and act as a rustic shade.
A notable feature of this pergola is its vinyl frame. Vinyl is a sturdy material, and it does not require plenty of maintenance. It is also water-resistant so that it can last for plenty of years despite harsh outdoor conditions.
Hassle-free installation
Weather-resistant frame
Good size
9.  Wallsend Vinyl Pergola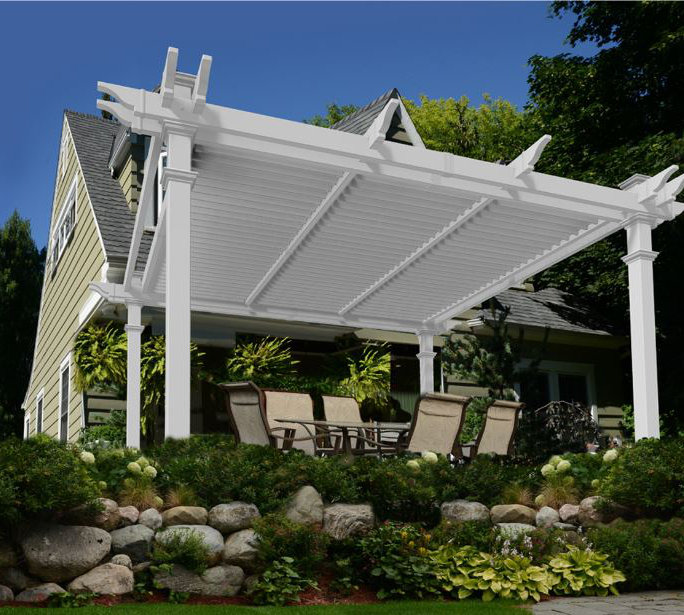 The Wallsend vinyl pergola has a simple yet sophisticated design. It has an all-white finish with a louver system. This system allows you to control the sunshade in the absence of a cover.
Its vinyl frame has a weather-resistant coating, which protects it from rust and other outdoor factors. The maintenance of this material is straightforward. You can simply hose it down with water, and it is good to go.
Also, the beam support and the rafter of this pergola is pressure treated which makes it even more durable.
Lightweight but durable
It has a sunshade
Low-maintenance
On the more pricey side of the price point
10.  Breeze Solid Wood Pergola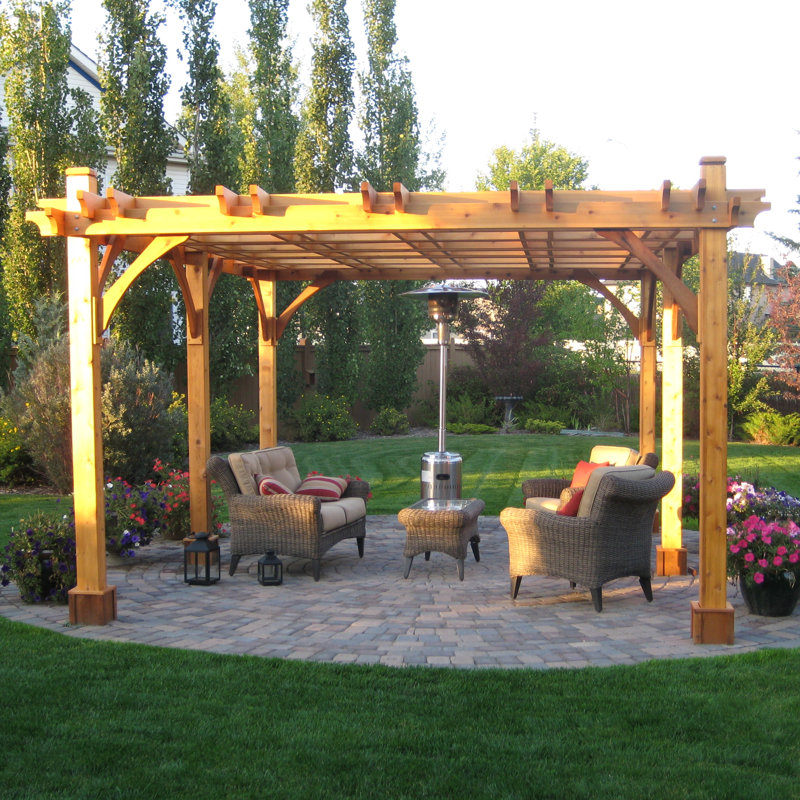 The most notable feature of the Breeze solid wood pergola is its material. It is made out of western red Cedar. It is a premium type of wood that is naturally ideal for outdoor structures. It is resistant to water damage and decay. Furthermore, it has a beautiful wood grain pattern and redwood finish that will look great in any backyard or garden.
Aside from that, the installation process of this pergola is easy thanks to its detailed instruction manual. Its installation is freestanding anchored, and it can be placed in lawns or cement.
High-quality wood
Beautiful finish
Easy maintenance
The frame is quite heavy.
What to Look Out for in Choosing a Pergola
Here are some factors you have to consider when choosing the best pergola:
Material
The frame and canopy material is vital in determining whether the product is one of the best pergolas. If the product has a canopy, make sure that it is made out of polyester or vinyl fabrics. These types of fabrics have weather resistance. They do not easily fade in color and do not develop holes.
In terms of frames, most pergolas either have wood, aluminum, or vinyl frames. When selecting a wood-framed pergola, the first thing that you have to consider is the type of wood. Woods such as cedar have weather resistance, but it is also a good practice to check if it has been treated for outdoor use.
Aluminum and vinyl frames are good choices also if you prefer a more modern-looking design pergola. Their beams are not as thick as wood frames, but they can equally be just as durable. But, make sure that the aluminum and vinyl frames that you are choosing have an anti-rust coating.
Size and Shape
Pergola comes with different sizes, but they are usually in either boxy or square shape. When choosing the best pergola for you, you must first consider the area where you are planning to install it. If it is an open space area, going for a 10 feet long pergola is a good option for you. But, if there are overhead obstructions, going for a low profile choice is a good idea.
With or Without Canopy
Another thing to consider when choosing your pergola is whether you want it to have a canopy or not. Having a canopy is an advantage if you live in a sunny city. But, during the winter season, the canopy can gather snow, which may lead to it having some holes after the season.
But, if you opt for a pergola without a canopy, you cannot lose the shade control feature. But, you can replace that by growing some vine plants overhead. Doing this will make your pergola look like a natural addition in your garden, giving it cohesion.
Installation
Expert installation of a pergola can cost you a couple of hundreds of dollars. If you have that money to spare, then this wouldn't be an issue. But, if you want to do it yourself, it is a good practice to check its installation methods before purchasing the best pergola for you.
Color
If you want your garden to look nice, making sure that the color of your pergola co-exists with the decor that you already have in the garden. Going for a natural canopy color such as beige is a good idea. Also, going for a natural wood finish frame or solid dark color steel will look great in any garden or backyard.
Conclusion
There you have it. Those are the best pergola options you can find in the market today. Overall, the Wirksworth is probably the most affordable option among these pergola reviews. It has a built-in canopy, and the frame is made out of durable steel.
However, if you have more money to spare, you might want to consider getting the Breeze or the Mordena pergola depending on your needs and liking. Regardless of what you choose, your backyard is sure to be a new favorite hang out for you and your friends and family after its installation.