A swimming pool, may it be an above ground pool or an inground pool, will not be complete without a pool ladder.
The pool ladder is an essential part of the pool, allowing you to get in and out of the pool without any hassle. Now, before you hit the stores, you need to understand that pool ladders have different designs and frame structures.                                Don't know where to get started to get the best pool ladder for your pool? Check out the buying tips in the succeeding section below!
How to Choose the Best Pool Ladder
Here are 5 tips for choosing the best ladder for your pool:
Pool Type
You shouldn't buy a pool ladder without knowing which pool you're going to install it to. Above ground pools require a different pool ladder than the inground pools.
For above ground pools, you have to consider the height of the pool deck, as well as the thickness of the pool walls. This will help you determine the type of ladder you need.
For inground pools, on the other hand, you need to consider the depth of the pool. You either have a ladder with 2 steps, 3 steps, 4 steps, or more. The choice of brackets and railings are also important.
Pool Ladder Design
Choosing the pool design should be easier if you understand the type of pool that you have.
If you have a pool deck, just choose a ladder that only has one leg that goes into the water. Meanwhile, if you don't have a deck, the best pool that you should get is the A-frame ladder. A-frame ladders have two legs; one of which is outside the pool and the other is inside.
In inground pools, there is only one pool ladder that is favored by many. This is the pool ladder or stairs with several steps. You have the choice to either have a ladder with built-in steps or one with detachable steps. We recommend you get the built-in steps as this is more secure and safe.
Material
For the materials, there are top three options: stainless steel, reinforced resin or plastic.
The decision is quite tricky as you have to consider the pool water. If you hate rust and corrosion, then reinforced resin is a good choice. Nevertheless, some stainless steel pool ladders are actually compatible with chlorine and saltwater pools (but at a higher price, of course).
Height Compatibility
Common sense dictates to always check the height of the ladder. Make sure that it fits the depth of your pool.
For above ground pools, you have to include the height of the pool deck as this is where you actually attach the ladder.
A lot of people say they prefer a pool ladder with adjustable height as this is more convenient and can be used for different above ground pools.
Safety Features
Of course, safety should come first. This is a priority that many buyers tend to get for granted. Some of the most notable safety features of pool ladders and stairs are the handrails, secure brackets, and non-slip steps or treads.
The handrails support the swimmers as they get in and out of the pool. The brackets allow you to securely attach the ladder to the pool deck. But always check the bolts and screws. Lastly, you can minimize slipping and tipping over by choosing a sturdy, stable, and non-slip resistant steps.
Top 10 Best Pool Ladders
1.  Intex 52-Inches Steel Frame Pool Ladder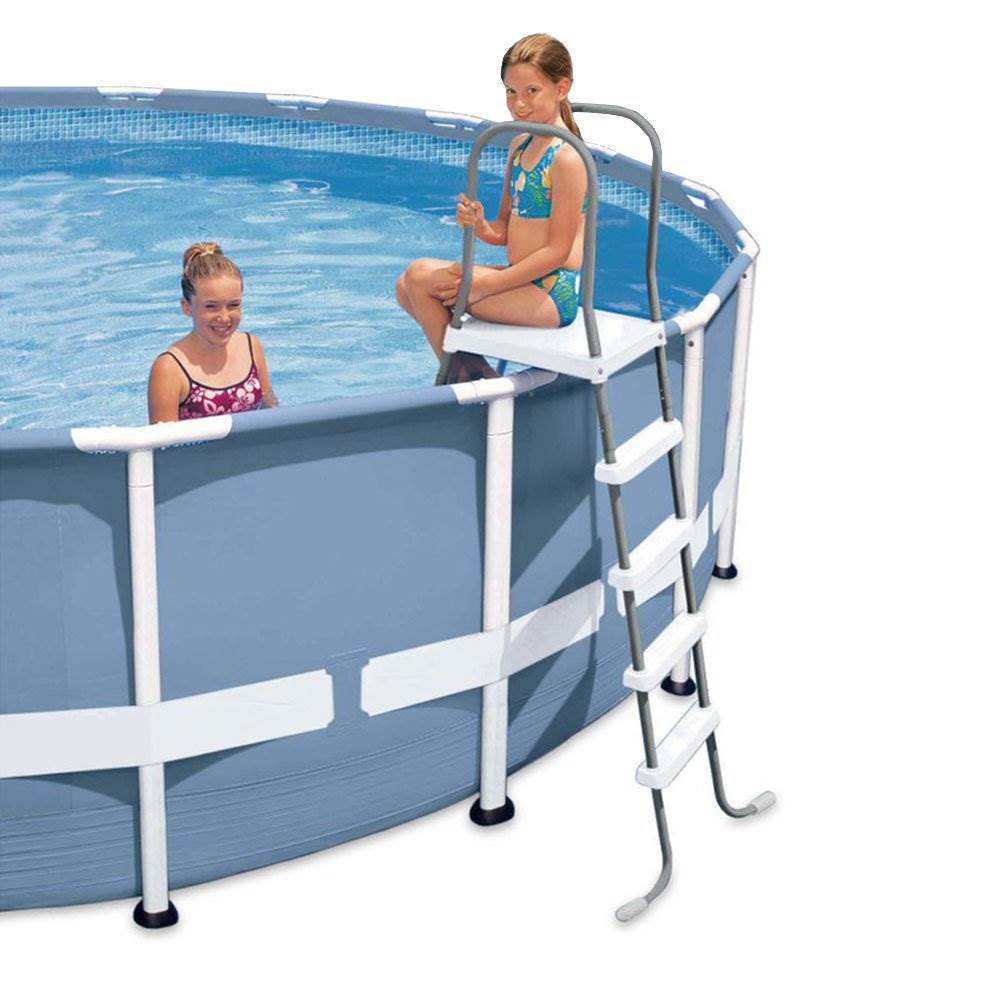 Without a doubt, this A-frame ladder is suitable for above ground pools. Families who usually use the inflatable pool in the summer should get this easy to use and assemble pool stair.
The two legs of the ladder have rungs that support the users as they climb onto the steps to get in the pool. In addition, the stainless steel material of this ladder works great with above ground pools as the ladder is not really submerged in the water, so corrosion and rust are not an issue.
Pros:
This ladder is quite high that reaches up to 52-inches.
The double-sided rungs are also a plus as this allows you to use either leg of the ladder.
Easy to assemble and set up
Works great with any above ground pools as long as the pool wall thickness fits the space between the legs of the ladder
It is designed as a space-saving ladder.
Great quality as what almost Intex products are known for
Cons:
People with a bigger body built must be careful when using the ladder. The frame is sturdy but it's not as thick as the heavy-duty ladders out there.
Can't be used in an inground pool; it'd be too dangerous since it's not attached to the pool
2.  Confer Adjustable 6000X Resin Pool Ladder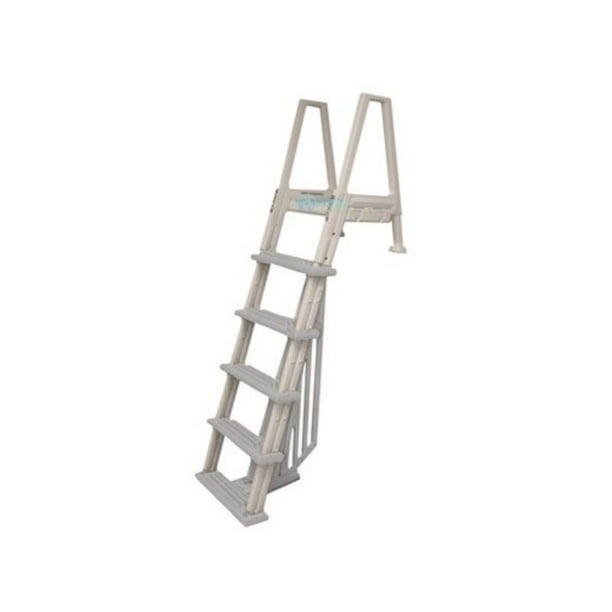 This adjustable pool ladder from Confer receives a lot of praises in a lot of pool ladder reviews. It's an above the ground pool ladder made from resin material. Resin is high-grade plastic with impressive sturdiness and durability, making it the best material to use for above the ground pool ladders.
The ladder can fit well in pools with 48-inches to 54-inches height, perfect for 4.5 to 5-feet deep pools. People love how great and secure this ladder is. Some even said that it's better than their previous pool ladders.
Pros:
Since this is adjustable, this can be used in swimming pools with a depth of 48-inches to 54-inches.
Only needs around 15 minutes of assembly
The resin used is sturdy and doesn't rust nor corrode.
The screws that secure the ladder are all stainless screws.
Can withstand users with up to 300-pounds weight
Tested quality and meets the ANSI/APSP barrier standards
Cons:
Please note that this ladder only has one leg with rungs. Hence, you need to attach it to a deck or an elevated platform to help support the pool ladder.
Some of the edges of the plastic were very sharp that it can actually cut your skin. So, be careful and check before using.
3.  Confer Plastics Adjustable 7200A-Frame Pool Ladder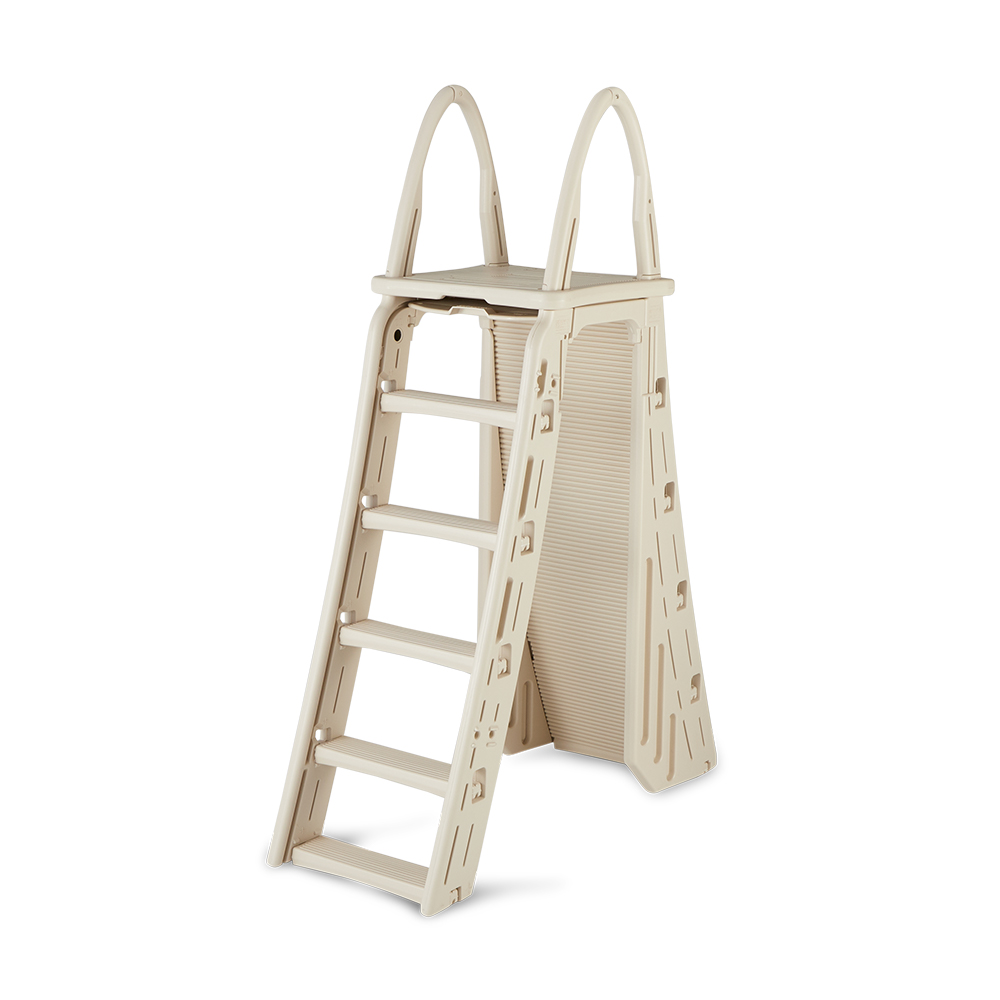 Confer is a popular brand and considered as the best pool ladder manufacturer by many. And this is because of their quality products, of course.
One of the best-selling pool ladders is this above ground pool ladder with roll-guard safety. Unlike the other ladders in the market, this one is made with the user's utmost safety in mind. This is can easily be chosen as the best above ground pool ladder for kid's swimming pools.
Pros:
Has a total weight capacity of 300 pounds
The ladder features an extra large in-step platform, making it easier for you to access the pool.
Its most notable feature is the lockable roll guard barrier, which helps keep the ladder in place.
A-frame structure allows more stability and secure usage of the stair, too
Fits above ground pools with 52-inches height
Pretty solid and durable
Made from heavy-duty plastic so rust and corrosion won't be a problem
Cons:
Not compatible with Intex inflatable or pop-up style pools for safety reasons since these pools usually have a slippery floor surface
4.  Confer Plastics Easy Access Pool Ladder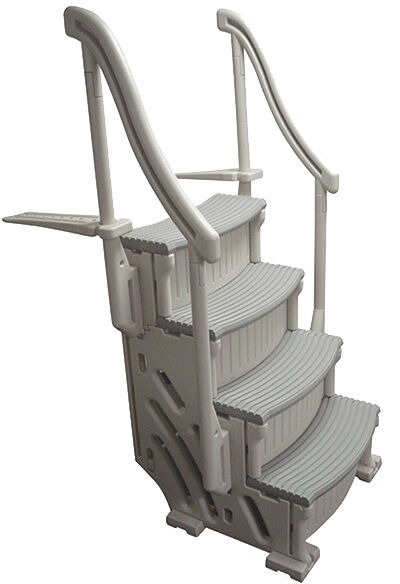 Confer is not joking when they aim to bring new and innovative designs to the market. Some people, especially parents, are not keen on the conventional in-step pool ladders with spaces in between the steps. And not a lot of manufacturers realize this concern.
Confer uses this gap in the market to create an amazing pool ladder that would put the customers' mind at peace. This pool ladder is designed to provide you an easy and safe entry and exit from the pool.
Pros:
Every step is covered and secured so as to prevent accidents as you take the climb up on the ladder.
It also includes safety grab railings on either side, prioritizing the safety of your little one.
This is easy to assemble ladder that you can snap together within minutes.
Comes with mounting brackets that you can fasten to your pool deck
Suitable for inground pools
Cons:
The steps are quite secure, but please note that the railings are not covered, accidents can still happen (but at least minimized)
Since this is made from durable plastic, some edges still have sharp plastics sticking out, so check first.
5.  Confer Plastics Heavy-Duty 60-Inches Pool Ladder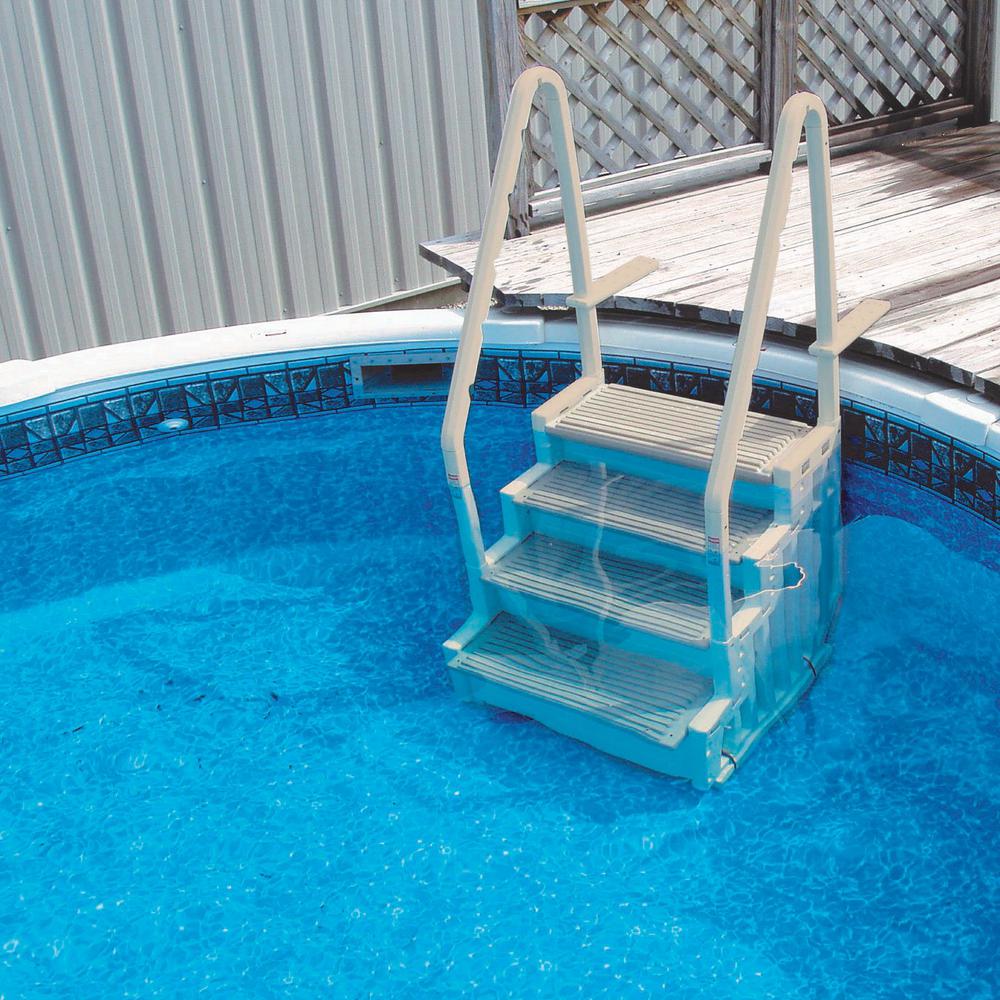 Some pool ladders can obstruct the flow of the water in the pool. This can cause poor water circulation and encourage algae growth, especially in areas hidden underneath the ladder.
Luckily, you won't encounter such problems with this excellent pool ladder by Confer Plastics. On top of being rust and corrosion resistant, this ladder also has a perfect design to keep the pool water flowing.
Pros:
This is compatible with pool decks up to 60-inches high.
Getting in and out of the pool is easy since it has wide, secure steps, as well as side brackets.
The open slots design allows the water to keep flowing and maintain a stable circulation, thus preventing algae growth.
The frame material albeit plastic is durable and sturdy.
Has a total weight capacity of 400 lbs.
Really stable and safe
Cons:
You need to fill it with a lot of sand as the plastic material is light.
A few users reported that the handrails are a bit rickety, but then it could be due to delivery management. Still, always check to make sure.
6.  Vinyl Works 24-Inches Deluxe In-Step Pool Ladder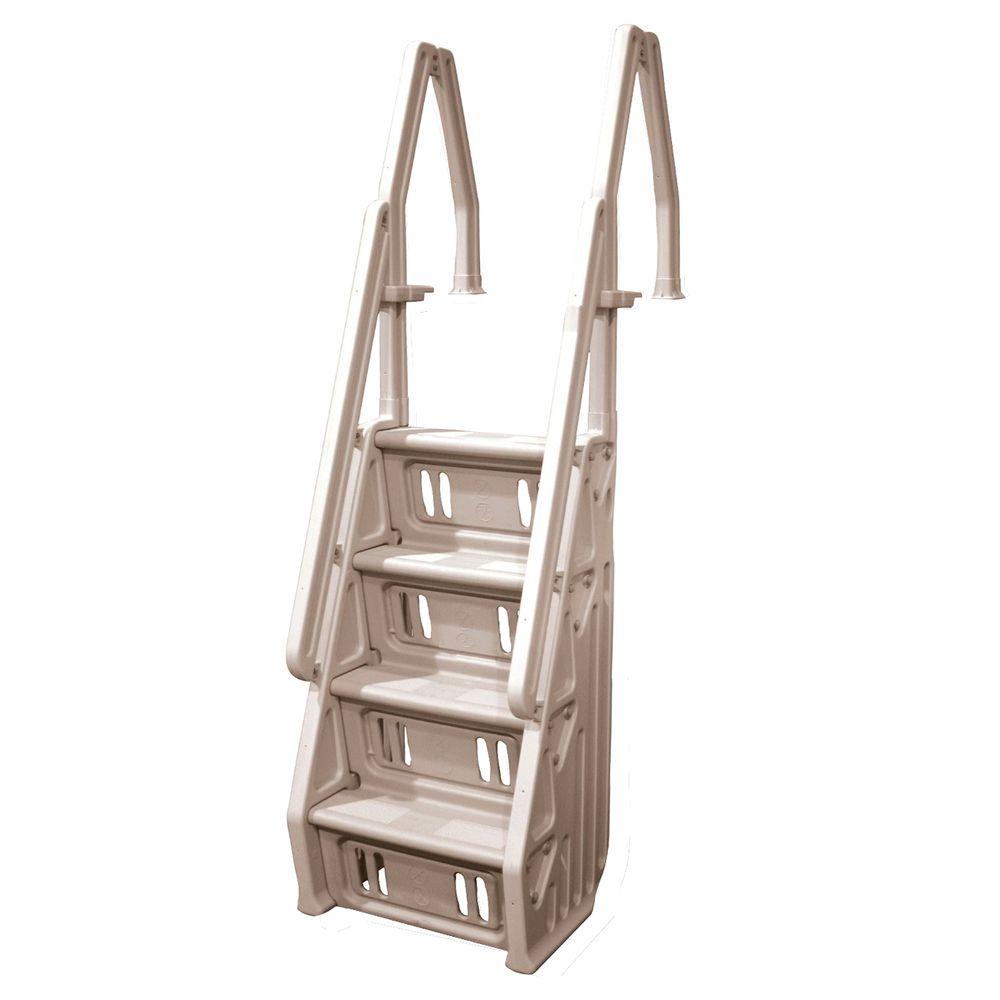 A perfect ladder for above ground pools with flat bottoms is this Deluxe in-step ladder by Vinyl Works. This is an adjustable pool ladder that can be stretch from 44-inches to 60-inches high.
This is made from high-quality resins and equipped with double handrails, which serve as an added protection from slipping. If you are particularly looking for hard-impact resin pool stair, then this is one of the best pool stair options you'll get.
Pros:
The frames of this ladder are anti-entrapment frames, which maintains a good flow-through of pool water.
Designed with safety and stability in mind
Has double handrails made from stainless steel hardware
Easy to construct and assemble
Also takes up less space as compared to an A-frame ladder with two legs
Cons:
It's quite a hassle to get the ladder leveled.
You need to take extra measurements to attach the ladder to your existing deck.
7.  Hydrotools 3-Step Stainless Steel Pool Ladder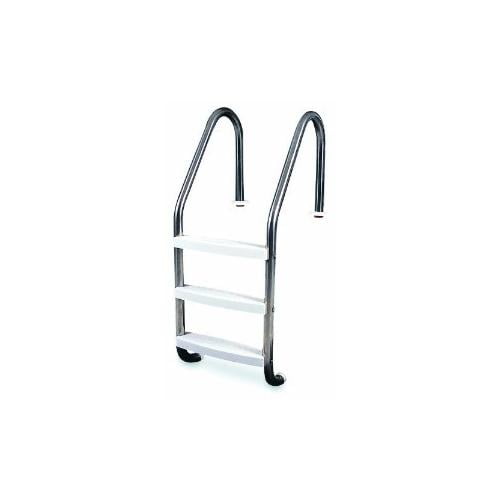 If you mostly have the pool for yourself or a pool that is mostly used by adults, then you have no problem using this sleek and simple pool ladder from HydroTools by Swimline.
This is one of the best inground pool ladders, especially for small pools. Since you want to maximize all the space for swimming, it is a great idea to choose a ladder with a sleek structure.
Pros:
Minimalist and space-saving design
This is made from a premium stainless steel material that can withstand constant exposure to the pool water.
Very easy to install and replace
The ladder steps are also rust resistant.
Cons:
Please take note that this pool ladder only has 3 steps and actually quite short as compared to other pool ladders on the list.
The design is quite risky for children. You need to supervise children since they might slip on the steps.
8.  SAFTRON 3-Step P-324-L3-W Pool Ladder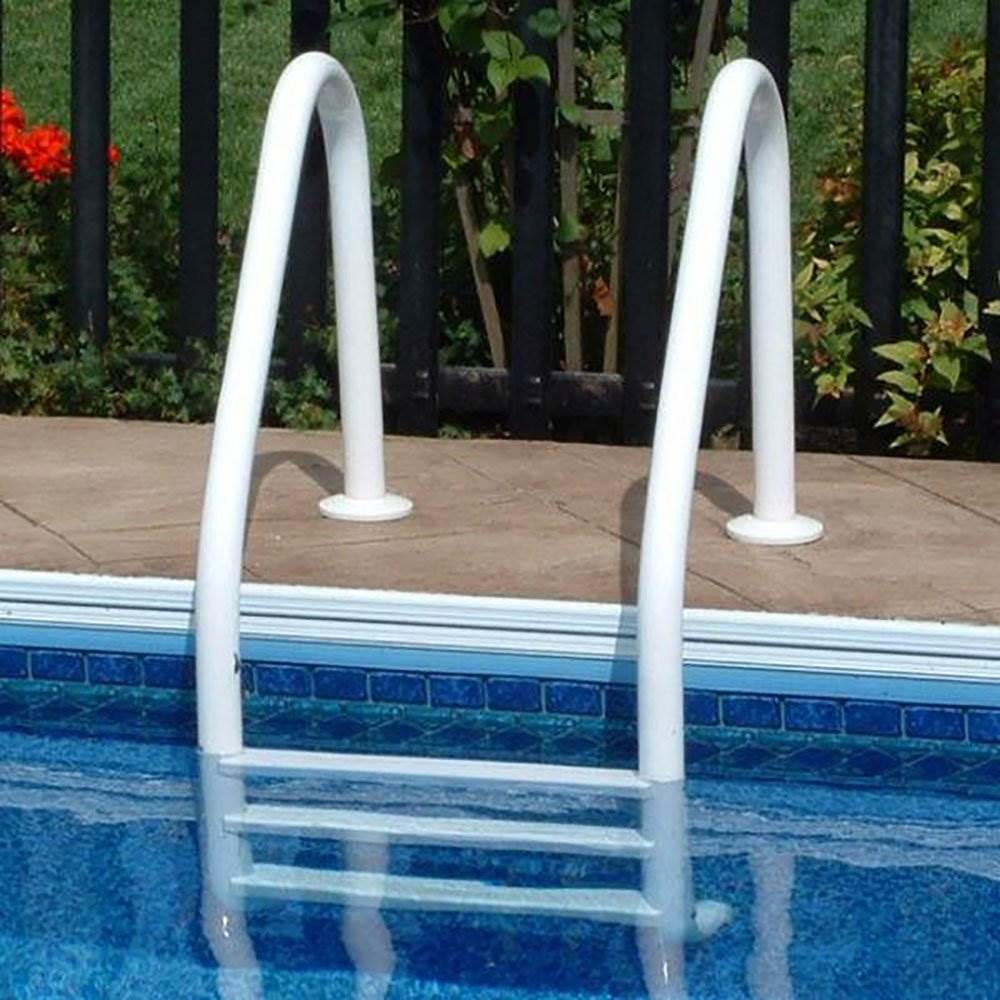 If there is any color that will give your pool an elegant and sophisticated look, then that would be none other than white. And that is exactly what SAFTRON had in mind when they made this classic white 3-step pool ladder.
The 3-step design is suitable for inground pools with a depth of 4 to 6 feet. If you are wondering about the ladder's material, this is actually made from galvanized steel interior with polymer exterior.
Pros:
It is recognized as one of the best inground pool ladders because of its sturdy and robust material.
Made from reinforced galvanized steel with high-impact polymer exterior, making this ladder super strong, rust and corrosion resistant
It also boasts a non-marring finish that can protect the ladder from UV damage, pool chemicals, and salt.
Quick and easy installation
Ideal for chlorinated pools
Cons:
The weight limit of this pool ladder is only 250 lbs.
Not really safe for toddlers since the steps are steep
9.  Inter-Fab L3E049S Sure Step Stainless Steel Pool Ladder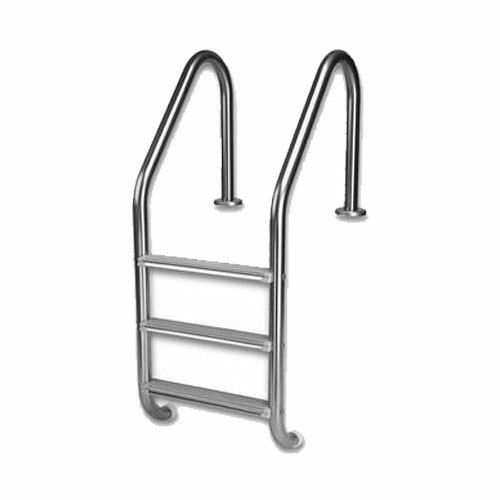 If you don't want anything extra and just go by the conventional pool ladder stainless steel look, then you might want to check out Inter-Fab's L3E049S pool ladder.
This stainless steel ladder has 3 steps with also stainless steel tread. This basically works and compatible with almost any inground pool designs.
Pros:
Simple yet timeless look
The stainless steel material is top-rated and resistant to pool chemicals and salt.
It can extend about 6-inches from the pool walls.
The brackets are chrome plated to make the item even more durable.
Cons:
Can only hold swimmers with up to 250 lbs. weight
This is for residential use only.
Currently unavailable.
10.  R. Smith VLLS-103S Elite Stainless Steel Pool Ladder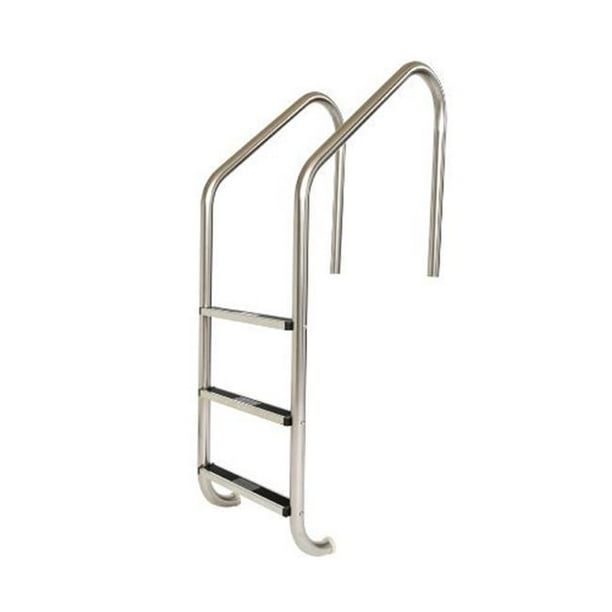 Another traditional stainless steel pool ladder on the list is this Elite pool ladder from S.R. Smith. This is also a 3-step ladder. Everything is made from stainless steel including the treads and the brackets.
This may look like an ordinary pool stair to you, but what sets this apart from the rest is that it is compatible with salt water. Whether you have a chemically treated pool or a saltwater pool, this classic stainless steel pool ladder can be used.
Pros:
The stainless steel material is high-quality; you can tell by the pool ladder's structure.
Has a clean, smooth and shiny finish
It's the best pool ladder for saltwater swimming pools.
You can choose other options in terms of the number of steps: 2-steps and 4-steps are also available.
Cons:
This is compatible with saltwater, but this still needs regular cleaning and maintenance.
Not safe for children
Currently unavailable.
Why Do I need an Above Ground Pool Stair?
Most ground pool set usually include a built-in ladder when you purchase them, however, the quality of the said ladder is inferior. They are usually made from low quality and cheap metals that break or bend easily. If you have toddlers or youngsters in your family, the pool ladder is the easiest and safest way to access the pool.
Above ground pool stairs will always be the best option for swimmers because children, elderly people, pets, and the physically challenged may find it hard to climb over the above ground pools. This will help them get into the pool faster and in a safer way.
What are the benefits of an Above Ground Pool Ladder?
There are a number of benefits that we can get by reading above ground pool ladders reviews in the market today. There are a lot of benefits but for this article, we will focus on the three most important factors that you should consider.
Safety
Usually, pools were, are and will remain to be one of the most unsafe areas, whether we are using a public pool or the ones within our homes. Anybody can easily slip and get injured. The factors that you have to think of when buying ground pool stair ladder is your safety.
With the help of a good and sturdy pool ladder, you can prevent or more realistically, minimize injuries from slipping. Bruising, lacerations, broken bones, twisted joints, and spine or brain injuries are some of the possible injuries we can get from pool accidents.
So, it is just rational that the first improvement you get for your pool set-up is to invest in a durable above ground pool ladder. This will give you peace of mind that your family is safe from the said accidents.
Convenience
Swimming in pools is supposed to be a fun activity, but when you and your family members are cautious and worried about getting in and out of your above ground pool, it takes the fun out of it. Especially for people like some who are on the heavy side, it would be a challenge. Good thing there are pool ladders that caters to heavy people. They have high weight capacity limits and railings to make getting in and out of above ground pools a lot easier.
Legal Issues
There are places and localities that enforce "Premises Liability" laws. This law is a personal injury case wherein the injury was caused by some type of unsafe and defective condition on someone's property. So, if anyone suffered any injury in your property, either you were at your home or not, or either you were invited there or not, they can sue you to make you pay for the medical expenses, lost wages and other liabilities.
It is crucial that you must maintain the condition of the pool and its deck, and make sure that there are no chances of having any accident. Not only for you and for your family's safety but for legal purposes, you must consider the above ground pool ladder as a worthy investment.
What are the Characteristics of a good above ground pool ladder?
Durability. Most above ground pools come with a pool ladder. Many times this add-on is made from cheap quality metals or plastics that probably won't last long. A good above ground pool ladder should be sturdy, and durable. It should be slip resistant, and rust proof and built for longevity.
Safety. Since safety is our utmost priority, the pool ladder must have non-slip climbing qualities. It should also provide protection from accidental falls by having handrails to ensure safe entry and exit from the pool.
Quality. The above ground pool ladder should be made from high-quality metals or plastics. There are many materials used in making above ground pool stair ladders so make sure to choose wisely.
Size. You have to consider the size and if it will fit your pool. Is the ladder adjustable? If yes, then it probably will fit. But if the ladder is fixed, then you will have to measure your pool to make sure you won't get it wrong.
Cost. Of course, we have to consider our budget when it comes to buying an upgrade. Base on your budget, choose the best above pool ladder that can cater to all the needs that you have. Just remember that safety does not have its price. No matter how much you buy your ladder, it is of utmost importance that you consider safety.
The article should give you an idea on the basics of the above ground pool stairs and review some of the top rated and best above ground pool steps and more importantly, the best pool ladders.
Conclusion
Now that you know the best tips to buy the ladder for your pool, you should be able to find the best value option that suits your needs and budget. From the 10 amazing pool ladders options on the list, we particularly recommend the Confer Plastics Heavy-Duty 60-Inches Pool Ladder.
At first glance, you know this ladder is sturdy and stable. The weight capacity is also way higher than most pool ladders, which is a big plus. Also, the ladder has wide and secure steps in which entry and exit access out from the pool is made a lot of easier. We also think this ladder is child-friendly; it has handrails and non-slip steps.
How about you? Have you found your best pick yet? If you have more questions about pool ladder or need more advice on how to choose the best one, comment down below or hit us a message on all our social media platforms.
Thanks for reading and see you on the next review!