The best pool cleaner is, of course, a matter of both personal choice and the specific needs of your pool. As such, this can come in a wide variety of technologies and innovative approaches for pool cleaning.
For your reference, we have included what we felt were the best suction pool cleaner, the best pressure side pool cleaner, the best inground robotic pool cleaner, and the best above ground pool cleaner that were currently in the market.
We're confident that these reviews will help you decide what is the best pool cleaner for you.
Best Pool Cleaner Reviews on the Market: Our Top Picks!
1.  Dolphin Nautilus CC Plus Swimming Pool Inground Robotic Pool Cleaner
Filtration
The Nautilus CC Plus contains a dual-layer, top-load filtration unit. The first layer is for catching big dirt particles like leaves, food packaging, etc. while the other layer concentrates more on catching the finer dirt particles which the first layer has missed.
The CC Plus navigates your pool using the advanced Clever Clean scanning system. It tries to find the best cleaning routes across the walls and floor of your in-ground pool. It also avoids any obstacles along its path while doing the chore.
Design
A compact and powerful machine, this new model from Dolphin has a pleasant-looking, black and blue outer design that blends well with the general aesthetics of the pool. It weighs around twenty pounds, which is lighter than the other cleaners from Dolphin's main competitors.
Power Supply
The power supply system is equipped with a weekly timer. However, other more advanced system programming features are something this cleaning device lacks. You can't set start time delays, nor can you change cycle times.
Setup
This product greatly delivers on the robotics end, truly automatic. It's literally a plug-and-play type of device which you can easily switch on; then, place it in the pool, and afterward, let it go to work. Also, it has 3 different weekly intervals that you can program it to follow.
Performance
Obliterates pool grit and grime. The Nautilus CC Plus can effectively battle almost any kind of debris. It maneuvers well and always achieves optimal cleanliness. All this whilst not requiring so much upkeep.
The Nautilus CC Plus is a new robot cleaner by Dolphin that cleans in-ground swimming pools like you've never seen before. It operates on a standard two-hour cleaning cycle. This model, only be acquired on online stores, has a two-year limited warranty.
This pool cleaner is for those who are looking for something extremely easy to use and comes with a reasonable price tag. It won't give you a fit trying to make these both sides work
Highlighted features:
Ideal for inground pools up to 50 feet
Dolphins are "plug and play" and includes the patented Dolphin Swivel technology that gets rid of tangling and ensures complete pool coverage.
Large Cartridge Filter! The Nautilus CC Plus includes a fine & ultra-fine filter cartridge that is top loading and easy-to-reach and rinse clean after collecting leaves, dirt and debris.
Dual scrubbing brushes attack tough dirt, debris and particulates – providing more friction and better cleaning performance compared to competitors that skim the pool floor.
The Dolphin Nautilus CC Plus consumes an average of 5 cents of energy per hour and is 8 times more energy efficient than suction and pressure cleaners.
Most Reliable. Deepest Clean. Easy-to-Use.
One-button operation
8X more energy efficient than suction and pressure cleaners
Weekly scheduler with 3 settings
180-Watt power supply
2 year limited warranty covering parts and labor. Offering ultimate protection.
Dimensions: 16"W x 10"H x 16"D
Weight: 19 pounds
Pros of This Dolphin Nautilus CC Plus
Cleans your swimming pool very fast
It's aggressive when cleaning
Pocket-friendly
Smart cleaning due to its CleverClean scanning system
Cons of The Robotic Pool Cleaner
Doesn't scrub the waterline
A little on the bulky side
Maytronics Dolphin Nautilus CC Plus Robotic Pool Cleaner Product Overview
F.A.Q And Additional Tips
Is its power supply waterproof? No, it's not. Therefore, don't leave it where it's at risk of falling into the pool or where it'll have to stand on water. It's water-resistant, but that doesn't mean it can be left out in the rain
Does it have the ability to clean pool surfaces that are made of fiberglass? It can clean both vinyl and fiberglass swimming pool surfaces.
Is it an above-ground pool compatible? It's not designed for swimming pools of this nature. That doesn't necessarily mean it can't work; however, this is something you'd have to test out yourself at your own risk.
Does it require you to attach it to the circulation system of the pool? No, it doesn't. This machine cleans pools robotically. It's a completely autonomous device that does all the cleaning work by itself.
What's its power supply voltage? You'll need to plug the power supply into an outdoor 120voltage outlet. Don't use extension cords to connect it to the outlet.
Does it come inclusive with a caddy? No, it does not. This internet-only model doesn't come with its own caddy included in the package. With that said, the caddy really isn't a key component. Why? Because you only need it for transportation of the pool cleaner to and from storage.
Can both filter types be used simultaneously? This action is not something that's recommended. It can interfere with the balance of the robot or reduce the machine's cleaning performance. Get rid of large debris using the rough filters, and for the finer dirt, you can change into the finer filters.
Read more: All You Need to Know About the Dolphin Nautilus CC Plus Pool Cleaner
2.  Dolphin Triton Plus Pool Cleaner
Dolphin Triton PS Plus Automatic Pool Cleaner has Bluetooth and an extra big filter basket which is perfect for swimming pools built into the ground that could reach up to 50 ft.
This product is manufactured by Dolphin with a model name of Triton Plus. It is known as one of the handy pool cleaners that have the technological advances that we all need, either on a weekly timer or Bluetooth navigation.
This can be used in cleaning tiles and walls because of its feature, PowerStream, that allows for pool surface coverage cleaning. Navigation of the device comes easier since it can be controlled using Bluetooth connection with your smartphones. It is also created with smart navigation, so the device can completely clean the entire pool bed.
Furthermore, it has a large capacity of filter basket; plus, it contains fine filters to remove small particles of dirt and debris. The hinged top cover of the product is designed for a bigger filter basket that is easy to clean.
Lastly, they are the best when it comes to warranty. They offer a 2-year limited warranty that covers both parts and labors for the best protection of your device.
Overall, this pool cleaner product is essential for our swimming baths and is needed to ensure our pool's cleaning needs.
Pros of This Dolphin Triton Plus
Convenient and Portable
Has a different type of brush
Has two Cleaning Cycles – 1 hour or 2.5 hours
Self-Timer
Bluetooth Control via Smartphone
2-year warranty from the manufacturer.
Cons of The Robotic Pool Cleaner
A bit heavy
Bluetooth Connection may be weak
Quite Expensive
Tangled Cables
Product Overview
Ideal for In-ground Swimming Pool
Large Filter Basket
Weekly Timer (24 hours, 28 hours or 72 hours)
PowerStream Technology
4 Fine and 4 superfine filter sets
Bluetooth remote control via Smartphone
Suitable for cleaning walls and floors
Cycle Time: 1 or 2 hours
2-years warranty
Physical Features
Brand name:Dolphin
Model:Triton Plus
Type:Robotic
Dimensions:4 x 16.8 x 9 inches
Weight: 5 lbs.
Stress Less, Swim More
"Stress Less, Swim More" is the motto of Dolphin Triton PS Plus. This is the perfect solution that pool owners need to deal with stress in cleaning the whole thing. This device will also be essential in public swimming pools for easier cleaning.
Dolphin Triton PS Robotic Pool Cleaner by Maytronics Overview
Product's Key Features
Fast Cleaning: This feature adds convenience especially if you have no time to clean your pool;this is not a problem with Triton Plus since it comes with two types of settings: a quick houror 2 and a half hours of thorough cleaning. Right after setting it up, it will automatically move, sweep, and clean your pool thoroughly.
PowerStream Technology: The PowerStream Technology features make way to a jet-like propeller that will make it effortlessly climb through the walls in different directions to enhance cleaning. This technology made the device more sensitive in detecting dirt and with smart navigation, it can easily move all around the surface.
Bluetooth Connection Availability: This feature is a unique feature of this model. You can control the cleaner using your smartphone by downloading the 'MyDolphin' application available in the app store of both IOS and android. The range of the Bluetooth device should be with the 30-feet radius for you to control the machine better. Moreover, it has an LED indicator for which the green light shows that you are controlling the device via smartphone or blue light which means that it is cleaning autonomously.
Full Filter Indicator: This feature helps the owner not to get puzzled if the device suddenly stops working. It can easily be determined by troubleshooting the device.
Other Customer Reviews
A user is generally satisfied and had a good impression of the product. He further added it actually did a great job for the past days that he was using it.
They also said that it is a little bit pricey but good for investment that they recognized as the 'Holy Grail' of pool cleaners since they keep on getting frustrated with keeping their pools clean.
Users also commended its ability to run on walls and floors while cleaning. They reported also that it is good on stairs and gives other models or devices a hard time cleaning.
However, one user said that the Triton PS Plus cleaned only half of the pool, and it has the tendency to be stuck on deep-end pool drains which might be linked to design error.
There also some who reported that it is bigger than others, thus, it is not portable and handy anymore since it requires more work for getting it into and out of the pool premise.
Overall, there are still more people who are greatly satisfied and happy with the product since it gives them the optimum cleaning experience for their pool's needs.
FAQ
Where to get the product? It is available in several stores online such as Maytronix, Amazon, Pool Supply Unlimited, and many more. Just search for the product and voila!
How to access the filtration system? The filter basket can be accessed at the top which makes it easier unlike the former that access of filtration comes in the bottom.
What is Active Brushing? Active brushing means the spin time of one brush would be twice of the robot's speed, and the faster the spinning of brush means deeper cleaning in floors and walls.
Read more: Dolphin Triton PS Plus: Its optimum technology and performance
3.  Dolphin Sigma Robotic Pool Cleaner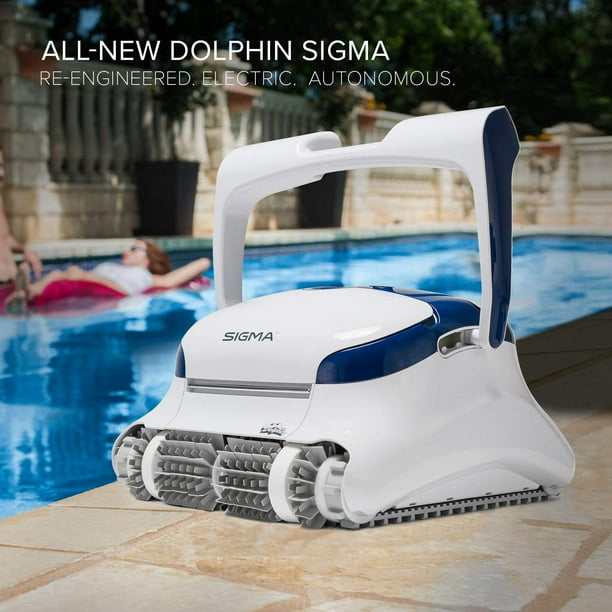 The Dolphin sigma is a robotic pool cleaner which includes state-of-the-art technology to ensure your pool water remains crystal clear. Dolphin sigma is the latest pool cleaning machine ready to sanitize your pool water and keep off nasty microorganisms.
The dolphin sigma is manufactured by Walmart and sold to customers.
Pros of This Dolphin Sigma
Has a smart navigation
Has powerful and dual scrubbing brushes
Has a top-loading cartridge filter
Has a dolphin spot-cleaning app
It is tangle free
Cons of The Robotic Pool Cleaner
It does not come with a storage caddy
The dolphin app can be misleading at times
The pool cleaner can get hung up on the main drain
Features:
Bluetooth connectivity
Fine and ultrafine filtration
Dynamic dual drive
Weekly scheduler
Verdict:
Dolphin sigma is a perfect pool cleaner falling in its price range. Although it may seem expensive, don't forget it comes with 3-year quality assurance.
Ideal customers
The dolphin sigma is ideal for cleaning swimming pools in residential areas whose length is 50 feet.
It can clean swimming pools of all shapes including oval, rectangular, or freeform.
It is perfect if your pool surface is concrete, plaster, tile, ceramic, or glass surface.
Key features and benefits of the best dolphin pool cleaner
Dual filtration options: It has fine and ultrafine filters. The two filters ensure that all the debris gets removed. The fine filter is large and removes rocks and larger objects. The ultrafine filter is for dirt, algae, and sand. With this, you will not have messy dirtbags to clean.
Smart navigation system: With advanced navigation and scanning software, your pool gets cleaned without any obstacles getting in the way. The pool cleaner scanner scans the pool and maps out the perfect route for covering all the pool's areas. It ensures you don't spend time trying to redirect it.
Bluetooth connectivity: The best dolphin pool cleaner allows you to spot-clean your pool with a smartphone. If you find out a certain spot was not well cleaned, you can use your mobile app to spot-clean it. You don't have to do any manual scrubbing anytime your pool needs cleaning.
Powerful and dual scrubbing brushes: The dolphin sigma uses the power of its brushes to scrub thoroughly every part of your pool. The cleaner eradicates all foreign matter such as bacteria and algae. With these attached scrubbers, cleaning your pool becomes effortless and remains cleaned whenever you are.
Weekly scheduler: You can set the dolphin sigma to clean your pool at a date of your choosing. You can program it to clean either weekly or a few times weekly. It allows you to clean your pool anytime and have enough free time.
Customer Reviews
"I am happy with dolphin sigma. It does a perfect job cleaning my swimming pool. The dual filters do a great job of removing bacteria and algae in the pool."
"I don't like the pool cleaner because it forgets the pool. It keeps on scanning and mapping the pool over and over."
"It is amazing how this product has made my pool water crystal clear. I love it."
Dolphin Sigma Robotic Pool Cleaner Setup and Review:
Frequently Asked Questions
What is the warranty of the dolphin sigma? It has a 3-year quality assurance
How does the dolphin sigma clean? Once you place it in the pool, it uses the onboard AI software to map your pool and ascertain which cleaning route to follow. Also, figure out which spots require extra cleaning.
How much does the dolphin sigma cost? It roughly costs $ 1,797.00. However, this price will depend on where you purchase the product, either online, in-app, or in stores.
Read more: Dolphin Sigma Robotic Pool Cleaner Reviews
4.  Dolphin E10 Robotic Automatic Pool Cleaner for Above Ground Pools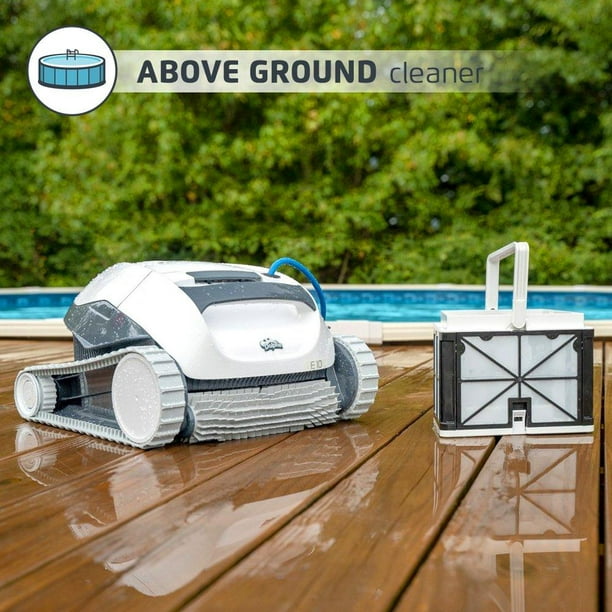 The Dolphin E10 is a self-containing device made by Maytronics US. With a 40-inch cable, a power supply unit, and a top-loading filtration basket, this device is ideal for anyone who wants to turn the tedious task of pool cleaning into a pleasurable experience.
The Pros:
You don't need to connect it to the main pump system.
Has a powerful electronic brain.
Has an instant water release system.
Has top-access filters that allow quick cleaning.
Has a powerful brush allowing you to vacuum and brush off dirt and dust fast.
The Cons:
It cannot climb walls and stairs
It has no smartphone app thus you cannot multitask while using it.
It works best for small pools
Key features:
Lightweight body
Lengthy 40-foot cord
Suitable for above-the-ground pools
Our verdict:
The Dolphin E10 is an excellent choice if you have a small above-ground pool and need a reasonably-priced robot pool cleaner that is dependable, simple to use, and long-lasting.
Who is Dolphin E10 best for?
If you have an above-ground pool that is less than 40 feet long, this robotic pool cleaner is great for you. However, if the pool is larger or in-ground, you may need to look for another option.
Key Features and Benefits of Dolphin E10
A top-accessible filtration system: The top-load filter is accessible for easy maintenance and cleaning of debris. You don't have to flip the device to remove the filter; simply twist the filter canister around, remove any leftover material, and reinsert the canister.
Lightweight and easy to carry: The pool cleaner is tough but only weighs 14 pounds. You can simply carry it around and store it without risking straining your arm.
Instant water release system: The device can automatically release water thanks to the rapid water release technology. This makes things a lot easier for you because you won't have to use all of your strength to pull the robot cleaner out of the pool.
High-efficient tracks: The Dolphin E10 has a strong hold on the pool surface thanks to the cleverly designed tracks. They keep the pool cleaner from sticking to drains, so you won't have to spend as much time keeping it from slipping and getting stuck.
Powerful electronic brain: The smart clean scanning feature assists the pool cleaner in mapping the area with a set of sensors, allowing the device to spend less time wandering around inside the pool. This ensures that all of the pool's areas are cleaned without spending too much of your time.
Customer Reviews
"It is an amazing product that the pool cleaner I previously had. It is perfect for cleaning my above-ground pool. I would highly recommend it."
"Since I bought the dolphin E10 pool cleaner, I have had a good experience cleaning the pool. I love it."
"Although I received it on time, I believe it is a letdown. It suddenly ceased operating after only three hours of use."
Frequently Asked Questions
How much does the E10 best robotic pool cleaner cost? You can get the product for about $ 599.00. However, the price will depend on where you are purchasing from, either from the stores, app, or online.
What is the warranty on this product? The Dolphin E10 comes with a warranty of 2 years.
Where can I get the product? The Dolphin E10 is available on both online and offline platforms. You can get it from electronic stores, online outlets, or from the manufacturer's website.
How do you use the robotic cleaner? Before you place the cleaner in the pool, ensure the power supply is 12 feet from the pool and have the cleaner cable plugged into it. Then you can drop the E10 cleaner in the pool.
Read more: The Ultimate Dolphin E10 Review
With the style of Gunite 925ADC and equipped with SmartDrive steering technology, this unmatched pool vacuum cleaner has reliable wall climbing and pool coverage capabilities. There would be no need to spend all that money and energy with a booster pump because of its existing filtration system, so you can almost effortless clean your pool with this product.
Silent operation – no vibration, pulsating or tapping noises when used.
Secure connection with no need for tools
Enhanced debris suction and pick-up
The programmed steering reduces hose tangling
Cons of The Robotic Pool Cleaner
Always check the interior when it starts to slow down
With the cost, you may as well consider this an investment
Key features:
Programmed SmartDrive steering that predetermines its movement
Turbine-drive system that allows for a quieter and smoother operation
The efficient filtration system that eliminates the need for a booster pump
Vacuum design allows for faster debris pick-up
Powerful suction capacity
Verdict:
We rate this product, given the specifications with relation to its price and estimated life span, a good 4 out of 5 stars. It as well qualifies as the best robotic pool cleaner, too!
Who is this product for?
The Hayward 925ADC Navigator Pro is especially ideal for those who want to get the job done as soon as possible. This is particularly the case for resorts, hotels and facilities with pools that accommodate substantial traffic of users daily.
Benefits of the product:
This product can save you so much time
Less energy use and need for human resources on a regular bases
Reduced need for other equipment like booster pumps for weekly cleaning
Customer Reviews
The product has brought so much ease to the cleaning challenges of many buyers, although a good number of them had to regularly check the turbine bearings whenever the product started to slow down. This was especially the case for one buyer, who noticed the deficiency after six weeks of running the vacuum for five hours per night. However, Hayward customer service was keen on assisting and sending parts and components to replace the defective ones.
For some, however, the product lasted for years when it was used for every other day. One buyer even tried leaving it on for 24/7 for a few weeks to deep clean their gunite pool, and it still works great for him after a year.
Although this costs a bit more than other products which might get the same work done, one buyer mentioned that what the product offers for the value of your money is the amount of time you will be saving, so she considers it the best pool cleaner.
Alternatives And Comparisons:
Hayward still stands as the most recommended brand for pool cleaners, with the Navigator Pro being the best robotic pool cleaner, according to many buyers. However, there is a frequent comparison between Zodiac and Baracuda G3 pool cleaners in the review.
We have done our research with the product, and it is indeed a capable piece of equipment. The lower price is also a determinant as to why some buyers would prefer it over Hayward. Some even switch to Zodiac when their Hayward broke down after extensive use. However, reviews also mention that the failings of the Baracuda G3 can be traced down to its internal design and the faulty steering mechanism.
How To Set Up A Hayward Suction Pool Cleaner
Read more: Take your Pick from Ten of this year's Best Hayward Navigator Pool Cleaners
6.  Hayward Tiger Shark RC9990CUB
The Tiger Shark RC9990CUB is one of the best robotic pool cleaners available on the market these days. It uses intelligent microprocessor-based technology to help you clean your pool without the hassle or grueling labor usually associated with the chore.
Behind this nifty device is the manufacturer, Hayward, whose well-established reputation in the industry of producing superior-quality pool maintenance products will reassure you that their Tiger Shark pool cleaners are no different.
The Pros:
Provides thorough pool cleaning
Energy-efficient and intelligent cleaning
Easy to use and maintain
Offers quick cleaning (can clean 20 x 40 ft pools in only 3 hours)
Uses less water so more environmentally-friendly
The Cons:
On the more expensive side of price points
Heavy, especially when filled with water
Power issues in your home can affect its performance
Verdict
If you want a quick yet in-depth way of cleaning your pool without going through all the work, then the Tiger Shark RC9990CUB is the equipment for you. It offers high-quality cleaning in an efficient and hassle-free manner.
Who is this product for?
The Tiger Shark RC9990CUB can be used by anyone and everyone who's looking for the best pool cleaner. With this product, you can quickly and efficiently clean your pool without wasting water, allowing you to be environmentally-friendly as well as cost- and energy-efficient.
Key Features and Benefits of the Tiger Shark RC9990CUB
Intelligent microprocessor technology: This is the key to this robotic pool cleaner's efficiency. The microprocessor-based tech used by the Tiger Shark RC9990CUBallows it to automatically determine the best and most efficient way to clean the pool and power down after it's done. Aside from this, this tech allows it to map the entire process and calculate the size of the pool which further helps its efficiency and effectiveness at cleaning your pool. This means you no longer have to fiddle with difficult measurements, settings, and math to determine the best way to clean your pool.
Energy- and cost-efficient: The Tiger Shark RC9990CUB features a 24-volt motor that was designed with energy efficiency in mind. It uses less energy for operation which in turn, lowers the cost of operating it as well. Despite its energy-efficient motor, this Tiger Shark cleaner provides comprehensive cleaning of your entire pool and surrounding area. Due to this feature, you don't have to worry about your energy bill skyrocketing whenever you decide to clean your pool.
Environmentally-friendly: Aside from using less energy to operate, the Tiger Shark RC9990CUB uses less water whenever it cleans your pool because it's separate from your pool's filtration system. This enables you to be more environmentally-friendly because you don't have to constantly empty the water in your pool whenever you have to clean it.
Easy to clean and maintain: If you're worried about having to clean it after it's done with your pool, then you can relax. The Tiger Shark RC9990CUB uses polyester filter cartridges which are easy to empty and clean, allowing you to use it again with no problems.
Two-speed options for cleaning: Another feature of the Tiger Shark RC9990CUB is it offers you 2 speed options – fast and super fast. It can clean your whole pool area in just 3 hours with the fast speed option but if you want a quick cleaning, it can do so in 90 minutes with the super-fast speed option.
Customer Reviews
Here are some of the things other customers have to say about the Tiger Shark RC9990CUB:
"This was one of the best investments I made for my pool. I couldn't be happier with what I bought."– Mark
"It did a great job of cleaning my pool. I now can't imagine my life without it." – Rob
"Easy to maintain and does its job well."– Max
"It works well but it's not exceptional." – Nicole
"It's not as powerful as expected." – Alex
FAQ & Additional Tips
Does my pool require additional cleaning after? No. The Tiger Shark RC9990CUB offers complete and systemized cleaning from the floors to the walls.
Where can I buy it? You can buy the Tiger Shark RC9990CUB either online on Amazon or locate an authorized dealer near you with their dealer locator on the official website of Hayward.
Does it need additional accessories for operation? No, it doesn't. The Tiger Shark RC9990CUB is a complete machine and doesn't require additional components to function. However, there are some optional accessories like the caddy cart.
Can it be operated with a battery? Unfortunately, the Tiger Shark RC9990CUB is a wired model only, meaning it needs to be plugged to a power source to operate.
Does it have a warranty? It does. The Tiger Shark RC9990CUB offers a 3-year warranty and can be availed by contacting their customer support team here.
How long does delivery usually take? The delivery time varies and will depend on the dealer and the availability of stocks.
Hayward TigerShark® Robotic Pool Cleaner
7.  Zodiac Baracuda MX8 Inground Swimming Pool Cleaner Vacuum Robot Suction Side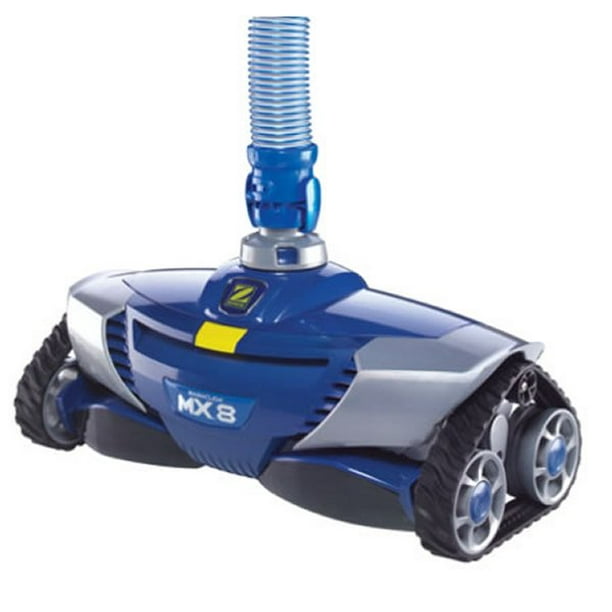 The MX8 is a sophisticated lightweight suction side pool cleaner. It cleans the walls of swimming pools and steps. Aside from that, it can reverse itself if it hits a barrier.
Like any other product, the Zodiac MX8 pool cleaner has both pros and cons
The Pros:
It can be used on many types of surfaces such as vinyl, fiberglass, tile, and concrete.
It has a dedicated vacuum line to allow you to connect it to a pump.
The pool cleaner is lightweight which makes it easy to operate.
The robust Zodiac engine ensures deep cleaning.
The cyclonic system allows for wide path cleaning and wall climbing. 
The Cons:
You will have to clean the pump basket frequently.
The mx8 cannot clean off large particles.
The gear drive system tends to wear out quickly and must be replaced every one-two years.
Key Features of The Zodiac MX8 Pool Cleaner:
Cyclonic Vacuum technology
X-Drive navigation technology
X-Trax tires
Ultra-Efficient Power Source
Is the Zodiac MX8 pool cleaner for you?
Yes, I am positive the Zodiac pool cleaner can help you have a spotless pool. It is easy to use and has amazing features that make it a highly effective pool cleaner. However, the decision is still up to you. The MX8 pool cleaner reviews are just there to help you make an informed decision.
Who is the Zodiac MX8 pool cleaner for?
The MX8 pool cleaner is perfect for home and hotel owners with small pools. Unless you are willing to drain your pool and manually remove debris from your pool, using an automated pool cleaner makes sense.
How does the MX8 pool cleaner help pool owners compare to other pool cleaners?
Mobility: the x-drive feature allows the MX8 to cover the whole pool including the inaccessible corners. The X-Trax system helps the MX8 to climb walls and clean every inch of your pool.
Dual cyclonic cleaning: it has two cleaning turbines which makes it perfect equipment for large pool owners. It has a wide cleaning path and can clean off a lot of debris.
Efficiency: the MX8 has a strong power source and a flow regulator valve that ensure consistent cleaning. Hotel owners will surely appreciate a well functioning MX8 pool cleaner.
MX8 pool cleaner features and their benefits
A Zodiac MX8 pool cleaner can help you solve a lot of the pool cleaning problems you face with its wide range of features. You will see these benefits from many mx8 pool cleaner reviews.
The X-drive navigation system will help you clean every inch of your swimming pool. This means all the waterlines, floors, and walls will be cleaned.
The dual cyclonic system ensures maximum suction. The mx8 climbs walls and removes any debris that is stuck on the walls.
The mx8 wide coverage will help you cover a larger surface area compared to other pool cleaners. It removes debris very quickly and will save you a lot of time and money, especially if you have a busy pool.
MX8 has different cleaning modes. Thus, you can between small debris and large debris mode for various cleaning applications.
What Customers Say
Several users are satisfied with the MX8. They found it very effective in cleaning their pools. However, some users have found it unreliable. They also found it expensive to maintain since they had to replace the tractor tread wheels more often than usual.
Another user's MX8 could not climb the walls as it should have even after consulting an expert.
Zodiac® MX8™ Elite Automatic Suction Side Pool Cleaner Reviews on Youtube.
MX8 Pool Cleaner FAQs
Does the Zodiac MX8 have a warranty? Yes, Zodiac offers customers a two-year warranty.
How often should I clean my MX8? You should clean the MX8 frequently, preferably after each use.
What is the minimum pressure required to operate the MX8? The MX8 can use a minimum of 20 gallons per minute and still operate effectively.
Read more: MX8 Pool Cleaner Review
8.  Polaris Vac-Sweep 165 Pressure Side Pool Cleaner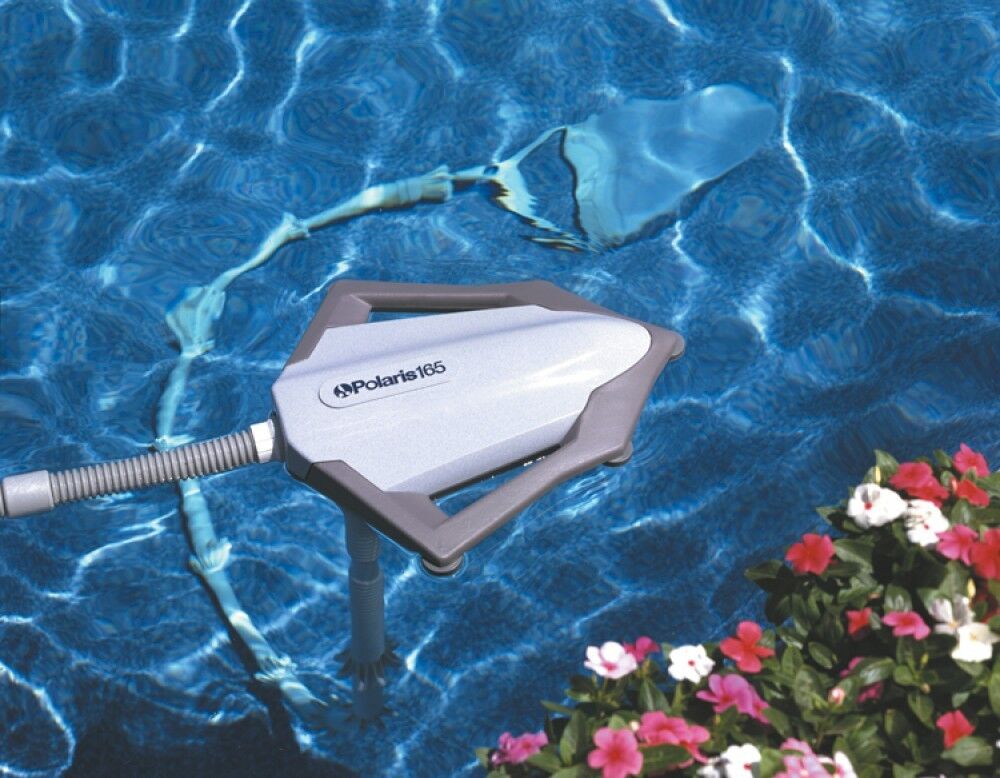 Polaris is an industry leader when it comes to pool cleaners and they have retained a solid reputation for producing quality products. The Polaris 165 pool cleaner is a great innovation loosens all the debris in places that are hard to reach with the help of the jet sweep assembly. It has a pressure side cleaner that sweeps all the sides and lowermost of the pool in three or fewer hours.
The Pros of This Polaris 165 Pool Cleaner
Easy to connect
Affordable price
Efficient-Removes all debris
Suitable for fiberglass or vinyl pools
Has a 32 feet long hose
Doesn't need a booster pump to operate
Designed for pools of 8 feet deep
Contains 1-year warranty
Cons of The Polaris Pool Cleaner
Coils into circles and tangles
Tends to get stuck in the pool
Not ideal for large or concrete pool surfaces
Key Features
32-feet hose
Filter bag
Patented jet sweep assembly
Connects to 1.5" threaded return line
Pressure side cleaner
Verdict
The pool cleaner works well and removes all the debris at the bottom of the pool. It is efficient since it will save you time and money. Due to its small size, this unit works well for smaller pools and is only suited to fiberglass and vinyl. Nonetheless, it is not a great option for large and concrete pools.
Who is this product for?
The Polaris 165 pool cleaner is designed for property owners who want to get rid of built up debris on unreachable surfaces in their in-ground pools. It is a great value for money if you want the efficiency and convenience of a pool cleaner to reduce the overall maintenance time of your in-ground pool.
This pool cleaner uses pressure to sweep off debris that could not be removed manually with ease. It is a high-quality machine that will do a decent job of cleaning your pool. If you spend the whole day cleaning the pool manually and still leave some debris on the ground, this product suits your needs. 
Key Features and Benefits of the Product
Here are key features and benefits of the product:
Jet Sweep Assembly: The jet sweep assembly is perfectly enabled to blow water with pressure to loosen the debris. It touches the surfaces that are hard to reach and sweeps the debris into the filter bag.
Unique Filter Bag: The design of the filter bag enables it to remove the debris before it reaches the pump basket. Thus, it saves the filtration system from quick wear and tear.
36 Feet Hose: This pool cleaner is designed with a 36-feet hose that is long enough to reach the hard areas of the pool. However, a downside of the hose is that it easily tangles and tips over. It is also too stiff, and this can prevent better maneuverability of the cleaner.
Easy Installation: The product comes with a manual that has easy instructions on how to fix the pool cleaner. Even for a first-timer, 5 minutes are enough, and after this, the machine is ready to work.
Value for Price: Considering the perfect work that the machine performs, the price is considerable. You will have value for your money.
Customer Reviews
Polaris 165 pool cleaner reviews are plenty, with most customers indicating that the item served them well. However, some customers were quick to note that they experienced glitches, especially with the hose, which they described as too small. Here are some of the reviews.
"So, I purchased another Polaris. It was the best decision. Works so easily. Moves to every corner of the pool and use the return water. If you insert the hose properly, it won't entangle. I love it. And the price is reasonable".
"I have been operating Polaris 165 for a week, and I have not encountered any problems."
"I don't know the machine flipped over last night. It entangled and lay on top of the coiled hose upside down. The jet spewed water from the pool. I only operate it when I can watch over it."
"Love this product. It makes your pool hassle-free."
"Stays in the same position and goes in circles."
"The pool cleaner only rotates backward and not forward."
Alternatives
Like the Polaris 165 pool cleaner, the Pentair 360228 Kreepy Krauly Racer Pressure-Side In-ground Pool Cleaner is designed to remove debris from inside the pool. However, it is a great alternative because it has 30% faster cleaning pressure and thus offers more efficiency. Its rotating side brushes scrub the surface to ensure effective cleaning.
Also, it captures more debris of large sizes and has LED lights that illuminate during the night.  While Pentair cleans faster and can be used at night, the chassis breaks easily, and you need to repair it regularly. 
Polaris 165 Pool Cleaner FAQ
Where can I buy the Polaris 165 poll cleaner? The product is available in many local distributors and is reasonably priced at Amazon store. It can be delivered locally within 7 days or shipped for international buyers. Usually, it will take a maximum of 3 weeks.
How long should I run my Polaris pool cleaner? On average, your Polaris pool cleaner should take 3 hours to clean an in-ground pool. However, this will depend on the amount of debris in your pool. Also, ensure that it doesn't run for an extended period as this can wear it off.
Can I use my Polaris pool cleaner to clean concrete surfaces? No, the Polaris 165 pressure vacuum is not powerful enough to get rid of dirt on concrete surfaces. It can only be used for vinyl and fiberglass surfaces.
Read more: Polaris 165 Pool Cleaner – We Review The Pool Cleaner That Everyone Is Talking About!
9.  Zodiac Baracuda G3 W03000 Advanced Suction Side Automatic Pool Cleaner
The Zodiac Baracuda G3 is an automatic side pool cleaner that is designed to keep you pool clean without much effort. This suction cleaner does an excellent job of sucking in small and medium-sized dirty and debris from in-ground pools.
This versatile suction cleaner is from the Zodiac Pools Systems Inc, a brand that has made a name for itself when it comes to pool cleaners.
The Pros of This Baracuda G3 suction cleaner
Innovative technology
Affordable
Easy to use and install
Quiet operation
Low maintenance
Cons of The Polaris Pool Cleaner
Not suitable for large debris
Tends to get stuck on pool liners
Key Features:
Type: Suction side
Weight: 19 pounds
Long-life diaphragm
39-feet feed hose
36-fin disc
Although it has its cons, the Zodiac Baracuda G3 is clearly the best pool cleaner for in-ground pools.
Who is This Product For?
The Zodiac Baracuda G3 is an ideal pool cleaner designed for homeowners who are after an automatic, affordable, and powerful suction cleaner. You should purchase it if you are after a pool cleaner that will deliver super performance in your in-ground pool without breaking the bank. 
Key Features and Benefits of the Product
Here are some key features and benefits of this cleaner.
Flow-Keeper Valve: In most cases, a suction cleaner is likely to decline in performance when the water pressure drops. Thankfully, this suction cleaner from Zodiac is equipped with a flow-regulating feature that ensures peak cleaning performance even when during low water pressure.
36-Fin Disc: An impressive feature of the Zodiac Baracuda G3 is the 36-fin disc that allows the cleaner to adhere to any surface. It gives the cleaner an extensive cleaning passage, which then increases the surface area to be cleaned. This feature also comes in handy to prevent the bot from getting hung-up on fittings, lights and drain covers.
Long Life Diaphragm: Interestingly, this suction cleaner features only one moving part. Consequently, your diaphragm will last longer. Also, you won't need to worry about the cost and hassles involved in maintaining other parts like wheels, gears and flappers.
Wheel Deflector: With this cleaner, you can clean walls of different pool surfaces including fiberglass, vinyl, gunite and tile with great agility. The wheel deflector feature allows great mobility even in hard-to-reach areas of the pool like corners.
Quick-Release Cassette: Worried about the maintenance of the cleaner? The quick-release cassette allows you to reach the diaphragm so you can do daily maintenance with ease.
39-Feed Hose: Something else that makes this cleaner a great choice for your pool cleaning needs is its long hose. This hose is easily adjustable, allowing you to change the length based on your preference. Plus, it is scratch resistant, and it won't leave any marks on your pool floor.
Quiet Operation: If zero noise pollution matters to you, then you will most likely appreciate the fact that the G3 does not include any moving parts that may cause vibration or loud noise. Unlike most cleaners in the market, this model only requires to be connected to the suction area of the circulation. Hence, you will not only enjoy a hassle-free operation, but quiet operation as well.
Automatic Operation: Are you tired of the hassles involved in manually cleaning your pool? Well, the G3 is automatic and it eliminates the need for manual operation.
Customer Reviews
To help you make an informed buying decision, we have complied some of the zodiac barracuda g3 w03000 reviews.
"I purchased the Zodiac G3 after my previous model; Hayward Navigator, required new parts every year. I have managed to keep the Baracuda for 17 years."
"This leaner is simple, solid and with great construction. It however cleans great with straight hoses."
"I purchased this unit based on other customer reviews. However, I was disappointed by the poor design that leads to failure."
Zodiac Baracuda G3 Automatic Pool Vacuum Cleaner Reviews on Youtube:
FAQ & Additional Tips
How does the G3 work around my pool? Well, thanks to its clever design, the G3 find its way to your pool with ease. It has only one moving part and it maneuvers with the help of the wheel deflector and 36-finned disc. It is user- friendly and will work to give your pool an impeccable look with no complications.
Where do I purchase this product? The Zodiac Baracuda G3 is available for purchase on online stores like Amazon. These stores offer a wide of pool cleaners and it is easy to find what you are looking for.
Additional Tips
Here are some tips to ensure maximum performance of the cleaner:
Always keep the main drain closed.
Conduct regular maintenance of the cleaner to ensure its effectiveness.
Position the hose in a straight line for easy use.
Connect a leaf catcher to the suction hose if the pool has a lot of leaves.
Read more: Baracuda G3 Suction Cleaner Reviews
10.  Intex Automatic Above Ground Swimming Pool Vacuum Cleaner
The Intex Auto Pool Cleaner is a vacuum that cleans the floor surface of swimming pools automatically. It is manufactured by the Intex company. The company has years of experience of providing trust worth pool cleaning appliances.
The Pros of This Intex Auto Pool Cleaner
It is retailed at an affordable price.
It is automatic so you can leave it all alone and it will clean your pool for you.
Powerfully vacuum that removes almost all of the pool gunks.
Durable and long-lasting.
Cons of The Intex Pool Cleaner
Difficult to assemble.
The pump is not strong enough depending on the size of the pool.
Pool compatibility issues.
Filters easily tear overtime.
Verdict:
If you have an above ground pool then you should totally get this. It will save you time, money and effort cleaning your pool.
Who Should Buy This Product?
Here are individuals who should buy this product:
Homeowners with Swimming Pools: If you happen to be a homeowner who has a swimming pool in your backyard then this equipment is definitely for you. Although buying it can be costly but owning it will save you money from hiring pool cleaners to do the job for you.
Pool Cleaning Service Business Owners: It is important for business owners to invest in the latest technological advancement to further their production. With this automated pool cleaners, pool cleaning service business owners will mitigate cost of labor as they have a piece of equipment that will do the job for them with minimal supervision required.
Key Features
Accessible replacement parts sold on Amazon, Ebay, and Walmart: Pool cleaners usually require parts such as hose and filters frequently as they are the ones more to wear and tear after several usages. The good thing about Intext Auto Pool Cleaner is the fact that replacement parts can easily be ordered from Amazon and delivered straight to your doorsteps. 
The unit comes with 24 feet and 7 inches hose that can be easily attached to the swimming pool's inlet: Having a long hose is important for a pool cleaner so that it can effectively reach all the surfaces of the pool without stopping. Some pool cleaner equipment only includes up to 12 feet of hose and you would need to purchase a longer one if that is what you would prefer. 
Filter pumps at 1,600 to 3,500 gallons flow rate per hour: A higher water flow rate is more efficient because it means that the pool will be cleaned faster. For the Intex auto pool cleaner, cleaning 1,600 to 3,500 gallons flow rate per hour is excellent.
Automatic direction reverse functions: Some pool cleaners would require you to manually reverse the direction of the water flow but with Intex Auto Pool Cleaner, all you need to do is click a button and the equipment will automatically do it for you.
Customer Reviews
Here are some Intex auto pool cleaner reviews that you have to take note of:
"The moment I bought this pool cleaner, I was automatically impressed. However, I found out that I did not have enough GPH on my filter but what I did was recheck the hose connection and ensure that the screen was not full and everything work perfectly from then on."
"My old rechargeable pool vacuum can finally rest well. The Intext auto pool cleaner is so fun to watch especially when it scuttles around the pool. In just about an hour, my pool was entirely cleaned."
"I had trouble setting up the hose connections of this product. It was either I did not really read well the manual or the instructions were not clear enough. However, after countless youtube videos and online searches on how to install it, I finally made it work and its been work well so far."
Frequently Asked Questions
Where to buy the product? You can order the Intex auto pool cleaner through Amazon.
How to use the product? The product comes with a manual. However, if it is not clear enough for you, you could check out youtube tutorials on how to properly install the Intex auto pool cleaner, reviews can also be checked there also.
How much is the delivery fee and how long will the delivery process take? The shipping fee is free but the delivery process will vary depending on your location.
INTEX POOL CLEANER ( VACUUM ) Does the Intex Pool Cleaner really work? We put it to the test
11.  Polaris 360 In Ground Pressure Side Swimming Pool Cleaner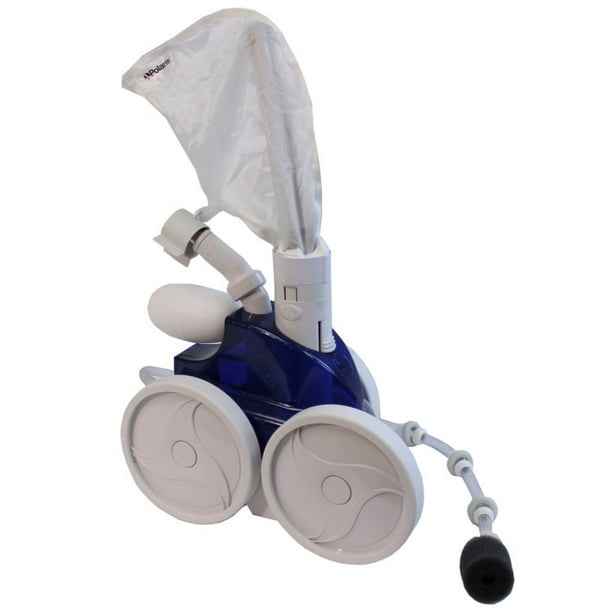 The Polaris 360 is the updated version of the Polaris 280 model. It's basically a pressure side pool cleaner that uses three jet nozzles and can even operate without the need for a booster pump.
It's manufactured by the Zodiac company which is known for manufacturing high-quality products in the swimming pool industry.
Key Features:
Large bottom opening
Advanced cleaning technology
No booster pump necessary
Three jet nozzles
The Pros of This Polaris Vac-Sweep 360
Easy to maintain
Can function even with no booster pump
Comes with three jet nozzles
Belt driven mechanism
Cons of The Polaris Pool Cleaner
Quite expensive
The replacement parts can be a bit expensive
Not ideal for large pools
Verdict
The Polaris Vac-Sweep 360 uses a combination of the belt-driven mechanism and three jet nozzles for quick and efficient cleaning. Moreover, it doesn't require a booster pump and instead operates on your system's ambient pressure, thereby allowing you to save cash in the long run.
Who the Polaris 360 is For
The Polaris 360 is perfect for those who want to clean their pools with a cleaner that doesn't run on a booster pump. Moreover, due to its really affordable price, it allows everyone to save more money while keeping their pool cleaned and well-maintained without the need to invest in high-end and more expensive cleaners.
Compared to other pool cleaners on the market, the Polaris 360 is durable enough to scrub even the dirtiest pool floors, making it possibly the best pool cleaner on a budget.
Key Features of the Polaris 360
No booster pump operation: One of the best things about a pressure side cleaner is that it only uses water that the pump is pumping, thereby placing less strain on your pool pump. However, it means that you will need a booster pump just to create the proper pressure needed by your cleaner. However, the Polaris 360 eliminates the need for that. It can operate even without a booster pump and instead uses the water which is pumped by your pool circulation system. As a result, you can enjoy a far more efficient operation at a relatively lower upfront investment.
Three jet nozzles: Compared to other pressure pool cleaners, the Polaris 360 comes with three jet nozzles for faster and more efficient cleaning.
Belt driven mechanism: Another notable feature of the Polaris 360 is that it uses a belt-driven mechanism as opposed to a shaft-driven one common in most pressure pool cleaners. This means that it contains less moving parts which translate to fewer parts wearing out. As a result, you can benefit from less downtime since the maintenance and repair requirements don't happen that often. Moreover, it's a lot easier and less expensive to repair a worn belt than it is with a shaft drive.
Customer Reviews
"After using for about 15 years, my old Polaris 280 cleaner finally gave up. That was when I decided to buy the 360 as a replacement. After installing it and having it run for about an hour, I found that it's quite efficient in cleaning as opposed to my old 280. It's definitely worth it!"
"It's certainly not the best cleaners in the market, but for me, it works perfectly, is fairly priced, and quite easy to set up. Overall, I think it's worth the price considering how efficient it's capable of cleaning my pool."
"Bought the unit last week. When I connected it to my pool system, I found out that the wheels aren't moving properly. One of the wheels also fell off after very light use. It could have worked perfectly if not for that."
FAQs
Does it come with a warranty?  The Polaris 360 has a standard ten-year warranty for its frame while only a one-year warranty for the other parts.
How much does it cost?  The Polaris 360 is sold at Amazon for approximately $599 with FREE shipping if you're from the US.
What makes it different from the Polaris 380?  The Polaris 360 is generally a cheaper version of the Polaris 380. Compared to the 380, it doesn't require a booster pump to operate which makes it a more affordable option.
Polaris Vac Sweep 360 Pressure Side Pool Cleaner review
12.  Pentair Kreepy Krauly Suction-Side Inground Pool Cleaner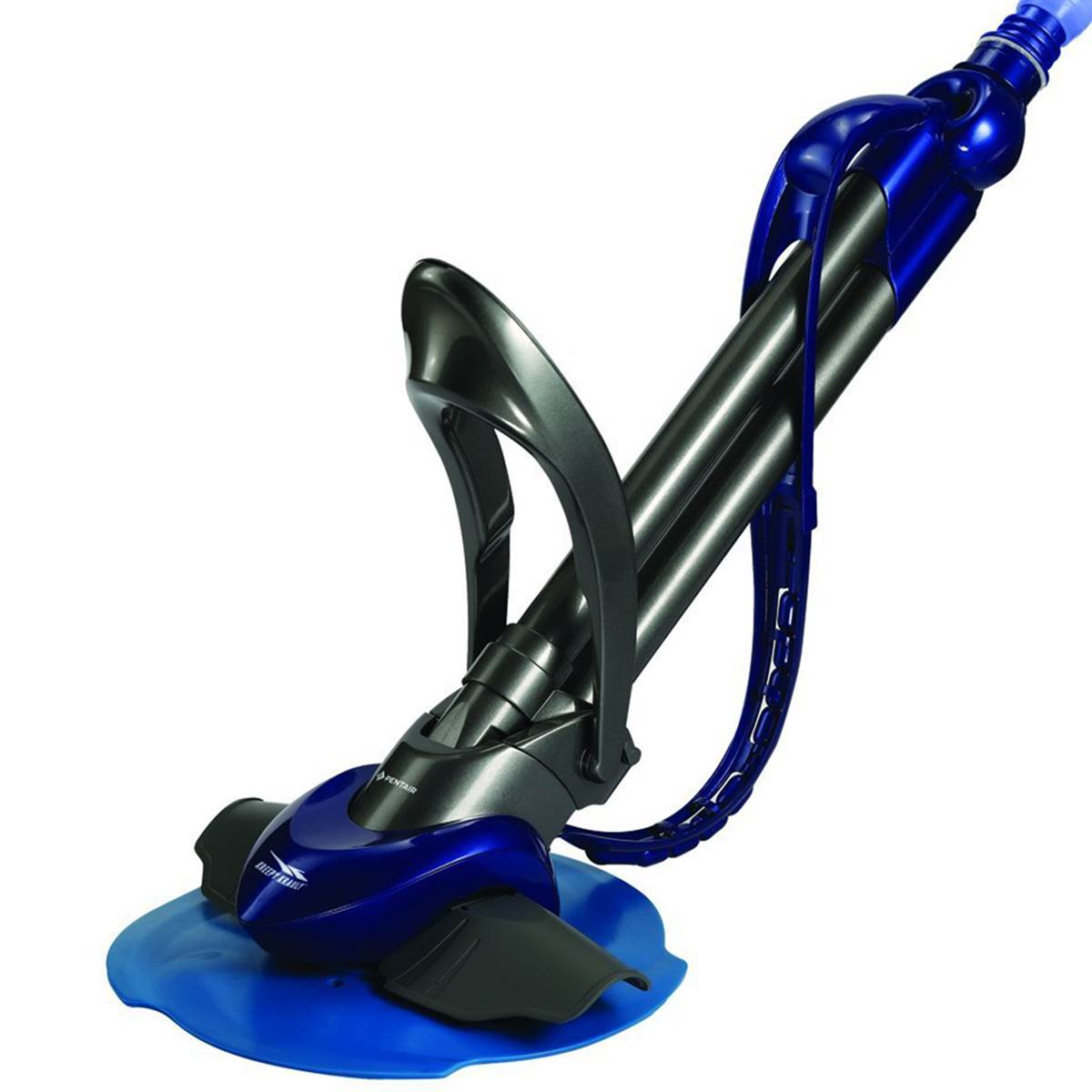 The Kreepy Krauly has been around for decades and is extremely popular, with over 3 million customers around the world. Redesigned for greater cleaning coverage, its powerful suction removes dirt and debris without intervention. With only a single moving part, it is designed for years of dependable service and low maintenance costs. As it operates without a booster pump, it saves on utility bills. It's also quick and easy to install.
Highlighted Features:
Dive float directional system guides the cleaner from its water line down to the bottom of the pool
Its automatic valve regulates the flow of waterto maintain the proper speed for cleaning
Roller strap helps navigate around pool steps and ladders
Cleaner wings move debris, such as leaves and dirt, directly into the filtration system
Single moving part design – no gears or wheels to replace
Type: Dropdown
The Pros:
Inexpensive
Easy to assemble
Ample hose sections
Very nice aesthetics
The Cons:
Has issues with direction and navigation
Gets stuck on pool ladders, lights, and stairs
Installing the NEW Kreepy Krauly Automatic Pool Cleaner
13.  Pentair Kreepy Krauly Legend Pressure-Side Pool Cleaner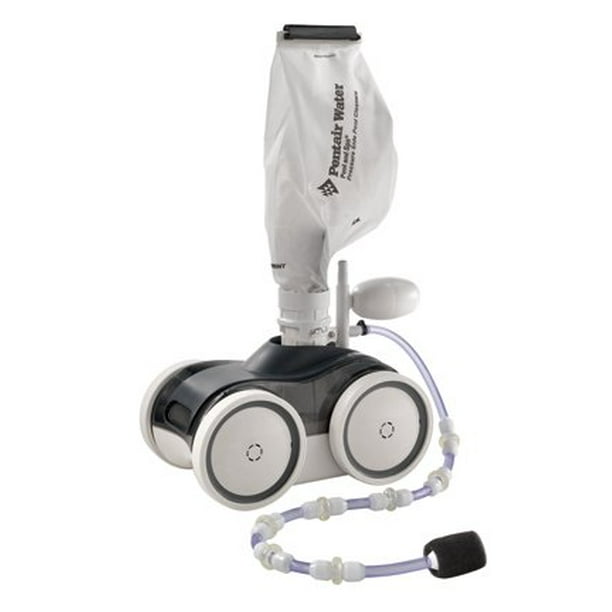 The Legend cleans your in-ground pool with an energy-efficient booster pump at a value price. The Legend Series innovative design hallmarks are its hydrodynamic body and treaded wheels which give excellent traction and stability in any in-ground pool. Its powerful vacuum is designed to easily remove large debris, such as twigs and pebbles.
Highlighted Features:
Hydrodynamic chassis, treaded tires, and front-wheel-drive allow for maximum traction even on inclined surfaces promoting better pool coverage
Its 4-wheel design is more stable than 3-wheel cleaners, allowing for a more unattended and uninterrupted performance
Handles large debris efficiently with its huge intake throat plus high-capacity bag
Available in white or gray housings
30′ hose
Pool Type: In-Ground
The Pros:
Good at cleaning up debris such as palm tree seeds
The Cons:
Requires some adjustment before it performs well
It's backup valve is not always effective in getting out of a step or corner
Installing a Kreepy Krauly Legend Pressure Side Pool Cleaner
14.

Polaris Vac-Sweep 280 Pressure-Side In-Ground Swimming Pool Cleaner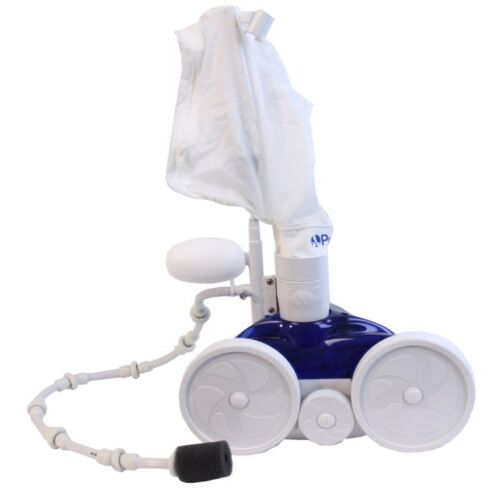 The Vac-Sweep 280 is another cleaner from Polaris for your in-ground pool. It's a cleaner that is pressure-side, but unlike the Vac-Sweep 360, this model does require a separate Polaris booster pump. With an iconic 3-wheel drive, the 280 sweeps, scrubs, and suctions the surfaces of your in-ground pool. Connects readily to a 1.5" dedicated pressure cleaner line and comes with 31 feet of feed hose.
Highlighted Features:
Automatically sweeps, scrubs, and suctions the floor and wall surfaces of your in-ground pool
Cleans pool within 3 hours
Operates on its own booster pump (Polaris booster pump is required and is sold separately)
Connects readily to an available 1.5" pressure line
Comes with 31'feed hose
Pool Type: In-Ground
The Pros:
The Cons:
Experiences difficulty in navigating square corners
Doesn't stay at the pool bottom very well
The tube material reacts with pool water content
15.  Hayward TVP500C TriVac Pressure Cleaner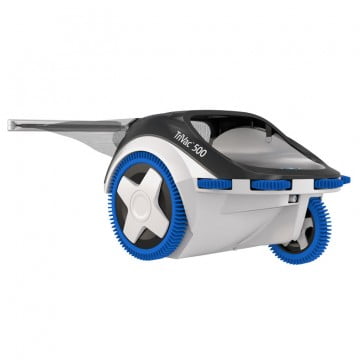 The TriVac 500 Pressure Cleaner operates with a booster pump and is equipped with its patented Aqua Drive Technology, which allows its low-friction wheels to gently traverse the area of your pool as its wide vacuum inlet suctions up dirt and debris. Its advanced sweep hose helps to navigate corners and crevices, while a unique short back-up sequence keeps it on track more efficiently. It features a large debris bag and unique float, keeping maintenance worry-free.
Highlighted Features:
Patented Aqua Drive System with passive low-friction wheel drive allows for excellent coverage
Its unique Backup system allows for quicker turns when it encounters obstacles
Extra-large Bag and makes for quicker maintenance and debris disposal
Large vacuum inlet and 3 high-pressure water jets suction large debris
Wide vacuum nozzle and powerful sweep hose for faster cleaning of almost all areas of the pool floor, coves, and wall
The Pros:
Quiet operation
Easy to install
The Cons:
Tends to break down relatively quickly
Difficult return policy
Hayward TriVac™ 500 Pressure Side Cleaner Reviews
16.  Hayward W900 Wanda the Whale Above-Ground Pool Vacuum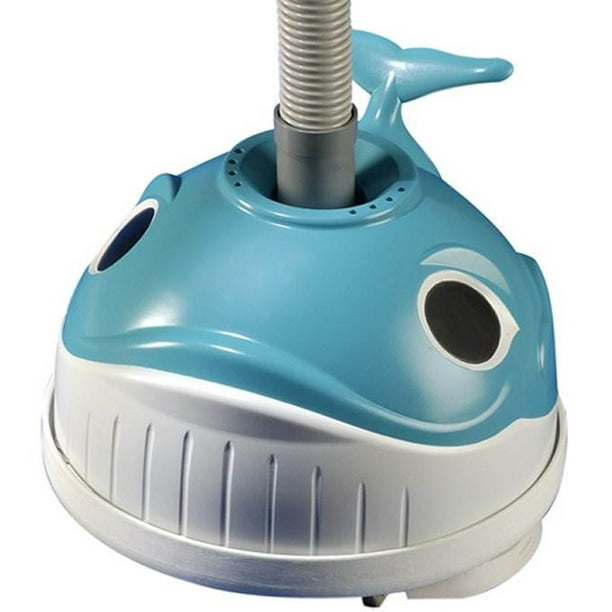 Wanda the Whale sports a kid-friendly design, but comes with a few warnings from the manufacturer. The product is meant to be used on permanently installed above-ground swimming pools only. They describe a permanently installed pool as installed in or on the ground such that it cannot be readily disassembled for storage. Wanda the Whale is also not recommended for use on Intex or other soft-sided pools.
Highlighted Features:
Deluxe Bumper ring reduces friction for easy movement and navigation away from walls, allowing the cleaner to resume its programmed steering pattern
Installs in less than 10 minutes, without tools
Pool Type: Above ground
The Pros:
Kid-friendly aesthetics
Easy to operate
Cleans efficiently
The Cons:
Leaves tend to clog its mechanism
Can damage soft-sided pool liners
17.  Dolphin Escape Robotic Above Ground Pool Cleaner
The Dolphin Escape departs from conventional wheel drives, replacing these with continuous rubber tracks that eliminate slipping and lost efficiency. Its low voltage DC motors are 90% more efficient than conventional cleaners. The Dolphin Escape features an active scrubbing brush to augment its vacuum and a massive top-load filter can handle large debris easily. More importantly, the Dolphin Escape employs navigation and scanning software to clean your above-ground pool more efficiently.
Highlighted Features:
Stylish design
SmartNav 2.0 Robotic Scanning for the ultimate in cleaning navigation
Hypergrip Continuous Tracks – features improved traction over conventional wheels
Hyperbrush Active Scrubbing complements its powerful vacuum to remove contaminants
Large debris cartridge holds up to 60% more debris
Energy-efficient 24V DC motor
One year warranty
Pool Type: Above ground
The Pros:
Cleaning navigation enhanced by software and robotics
The Cons:
Does not get fine particles without an ultrafine filter (not included)
More expensive than conventional (non-smart) cleaners
18.  Dolphin Premier Robotic Pool Cleaner
The Dolphin Premier also features continuous tracks, in lieu of an all-wheel drive. Featuring efficient Twin DC motors, the dual scrubbing brushes clean surfaces of hard dirt and use 90% less energy than the typical suction and pressure cleaners. Multi-Media is introduced with the Dolphin Premier and includes 3 media types: micro-cartridges, standard cartridges, and oversized leaf/debris bags. This cleaner also comes with a weekly cleaning scheduler and Smart Nav software for optimized scanning and coverage.
Highlighted Features:
CleverClean uses advanced algorithms and robotics for an efficient cleaning path and complete pool coverage. Its anti-tangle swivel cable enables the cleaner to navigate the pool easily.
Dual scrubbing brushes remove tough dirt and debris on the pool floor and walls
Multi-Media filter options: bottom-load fine cartridge filters, ultra-fine cartridge filters, and an oversized fine filter bag.
The full filter indicator tells you when to clean your filter
The Dolphin's weekly scheduler can be programmed to clean every day, every other day, or every 3rd day
3-year quality assurance
Ideal for pools up to 50 feet
Pool Type: In-ground
The Pros:
Multi-Media filters are very useful
The Cons:
Cable tangles limit its cleaning area
Poor instructions
Difficult customer service
Seems to require a lot of repair and maintenance
19.  DOLPHIN Oasis Z5i Robotic Pool Cleaner
The Dolphin Oasis Z5i features continuous tracks for a better grip and features a Dual Drive motor for precise 360-degree pinpoint turning. Powerful scrubbing brushes remove tough dirt and debris, dislodging even the most difficult contaminants. The cleaner also can be controlled via the MyDolphin App using Bluetooth to go over problem areas. This cleaner also comes with a powerful suction rate and oversized cartridge filters to trap leaves and fine debris.
Highlighted Features:
Powerful dynamic dual drive-motor for precise 360-degree pinpoint turning for exceptional maneuverability
Dual scrubbing brushes remove tough dirt and debris on the pool floor and walls
Oversized cartridge filters combined with a strong suction rate traps leaves and fine debris
The Dolphin's weekly scheduler can be programmed to clean every day, every other day, or every 3rd day
Control the cleaner via Bluetooth using the MyDolphin App when needed
3-year manufacturer's assurance
Ideal for pools up to 50 feet
Pool Type: In-ground
The Pros:
The Cons:
Can occasionally get stuck in drain covers
20.  Hayward SharkVac Automatic Robotic Pool Cleaner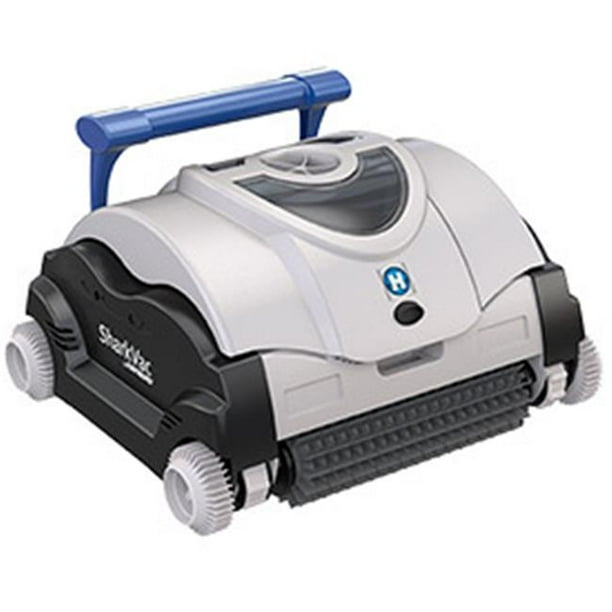 The SharkVac is a member of the TigerShark family of robotic pool cleaners. SharkVac integrates two fine porosity filtration elements in a sleek floor-specific design. With its unique top access debris chamber and filtration cartridges, there is less fumbling with cumbersome and messy bags. The SharkVac is compatible with all types of pool surfaces and its hardworking scrubbing brush gets rid of stubborn dirt. This cleaner is one of the most economical pool cleaners to operate.
Highlighted Features:
One of the most energy-efficient cleaning solutions in the industry
Top-access debris container provides easy access to cartridge filters and efficient debris cleanup
Cleans, scrubs and vacuums pool surfaces such as floors and coves
Built-in microprocessors provide a superior and efficient-cleaning pattern
Easy to use, no tools required
Ideal for pools up to 50 feet
Pool Type: In-ground
The Pros:
Top-access debris chamber is convenient and easy to clean
Energy-efficient cleaning
The Cons:
The cleaner doesn't seem to clean efficiently and exhibits strange behavior
Wheels and roller bearing need replacement after some time
21.  Polaris F9550 Sport Robotic In-Ground Pool Cleaner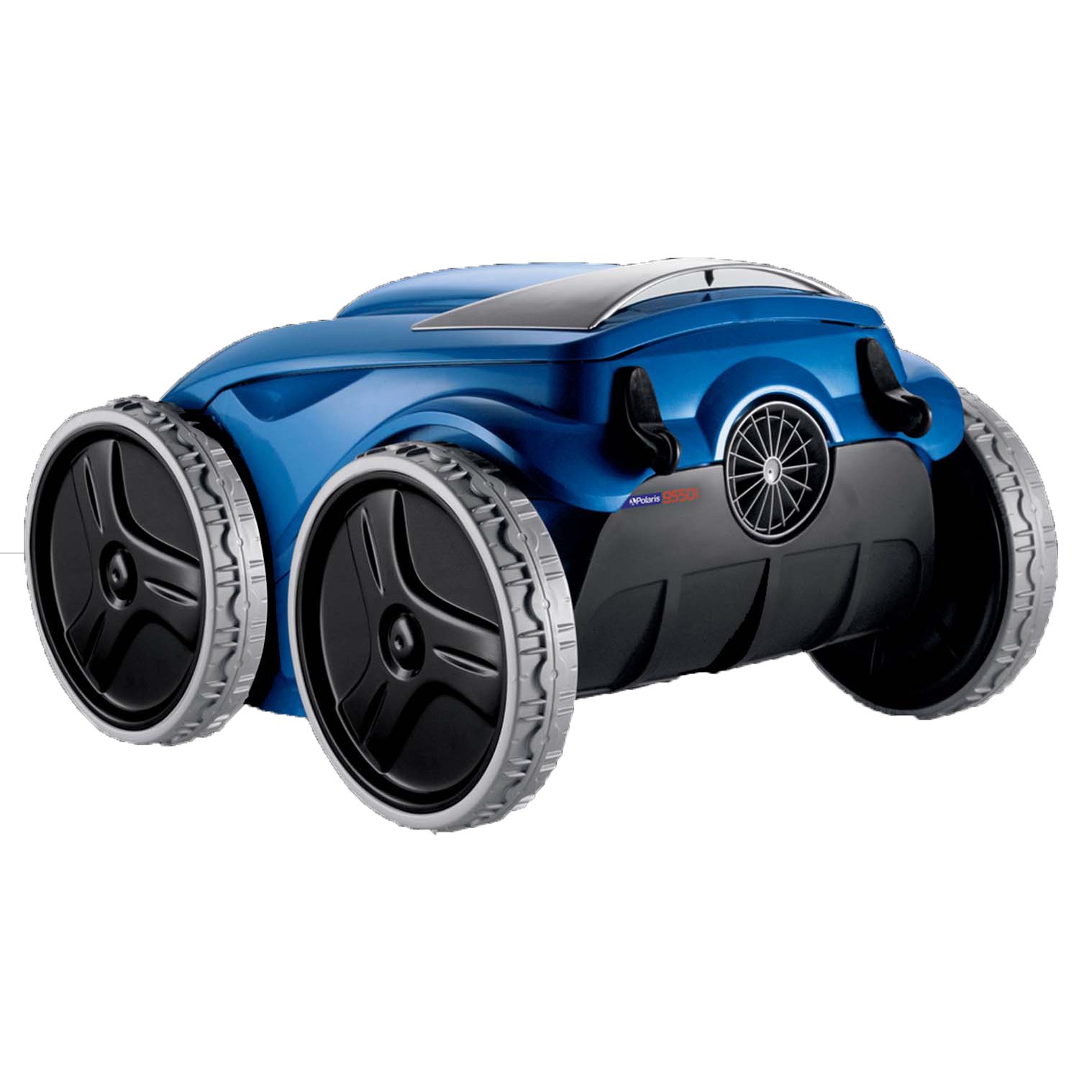 The Polaris 9550 is a typical robotic cleaner that runs on a 4wheel drive. The cleaner features Aqua-Trax tire for pool surfaces and features ActivMotion Sensor Technology to promote better navigation. It has swinging brushes that remove stubborn stains and contaminants its proprietary Vortex Vacuum Technology picks up even large debris quickly. Pool debris is readily accessed from the top of the cleaner which sports a large filter canister – no need to fuss with messy bags. The 9550 also features a weekly programmable timer, which includes built-in cleaning patterns, and a handheld motion-sensing remote. The 9550 also features a durable alloy caddy for transport and storage.
Highlighted Features:
Robotic cleaner runs on a 4wheel drive
Aqua-Trax tires are optimized for the surfaces of your pool
ActivMotion Sensor Technology offers excellent navigation capability
Vortex Vacuum Technology picks up larger debris at the same timekeeping maximum suction
The rear water propulsion system cleans hard-to-reach dirt and debris under stairs as well as in tight corners
Hasa 7-day programmable timer, plus hand-held remote and durable alloy caddy.
Pool Type: In-ground
The Pros:
Cleans very well, especially with the optional fine filter
Uses a lot less electricity than other cleaners
The Cons:
Inconsistent cleaning
May require maintenance after time
22.  Aquabot Turbo T2 Plus Pool Cleaner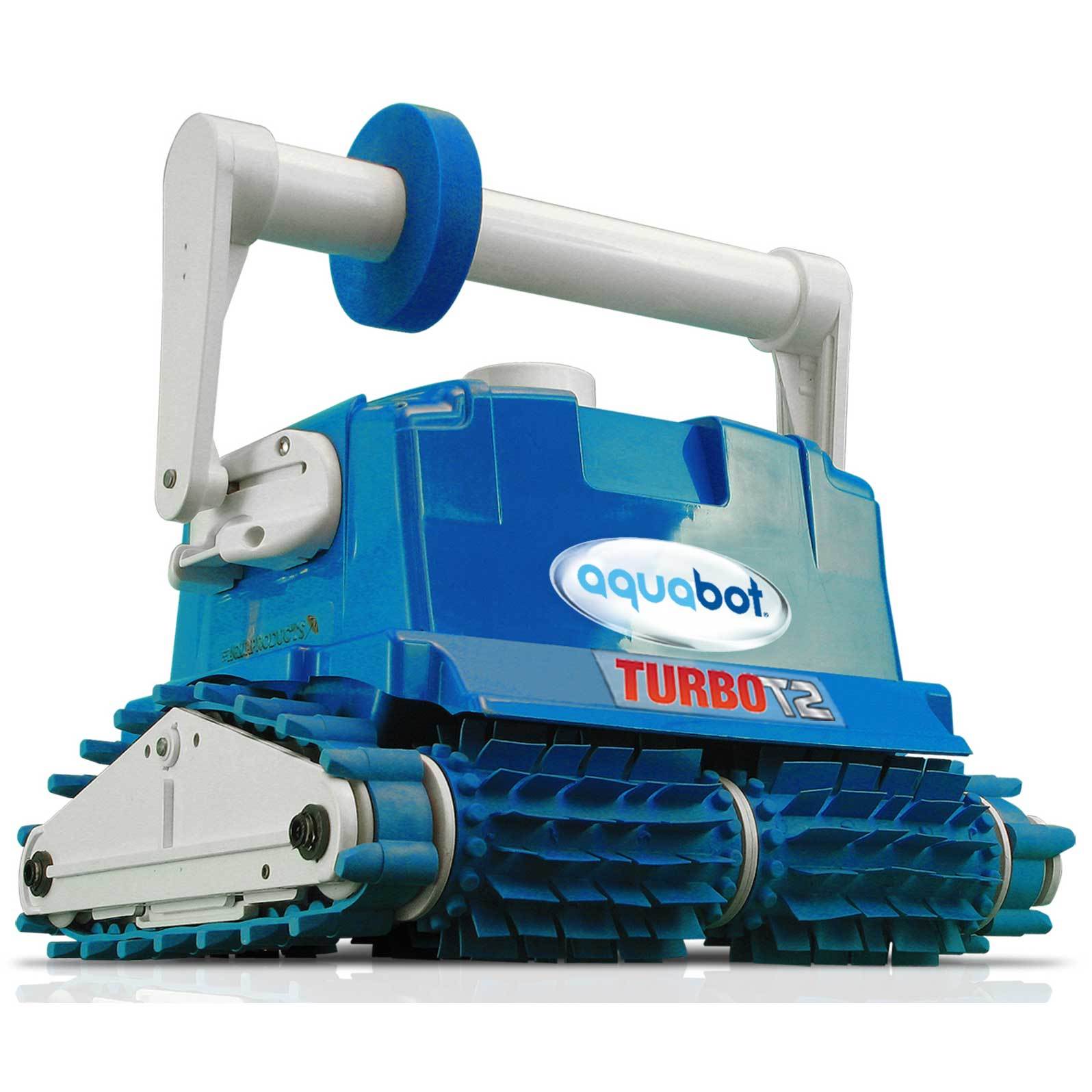 The Aquabot Turbo T2 Plus has many innovations from the original Aquabot T. Featuring Scrub technology, DeepClean™ Power Wash technology, as well as Vacuum, Microfilter and Circulate technologies, the Aquabot Turbo T2 Plus can even climb 90° angles to effectively remove dirt from seams, corners, and even porous surfaces while reaching those difficult areas that are inaccessible to other cleaners.
Highlighted Features:
Scrub technology provides the ultimate in dirt and contaminant removal
Can climb even 90° angles to remove dirt from difficult-to-reach areas
Effective filtration capability and capacity can remove debris of all sizes
Pool Type: In-ground
The Pros:
Good cleaning performance
Easy setup
Timer options are useful
The filter has a large capacity
The Cons:
Relatively expensive compared to other cleaners
Bottom access filter bag is inconvenient and difficult to clean
Which Type of Pool Cleaner Do You Need?
There is a variety of automatic pool cleaners available that will clean your pool independently once you install them in the pool. They are divided into three categories: suction-side and pressure-side cleaners operate using power from the pool's systems while robotic cleaners operate using their own power.
Suction-Side Pool Cleaners
This type of cleaner is essentially a vacuum that is powered by the main pool pump. It consists of a hose and a cleaning unit with a filter bag. The hose is connected to the skimmer of the pool pump directly or to a dedicated suction line. Once the cleaner unit is operating, it moves in a random pattern across the sides and bottom of the pool. It sucks up debris and collects it in the filter bag.
Suction-side cleaners are best used in pools that are screened in and the debris is mainly sand or dirt with just a few leaves. In addition, if the filter suffers from low flow rate, the pool cleaner may not work as effectively. You may have to contact the manufacturer if your filter's horsepower is 3/4-hp or less to determine if the system meets the required flow rate.
The cleaner is simple to install, since you only need to connect the hose to the proper outlet.
Since it has its own filter basket, less stress is put on your pool's filter.
You can add a booster pump to increase the pressure and increase cleaning power.
As it cleans, it distributes filtered water across the pool.
It is one of the most affordable of the pool cleaner types.
The cleaner only works when the pool pump is running.
Since the pump needs to be constantly operating, this can increase your energy expenses.
The filter may need to be maintained or back washed more frequently.
It is also not effective in sucking up small debris and cleaning the walls of the pool.
Pressure-Side Pool Cleaners
This cleaner also consists of a hose and filter unit. The hose is connected to the filter system either through the side intake that is attached to the pump filter or through the skimmer. The cleaner is propelled by the pressure of the water being pumped back into the pool. The unit's hose sucks in debris and dirt, with large pieces being captured by the pump basket or skimmer basket, while the filter captures finer debris. The tail acts as an agitator to stir up small debris from the floor so that it can be vacuumed.
If you choose this type of cleaner, you may need to consult with the manufacturer to see if your pool's pump can handle the additional load; otherwise, a booster pump may need to be added. However, this will require that you install a separate hose connection.
This type of cleaner is relatively easy to install using the long connection hose and it needs no additional parts.
Since it already has its own filtration bag, there is less stress on the pool's filter during the cleaning process.
In terms of cost, pressure-side cleaners are relatively inexpensive compared with the other types.
If a booster pump is required, you will have to bear the extra cost of installing the hose connection in your pool wall.
Since more dirt is being added to the load, filters need to be back washed and cleaned more frequently.
These cleaners consume more electricity since the pool's pump has to be running while they are operating.
Robotic Pool Cleaners
These cleaners have their own internal motor, control unit with processor and pump; thus, their operation is independent of the pool's filtration system. The cleaner can also learn the shape and size of your pool, allowing it to clean more efficiently than other types. The cleaner may be powered from an outlet or run on rechargeable batteries.
The robots are programmed to move across the pool in a predetermined cycle, and then automatically shut off. Some models also include a remote so that you can control its movements during the cleaning process. The cleaner sucks in water as it moves and filters it of dirt and debris, and then pumps it out again from the top. The debris is trapped in filter bags for later disposal.
Since the cleaner has its own motor, it runs even if the pump is turned off, making it more energy-efficient.
Since it does not use the pool's filter system for cleaning, it does not interfere with the functioning of the skimmer and reduces stress on it.
It can be programmed to clean the entire surface of the pool, including the steps and the walls.
If the unit runs on a DC motor, the unit needs a long extension cord to power it.
It costs more than other types because it is the most technologically advanced.
Unlike other types, robotic cleaners cannot be left in the pool but must be removed after use to clean out the filter bag.
The Importance of Keeping Your Pool Clean
There are a lot of reasons why pool owners prefer to have their pools clean all the time. If your pool has dirty water, it is not inviting and not ideal for use. Aside from the enjoyment purposes, swimming pools should be maintained clean for hygienic reasons. Since pools contain water all the time, it is an ideal place for bacteria to breed. Germs and viruses may also manifest in the dirty water of your pool.
The usual complaint about pools is that they get green most of the time. The green pool is a result of not cleaning your pool regularly. It is very alarming when your pool turns into green since mosquitoes would love to breed in dirty waters of the pool. Mosquitoes are very undesirable insects since they can transmit diseases like malaria and dengue.
Cleaning your pools regularly is also essential to avoid spending too much money for repairs and pool draining. For cloudy pools, it is recommended to use a pool test kit to determine the levels or amount of chemicals used in the pool since it is usually a result of too many chemicals.
Pool experts would usually recommend having pool covers to keep debris from getting inside the pool.
Functions of an Automatic Pool Cleaner
An automatic pool cleaner is very useful for people who have a bad back which finds it hard to manually operate the pool cleaner throughout the pool area. This type of pool cleaner can move along the various areas of a pool automatically. Its main function is to suck up dirt and other debris in the pool. It functions as a vacuum.
Automatic pool cleaners may also come in different types and styles. These include automatic pressure-driven cleaners, automatic suction side-drive cleaners, and robotic pool cleaners.
The Difference Between In-ground and Above-ground Pool Cleaners
The difference between in-ground and above-ground pool cleaners is basically the structure and the features. The In-ground pool cleaners are basically designed to clean deep levels of the pool since in-ground pools have a submerged nature.
On the other hand, the above-ground pools are designed simpler than in-ground ones. Above-ground pools usually have the usual 90-degrees corners wherein the floor directly meets the wall that they are specifically designed to clean corners and hard-to-reach parts. Most above-ground pool cleaners aren't designed to climb walls or maneuver onto inclined floors, pool steps, and curves.
The suction and pressure pool cleaners for both in-ground and aboveground also differ from each other. The above-ground suction and pressure pool cleaners are designed to operate with less water as compared to those in-ground pool cleaners.
With regards to the price, the above-ground pool cleaners are cheaper as compared to the in-ground ones.
How to Choose the Appropriate Automatic Cleaner for Your Pool
An automatic pool cleaner is an ideal option for those who are tired of cleaning their pools manually. However, one should consider lots of things before choosing the best pool cleaner. It should be suitable to your pool cleaning needs. So, what should we do to choose the appropriate automatic pool cleaner for our pools? Here's how.
First, you have to consider the style of your pool. Is it in-ground or above-ground? What about the depth? Does it have inclined floor or lots of curves and steps? What about the materials of your pool? Is it vinyl or not? All of these things matter since there are pool cleaners that can only be used for in-ground pools or above-ground ones. If you have a vinyl pool, make sure that you choose pool cleaners that do not leave undesirable marks on the vinyl linings. It would be undesirable to ruin the pretty aspects of your vinyl pool if it is already full of dark marks and scratches.
One should also consider the features of their pool. It is important to consider if your pool is a salt water pool or a hydro pool hot tub.  One should also take note if their pools contain a pool heater because there are cleaners that may react to too much heat or chemicals.
One should also consider the type of debris that is usually found in their pools. There are pool cleaners that are only ideal for collecting small debris. There are also those that can collect big debris like leaves and acorns.
Automatic Pool Cleaners Buying Guide
There are lots of automatic pool cleaners out in the market. But which one should you buy? Well, here is a buyer's guide for automatic pool cleaners.
1. Determine the type of cleaner that is suitable for your pool.
The basic rule is: If you have an in-ground pool, then you should use in-ground pool cleaners. If you have an above-ground pool, then choose above-ground pool cleaners.
2. Determine your desired pool cleaning manner.
Automatic pool cleaners have different types with different features. They also offer different manners of cleaning a pool. One of these is the pressure-driven cleaning, which requires automatic pressure-driven pool cleaners that are powered by the pressure from the pool pumps. Another is through suction. This calls for automatic suction side-driven pool cleaners that are powered by the pool's filter circulation pump. Last, but not the least, is cleaning the pool using electric-driven robotic pool cleaners.
Important Features of Robotic Pool Cleaners
The innovation to pool cleaning products is the robotic pool cleaner. It includes lots of features that are very useful and can save time in cleaning the pool. These features include the following:
Lightweight
Wide and with four wheels
with swivel cord
With programmable timers
Can climb pool walls and steps
Energy efficient
Durable
Cleaning cycles
Conclusion
So, there you have it. You are already presented with the 20 best pool cleaners in the market and the necessary information about different types of pool cleaners. Also, please bear in mind these factors that should be considered when choosing the best pool cleaner appropriate for you pool. Hence, it is now time for you to choose the best and appropriate pool cleaner that suits your pool cleaning needs.
Personally, the DOLPHIN Oasis Z5i Robotic Pool Cleaner is in our opinion the best pool cleaner.
With its technology firmly rooted in modern robotics and its Bluetooth-powered mobile app, it provided the best solution for busy pool owners, who would rather spend time enjoying their pool rather than maintaining it.
While no cleaner is perfect, it did an able job in navigating even the most irregular pools, with just the occasional hitch encountered on drain covers (most cleaners also had trouble with this obstacle). Even so, you have the choice of manually controlling the cleaner via mobile app – which is a far cry from having to wait upon the random actions of cleaners, which have little hope of correcting themselves on their own.
The navigation and mobility of this cleaner are second to one, with its 360-degree pinpoint turning and non-slip continuous tracks. Its dual brushes also make quick work of any dirt and contaminants on your pool.
So that's it! Thank you so much for spending time reading this article. I hope this review has been useful to you. Please do share this with others who are struggling in cleaning their pools.