You may be looking into moving to a place with a pool or thinking of building one in your own backyard. Owning a pool is sure to be a luxurious treat for yourself and your family. You get your own relaxation area on warm summer days, a space for fun parties, or the opportunity to choose swimming as your exercise of choice. However, owning a pool is not all recreation and leisure. Additional work is required for its upkeep. Making sure your pool has no visible dirt or trash is not enough. Proper maintenance is required to ensure that your pool is always clean and safe to swim in. Putting effort into maintaining a pool correctly guarantees its prolonged life, decreasing the need for repairs, and the overall wellness to everyone who may use it.
Pool Cleaning Chemical Reviews
Best Pool Chemical Start-up Kit Reviews
Chemical Start-up kits are packs or boxes that usually come with a shock chemical that serves as the sanitizer, an algaecide, and a water clarifier. This mix of specialized chemicals ensures that you get all that you need to keep your pool clean and clear without stretching your budget. Start-up kits are perfect for first-time pool owners who want to test which is the best pool chemical for them and their pool.
Here are some chemical start-up kits:
1. In The Swim Basic Pool Opening Chemical Start Up Kit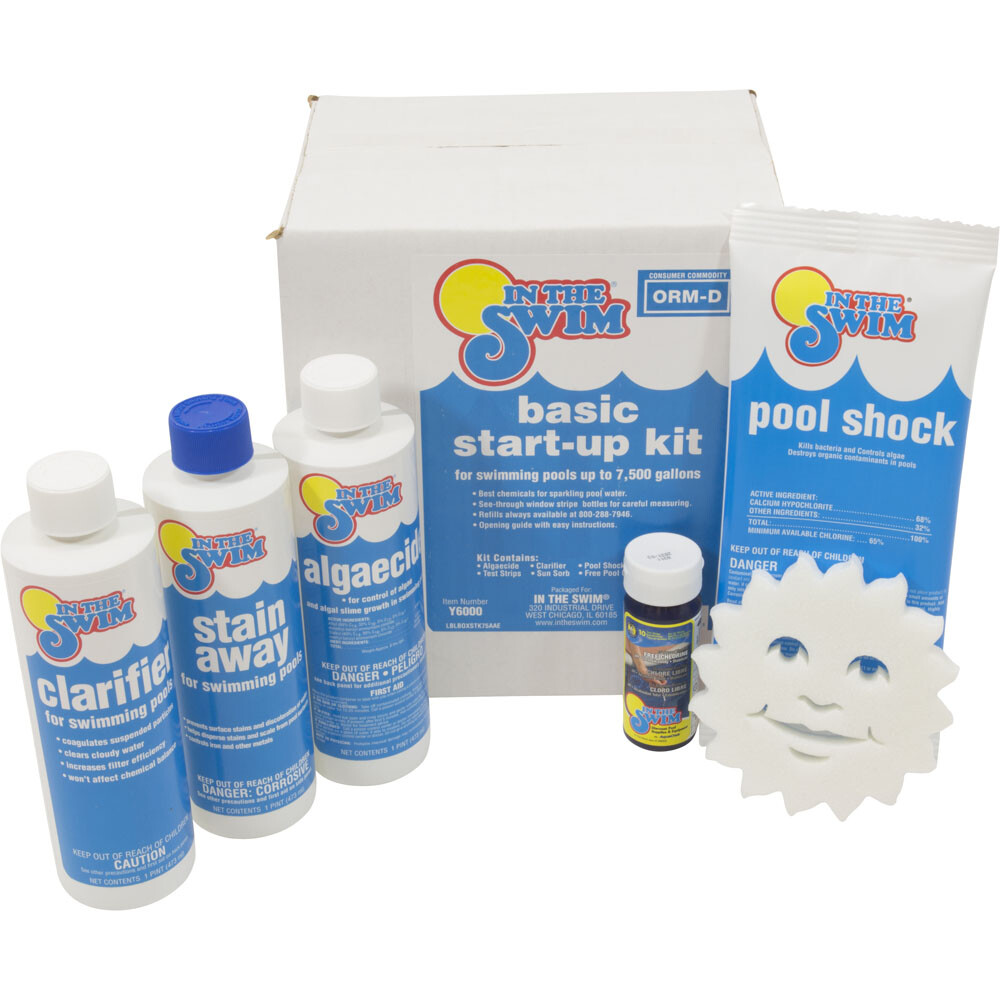 This In The Swimbasic opening chemical start-up kit covers up to 7,500 gallons of water. It includes a pack of chlorine shock to remove bacteria, a bottle of algaecide to kill algae, a bottle of stain and scale remover, 2 phosphates controllers, an oil absorber, and a bottle of water clarifier. What sets this kit apart is the oil absorber, also called Sun Sorb; it can absorb most oils and scum that contaminate your pool. It's important to remember that this package only covers 7,500 gallons of water and using it for a pool with more water is not advisable as it may dilute the chemicals and render them ineffective.
2. Doheny's Start-Up Kit #3 – For Swimming Pools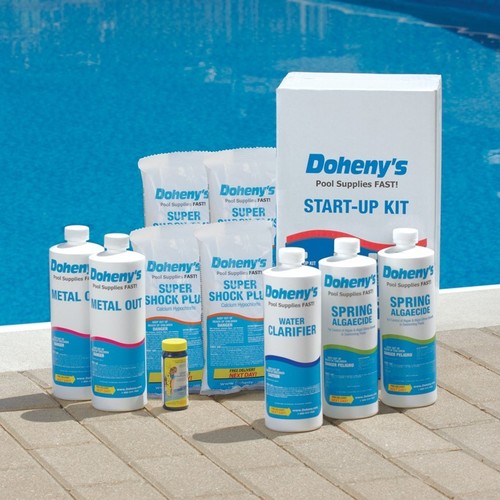 Doheny's start-up kit includes a metal remover, water clarifier, test strips, algaecide, chlorine-based shock, and an oil and scum absorber. This kit covers up to 30,000 gallons of water. What sets this kit aside is the metal remover which almost all start-up kits don't have. This kit is also highly praised for its effectiveness.
3.  Deluxe Spring Pool Start-Up Opening Chemical Kit For Pools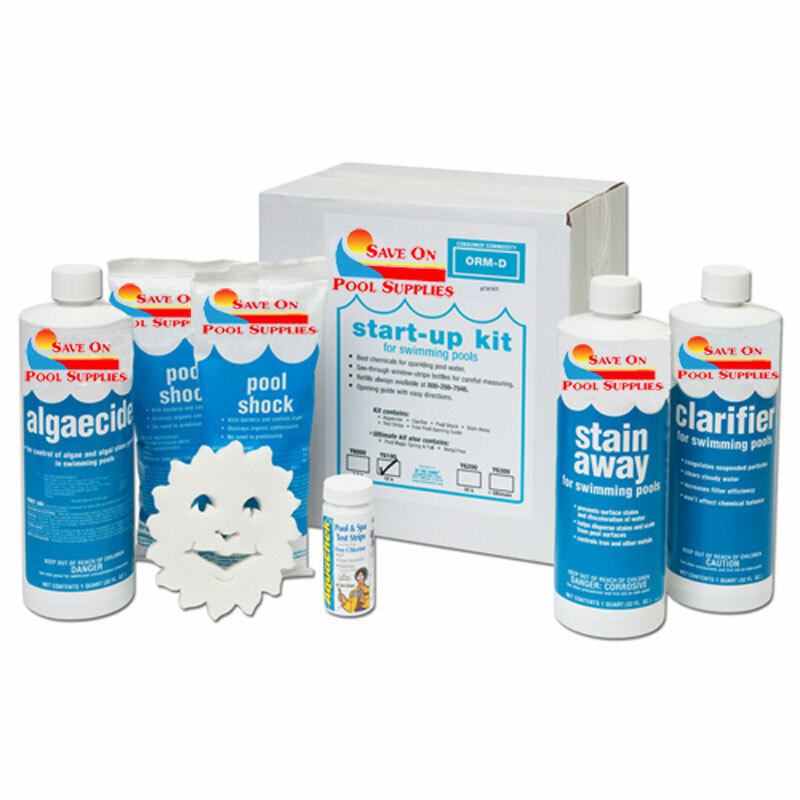 From Deluxe Spring, this start-up kit comes in 3 sizes: 7,500 gallons, 15,000 gallons, and 30,000 gallons of water. The kit is packed with all that you need for a pool. It includes test strips, a chloride-based shock, algaecide, a stabilizer, metal remover, a pH increaser and decreaser, alkalinity increaser, the clarifier, and multi-purpose cleaner. What sets this kit apart is their overall package. This kit contains mostly everything you will need for pool cleaning.
Best Pool Chlorine Tablets Reviews
When pool owners only need to address a specific issue, they wouldn't need kits that have other chemicals and only a small pack of the chemical they really need. Some pools would only have a sanitary issue that can be resolved by using chlorine tablets. Looking for the best swimming pool chlorine tablets is a matter of which is compatible with the needs of your pool and its existing water chemistry.
Here are different chlorine tablets:
4. In The Swim 3 Inch Pool Chlorine Tablets 50 lbs.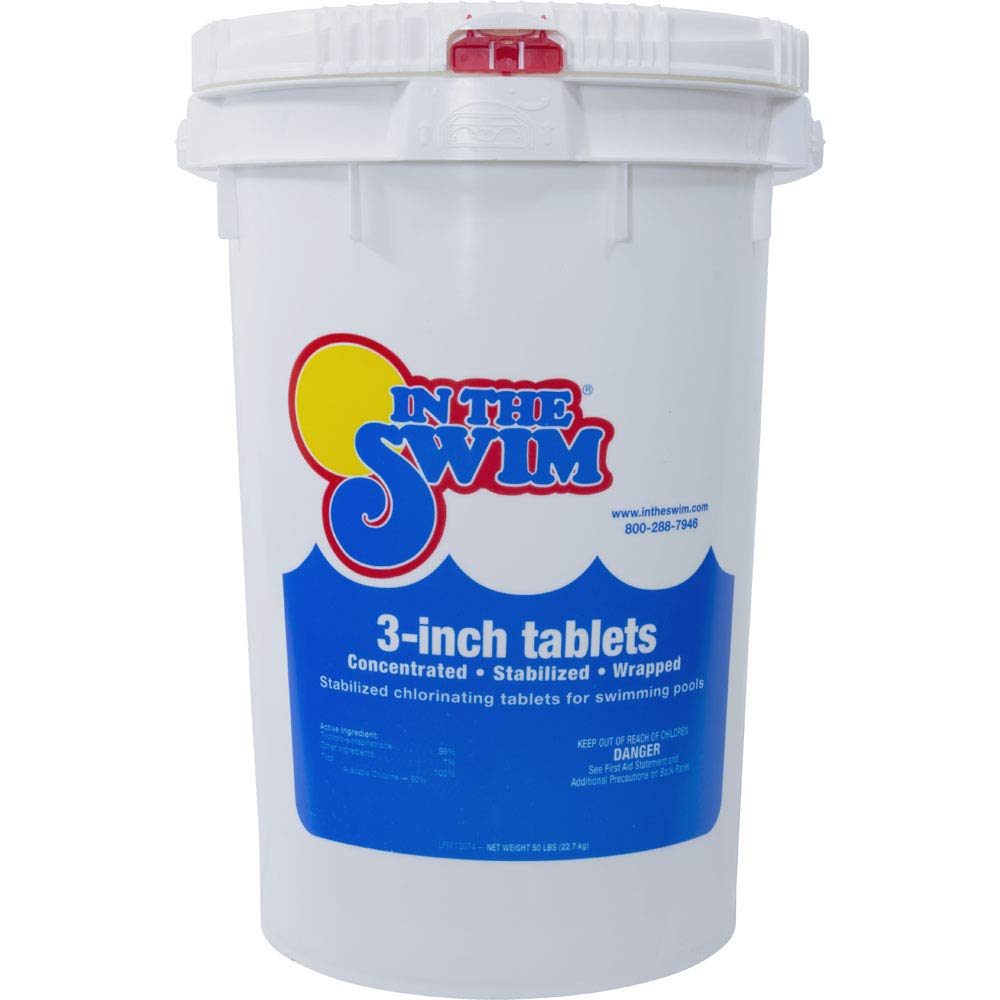 In The Swim offers powerful 90% available stabilized chlorine with 99% Trichloro-S-Triazinetrione. These tablets come in 3-inch, round forms and are individually wrapped. It ensures that the tablets are not exposed to moisture and humidity, preserving the quality of the tablets. These slow-dissolving tablets can keep your pool clean and bacteria-free using only 1 to 2 tablets for every 10,000 gallons of water per week. This product is good for those who are looking to stick to a brand for a long term as they only come in 50lbs buckets. These may last a year when kept in a dry storage space, depending on the temperature of the area. Pools in warmer temperatures may require more chlorine tablets as heat disintegrates chlorine.
5. Clorox Pool&Spa 22012CLXW Active 99 3-Inch Chlorinating Tablets
Clorox Pool&Spa offers a wide variety of chlorine tablet packages ranging from 5lbs to 35lbs and packages with chlorine shocks for added support. These tablets also come in 3-inch, round forms and are individually packed for ensured freshness. This product is good for those who are looking into exploring different chlorine brands as they have 5lbs packages. These tabs have 90% available stabilized chlorine made of 99% Trichloro-S-Triazinetrione.
6. Robelle 1410M 5-in-1 Multi-Purpose 3″ Chlorine Tabs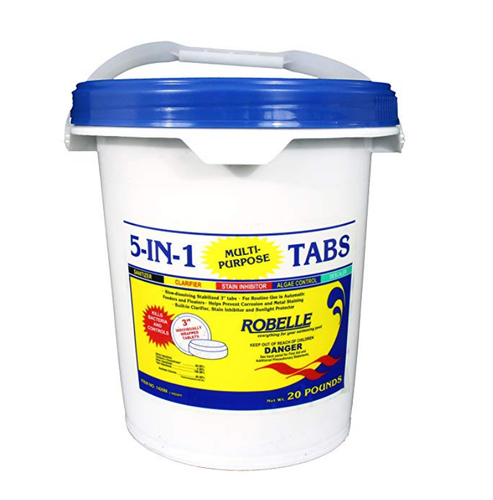 Robelle's multipurpose chlorine tablets are made of 94.05% Trichloro-S-Triazinetrione with 5.95% of other chemicals. Robelle tablets include chemicals that are used for maintaining water clarity, stain inhibitors, algae control, and descale. These tablets are also individually wrapped for ensured freshness upon usage. Robelle offers 5lbs, 10lbs, 20lbs, and 40lbs packages.
7. Arch Chemical 41228 HTH 3-Inch Chlorinating Tablets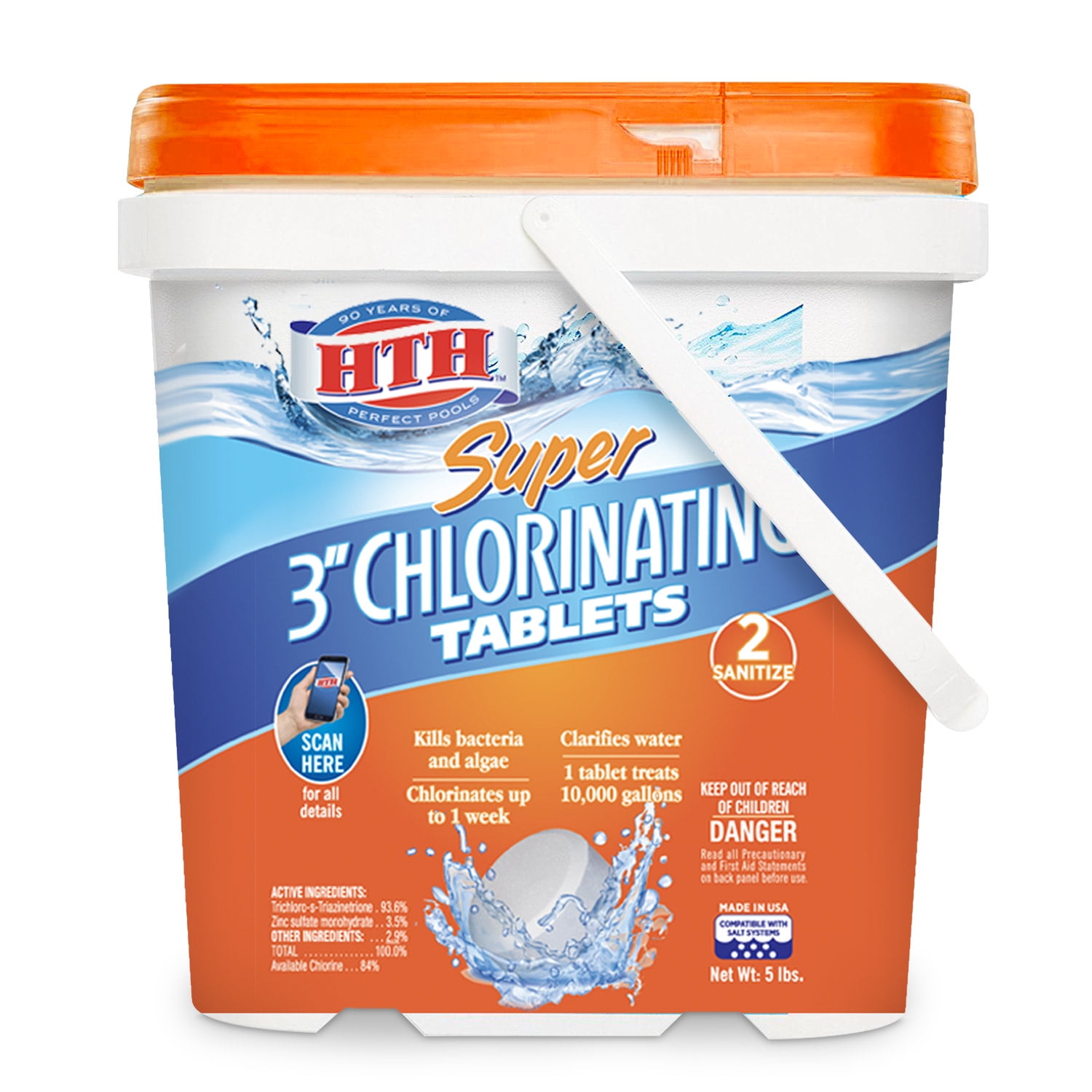 Arch Chemical chlorine tablets are 3-inch round tablets that are made up of 92.4% Trichloro-S-Triazinetrione with an available chlorine of 84%. The other ingredients, which make us 7.6% of the product, aid in preventing algae growth, sun protection for the chlorine component, and help maintain water clarity. Arch Chemical offers a 24.5lbs packaging for these tablets. This is a good product for those who are looking to use more chemicals in their pool but with a weighted importance on chlorine usage for sanitation.
New product:
8. Pool Mate 1-1407 Jumbo 3-Inch Chlorine Tablets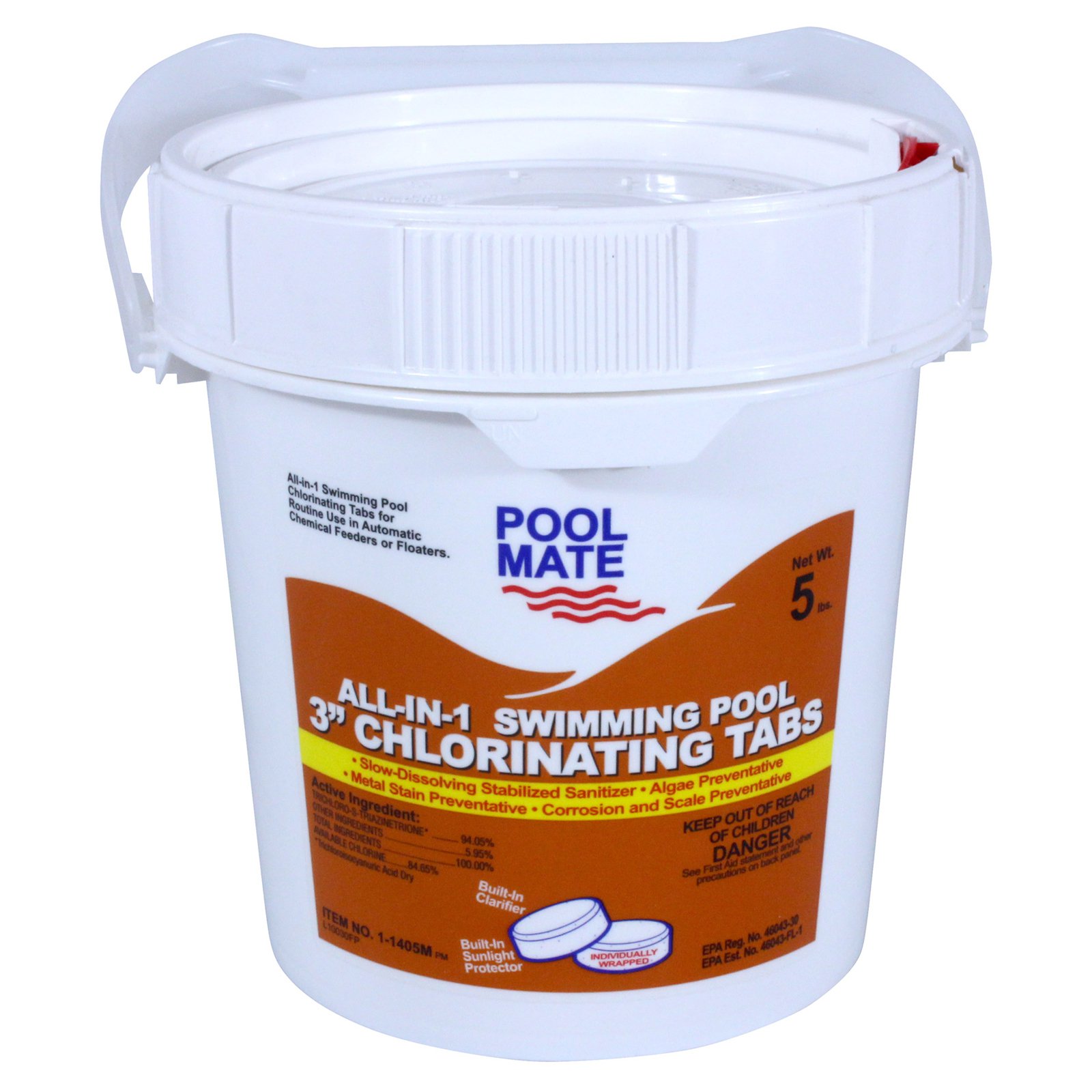 Pool Mate is another product from Robelle. Packages come in 4lbs, 7lbs, 15lbs, and 25lbs. Each 8oz, 3-inch round tablet is individually wrapped with an activated chlorine or 90%. Stabilization of this product protects the chlorine component of this product to minimize the chlorine residue in your pool.
9. ProTeam 3″ Chlorine Pure Tabs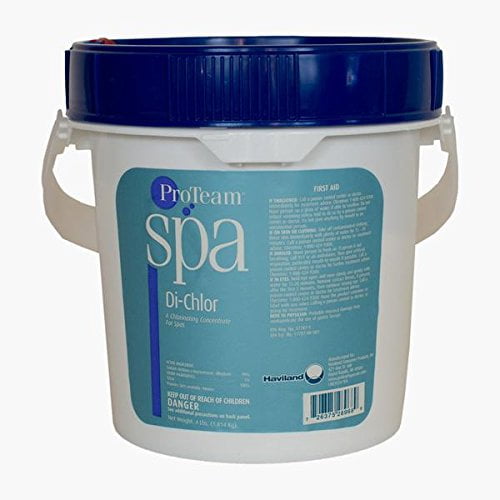 ProTeam offers another brand of chlorine tablets with activated chlorine of 90%. It is made of 99% Trichloro-S-Triazinetrione and comes in 3-inch round forms. This product prides itself with minimal residue that will not clog feeders and would rather clean gummed up ones.
Currently unavailable.
Using chlorine in your pool can saturate over time. This is why it is important to shock your pool on a regular basis. Looking for the best swim chlorine pool shock requires thorough assessment if a product has the strength that you require.
Here are different pool shocks:
10. Doheny's Super Pool Shock
Doheny's offers a package of 24 bags with 1lbs each with a guaranteed 2-3 years of shelf life. This pool shock is made from 68% Calcium Hypochlorite. This fast acting shock will definitely clear contaminated waters.
11. DryTec Calcium Hypochlorite Chlorinating Shock Treatment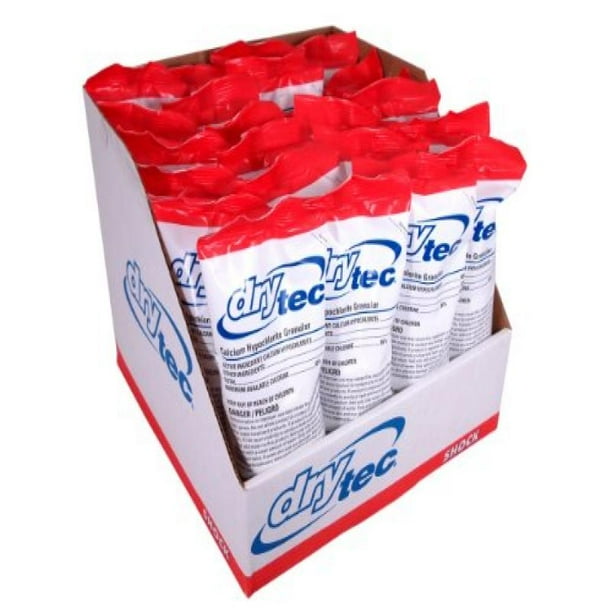 DryTec offers a Chlorinating Shock Treatment that can be bought in a pack of 1 and a set of 12 or 24. Each pack is 1lb. This product is made of 68% Calcium Hypochlorite. This strong shock treatment can be used to clean water to the extent that it is drinkable. It can also be stored for 2-3 years.
12. HTH 51424 Super Shock and Swim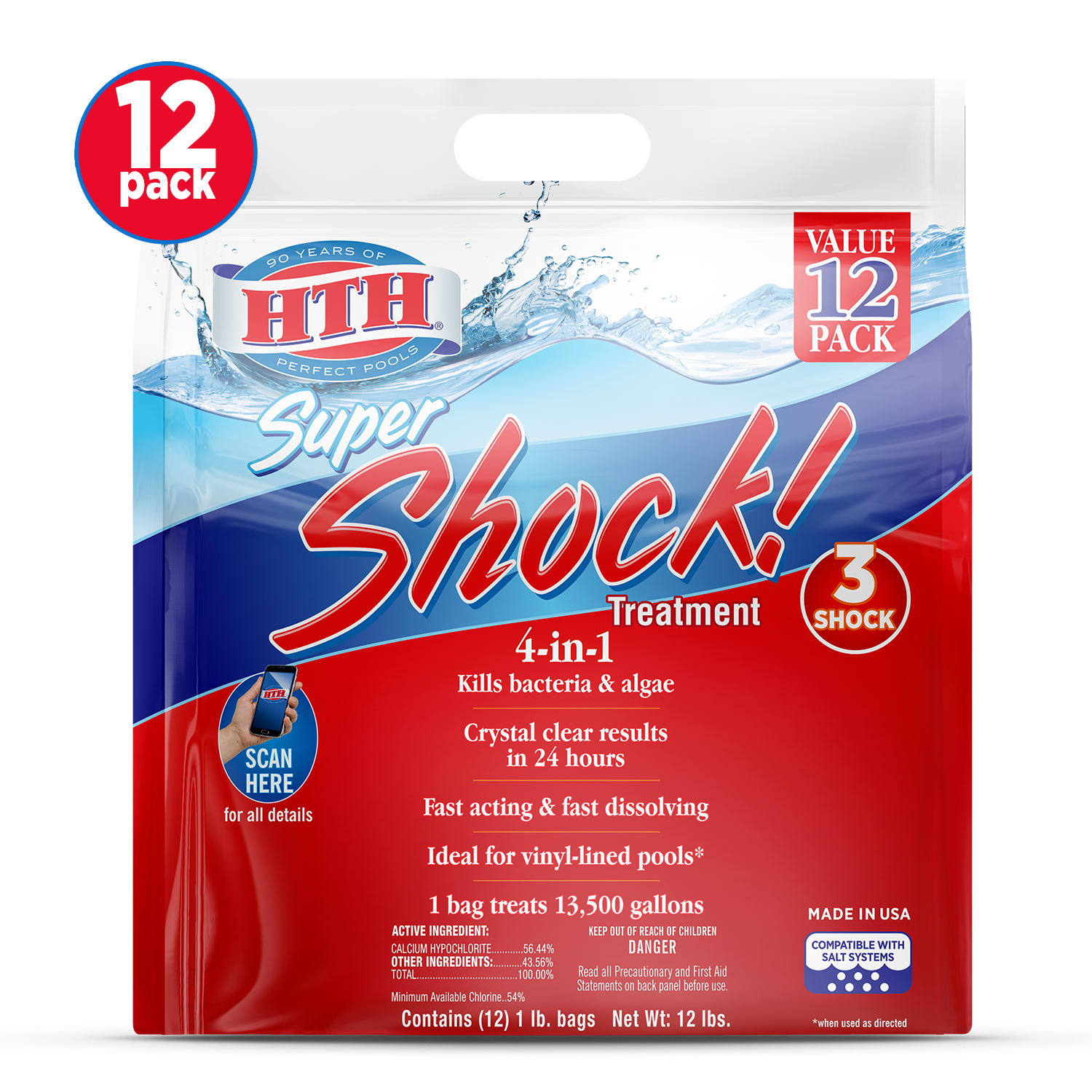 HTH's Super shock comes in packs of 5, 10, and 30. This product is 52% Calcium Hypochlorite. It works really well with algae issues without affecting the pH levels of your pool.
New product:
13. Clorox Pool&Spa 32012CLX Shock Plus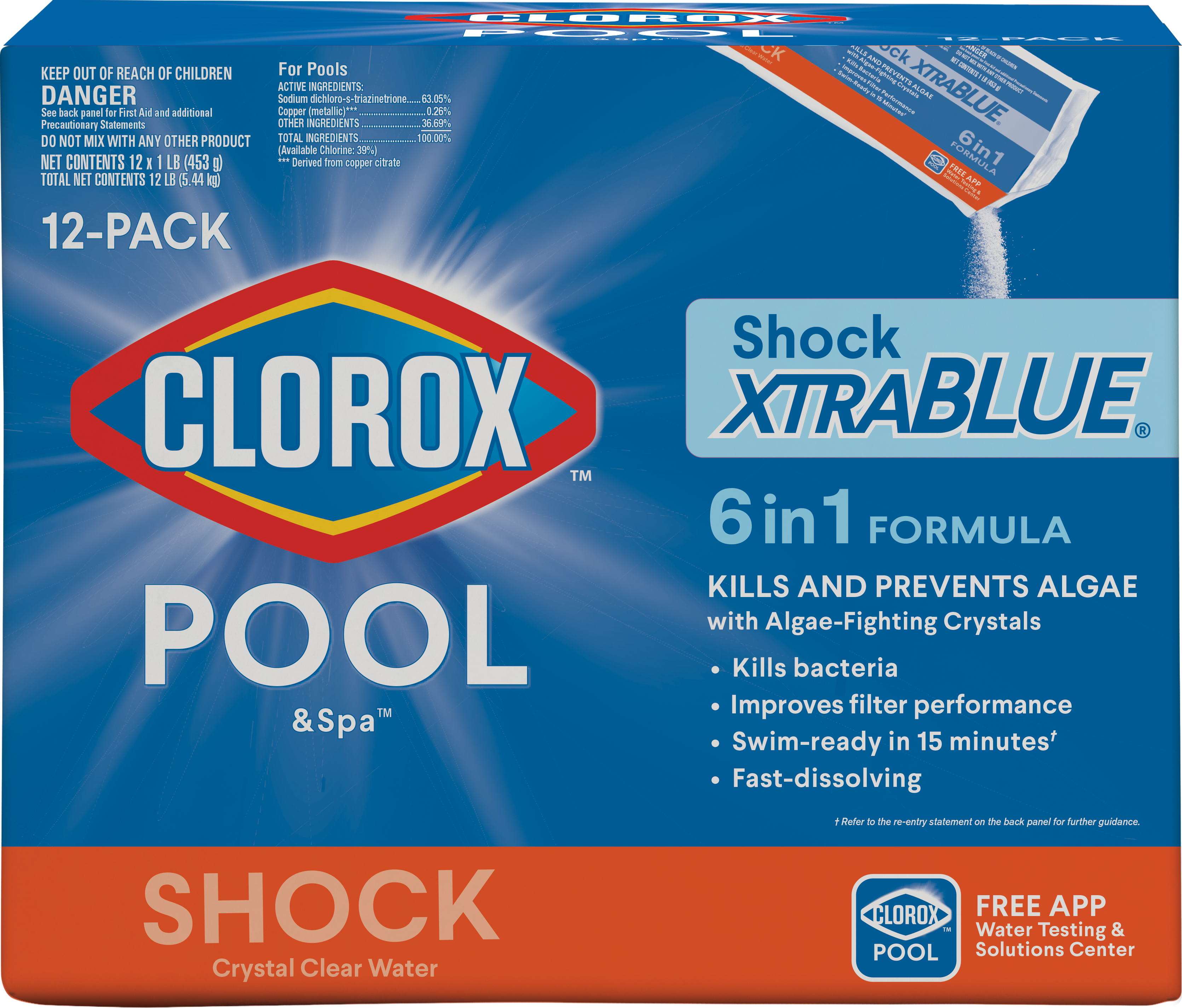 Clorox Pool&Spa's Shock Plus can be bought for 1lb, 6lbs, or 12lbs. This product will ensure that the water is crystal clear and rid of organic contaminants. It also reduces chlorine odor and eye irritation without affecting the pH levels of your pool or clogging your filters. It comes in an easy-pour bottle that you can store until the next need arises.
Water Lurkers
Technological improvements have created automated cleaning robots and improved filters. These machines can automatically sift out most of the dirt, debris, and other visible materials that may be in your pool. These cleaners are simply aids to cut the time you would spend cleaning the pool. While you may be able to save half the time as compared to if you were to do it manually, these machines require regular cleaning and maintenance. Small contaminants and bacteria are not addressed by these machines.
Bacterial growth is commonly associated with four conditions. These conditions include Temperature, Moisture, pH Levels, and Environmental Oxygen. Swimming pools are a perfect example of where bacteria and algae can thrive. Usually, swimming pools are areas of stagnant water that are exposed to oxygen and moisture with inconsistent pH levels. They may also be exposed to different temperatures. These four conditions can still exist even if the pool is located indoors. Pools are also prone to contamination through dirt, debris, and feces. Fecal matter can be found in underwear even when you wash them.
Filters will not be enough to prevent the growth of these contaminants or kill the existing ones for these organisms and particles. Sanitation systems and chemicals are used to clean the pool for these reasons. You can ensure that multiplication of bacteria will be prevented and existing bacteria will be killed with these additional cleaning steps.
Swimming pool maintenance involves trial and error to be able to gauge which method is most effective for you. It is important to know the different pool cleaning chemicals to ensure that you're getting the most efficient method for your pool.
How To understand and choose between the different types of Pool Cleaning Chemical
Using chemicals to battle contaminants in the water is a necessary move. This ensures that the water of the pool is clean and safe to swim in. These chemicals should be used properly and responsibly similar to how medicine has dosages and instructions that we take when we are ill. A chemical imbalance due to improper use may render the solution ineffective or be more harmful. Understanding the chemicals used will help you determine the best pool chemical.
There are three different types of chemicals used in cleaning pools:
1.  Sanitizers
Sanitizers are used to disinfect the swimming pool. Specific chemicals used as sanitizers are Chlorine and Bromine. Chlorine is the most commonly used chemical when cleaning swimming pools. Chlorine usually comes in liquid or tablet form. Using chlorine can be harsh to the eyes when it directly touches the eyes and can cause irritation. It is also harsh to the skin and hair when soaked for an extended period of time. Chlorine is a strong disinfectant but is not recommended for warmer areas as chlorine tends to disintegrate in warm temperature.
Bromine is an alternative sanitizer which promises the same effect with chlorine minus the odor and with less harshness. The downside with using bromine is that it is more expensive that chlorine and much more difficult to find. Harmful contaminants are kept by these sanitizers from multiplying in the water. Using sanitizers alone can ensure that your pool is clean but tips the water chemistry of your pool. Balancers are used to mitigate this.
2.  Balancers
Balancers are chemicals used with sanitizers to maintain safe water chemistry. Checking the water chemistry of the pool measures the pH levels of the pool as well as the alkalinity of the water. The water is also checked for levels of calcium and magnesium which can cause cloudiness and corrosion if not maintained at the correct level. Balancers include sodium carbonate, which is a PH enhancer, and sodium hydrogen carbonate, an alkaline enhancer.
3.  Specialized Chemicals
Specialized chemicals are used to further enhance the effect of the sanitizers and balancers, achieve certain water clarity or hardness, or address specific pool concerns such as algae.
When studying these different chemicals, it is also good to note the different pool chemical reviews as these are first-hand experiences with the different chemicals, and you may find people in similar temperatures or those who have encountered similar issues to see what methods they have used.
How to Maintain Swimming Pool Water Chemistry
Knowing the different chemicals used in pool cleaning are useless when you don't know what chemical levels your pool water should have. Understanding the chemistry of your pool water can help you in gauging the right cleaning method that is suited for your pool.
What is a Balanced Water Chemistry?
The following are the important considerations when maintaining your swimming pool water chemistry:
PH and Total Alkalinity Levels
The pH level of your pool is the indication of the acidity or alkalinity of the water. This is measured on a scale of 0 to 14. PH Level 0 means that the water is highly acidic while 14 means the water is highly alkaline. Both extreme levels can cause irritation of the skin, hair, and eyes. High acidity may also encourage corrosion of any heating elements in the pool or connected to the pool. High pH levels occur more commonly as compared to having a high alkaline level due to the usage of chlorine. An alkali level too high or too low is more difficult to adjust. High alkali causes cloudy water and affects the effectiveness of the sanitizers.
Swimming pools should have an ideal pH Level of 8 and an ideal total alkaline level of 80 to 140 parts per million (ppm).
Water or Calcium Hardness
Dissolved calcium can also affect the water chemistry. High levels of calcium encourage scale formation while low levels of calcium in the water may lead to corrosion of pool surfaces and any equipment connected to it. You should be very careful with chemicals that may affect the calcium levels of the water as the only way to balance this is to dilute the existing pool water.
Calcium hardness is ideally maintained at 200 ppm.
Chlorine
The difference in available chlorine brands is the concentration of ingredients. Chlorine is usually accessible in containers of 3-inch tablets, 1-inch tablets, sticks, and chlorine in a granular frame. The chlorine component in 3-inch tablets, 1-inch tablets, and sticks is usually Trichloro-S-Triazinetrione, and the chlorine component found in granular form is Sodium Dichloro-S-Triazinetrione.
3-inch Chlorine tablets are the one usually used in cleaning pools. This dissolves slowly and requires less support of attention. Chlorine tablets are usually placed in the pool using feeders. These feeders gradually break up the chlorine tablets or sticks into your pool water to ensure that the chlorine levels of the pool remain in balance. Feeders gradually meter out exact measures of chlorine into your pool water naturally and offer control over the measure of chlorine being added to the swimming pool at a specific time. Maintaining these feeders ensures that the water balance is not affected by the chlorine and would only require attention after seven days.
As the chlorine attempts to clean your pool, it ties to different chemicals like alkali and nitrogen, which render it successfully dormant, as well as make an aggravation that can bring about skin conditions. To mitigate this, apply a periodic dosage of shock treatment.
Cyanuric Acid
Cyanuric Acid is found in dichloro and trichlor tablets. It keeps the tablet from being wrecked by the sun and chlorine doesn't do well with heat. Extreme balancing is needed when using Cyanuric Acid with chlorine as the chlorine will potentially lose its disinfecting capacity if the acid levels are too high.
Conclusion
Pool maintenance is very important to the sanitation and safety of those who will use your pool, as well as decreasing the need for repairs to the pool and your equipment. Pool chemical reviews will help you in determining a starting point, especially for issues or incidents that you have not encountered before. It is important to note that the effectiveness of these chemicals rely on the overall water chemistry of your pool and the environment that you are in. Opt for chemical kits when starting out to explore which chemicals to use so that you can experience the method or system that works best for you and your pool. When you need additional chlorine, opt for small packages first until you find a brand that works best for you.