People constantly search for the best pool sand filter because it is both effective in keeping the pool clean and backwashing is a lot easier.
In fact, many pool owners and a few pool sand filter reviews consider sand filter as the best thing for their pool. If you want to know why a pool sand filter is a great investment, as well as the good things it can do to your pool, then check it out here.
What Are the Advantages and Disadvantages of Using a Pool Sand Filter?
This question is quite common among buyers who haven't used sand filter before or among people with curious mind who just want to weigh all possible options.
Wondering what makes pool sand filter a must-have pool system?
Read below!
What People Love About It
Initial buying price is really cheap as compared to other pool pump filter systems.
Sand filter is also easier to operate and maintain. It is actually easy to backwash with a sand filter.
This is suitable for both the above ground pools and in-ground pools.
The filter sand can last for up to 7 years.
You can also install an alternative filter media so that the filtration power is more efficient.
Things to Take Note of About It
When backwashing, it consumes a lot of water.
It can filter microns size no smaller than 20 microns, which is a bit higher than other types of filter systems.
Although the sand filter can last up to 7 years, the high-pressure system can wear out the pump easily when not properly maintained.
Now, in this section, you must have already decided if a pool sand filter is indeed what you need for your above ground pool.
If you're still convinced that a pool sand filter is what you need, then it's time to get to know the 8 best options for your money.
6 Best Pool Sand Filter for the Money
1.  Intex Krystal Clear Sand Filter Pump
Intex is a favorite by many because of its efficiency and affordability. The Krystal Clear sand filter pump can generate up to 3,000 gallons flow rate per hour. It is 16-inch in size and includes all the necessary accessories needed for the whole system.
Highlighted Features:
It's 75% more efficient than other sand filter pumps.
Doesn't require high maintenance except for the sand replacement that must be done after 5 years
Uses an all-natural sand, which helps filter the water really well
This unit has a total of 6-function control valve; this allows you to do backwashing and rinsing a lot easier.
It also includes an automatic timer, which you can set within 24 hours. This makes the pool maintenance a lot simpler.
2.  Hayward ProSeries S244T Sand Filter Pump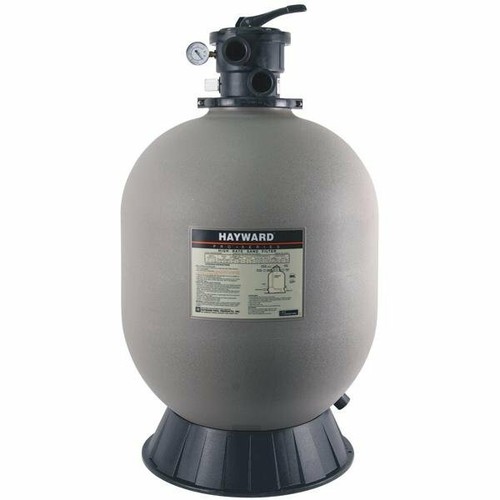 Hayward is another buyers' favorite when it comes to in-ground pool filter system. This ProSeries S244T unit is people's choice for a reason. It's a top-mount filter that is really durable and does its job well.
Highlighted Features:
Made from premium, corrosion-resistant materials
Can withstand all weather conditions
Also has a 6-position VariFlo control valve
You can also get the same model with a side-mount model.
Equipped with advanced full-flow system that lessens energy costs though proper filtration.
3.  Sand Master 9,600 Gallons Sand Filter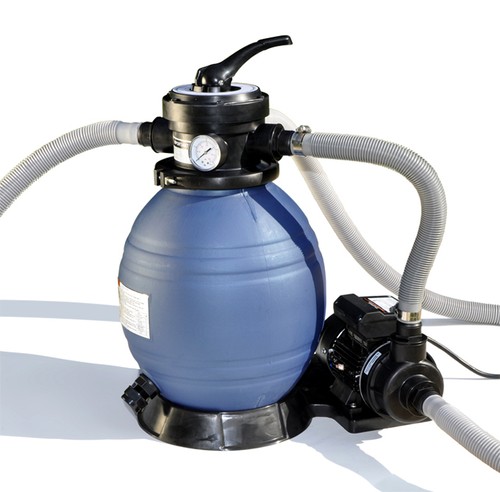 If you want a sand pool filter that is suitable for above ground pools with 9,600 gallons water capacity, then Sand Master Pool Sand Filter System is a great item to consider.
Well, what's to love about this filter system?
Highlighted Features:
This is a soft sided filter, which means that it is really lightweight but is durable just like a hard plastic.
Offers up to one-year manufacturer's warranty
Has a flow rate of 20 gallons per minute
People love that it has a blow molded PE tank construction, meaning it's actually rust-resistant.
This is the best pool pump system for small pools at home.
4.  Hayward ProSeries S210T93S Filter System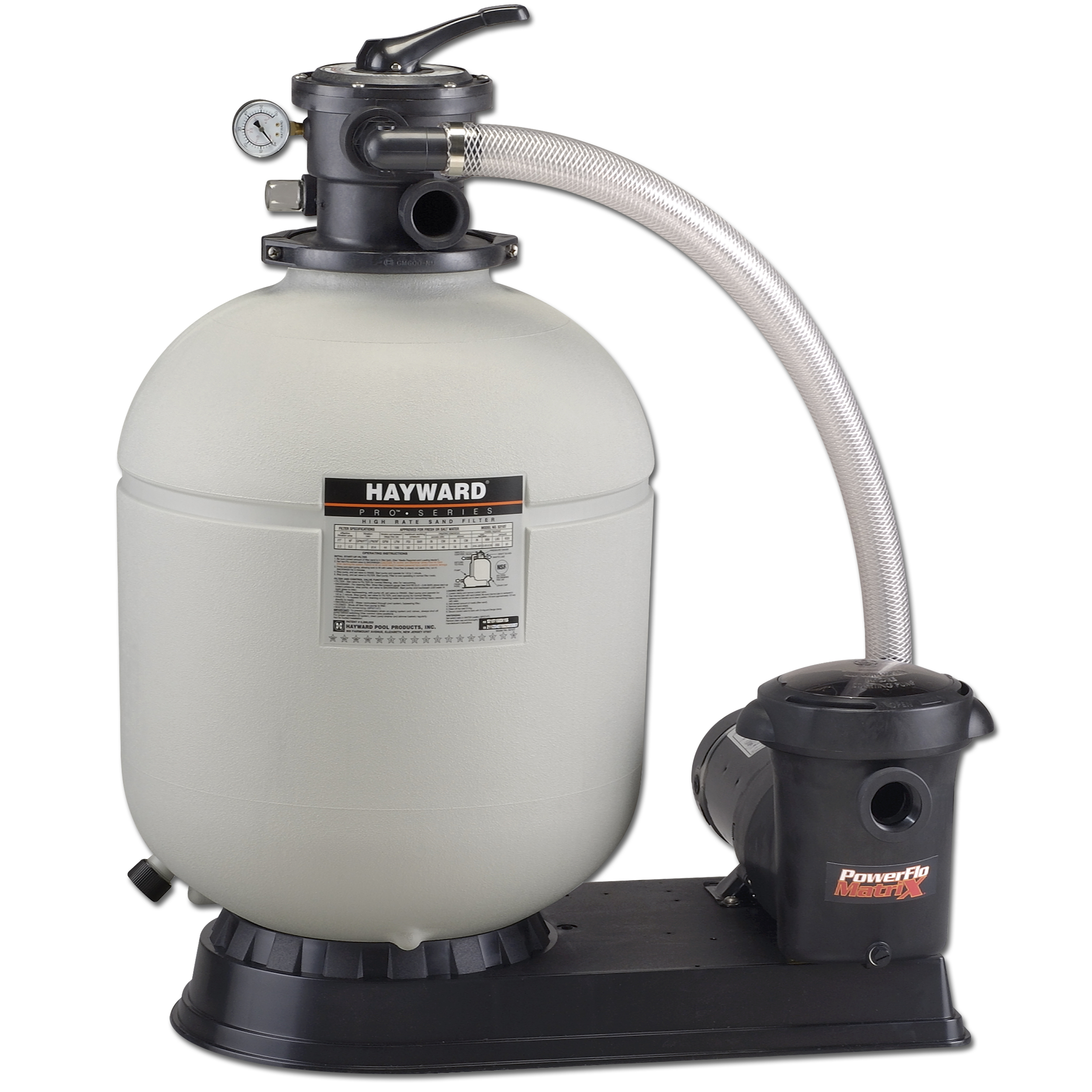 Hayward is a trusted brand in terms of pool system and accessories. This pool sand filter, for instance, has a powerful filtration performance but still able to keep energy consumption low.
In addition, Hayward is a brand that is always on top of the game. While other sand filters only include 4 or 6-multiport valve, this ProSeries S210T93S Pool Sand Filter System by Hayward actually has 7 ports.
So, what are the perks?
Highlighted Features:
This is a specialized filtration system for above ground pools.
Engineered with precision to give utmost filtration while being energy-efficient
You can choose from various filter sizes, pumps, and accessories so that you can maximize the filtration ability of the system.
The pump is a self-cleaning pump, thus doesn't require constant maintenance
It can last for up to 7 years!
5.  XtremepowerUS Sand Filter Pump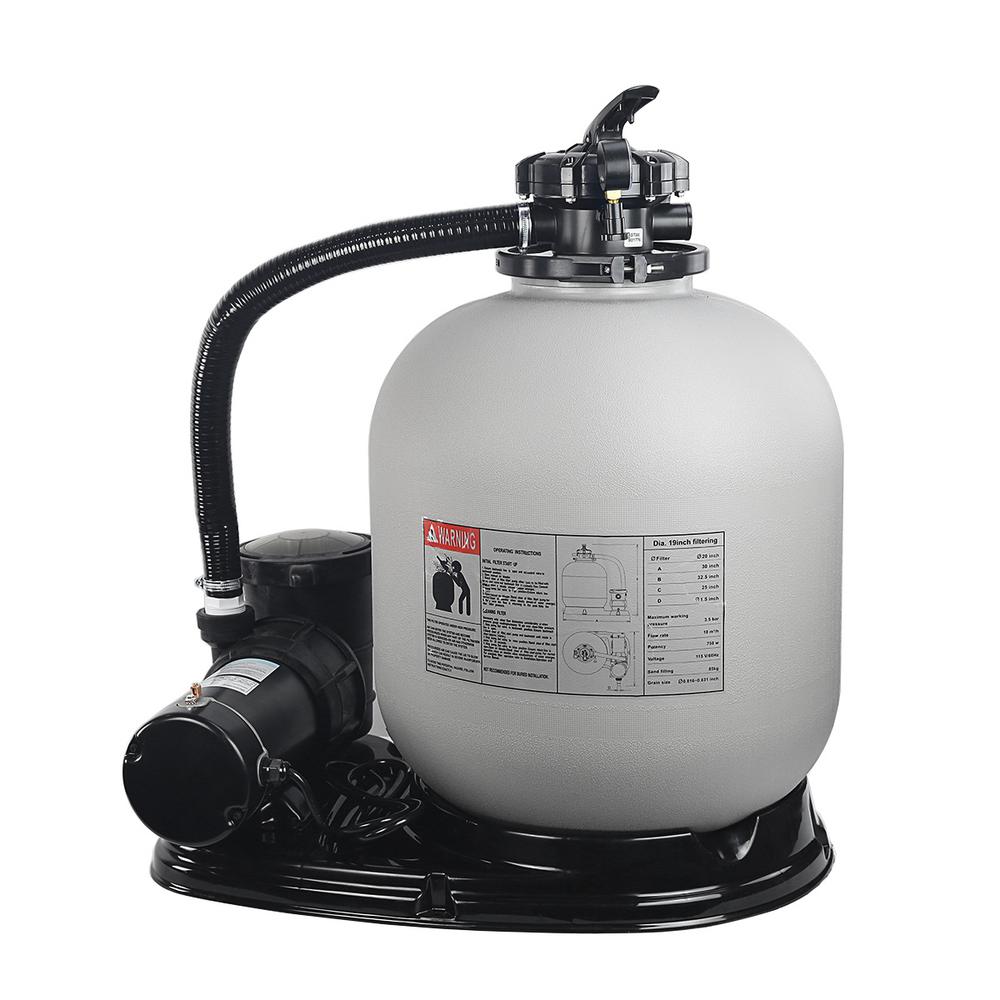 This sand pool pump system is ideal for regular use. The filter is designed to withstand tough filtration works. What's more is that it is user-friendly that even first-time users won't have a hard time operating the product.
A self-priming pump system that mixes air and water instantly to reach the recommended primed pumping condition
It is easy to assemble with all components having precise alignments.
Also has 6-position VariFlo Valve that can handle high pressure and high-water capacity.
Recommended for up to 18,000 gallons of water
6.  GAME SandPRO Filter
GAME may not be as popular as Intex and Hayward, but their SandPRO 50D Series sand filter system is outstanding.
This is a high-performance pool filter, which you can easily operate. To top it all, it is also equipped with amazing features and accessories just like the filter system from popular brands.
Highlighted Features:
Can filter up to 10,000 gallons of water
Suitable for above ground pools with 4 -position rotary valve
Easy to backwash and rinse, plus easy to maintain and store even in winter
Has low-noise technology; people love how quiet the filter is when in use
The manuals and instructions are easy to read, so that beginners can use the system correctly
Works really well with Intex pools and Bestway pools
Best Choice Products 10,000 Gallons Pro Sand Filter Pump
You know you got yourself a good filter if it's both efficient and low-maintenance. And Best Choice Products 10,000 Gallons Pro Sand Filter Pump gives you exactly that and more.
The filter system is designed in a way that even the smallest micron of dirt will be eliminated from the pool. Its dependable performance is what amazes pool owners the most.
Highlighted Features:
It has a self-priming pump that operates at a speed of 2400 GPH, powerful enough to keep your pool clean within an hour.
Has a 6-position multiport valve filter to make sure all water contaminants will be removed
Proven and tested safe by many safety standards governing bodies like CSA, UL, and ETL.
Its powerful filtration cycle is well regulated so as not to overwork the pump. This is pretty important so that the pump can last for a very long time.
Backwashing is also easy with this filter system.
Currently unavailable.
How To Change The Sand In Your Sand Filter
The Verdict
We know you're itching to know our most recommended product. We considered 3 things here: Filtration Power, Ease of Use, and of course the Price.
And the best pool sand filter is. . . . (drumroll please!) GAME SandPRO Pool Sand Filter System.
It's an energy-efficient filter system but has a powerful performance with its 40 GPM flow rate. It can filter up to 10,000 gallons of water, which means perfect for residential pools. The product is also easy to use and assemble. Lastly, it has a very affordable price. For a filter that can last up to 5 years when taken care of, this GAME SandPRO 50D Series surely is the most amazing pool sand filter at the moment.
Well, that's the best pool sand filter for us. We're sure you have your own fair share of experience with sand filter. Which one do you think is the best? Comment now!