Portable bathtubs are often used either by people who have to move every so often (like if they usually live in an RV) or people who have babies and need small tubs.
If you're looking for the best portable bathtub, check out our portable bathtub reviews to pick out the most suitable one.
How to Choose the Best Portable Bathtub
Before we discuss the choices for the best portable tub, it's important that we first understand how to choose the best one for your own specific needs.
You see, each of the products we've listed here have their own advantages and disadvantages. You need to know which one has features that match what you need in a portable tub.
To know which one suits your needs, you need to have the criteria. Your criteria will have to consist of factors that can help you zero in on what features you're looking for.
You can use the criteria that we'll provide below:
Each kind of tub has its own specific purpose. There are portable bathtubs for adults, portable bathtub camping, and portable bathtub for toddlers. All of these are built differently to fit their specific purpose. So, for this factor, you just need to know what you need your tub for and buy the most suitable one.
The size is in relation to the purpose of the tub. Obviously, tubs for adults or for camping are bigger than baby tubs. But if we were to be specific, you must center the size of the tub around the one who will be using it. For the average adult, maybe a tub that has a diameter of 75 cm and a height of 80 cm or higher. These ones are the long-sized ones.
There are also tubs that are shorter but wider. These ones usually have a crosswise length of 100 cm and a height of 60 cm. For babies, the sizing is a bit different. The best baby bath tub products usually have dimensions of 26 x 14 x 10 cm or something along with those numbers.
When choosing the best portable tub, you need to make sure you get one that has durable materials. You'll definitely want something that can last long and won't wear out easily. We recommend that you look for tubs with strong PVC materials that has 6P Standards.
Aside from that, you may also want to get one made from environmentally friendly materials if you're particular about saving the environment.
When we talk about application, we're referring to where you can use the tub. Some tubs are to be used specifically indoors while some are just for outdoors. There are also those that can be used both indoors and outdoors.
Ideally, you should buy the one that's for both indoors and outdoors, but if you don't go outdoors, you can just buy the one that has a sole indoor application.
Since you're buying a portable tub, you'll want one that's really easy to bring around. Thus, you need to buy a tub that is easy to collapse and assemble. The ones that can be folded or collapsed are the easiest ones to bring around. We suggest you buy these types instead of the ones that you need to lug around.
There are actually some portable tubs that can fit more than one person inside. Usually, you'd want a portable tub for just taking a bath, so you'd usually not think about capacity.
However, there are those who want to turn the portable tub into something similar to a hot tub wherein, they can spend some time with a significant other.
If that's on your mind, then you'll need a tub with a capacity of two or more. You also need to make sure that it can take the combined weight of the people who will use the tub at the same time.
The last thing to take into consideration is the design of the tub. Sure, this isn't a very crucial factor to consider, but it pays not to have a tub that's an eyesore. You need to make sure your tub compliments the overall design of the area it will be placed in– whether indoors or outdoors. This is a little more subjective compared to the factors but do consider the color, shape, and style of the tub.
5 Best Portable Bathtub Reviews
1.  G Ganen Portable Foldable Freestanding Bathtub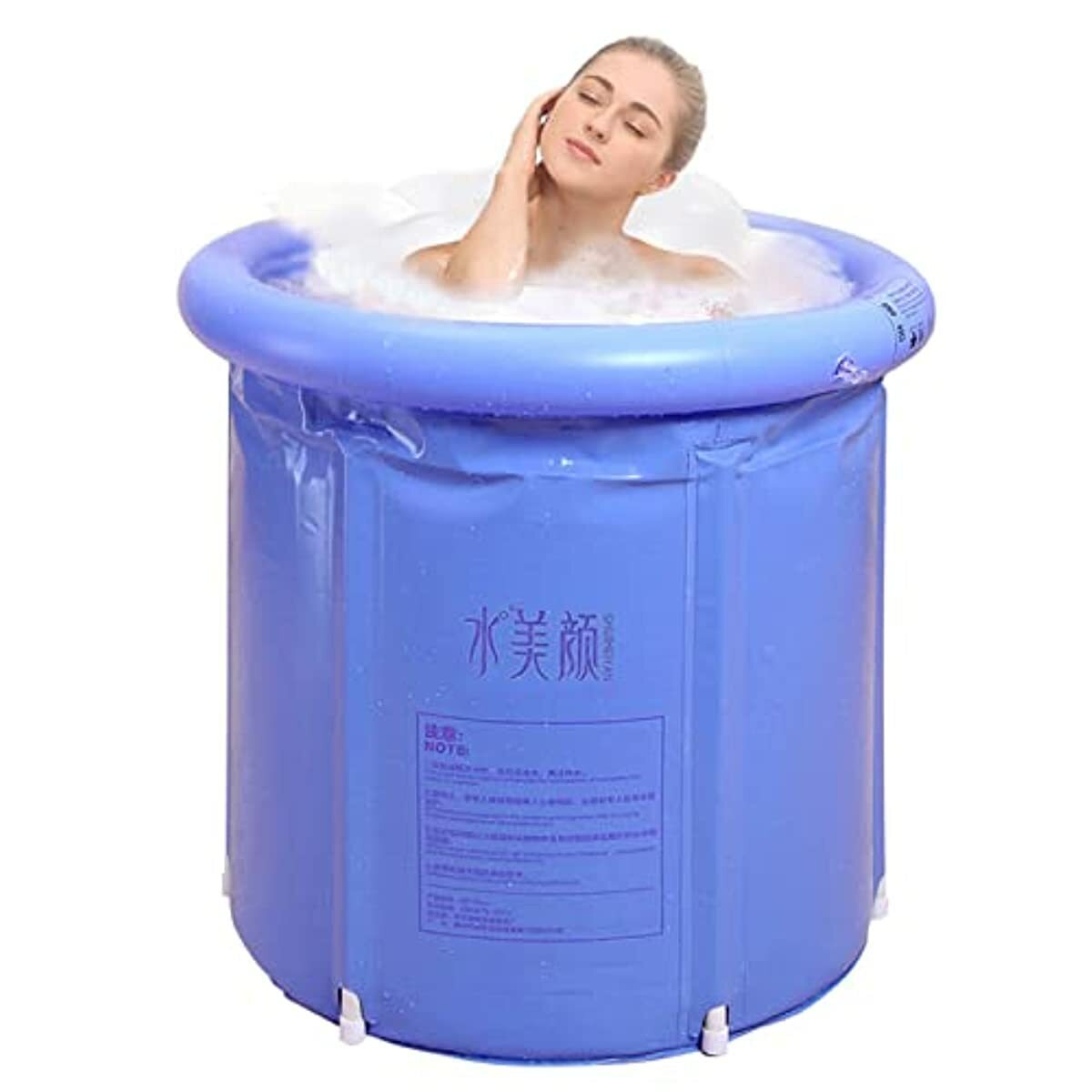 First on the list is the G Ganen Portable Freestanding Bathtub. It doesn't actually look like a bathtub but more like a barrel. Nevertheless, it is rather spacious, and it does have enough room for you to stretch your legs. After all, it does have a 75cm height and diameter.
Other than that, it's extremely durable being made of non-phthalate PVC material. Also, it has 3 layers of waterproof material, making it able to last long even if exposed to water for long periods of time.
Pros:
Can be used for both indoors and outdoors
Lightweight and very easy to carry
Big size lengthwise, making it easy to store in a small room
Made of durable non-phthalate PVC
Cons:
The design is not very pretty
While the tub itself is durable, the plastic legs aren't
2.  LUCKUP Portable Foldable Bath Tub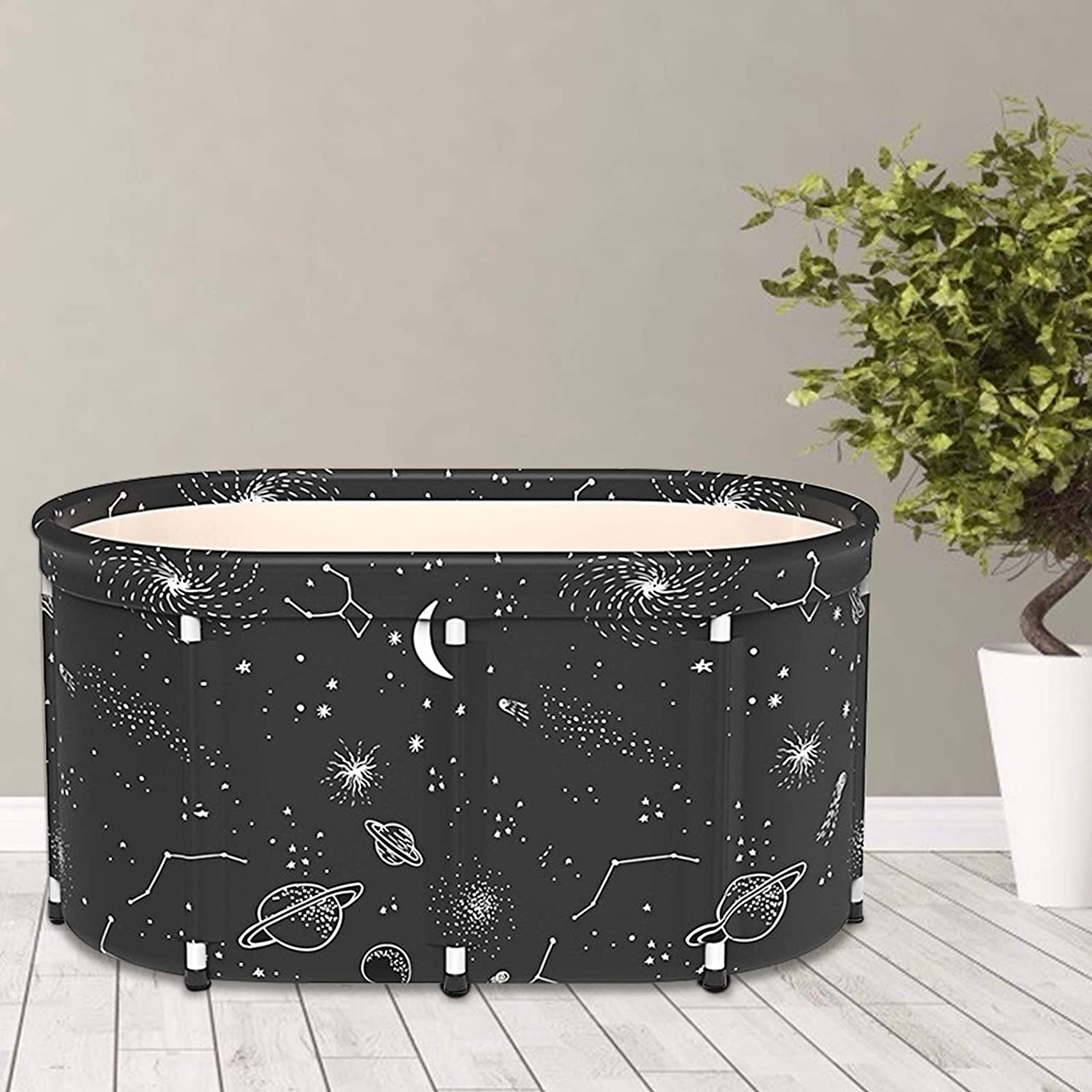 Probably the first thing that you'll notice about this bath tub is its design. It has a dark blue color and comes with moon and stars imprints, making it a pretty sight to see.
However, it's not just looks that make it popular among customers. It is known for its anti-cold insulation function. You see, this tub is made of three layers of fabric with the first and third being heavily insulated to keep heat in.
As for the second layer, it is made with reinforced cotton giving it a soft but durable built. The tub is also made of food grade material, making it environmentally friendly.
Pros:
Heavily insulated material
Lightweight and foldable
Environmentally friendly
Three-minute installation
120-liter water capacity
Cons:
Not known to be that durable
Support legs break easily
3.  WEY&FLY Portable Foldable Bathtub
While most portable tubs are made out of some kind of PVC material, this one's a little bit different. This is made out of built-in EPE pearl cotton.
The advantage of this kind of material is that it can keep the water temperature steady than other tubs. When it comes to heat preservation and rapid heating, this portable bathtub is the best.
In fact, the EPE material also allows moisture resistance and extra flexibility.  It also has a diameter of 75.5 cm allowing you enough room to stretch around.
Pros:
Made out of non-toxic EPE pearl cotton material
Allows for rapid heating of just 120 minutes
Very good heat preservation
Material is very flexible
Has enough room for you to move around
Cons:
Rather hard to assemble and disassemble
Not practical to bring around because it's hard to fold
4.  PPBathtub XL Blue Color Inflatable Bathtub
If you're looking for a multipurpose portable bathtub, then this is the one you're looking for. It is the biggest sized one out of all the choices and is easy to bring around since it can be inflated and deflated anytime you want.
It can also fit up to two people with a maximum weight capacity of 200kg. The weight capacity in itself tells you that this tub is very durable. It is made out of very thick plastic walls that will be filled with air. But what makes it really unique is that it can be used as a bathtub, hot tub, and kiddie pool. It has so many uses– it will be up to you how you want to use it.
Pros:
Multipurpose bathtub
Very thick and durable material
Pretty design
Weight capacity of 200kg
Can fit 2 people inside
Cons:
Takes long to deflate and inflate
5.  Stokke Portable Baby Bathtub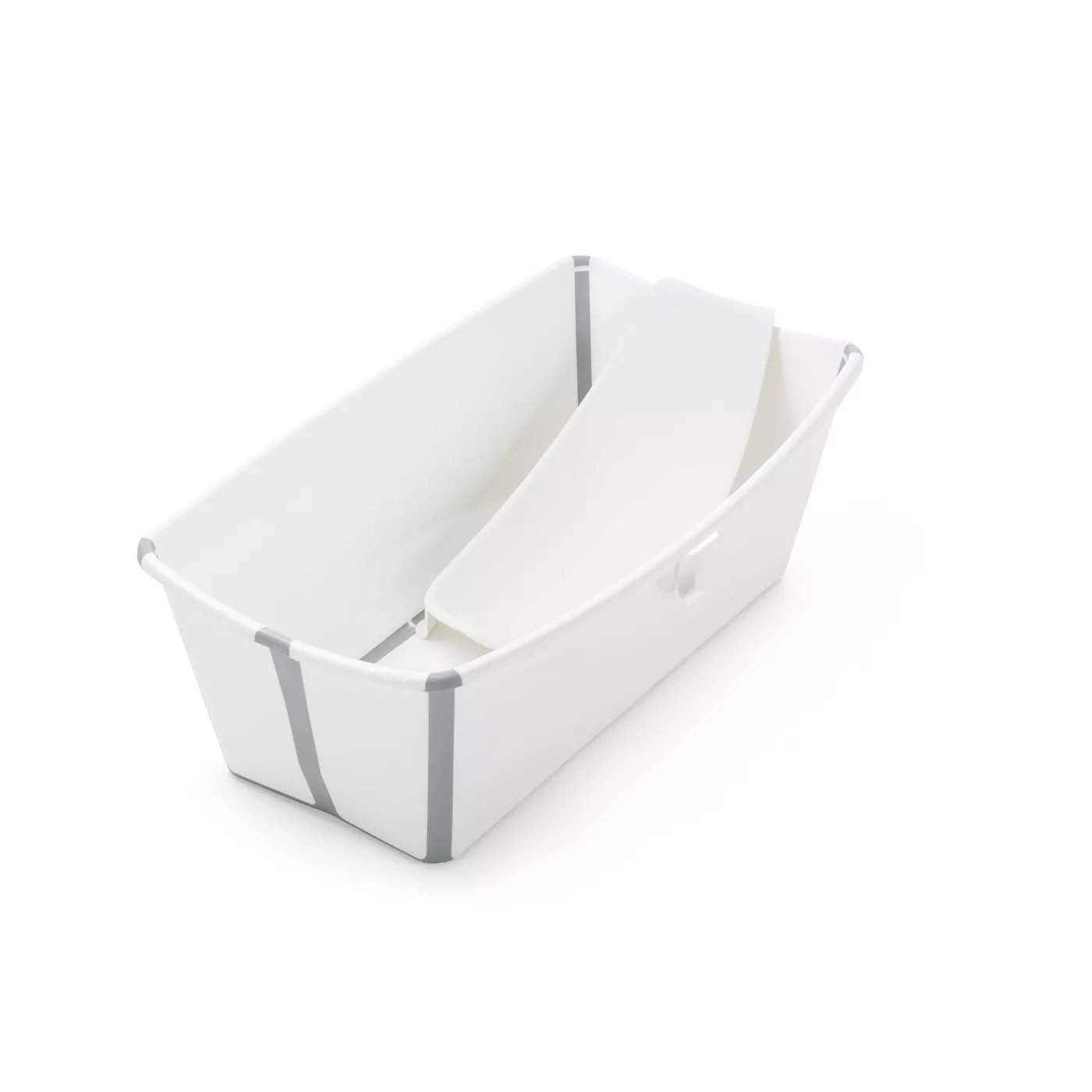 This is another baby bathtub that's extremely easy to use. One of the cool things about this bathtub is that it allows you to get the perfect temperature for your bath.
How does it do this? Well, it comes with a special temperature indicator that makes it change color. The color change will tell you when the water is just right for your little one to get in. Other than that, it also comes with an anti-slip base to ensure that your baby won't fall over.
Pros:
Has safety features to keep the baby from falling down
Temperature color change indicator included
Convenient for travel
Easy to fold
Has a design that can match any interior
Cons:
Sunhai & Folding Bathtub
Last on the list is the Sunhai Folding Bathtub. While it doesn't have much in the aesthetics department, this product is all about ease of use and convenience. First, it is extremely easy to pump and fold making it easy to bring around.
Other than that, it can also be deflated and rolled so you can bring it with you on outdoor trips and the like. It also comes with an easy-to-use drain plug, allowing you to take out the water quickly in the event that you want to take the bathtub with you.
Pros:
Drain plug included
Very easy to pump and fold
Can be rolled up and brought along anywhere
Long size crosswise
Cons:
Not very durable
Insulation isn't as strong as other tubs
Currently unavailable.
Baby Brielle Cushion Insert & Water Rinser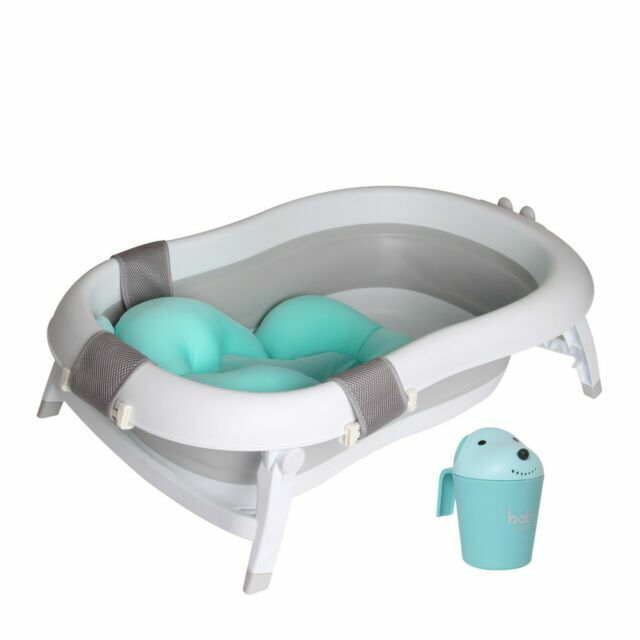 Now that we're done with the adult portable tubs, we can move on to the ones that can be used for babies starting with the Baby Brielle Cushion Insert and Water Rinser Tub.
This one is perfect for washing babies since it already includes cushion inserts and a water rins. It makes taking a bath for babies much easier and is also built to be safe for young children. The material used is non-toxic and odorless, allowing your baby to lie down on it without getting any allergic reaction of some sort.
Pros:
Comes with both a cushion insert and water rinsing cup
Compact size and lightweight built
Easily foldable
Safe and odorless
Comes with a safety lock
Has bottom insulation to keep water warm
Cons:
Not that easy to install the insert
Infant insert is very prone to molds
Currently unavailable.
Conclusion
Now that we're done with our reviews, you now have 7 choices. Having a narrowed-down list now makes it easier to choose the best portable bathtub for your home.
But if you were to ask us which is our favorite, we'd probably tell you it's the PPBathtub XL Blue Color Inflatable Bathtub. We chose this because it gives the most value for money.
When it comes to size, it has a great seating capacity of up to 2 people. It also has a pretty design, and is pretty easy to use. But most of all, it can be used for various purposes giving you the most bang for your buck.