We know you've been eyeing some elegant and stunning bathtubs but can't decide which one to buy. So, for this content, we will help you narrow down your list by introducing the ever amazing and pristine bathtubs from a brand with an eye to design and attention to details.
Why Fine Fixtures Bathtubs?
We've seen most of the leading bathtub brands in the market recently, and we've also reviewed those best-selling models from brands like American Standards, Wyndham, Kohler, Ariel, and others. While these brands excel in terms of quality and performance, we've noticed that that Fine Fixtures is ahead of the game when it comes space-saving designs and aesthetics.
If you visit Fine Fixtures official website, you'd notice that this brand put emphasis on style as much as comfort and functionality. So, we want to shortlist the best Fine Fixtures Tubs that embody these three key features—comfort, functionality, and style!
Introducing the top 7 stunningly beautiful! best Fine Fixture Bathtubs
Take Your Pick Below!
7 Best Fine Fixture Bathtubs Reviews
1.  BT106-BT Drop-In Soaking Tub (48×32)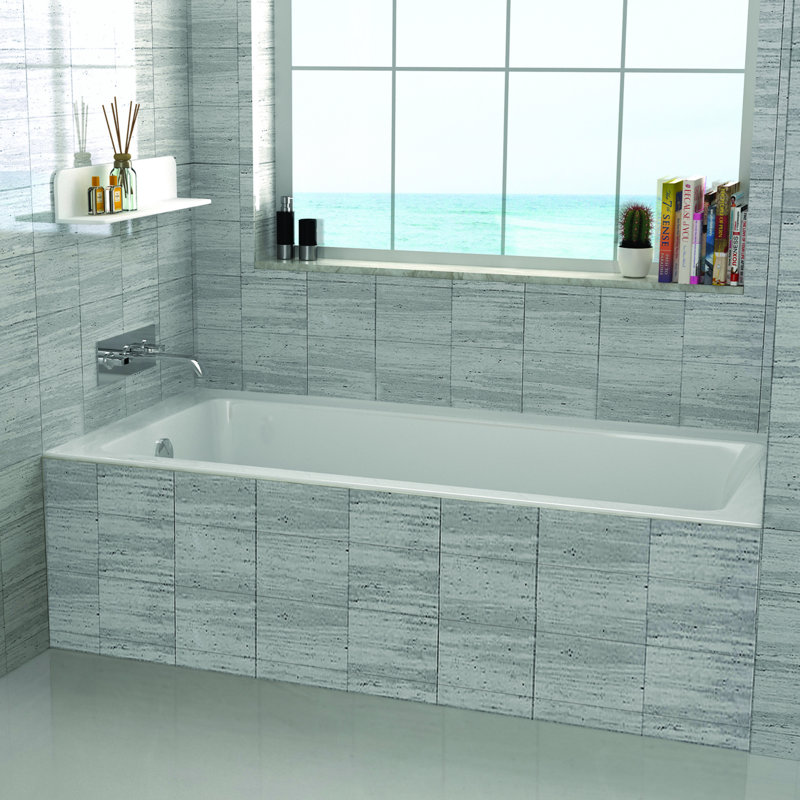 This drop-in design bathtub may look ordinary to some, but this unit is actually a top pick among homeowners who love to maximize their bathroom space. This wall-mounted bathtub design allows you to put the tub under the window.
This is the best Fine Fixture tub for smaller space bathrooms!
Highlighted Features:
Made from acrylic
Fiberglass reinforced for durability
Small but deep enough for a soaking bath
With left or right drain placement
Also has a self-leveling base
Can hold up to 51.78 gallons of water
2.  BT107 Drop-In Soaking Tub (54×30)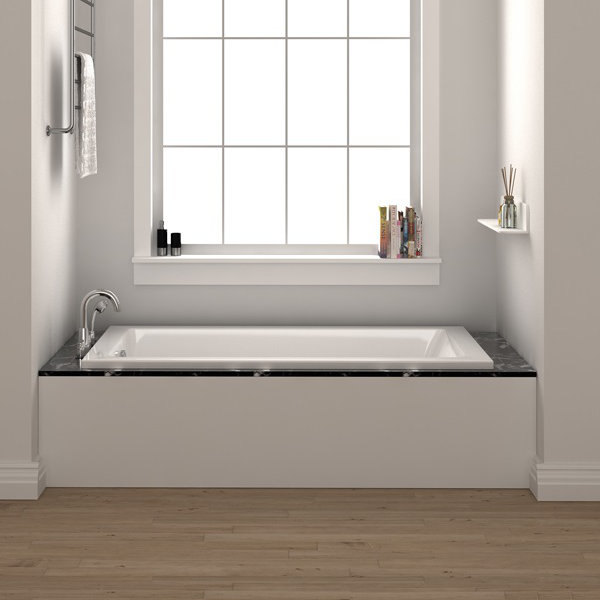 Slightly bigger but not too large to take up too much space. This 54 by 30 inches bathtub is another entry from the wall-mounted tub collection. If space allows it and if the user wants more movement when using the tub, then this is a great option.
Highlighted Features:
Can hold up to 43 gallons of water
Drain placement is reversible (left or right)
Made from solid acrylic
Constructed to last longer by reinforcing the tub with fiberglass and premium resin
Has 1-year manufacturer warranty
Still a great pick for smaller bathrooms
3.  BT102-BT Drop-In Soaking Tub (60×32)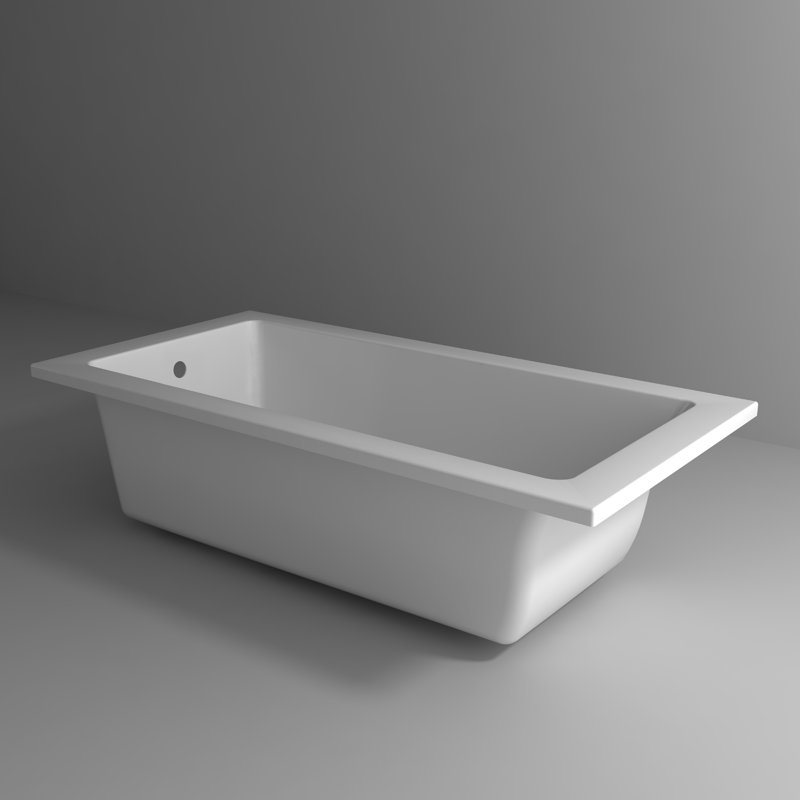 For average sized bathrooms, it is better to invest in a slightly bigger bathtubs to make the most of your soaking experience.
This drop-in bathtub from Fine Fixture is designed carefully so that it can sit right out of the hole. This is easier to install and durable enough to hold the water and the user's weight combined.
Highlighted Features:
Standard size of 5 by 8 feet
Constructed with utmost durability
Holds water of up to 64.98 gallons
Made from acrylic but reinforced with fiberglass
With one-year product warranty
4.  BT200-BT Freestanding Bathtub (29×63)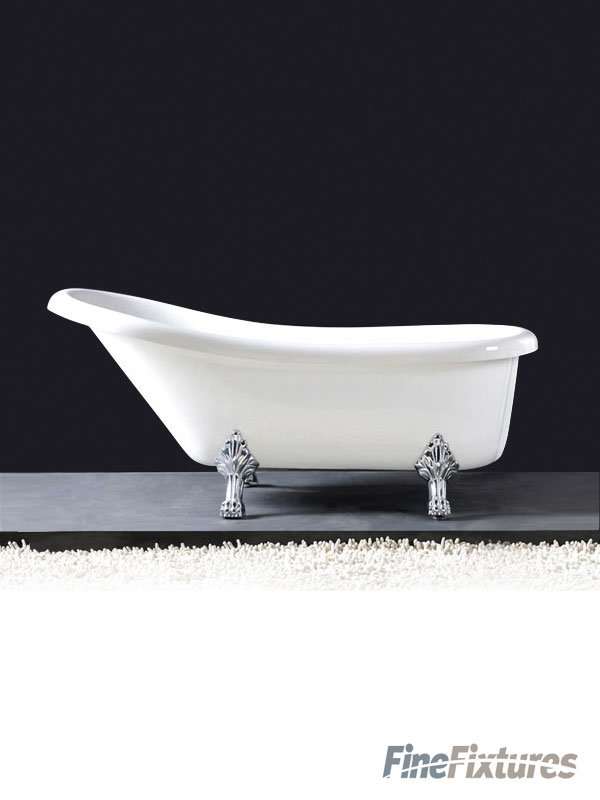 If you love spending a long time in your bathtub, then ergonomic design is a top priority. This cast iron bathtub is Fine Fixture's offering for a relaxed and comfortable soak.
The tub has an inclined backrest that follows the natural curve of the back. The high gloss finish also allows you to slide in and out if the tub easily. If you want maximum comfort, we highly recommend you get this one!
Highlighted Features:
A stunning backrest inclined bathtub
Supports the whole back so that you can relax your back while enjoying the soak
With self-leveling base
Also equipped with overflow hole
Can hold 42.79 gallons of water
Has a beautiful clawfoot that holds the tub upright
Can be paced anywhere you want
5.  BT202-BT Freestanding Bathtub (28×65)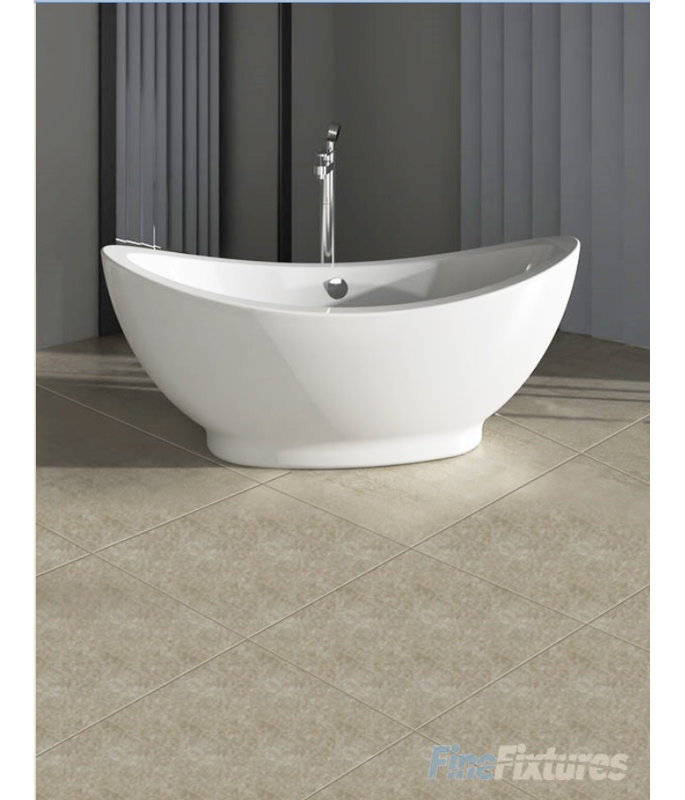 Aside from its generous size and depth, the BT202 BT freestanding bathtub is well-praised for its double slipper design.
This actually makes for an excellent relaxation tub in which you can laid your back comfortably while putting your feet up to allow good blood circulation while bathing.
We also love the ultra-smooth and shiny finish that makes the tub an absolute head turner. Plus, you have the freedom to choose the faucet so that you can put together your dream bathtub.
Highlighted Features:
Freestanding and can be place anywhere in your bathroom
The drain placement is at the center
Made from acrylic
Fiberglass reinforced for maximum durability
Holds a total of 39.63 gallons of water
With one-year product warranty
6.  BT208WH Freestanding Bathtub (67×30)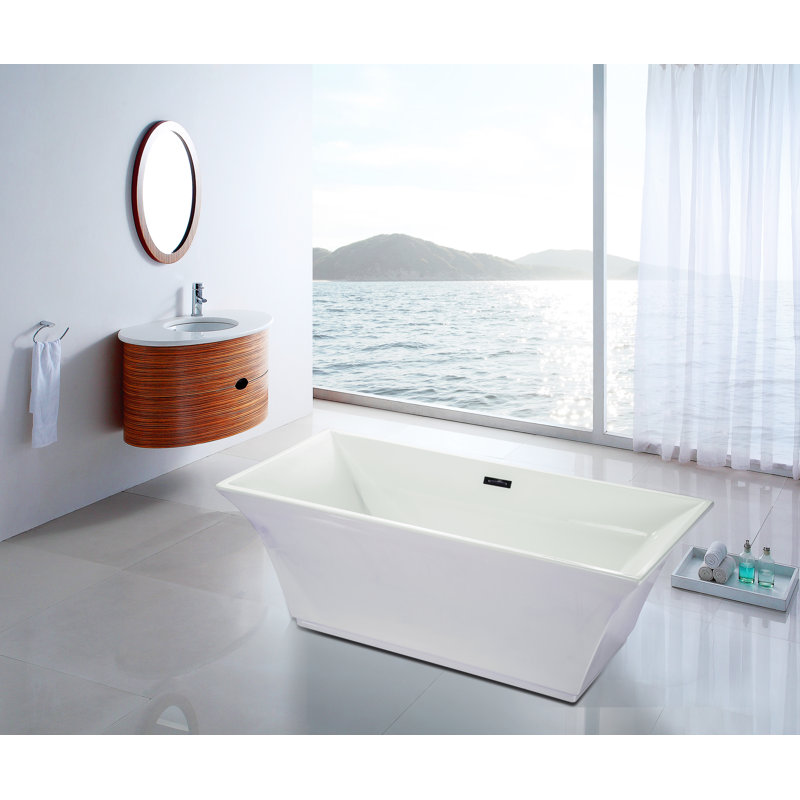 If the curvy body of the double slipper bathtub is not your cup of tea, then perhaps this robust-looking tub will make the cut?
This is a freestanding tub with impressive base support. The rectangular shape of the tub allows it to support a whole load of weight from the water and the user. In fact, this is the top choice for those seeking a compact freestanding tub without a clawfoot.
Highlighted Features:
Made from premium resin material
With a pedestal design that adds to its durability
Equipped with overflow drain so you can fully enjoy the soaking experience
Holds 48 gallons of water
7.  BT302 Storm Freestanding Bathtub (69×31.5)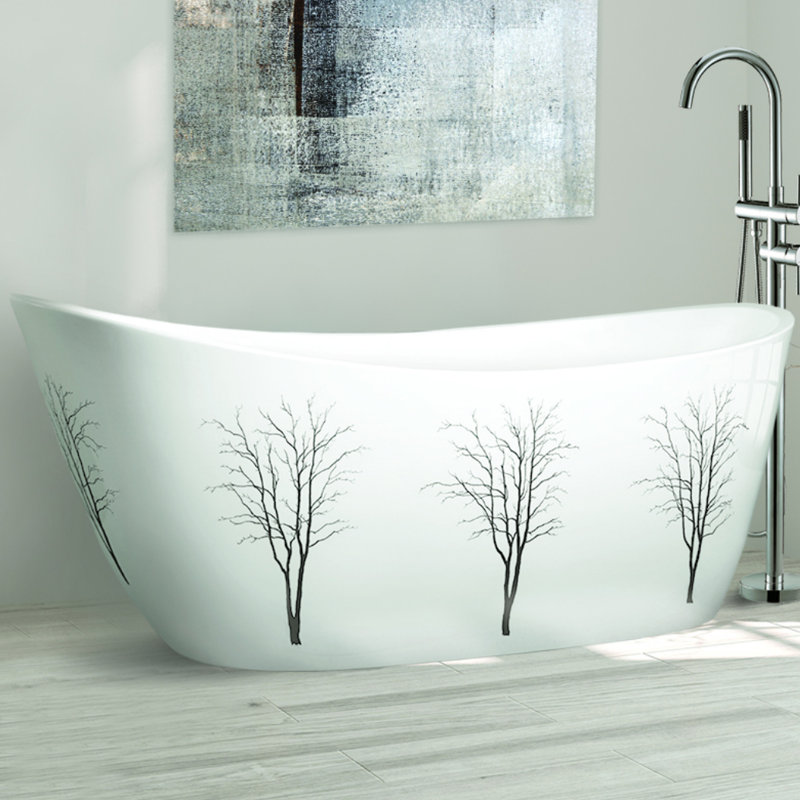 An all-white bathtub is great and the classic choice by many for a long-time now. But Fine Fixtures is not a bathtub brand that sticks to what is conventional.
And they have set the bar high by introducing a slipper bathtub with simple yet elegant design elements. The tub's body has a winter wonderland print that easily catches one's attention. No worries, the design is not overwhelming at all.
Highlighted Features:
Slipper tub design for easy a comfortable soak
Ergonomic design that allows you to lay your back comfortably on one side of the tub
Holds a great volume of water up to 39 gallons
Drain placement is reversible from left to right
Great for residential and commercial use
Includes a commercial use warranty
Conclusion
There you go! The top 7 Fine Fixture Bathtubs that made it to our list. The best pick for us none other than the unique and stylish  Fine Fixture BT302 Storm Freestanding Bathtub (69×31.5).
The minimalist winter wonderland design is stunning and the slipper tub design is also a great feature that allows comfort to the user.