The therapeutic bathtubs are proven and tried a method of soothing tense and aching muscles. The relaxation happens through soaking your whole body in lukewarm water.
Some Therapeutic tubs reviews reveal that whirlpool models are one of the favorites as these can relieve stress through gentle yet targeted hydro massages.
Below, we shortlisted the 7 best therapeutic bathtubs from the brand that is known to produce the highest quality and reliable best walk in tubs in the market recently.
Check out our list and get to know the 7 best bathtubs from Therapeutic Tubs:
The Best Therapeutic Tubs (Reviews and Best Features)
1.  Therapeutic Tubs Stream Whirlpool Bathtub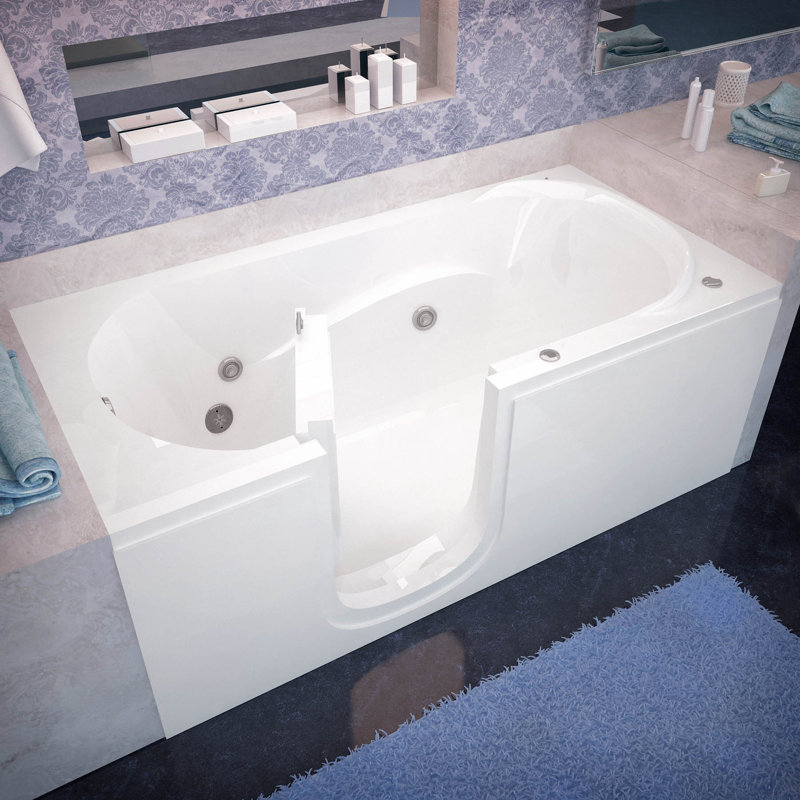 This beautiful walk-in tubs meet all the safety requirements and is tested to be effective in relieving stress and muscle aches.
It has a pristine white finish and is reinforced with fiberglass, making it durable. It also has all the features that you would want in a walk-in therapeutic tub. The door of this therapeutic tub opens inward, allowing you easy entry.
Highlighted Features:
This is a 60×30 inches therapeutic tub.
With 6 Whirlpool Jets that can be adjusted
Has a water capacity of 48 gallons
Drain placement can be left and right
Equipped with inline friction heater, which helps maintain the temperature of the water
Has 1-year warranty service
2.  Therapeutic Tubs Prairie Whirlpool and Air Bathtub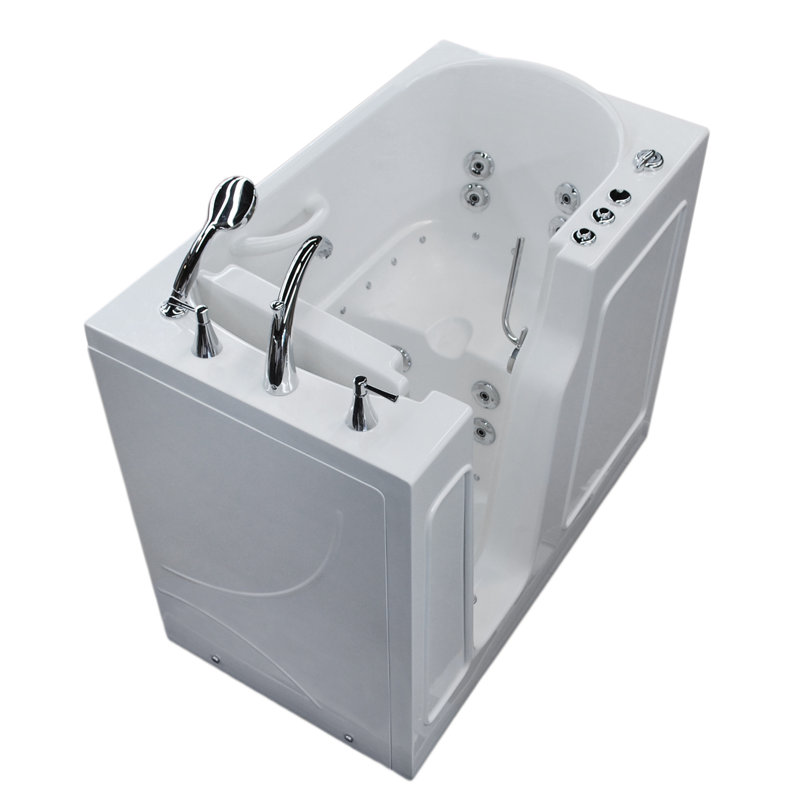 With a combination of water and air bubble massages, you will surely get the best and relaxing experience from this tub.
This is considered as the best therapeutic bathtub for a reason. For one, it has an overflow drain, its own pump, as well as faucet and tap.
If you are looking for the highest quality combination bathtub, then we recommend you give the Prairie tub from Therapeutic Tubs a try.
Highlighted Features:
Has a total dimension of 45.7×26 inches, which is the best size for an average person
With a total of 13 whirlpool and air jets
Includes a faucet, seat, blower, and pump
Can hold up to 46 gallons of water
This therapeutic tub has an incredible 10-years of warranty service.
Perfect as a residential or commercial bathtub
Available in other colors/finishes such as biscuit and white
3.  Therapeutic Tubs Aspen Whirlpool and Air Bathtub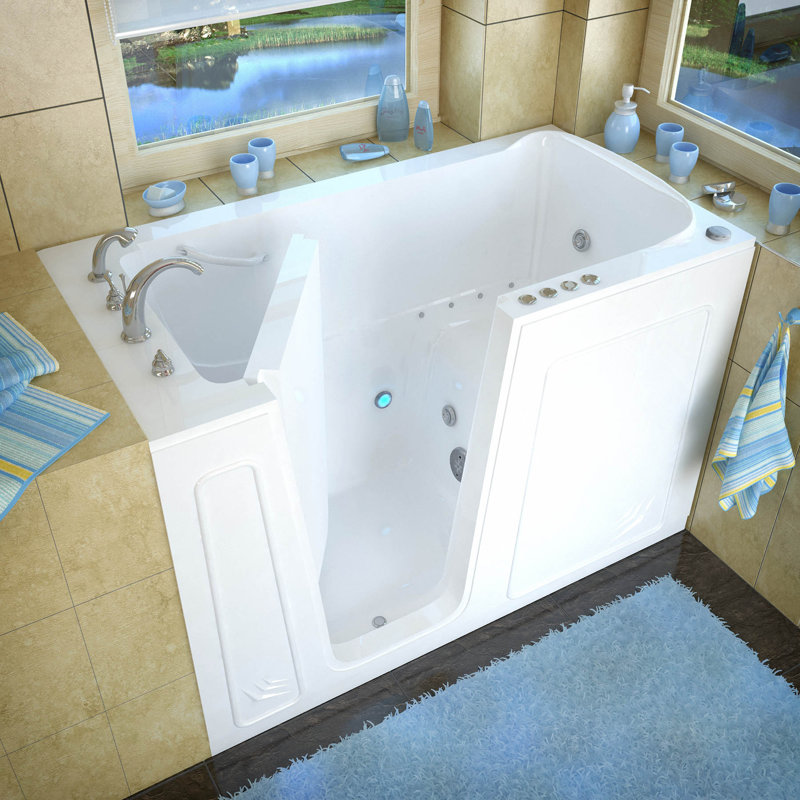 Another combination therapeutic tub on our list is the Aspen model. This one is slightly bigger than the Prairie and is also equipped with whirlpool and air jets. Thus, you have more space for movements and more jets to give you a rejuvenating massage.
We are particularly impressed with the walk-in tub's depth. This can soak your whole body, thus giving every muscle of your body a good exposure to relaxation.
Highlighted Features:
Has a bigger space at 60×32 inches of total dimension
Has 13 whirlpool jets that are fully adjustable
With 26 air injectors that are powered by 1HP blower, thus giving you small air bubbles
The front panels are removable, making it easy for you to remove and clean.
Includes 4-piece set roman faucet
It is also ADA compliant, which means that people with disability can use his tub.
Holds 85 gallons of water for a full body soak
4.  Buena Vista Whirlpool and Air Bathtub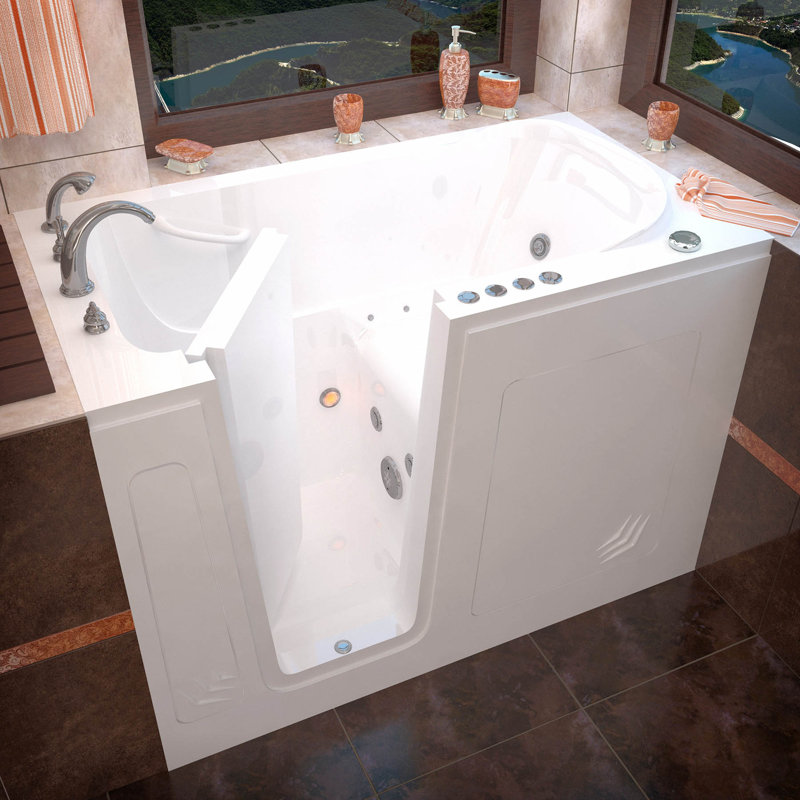 The Buena Vista model from Therapeutic Tubs is also one that earned rave reviews. Upon research we found out why it is well-loved by many.
It is an acrylic bathtub reinforced with fiberglass to make the tub even more durable. This makes use of walk-in installation type that is easy to follow. Plus, it is a combination tub that has the power of hydro and air jets to give you a fully relaxing and invigorating bath.
Highlighted Features:
A premium combination therapeutic tub with great water and air jets
Has a total of 15 whirlpool jets that can be adjusted
Holds a total of 70 gallons of water
Perfect for residential and commercial use
Has a powerful pump that blows air, thus giving you micro air bubbles to soak in
With 26 air injectors powered by a blower at 1H
Certified ADA compliant
5.  HandiTub Whirlpool and Air (Wheelchair Compatible) Bathtub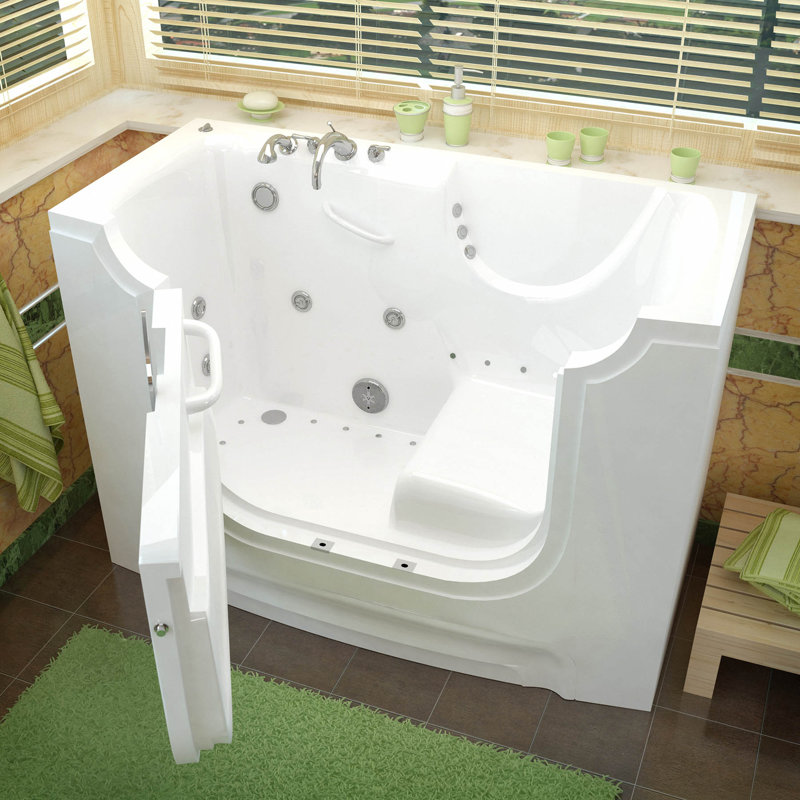 Most of the therapeutic tubs we introduced above have accessible entry, but this one has a wider opening. Why? This model is specifically built for users in a wheelchair.
This is indeed the best Therapeutic Tubs bathtub for seniors and people with disabilities.
Highlighted Features:
With a total dimension of 60×30 inches
A reliable combination bathtub
Has 26 air injectors supported by 1HP blower
This also has an aromatherapy feature that releases soothing fragrance.
Hold 80 gallons of water
With 20 Amps whirlpool that has inline heater
Comes with a 10-year warranty program
Also ADA compliant
6.  Therapeutic Tubs Mohave Whirlpool and Air Bathtub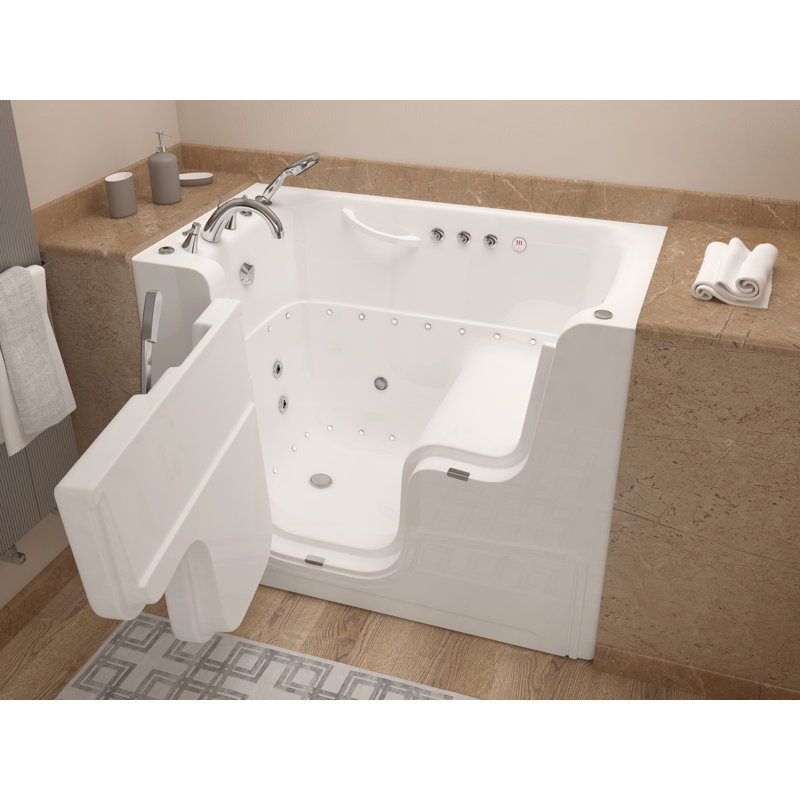 Mohave is a medium-sized therapeutic tub with both whirlpool and air jets. This is a complete bathtub set that includes faucet, hand shower, and drain.
If you want a compact and durable therapeutic tub with enough space for movement, you should get this one.
Highlighted Features:
Relaxing 53×29 inches combination bathtub
Holds 75 gallons of water
Has 12 whirlpool jets
Reinforced with fiberglass material, making it really durable
This is also slip-resistant, thus ensuring your safety.
With 1-year warranty for the parts and a lifetime warranty for the door seal
7.  Mesa Walk In Air Bathtub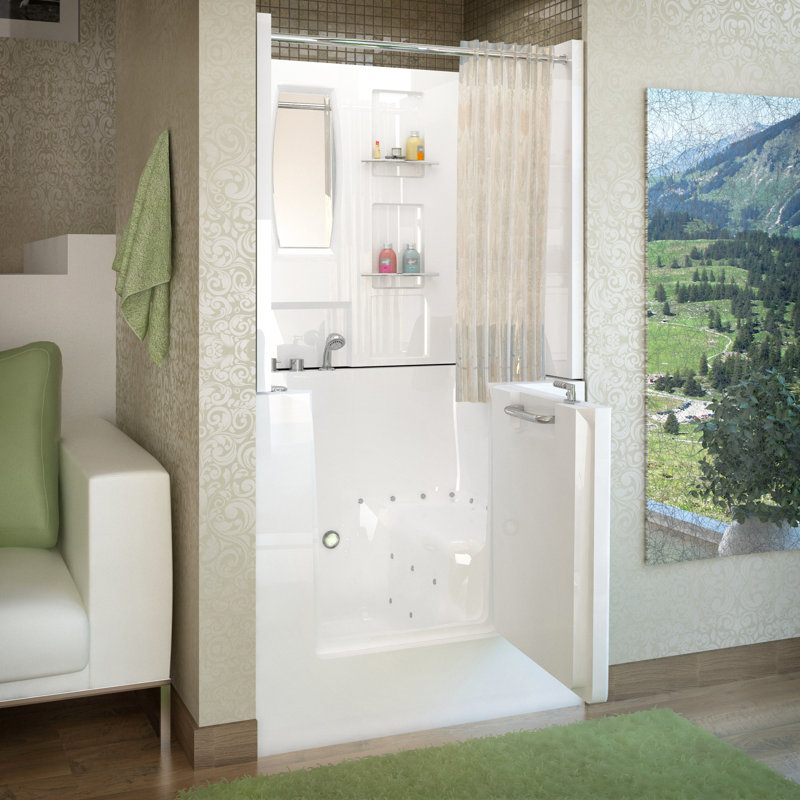 Last on our list is the Mesa model from Therapeutic Tubs. This is a walk-in air jetted bathtub and is known to produce micro bubbles.
With a complete tub set, you can expect a full package including an overflow drain, faucet, and waste kit.
Highlighted Features:
Total dimension of 40×31 inches
Combination tub powered by reliable air jets that are placed strategically in the tub
Made from marine fiberglass and acrylic
With 10-years warranty
Has a pneumatic button control setting
Conclusion
All these bathtubs are on the high-prices category, but we can assure you that these are all tried and tested therapeutic bathtubs. As to which model is the best therapeutic tub, we say they all offer the best value to money. Just choose the one that fits your bathroom space and check the features that you think you'll enjoy the most.