If you want a nice accessory for your patio and a device that can heat up the area during cold weather, then you should get yourself a nice pyramid patio heater. If you haven't bought one yet, we've created a list of the 10 best pyramid patio heaters in the market.
With this list, you have the liberty to choose the best pyramid patio heater based on your preference.
Let's check out the pyramid patio heater reviews below:
10 Best Pyramid Patio Heater Reviews (for Indoors and Outdoors)
1.  Fire Sense Pyramid Flame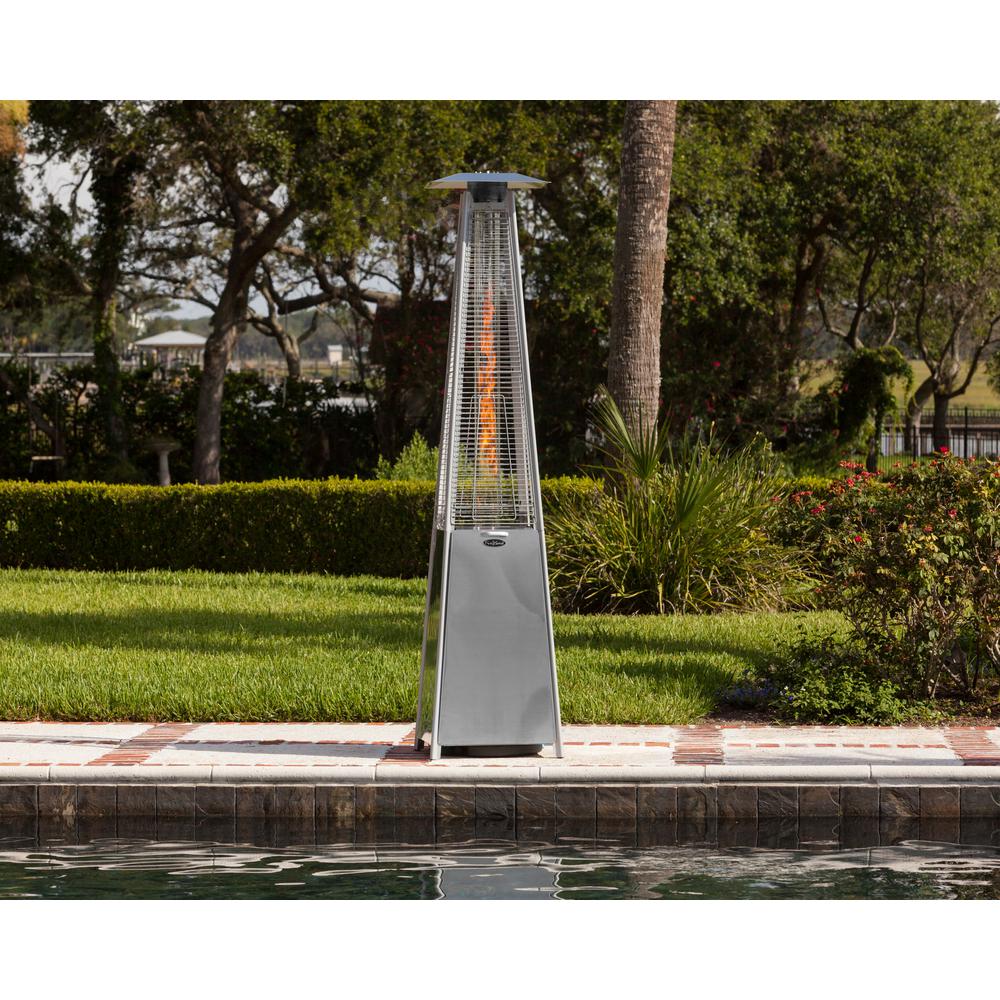 This sleek but strong pyramid propane heater is great for your patio or backyard because of its versatile design. Since it's sleek and thin, it doesn't stick out too much and can easily blend with your other decor. Because of its built, it is also portable, allowing you to easily carry it from one place to another.
Just because it's not big and bulky doesn't mean that it scrimps on power though. It is able to emit 40,000 BTU of heat, which is pretty much the standard for heaters that can heat up small to medium sized patios. Aside from your patio though, it can also be used indoors. So, if it's winter and you prefer to stay inside your house, you can bring it in.
Best Features:
40,000 BTU of heat power
Sleek and portable design
Stainless steel finish
20-pound fuel capacity
Comes with anti-tilt feature
2.  Garden Radiance Dancing Flame Pyramid Heater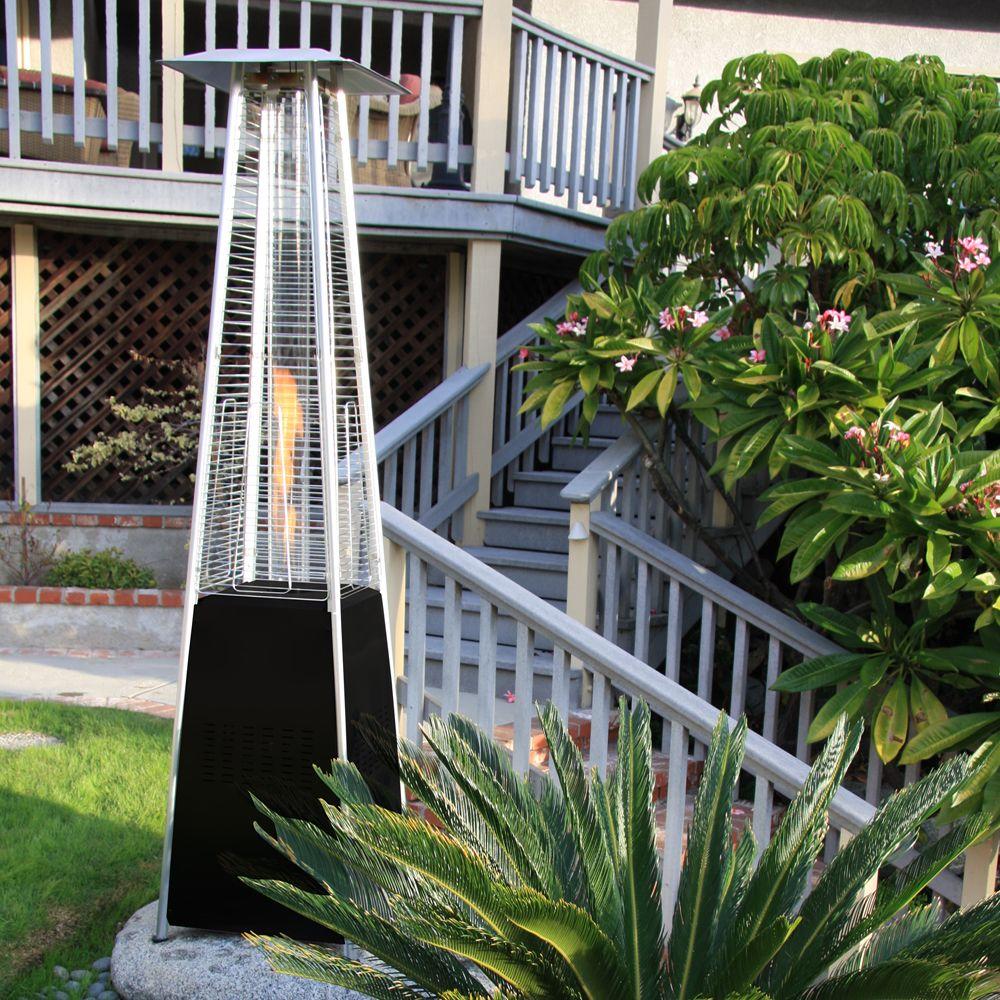 If you're looking for something that stands out a bit, this one is one of the best patio heater products to have. The Garden Radiance Dancing Flame Pyramid Heater stays true to its name because it literally has a flame that looks like it's dancing. This is a great accessory to have if you plan to dine outdoors in your patio. The dancing flames are extremely mesmerizing, and they also give off a very relaxing vibe to those in the table.
While not as strong as the previously mentioned heater, it doesn't do too bad of a job when heating small to medium patios. To be specific, it has a heat emission power of 34,000 BTU, which is pretty good already.
Best Features:
34,000 BTU
Comes with anti-tilt switch
Coverage reaches a diameter of 15 feet
Captivating dancing flame columns
3.  True Commercial Propane Hammered Pyramid Heater
What makes this little heater unique is that it comes with a rapid multi spark electronic ignition system allowing you to get this heater heating in just a few minutes. Another thing you'll love about this heater is that it is extremely durable. First of all, it comes with an extra thick quartz glass tube making it more resistant to impact than most residential heaters.
Also, it comes with a mocha bronze finish that is resistant to rusting. The core of the frame is aluminum which also doesn't corrode even if you use the heater for long hours. Finally, it's got a very attractive design making it great for outdoor design.
Best Features:
41,000 BTU of heat
Rustic finish
Rust and corrosion proof
Very strong and sturdy frame
Rapid multi spark ignition system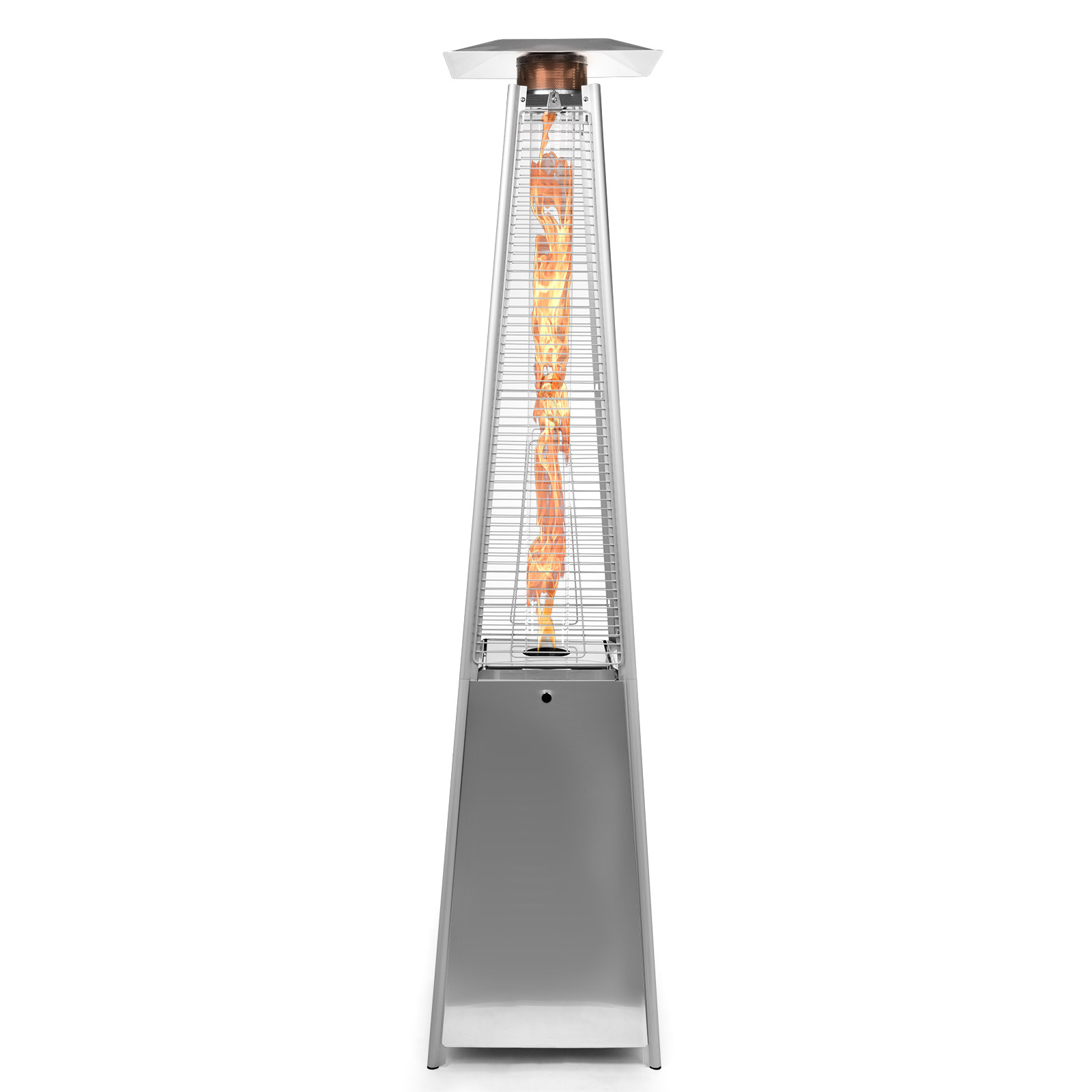 At its peak heating capacity, this heater can reach a total of 45,000 BTU worth of heat emission. This makes it a commercial grade type of heater when it comes to raw strength. With this kind of heat emission, it's possible for the heater to emit heat of up to 15 feet in diameter or even higher.
Aside from its strength, its commercial grade quality also allows it to last very long. It is extremely durable being made out of parts that are immune to the weather. This means that you can actually leave it outside through storms and other harsh weather without worrying about it wearing out or getting damaged. This heater was definitely built to last for a long time.
Best Features:
45,000 BTU peak heat emission
Has a safety valve
Comes with a strong mesh for protection
Comes with wheels for portability
10-hour continuous use
5.  Highland AZ Patio Heater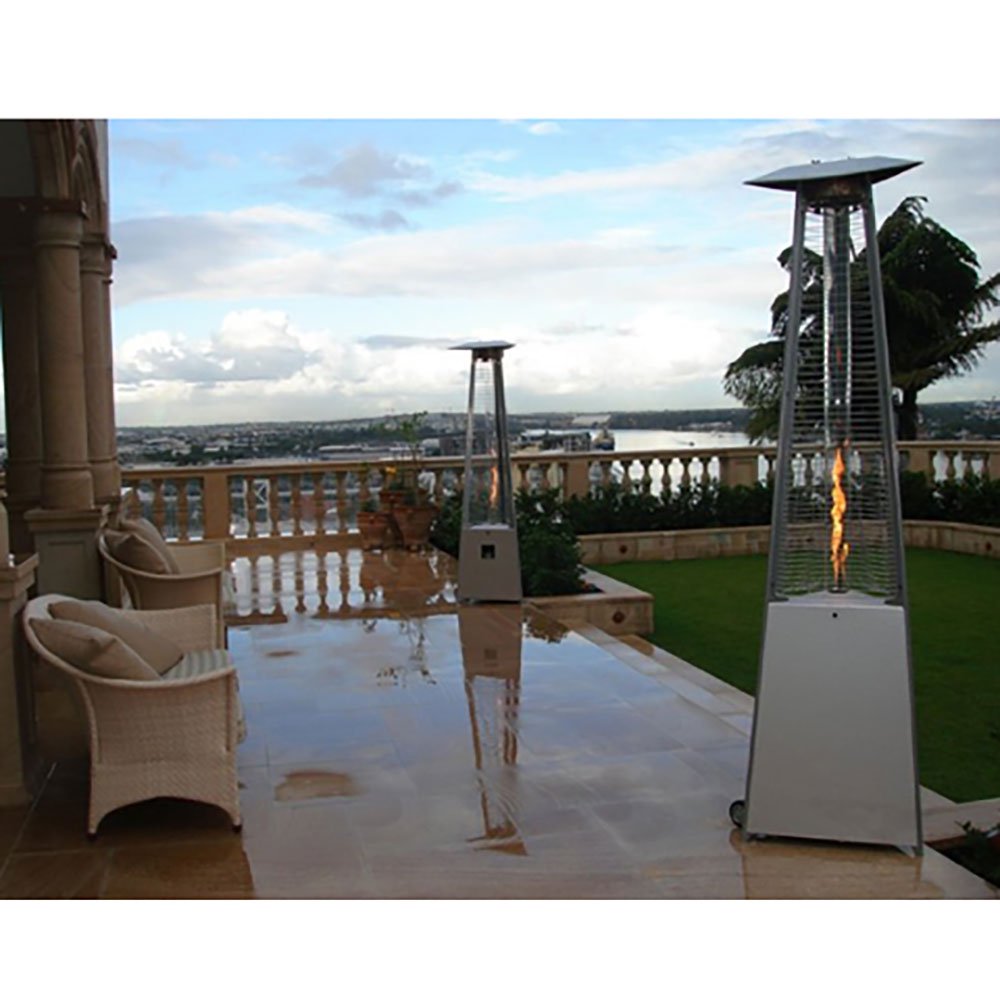 The very simple design of this patio heater goes very well in swimming pools with a modern look. If you want to stay out in your pool bench even during a windy day, all you have to do is turn on this pyramid heater and you're good to go. This handy little product can go on and on for a total of 10 hours without stopping, which allows you to fully maximize its heating capabilities.
In fact, it has the power to emit a total of 40,000 BTU making it at par with most of the outdoor heating devices sold in the market.
It's also very safe for use because it has an auto shut down system and an anti-tilt device, allowing it to remain standing even in windy weather. It also turns off if ever it is getting overheated.
Best Features:
40,000 BTU worth of power
Very sturdy steel built
Can last 10 hours without stopping
6.  AmazonBasics Stainless Steel Patio Heater

This patio heater by AmazonBasics is a very reliable patio heater that can really heat up your backyard. Not only is it a very efficient heater, but it's also aesthetically pleasing. It is simple but can produce nice dancing flames that can last for hours continuously. This is also a stainless steel made heater, making it very durable and long lasting.
To sweeten the deal, it comes with a cover just in case it rains or snows. At least you can cover your heater and protect it from the elements.
Best Features:
40,000 BTU heat output
Stainless steel frame
Comes with a cover
Electronic ignition system
20-pound tank
Easy to read user manual
7.  Dyna-Glo Pyramid Flame Heater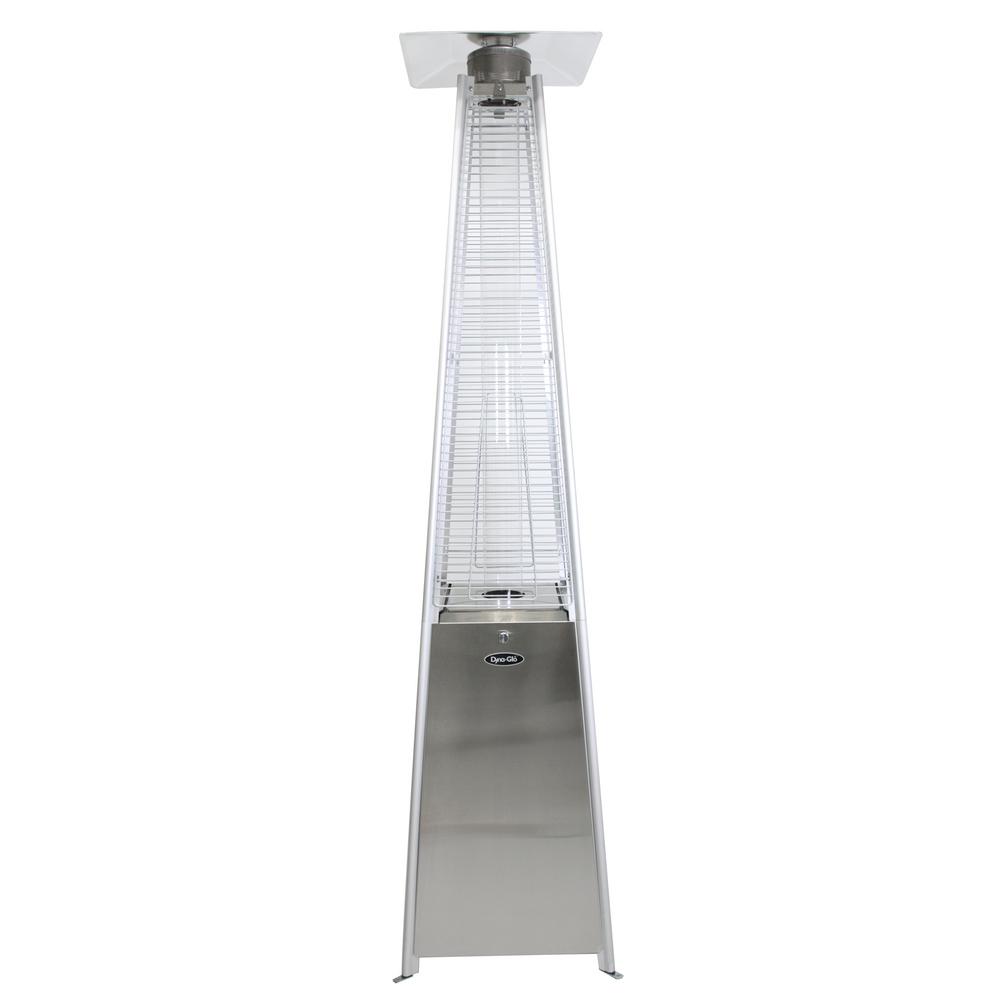 Because of its near white finish, it goes well with white colored beach or patio furniture. It's a great flame heater that you can put along water features like small white fountains, swimming pools, and other related accessories.
If you want to change the propane tank, this heater comes with a very easy-to-open door that leads right to the propane tank. You can easily take out the propane tank and change it with a new one.
It's also known to be very easy to use and set up. It comes with an electric ignition further increasing its overall ease of use. It's great for entertaining guests in the porch.
Best Features:
Very clear glass
Comes with wheels
Easy-to-open door for propane tank
Can reach a range of 20 feet in diameter
Come with safety shut off
8.  US Stove Homcomfort Propane Heater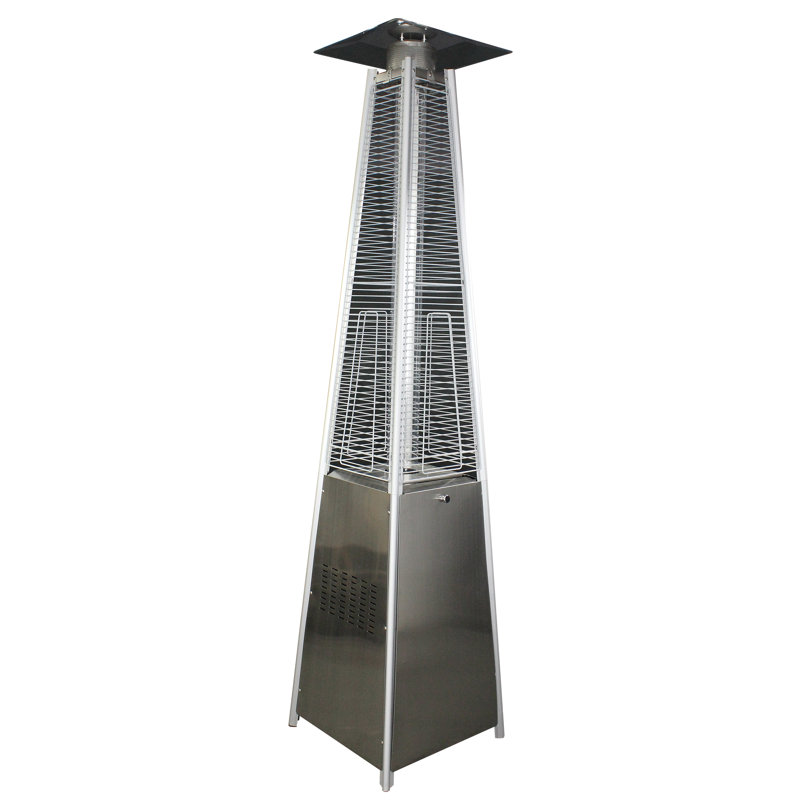 Notice that the color combination of this propane heater is a mix of silver, black and gray. This is a color combination that fits with more modern or contemporary designs. So, if your porch has a more modern exterior design, then this propane heater will fit right in.
You'll also appreciate the moving flames that come with it. When you turn it on, the flames will move in slow movements, giving a sensual and relaxing feel. It's great for couples who want to have a chill evening while spending time together under the stars.
Best Features:
Slow moving dancing flames
Strong 34,000 BTU heat coverage
20-pound fuel capacity
15 feet heating coverage
Powder-coated stainless steel finish
Comes with wheels
Contemporary design
9.  Sunheat International Contemporary Patio Heater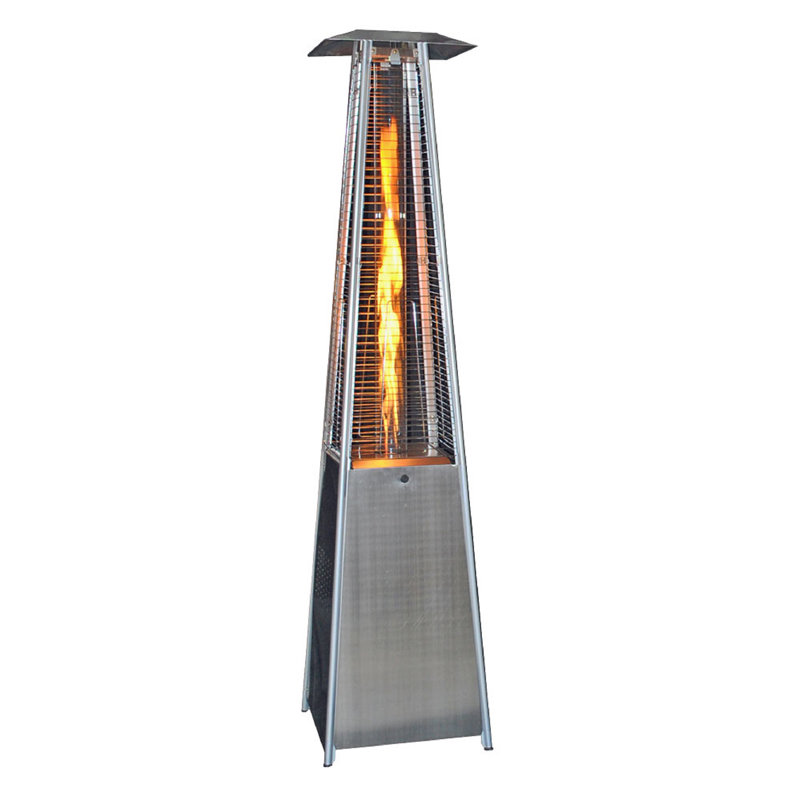 If you're looking for something that's easy to control, then this one's for you. This heater can easily be controlled via a control knob in the front control panel. What this knob does is that it adjusts the heat to the perfect temperature that you want.
Thus, if your patio is too hot, then all you need to do is turn down the knob. If you think that the area is too cold, then simply turn up the knob to make it hotter. Aside from the control knob, there's also a simple push button ignition feature that allows you to get the flames started in one push.
Best Features:
12-foot diameter heat coverage
40,000 BTU heat emission
Easy control features
Metallic look and design
Inclusive of wheels
10.  Propane Doctor Pyramid Heater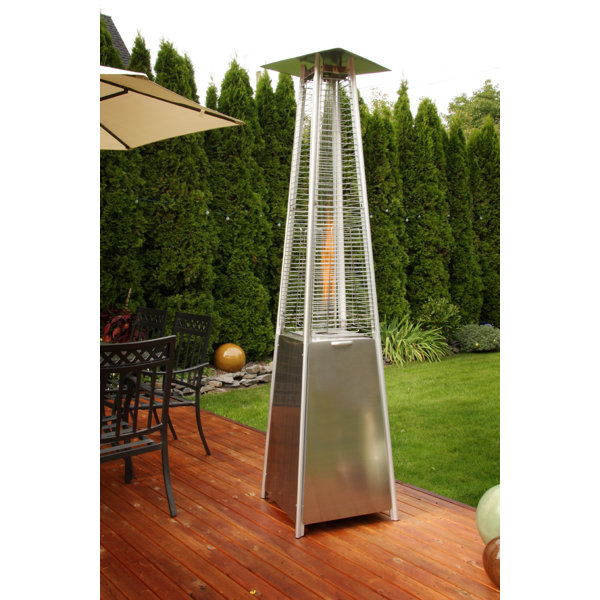 Last on the list is the Propane Doctor Pyramid Heater. This one may not have a high coverage range, but it's still pretty strong and very sturdy. It has a heat emission of 42,000 BTU and a coverage of 6 feet in diameter. This means that if you stay within the coverage range, you'll really feel the heat concentrated on you.
It also has one of the strongest anti-tilt features that you can find. This sturdy heater can stand upright in almost any type of weather without really moving. It's a great accessory to add to your patio if you're thinking of reliability.
Best Features:
Strong anti-tilt feature
42,000 BTU of strength
Very concentrated heating
Glossy finish
Conclusion
Now that we're done with the reviews, you might be inclined to ask which of the 10 choices that we've provided above is the best pyramid patio heater. While we will usually tell you to choose the one based on your own specific needs, we have a particular bias toward the Thermo Tiki Propane Heater.
Our reasoning lies in its potential heating power. It is able to emit up to 45,000 BTU of heat at a coverage of 15 feet. With that said, the heat can still feel concentrated even if you're at the edge of the diameter of coverage.  Other than that, it's also very durable, has several safety features, and can be used continuously for 10 hours.