When the cold weather comes in, you're going to want to put your outdoor air conditioning unit to rest and crank up the heat. So, what do you need in order to properly heat up your backyard? Well, the best wood burning fire pit will surely be of use to you.
But how do you choose the best fire pit for warming up your home? We've got a list of wood burning fire pit reviews that you may want to check out so that you'll know which one to choose.
Things to Consider When Buying a Wood Burning Fire Pit 
Before we tackle what we think are the best wood burning fire pits in the market, let's start with a buying guide. The reason why we included a buying guide is for you to understand what you have to look for when buying a fire pit based on your own needs.
You see, each wood burning fire pit model has its own set of features and benefits. You'll want to get the product that has features suited to your own tastes, style, and specific wants. So, if ever you have a few choices for the best outdoor fire pit in mind, use these factors to narrow down your choice to the one you want:
Style
The first thing that you need to take into consideration is the style of the fire pit. You have the choice of a regular stainless-steel type, a cross weave style, a circular style, or a fire bowl style. This factor entirely depends on your own tastes. There is no best style to buy.
However, we do recommend that you pick a style that compliments the decor of the surroundings where you'll put the pit. If you're putting in your patio, make sure it goes well with the patio's furniture and overall design.
Size
Another thing you need to consider is the size of the fire pit. Small ones are around 20 inches while the bigger ones can reach 40 inches. The size of the pit you'll buy will depend on the amount of room your backyard has. In order to prevent your backyard from looking too cramped, you'll need a fire pit that can fit right in.
What you should do is to measure the size of your patio and measure the free room. From those measurements, you can decide what size your intended fire pit should be.
Material
Another thing you may want to consider is the material used for the creation of the fire pit. Most of the modern fire pits are made out of stainless steel because this material is lightweight, rust resistant, corrosion-resistant, and very durable. Copper is a viable and more affordable alternative to stainless steel but it's not as durable and long lasting.
Lastly, we also have stone types. Fire pits that are made of stone can make up some of the most beautiful designs that you can find. However, they are pretty heavy and pricey. Nevertheless, they're very versatile when it comes to design.
Price and Brand
The last thing that you need to consider is the brand. While we're not really going to recommend that expensive, luxury brands, we do suggest that you buy from well-known brands so that you're assured of quality. The brands that we've mentioned are pretty known and are not that expensive. Granted that they're not cheap, they are still pretty affordable.
The Best Wood Burning Fire Pit Reviews
By reading the buying guide, you'll have a deeper understanding of the various factors that affect quality and preference with regard to buying the best outdoor wood burning fire pit. Now that we've got that out of the way, we can take a look at the 12 best wood burning fire pits the market has to offer:
1.  Solo Stove Stainless Steel Wood Burning Fire Pit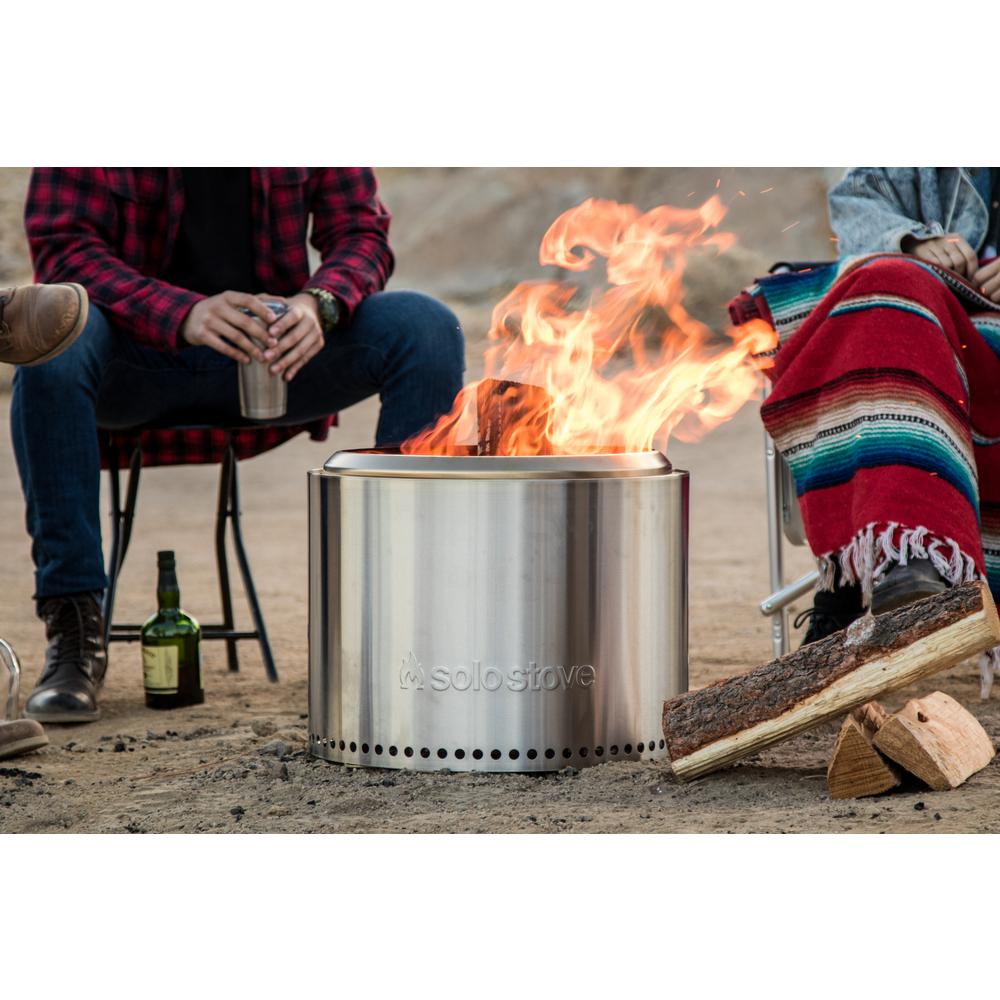 The Solo Stove Stainless Steel Wood Burning is a small sized wood burning fire pit but a pretty strong one. It has a very strong combustion system giving it high strength. Aside from that, you'll find that this pit burns cleaner than the traditional pit. Overall, it's a very efficient fire pit. You can even say that it's even one of the best portable wood burning fire pit models. If that's what you're after, then this is the one for you.
Clean burning through double wall structure
Can burn fuel with less smoke
Very sturdy and durable stainless-steel wall
Small and compact size
Beautiful silver design
Comes with a cover
See more: Solo Stove Fire Pits on Wayfair
2.  Greyleigh Tuscola Firebowl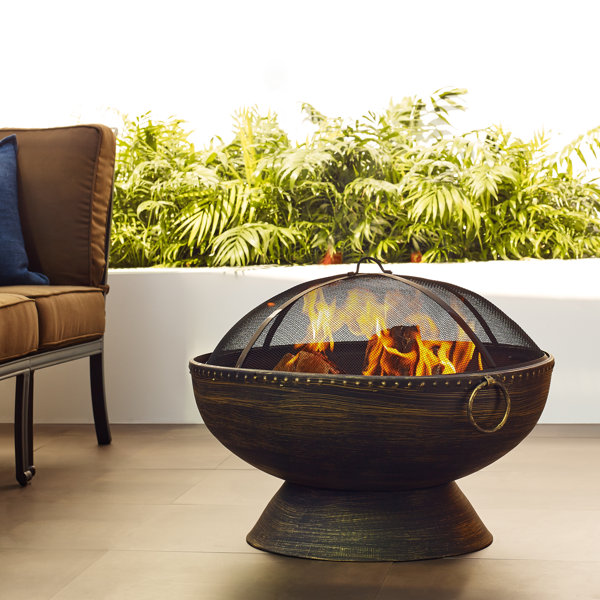 If you're looking for a fire pit that you can place in the middle of your patio furniture, then this is the one to buy. Because of the vintage vibe this fire bowl gives, you can create a relaxing atmosphere for you and your friends. Aside from its "chill" vibe, it also comes with a lot of extra features. It comes with a log grate, a spark screen to protect you from stray wood chips, and a cover. It also comes with a fire poker so you can flip the logs from time to time.
Beautiful bronze finish
Durable steel structure
Comes with a fire poker
Safety spark screen
Lightweight built
See more: Greyleigh Fire Pits on Wayfair
3.  Pleasant Hearth Stargazer Fire Pit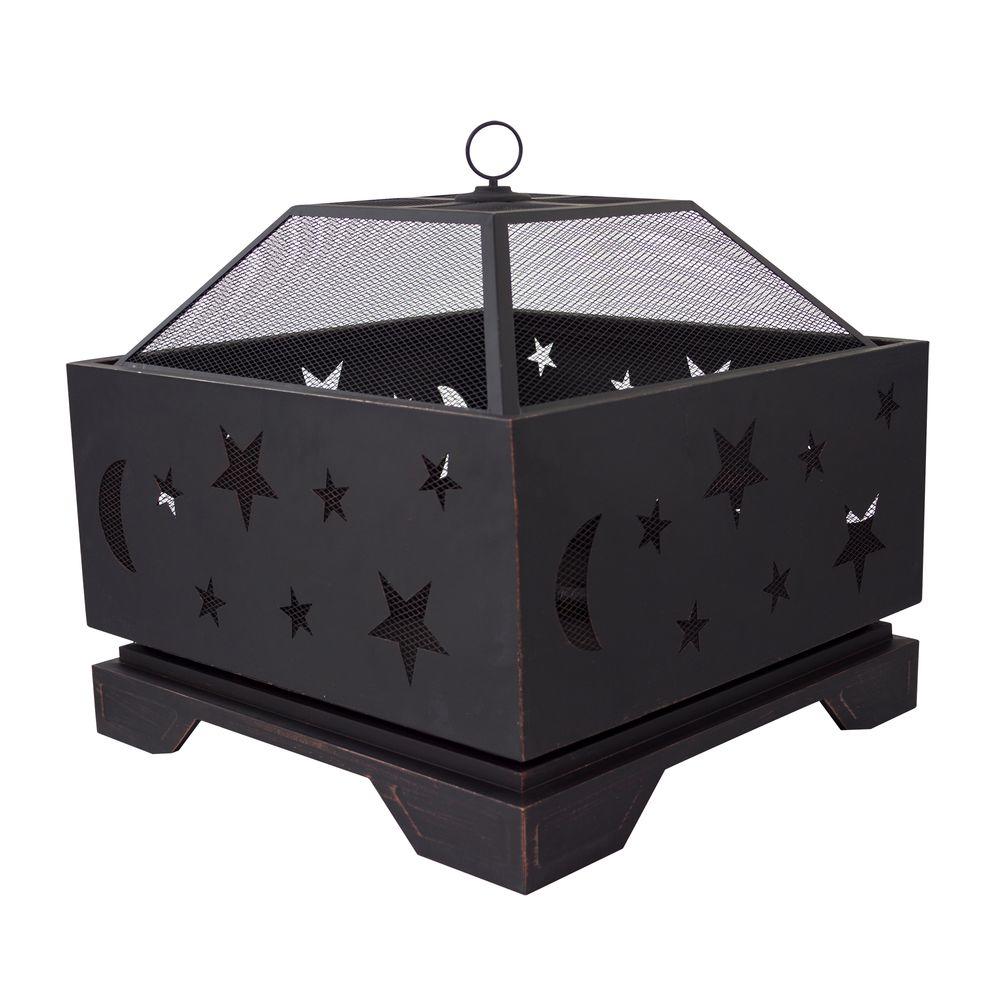 The Pleasant Hearth Stargazer Fire Pit seems to be a big hit among children because of the design. On the body of the fire pit, there are actually hole carvings of stars and a moon. However, these are not only used for designs. They're also used for regulating the airflow of the wood chips. Other than the design and the efficient airflow system, you'll also be given a fire poker as well. This can be used to tend the wood if ever you want to cook some meat over the fire. Just so you know, it also comes with a cooking grid to help you with that.
Has a very kid-friendly design
Very efficient airflow system
Comes with chrome plated cooking grid
Large space for a lot of firewood
See more: Pleasant Hearth Fire Pits on Wayfair
4.  Pure Garden Crossweave Steel Wood Fire Pit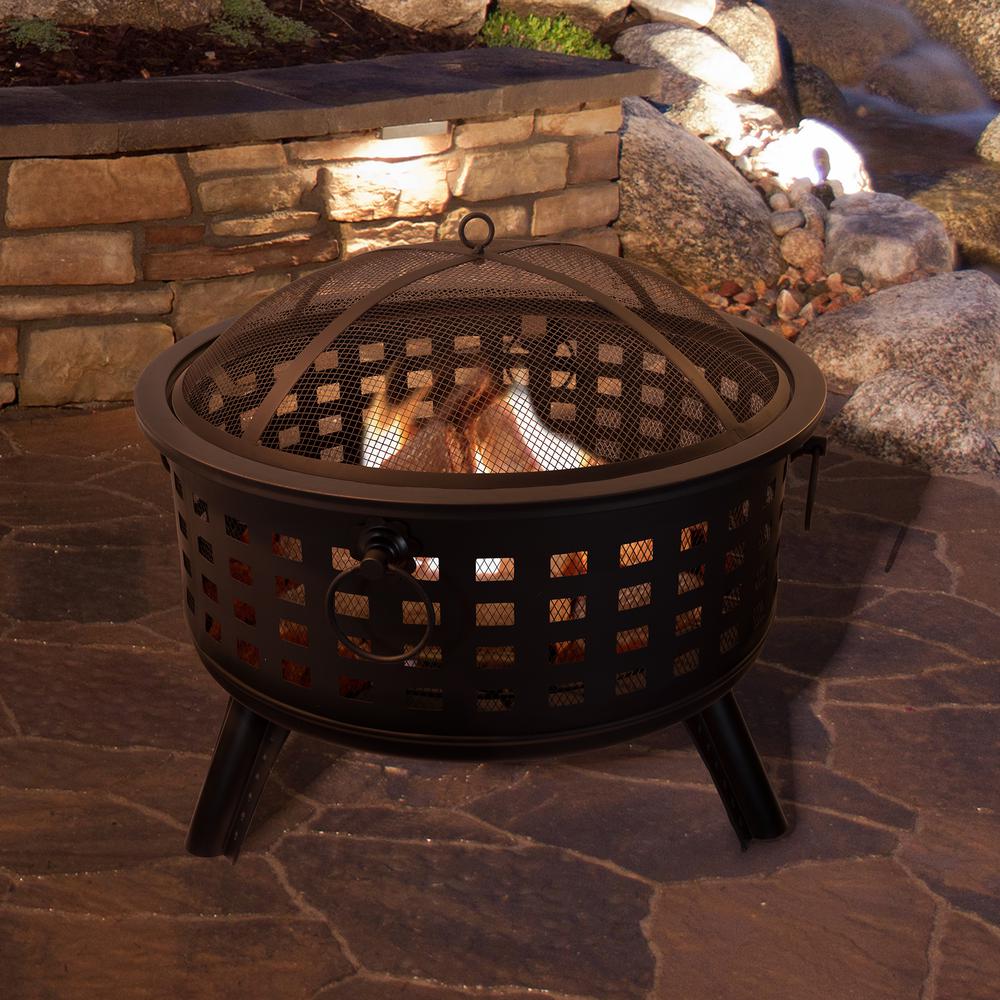 The Pure Garden Crossweave Steel Wood Fire Pit is a large fire pit that is deep enough to store a lot of wood chippings. Because of this, you can start very strong fires which can keep you warm on your porch throughout the winter. It's also one of the safest fire pits you can find. Aside from a spark screen, it also comes with a full safety ring and a solid cover. You can be sure that you won't get harmed by any stray wood chippings with this fire pit.
Comes with a log grate
Very deep fire bowl
Comes with a safety ring
Powder coated steel structure
See more: Pure Garden Fire Pits on Wayfair
5.  Landmann Ball of Fire Steel Fire Pit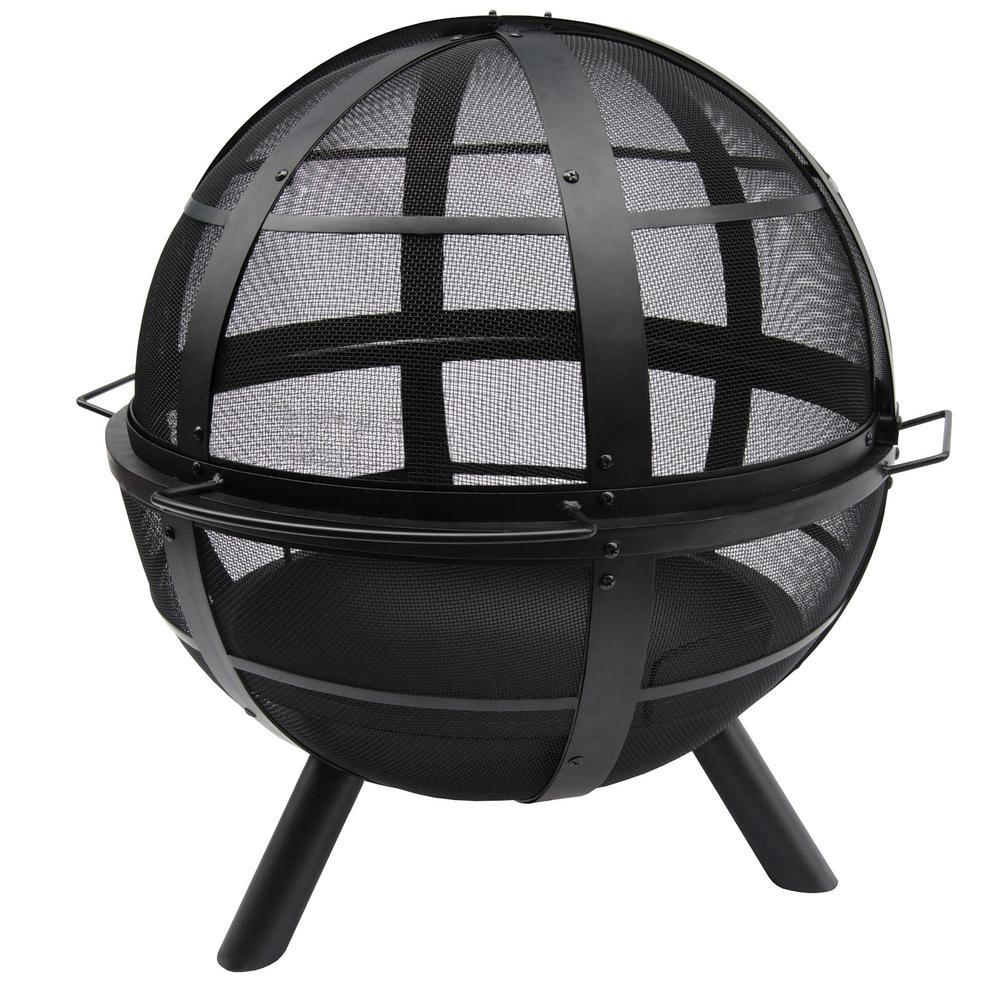 The first thing that you'll notice about this fire pit is its shape and design. It's in the shape of a big black ball which somehow goes with more contemporary exterior designs. If you like modern designs, then we'd recommend the Landmann Ball of Fire. It also comes with drawstrings for weather resistance, a porcelain firebowl inside, and a spark screen. It's also pretty durable being made of strong steel and a matte finish.
Large door
Matte black finish
High combustion
Unique shape
Sturdy structure with three steel legs
See more: Landmann Fire Pits on Wayfair
6.  Sol 72 Maui Steel Fire Pit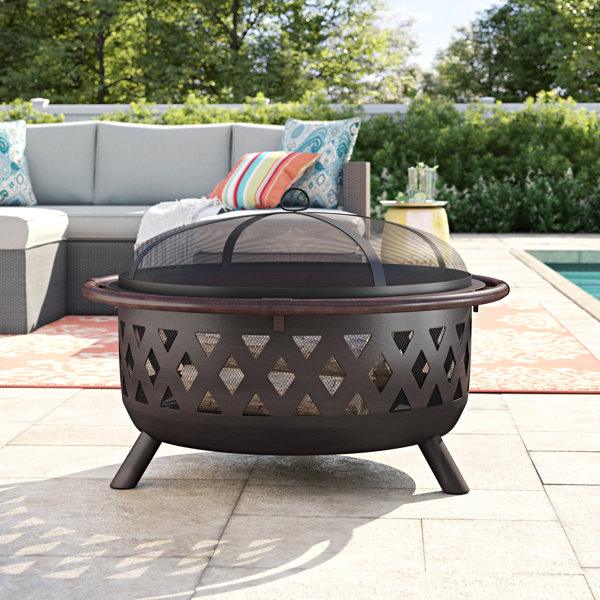 The structure of this fire pit is rather similar to that of the Pure Garden Crossweave Fire Pit. However, the difference is that this one seems to be more resistant to outdoor factors. Just to give you an idea, this fire pit actually has a weatherproof cover. Because of that, you can just leave it out in a rain storm or blizzard without worrying whether it will deteriorate or not. Even if it does tumble over, it won't wear out easily.
Comes with a spark screen and fire poker
Weatherproof cover
Beautiful bronze finish
Sturdy steel built
See more: Sol 72 Outdoor Fire Pits on Wayfair
7.  AZ Patio Steel Wood Burning Fire Pit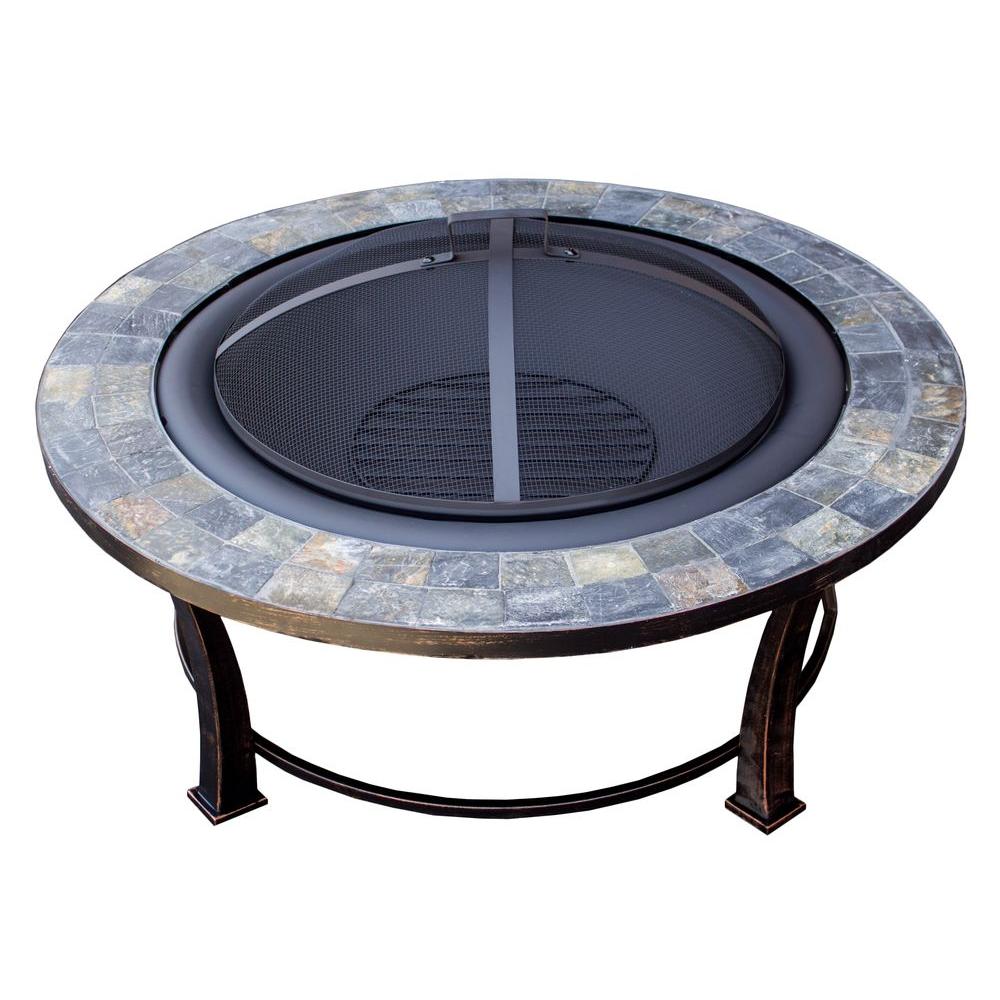 This product isn't like many of the other fire pits that we've listed in terms of design. Even though it's made of steel, the ring is covered with castle tiles, making it have that medieval look. That's why this fire pit goes so well with vintage style backyards or patios. However, the steel structure makes it more durable than castle tiles. With that, you get the best of both worlds.
Medieval style design
Strong steel structure
Comes with fire poker
Can be used for grilling food over the fire
See more: Az Patio Heaters Fire Pits on Wayfair
8.  Freeport Park Lewisville Wood Burning Fire Pit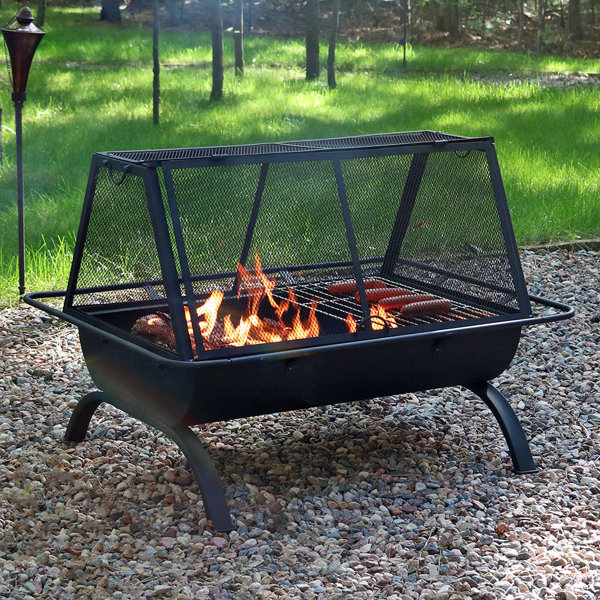 We can say that this one is more focused on being a grill rather than a fire pit. The fire pit has a very big steel mesh covering that you can put over the fire pit while you're grilling your hot dogs and hamburger meat. It also comes with a built-in grill that allows you to have ease while you're doing your grilling. If ever you're looking for something that allows you to hold barbeques in the summer, this is for you.
Comes with a grill plate
Wide fire pit
Comes with a big mesh cover
Has a spark screen
See more: Freeport Park Fire Pits on Wayfair
9.  Alcot Hill Annie Crossweave Fire Pit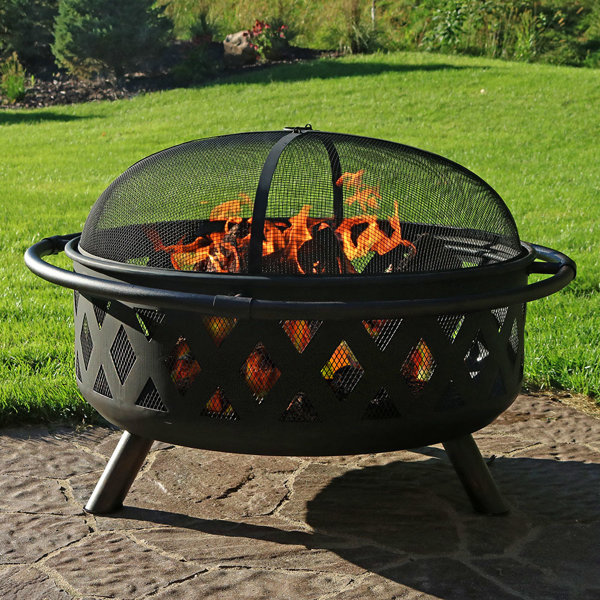 What you'll love about this fire pit is its high heat finish. The finish of this fire pit allows the heat to stay in longer and not lose its power. That way, you can enjoy outdoor heating for longer periods of time. Other than that, it is also pretty lightweight so you can move it around pretty easily. It's also a rather beautiful centerpiece with its subtle vintage look. It surely won't be an eyesore if you put it on your patio.
High temperature paint finish
Beautiful design
Portable structure
Weather resistant cover
See more: Alcott Hill Fire Pits on Wayfair
10.  Real Flame Anson Fire Pit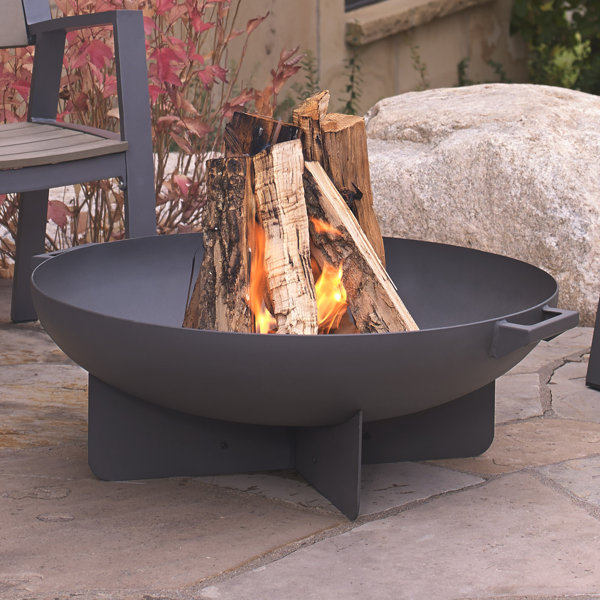 The Real Flame Anson Fire Pit is one of the most uniquely designed ones on this list. It literally looks like a big wok that you can find in most Asian kitchens. Because of the design, it actually goes really well in Zen-inspired backyards or gardens. The design adds to the whole relaxing vibe of the backyard and adds a supplemental dimension to it. However, it does not Real Flame log sets to light up.
Unique Zen design
Comes with a spark screen cover
Steel exterior material
See more: Real Flame Fire Pits on Wayfair
11.  Endless Summer Wood Burning Fire Pit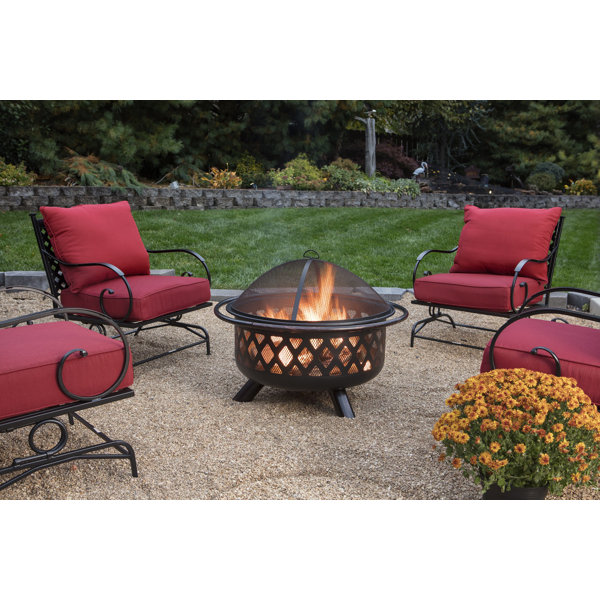 This is probably the deepest fire bowl that you'll find on this list. Because of the depth, this fire bowl can actually create really big fires allowing you to have long periods of warmth. Other than just providing heat, the deep structure will also allow you to roast marshmallows and other food without burning them. It also has a really nice design to complement its structure.
Subtle but elegant design
Lightweight built
Bronze finish
Comes with a mesh spark screen
Deep structure
See more: Real Endless Summer Pits on Wayfair
12.  Sun Joe Cast Stone Wooden Fire Pit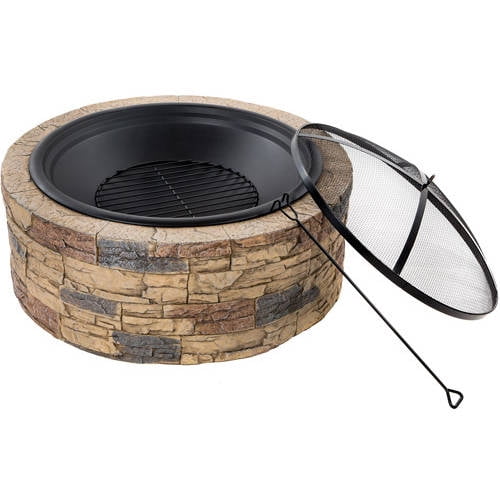 If you like those older looking fire pits, the Sun Joe Cast Wooden Fire Pit will most likely be to your liking. It makes use of stones for the building of its body. With that, the fire pit actually looks like one of those village wells that people used to have in the past. It adds a different feel to your patio and gives it a touch of sophistication.
Sturdy stone built
Beautiful design
Comes with a screen cover
Big size stands out
Conclusion
The best wood burning fire pit that you'll buy should be the one that suits your own individual needs. But if you were to ask us which one we'd prefer among the 12 choices, we'll probably pick the Solo Stove Stainless Steel Wood Burning Fire Pit. We like it because it's portable, compact, and beautiful. Also, it's not just stunning like some of the other choices, it has its simple yet unique charms.
Most of all, it burns cleanly. This means you won't have to experience a lot of smoke or big wood chips. It's the best one as per our users' experience.