Not only do fire pits serve as a heat source for when you're outside relaxing in your backyard, but it's also an aesthetic accessory that can add to the ambiance of your patio.
In fact, the best outdoor fire pits can bring out a very warm, campfire type of feel for your exterior. That's why we highly recommend that you get one for your home.
So, which one should you get anyway? To make choosing easier for you, we've already listed some of the best brands to buy. That way, you can choose the best outdoor fire pit table for your patio.
Outdoor Fire Pit Buying Guide 
In our outdoor fire pit reviews section, we'll be going through 12 of the best outdoor fire pits that you can buy. But before that, we believe that you need to know more about your purchase before you make your choice, lest you buy one that's not suitable for your needs.
In order to do that, you will need some sort of buying guide or criteria to help you zero in on the one that you'll want. We took the liberty of creating a concise but complete buying guide to aid you with this. So, when choosing the best portable outdoor fire pit, take note of these factors:
Style
The first thing that you need to take into consideration is the style of the fire pit that you're interested in buying. There are so many styles that you can choose from, ranging from the regular square fire pit to the fire pit tables, the fire pit bowls, and even the fire pit chimneys. The style that you will choose will really just depend on the look that you want to have for your backyard. So, when choosing style, you'll need to have sort of an eye for design if you want to pick the best one.
Material
The next thing that you need to take into account is the material used. The material used will determine not only the look of the fire pit but also the durability. There are many types of fire pits available if you're going to base them on materials. There are the stones, the stainless-steel types, the copper types, and the tile types. Stainless steel is great because it is waterproof and corrosion resistant, so you can leave it out in the yard without worrying too much about the weather.
Stone, on the other hand is the most resistant to fire. Thus, it's a great choice if you want something that won't burn easily and can last long. If you're looking for something a bit standard and a bit more affordable, copper is a good choice. It also is a bit weather resistant like stainless steel but copper types are shinier and add a touch of class to your design.
Fuel
Another thing that you will have to take into consideration is the fuel that you're going to use. Most of the more modern fire pits make use of propane tanks to light up the fire. This option is a neat option that doesn't leave behind any debris or ash. Also, you can put out the fire more easily with a propane type.
On the other hand, there is the wood burning type which gives off a more rugged, campfire type of feel. Another benefit of wood burning fire pits is since they don't use fuel, they're more energy efficient. You can use this type if you're after the money savings. Of course, you need to be ready to clean up the remnants of the wood when you're done using your fire pit.
Price
The last thing that you need to take into consideration is the price. Now, it is understandable if you may want to look for the most affordable option in the market. However, we don't recommend that you buy the extremely cheap ones.
We recommend quality products from quality brands. That way, you can be sure of a long shelf life, durability, and overall quality usage. The ones that we've listed in our reviews all come from pretty good brands. We've also personally used these and read various reviews from different users. That's why we can vouch for their quality. Also, they don't cost a bomb, so you won't need to worry about spending too much.
12 Amazing Outdoor Fire Pit for Your Home (Reviews)
1.  AZ Patio Heaters Steel Fire Pit Table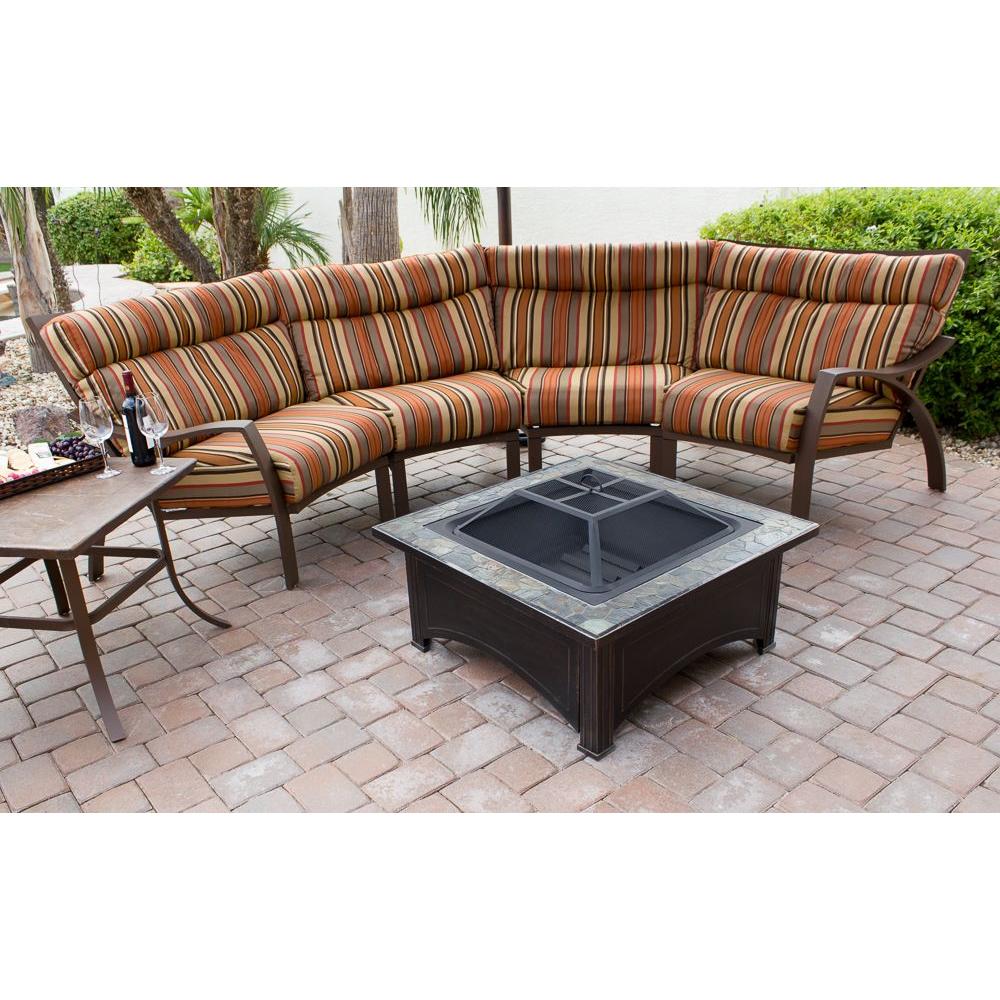 This is another beautifully designed fire pit. While the first one that we've mentioned sports a more modern, contemporary design, this one has a more medieval look to it because it has a table surrounding it made out of concrete brick.
One thing that you may love about this product is that it's pretty lightweight so you can move it around your patio anytime you want. Also, it comes with a cover, allowing you to lower the heat of the fire. This lets you roast marshmallows or other snacks over the fire. Easily one of the best outdoor wood burning fire pits you can find.
Best Features:
Beautiful design
Comes with a spark guard
Includes log grate
Made of anti-rust stainless steel with black finish
Check out NEW Model: AZ Patio Slate Wood Burning Fire Pit
2.  Pure Garden Crossweave Fire Pit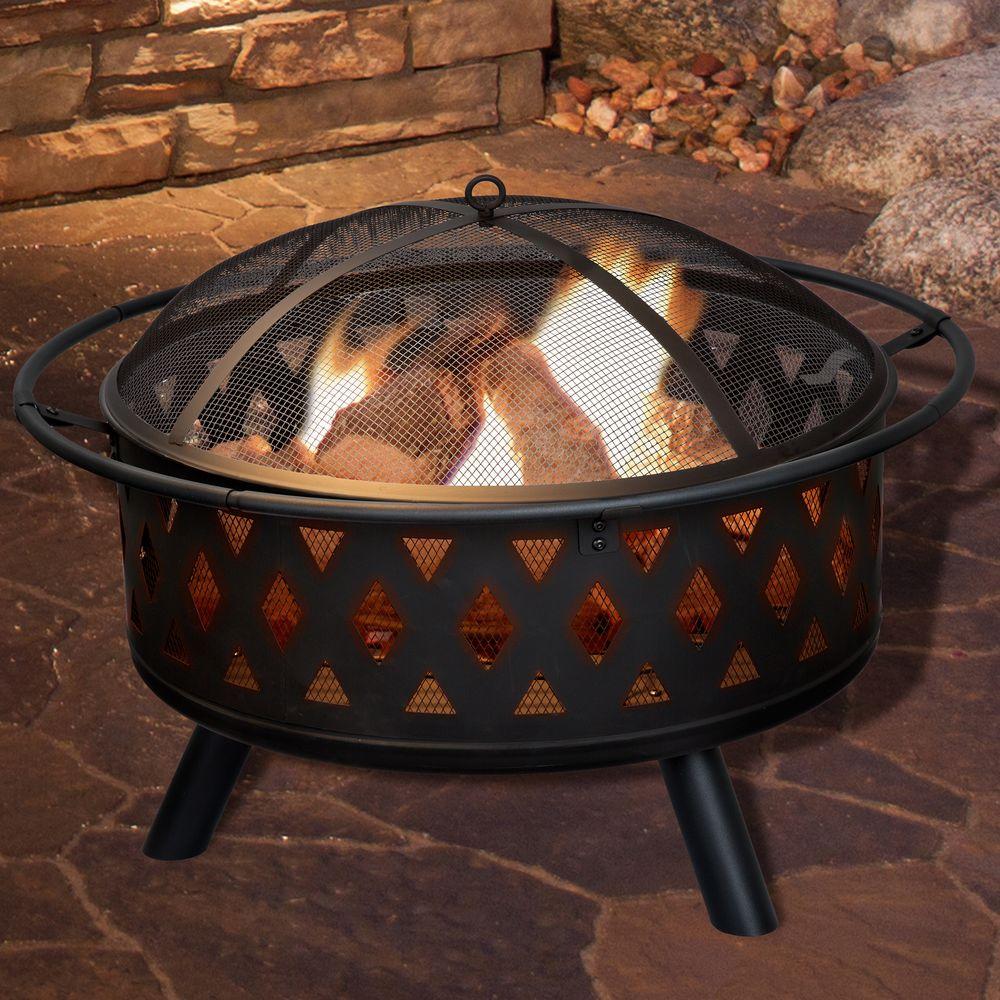 The Pure Garden Crossweave fire pit bears a similar design to the Alcott Hill fire pit. The only difference would be its diameter. This product has one of the largest fire bowls that you can find in the market. With that size, you can actually put a lot of logs inside and get your strong fire going. It also has a very strong spark screen protecting you from possible sparks that may fly out from the burning wood or logs. It also comes with a ring allowing you to easily carry it anywhere you need to.
Best Features:
Crossweave design
Big fire bowl
Powder coated finish
Sturdy handle
3.  Pleasant Health Sunderland Deep Firebowl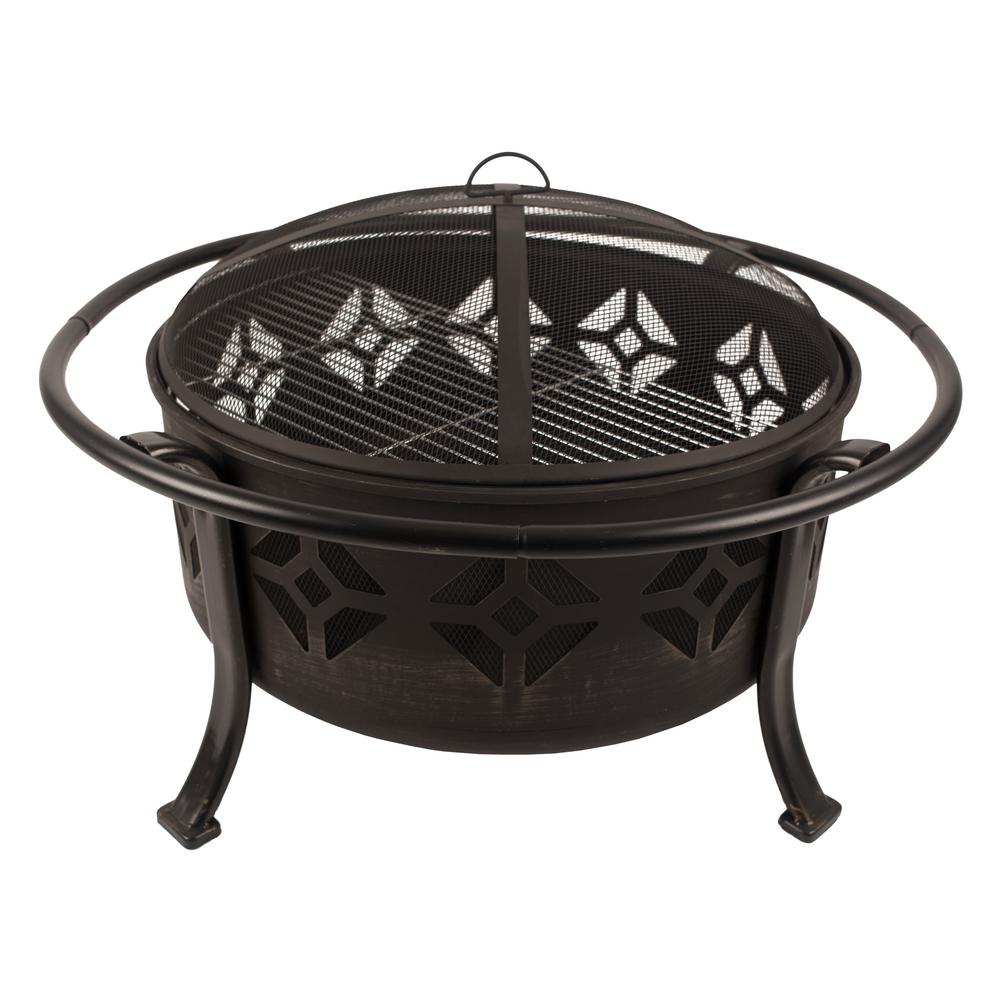 This is a dual purpose firebowl which can be used as a decorative fire pit for patios while at the same time, a barbeque grill. This product comes with a half-moon shaped chrome grill which can be used for tending food such as chicken, hot dogs, burgers, and more.
It also comes with a 20-inch poker that you can use for moving the wood and also checking the food. Aside from that, it is also a really deep firebowl with steel grates. This feature lets the firebowl have more circulation. This can give it longer and steadier burning.
Best Features:
Comes with grill for barbeque
High ventilation
Deep firebowl
Anti-rust stainless steel structure
4.  Sun Joe Cast Stone Wood Fire Pit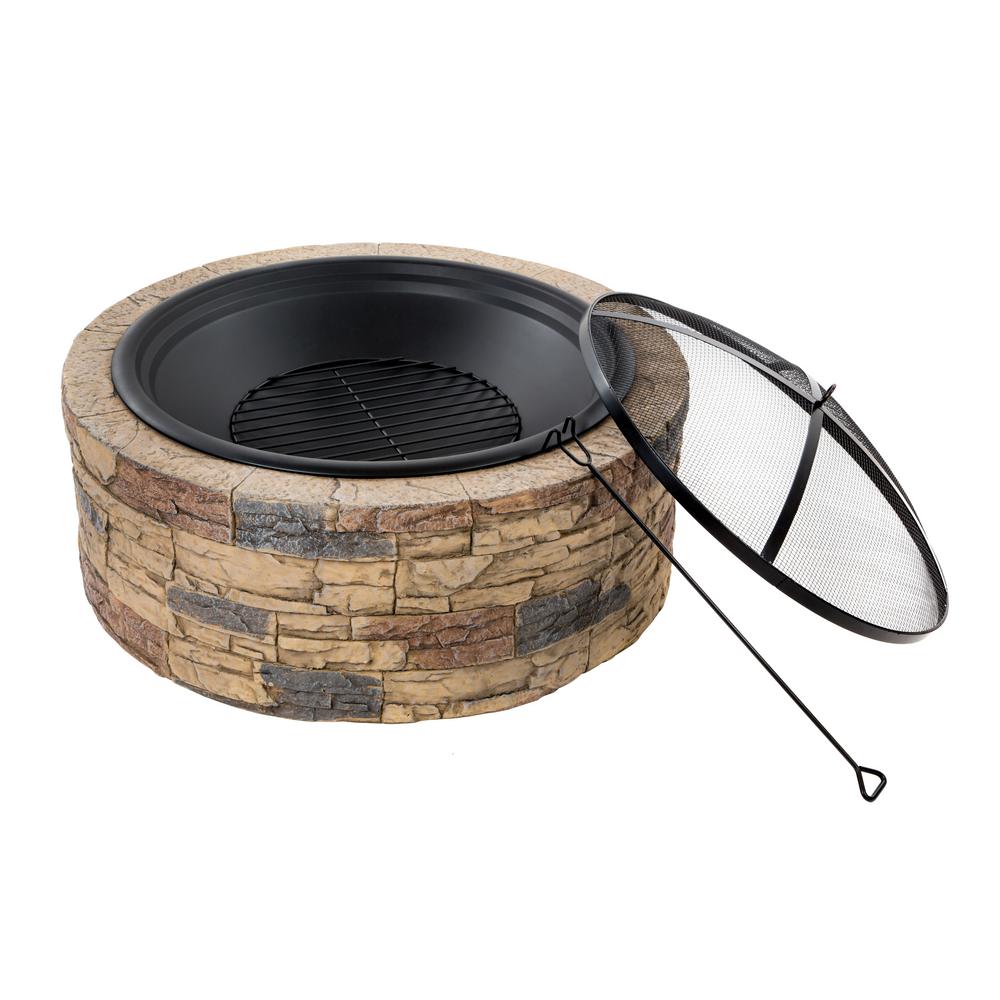 While this one is also good for cooking meat, it can be used with charcoal and not just wood. Since this one is built out of stone, the Sun Joe Cast Stone Wood Fire Pit is actually a very durable barbeque that you can use during the summer or spring and just leave it there during the winter and rainy season.
Even though it's made of stone, it is still pretty lightweight and can be transported around pretty easily. It also comes with a spark screen and mesh cover.
Best Features:
Beautiful stone design
Lightweight and portable
Can be used with charcoal
Comes with a mesh cover
5.  AZ Patio Heaters Two-Tiered Propane Gas Fire Pit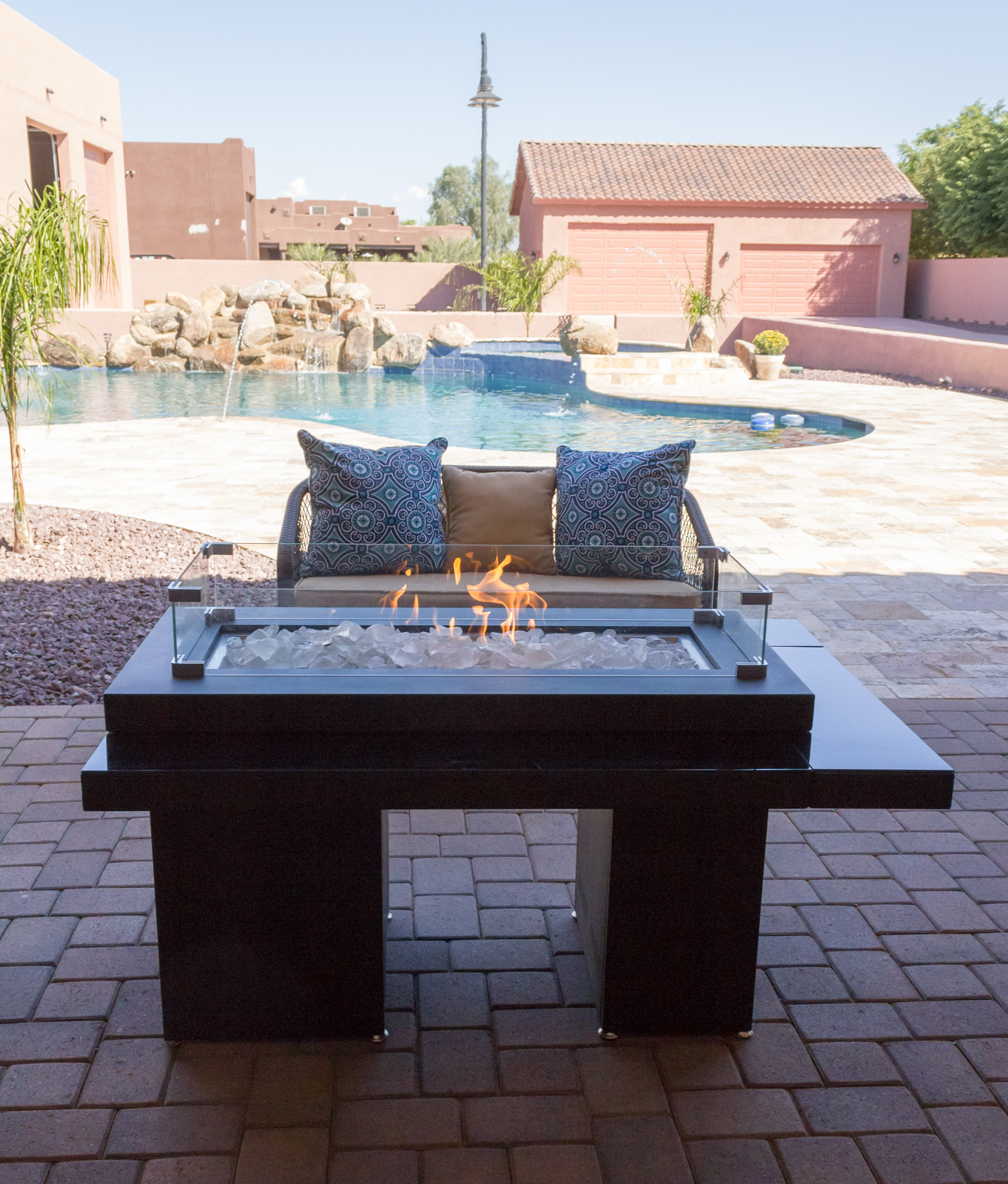 Propane gas fire pits are well worth the money because of the convenience that they give. The AZ Patio Two-Tiered Propane Gas Fire Pit is definitely a contender for the best outdoor propane fire pit in the market.
It has a BTU output of 50,000 which is pretty impressive for a propane fire pit. Aside from that, it is made out of stainless steel, allowing it to brave the weather even if you leave it outside. Finally, it has a fire control option, letting you set the temperature the way you want.
Best Features:
Propane type fire pit table
Comes with a spark screen
Stainless steel material
Control options for heating
50,000 BTU of heat coverage
6.  Endless Summer Outdoor Propane Fire Pit Table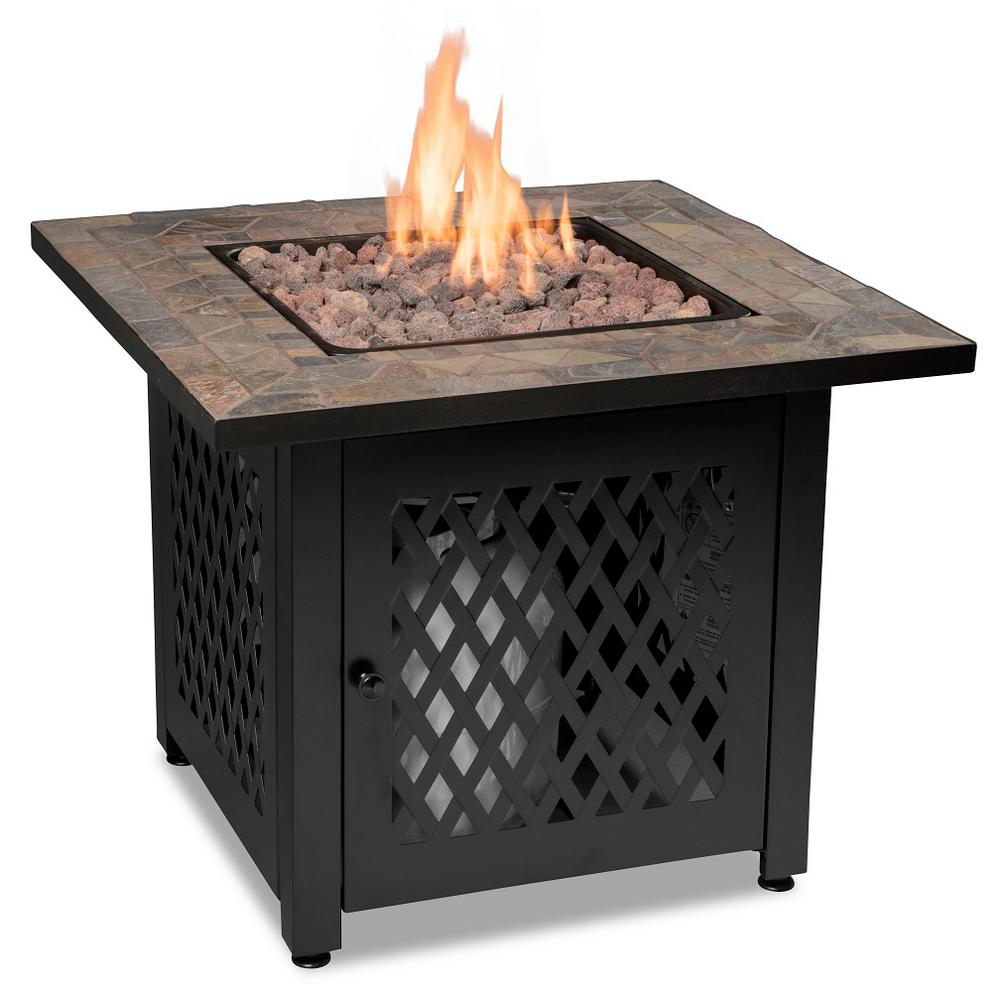 While the AZ Patio Heaters sports very nice heavy-duty fire pit design, the Endless Summer Propane Fire Pit Table more of resembles patio furniture. This fire pit can actually blend in really well with other pieces of patio furniture like outdoor coaches, chairs and the like.
While it looks like furniture, it is still made out of stainless steel allowing it to stand up to even strong weather. It also includes a lava rock to further add to the design.
Best Features:
Cabinet for storing propane tank
Stainless steel built
Comes with a lava rock
30,000 BTU of heating power
7.  Orren Ellis Belle Stone Propane Fire Pit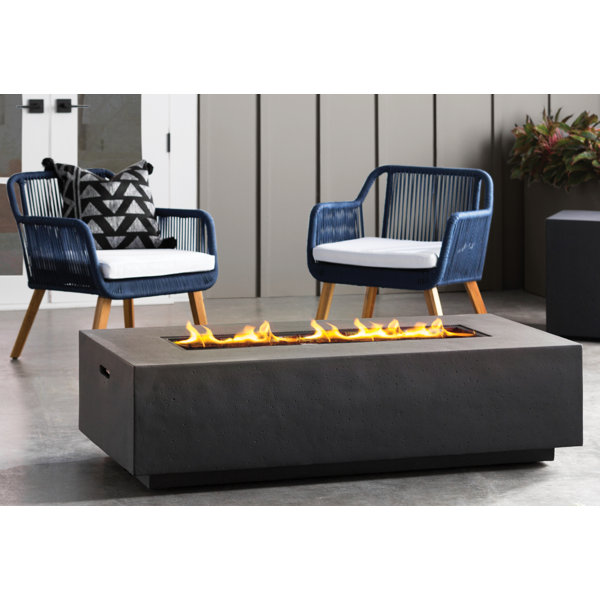 The best thing about the Orren Ellis Belle Stone Propane fire pit is that it sports a very warm feeling. It has a very efficient fire control unit that allows you to ensure that you get the right temperature to the dot.
With that, you can use it for cool and windy nights when you want to just relax on the porch. You'll have adequate amount of warmth as you sip a glass of wine and chat with friends.
Best Features:
Temperature control unit
Lava rocks included
Modern, contemporary design
50,000 BTU of power
8.  Heininger Portable Propane Outdoor Fire Pit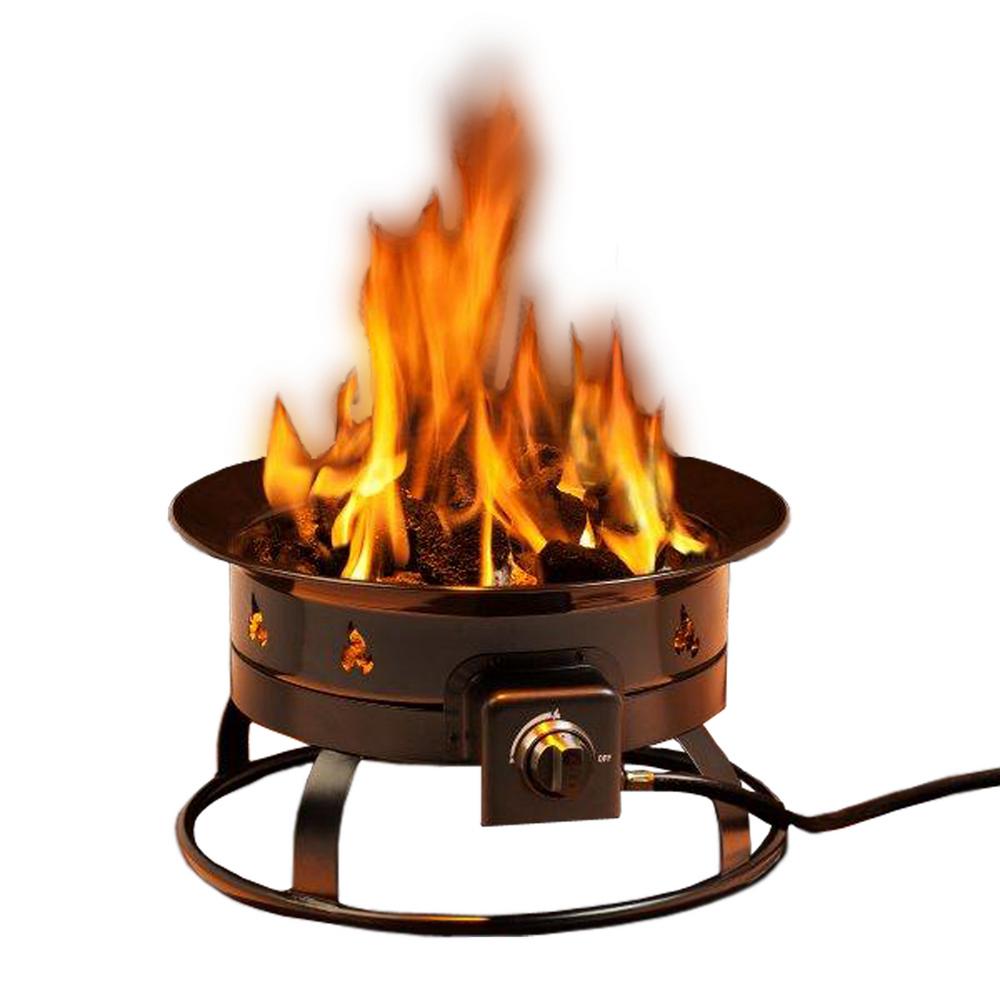 When it comes to heating power, this propane fire pit takes the top spot. This one has a whopping 58,000 BTU of power, which is the highest on this list. It's not only great for your patio, but also for camping trips in the woods. You can cook roasted marshmallows over the fire and just enjoy the warmth over a beer. Aside from power, it is also lightweight and easily portable, making it great for camp outs and barbeques.
Best Features:
58,000 BTU of power
Comes with propane tank hose
Sports decorative rocks
Protective surface
Stainless steel design
9.  EcoSmart Bio-Ethanol Fire Pit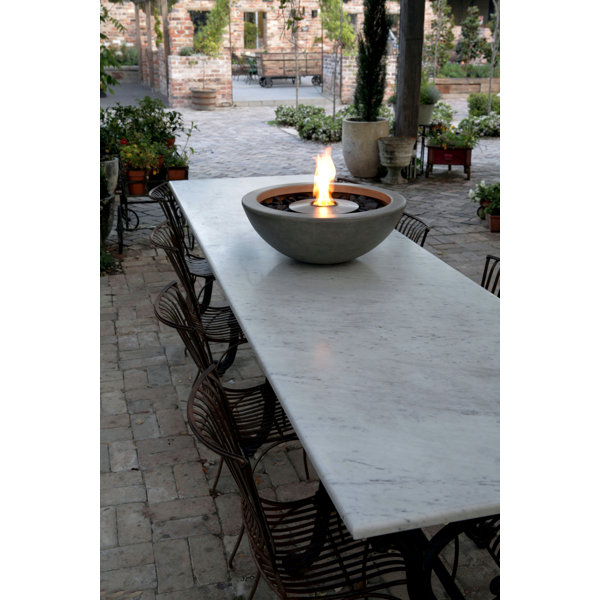 One of the biggest concerns of using a propane fire pit would be environmental concerns since using propane is not exactly the eco-friendliest fuel to use. That is where bio-ethanol fuel comes into place.
Ecosmart came up with a Bio-ethanol fire pit. When it comes to power, the bio-ethanol fire pit can match a powerful propane fire pit's strength of 58,000 BTU. Other than that, this product can also burn for a long time without stopping (up to 20 hours) at the same heat. And of course, it is energy efficient since bio-ethanol doesn't cost as much as propane.
Best Features:
Energy and cost-efficient alternative
Up to 58,000 BTU of power
20-hour optimal burn time
Easy to transport
Safety refueling feature
10.  Sol 72 Outdoor Maui Steel Fire Pit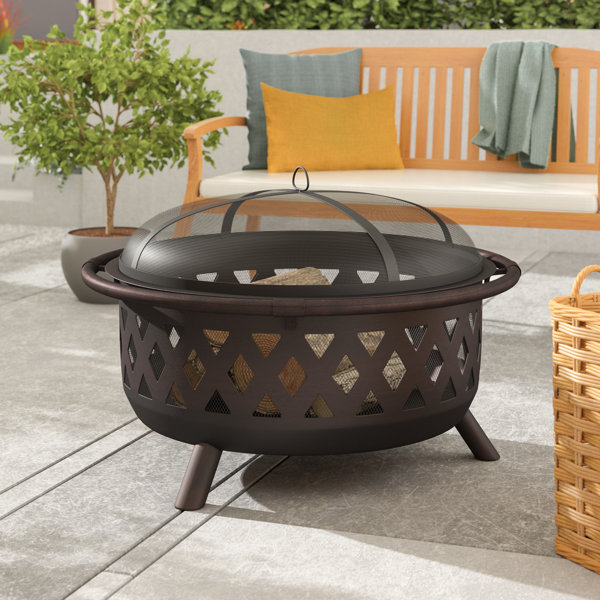 For the first timer fire pit owners out there, this may be the best choice that you have. Most fire pit owners do not really know how to put together their fire pits without full instructions.
Fortunately, this one is extremely easy to put together and it's lightweight too. So, with regard to overall ease of use, this product come out as one of the best. Aside from ease of use, it is also rust proof, corrosion proof, and weather resistant.
Best Features:
Very easy assembly
Lightweight built
Crossweave structure
Comes with handles for easy transport
Deep fire pit
11.  Greyleigh Tuscola Firebowl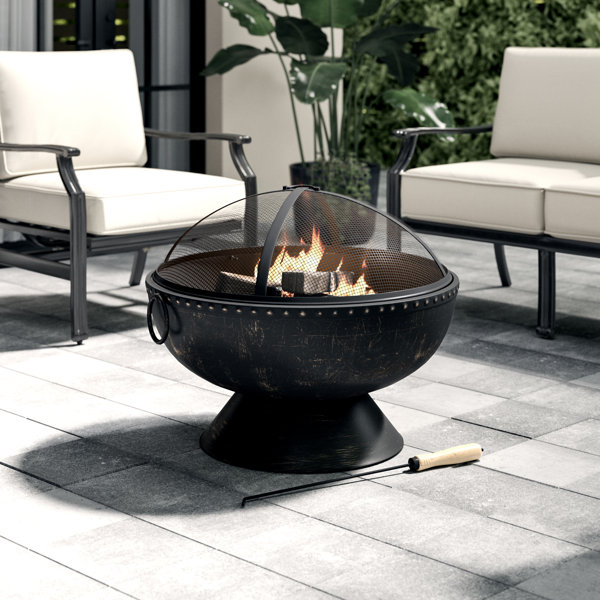 Because of the Greyleigh Tuscola Firebowl's bronze finish, it gives off an air of classiness and sophistication– fit for vintage style designs of patios.
A lot of customers love it because of its quaint design and warm finish. It looks like an actual firebowl that you could probably see in ancient palaces and such. That's why it's pretty popular. Other than that, it's also a weather resistant firebowl that has a pretty long shelf life. It is a pretty good choice for those who like old world designs and who have vintage style patios.
Best Features:
Old world aesthetic
Stainless steel with bronze finish
Inclusive of two ring handles for transport
Comes with a log grate
12.  Alcott Hill Crossweave Fire Pit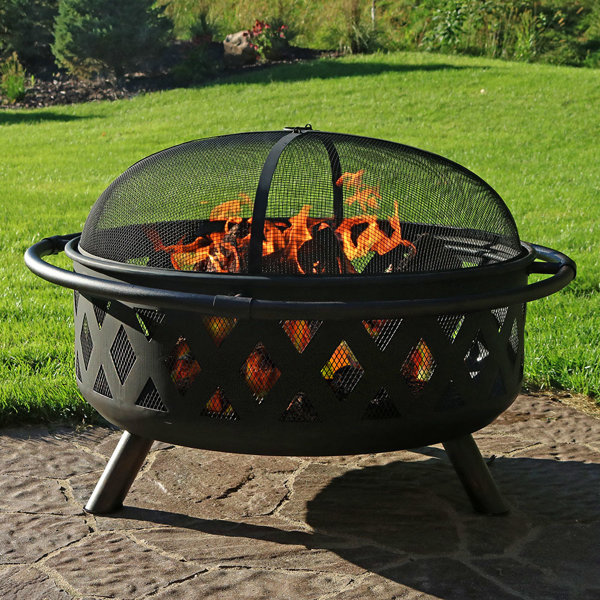 Probably the most unique thing about this fire pit would be its design. It's sort of like a bowl type but has a crossweave design plus a cover over it.
In a small sense, it actually looks like a stove or a barbeque but with a more sophisticated design. It's great for outdoors as it adds a touch of class to the aesthetic. it also happens to be stainless steel so you can be sure that it won't rust easily.
Best Features:
Shiny black stainless steel
Crossweave design
Resistant to weather
Wood burning type
Comes with fire poker and cover
Safe on a wooden deck
Frequently Asked Questions
Do fire pits keep you warm?
Yes, definitely! Just take note that with a wood burning pit, you can't control the heat but with a propane fire pit, you can set the warmth the way you want.
Are propane fire pits worth it?
This will really depend on what you're looking for in a fire pit. It is true that propane pits are more expensive, but they do have a lot of great benefits that go along with their value.
First, they don't leave any traces of ashes behind after use. Also, they can easily be turned off and can control the heat the same way a stove does. If that's what you're looking for, then we can definitely say that it is worth the money. They also don't produce smoke like the wood burning types do.
Can you put wood in a propane fire pit?
You don't need to since propane will create the fire for you. In a sense, you actually can but it's not really recommended since the debris from the wood may damage your fire pit. So if you have a propane fire pit, you don't need to involve wood anymore. 
Can you put a fire pit on a covered patio?
Yes, you can but make sure you don't put the fire pit directly or even near wood. If your patio has some stone filled areas or maybe concrete, then put your fire pit on that area. Also, keep your fire pit away from any furniture or other flammable objects.
Can I put a propane fire pit on my deck?
Most decks are made out of wood. Hence, you may be wondering if you can put your propane fire pit on your deck. While it is not highly recommended that you do, you can if you put the necessary precautions.
You must first create an area on the deck that is non-flammable. Probably build a stand made out of either brick or stones. After that, put your fire pit on the stand and start using it. Again, keep the fire pit away from furniture or any other flammable object. 
Conclusion
Those are our top 12 best outdoor fire pits for the money. Out of the 12 choices, you may be asking yourself which is the best one. Well, we would definitely pick the Ecosmart Bio-Ethanol Fire Pit if we were to choose. Aside from being fuel- and cost-efficient, it is also environmental friendly. We are advocates of fuel alternatives and this is a great one to have. Plus, it doesn't scrimp on heating capacity as well as it can match even the strong propane types. Unlike the wood burning types, this one will not leave a big mess when you're done with it. Lastly, it can be easily washed in a sink.