Do you want that whole spa experience with your partner or family and friends but outside? Do you want the experience of a hot tub without the added cost of electricity to your utility bill? Do you want to experience the penetrating heat of soothing warm water right out of your tap yet hate the idea of a noisy pump penetrating the stillness of your idyllic spot? Well, how about considering a wood fired hot tub? Remember, though, you get wood fired hot tubs, and then you get the best wood fired hot tub. The question is, how do you choose the best hot tub for your needs? There are quite a number of things to take into consideration before taking out your wallet.
Why Choose a Wood Fired Hot Tub?
There are very many reasons why you might decide to get a wood fired hot tub instead of a standard hot tub. Let's look at some of them
The best wood fired hot tubs all use wood as their heat source. Not only is wood a sustainable fuel resource, but you get to save on your electricity costs in the long run. Besides this, you do not need an outdoor electrical supply. This makes the placement of your hot tub so much easier as you can, basically, place it anywhere you want outside – even in that little out of the way area in the one corner of your garden. The sky is the limit.
Read more: The Cost to Owning and Maintaining a Hot Tub
It uses regular tap water
The fact that it uses regular tap water once more saves on costs. This is because you do not need to add any harsh chemicals of any sort. All you need is to place your hot tub on a flat surface, use your hosepipe to add some tap water, and heat it up! Simple, isn't it?
When you decide your water is no longer clean enough, simply empty and refill. An added bonus is that you can recycle this water for your garden, as it contains no chemicals that may potentially hurt your plants.
Wood, unlike fiberglass and other man-made materials, is a natural insulator. This means that it takes a long while before the water in your wood fired hot tub cools down. Additionally, most cooling down is by means of evaporation. So if you have a cover, it is quite possible to have a lovely evening in your hot tub, only to come back the next morning and take another warm soak.
The wood-finished exterior of a wood fired hot tub is simple, yet it is stylish in appearance, fitting in perfectly in any outside environment. Made of natural cedar, they are resistant to the elements as well and will give many years of pleasure before needing a revamp.
What are the pros and cons of a wood fired hot tub?
Just like with anything in life worth having, there are pros and cons attached. Luckily, however, in the case of a wood fired hot tub, the pros outweigh the cons by far!
The pros of a wood fired hot tub
Cedar and water DO mix. Although most kinds of wood tend to rot when in constant contact with water, cedar wood is the exception. Cedar wood expands when in contact with water, which is a good thing, as it means you have less chance of springing a leak. Any expansion joints in your wood fired cedar hot tub will swell and tighten, without allowing water to seep away.
Cedar wood, unlike other woods, has an anti-mold property. This material avoids the formation of mold – naturally.
Cedar wood, once heated up, gives off an amazing, natural smell. This is very unlike the case with hot tubs made of synthetic materials – the only smell is you get is from the chemicals you need to add.
Another advantage of a wood fired cedar hot tub is that bugs hate its aroma. It keeps them away. This means you can have a relaxing time in the tub with the bug spray stashed away inside your home.
The sight of wood in your garden or yard adds to its aesthetic appeal, as wood, a naturally-occurring material, blends in with your garden – perfectly. Add to this the slow weathering ability of cedar wood and its durability, and you have an outside feature that adds appeal for years.
Costs less than you may think
Compared to standard hot tubs manufactured out of fiberglass or acrylic, a wood fired hot tub actually costs much less. In most cases, depending on what you pick, you could even have most of the exact same features.
The cons of a wood fired hot tub
Unfortunately, as has been mentioned, there are always cons attached. In the case of a wood fired hot tub as compared to your standard fiberglass or acrylic hot tubs, it has one drawback. This is that they are quite difficult to clean and require quite a bit of elbow grease. Some wood fired hot tubs, however, do have an inner lining, e.g. vinyl or fiberglass. In those cases, cleaning is much easier. But you have to decide whether you want to go 100% traditional and put up with the difficulty in cleaning or not. Do keep in mind, however, that these types of tubs do not easily get moldy, while the water is generally speaking replaced much more often. This means you may not have to clean them as often as their counterparts manufactured out of manmade materials.
Our Wood Fired Hot Tub Reviews
1. Allwood Wood fired hot tub model #200 DeeLux
This wood tub boasts a typical round traditional Scandinavian design with an easy-to-maintain vinyl liner and molded seating.
We had to include this hot tub simply because
It comfortably seats up to five adults
It has molded seating and a lined inner – the vinyl makes cleaning a breeze while eliminating any potential bacterial growth
The natural Thermosiphon cycling method results in a silent operation
Very little assembly is needed
This hot tub sports a vinyl top lid
2. NLCTComplete Wood Fired Hot Tub – 4 person
Made of 100% Grade "A" cedar this unit comfortably seats four people. The knockdown kit can be assembled just about anywhere you want.
We loved this product because
It is a DIY kit that comes with everything needed to assemble it – quickly
A custom cedar stair for easy access is included
Insulated by means of R14 Marine grade insulate
The Timberline stoves works on the thermosiphon, meaning no noisy pumps
The tub heats up in two to three hours
The extra deep tub (43" measured on the inside) gives added buoyancy
3. Japanese Wood Ofuro Soaking Tub for 2
Traditional-looking, simple in design, yet imminently stylish, the Japanese Wood Ofuro Soaking tub comes complete with stairs, shelves and a back rest. Add to this the wood fired heater and insulated cover, and perfection is in the making.
What we loved about this hot tub
Heats up in between one to two hours
Made of 1005 cedar (Grade "A" Clear Western Red Cedar)
Seats two people
Extra deep soaking tub (30")
Oval shaped and easily fits through any door
Water is circulated via a process known as "Thermosiphon"
No noise and no electrical usage
Holds up to 180 gallons of water
Comes pre-assembled
Has a 3" thick vinyl cover that sports child locks
The unit comes with all plumbing, back rest, stairs, self, a half-inch drain, plug, bottom suction, a stainless TimberLine Wood Fire Heater with dual burning chambers and a 9-foot steel chimney with a top rain cap.
4. Portable 4-Person Spa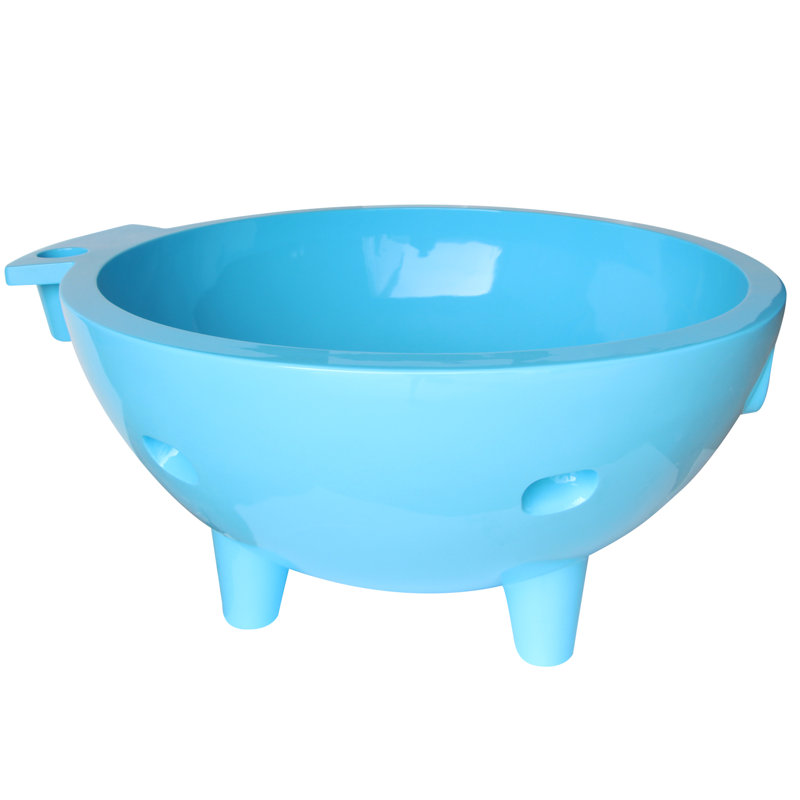 If funky, lightweight, and portable is your style, then this portable 4-person spa is most definitely worth your consideration. It can be used anywhere, as natural firewood is used to heat the water. You can even take it camping with you if you are so inclined.
We really noticed this hot tub because
We loved its ingenious modern design that circulates cold water through an advanced coiling system where its heated by a wood burning fire
The fact that it is so lightweight and portable makes it easy to move around and position exactly where you want it when you want it
It requires a minimum of 130 gallons of water before it starts circulating water, while it holds a maximum of 220 gallons
A heavy duty cover is included for when the tub is not in use – it also speeds up your heating up time while keeping in heat during colder weather
5. Cedar Wood Hot Tub -Wood Fired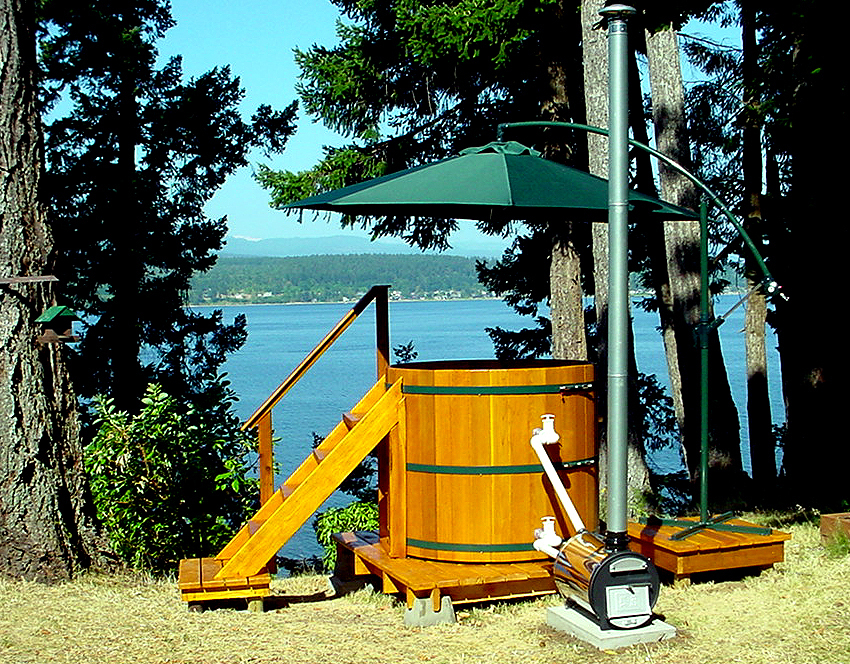 This is an extra-deep soaking bathtub that sits four. It gives you the therapeutical benefit of a regular hot tub but without all of the noise or cost.
See all Wood Fired Hot Tub on Ebay
What we love about this hot tub
Seats four people
Has a height of 48" plus near 43" of interior soaking, giving you a comfortable, buoyant effect
The kit is extremely easy to assemble and can fit just about any space
As it uses no electricity, water is circulated by means of 'thermosiphon' which gives you a hot tub soak without any added noise
The heater has two port plugs, meaning that you can drain the heater without draining the entire tub as well
The outer insulation is by means of western red cedar which is a natural insulator – it is also naturally resilient to decay and rot and can withstand extreme temperature and moisture variations
Entering and exiting is made easy by means of custom cedar stairs and handrails
6. Fibreglass Wooden Hot Tub Wood Fired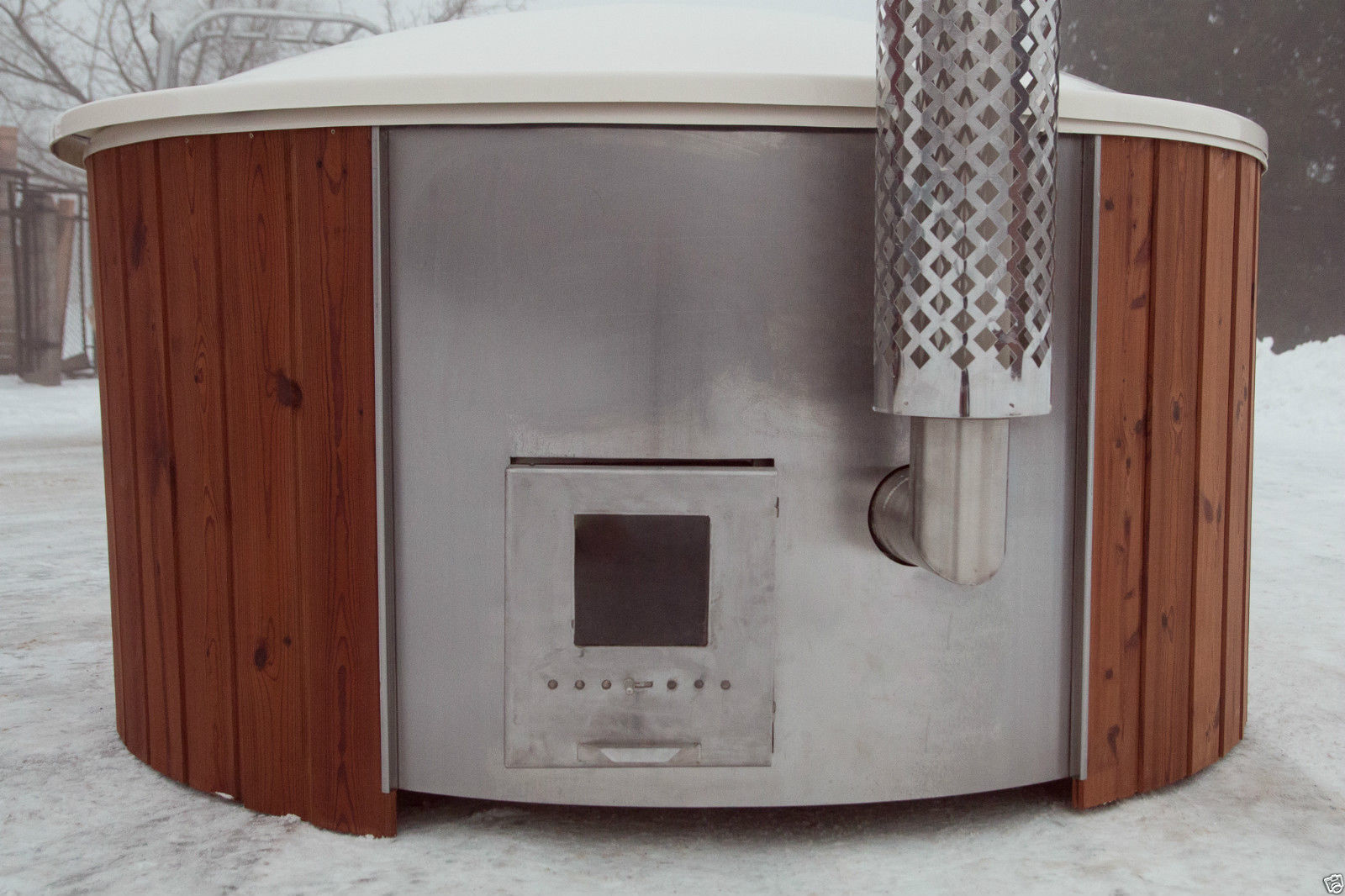 Combining modern and traditional, this model has a fiberglass liner and externally integrated heading. It is a neat, efficient hot tub with an efficient yet simple wood loading heater.
See all Wood Fired Hot Tub on Ebay
This hot tub caught our eye because:
It's great for those who don't want to spend extra time cleaning a standard wood tub
The wood does not dry out when empty due to the inner fiberglass lining
Heating time is reduced due to a closed seating area
It incorporates a high flow drain tap
7. Rectangular wood fired wooden hot tub with polypropylene liner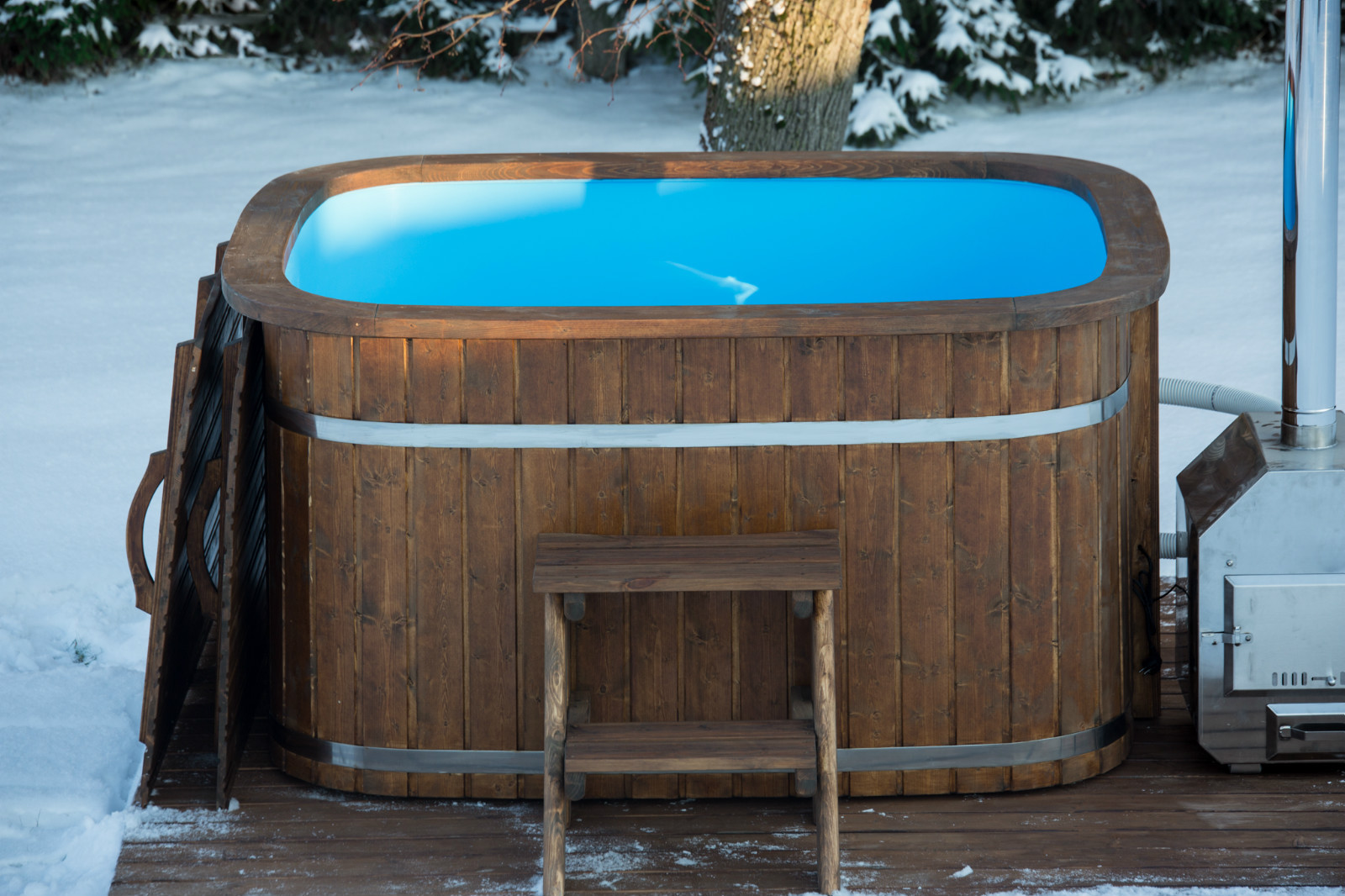 This wood burning hot tub seats eight to ten people at a time, while the brown-stained spruce exterior gives it a lush unique finish.
See all Wood Fired Hot Tub on Ebay
We had to mention this hot tub because
The hot tub comfortably seats eight to ten people
It includes a polypropylene closed seating bench
It has LED underwater lighting so you can set the atmosphere of your choice
It incorporates a high glow drain tap
It comes with a stirring paddle
The wooden lid keeps in heat (and keeps out debris when not in use)
You have your own little mini bar
Conclusion
Making a decision as to which is our best pick was difficult. Everyone had their own version of what the best wood fired hot tub should be. After a long – very long – debate, we decided on the traditionally designed Japanese Wood Ofuro Soaking Tub for 2. Not only do we love the design, but the shape, and fact that it easily fits through any standard door while coming preassembled, makes this tub anyone's perfect fit. Plus it has the added advantage of being a two-seater, so perfect for that romantic touch.