Imagine that tired feeling you get after a long day at work— those achy arches, tired toes, and sore feet. Who wouldn't love to have a relaxing day at a spa and treat your over-fatigued feet? But the question is "do you still have the time, money, and energy to spend the late hours just to go to a spa?"
Luckily, modern technology has the answer! We are proud to introduce to you Brookstone Aqua-Jet foot spa. You now have the chance to enjoy the best foot spa right in the comfort of your own home.
Brookstone Heated Aqua-Jet Description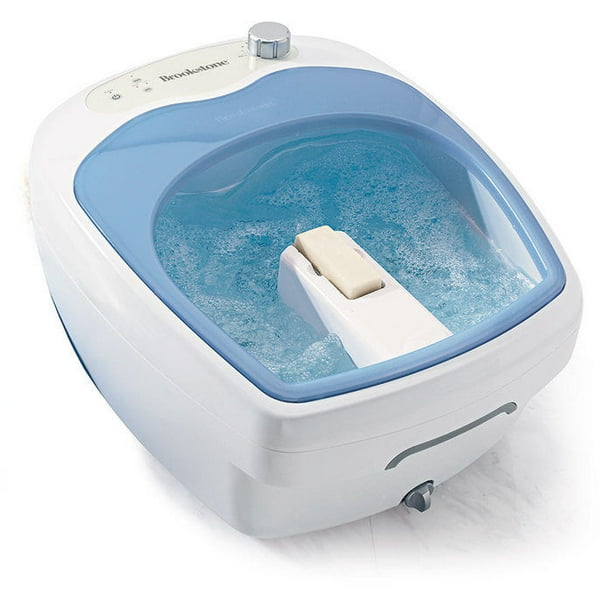 Brookstone Aqua-Jet foot spa helps relieve tired feet and tight muscles and promotes blood circulation. It operates almost the same with the other home foot spas. This product has a wide basin and can accommodate feet that are up to 14-inches long.
The Aqua-Jet has a control panel, which allows you to adjust temperature settings according to your preference. The product comes with two massaging rollers and a cover to prevent splashing.
Moreover, the unit also has a built-in pumice stone that you can use to remove any dead skin. The Aqua-Jet foot spa is innovatively created by Brookstone.
How Brookstone Aqua-Jet Works
The Aqua-Jet foot spa is easy to operate. You just have to lay down the product on a flat surface, plug it in, and fill the basin with lukewarm water. Once filled in, you simply soak your feet in the basin, turn on your preferred settings, and let the Aqua-Jet do the work.
The Aqua-Jet is easy to use. You just simply soak your feet, massage, and then repeat.
The basin is spacious enough and can accommodate different foot sizes.
It has two powerful hydro jets that promote circulation and relaxes tired feet and muscles.
It has a built-in pumice stone to exfoliate rough and dry skin and rolling nodes for kneading massage.
The water heats up easily and the temperature is maintained at a desired level.
The Aqua-Jet weighs 13lbs. Thus, it is quite heavy to carry it from one place to another, especially if it is already filled with water.
It offers a lot of features as compared with other typical home spas, making it a little pricey.
Only plain water is advisable when using the product. Adding bath salts, oils, or scrubs might clog the drainage system.
Product reviews on youtube:
Who Will Benefit From Brookstone Aqua-Jet?
This product is specifically designed for people who have chronic foot pain. It is also a good buy for people who just want to have a relaxing foot spa experience in the comfort of their own home.
Key Features and Benefits of Brookstone Aqua-Jet Foot Spa
The Brookstone Aqua-Jet has a lot of features and benefits to offer that is why it is highly rated as the top foot spa machine on the market today.
The heating element
The heating element of this product is great. The water heats up easily and reaches a maximum temperature of 115°F. This product keeps the water at a consistently warm temperature that is needed for the session.
The motor power
The motor of the Aqua-Jet is very quiet that no one in the room gets distracted when the product is in use.
Spacious basin
Some foot spas have a small basin, and it becomes uncomfortable for people with oversized feet. The Brookstone Aqua-Jet has a wide basin, and it can accommodate foot length of up to 14 inches.
Two water jets
The product features two water jets that circulate in the water and creates soothing bubbles. The water jets are powerful enough to increase circulation and provide relief on your tired feet.
Two rolling massagers
The Brookstone Aqua-Jet has two rolling massagers that are perfect for massaging the soles and muscles of your feet.
The built-in pumice stone
The Aqua-Jet has a pumice stone that you can remove. It is used to exfoliate the bottom of your feet and remove any calluses.
Maintenance of the Brookstone Aqua-Jet
Like any other unit, the Brookstone Aqua-Jet should have proper maintenance to ensure its maximum efficiency and performance.
Remove the plug from the electrical socket after each use and let it cool before cleaning.
Clean the unit by using a soft and slightly wet cloth.
Avoid using scouring cleaning agents that can damage the unit.
The pumice stone and splash cover can be washed with soap and water. You can also clean both in the dishwasher.
Now, it is easy to squeeze in a little relaxation experience with Brookstone Aqua-Jet foot spa, especially after a long day at work. Also, this product has a lot of positive reviews online, and we can safely say that the customers who purchased the unit are all satisfied.
The Aqua-Jet indeed is an alternative to expensive day spas. With all its good features and positive Brookstone foot spa reviews, this product is worthy of your hard-earned money, and we strongly recommend it.
Want to get your own Brookstone Aqua-Jet foot spa? Get it here!