Colder weather shouldn't be a hindrance to keep you from enjoying the great outdoors. With patio heaters, you get to have fun outside and enjoy the fresh air without having to sacrifice comfort and warmth.
Although it's still warm out, the fall season can quickly come. If you are looking to entertain a few friends or relatives at your place, you'll need a patio heater to keep you and your guests from chilly days.
Last year, stocks easily depleted before the fall season even came. If you're in a rush to find the best patio heater for you, you're in luck. Our Fire Sense patio heater reviews features the top 3 Fire Sense patio heaters to choose from.
Why Fire Sense Patio Heater?
Fire Sense was founded in 1998. They're part of the Balkene Home, a brand of Well Traveled Living. Overall, Fire Sense designs, distributes, and imports patio, garden products as well as outdoor heaters.
With their experience, Fire Sense is one of the leading outdoor heating companies. Their products range from fire pits, electric and gas patio heaters, and electric and classic fireplaces.
They offer great customer services and at least a 1-year warranty on their products. That's why we chose to review the best products Fire Sense has to offer. And since everyone has different preferences when it comes to patio heaters, Fire Sense also offers various kinds. You can choose between electric or propane heaters to make your area cozy.
Fire Sense Patio Heater Reviews
In this Fire Sense patio heater review, we included the 3 of the best from the brand.
1.  Propane Patio Heater – Stainless Steel Pro Series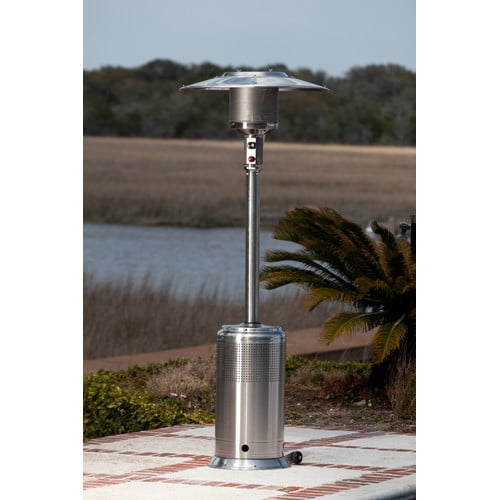 If you're looking for the best propane patio heater, this Stainless Steel Pro Series is professional grade. Although this heater was designed for commercial use, you can still use it in your home.
Something notable about this product is that it is crafted with durability in mind. The gauge is thicker compared to the usual and it has stainless steel and #304 heavy-duty. It's also weather-resistant.
The head has a panel that is easily accessible. In addition, Fire Sense offers a lifetime warranty, which means that you can have damaged parts replaced easily.
Furthermore, this 46,000 BTU heater has an automatic safety shutoff to avoid any accidents. It can also be placed anywhere outside thanks to its in-built wheels.  The weighted base also adds to its security and prevents it from tipping over due to strong winds. The heating lasts up to 10 hours and can be adjusted.
Highlighted Features:
Weather-resistant
Adjustable heat
46,000 BTUs
Stainless steel
Has electronic ignition
Includes an automatic safety shutoff
Anti-tilt
Battery Operated
Weight: 55 lbs
Pros:
Lifetime warranty
Includes a heavy gauge reflector
Has an Automatic Safety Shutoff
Anti-Tilt
Weather-resistant
Portable
Cons:
For outdoor use only
Needs overhead clearance
Assembling can be time-consuming
2.  Fire Sense Telescoping Standing Patio Heater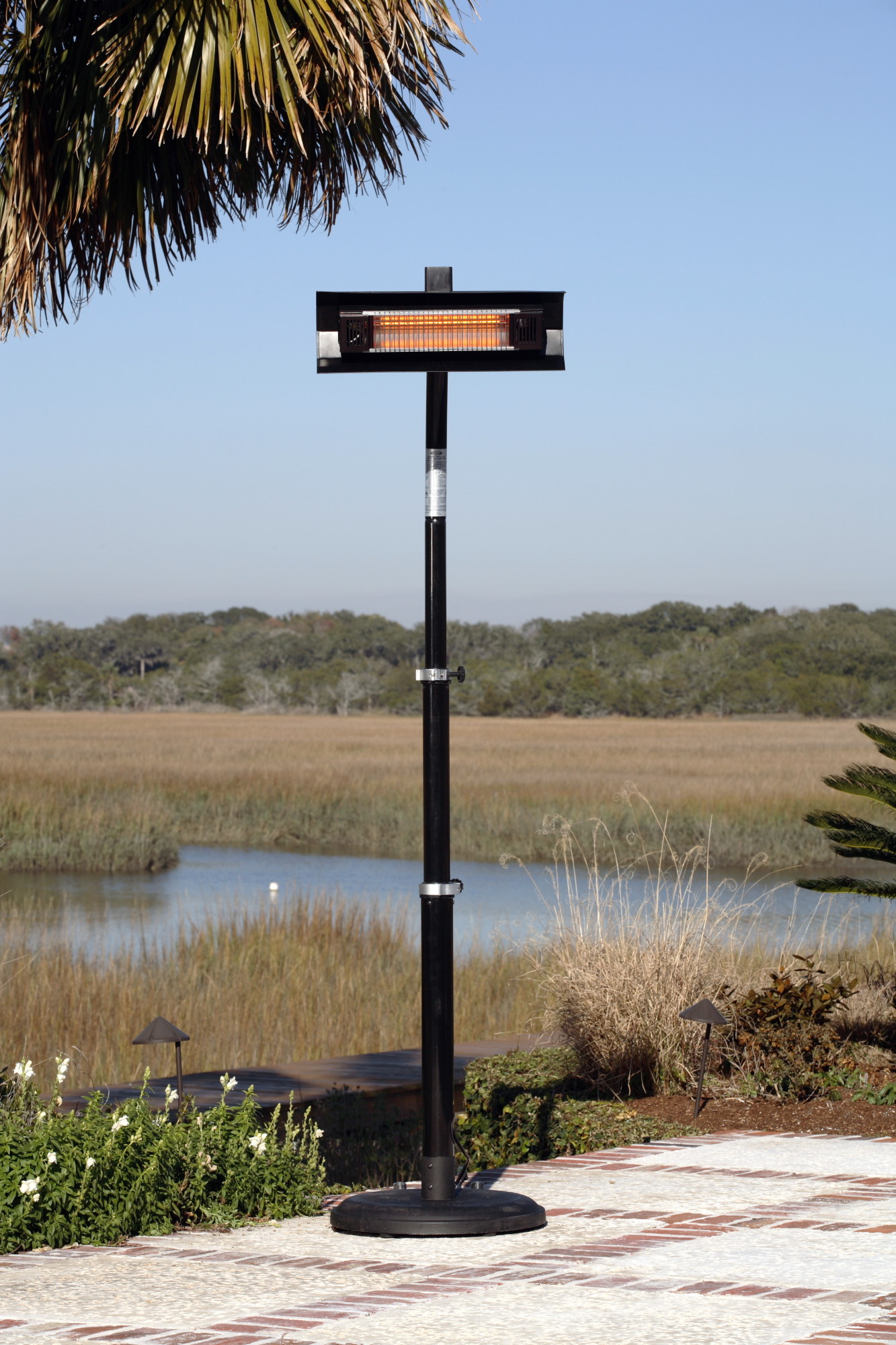 Another versatile patio heater from Fire Sense is this Telescoping Standing Patio Heater. It has built-in wheels to make it mobile and easy to move around.
This 1500-watt electric heater also includes a PVC cover to keep it protected. Nevertheless, you should make sure that it's in a well-protected area since it's not entirely weather-proof. It has a 90% energy conversion and a 9 ft. heating range diameter.
The telescoping patio heater can also be used on a screen porch. It operates silently and doesn't emit UV rays. Plus, the heat can be adjusted. However, you will need a remote control for this, which isn't included.
The base is heavily weighted, so it won't easily tip over. To ensure you get heating safely, this unit is designed with an automatic safety shutoff. This 41,000 BTU heater is stylish and has a black steel finish that makes it look elegant in any household. It has a 1-year warranty.
Highlighted Features:
9 ft. heating range diameter
Has a telescoping offset pole
Infrared heater
Includes wheels
Anti-Tilt
Includes Automatic Safety Shutoff
Pros:
1-year warranty
Portable
Adjustable height
Stylish
Easy to move around
Cons:
Not weather-resistant
Outdoor use only
3.  Fire Sense Electric Ceiling Mounted Patio Heater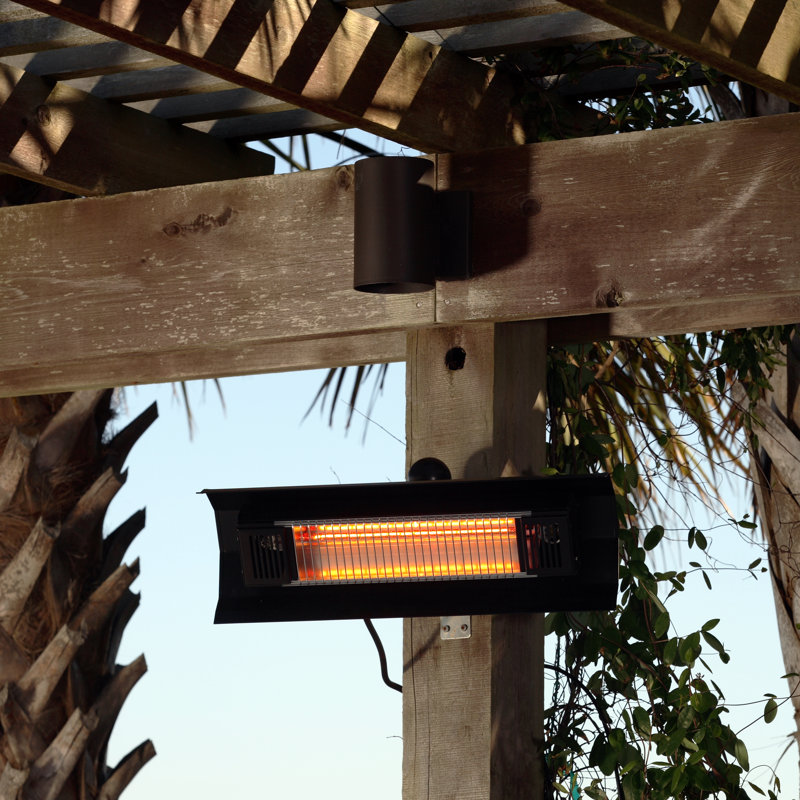 If you're looking for efficiency, this 1500-Watt electric heater may be what you're looking for. This unit operates at 90% efficiency and uses infrared to heat your outdoor space.
Since it uses infrared, it's not as costly as propane patio heaters. It runs on a lower electric current, so you won't need to break the bank to enjoy the outdoors.
Fire Sense's Ceiling Mounted Patio Heater is also flexible. It can be used both indoors and outdoors. Moreover, it comes with a moveable mounting bracket that lets you place it wherever you need it.
Since this heater runs on electricity, the heat won't be blown away by the wind. It's also more convenient since it doesn't have a propane tank that needs to be refilled after a few uses.
However, if you need to cover larger areas, this might not be enough. It's best used for heating enclosed patios or if you need to partially cover an area only.
Highlighted Features
9 ft. heat range diameter
1500 watts
Aluminum with powder-coated finish
Electric
4100 BTU output
1-year warranty
ETL Listed
Weight: 8.8 lbs
48-inch wire plug
Pros:
Adjustable heat
Great for indoor and outdoor use
Electric
Affordable
Energy efficient
Cons:
No remote control
Not weather resistant
Installation is required
Conclusion
Fire Sense's patio heaters are not only elegant to look at, but they are also efficient and reliable. They offer both propane and electric patio heaters that can make chilly days or nights cozy. It's also recommended if you're planning to socially distance yourself when a few of your relatives and friends come over for the holidays. You'll be able to enjoy the fresh air outdoors while being cozy.
We hope this review helped you choose the best patio heater. Patio heaters are a great investment and we hope you will be able to enjoy yours for a long time.