Homedics brand is the trusted brand for Foot Spa equipment worldwide. Established 30 years ago, the company has proven themselves as the leading innovator in home massage products worldwide.
The company's vision is to go beyond massage therapies but encompasses all aspects of holistic wellness products that are specifically designed to improve you and your family's well being.
Employees nowadays become more concerned about their overall wellbeing that is heavily affected by environment and work-related stress. That is why home foot spa equipment is a welcome necessity.
Practical people look for more affordable and efficient ways to de-stress. The Homedics Foot Spa Reviews below will help narrow down your list to get the best foot spa that is specific to your needs.
Top 5 Awesome Home Foot Spas by Homedics
1.  Homedics FB-65-THP Deep Massaging Soak Foot Spa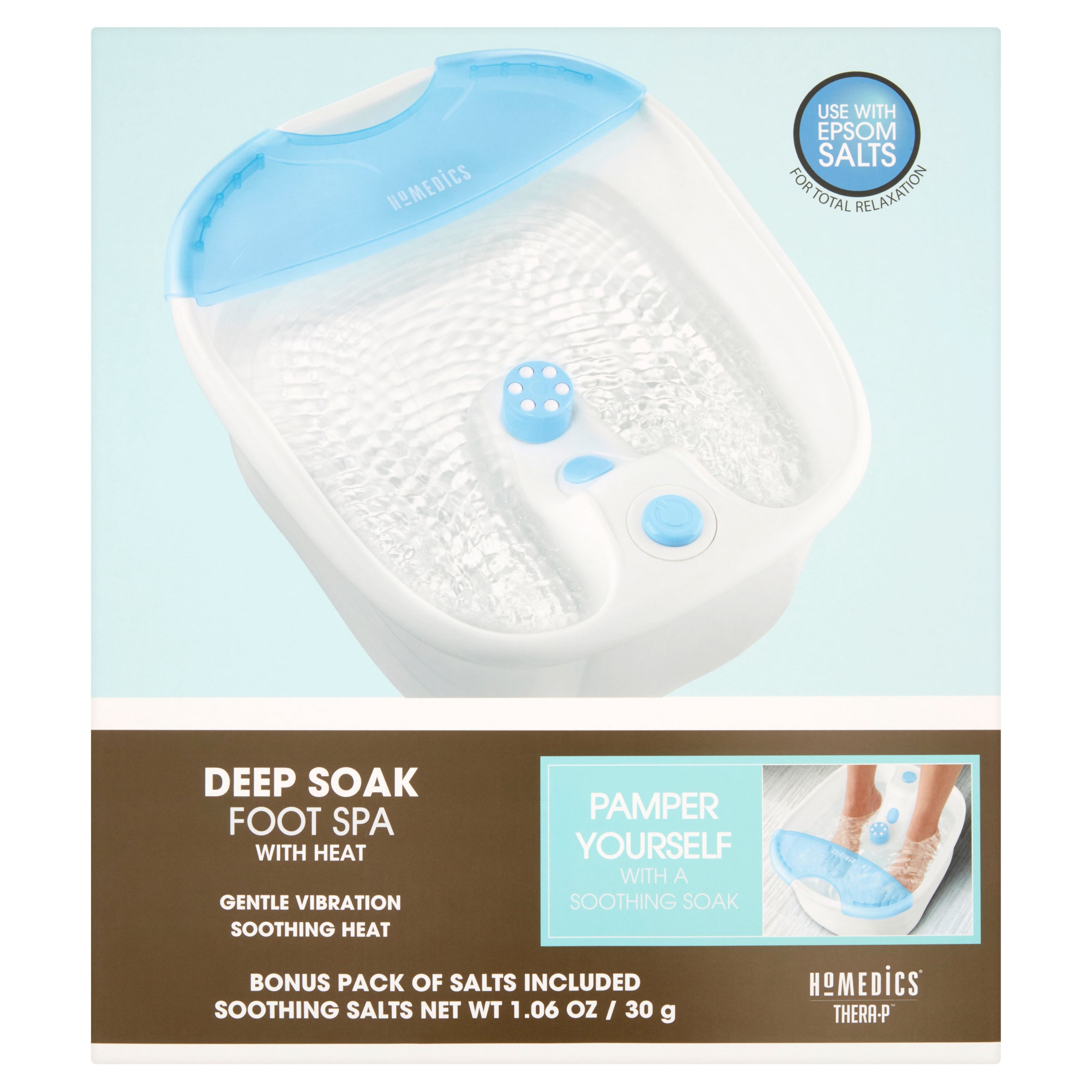 Do you have tired feet that feel numb? Homedics Deep Soak spa increases the blood flow through your feet with its gentle massage and heat stimulation functions. This product is great for employees who suffer from long hours of standing, commute, or at work as this revitalizes the nerves of your feet.
The Homedics FB-65-THP Deep Massaging Soak Foot Spa makes use of deep soaking therapy that combines the gentle vibration that relaxes tired muscles and the soothing heat that encourages blood flow to the feet
This Homedics foot massager has rollers that readily soothe strained arches and the tired soles of the feet.
This product also includes a bonus pack of Epsom salts to boost the deep soak experience.
Product reviews on youtube:
2. Homedics Heat Boost Bubble Therapy Foot Spa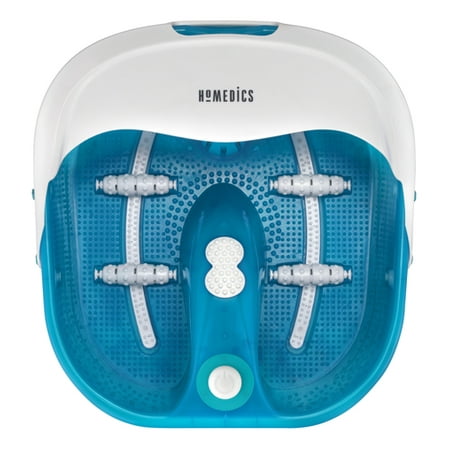 When you're past the numbness and your feet is killing you after hours of wearing heels or just hours of standing, this product will work wonders. Homedics bubble therapy introduces bubbles into the foot bath that adds the much-needed pressure on some acupressure points on the feet. Coupled with the pressure rollers, it gives a subtle kick to the traditional foot massage.
The Homedics Heat Boost Bubble Therapy Foot Spa makes use of effervescent bubbles that effectively add a boost to your foot massage
The raised nodes offer gentle massage on critical pressure points
It has four pressure node rollers that thoroughly apply pressure to relax feet
The heat boost power quickly heats the water up in minutes!
It is effortless to use with its toe-touch control
It features a splash guard and a carry handle for easy and no-mess cleanup.
Product reviews on youtube:
3.  Homedics FB-300 Jet Spa Elite Foot Bath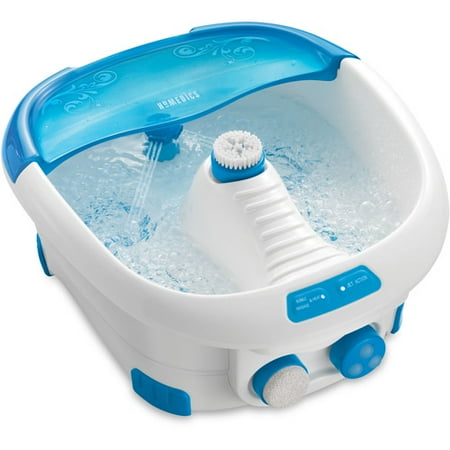 A busy person always finds it hard to spare himself some much needed "me-time". Homedics FB-300 Jet Spa Elite Foot Bath gives you the total package of professional foot spa and pedicure. It is packed with features that will pamper your feet like never before.
This Jet Spa Elite Foot Bath combines the action of water jets and massage bubbles.
This product also introduces the pedicure center composed of three parts: Pumice stone, Cleansing brush, Massage roller
The toe-touch controls make this product hassle-free to use.
Its raised nodes offer gentle massage.
It has the triple action of water jets, massage bubbles, and foot massage, making this the one-stop best foot bath at home.
4.  Homedics Heat Boost Pedicure Foot Bath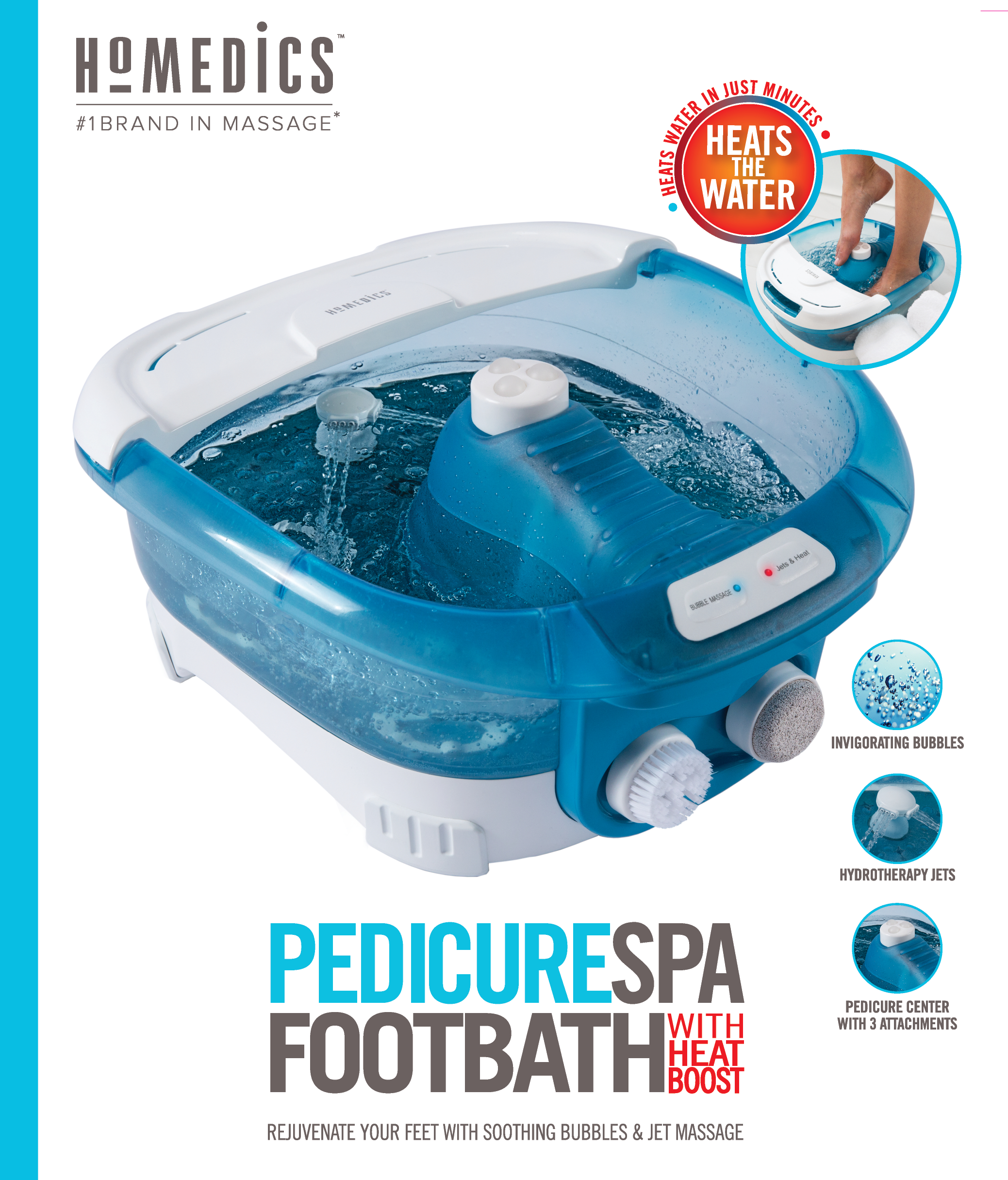 Have you always looked forward to your pedicure sessions? Can't stand callous feet? Homedics Heat Boost Pedicure Foot Bath focuses its attention on pedicure. Achieving a professional pedicure is no small feat, especially if you are doing it on your own. It is tiring and stressful, but with this product, all you need is to sit back, put your feet in, and relax.
This product focuses on giving the best pedicure experience at home.
It is tightly packed with features for that complete and thorough pedicure experience:
It boasts a spinning pedicure center that ensures all areas of the feet are covered.
It has pedicure attachments that you can interchange anytime depending on use.
The pumice stone thoroughly strips your skin off of dead skin cells.
Its invigorating massage bubbles lift off dead skins, as well as boost tired feet.
It also features hydrotherapy jets that add another layer of massage to the feet.
The raised nodes offer gentle foot massage.
5.  Homedics Collapsible Compact Pro Foot Spa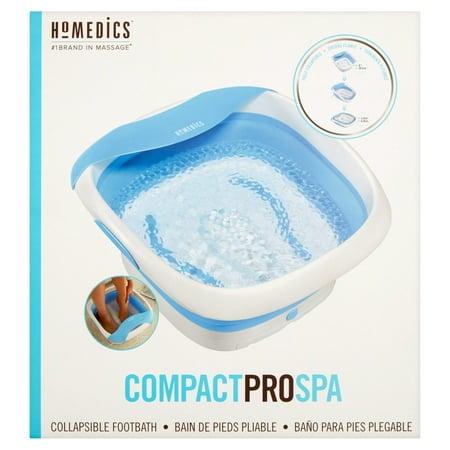 The Homedics Collapsible Compact Pro Foot Spa is the answer. It packs a bigger and collapsible catch basin that is heat regulated and has massage nodes. This product is basic in all aspects but still gives a professional foot spa experience.
It's simple and easy-to-use foot spa from Homedics.
The acu-node surface adds additional pressure on critical pressure points on the feet.
It gives vibration massage that provides gentle relaxation to muscles.
The soothing heat encourages blood flow to the feet.
It boasts of a larger basin that will fit up to men's shoe size 13.
It has a collapsible design that fits for compact storage.
Product reviews on youtube:
Frequently Asked Questions About Homedics Foot Spa
What is a home foot spa?
Home foot spa is a basic massage machine that relieves the stress on your feet by applying different water-based techniques. These techniques are controlled by functional controls and settings that are properly explained in the machine's instruction manual.
What are the benefits of home foot spa?
Professional foot spa services are expensive. It is a much-needed luxury. However, with the availability of home foot spa equipment, expensive professional services can be avoided. At the same time, for the price of just one machine, you and your family can enjoy countless foot spa moments whenever you like.
How does it work?
Homedics products are simple and easy to use; not only that, the controls are also toe-touch. It is hassle-free to operate. Simply follow the instructions, place your feet, operate, and enjoy. Lastly, clean up is simple and mess-free.
Is this safe to use for children?
Homedics foot spas are non-invasive and can be enjoyed by everyone. Homedics products should be used with adult supervision for children under 18 years of age.
Conclusion
Homedics is the brand that we should all trust for that total home foot spa solution. It has a wide variety of products to cater to different focus areas on foot massage technology.
The overall winner is the Homedics FB-300 Jet Spa Elite Foot Bath. It gives the best Homedics foot spa experience. Its 2-in-1 hydro massage function of bubbles and water jets. Combined with the action of massage nodes and massage rollers, this foot spa thoroughly relaxes the feet and increases your feet's blood flow.
Foot spa lovers can never go wrong with a trusted brand like Homedics with tried and tested years in the industry. Hopefully, our Homedics Foot Spa Reviews made buying foot spa for home use an easy choice to make.