Above-ground pools are a cost-effective way to spend the warm summers in t comfort of your home. These pools are easy to set up and maintain and can be an exceptional cool-down solution.
However, a concern for most homeowners is how deep above-ground pools can get. The market has numerous above-ground pools with deep ends to provide as much excitement as their in-ground pool counterparts.
This article explores deep above-ground pools and a guide to choosing the best one for your family. 
How Deep are Above Ground Pools?
Are you wondering how deep are above ground pools? While above-ground pools cannot be as deep as in-ground pools, they can go as far as 8 feet or even more. There are several factors worth considering for above-ground pool depth. 
When shopping for an above-ground pool, you will need to choose the wall height that you are most comfortable with. Generally, above-ground pools come in three wall height options to choose from; 48 inches, 52 inches, and 54 inches.
Simply put, your pool's wall height will determine the water depth. Of course, pools with 54" wall height will offer a greater water depth compared to the 48" wall height pool. However, it is worth noting that you will not enjoy water capacity based on the wall height.
For instance, you will not have 48" of water to enjoy in a pool with 58" wall height. You will need to factor in an allowance of 6" for the top and 2" for the pool bottom. Nevertheless, a taller pool wall will offer more privacy.
A pool liner is worth considering if you want to add durability and a new element of style to your pool. Liners can also come in handy if you're going to add extra depth to your above-ground pool.
For instance, a standard overlap liner features an overlapping material that can increase the pool depth in a sloped deeper end by about 5 inches to 10 inches. Nonetheless, it is worth noting that a standard liner cannot stretch beyond 1 foot more profound in the middle.
On the other hand, an overlap style liner with a long wall section that goes into a deeper well.  These 6" overlap liners can be beneficial for larger pools.
Unlike the other liners, the expandable liner adds foot depth at the pool's center. An expandable liner provides 12 inches more vinyl material on the pool sides. The increase in material on the sides will give the pool center an extra depth. Expandable liners are highly flexible and can be used in various depth configurations.
Something else to consider when it comes to pool depth is the size. Larger pools can accommodate as much deep of water as smaller pools. This is because the slope must be gradual.
The Best Deep Above Ground Pools on the Market
If you decide to get a deep above-ground pool, here are some suggestions to consider.
1.  Excursion 54 Inch Above Ground Swimming Pool
Are you in the market for a deeper and larger above-ground pool? If so, the Excursion Above Ground pool may be worth considering. This pool features a 54" wall that will offer maximum privacy while allowing you about 48 to 52 inches of water to splash in.
It is highly durable, thanks to the aluminum components. A unique spec of this deep pool is that it is incredibly flexible. It allows you to install a pool deck on the side or bury it into the ground. The best part is that this pool is also available in an oval shape. 
2.  Tuscany 54" Above Ground Pool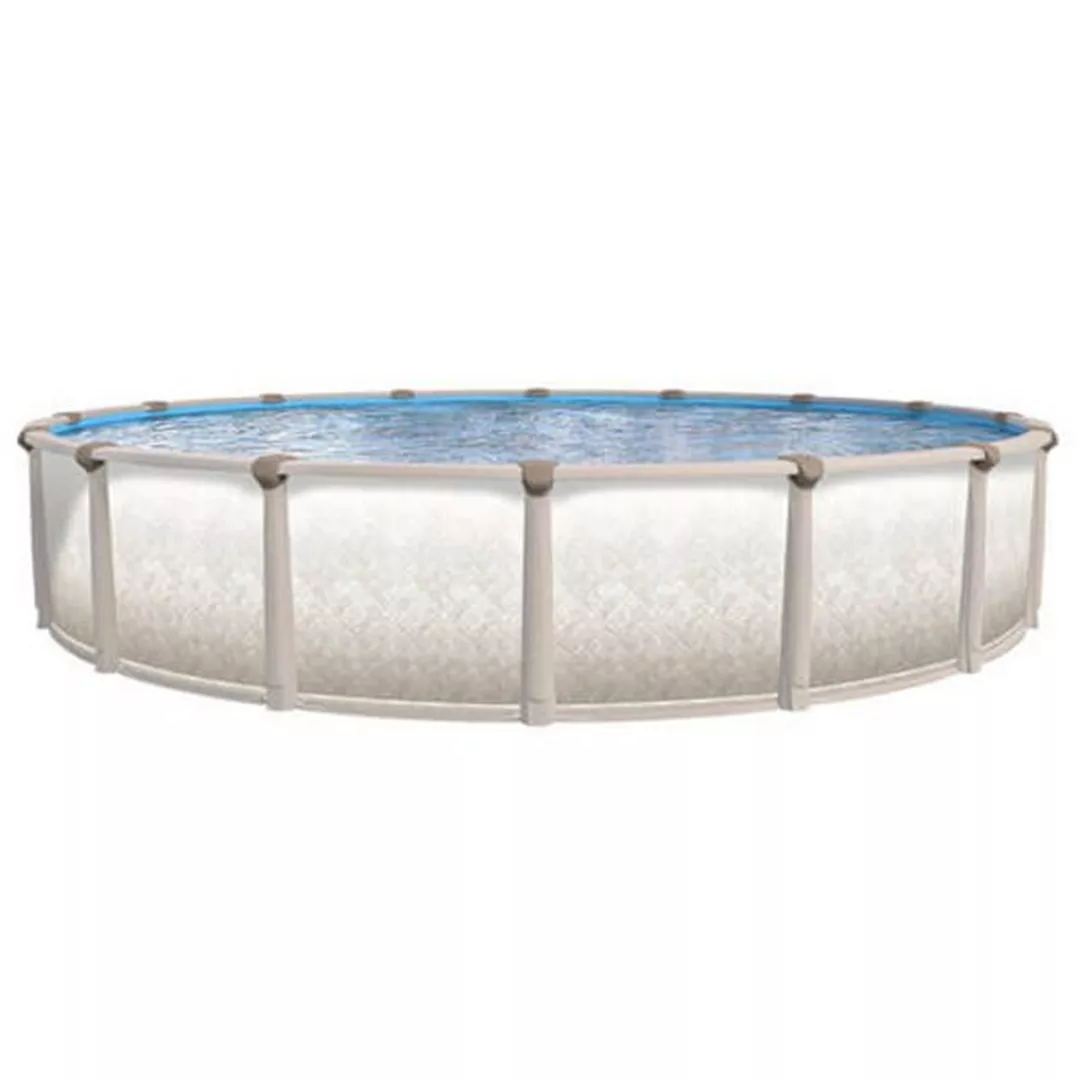 This 54" wall pool may be a perfect choice to add fun to your backyard for your entire family. This is yet another tall pool in our best deep above-ground pools list.
Built with durability in mind, this pool features an all-weather resin frame that is highly durable and resistant to rust. Besides, the reliable frame and wall are designed to complement any outdoor décor or landscape.
This pool is also worth considering if you have limited space in your yard. It is designed with the Yardmore Buttress System that is space-saving. Aside from the pool, it comes with stainless steel hardware, coping strips, return fitting, and a wide-mouth skimmer box.
3.  Sharkline Venture Above Ground Swimming Pool
Consider this above-ground pool if you live in an area with salty water. This 54-inch wall pool is saltwater friendly, a rare feature with most above-ground pools. It is also built to be durable, thanks to its molded resin top and bottom rails with steel walls. Furthermore, it is available in round or oval shape, depending on your preference. 
4.  Intex Ultra XTR Frame Pool Set
Although not among the deepest pools, the Intex Ultra XTR rectangular pool is worth mentioning in our review of deep above-ground pools. Measuring 24' x 12' x 52 inches, this above-ground pool is easy to set up. This pool is also notable because of its overall quality and available sizes. Besides the rectangular shape, this pool is also available in a round shape.
It is crafted using high-quality engineering, making the pool durable and weather resistant. The walls feature powder-coated steel frames and a puncture-resistant liner that holds water in. Better yet, the dual suction outlets help to circulate water to keep it clean. It comes with a filter pump, a ground cloth, a slip-resistant ladder, a debris cover, and a maintenance kit.
Read more: The Ultimate Intex 18 ft. x 52 in. Ultra XTR Frame Round Above Ground Set Pool Review
Conclusion
Above-ground pools offer more flexibility and water fun than most people would expect. If you are thinking of installing a deep-end above-ground pool in your yard, make sure that the slope is gradual. You can also consider professional help when installing liners for added depth.