MSPA is one of the most known brands for top quality hot tubs. MSPA is a subsidiary of the bigger parent company Oriental Recreational Products (ORCP) which manufactures all kinds of inflatable recreational products such as inflatable yachts, boats, and inflatable soaking tubs.
They've been in the business for more than 10 years and has been one of the market leaders in this industry. Their main headquarters can be found in Shanghai, China, and they serve customers from different countries around the world, especially customers in the USA.
In the US, MSPA USA has a wide presence among many spa lovers as one of the best inflatable hot tub brands in the country. If you're looking for the best model to buy, check out our MSPA Spa Reviews as we discuss our top 3 chosen models for soaking tub.
Review  of the Top 3 MSPA USA Spas Products
 1. Alpine 4-Person 108-Jet Square Bubble Spa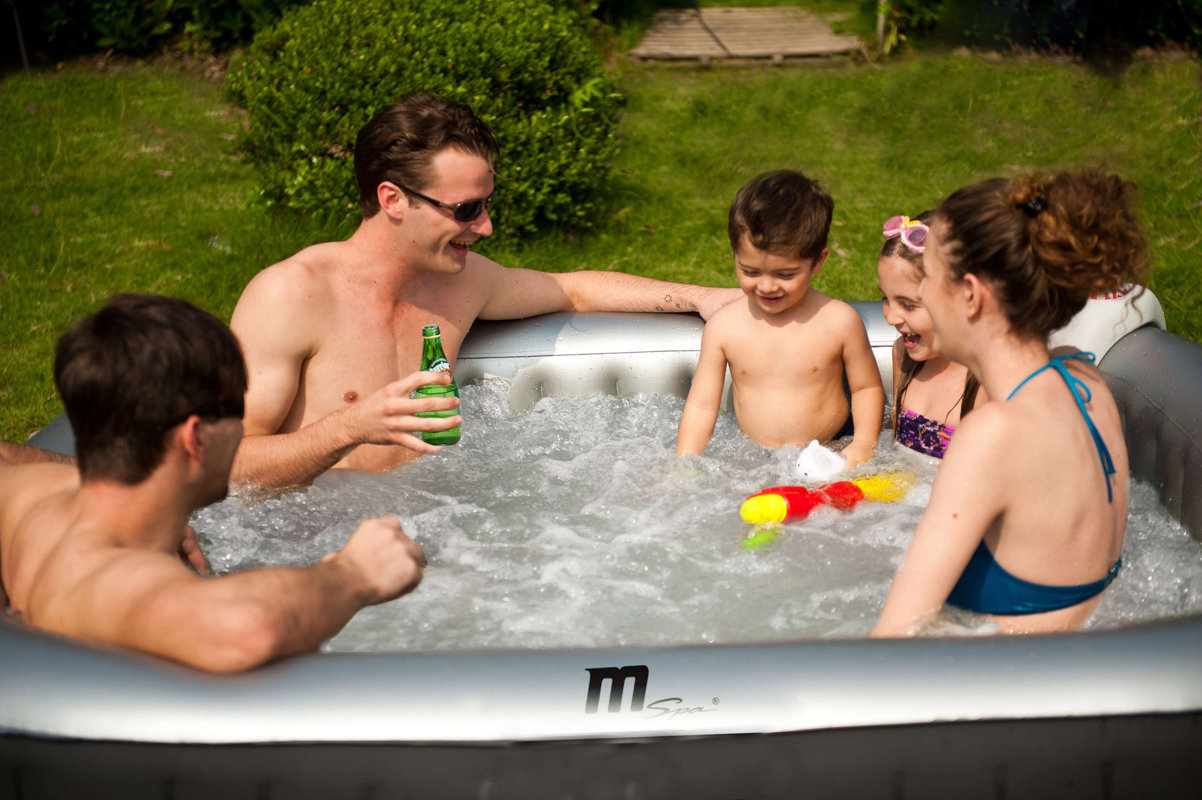 This is one of the best portable hot tubs on the list. It features 132 air jets for total spa power that can be controlled through a remote control panel. It is also made of vinyl and premium grade PVC for total durability. It also comes with an insulated cover and lock.
What Did Customers Have To Say:
As expected, this bubble spa has impressed a lot of its users. Customers say that this hot tub has great heat retention, as well as bubble strength. It is quite affordable and definitely something that most customers would recommend, as per the reviews. Also, the majority of the customers say that they use the tub every day for relaxation.
It has a very beautiful silver interior color and gray charcoal exterior.
It comes with an insulated cover for better heating.
It has a powerful horsepower of 1.5, meaning it is a high-performance spa.
It has a water capacity of 171 gallons.
It has a total of 132 powerful jets.
It leaks a bit after a while.
Contrary to what is advertised, it is a bit small for 4 adult people. However, it perfectly fits 2 adults and 2 children.
The seating area is a bit small to stretch your legs out.
2. Silver Cloud 4-Person 118-Jet Bubble Spa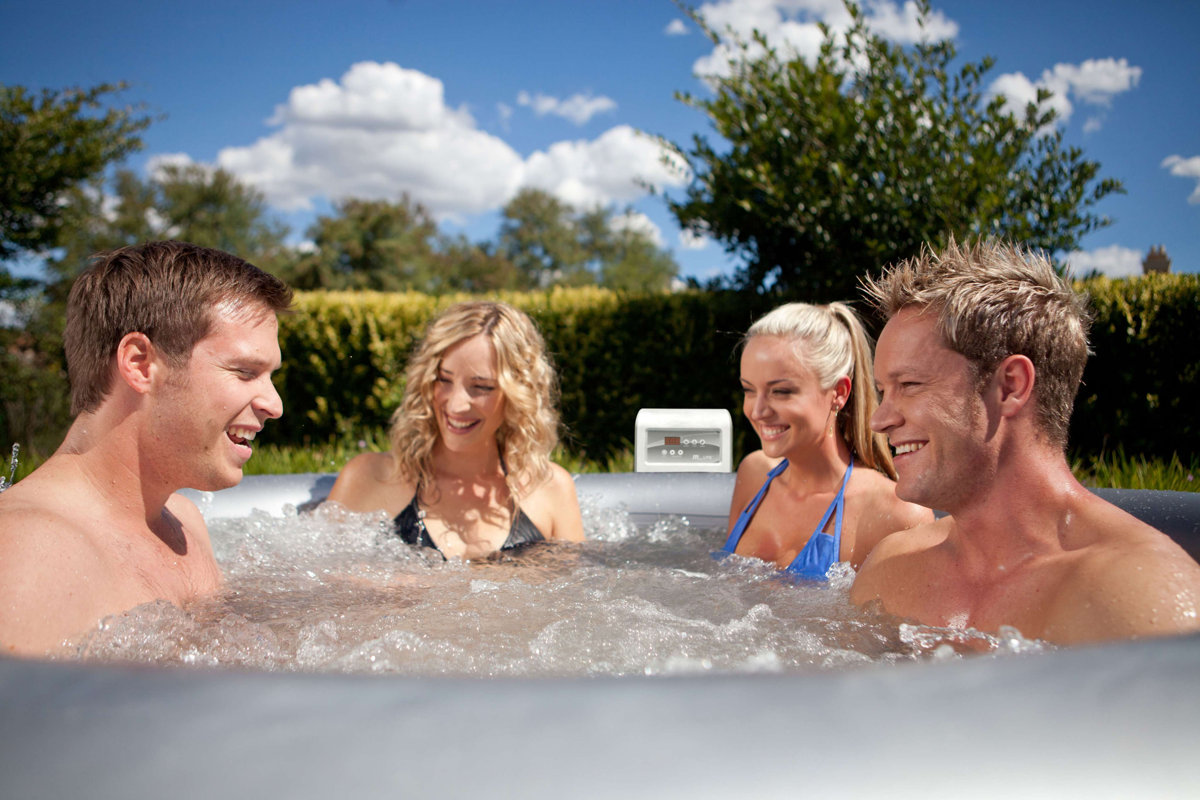 The Silver Cloud Bubble Spa is one of the few models that can be used in cold weather such as during winter. This is because of its high-power heating system. It also has a wide space area with a water capacity of 184 gallons of water.
What Did Customers Have To Say:
Most users gave this bubble spa a good rating. This means that the customers are quite satisfied with their purchase. Most customers say that they love using it for relaxation. They say that the temperature can go up to 104 degrees in a short span of time and has very powerful jets.
It has powerful jets and a voltage of 110 volts.
It has a very high water capacity of 184 gallons.
It is made of very durable vinyl material. Vinyl is known for its durability and heat-resistant nature.
It is a play and plug bubble spa, which means no reconfiguration and adjustments are needed. Just plug the spa and it's already ready to use!
It is quite affordable.
It is quite cramped if there are 4 people inside. It can fit 3 adults well or 2 adults and 2 kids.
The seats are a bit uncomfortable and may need some extra padding.
3. Elite 4-Person 118-Jet Bubble Spa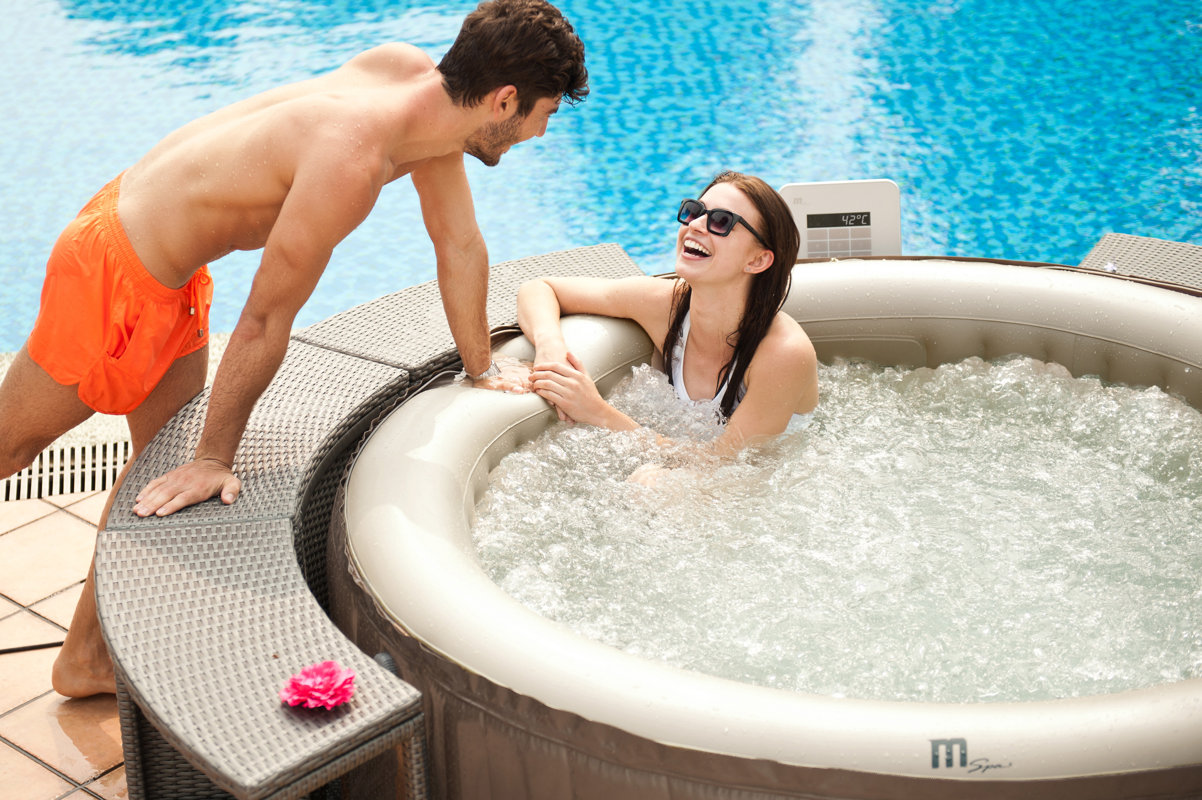 The elite 4-person 118 jet bubble spa is a rather luxury inflatable hot tub that is very powerful, has a lot of cool features, and is made of very fine rhino tech fabric. This makes it one of the best spas in the elite collection.
What Did Customers Have To Say:
This is a satisfying product for most customers. Customers complimented the product for its overall powerful bubble action and its strong jets. Customers were happy with the features such as the built-in Ozonator and the powerful heaters.
It has a very high water capacity of 184 gallons.
It has a built-in Ozonator for cleansing the water.
It has a built-in heater, so you can adjust the heat anytime you want.
It comes with a touchscreen LCD. This allows you to monitor and control the functions easily.
It comes with four individually controlled hydromassage jets.
It is made of moca micro MSpassima rhino-tech fabric, making it beautiful and durable at the same time.
It includes an insulated cover that also comes with a lock.
It has a max temperature capacity of 104 Fahrenheit.
It has a beautiful exterior cover color of champagne brown.
It has 118 adjustable jets.
It is quite difficult to assemble as it has a lot of parts.
It cannot really fit 4 people as advertised. At most, it can fit 3 people in order for everyone to feel comfortable.
The seats are a bit cramped for you to stretch your legs.
Conclusion
All of these MSPA hot tubs and spas are great for anyone who loves to soak in a tub after a long day at work. Still, the quest for the best spa all depends on the individual preference of the user.
Our top pick for the best out of the three is the Elite 4-Person 118-Jet Bubble Spa. Our choice stems from all the features that this high-quality tub has to offer. Mostly, this tub offers a high-water capacity, a very efficient built-in Ozonator that acts as a water sanitizer (which is a must if you plan to use the spa a lot of times), an LCD control panel, individually controlled jets, and a high number of jets. It also comes with an insulated cover for total protection.
Aside from the functions and features, it is also the best looking out of the three. Not only is it a tool for relaxation, but it is also a very beautiful structure. Having it in your home adds to its overall design and gives it a very cozy feel. From the MSPA Spa reviews above, it is easy to see that this spa and soaking tub model is able to satisfy most of the users' needs.