MSPA is one of the most known brands for top quality hot tubs. MSPA is a subsidiary of the bigger parent company Oriental Recreational Products (ORCP) which manufactures all kinds of inflatable recreational products such as inflatable yachts, boats, and inflatable soaking tubs.
They've been in the business for more than 10 years and has been one of the market leaders in this industry. Their main headquarters can be found in Shanghai, China, and they serve customers from different countries around the world, especially customers in the USA.
In the US, MSPA USA has a wide presence among many spa lovers as one of the best inflatable hot tub brands in the country. If you're looking for the best model to buy, check out our MSPA Spa Reviews as we discuss our top 3 chosen models for soaking tub.
Best Mspa USA inflatable hot tub reviews Review
Below are our top 4 MSPA hot tub reviews:
1.  Mspa Usa Delight Aurora 6-Person Vinyl Inflatable Hot Tub
The spa is a vinyl round inflated hot tub in gray with a sitting capacity of 6 bathers. This spa is V-beam constructed and reinforced with PVC fabric to ensure it has a solid structural form when inflated.
The product is manufactured by Wayfair company and sold to consumers.
Pros:
The inflated spa is available in a capacity of 6 bathers which makes it a great choice for small families or couples.
The spa has a heater that raises the water temperature to 40 degrees allowing you to relax even in cool weather.
The aurora inflated spa has a quiet mode system that allows you to relax without noise irritation from the pump.
The water in the spa is disinfected with the UV disinfection system which protects you completely against bacteria.
The spa has a control panel that you can turn to child protection mode.
Cons:
The inflated spa requires installation in your home before using it which adds to the cost of purchasing.
Lighting is not included in the inflated spa
The vinyl hot tub does not include the Ozonator which disinfects the spa to protect you against bacteria.
Features:
Smart filtration system.
Anti-bacterial fabric.
inflated
Verdict:
As good for those who love hot baths as it is for those yet to experience them, the inflated spa is a spa that gives you a lot of fun and relaxation moments.
Ideal customers
This product can be used by couples or a family with a small number of people since it has a capacity of 6 bathers.
You can have you and your partner using the spa and choose kids who are more than 5 years old. For smaller kids, the heat in the hot tubs is too much for their system and delicate skin.
If you are a couple or a family considering having a better family relationship, buying the product should be your ideal target. The hot tubs are a great opportunity for family or couple bonding.
Features and benefits of the best inflated hot tub
PTC heating technology: The applied PTC technology on the inflated spa provides you with a comfortable and warm experience. It allows the spa to heat up quickly.
Antibacterial fabric: The spa's inner lining is covered with antibacterial fabric. This fabric releases components that are bactericidal and helps your spa reduce bacteria reproduction by 99%. You will be protected completely against bacteria.
Plug-and-play technology: You can move your tab anywhere in your home. The product has a self-inflation function that is patented. You can remove your spa from the box, plug it in and have it inflated in a few minutes.
Smart filtration: The filtration system allows you to have quality water in your spa. The smart filtration gives you a reminder of when you should clean and replace the filter cartridge. This ensures that the water in the spa remains clean and prevents contamination.
All-around bubbling design: The product has an all-around air jet system that fills the spa with bubbles. The bubbles are pushed by the jet into the center of the tub. This creates an all-encompassing and balanced body massage.
Child safety lock: The spa has a child safety lock which you can use to control your children from accidentally touching buttons on the control panel. The lock keeps the control panel inactive.
Customer Reviews
"I am happy with the spa. It is easy to use and set up. It stood on an insulating platform which is essential in reducing heat loss."
"Good quality and fascinating product. My family loves the experience it gives."
"Disappointed that the lights were not included as shown from the advert."
Frequently Asked Questions
Can I use my spa indoors or outdoors? You can use the spa both indoors and outdoors. For indoors, consider ventilation and drainage factors.
What is the age limit for children? The spa is not suitable for children under the age of 8 years.
How many people can fit in the spa? This spa model has a capacity of 6 persons.
It is easy to find the best inflated hot tub model of your choice in terms of sizes, design, and function.
Read more: MSPA USA Delight Aurora Review: Finding The Best Inflatable Hot Tub For You
2.  Delight Tekapo 6-Person 132-Jet Vinyl Inflatable Bubble Hot Tub
Tekapo is one of the most popular hot tubs from a well-known outdoor hot tubs brand, MSPA. This hot tub can accommodate up to 6 individuals and features many dynamic air jets to give you a relaxing bubble massage spa experience.
Pros:
It can comfortably seat up to 6 people
Smart control for filling, heating, and inflation
Durable PVC build
12 months warranty on its parts
Up to 132 air jets
Cons:
It can be expensive to run
Water leakage into the inflatable part of the pool
Turning on the heat or filter when plugged in triggers an error which leads to the system shut down
Key Features:
930-litre inflatable spa
Anti-icing system for easy operation
Features plug and play technology
Energy-saving timer
Child safety lock
Verdict
If you are looking for an easy way to get a quality body and mental relaxation in the comfort of your home, the MSPA Tekapo hot tub may be worth considering. It has excellent aesthetics and is equipped with valuable features that ensure utmost comfort without compromising functionality.
Who is the MSPa Tekapo-6 Person For?
The MSP Delight Tekapo 6-person is an excellent choice for anyone that wants vacation-quality relaxation with family and friends in their backyard. Equipped with over 100 air jets, this may be the best inflatable hot tub for individuals with sore muscles because it is deeply relaxing.
Key Features and Benefits of MSPa Tekapo-6 Person
Many Airjets for Bubble Massage: The Tekapo-6 person has 132 air jets, making it one of the largest collections in the market. While more does not necessarily mean you will get a better massage, these air jets are strategically placed for your comfort. You will find these jets deeply relaxing, especially when exhausted or stressed.
Reinforced PVC: Tekapo hot tub is amongst the most robust tub in the market. It is built on a durable 6-layer PVC and withstands just about anything.
Remote Control: This unit comes with a remote control that comes in handy to adjust the temperature, self-inflate the tub, preset the heating timer, and turn the bubbles on/off.
Compact and Lightweight Design: The Tekapo tub is relatively lightweight and a space saver that you can install almost anywhere you like. And don't forget that it will sit up to 6 people even as it saves you space.
Customer Reviews
The thick quality material feels good, and the setup was straightforward. It was worth the investment and has been away for my family to bond during the lockdown.
I love the size of this tub, and it has helped me take my home entertainment to another level. However, since day one, I have had water temperature issues, and it can't seem to get hot enough.
I ordered the product online only to be told to go to the closest store and repurchase it, and when my order has arrived, I can take it back for a refund?? Seriously? I bought this online because it said online only!!! Someone needs to get it together.
I am disappointed that the bubbles stopped working after a while. Do not waste your money!
Alternatives to MSPa Tekapo-6 Person
Although the Takapo 6-Person hot tub is a good choice for many, there are still better alternatives for one reason or the other.
Lay-Z-Spa Paris: Lay-Z-spa is a reputable tub brand that provides feature-rich products. Their Paris system has a robust construction and slightly more features than the Tekapo tub. It is also designed to accommodate six people, although it has fewer jets.
Avenue 6-Person Hot Tub: This is also a 6-people hot tub that may give the Tekapo a run for their money. Although on the expensive side, it offers a different style and shape of the tub and is quick to step UP.
Read more: MSPA USA Delight Tekapo 6-Person Review
3.  MSPA USA Vinyl Round Hot Tub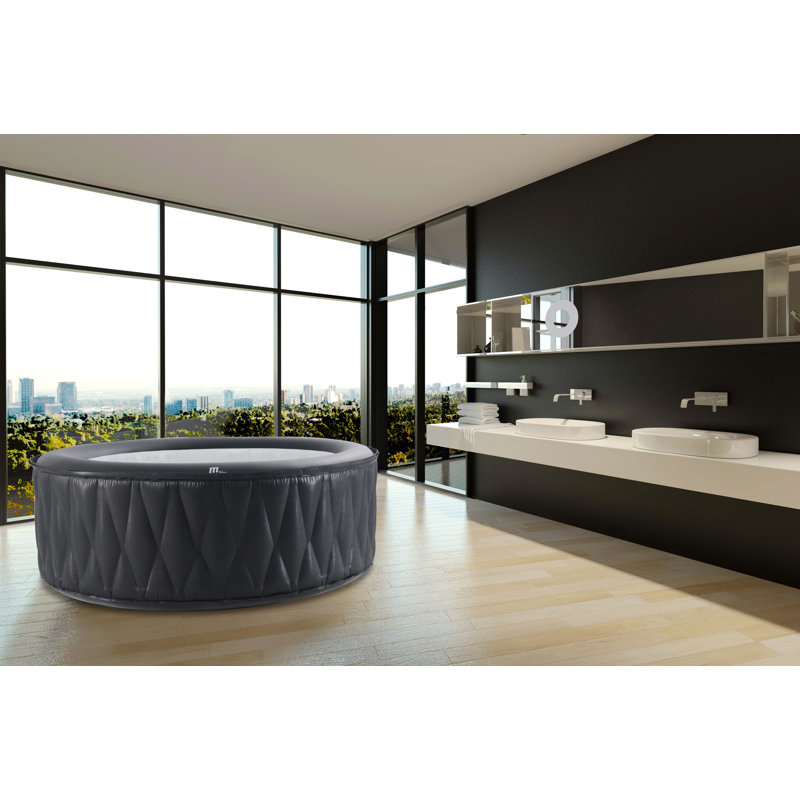 This is the best inflatable hot tub in the market for many reasons. The tub has 118 jets to give you a relaxing bath. It is affordable and a great way to relax after a long day. Included is a variable speed pump that heats the tub in about 8 hours.
It is designed to accommodate 4 people and comes with an Ozonator. Nevertheless, there is a bigger hot tub size that can accommodate up to 6 people. This hot tub features a round shape, making it great for houses with children. Impressively, it is made with vinyl material which holds well even after years of use.
Highlighted Features:
Made of vinyl
It has a water capacity of 245 gallons
Have 118 jets
It has a classic round shape
Has 110-120 volts
Maximum temperature: 104 degrees
Includes: Cover,
The Pros:
Classic round shape
The product has a light gray premium PVC liner, which comes with a soft pattern
Easy to control
Freeze resistant
The Cons:
Heating the tub takes long (8hrs)
The product does not come with light options.
4.  MSPA USA Elite Baikal Inflatable Hot Tub in Charcoal Gray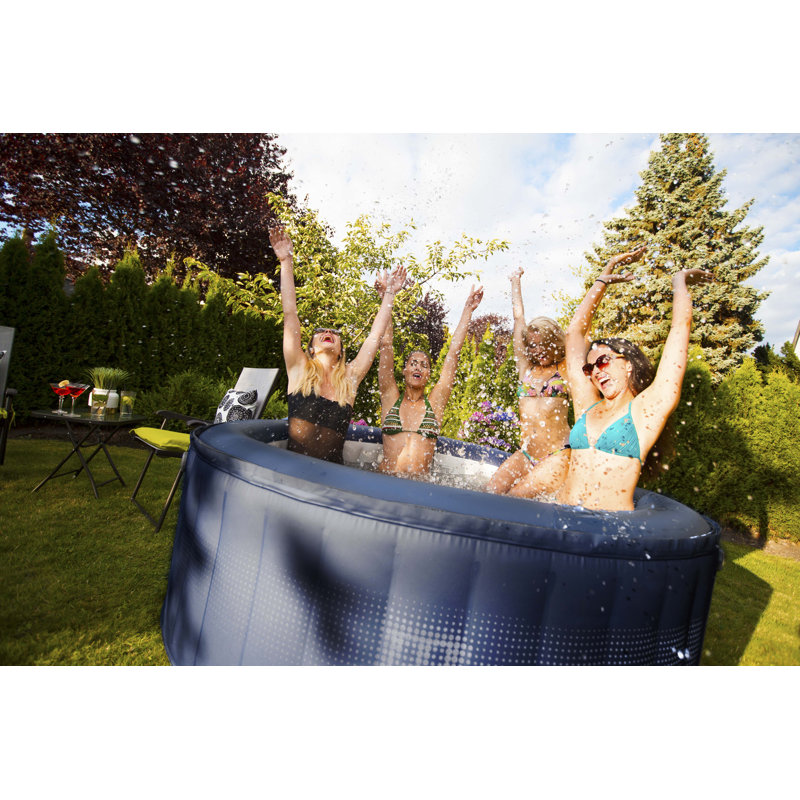 Designed to accommodate 4 people, this inflatable hot tub can be a great addition to any home. It is a bubble spa with 118 jets and 4 hydromassage jets. Better yet, the jets are easy to adjust depending on your desired direction or water flow.
This is a great spec that gives the tub excellent value for money. Something else that makes it the best inflatable hot tub is the vinyl construction. Plus, it features an outstanding midnight blue color that will stand out when placed anywhere in your home.
Highlighted Features:
Type: Inflatable
It is made of vinyl
The product has a water capacity of 245 gallons
Temperatures can rise to 104 degrees
Have a 110 power voltage
Has 132 jets
Water capacity: 184 gallons
The Pros:
Freeze resistant
Jets are adjustable
Includes Ozonator
The Cons:
Doesn't include light
Water capacity may be low
What to Consider When Buying a Hot Tub?
Of course, we all have personal preferences when choosing a product to buy. But when it comes to hit tubs, there are certain features that a good MSPA hot tub must have:
To reap the maximum benefits of using hot tub, you need to ensure it has enough bubble jets. The water jets circulate the water while the air jets lift it a bit, thus creating bubbles that ease muscle fatigue and tension.
The more jets your hot tub has, the more supportive it is for hydrotherapy sessions. Most people love a hot tub with at least 115 bubble jets.
Insulation is the ability of the hot tub to retain heat. Thus, the material and accessories matter a lot here. Make sure you have an insulated cover and lock to minimize heat loss.
Two of the most popular hot tub materials are acrylic and plastic. The former is a much better choice as it has amazing temperature retention that helps lower the energy consumed by the tub to heat up the water.
But for inflatable ones, a vinyl hot tub is also a great choice.
This one is self-explanatory. Most hot tubs can accommodate 4 to 6 people. But some models are available for two users and there are also 8-person hot tub versions for family use.
Conclusion
All of these MSPA hot tubs and spas are great for anyone who loves to soak in a tub after a long day at work. Still, the quest for the best spa all depends on the individual preference of the user.
Our top pick for the best out of the three is the MSpa Premium Mont Blanc Hot Tub Spa. Our choice stems from all the features that this high-quality tub has to offer. Mostly, this tub offers a high-water capacity, a very efficient built-in Ozonator that acts as a water sanitizer (which is a must if you plan to use the spa a lot of times), an LCD control panel, individually controlled jets, and a high number of jets. It also comes with an insulated cover for total protection.
Aside from the functions and features, it is also the best looking out of the three. Not only is it a tool for relaxation, but it is also a very beautiful structure. Having it in your home adds to its overall design and gives it a very cozy feel. From the MSPA Spa reviews above, it is easy to see that this spa and soaking tub model is able to satisfy most of the users' needs.