Most often than not, we make hasty buying decisions that lead to regrets and frustrations. That is why this outdoor hot tub review is purposely written to help you out.
Take a look at out 11 top picks for the best outdoor hot tubs:
Top 11 Outdoor Hot Tubs Reviews
1.  Aquarest Premium 2-Person Plug-and-Play Hot Tub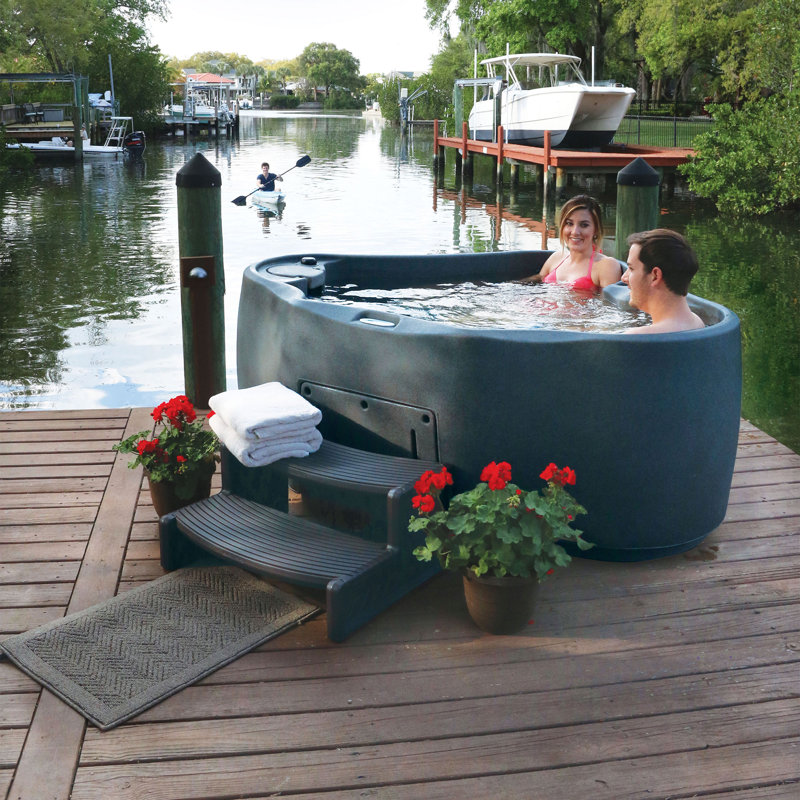 Seamless design and durable material are what makes this Aquarest plug-and-play hot tub a great choice. It has a total 20 jets installed with a heater made from stainless steel.
The tub allows water to flow through the pipe, giving that waterfall effect while also giving you subtle hydro massages. But what makes this the best-selling outdoor hot tub is the fact that it destroys organic and inorganic water contaminants.
With Easy Klean Filtration System that makes the tub water crisp and clean
Encourages self-cleaning through its Ozone so that less chemical is needed during the scheduled maintenance
Has cabinet insulation that seals the heat so that you can save energy
Built to last with only the toughest and most durable material, which include the thermal plastic
Can withstand high temperature without peeling and fading
2.  American Spas 2-Person Premium Acrylic Hot Tub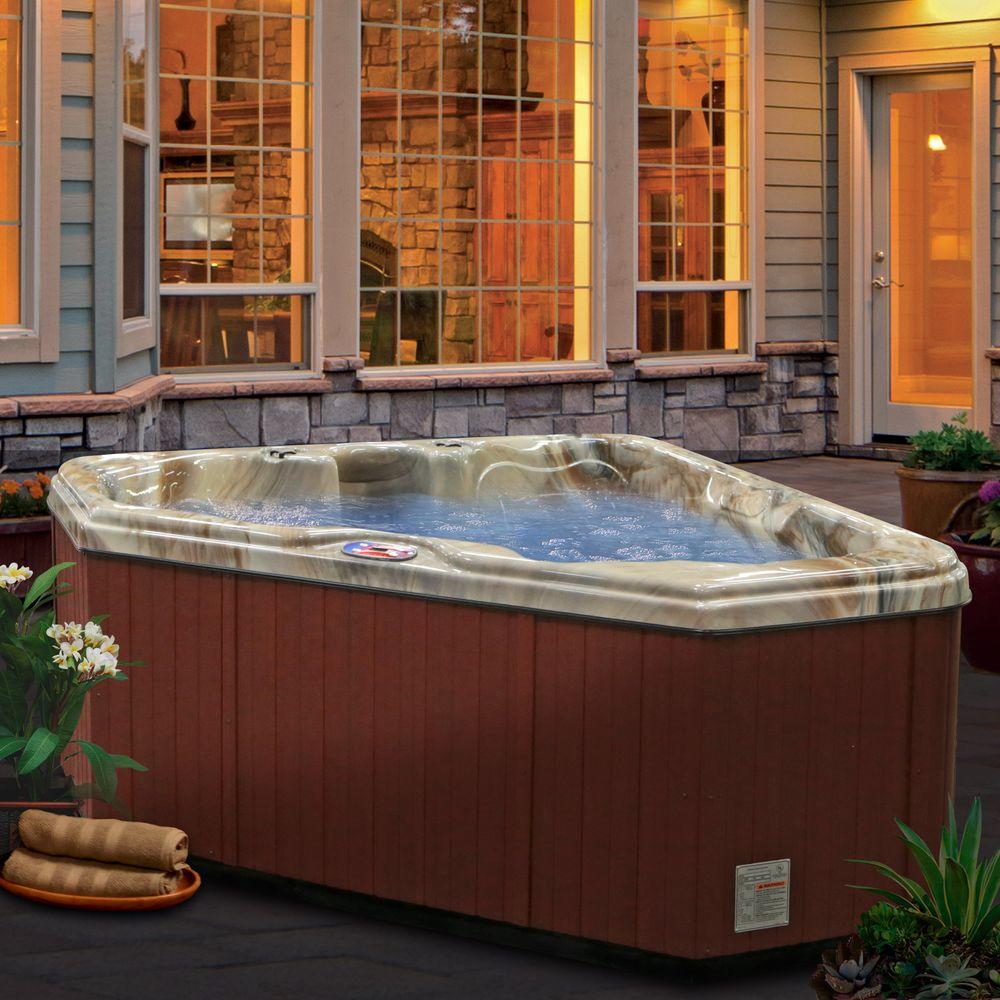 Praised for its elegant look and impressive features, American Spas has been consistent in giving high-quality hot tub products.
This 2-person hot tub takes on a triangle spa with multi-color spa light, which helps set the mood for a relaxing hot tub soak.
This is a portable hot tub which can be used both indoors and outdoors.
Has a total of 28 hydrotherapy jets that give you gentle yet soothing massages
All jets are adjustable so that you can control how much pressure you want.
It is the best outdoor hot tub when it comes to constructions since it has 7 layers of laminate fiber steel.
With HydroClear Ozonator which helps purify the water, giving you clean and refreshing hot tub experience
Equipped with hydro-armored tapered cover so that the heat can't escape
3.  Aquarest 4-Person Plug-and-Play Hot Tub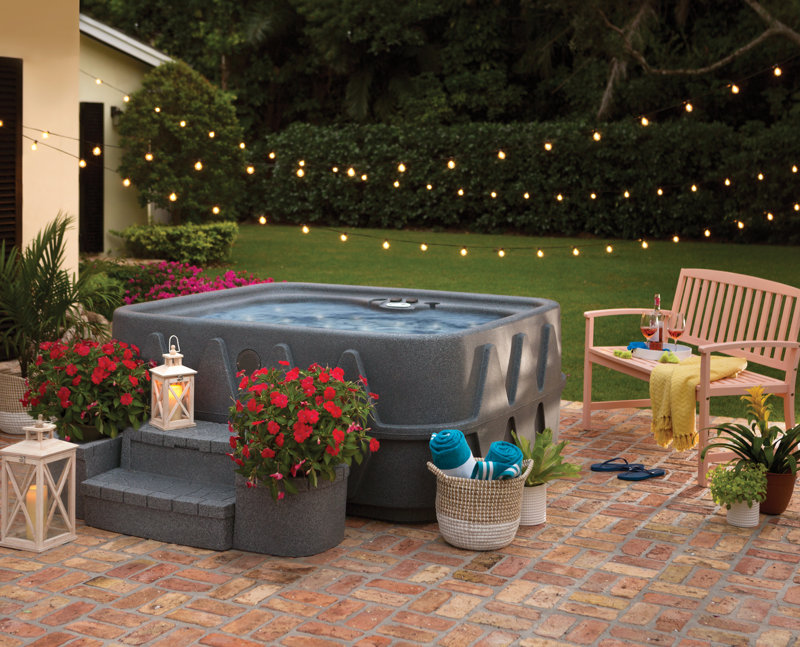 Need bigger space hot tub for more people? No worries.
This 4-person hot tub from Aquarest is suitable for a family of four. This is made from acrylic which can withstand heat. Just like the other Aquarest hot tubs, this too has 100% water filtration system. That is why it is one of the best hot tubs for 4 people.
Highly efficient, thanks to its cabinet insulation and spa cover which traps the heat
Very robust and well-designed for comfort
Effectively cleans and makes the water crisp every time you use the tub
Has a lot of space so that 4 people can fit inside comfortably
The 20 jets are placed strategically to provide waterfall-like hydro massages
4.  Essential Hot Tub Adelaide 5-Person Hot Tub
If you are looking for the best outdoor hot tub option that doesn't break the bank, then this is a great choice.
Categorized as a mid-range hot tub pick. This expresso-colored hot tub is made in the United States with 30 jets installed in all 4 sides.
This hot tub is an all-season hot tub with basic function to give you a fulfilling hot tub experience.
Has more jets installed, so you will feel more water massage
The seating is designed ergonomically to give you full comfort
Heavy-duty and long-lasting, this hot tub is made from premium acrylic
All the jets are adjustable, so you can control the pressure coming out of the jets.
Suitable for those seeking a soothing and relaxing hot tub soak
5.  Lifesmart Bahama 5-Person Hot Tub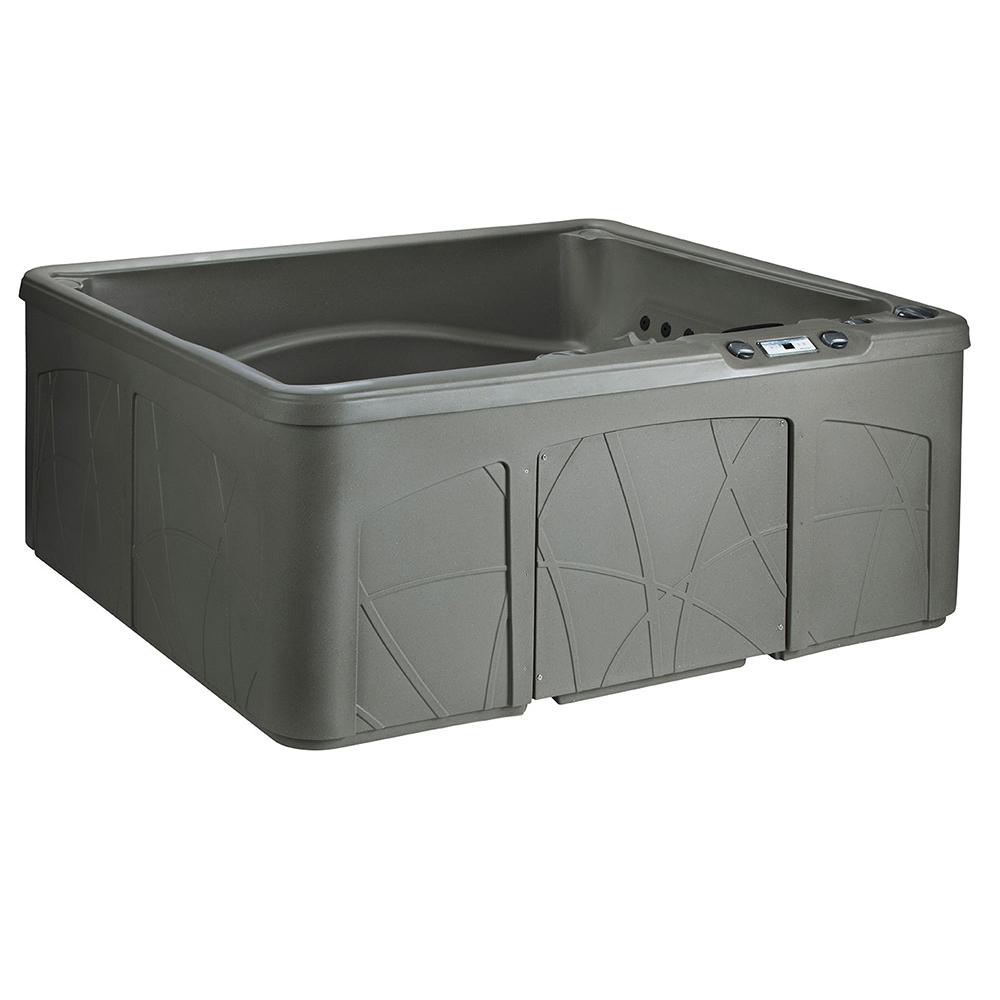 Simple but efficient are what the Bahama hot tub is all about. This 5-person hot tub by Lifesmart may look plain, but it has all the basic features you might need to enjoy your hot tub dip.
With a perfect square shape, the edges of this tub are smooth and curved, allowing you to lounge comfortably. But its simple look is not the reason why we love it. Its heat retention ability is what impresses us the most.
One of the best outdoor hot tubs with the longest heat retention
Highly efficient amidst its high heat-retention level
Open lounge seating allows relaxed seating position
Equipped with 28 graphite hydro jets
Has a full foam installation and ASTM-approved hot tub locking cover that helps retain the heat
6.  Aquarest Elite 600 6-Person Hot Tub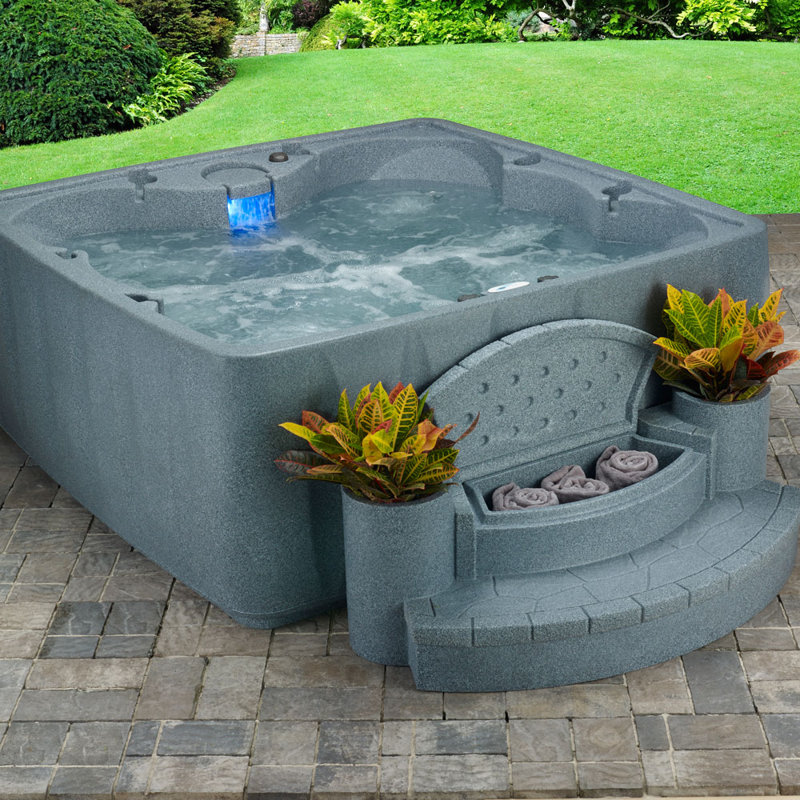 The Elite 600 Hot Tub from Aquarest is a got-to pick for home owners who want a user-friendly tub that can does its job well.
Made in USA, this premium tub is praised for its simple yet functional features including a reliable Ozonator, LED lighting, and hot tub cover.
With 100% water filtration system that keeps the hot tub water crisp and clean
Easy to maintain and the filter can be easily removed for replacement
Has the power of natural oxygen that keeps the spa clean and germ-free
Full foam insulation that keeps the water heated for a long period, thus letting you save on energy
Designed to last with incredibly heavy-duty construction
7.  Futura 6-Person Hot Tub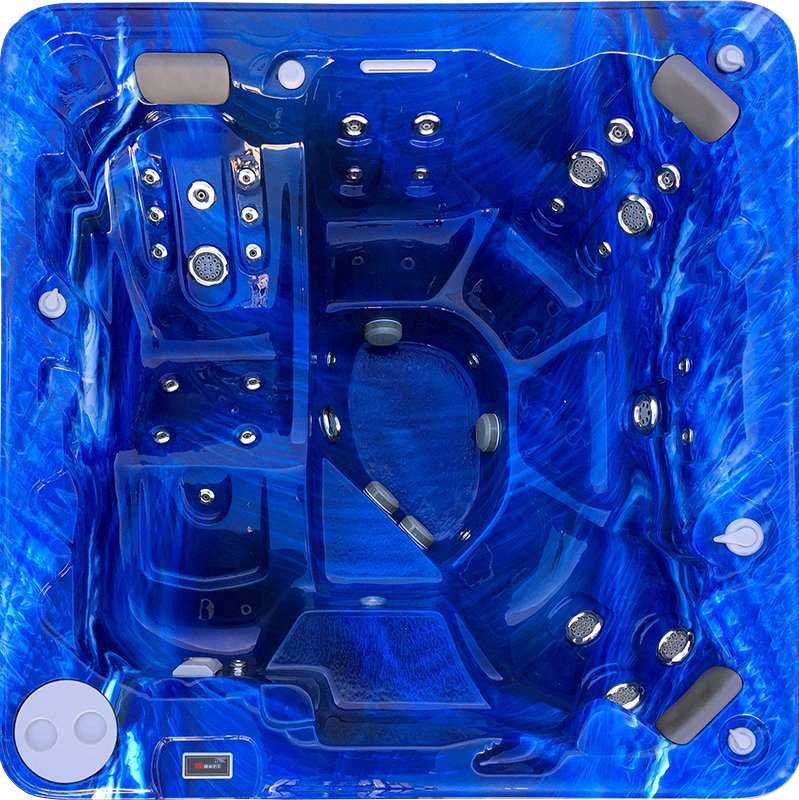 At first glance this hot tub may appear a bit strange because of its vibrant blue color, but this is exactly what makes this hot tub even more appealing.
If you aim to integrate the best rated outdoor hot tub that would complement well the greens and browns of nature, then this is what you are looking for.
Has an advanced illusion lighting system that sets the right mood for relaxation
With Tri-zone hydrotherapy that allows you to customize the water flow for a great hot tub spa experience
Its pure water ozonator helps keep the spa water clean, eliminating all types of contaminants
UL-approved hot tub cover
Has a permawood insulation cabinet
8.  Evolution Spas Rockport 6-Person Hot Tub
This is a 2-speed, full-body lounger hot tub that is perfect for outdoor setting. The programmable color-changing LED lighting looks absolutely stunning during night time.
It is also quite spacious which accommodates up to 6 users. The Rockport hot tub from Evolution Spas is the ultimate choice for relaxing tub that offers a lot of room for movements.
Has a total of 27 jet spas that are placed in the right location to hit the right body parts that need hydrotherapy
Also has a color-changing LED lighting system
Equipped with a convenient ice bucket where you can put your drinks and refreshments
The 2-speed pump allows the water to flow through just the way you like it
9.  Lifesmart Coronado 7-Person Hot Tub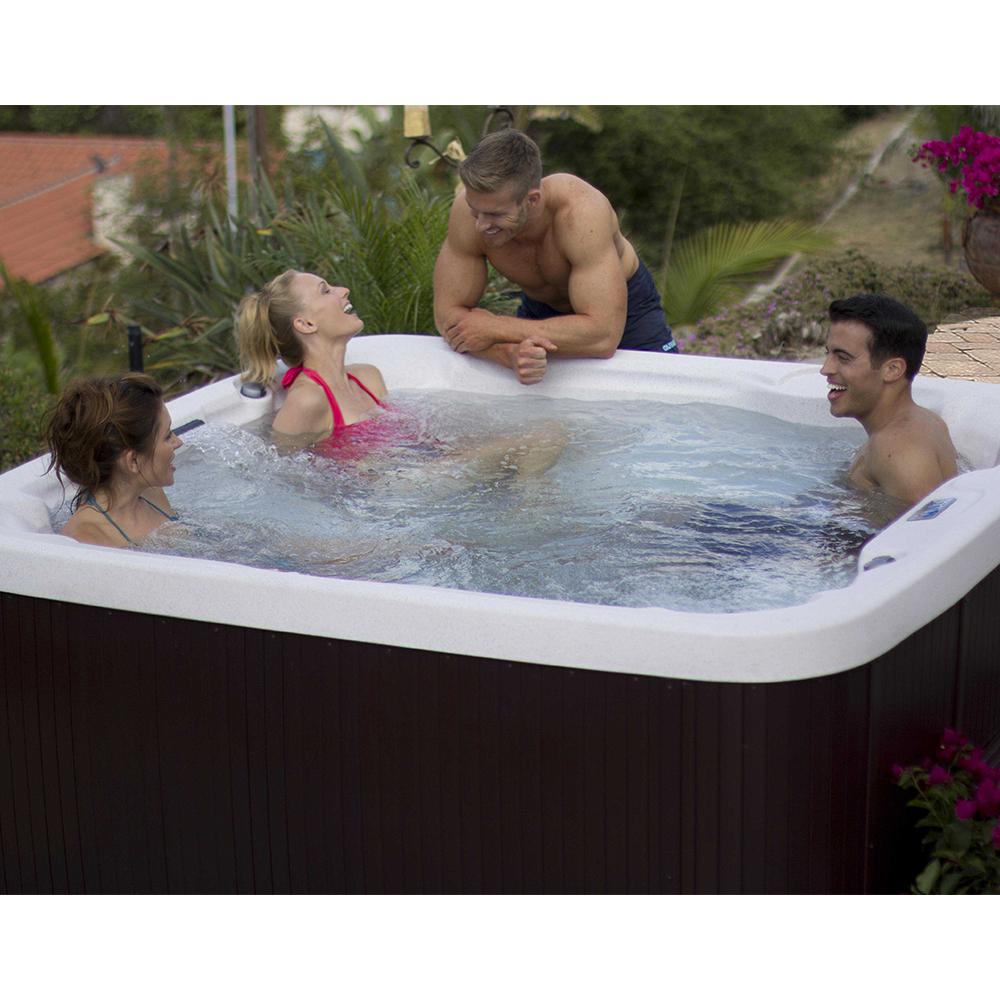 For bigger families, the Coronado hot tub by Lifesmart is the perfect choice. It provides maximum heating so that all users can feel that soothing warmth, easing tension from your tired muscles.
With a total of 65 jets to make sure all users can benefit from its hydrotherapy massages. It also has its own ozonator that helps keep the water crisp and clean.
Powerful 65 water jets, 14 of which are classified as turbo jets for a powerful water massage
The ozone system consistently cleans the water; thus, you don't need a lot of chemical during maintenance
Has a open seating that accommodates up to 7 people
Automatically turns the temperature down when not in used
10.  American Spas Glory 7-Person Hot Tub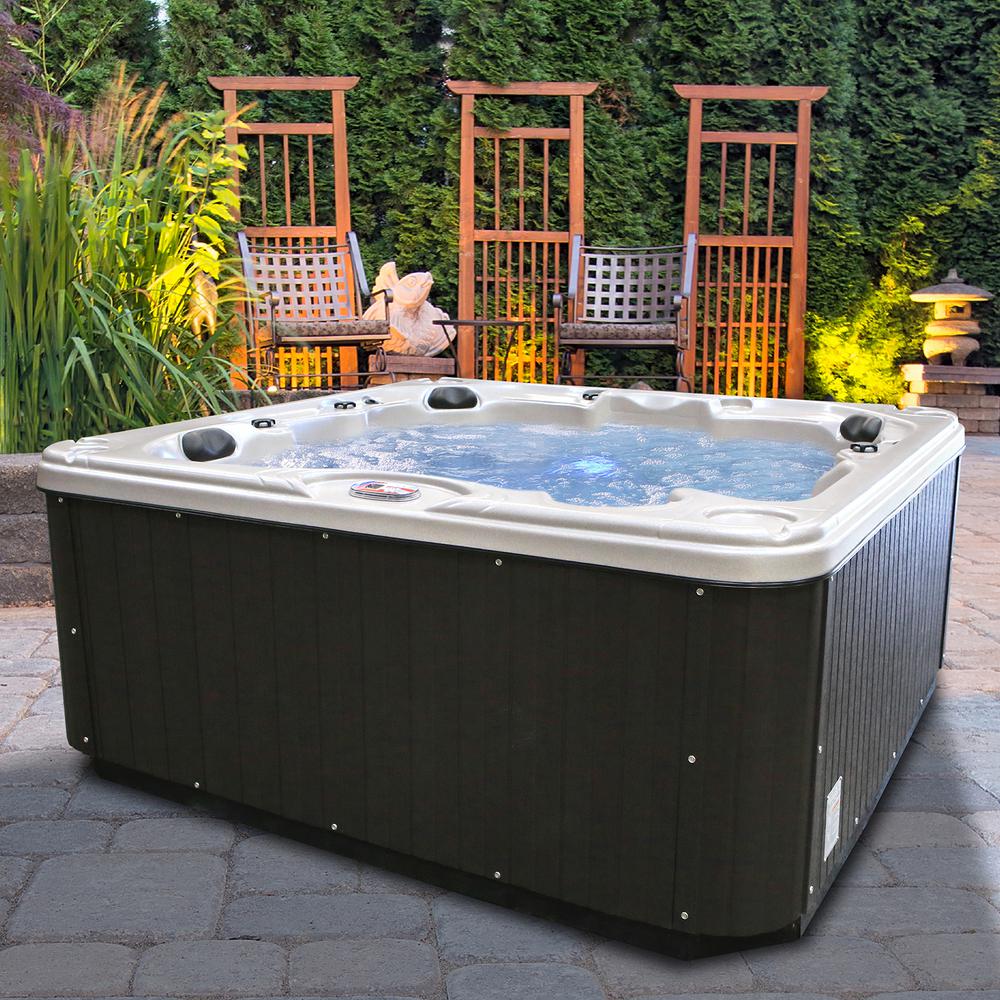 American Spas is a brand that offers the best hot tubs in the market. This acrylic spa hot tub can seat 7 people inside and is equipped with a waterfall hydrotherapy jet system and impressive heat insulation.
With 7-layer laminate fiber steel construction so that it can withstand harsh weather conditions, perfect for outdoor use
Highly efficient and very powerful
Delivers great hydrotherapy experience, thanks to its 40 jets that are all adjustable
With HydroClear Ozonator that uses active ozone bubbles to keep the water pure and clean
11.  Intex PureSpa Bubble Massage 6-Person Hot Tub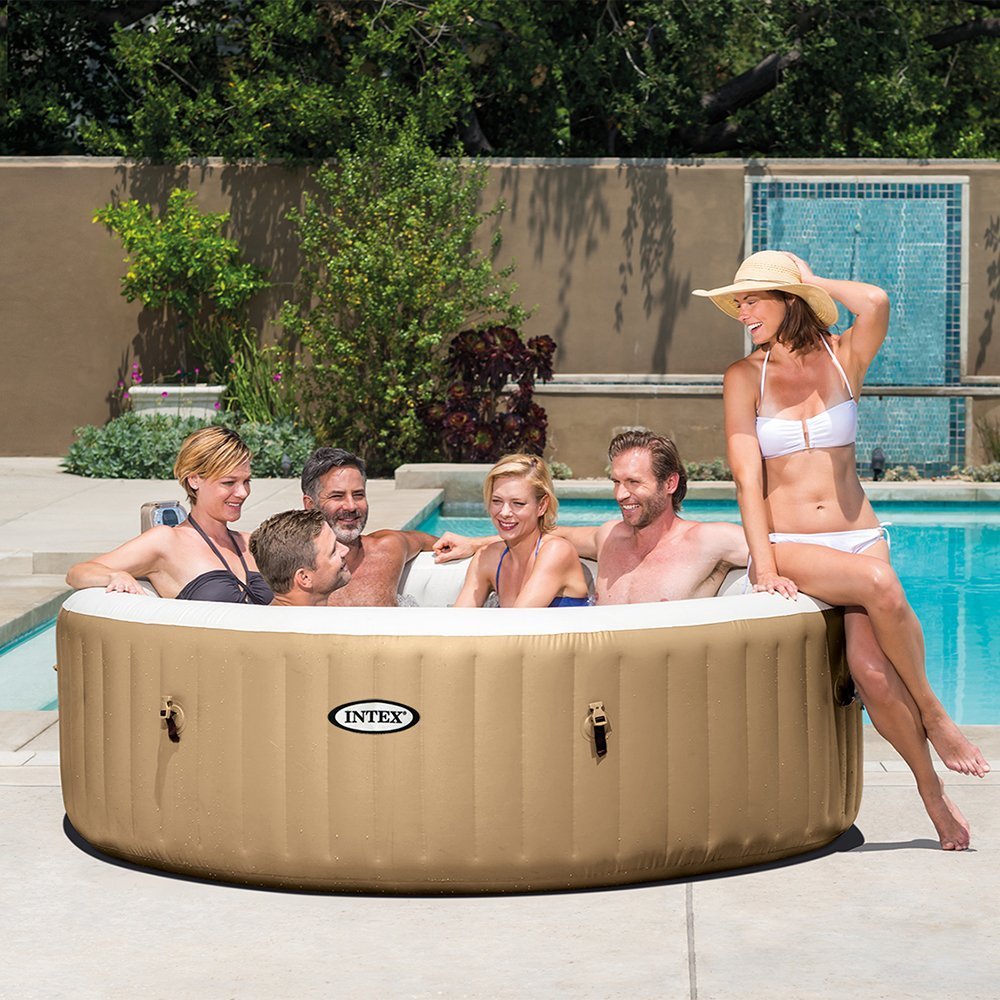 This lovely Intext hot tub spa has a round shape, which is quite unique for an outdoor inflatable hot tub. The total capacity of this tub is up to 6 people, so a family of 5-6 can enjoy this tub.
It is known to be a good bubble massage hot tub spa that offers soothing hydrotherapy session.
This is a portable and durable hot tub.
With a built-in hard water softener that makes the water refreshing every time you use it
Has innovative fiber-tech construction which makes the tub last longer than any other average tubs
Comes with an insulated cover and insulated ground cloth for an optimum heat retention
Our Top Pick!
If you ask us what hot tub we will recommend, it is the Lifesmart Coronado 7-Person Hot Tub.
Why?
We love a hot tub that is spacious and provides maximum heat. Also, we believe that the more jets the better as we can experience the full benefits of hydrotherapy. This tub has a total of 65 jets, 14 of these jets are turbo jets that give a really satisfying water massage.