Do you own a pool with an uneven bottom or about 8 feet deep and don't know how to remove the debris that has built up over time? Well, most homeowners do. Luckily, the market is packed with good pool cleaners like the Polaris 165 pool cleaner.
Investing in the best pool cleaner will help you remove all the debris from the pool. The Polaris 165 pool cleaner is a small pressure side cleaner suited for in-ground pools that are 8 feet deep. It cleans the bottom of the pool by removing all the debris at the bottom of the pool.
Despite its limited space, this cleaner will get the job done without requiring you to make a huge investment. Here is what you need to know about the Polaris 165 pool cleaner.
Polaris Vac-Sweep 165 Pressure Side Pool Cleaner Reviews
Polaris is an industry leader when it comes to pool cleaners and they have retained a solid reputation for producing quality products. The Polaris 165 pool cleaner is a great innovation loosens all the debris in places that are hard to reach with the help of the jet sweep assembly. It has a pressure side cleaner that sweeps all the sides and lowermost of the pool in three or fewer hours.
The Pros of This Polaris 165 Pool Cleaner
Easy to connect
Affordable price
Efficient-Removes all debris
Suitable for fiberglass or vinyl pools
Has a 32 feet long hose
Doesn't need a booster pump to operate
Designed for pools of 8 feet deep
Contains 1-year warranty
Cons of The Polaris Pool Cleaner
Coils into circles and tangles
Tends to get stuck in the pool
Not ideal for large or concrete pool surfaces
Key Features
32-feet hose
Filter bag
Patented jet sweep assembly
Connects to 1.5" threaded return line
Pressure side cleaner
Verdict
The pool cleaner works well and removes all the debris at the bottom of the pool. It is efficient since it will save you time and money. Due to its small size, this unit works well for smaller pools and is only suited to fiberglass and vinyl. Nonetheless, it is not a great option for large and concrete pools.
Who is this product for?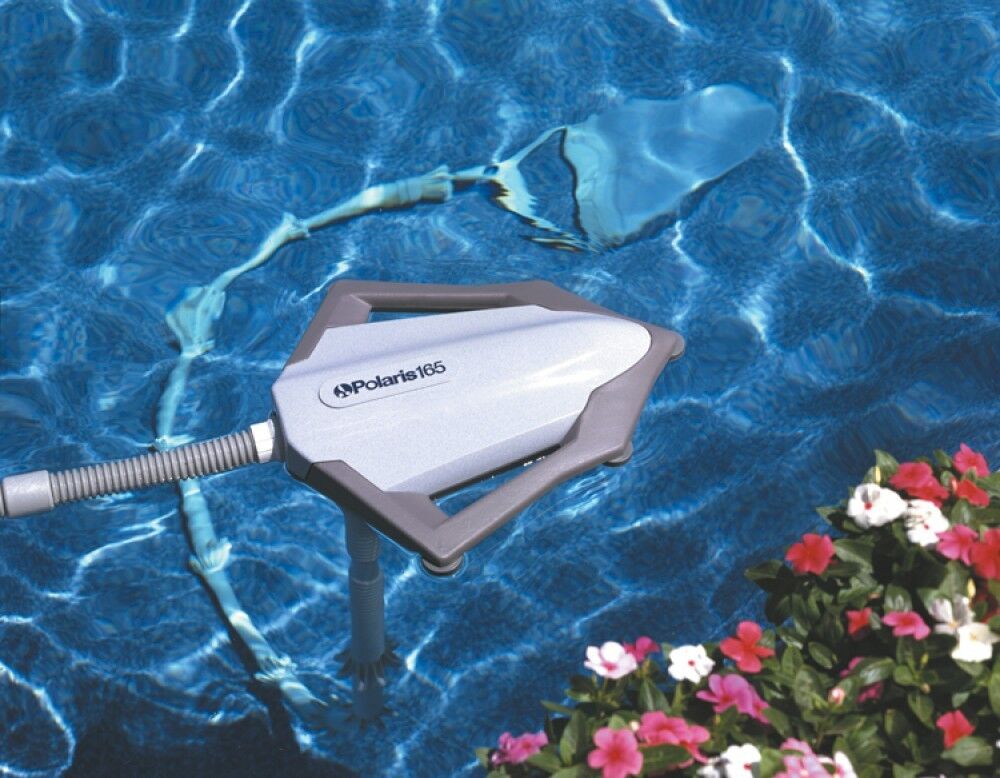 The Polaris 165 pool cleaner is designed for property owners who want to get rid of built up debris on unreachable surfaces in their in-ground pools. It is a great value for money if you want the efficiency and convenience of a pool cleaner to reduce the overall maintenance time of your in-ground pool.
This pool cleaner uses pressure to sweep off debris that could not be removed manually with ease. It is a high-quality machine that will do a decent job of cleaning your pool. If you spend the whole day cleaning the pool manually and still leave some debris on the ground, this product suits your needs. 
Key Features and Benefits of the Product
Here are key features and benefits of the product:
Jet Sweep Assembly: The jet sweep assembly is perfectly enabled to blow water with pressure to loosen the debris. It touches the surfaces that are hard to reach and sweeps the debris into the filter bag.
Unique Filter Bag: The design of the filter bag enables it to remove the debris before it reaches the pump basket. Thus, it saves the filtration system from quick wear and tear.
36 Feet Hose: This pool cleaner is designed with a 36-feet hose that is long enough to reach the hard areas of the pool. However, a downside of the hose is that it easily tangles and tips over. It is also too stiff, and this can prevent better maneuverability of the cleaner.
Easy Installation: The product comes with a manual that has easy instructions on how to fix the pool cleaner. Even for a first-timer, 5 minutes are enough, and after this, the machine is ready to work.
Value for Price: Considering the perfect work that the machine performs, the price is considerable. You will have value for your money.
Customer Reviews
Polaris 165 pool cleaner reviews are plenty, with most customers indicating that the item served them well. However, some customers were quick to note that they experienced glitches, especially with the hose, which they described as too small. Here are some of the reviews.
"So, I purchased another Polaris. It was the best decision. Works so easily. Moves to every corner of the pool and use the return water. If you insert the hose properly, it won't entangle. I love it. And the price is reasonable".
"I have been operating Polaris 165 for a week, and I have not encountered any problems."
"I don't know the machine flipped over last night. It entangled and lay on top of the coiled hose upside down. The jet spewed water from the pool. I only operate it when I can watch over it."
"Love this product. It makes your pool hassle-free."
"Stays in the same position and goes in circles."
"The pool cleaner only rotates backward and not forward."
Alternatives
Like the Polaris 165 pool cleaner, the Pentair 360228 Kreepy Krauly Racer Pressure-Side In-ground Pool Cleaner is designed to remove debris from inside the pool. However, it is a great alternative because it has 30% faster cleaning pressure and thus offers more efficiency. Its rotating side brushes scrub the surface to ensure effective cleaning.
Also, it captures more debris of large sizes and has LED lights that illuminate during the night.  While Pentair cleans faster and can be used at night, the chassis breaks easily, and you need to repair it regularly. 
Polaris 165 Pool Cleaner FAQ
Where can I buy the Polaris 165 poll cleaner? The product is available in many local distributors and is reasonably priced at Amazon store. It can be delivered locally within 7 days or shipped for international buyers. Usually, it will take a maximum of 3 weeks.
How long should I run my Polaris pool cleaner? On average, your Polaris pool cleaner should take 3 hours to clean an in-ground pool. However, this will depend on the amount of debris in your pool. Also, ensure that it doesn't run for an extended period as this can wear it off.
Can I use my Polaris pool cleaner to clean concrete surfaces? No, the Polaris 165 pressure vacuum is not powerful enough to get rid of dirt on concrete surfaces. It can only be used for vinyl and fiberglass surfaces.
Final Verdict
Polaris 165 is the best pool cleaner for small in-ground pool because of its capacity to remove all debris in a pool. It is an easy installation process that makes it ideal to use at a home pool. I would highly recommend it if you are looking for a cost-effective way to maintain your small in-ground pool.
However, this cleaner does not come with features and power of more expensive models in the market. It may also get stuck in one area of the pool since it doesn't come with an external pump.