Over the years that passed, VIGO Shower doors became so trendy. Because of its smooth style and excellent quality, a lot of people want to purchase them, especially online. Well, you can also try to order online but choose the one with the best VIGO shower doors reviews.
These shower doors are also easy to install, which makes it an advantage. But, out of all the different kinds of VIGO doors out there, you might not have any idea which one to choose, so this article will be your guide in choosing the best shower door.
How Do I Choose the Best Shower Door For Me?
There are a lot of products that are available in the market, but it takes the right one that will not give you any regret in mistakenly buying one. So, before you read the choices that you have in this article, you better identify what kind of door you need for your shower.
There are two main types of shower doors:
Hinge/Swinging
If your shower's size is just enough for one person use, then the most appropriate type of shower door for you is the swinging type. Now, you need to know if you need a single direction when you open it, or a reversible one.
That will depend on the space that you have. As long as there are no bars or fixtures that will be affected if you swing the door open towards the shower interior, then there will be no problem in choosing the reversible type. 
Sliding
If your shower area is wide enough to have a sliding door installation, this can be the better choice for you. Most sliding shower doors can be installed in either the left or right opening direction.
You can consider sliding doors if there is limited space outside your shower area compared to its interior. If by any chance a fixture or water closet outside the shower area might be affected with the use of a swinging door when you open it, then a sliding door is perfect for your shower.
Best VIGO Shower Doors Available in the Online Market
1.  Elan 60″ x 74″ Single Sliding Frameless Shower Door with RollerDisk™ Technology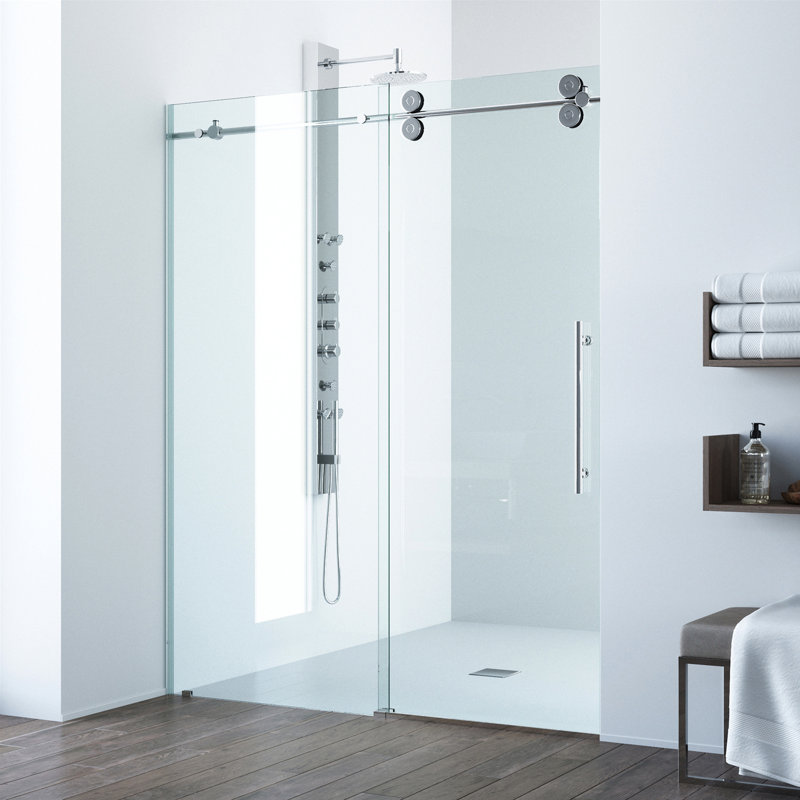 It is a sliding type of shower door with a reversible configuration. This is one of those products that have the best VIGO frameless shower doors reviews. It has a modern type of design that can be adjusted with its size. This can just be easily installed in your shower room.
It is made of a tempered glass panel that can withstand risky breakage, streaks, and shards. It is totally durable and would be a perfect door for your shower.
2.  Pirouette 48″ x 72″ Pivot Frameless Shower Door with Flex-Sizing™ Technology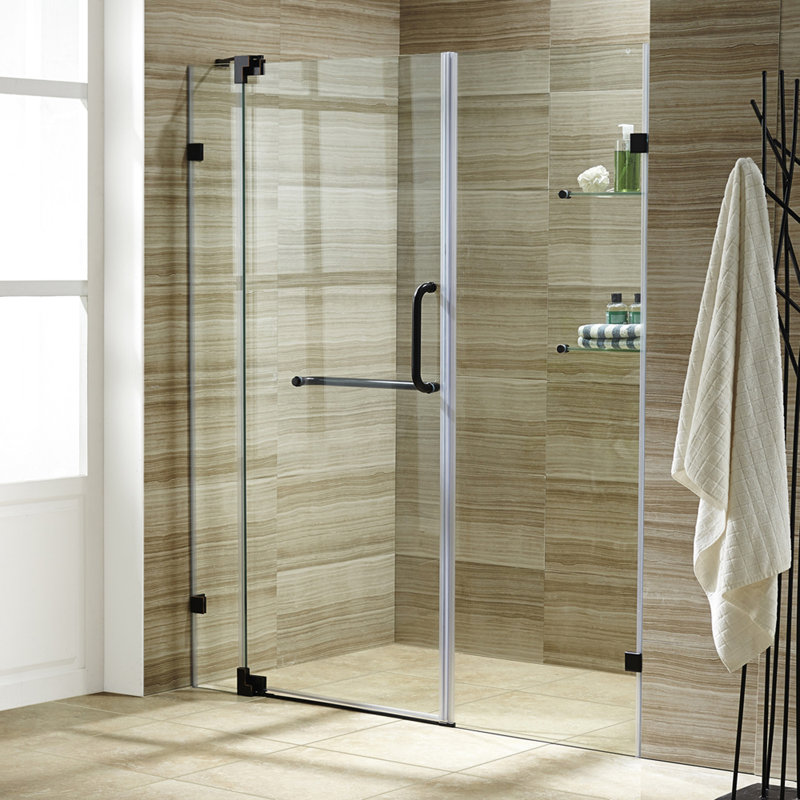 It also has a reversible door configuration and designed to open in an easy way by holding the door handle oriented vertically. You may also install it either in a left or right side configuration depending on your preference.
Another feature that this shower door has is the mechanism that disables the metal on contacting the glass, which means it can prevent scratches to the latter. You may enjoy your shower time with this high-quality rotating door.
3.  Caspian 61″ x 73.5″ Double Sliding Frameless Shower Door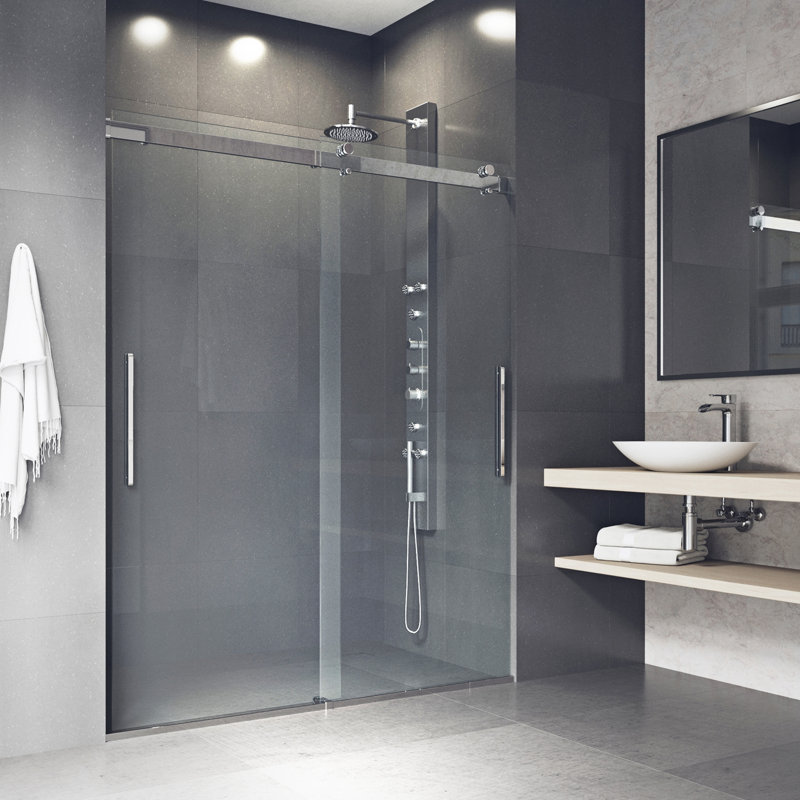 This is a one-of-a-kind door with a double-sliding feature. It is made with transparent tempered glass that is durable enough to resist risky breakage, streaks and shards. It is coated with seven deluxe layers to protect the door from corrosion and rusts, which makes it a component in your shower area that will last in your home for a long time.
Your shower experience will become more peaceful and relaxing because of its ultra-quiet feature when you slide it open. This can totally be one of the best shower VIGO doors for you.
4.  Soho 24″ x 70″ Hinged Frameless Shower Door MagnaLock™ Technology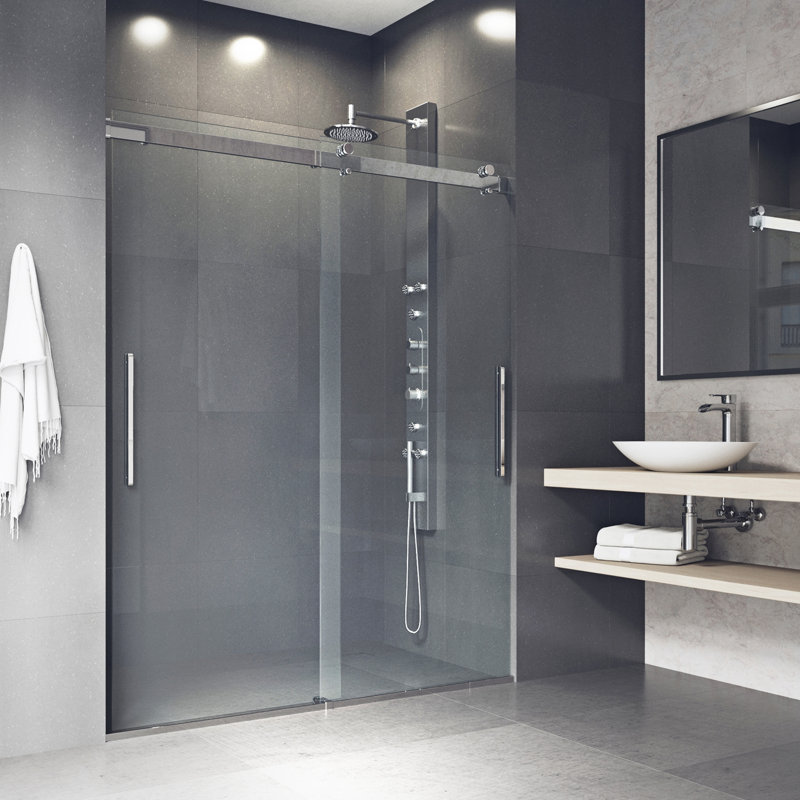 This easy to swing shower door can be the missing piece to achieving the shower that you have always dreamed of.
This shower door is shiny and has a silent reaction when you swing it open. You may also install it either left or right orientation depending on your preference. Its tempered glass is resistant to risky breakage, and will not cause any streaks or shards.
It has included waterproof attributes that deflect the water with its strip that directs water back inside the shower. The multiple layer coating of the door prevents rust, corrosion and tarnishing. This is also one of the products that have great VIGO shower doors reviews.
5.  Ferrara Adjustable 72″ x 74″ Single Sliding Frameless Shower Door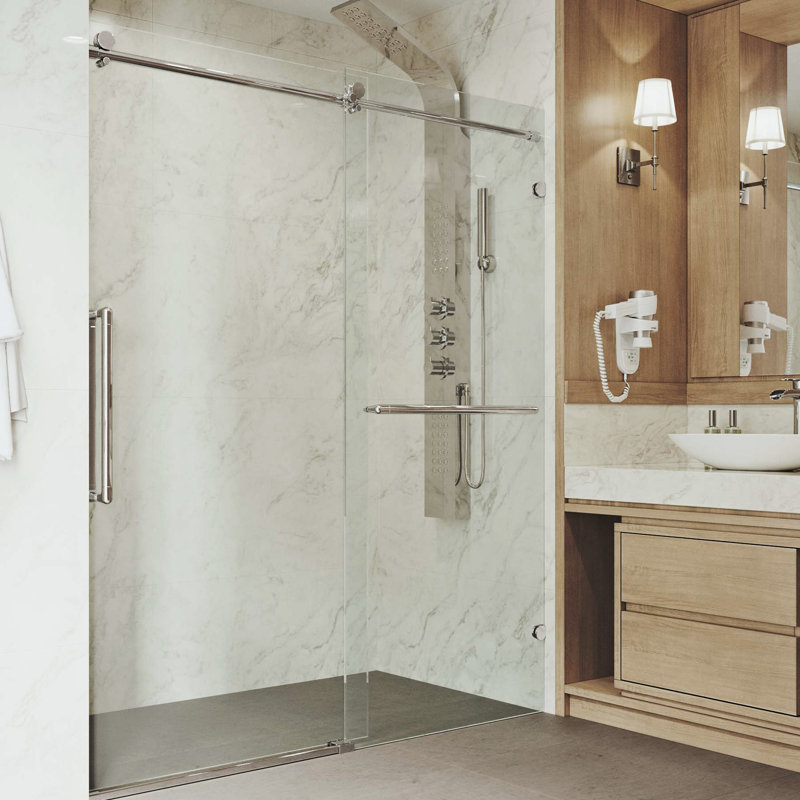 This product is a sliding door, which also has a reversible door configuration that is suitable for your shower at home. You may install it in either the left or right direction you want it to slide to.
Its seal strip is made to be watertight to prevent water from leaking out of the shower. Instead, the water is redirected back inside your shower in order to let your bathroom stay dry.
It is covered with a limited lifetime warranty based on the unintended damage from the manufacturer. It is made with clear and thick tempered glass that can resist breaking in any case a force has been applied from the inside or outside the shower, so you will be safe from glass fragments or shards that may harm you.
It also has seven layers of coating that will highly prevent the introduction of any unwanted rust and corrosion.
6.  Tempo 24″ x 70″ Frameless Shower Door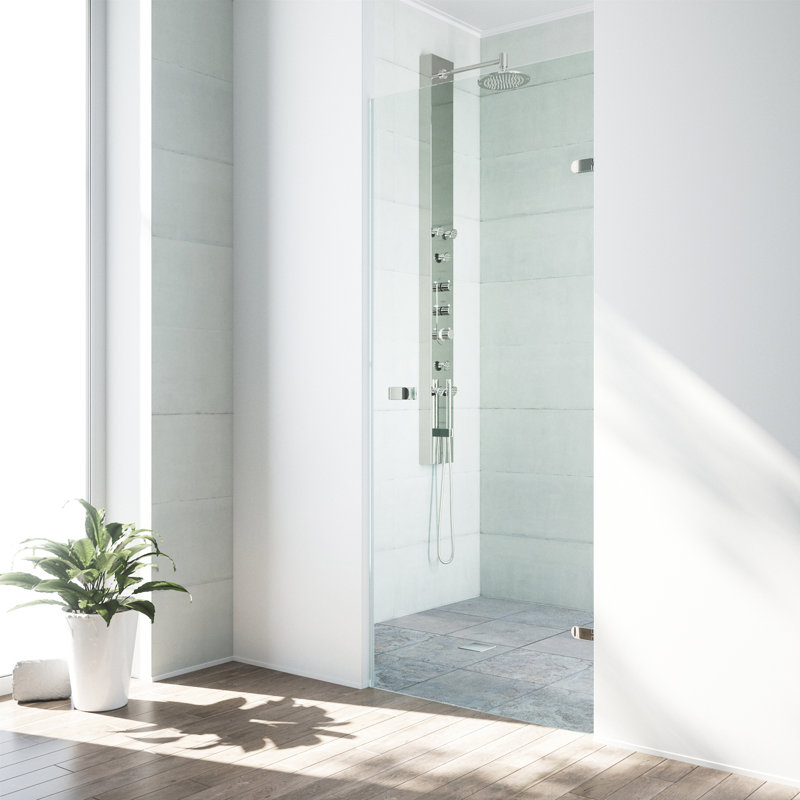 This product is a frameless type with its reversible feature, which can easily be swung in any direction for easy access going in and out of your shower with the use of a curvy door handle.
The sealant strip that prevents water from running off the shower is included with a magnetic sealing that adds to the watertight feature of your shower door. Its multilayered plating can prevent tarnishing, corrosion, and rust, which makes you enjoy your shower time as you immerse yourself in the shower of your dreams.
7.  Ryland 62″ x 73″ Single Sliding Frameless Shower Door with RollerDisk™ Technology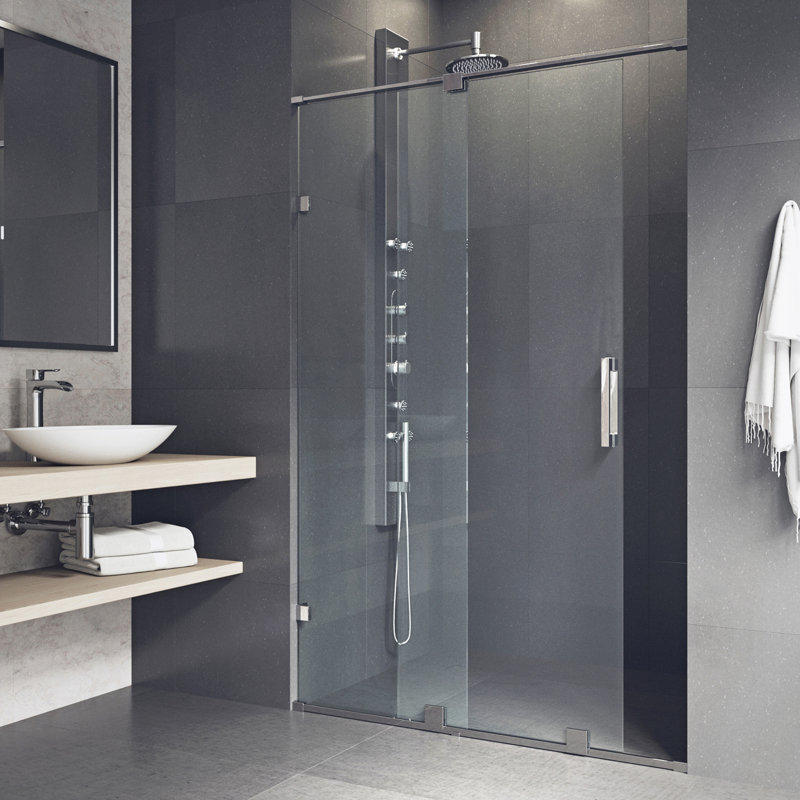 This is a frameless sliding shower door that is created to last for a long time. It is made with strong transparent tempered glass, with included tight seal strip that deflects water back inside the shower.
It has a RollerDisk feature at the bottom that keeps the shower door on the same level and will never get off the track when you slide it for the long time use. You may also have this installed the kind of orientation that you want, either left or right, in order to enhance your experience in your newly transformed shower haven.
Seek the Door to Your Shower Paradise 
As you look for the best product there is, you should make sure to check the VIGO shower doors reviews for you to know other customers' experiences when it comes to that product. Choose the one that fits with the balance of your wants (the desired type of door) and your needs (required space considerations both inside and outside the shower) for your shower area.
Be sure to check for the entire features of each product mentioned in the article as well as the warranties available in order for you to be fully knowledgeable about the product that you wish to buy.
Gone are the days when we were satisfied with river bathing. Nowadays, it wouldn't hurt to build your own shower paradise with some of the best shower doors available. Taking a bath may be one of our essential needs as a person, but enhancing the experience can do wonders for our well-being.