The bathroom is, perhaps, the second part of your home that you give much notice, if not the first. And it is for good reason. It is one of the most intimate spaces in your house.
The bathroom is not only a place for you to clean yourself. It is more often used to get refreshed, to relax, and ponder. That's probably one of the reasons why some cultures call it "the comfort room".
A clean bathroom is not the sole criteria for comfort. Most people pour effort and money to make a space "look" and "feel" comfortable. The trend in bathroom design has shifted towards having bathtub doors over shower curtains and other shower kit enclosures.
Besides preventing health risks related to PVC curtains, shower doors yield long-term durability with low maintenance. Not all doors are made equal. Picking the best bathtub doors is thus, requisite.
What to Look for When Buying a Bathtub Door
There is a growing number of choices for shower enclosures to feed your confusion. It pays to know what types are out there and what to look for when choosing the best bathtub doors.
Know your needs (and wants).
Better, make a list of them. Knowing the space limitations, your taste, and the type of tub you have are among the important factors.
Ask yourself these questions: Is there enough space for a door that swings out? Do I need an enclosure to hold off steam? Do I have a shower-tub combination?  Do I need to cater to people with movement disabilities?
Know the type that fits your bathroom space.
There are mainly two types of glass doors in the market: pivot and sliding doors. Pivot doors, also called hinged doors, are those enclosures that open like a standard door. Some pivot doors swing in while others swing out.
Swing-in doors do not need extra space outside of the bathing area. They allow for easy maneuvering for people with movement disabilities. Swing-out doors, on the other hand, require more space for the doors to open and close.
Small bathroom spaces require either swing-in pivot doors or sliding/bypass doors.
Select your glass type.
There are frosted and clear glass doors. There are also patterned or textured ones. Like the frosted glass, they provide a bit of privacy. Clear glass doors are for people who like bathing with a ray of sunshine coming in.
Pick one that suits your style best. Besides choosing between style types, also consider its quality and safety. You can check for tempered glass certifications. One is from the ANSI or American National Standards Institute or its European counterpart, EN.
Weigh between framed or frameless doors.
You will eventually hear about framed and frameless doors when you go shopping. It is better to first understand the differences.
Framed doors have metal frames around the door's perimeter. They are usually aluminum or coated ones. Besides the seals, framed doors are equipped with a magnetic hardware that provides a water-tight fit. This means that they have better chances of stopping leaks whether the door is placed near the shower or not.
On the other hand, frameless doors rely on the heavy-duty glass. Sometimes, they depend on a bottom frame or track, too. A lot of people opt for frameless doors because they look clean and classy.
One thing to consider, though, is to put it far from the shower. Owing to the absence of seals and sweeps that framed doors have, these doors have weaker chances of keeping water where it belongs.
Now that you've learned the basics of bathtub doors, you can use this knowledge to get more information about designs that are available on the market. Some stores let you pick more specific details. These aspects include the make of tracks or handle design. Looking into these specs will already be a walk in the park after getting the nitty-gritty.
Some of us do not have the time to creatively imagine the perfect bathroom. Looking at trends might come in handy.
The Hottest Top 10 Bathtub Doors Right Now!
 1. DreamLine Aqua Uno Pivot Frameless Bathtub Door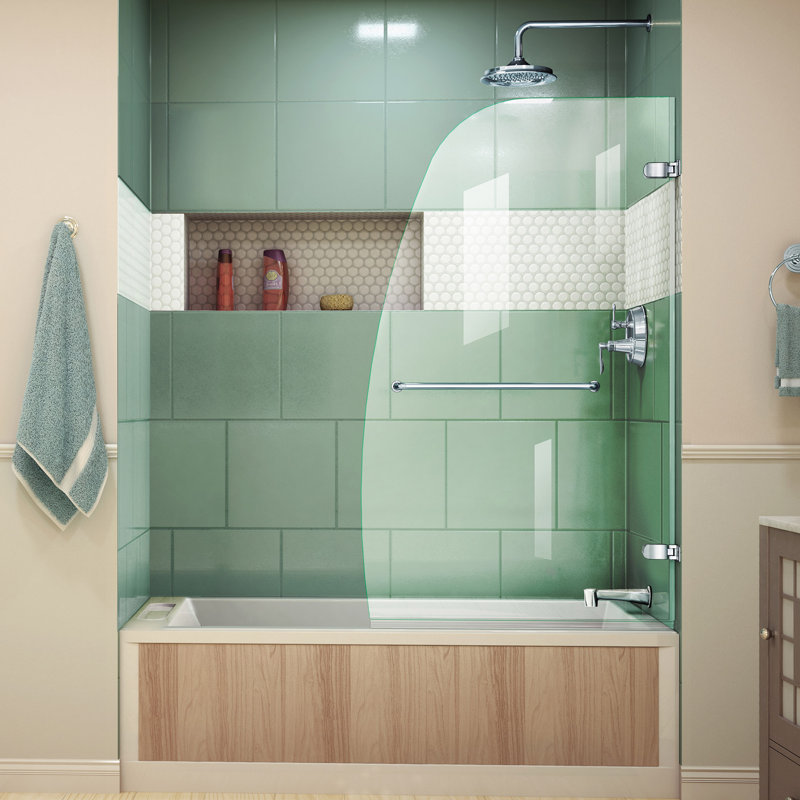 This tub door features a frameless door that is curved to add to a sophisticated look. A clear glass and chrome-coated handle and hinges give it a clean feel. The walk-in opening is also stylish. The handle can double as a towel or clothes hanger.
Best Features:
Has a stylish design that keeps the bathroom floor dry from shower spray
Pivot doors perfectly fit a small bathing space
Curved design enlivens an otherwise straight and monotonous-looking bathtub
See more: Dreamline Shower & Bathtub Doors on Wayfair
2. DreamLine Mirage Frameless Single-Sliding Bathtub Door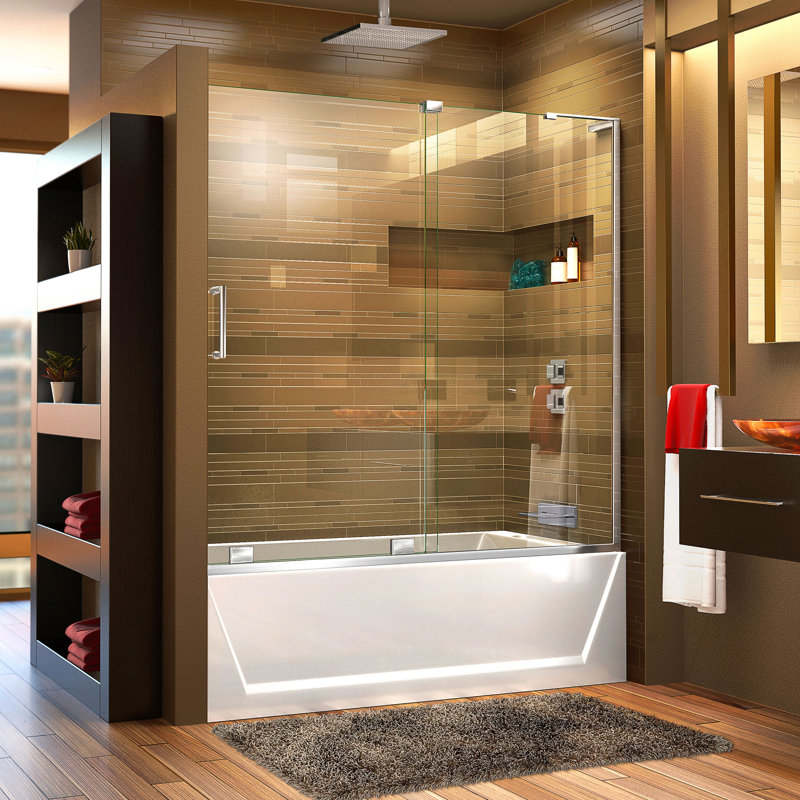 The frameless sliding bathtub enclosure gives a clean uniform look but does not sacrifice the tile art on the bathroom wall. Equipped with glass water- and stain-proof coat, it is functional as it is artfully modern.
Best Features:
Single-sliding door saves space outside of the bathtub. It does not obstruct the use of the lavatory sink
Bottom rails add to the watertight function of the door
Water- and stain-repellent coat lessens maintenance costs
See more: Dreamline Shower & Bathtub Doors on Wayfair
3. VIGO Hinged Curved Tub Door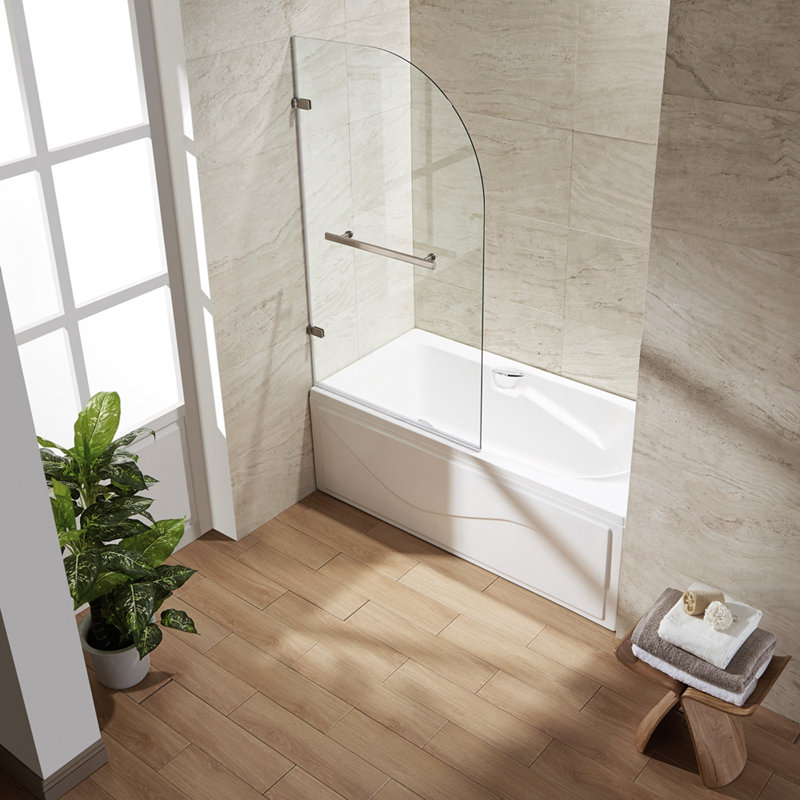 The clear frameless glass door design accented with brass hinges and handle gives a modern and unobstructed look of the bathroom. It features a hinged type enclosure that suits a short tub length. The walk-in opening eases access in and out of the tub.
Best Features:
Hinged door provides protection from water spray even in small bathtub spaces
Solid brass hinges add a statement to the design and durability
Hinges equipped with a seal-thru system keeps water in the tub
See more: VIGO Shower & Bathtub Doors on Wayfair
4. Basco Bypass Sliding Semi-Frameless Bathtub Door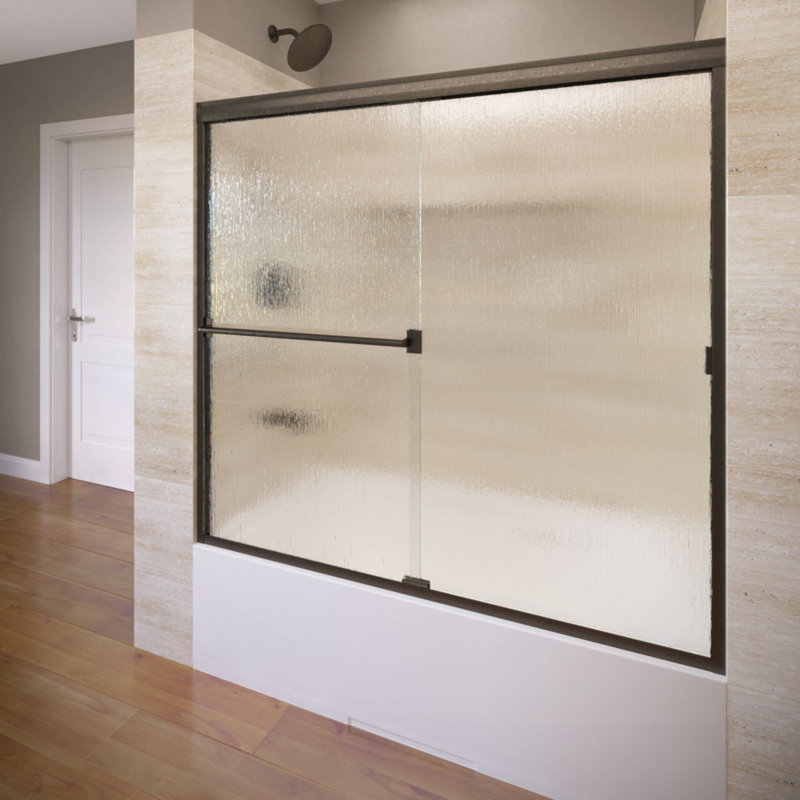 This door proves that clear glass types are not kings of modern designs. The rain type pattern adds to the comforting feeling akin to an in-house relaxed and cozy day. Durability and a seamless design are properly melded with the semi-frameless glass feature.
Best Features:
Rain type glass pattern perfectly suits the privacy- and intimacy-needy individuals
Frames increase the enclosure's robustness
Stylish tracking gives a clean design & watertight bath and prevents soap build-up. This eases maintenance burdens.
See more: Basco Shower & Bathtub Doors on Wayfair
5. Ark Showers Hinged Frameless Bathtub Screen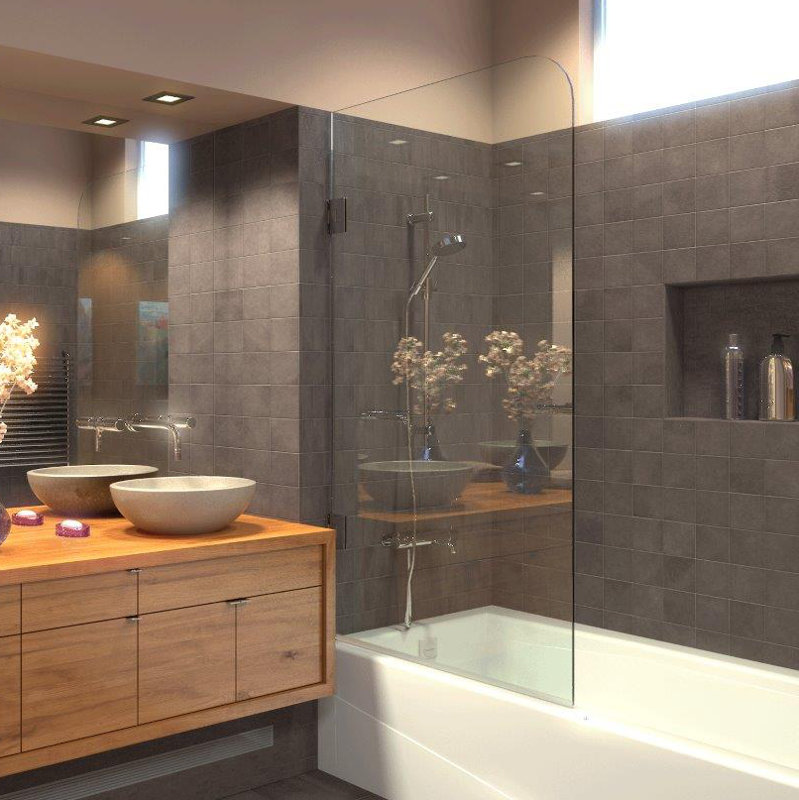 The clear bathtub glass door is a robust, hygienic, and prettier alternative to shower curtains. It serves as a shower screen without giving up a clean and sleek display of the bathroom. You can choose the hinge finish — stainless steel or polished brass, and so much more — which complements your existing bathroom hues.
Best Features:
Frameless clear glass type gives a larger apparent bathroom arrive
Swing door perfectly suits short-lengthed bathtubs
Can be installed easily for DIY masters
See more: Ark Showers Shower & Bathtub Doors on Wayfair
6. Coastal Shower Doors Sliding & Framed Tub Door- Newport Series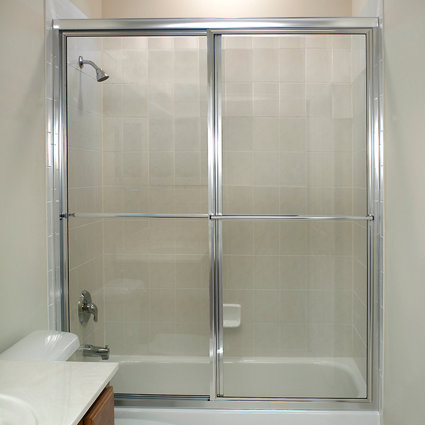 This tub door features a framed clear glass design with a brite silver finish. Door handles can double as hangers. Focused on simple form and function, this bathtub sliding door requires less maintenance. It is durable without forfeiting a calm, neutral, and balanced feel.
Best Features:
Platinum anodized aluminum tracks prevent rust and corrosion
H-shaped frames secure doors safely and stop water leaks
Heavy-duty ball bearing roller technology provides a smooth sliding mechanism
See more:Coastal Shower Doors Shower & Bathtub Doors on Wayfair
7. Delta Semi-Frameless Tub Door with Traditional Sliding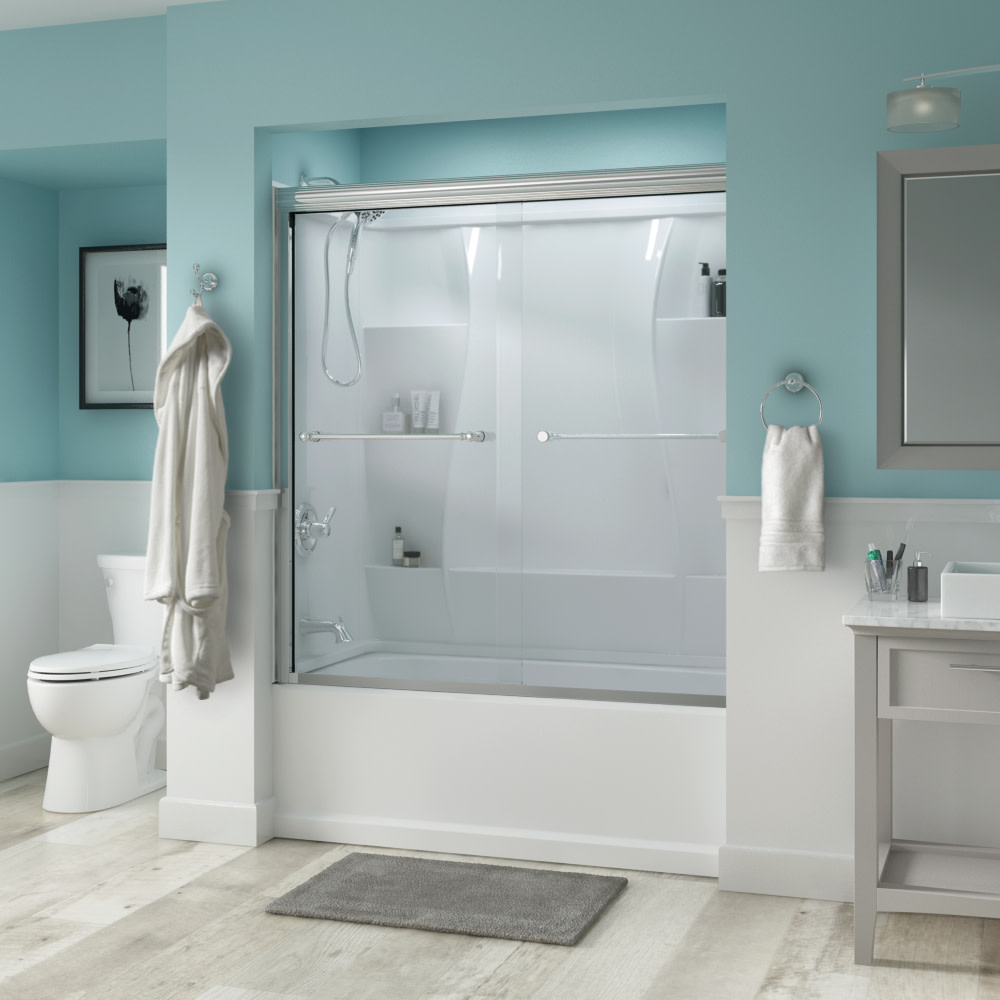 The semi-frameless design of this bathtub door combines sturdy and style. It provides full protection against water leaks. But more than its aesthetic appeal, this tub door is armed with a special glass coating that repels those annoying water spots. Cleaning becomes swift and hassle-free.
Best Features:
Anodized aluminum tracking provides strength and corrosion resistance
Installation is easy and flexible, owing to the aluminum tracking
Spot guard glass coating makes door cleaning easy
8. Mecor Frameless Clear Glass Bathtub Door with Chrome Finish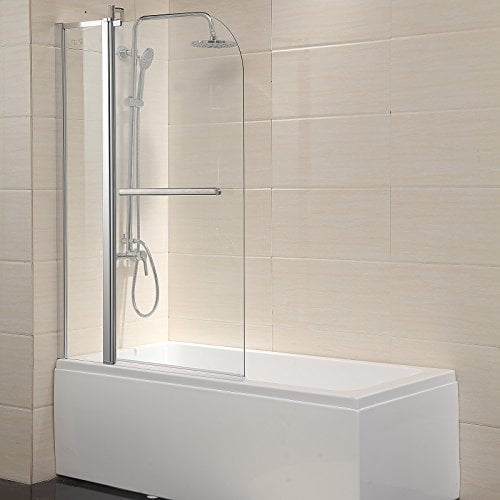 While the curved clear glass-styled shower enclosure is becoming a fad, this tub door does not fall behind. It brings more bang to your buck. The clear semi-frameless hinged door is secured by a stationary panel. This makes the door strong and sturdy. Best of all, the door is made up of safe glass and high-quality chrome finish.
Best Features:
Door is equipped with a rubber strip shower screen seal that directs water back into the shower
Door handle's rounded corners give comfort in handling and extra functionality as a hanger
Stainless handle resists rust
9. Mellewell Frameless Tempered Glass Bathtub Swing Door
This bathtub glass door features a unique bi-fold design. The semi-frameless clear glass style gives out a contemporary sleek look. This style gives a large breathable feeling to your bathroom. It is functional as it is aesthetically pleasing.
Best Features:
Bi-fold design allows wide entry while using less space
Certified tempered glass safety assures you of its quality and durability
Silicon strip at the bottom of the door keeps water from leaking outside of the tub
10. Sunny Shower Frameless Clear Glass Sliding Bathtub Door
This unique frameless clear glass bathtub door not only keeps bathroom floors dry by stopping leaks. It also acts as a wall with which you can hang your clothes and towels. Equipped with a metal hinge, handle, and button hangers, this shower enclosure provides a crisp modern look.
This entry falls easily in the roundup of best bathtub doors.
Best Features:
Clear and certified tempered glass assures you of its quality and safety
Stainless door pull and top rail prevent rust and corrosion
Bathtub sliding doors save space while providing full-length bathtub screen to stop leaks.
Conclusion
Choosing the best bathtub doors considers a lot of specs in both the functionality and aesthetic aspects. In terms of performance, the ability of the shower door to stop water leaks is one of the most important concerns.
A tempered glass should not be overlooked, too. Aesthetically, aspects on the metal finish and glass type are among the prime points. They are necessary to give off a clean and calming feel to the bathroom.
This is why entry Number 5 (Ark Showers Hinged Frameless Tub Screen) of the lineup makes for a worthy buy for your buck. Besides the modern sleek look it creates, it is sturdy and functional. The L-shaped frame boosts stability which the two-hinged glass door entries above may lack.
Also, not all tub doors have the special coating. The water- and stain-proof coat in this winning door makes it almost maintenance-free.
So, if you are looking for a useful door that does not give away a lot of money and a lot of stress, this should be your top pick. And remember, it pays to do a little research before you spend. Reading bathtub doors reviews might help you decide.