The bathroom is, perhaps, the second part of your home that you give much notice, if not the first. And it is for good reason. It is one of the most intimate spaces in your house.
The bathroom is not only a place for you to clean yourself. It is more often used to get refreshed, to relax, and ponder. That's probably one of the reasons why some cultures call it "the comfort room".
A clean bathroom is not the sole criteria for comfort. Most people pour effort and money to make a space "look" and "feel" comfortable. The trend in bathroom design has shifted towards having bathtub doors over shower curtains and other shower kit enclosures.
Besides preventing health risks related to PVC curtains, shower doors yield long-term durability with low maintenance. Not all doors are made equal. Picking the best bathtub doors is thus, requisite.
What to Look for When Buying a Bathtub Door
There is a growing number of choices for shower enclosures to feed your confusion. It pays to know what types are out there and what to look for when choosing the best bathtub doors.
Know your needs (and wants).
Better, make a list of them. Knowing the space limitations, your taste, and the type of tub you have are among the important factors.
Ask yourself these questions: Is there enough space for a door that swings out? Do I need an enclosure to hold off steam? Do I have a shower-tub combination?  Do I need to cater to people with movement disabilities?
Know the type that fits your bathroom space.
There are mainly two types of glass doors in the market: pivot and sliding doors. Pivot doors, also called hinged doors, are those enclosures that open like a standard door. Some pivot doors swing in while others swing out.
Swing-in doors do not need extra space outside of the bathing area. They allow for easy maneuvering for people with movement disabilities. Swing-out doors, on the other hand, require more space for the doors to open and close.
Small bathroom spaces require either swing-in pivot doors or sliding/bypass doors.
Select your glass type.
There are frosted and clear glass doors. There are also patterned or textured ones. Like the frosted glass, they provide a bit of privacy. Clear glass doors are for people who like bathing with a ray of sunshine coming in.
Pick one that suits your style best. Besides choosing between style types, also consider its quality and safety. You can check for tempered glass certifications. One is from the ANSI or American National Standards Institute or its European counterpart, EN.
Weigh between framed or frameless doors.
You will eventually hear about framed and frameless doors when you go shopping. It is better to first understand the differences.
Framed doors have metal frames around the door's perimeter. They are usually aluminum or coated ones. Besides the seals, framed doors are equipped with a magnetic hardware that provides a water-tight fit. This means that they have better chances of stopping leaks whether the door is placed near the shower or not.
On the other hand, frameless doors rely on the heavy-duty glass. Sometimes, they depend on a bottom frame or track, too. A lot of people opt for frameless doors because they look clean and classy.
One thing to consider, though, is to put it far from the shower. Owing to the absence of seals and sweeps that framed doors have, these doors have weaker chances of keeping water where it belongs.
Now that you've learned the basics of bathtub doors, you can use this knowledge to get more information about designs that are available on the market. Some stores let you pick more specific details. These aspects include the make of tracks or handle design. Looking into these specs will already be a walk in the park after getting the nitty-gritty.
Some of us do not have the time to creatively imagine the perfect bathroom. Looking at trends might come in handy.
The Hottest Top 10 Bathtub Doors Right Now!
1.  Arizona Bypass Semi-Frameless Tub Door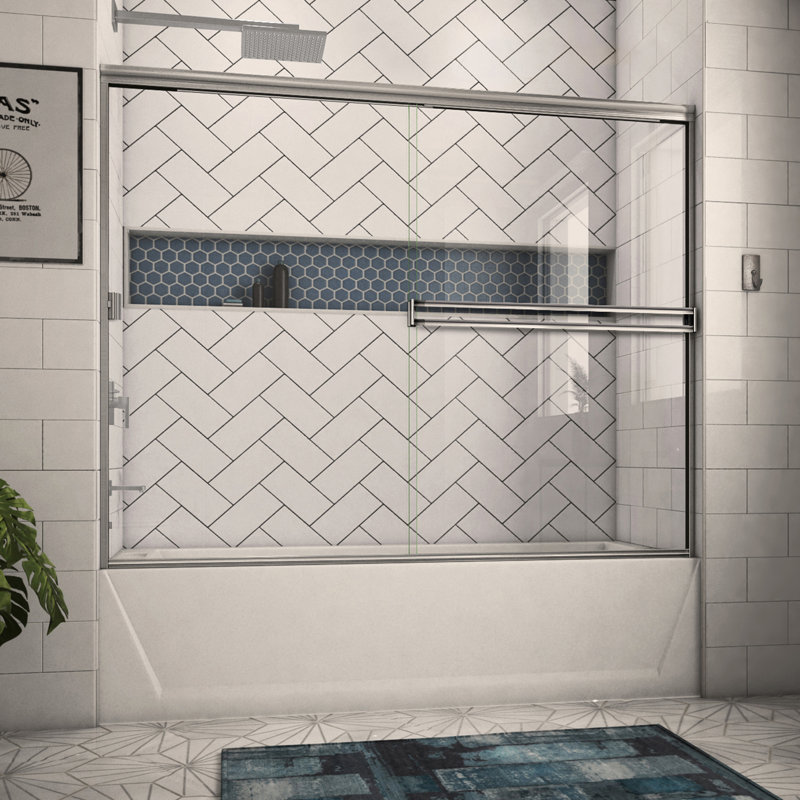 This one is a reversible sliding tub door. If you need some privacy while on your own when relaxing and unwinding in the bath, you may want to consider the Bypass Semi-Frameless Tub door.
You may choose between two glass textures: Rain Glass or Clear Glass. The Rain Glass type is patterned while the other is simple and just plain. This item is popular among Arizona Shower Tub Door reviews because it has great features.
Highlighted Features:
Walk Through: 53.75"H x 30"W
Overall Size: 72" W
Frame Type: Semi-Frameless
Door Configuration: Reversible
Door Opening: Bypass
Glass Texture: Available in Rain Glass (Patterned) and Clear Glass (Plain)
The pros of this Arizona Bypass Semi-Frameless Tub Door
Easy to install
Adjustable
Spacious enclosure
Towel bar and handles are included
Simple maintenance and cleaning
The cons of the product
Prone to leaks
Must be installed in a suitable position
Read more: Top 5 Arizona Shower Doors With the Highest Value
2.  American-Standard Ovation AM00496-400-295 60″ x 58″ Framed Sliding tub/shower door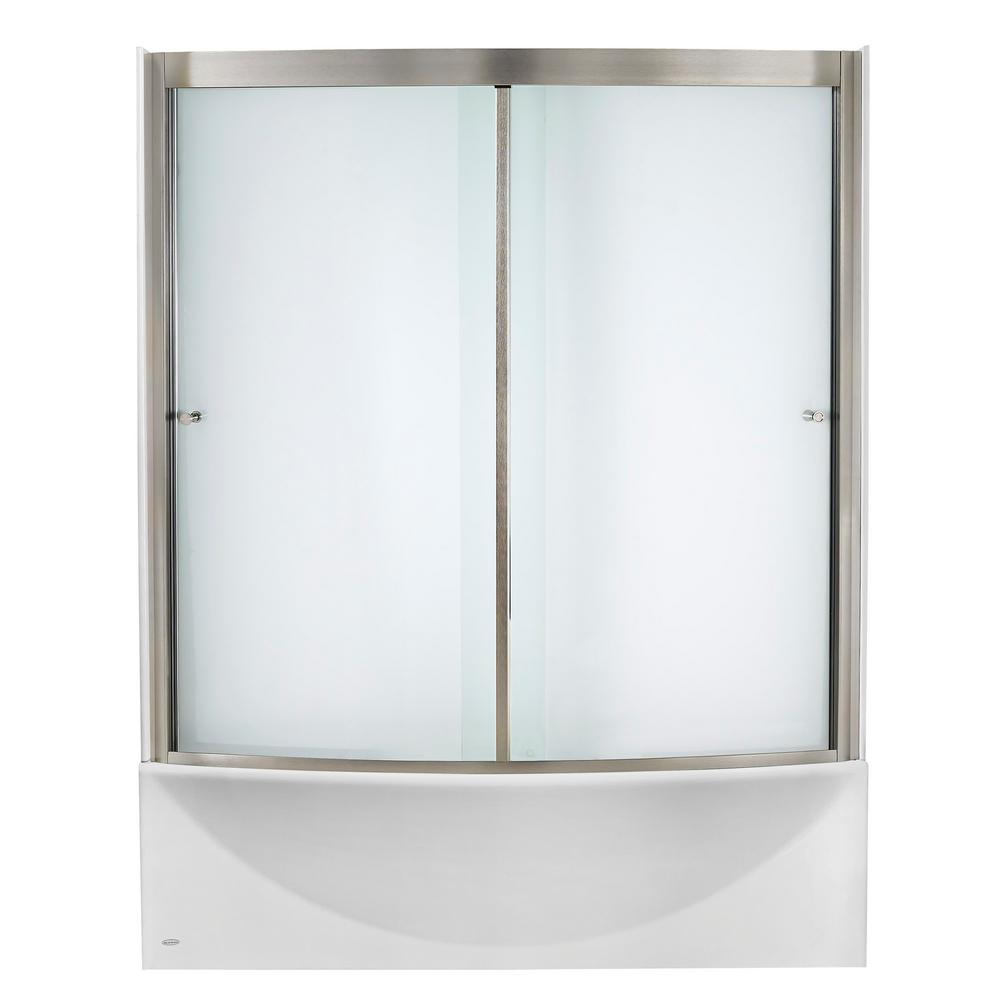 The curved feature of this framed sliding tub door creates a lot of space in the bathroom. It is highly recommended for use with a tub. When used this way, it will fit perfectly in the Ovation tub deck.
Its tempered glass waters which make it easy to clean. In addition, the material used makes it resistant to scratches and heat.
Highlighted Features:
Thickness of 0.25″
Designed with clear tempered glass
Weighs 84.5 pounds
The doorknob on either side has a nickel finish
Curved door
The Pros of This American Standard Shower Door
The nickel finished door knob adds décor to your home
Easy-to-clean tempered glass
Two for knobs for opening
More space due to curved door
The Cons of The Shower Door
Read more: 7 Best American Standard Shower Door Reviews
3.  Kohler K-706003-L-NX Levity 59.63″ H Bypass Semi-Frameless Tub Door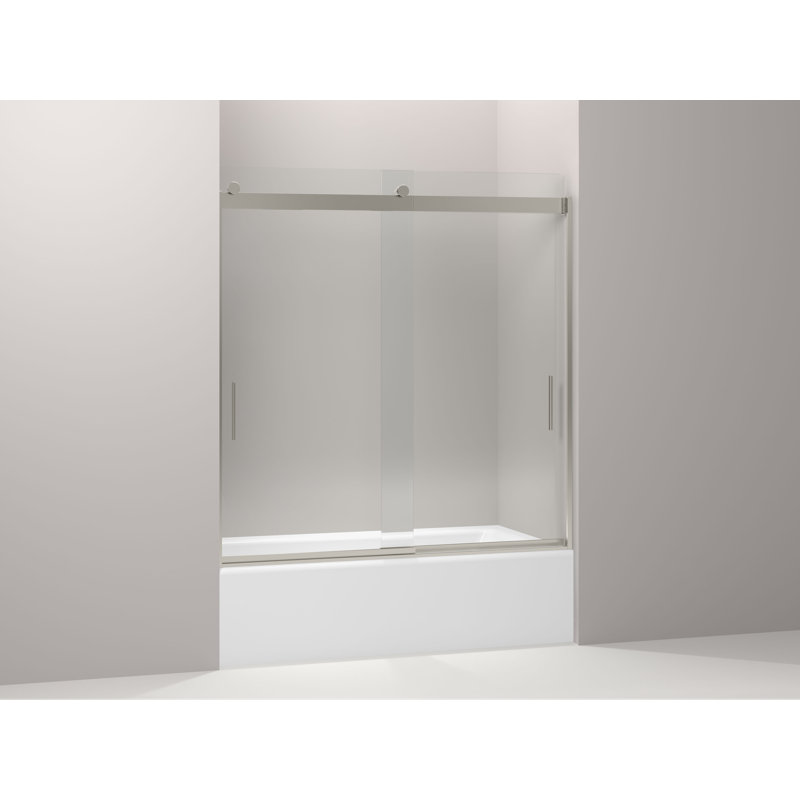 The K-706003-L-NX Levity is one of the highest quality Kohler shower door you'll ever buy in the market. The product is packed with important features that will give you a great value for your money.
The door opening is made from bypassable glass panels. With that, installation is made easier and very stable once the door has been attached to the walls of your bathroom.
The design is smooth and frameless and will give you a spacious feeling while inside. The roller design and glass coat make the product leak-free and adjustable. It has only one handle to complete the luxurious and elegant design of this shower door.
However, measuring 59.63 inches, this shower door can be huge for small bathrooms. Before you buy a shower door, make sure to correctly measure the area where the shower door will be placed.
The installation is a bit tough too as it will require a professional installer. You also need to purchase a separate hardware for installation.
Highlighted Features:
Brushed nickel finished
Bypassable glass panels
Clean coat and roller design
1 minimalist door handle
Certified tempered glass
The Pros of This Kohler Levity Shower Door
Frameless
Beautiful design
Slip, rust and leak resistant
Effortless and quite sliding action
Cons of The Shower Door
Professional installer is needed
Separate purchase of hardware for installation
Not suitable for small bathrooms
Read more: 7 Best Kohler Levity Shower Doors Review
4.  Maax Halo 138997-900-084-000 Semi-Framed Sliding Tub Door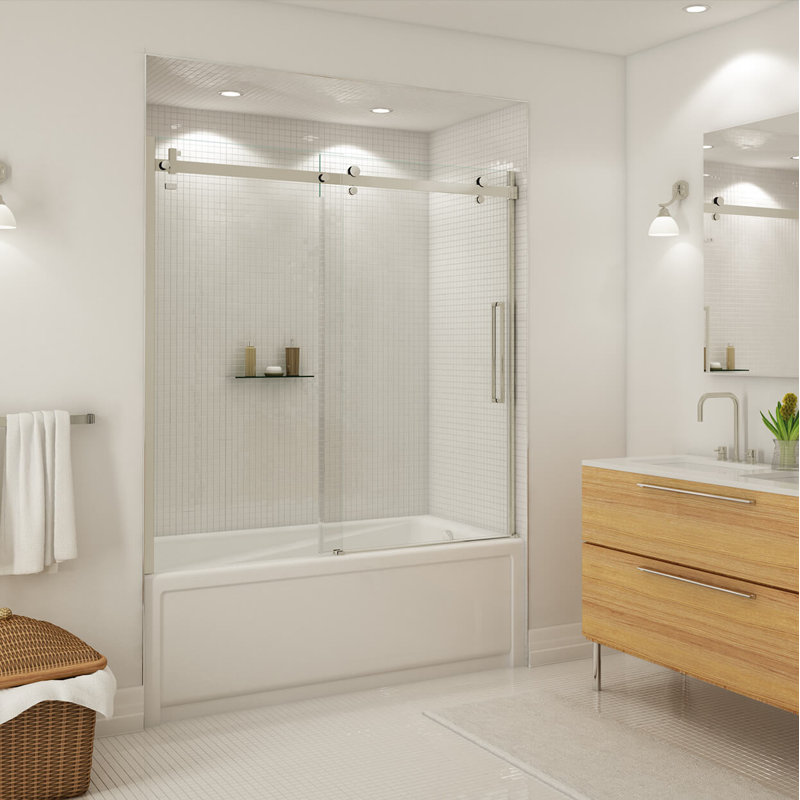 This model opens quietly and easily using modern roller systems. It comes with a 2 5/16″ tempered clear glass doors and can be found in 3 finishes. Moreover, it's available in brushed nickel, chrome, and dark bronze colors.
The sliding glass door is fitted with gliding rollers for smooth operation. Moreover, the magnetic closure ensures the door opens quietly and safely.
Highlighted Features:
Sliding glass door
8mm
Roller systems
5" handles
Clear glass
Magnetic closure
Reversible doors
The Pros of This Maax Shower Door
The tempered glass doors let in natural light
The clear glass gives an allusion of more space
The three types of finish give you a variety to choose from.
You can choose a color theme that suits your home décor
Cons of The Shower Door
Read more: 10 of the Best Maax Shower Doors on the Market
5.  Basco Deluxe Bypass Framed Tub Door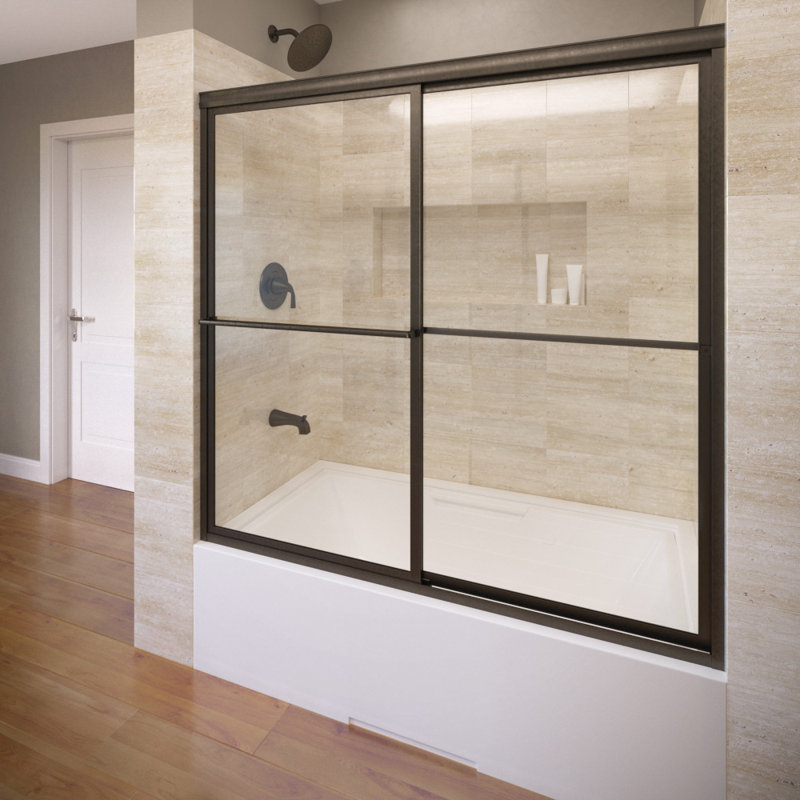 The next product is for those who like to shower on the tub. It's a practical solution for people who have a small bathroom but still want a decent shower space. It has a slide opening, and it's reversible so you can choose which side you want the entrance to be.
The panels have frames to make sure they're stable. They both have towel bars that double as handles as you slide them aside. Anodizing aluminum makes up the frames and handles so they don't rust easily. The glass is frosted for maximum privacy when you're showering or just chilling in the tub.
You can download installation and assembly instructions from the site. Plus, the products come with free towel bars, mounting hardware (made of anodizing aluminum, too), and hinges. Therefore, if you have moderate handyman skills, you can install this shower door yourself. 
Highlighted Features:
Sliding opening, reversible panels
Has anodizing aluminum hardware
Two towel bars
Frosted glass
The Pros of This Basco Shower Door
Easy to use and install
Corrosion-resistant
Gives privacy
Cons of The Shower Door
The frames' edges can trap dirt
Read more: 10 Best Basco Shower Doors that You Should Try
6.  Delta Simplicity Semi-Frameless Traditional Sliding Bathtub Door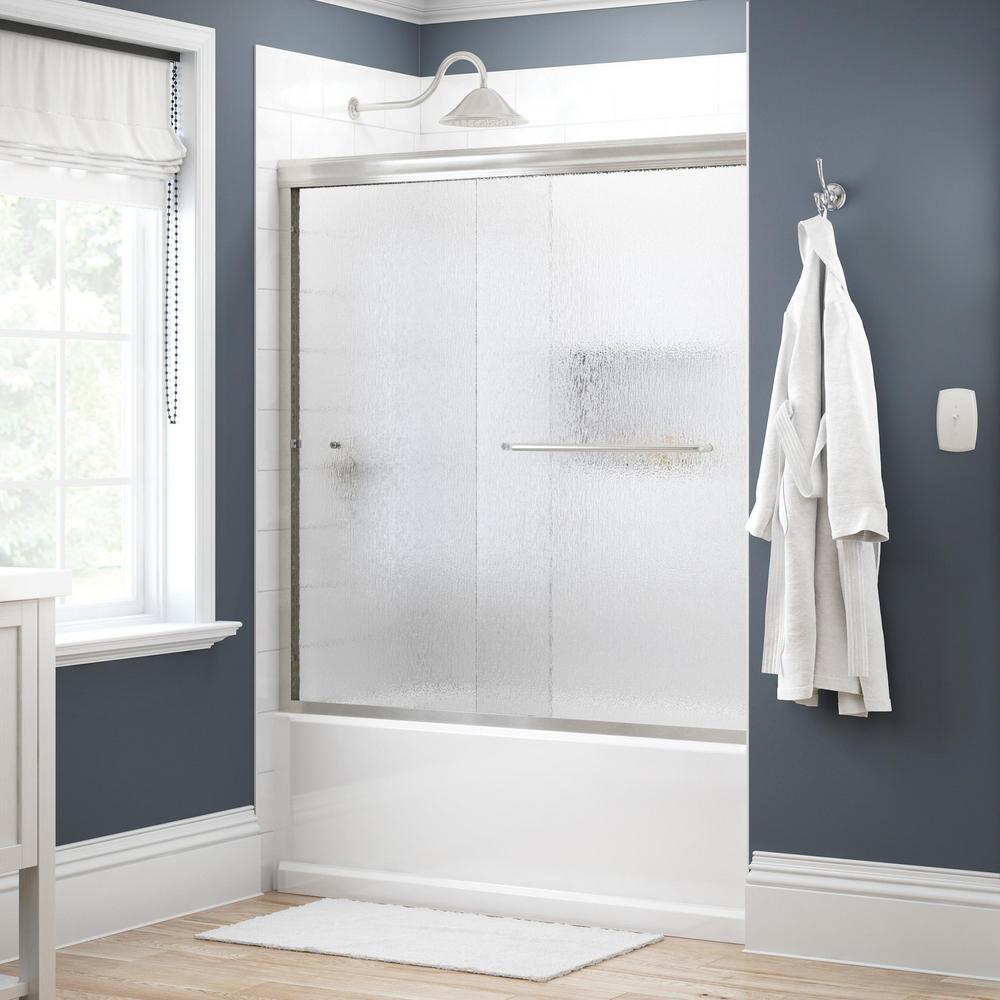 Based on the Delta Simplicity shower door reviews, this product is the lightest and most long-lasting. The installation has metal railings with anodized aluminum door tracks to combat corrosion.
Like all Simplicity shower doors, its entry point is reversible, and the handlebar can function as a towel bar. Additionally, the glass material is tempered with a translucent texture that resembles water splashing.
Highlighted Features:
Dimensions (W*H) = 60 in* 58.125 in
Weight = 75.2 lbs
Door Type = Sliding
Door Thickness = 0.25 inches
Door Handle Type = Bar and Knob
Style = Farmhouse, Rustic, Modern
Frame Finish = Nickel
Frame Type = Semi-Frameless
Glass Finish = Rain
Handle Finish = Nickel
Warranty = 5 years
The Pros of This Delta Shower Door
ANSI-certified tempered glass panel is translucent for additional privacy
The anodized aluminum door track is corrosion-resistant
Has reversible tracks to enable opening on either side
Includes a 20-inch handlebar
IAPMO Certified
Cons of The Shower Door
The metal railings can be a hazard upon entry
Suitable only for shower-tub set-ups
Read more: Review Of The Best Delta Shower Doors
7.    Glass Warehouse 31.75″ x 58″ Hinged Frameless Tub Door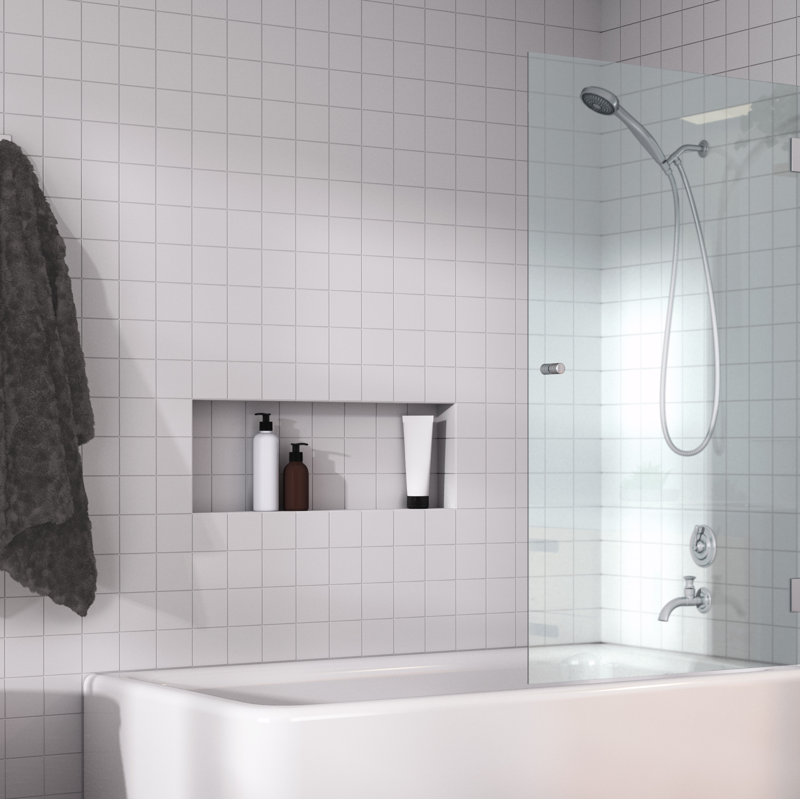 If you have a bathtub, you can convert it into a shower area base, with the glass door completing the ensemble. This hinged tub door has the standard Glass Warehouse specifications: ANSI-certified tempered glass, EnduroShield coating, and high-quality hinges and handle.
As you open the glass door either inward or outward, the hinges can accommodate up to a 180-degree opening. Since it is frameless, you will not need to worry about the bottom part of the door's hazards. 
The Pros of This Glass Warehouse Shower Door
Glass is tempered and treated with EnduroShield technology
The frameless design makes the bottom edge less hazardous
High-quality hinges
Reversible opening
Cons of The Shower Door
Good only for shower areas with bathtubs
Read more: 10 Amazing Glass Warehouse Shower Door Reviews
8.  Coastal Shower Doors Newport Series WUW1435 (58″ x 58″) Sliding Bathtub Door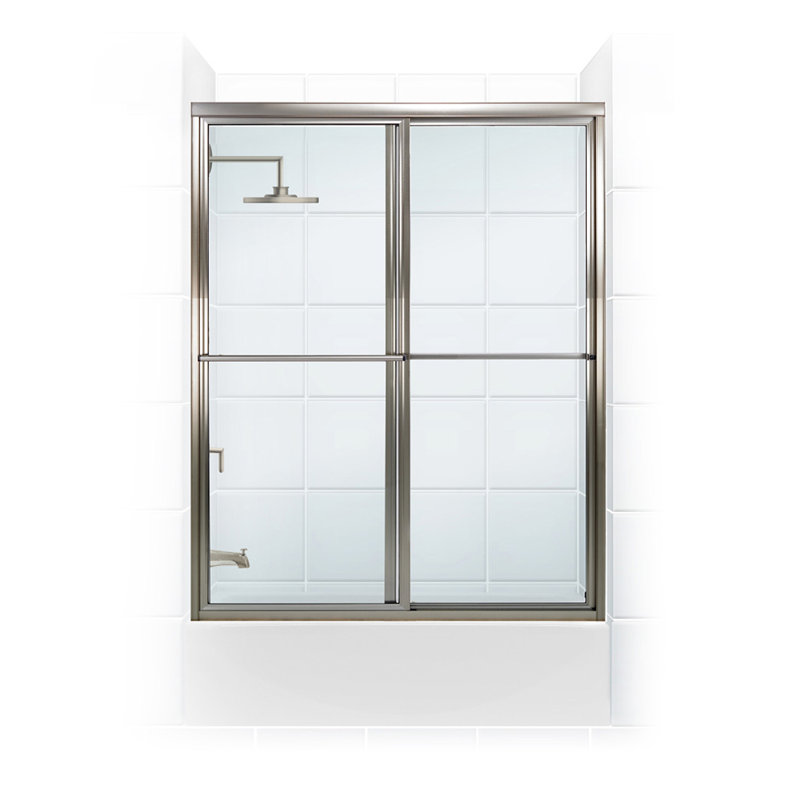 If you want a luxurious feel to your bathroom area but you don't want to spend a lot of money for a bathroom door, then you might want to check out the Newport Series WUW1435. This shower door offers quality and sleek style without the ridiculous price tag.
One of the most notable features of this shower door is it conveniently comes with a handle as well as a towel bar.
In terms of construction, this bathtub door is crafted with an anodized aluminum steel finish that is durable and resistant to rusting. It also comes with H-shaped jambs that are securely notched for smooth and optimal gliding action.
Read more: Coastal Shower Doors Reviews: 10 Amazing Choices!
 9. DreamLine Aqua Uno Pivot Frameless Bathtub Door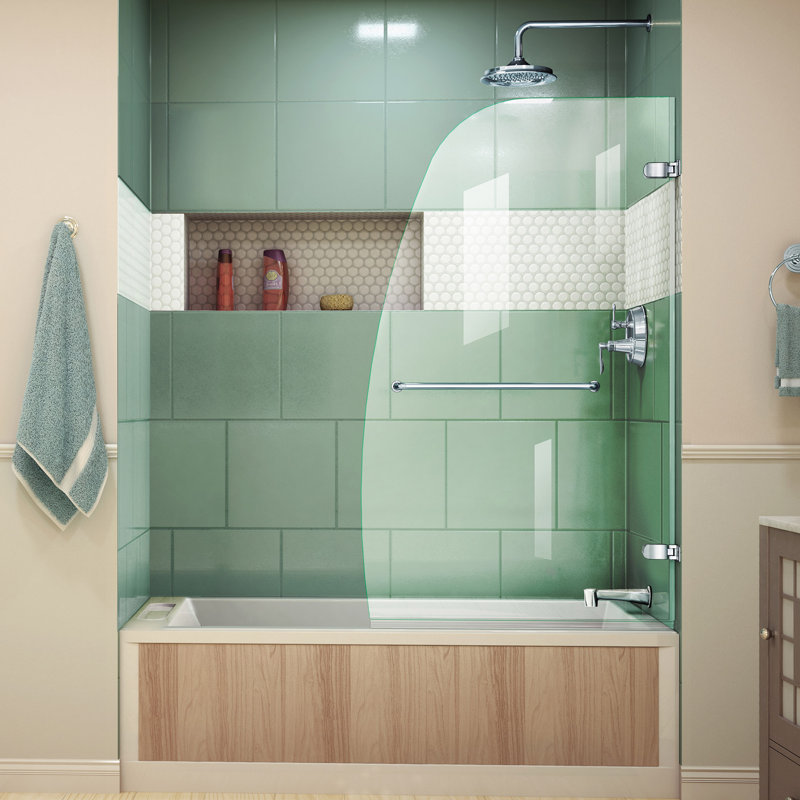 This tub door features a frameless door that is curved to add to a sophisticated look. A clear glass and chrome-coated handle and hinges give it a clean feel. The walk-in opening is also stylish. The handle can double as a towel or clothes hanger.
Best Features:
Has a stylish design that keeps the bathroom floor dry from shower spray
Pivot doors perfectly fit a small bathing space
Curved design enlivens an otherwise straight and monotonous-looking bathtub
See more: Dreamline Shower & Bathtub Doors on Wayfair
10. VIGO Hinged Curved Tub Door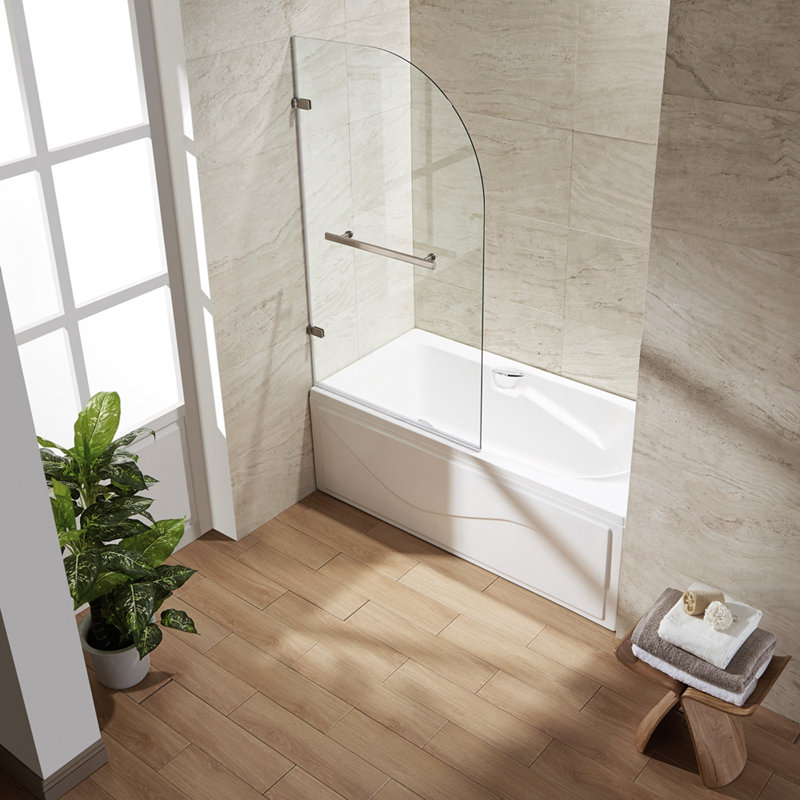 The clear frameless glass door design accented with brass hinges and handle gives a modern and unobstructed look of the bathroom. It features a hinged type enclosure that suits a short tub length. The walk-in opening eases access in and out of the tub.
Best Features:
Hinged door provides protection from water spray even in small bathtub spaces
Solid brass hinges add a statement to the design and durability
Hinges equipped with a seal-thru system keeps water in the tub
See more: VIGO Shower & Bathtub Doors on Wayfair
11.  Basco Bypass Sliding Semi-Frameless Bathtub Door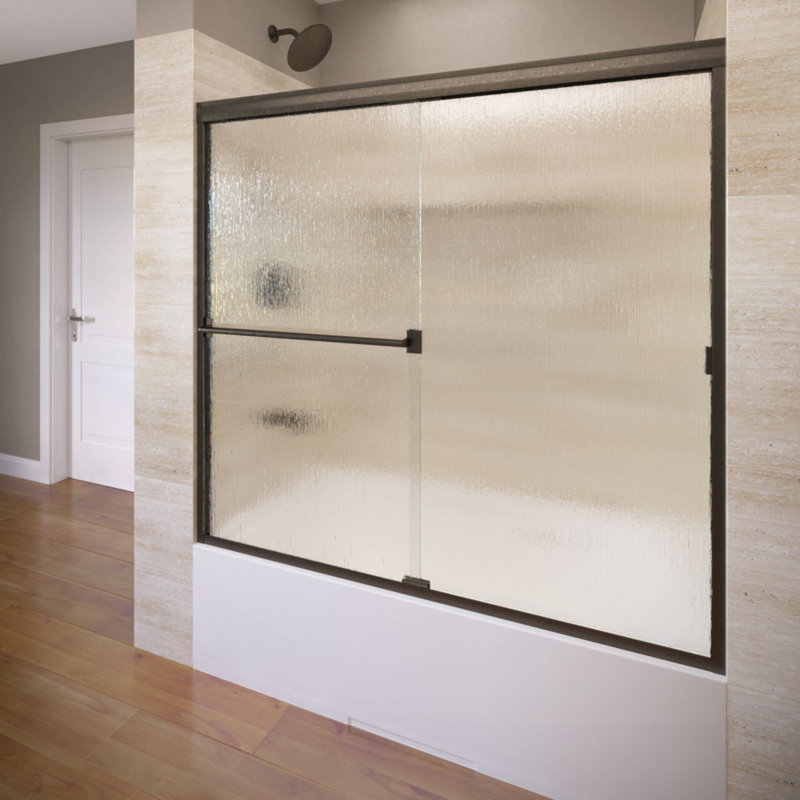 This door proves that clear glass types are not kings of modern designs. The rain type pattern adds to the comforting feeling akin to an in-house relaxed and cozy day. Durability and a seamless design are properly melded with the semi-frameless glass feature.
Best Features:
Rain type glass pattern perfectly suits the privacy- and intimacy-needy individuals
Frames increase the enclosure's robustness
Stylish tracking gives a clean design & watertight bath and prevents soap build-up. This eases maintenance burdens.
See more: Basco Shower & Bathtub Doors on Wayfair
12.  Coastal Shower Doors Sliding & Framed Tub Door- Newport Series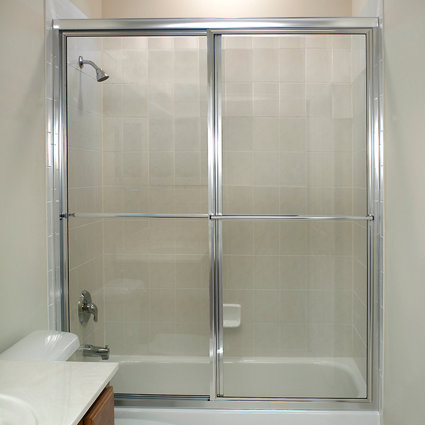 This tub door features a framed clear glass design with a brite silver finish. Door handles can double as hangers. Focused on simple form and function, this bathtub sliding door requires less maintenance. It is durable without forfeiting a calm, neutral, and balanced feel.
Best Features:
Platinum anodized aluminum tracks prevent rust and corrosion
H-shaped frames secure doors safely and stop water leaks
Heavy-duty ball bearing roller technology provides a smooth sliding mechanism
See more:Coastal Shower Doors Shower & Bathtub Doors on Wayfair
Conclusion
 Choosing the best bathtub doors considers a lot of specs in both the functionality and aesthetic aspects. In terms of performance, the ability of the shower door to stop water leaks is one of the most important concerns.
A tempered glass should not be overlooked, too. Aesthetically, aspects on the metal finish and glass type are among the prime points. They are necessary to give off a clean and calming feel to the bathroom.
This is why entry Number 5 (Basco Deluxe Bypass Framed Tub Door) of the lineup makes for a worthy buy for your buck. Besides the modern sleek look it creates, it is sturdy and functional.
So, if you are looking for a useful door that does not give away a lot of money and a lot of stress, this should be your top pick. And remember, it pays to do a little research before you spend. Reading bathtub doors reviews might help you decide.