According to a recent report, many homeowners overlook the interior appearance. More attention is only given to the designing and structuring aspects and tends to neglect the inside part.
Every house should be perfectly built-in, both interior and exterior, and installed with modernized shower panels and LED lights for beauty. The best shower panel can give you a unique bathroom experience especially after a long, exhausting day at work.
However, finding a shower panel that yields optimum benefits and give you the best relation experience is not easy. Some shower panels in the market may disappoint and fail to meet your expectations.
Luckily, Akdy shower panels have been proven to offer long-lasting performance without compromising on style and durability. Below is an Akdy shower panel review to help you make an informed buying decision.
Why AKDY Shower Panel? 
The most preferred activity for most people across the globe is showering. This has been made possible with the installation of the most recent shower panels from Akdy. Generally, Akdy is a renowned manufacture in the shower products industry and has been providing quality shower panels for years. 
According to Akdy shower panel system reviews, Akdy shower panels are constructed and designed with strength and durability in mind. These shower panel systems are attractive and comes with a sleek and stylish design that can transform your bathroom. They come is different styles and designs to meet the different needs of homeowners who are after ultimate relaxation in the bathroom.
7 Best AKDY Shower Panels Review That you'll Love
With so many models to choose from, it can be difficult to choose the best Akdy shower panel for your needs. We have compiled a list of the best Akdy shower panels after going through Akdy shower panel system reviews.
1.   Silver 63″ SP0107 Temperature Control Tower Shower Panel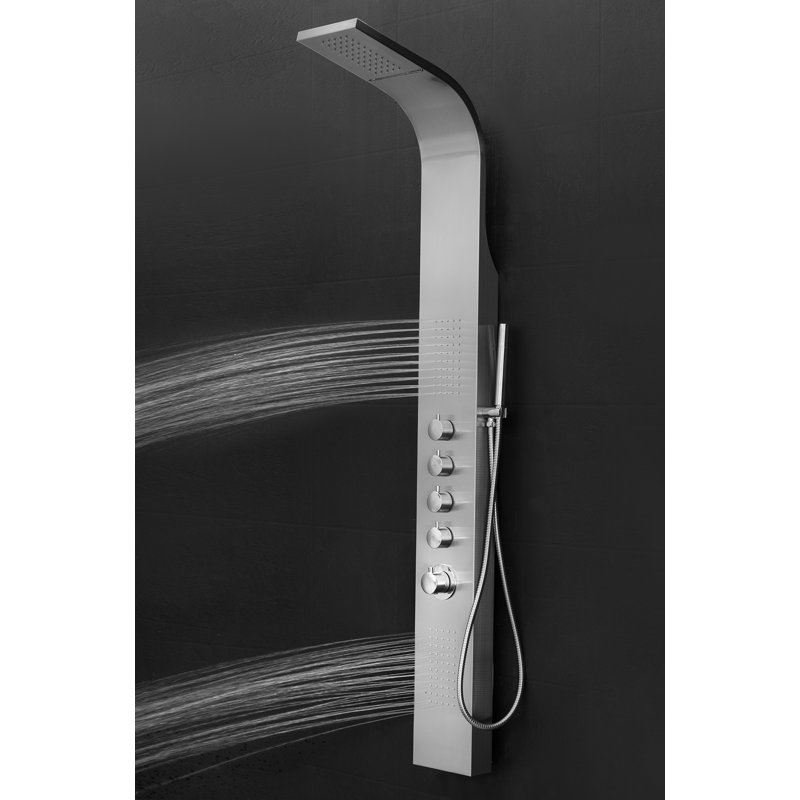 This control shower panel is made of silver metal. The system has various connectors that hold the chrome-plated brass shower hose, shower head (waterfall and rainfall), two sprays, and a hand showerhead.
The showerhead measures fifteen inches long, while the flow rate is 2.5 gallons every sixty seconds. Users can operate the panel efficiently because its set up consists of a flow restrictor. The body also has adjustable and standard accessories such as two body jets which control the flow rate.
What's more, this is the best shower panel because it features an overhead flow and two body jets can be controlled simultaneously. This ensures effective control of overflows. It comes with a one-year warranty where a return can be done within the timeline. The device has a massage spray pattern bring brings a soothing effect and relaxation to the body. Once the soothing effect reaches the muscles, a response is sent to the entire body 
Highlighted Features:
Dual shower head (rainfall and waterfall)
The flow rate is 2.5 GPM
Comes with two flexible body jets
2.  SP0106 Diverter 35.43″ Shower Panel with Flexible Shower Head and Massaging Aspect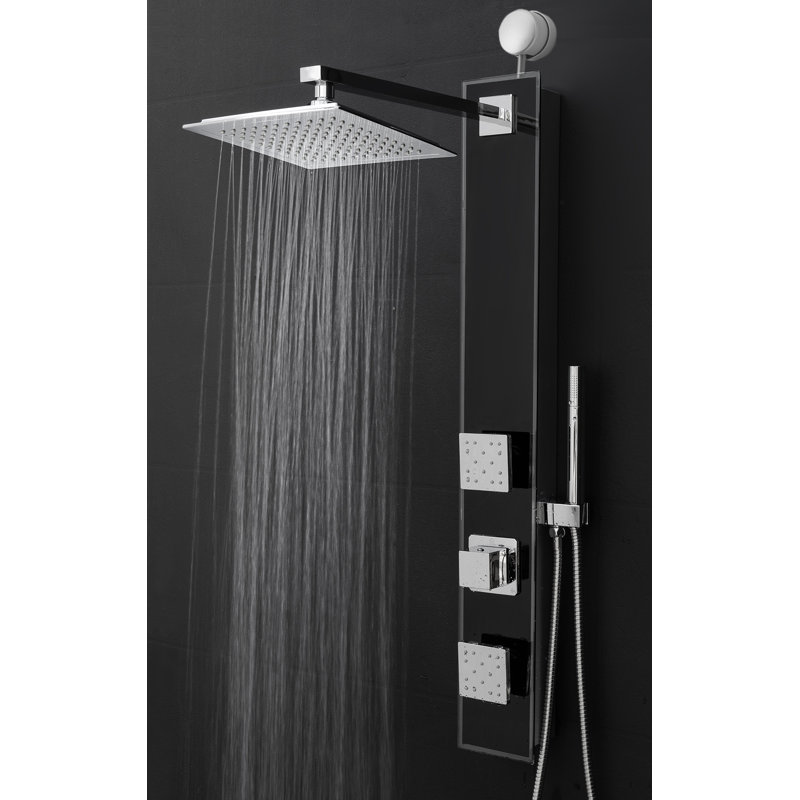 The device is among many homeowner's favorite because it is easy to clean and maintain. The presence of paired sprays attached eases the cleaning process. Also, the 35 inches shower panel is easy to design since it fit with all the panels' models.
It is a multipurpose device where rainfall passes through an 8.5 inches' flexible overhead. Cleaning far-reaching locations is easy since the machine comes with a hand showerhead. Because of this, persons with restricted mobility can easily use the device to clean hidden areas.
A great spec of this device is that it has the most recent connect aspects, which makes it easy to utilize the preceding water supply. Besides, it is user-friendly since it comes with a half-inch sizing recommended for shower panels.
Highlighted Features:
Two body jets
Hand shower head
Has 2.5 (gallons per minute) flow rate
3.      Mirror Chrome Akdy Tower 51″ Rain Shower Panel with a Flexible Shower Head
If you are looking for an Akdy shower panel with that comes with impressive features for ultimate relaxation, this model is worth checking out. The product comes with massaging body jets, tub filler, rainfall showerhead, as well as a hand wand.
The massaging effect produced by the body jets brings a soothing and relaxation of the muscles. Additionally, the shower panel has bells and whistles needed in a current bathroom.
The device comes with a LED display to indicate the most recent temperatures. A fantastic look in your bathroom is brought by a tampered glass overlay model contained in this shower panel. The product has elements of aluminum resistant to rust.
Highlighted Features:
Have 8 body jets
Flexible shower heads
A temperature display
Flow rate:2.5 gallons every sixty seconds
The shower panel is fixed with a flow restrictor
4.      39" Brushed Satin Thermostatic Shower Panel with both a Waterfall and Rainfall Shower Head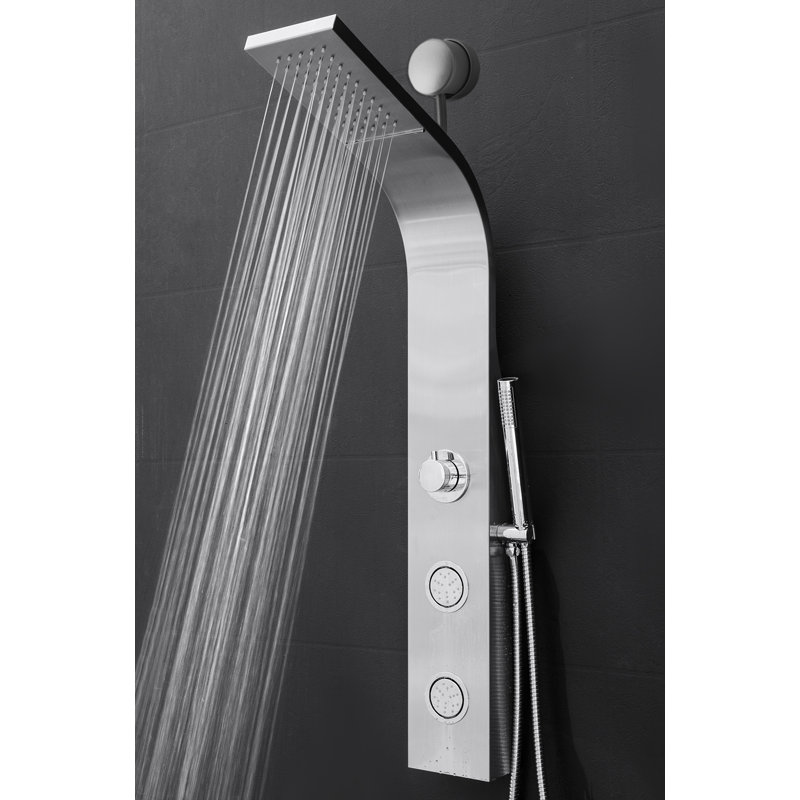 This Brushed Satin Thermostatic from AKDY is designed to meet all your showering needs. Its full body is made of stainless steel, giving it a fulfilling touch to your bathroom. It's a metallic shower panel with a brushed satin finishing that is resistant to corrosion even on outdoor use.
Both the hand shower and overhead flow can be used simultaneously. The hand shower has a hose, making it easy for persons restricted to movements clean even the far-reaching areas.
Highlighted Features:
Two Body Jets
Hand Shower inclusive of a hose
A flow restrictor for installation purposes
5.      Brushed Stainless Steel Rainfall Waterfall 63″ Shower Panel with Static Shower Head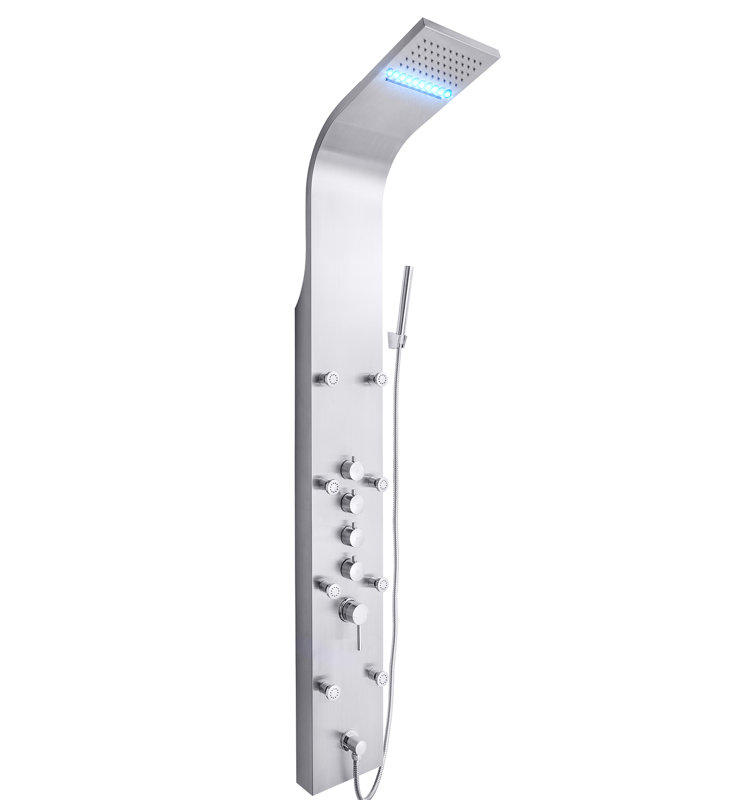 Lastly on our Akdy shower panel review is this product that is made of unique stainless steel. It's impressive since it comes with a dual rainfall and waterfall to give you an exceptional shower experience. The body jets are eight in number and come with a hand wand for comfort in your bathroom.
The presence of the fantastic blue LED lights shimmered with the waterfall and rainfall showerheads will transforms your shower experience in no time. In case of less light in your bathroom, you can use the LED lights installation to give a beautiful color view.
Besides, the easy-to-control pads make the device a user-friendly and give a fantastic showering experience. The adjustable eight body jets help in controlling the flow of water every time the user wishes. The flow rate of this device is 2.5 gallons per minute and it comes with a flow restrictor to minimize wastages.
Highlighted Features:
8 body jets
A hand shower
A flow restrictor
Conclusion 
We hope that this Akdy shower panel review proves useful for your selection. Shower panels are the best for your bathroom in both your residential and commercial properties. Akdy shower panels have for long created a good showing setting leaving behind a fantastic showering experience. These shower panels are a great investment and can add some convenience to the bathroom.
Installing the best shower panel allows the user to have mind relaxation and a good feeling. Upgrade your shower panel now to get a wonderful massaging and overhead showering experience with any of the above Akdy shower panels.