American Spa is one of the most innovative hot tub brands you can try out in the market. The brand strives hard to provide the most functional hot tub one can install at home. Considering that hot tubs are a big investment, they make sure your hard-earned money would not be put to waste. American Spa hot tubs are known for their Fiber steel construction and topnotch quality features.
That said, there's no need to worry about the usual depreciating condition of a hot tub. The brand assures longevity and durability in all of their products. However, before you dive into your buying venture, you may want to check these American spas 7 person reviews to know other important features.
American spa 7-Person 56-Jet Hot Tub Review
This product by American Spa is one of their most innovative and technology-advanced models. If you love to invite friends to chill at home, you may enjoy soaking in this blue-colored hot tub equipped with a stereo system. With this item, the best relaxation experience while listening to your favorite musical jam is guaranteed.
While this product can accommodate 7-persons, the hot tub will provide more comfortable and better relaxation when occupied by 5 to 6 people.
The Pros of This American Spas 7-Person 56-Jet Premium Acrylic Lounger Spa Hot Tub
Adjustable light provides a better relaxation experience
Meant to be enjoyed by a group
Ease of maintenance
BioClean filter exterminates bacteria in the spa water
Made of durable materials
Cons of The American Spas 7-Person
Stereo might malfunction when used for a long time
Color might not be suitable for your bathroom set-up
Expensive due to unique design and artistic color
Key Features:
Bluetooth stereo system
56-jets
Multi-color LED light
Thermolayer insulation
Bio-Clean filter
Open Lid
Verdict: Overall, this is a worthy investment for those who are looking for "longevity and durable" characteristics in a product.
Who is this product for?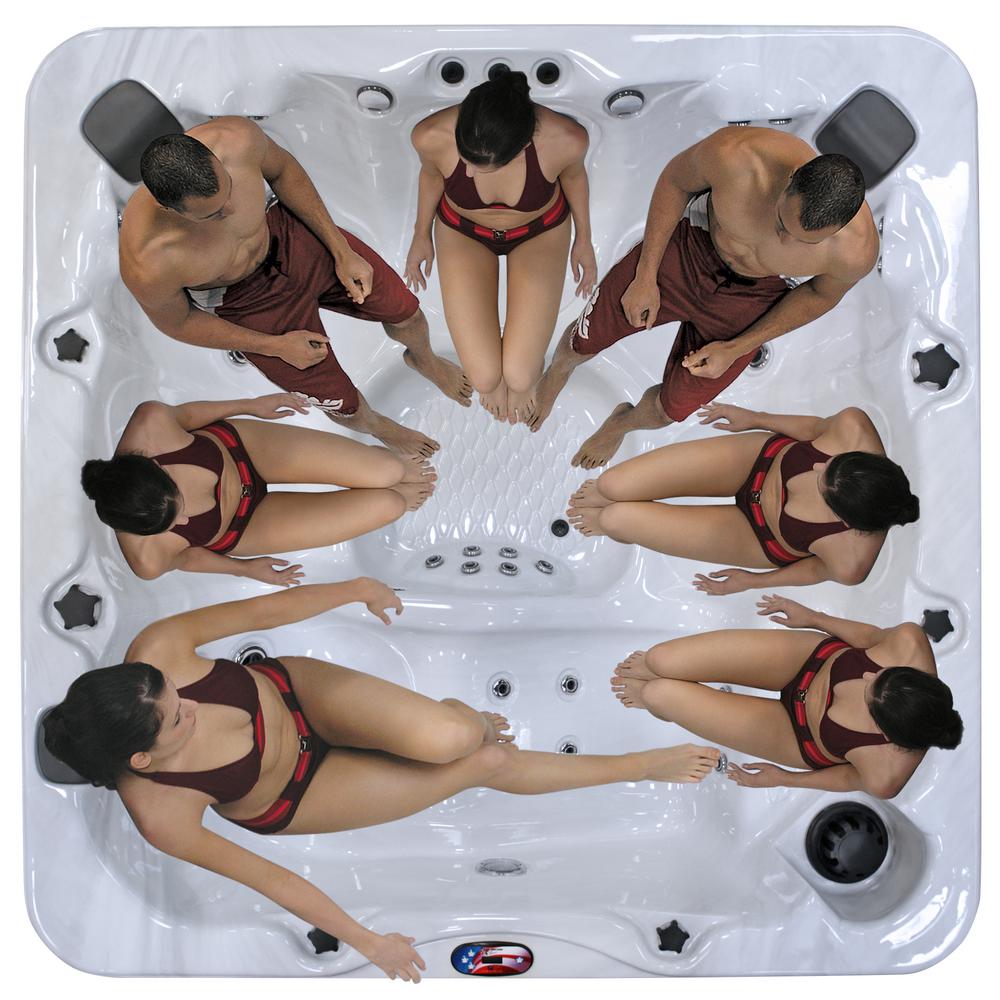 This hot tub from the American spa can accommodate up to 7 persons. It comes with wide dimensions such as 2'11" height x 7' width x 7' length. The whole family with at least 5 children can dip comfortably in the tub. This is better placed in a standard-size to huge residences. With its size, this tub is a worthy investment for big houses, hotels, resorts, and other recreational places.
Key Features and Benefits:
The following are some key features and corresponding benefits of the American Spa 7-person. This section is important as a wise consumer as it will help you determine if the item is suitable for you:
The product is made from aluminum, steel, and acrylic materials to ensure that it will last for a long time. As such, the wear and tear condition is not something you should worry about because the item is made from materials that can last for years.
The Bioclean filter is a great addition, too. You won't need to spend additional expenses for chemicals as this feature will guarantee a bacteria-free and clean spa water.
Big electricity consumption is one of the disadvantages of a hot tub. However, American spa being an innovative company, equipped their hot tubs with Thermolayer insulation to save energy.
Customer Reviews
Best overall feature: "We absolutely love our hot tub! The jets are fantastic as well as the lights, the stereo, and the lights. The color fits in perfectly in our backyard decor. Highly recommend!" – Joel, wayfair.com
Best for Family-use: "We've had this for over a year now and have used it nearly daily. Lots of space for a whole family." – Laura, wayfair.com
Frequently Asked Questions
Can I leave my American Spa hot tub on 24/7? Ideally, yes. The tub comes with Thermolayer insulation hence you should not worry about your electricity bill. The frequent on and off may broke your hot tub and will raise your electricity bill.
When is the time to change the water in my American Spa hot tub? It is best to change your spa water every 3 months. However, if you use your hot tub daily, change the spa water in 1-2 months. If it is the other way around, changing the water every 3 months would be better.
Can I put chlorine in my hot tub? Yes. This is advised to make your hot tub ready for use. We don't recommend tables but bromine granules or chlorine for safe use.
Additional Tips
Simple accessories and precautions are vital for home safety and accessibility of your hot tub. Here are some tips you should consider once you finally install a hot tub at home.
Don't use extension cords and plug-in electronic systems. If the wires get into the water this may result in electrocution.
Don't install the hot tub on your own unless you are a professional electrician. Considering that wiring may cause electrocution, hot tub installation is not something that should be done by amateurs.
Buy a not-slip or water-resistant steps for your hot tub. This will prevent the usual slipping accident that comes with hot tubs. It will help you enter and exit your home spa safely.
Conclusion
Choosing the right hot tub may be difficult, but since you know these products outstanding features, your features-related concerns would never be a problem anymore.
The task you have now is to be sure if the product is suitable for your taste and budget. We hope we have helped you with your decision-making with our honest American spas reviews!