A hot tub is a worthy investment. It is a great household accessory that allows you, your family, and even guests to relax after a stressful day. It improves your sleep, soothes your muscles and joints, and gives surprising health benefits.
However, hot tubs can be pretty expensive too, and it's every human personality to want only the best for their hard-earned money. With Lifesmart Tierra, for sure, your investment would not be put to waste. Let's find out in this Lifesmart Spas Tierra Reviews why this product is outstanding.
Lifesmart Spas Tierra 5-Person 60-Jet Hot Tub with Ozonator Reviews
Lifesmart Spa Tierra is a gorgeous and high-quality hot tub. It is a great addition to your bathroom, backyard, or patio. If you have read other Lifesmart Spas Tierra Reviews, we can all agree that Lifesmart Tierra is a value for money.
This tub is manufactured by Lifesmart, a reputable company known for its luxurious, cozy, and attractive spas. It has a rotational solid shell and features that are highly indestructible. While it can accommodate 5-persons, it is versatile enough for 4 to 3 persons to soak and rest comfortably.
The Pros of This Lifesmart Spas Tierra
Versatile design
Waterfall features make more attractive
Adjustable color settings for LED lights
Energy efficient
Ease of maintenance
Cons of The Lifesmart Spas
Quite heavy
Not a plug and play hot tub
Additional expenses for installation
Key Features:
60-jet spa with adjustable setting
Multi-color LED light
Digital control pane
Eco smart technology
Air control valve
Ozone water care technology
Verdict:
Overall, this is an excellent bathtub with luxury features.
Who is this Product For?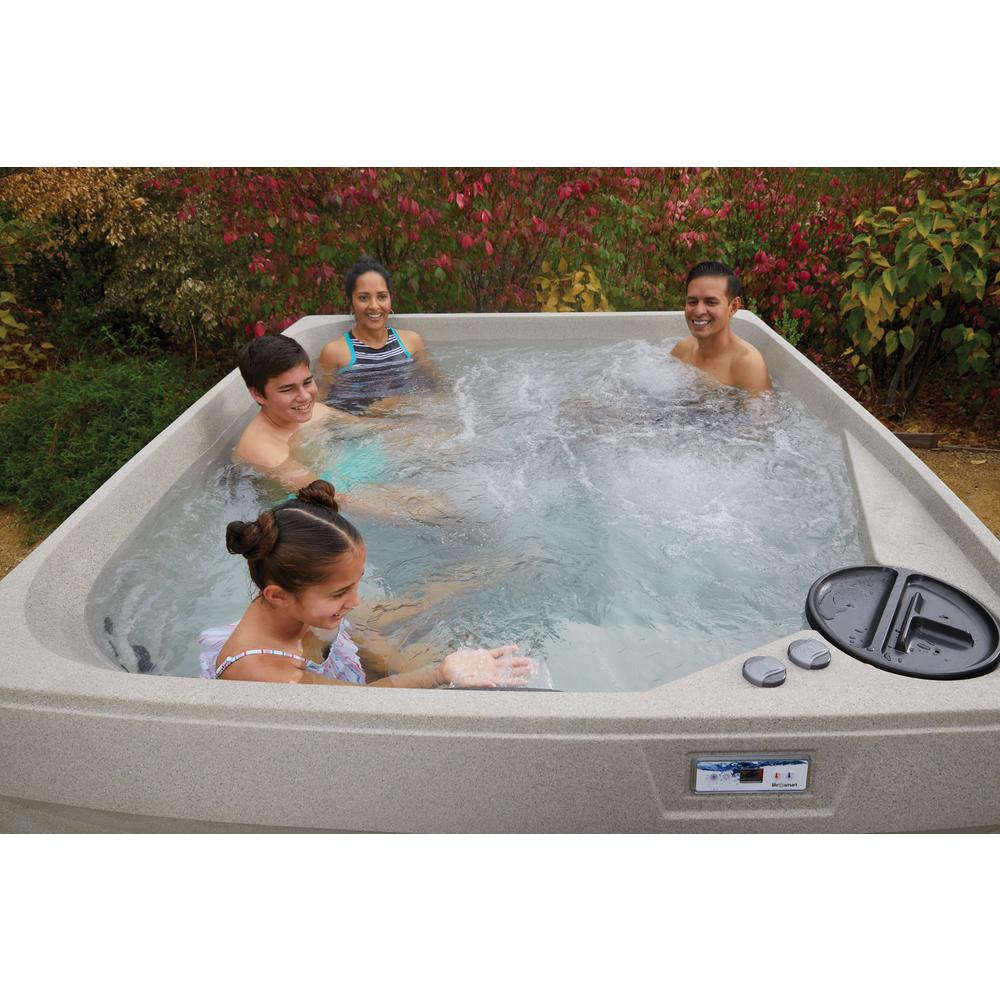 Lifesmart Tierra hot tub has 5 maximum capacity. It has dimensions of 87 x 77 x 34 inches. As such, the whole family with 3 children can soak comfortably in there. Considering the size, this unit is suitable for average to a standard-sized residence. This is a versatile addition to a condominium, apartment, cottage, and mobile homes.
Key Features and Benefits
Most Lifesmart Tierra reviews only discuss the features of the product. As a consumer, it is essential that you also look for the benefits of each item you buy. Here are the key features and benefits of Lifesmart Tierra to help you decide if this product is worthy of your investment.
The versatile design is one notable thing about this unit. It is simple yet elegant and attractive to look at. With its neutral color, it will fit any type of interior at home.
The functional digital control makes everything easier for you. Gone are the days when you should manually pour hot water to enjoy your hot tub. With digital control, you can set your desired heat, adjust the jets, and even switch the LED light.
The unit is made from a durable rotational molded polyethylene. With this material, rest assured that your hot tub will last longer. The only downside of this material is that it easily heats. Therefore, you should not let the kids use it without your supervision.
Customer Reviews
Best Overall Design
"This hot tub is very nice and modern and very roomy. I definitely recommend this hot tub. Very pleased with Wayfair!" – Nicholas
The Comfiest and Relaxing Spa
"So convenient and such quick delivery! I'm super satisfied! The spa itself has the right size to accommodate 5 people. Would definitely buy all over again!" – Stephani
Best for Value
"Got it on sale, and it was a great price value. The Jets are great. We really like the finish. It's not slippery. At the sales price, I would buy again." – Arnie, wayfair.com
Frequently asked Questions
Q: What is the ideal temperature for Lifesmart Tierra when not in use?
A: As per Lifesmart Tierra reviews, the role of thumb is 5 degrees below. This temperature will save you time when you need to reheat your tub.
Q: How long should your Lifesmart Tierra run per day?
A: As a general rule, you need to follow the manufacturer's guide or leave your tub's pump 8 hours a day.
Q: Can I save the electricity bill by setting the lower temperature?
A: Yes, it will save your energy consumption and thus lessen your electricity bill. It will also minimize evaporation and preserve the chemicals you put into the water.
Additional Tips
Here are some safety tips that you might find useful:
When it comes to using the hot tub, hygiene and safety should always be considered. To avoid skin infections, advise your family to take a shower first. It will save them from bacteria and makes maintenance easier.
While you want to enjoy the hot tub a bit longer, the high water temperature may cause health problems. Don't soak in hot water for more than 15 minutes as you will be overheated. This will result in fainting and other medical issues.
Drinking while soaking in the hot tub is fun. However, hot water may increase the effect of alcohol. While having a glass of wine or a bottle of beer in a hot tub is relaxing, you should likewise monitor your alcohol consumption.
Conclusion
If energy-efficient and high-quality features are the things you are looking for in a hot tub, we have to agree with other Lifesmart Spas Tierra 5-person Reviews that this unit is worth a buy. It is equipped with 60-massaging jets to give you the ultimate spa experience.
Lifesmart Tierra is made with accurate precisions – it is convenient to use, the design looks stunning, and most of all, it can save you from high electricity bills.