Going on vacation to take some time off is an annual goal for me and my husband. However, there are weeks when we just want to get away right at that moment. Therefore, we decided to maximize our patio and add a hot tub for a weekend relaxation right at our home. We looked for a reliable tub for spa relaxation and stumbled upon this one from American Spas. After reading some American Spas 3 Person reviews, we were convinced that this is the tub for us.
American Spas 3-Person 34-Jet Premium Acrylic Lounger Spa Hot Tub Reviews
American Spas is an independent local brand that creates hydrotherapy tubs designed for comfort and relaxation. It promises durability, quality, and safety for long-term enjoyment.
Moreover, the American Spas 3 person lounge spa promises a luxurious backyard experience at home. It boasts of 34 strong jets to create this relaxing experience. To soothe all senses, it also has 4 water-resistant speakers and a subwoofer for an amazing spa experience. 
Since we did come across a lot of reviews, we will count off the things we loved and didn't like about the product.
The Pros of This American Spas 3 Person
This 3-person tub boasts of its high-quality design and build. The stainless-steel SQR jets offer the ultimate hydrotherapy experience with each seat offering separate flow control to customize the pressure and direction of each jet.
The outside spa shell is made of patented Fibersteel Construction, a 7-layer laminate system reinforced with wood and steel.
They also added an energy-efficient Hydro-Armor tapered spa cover that gives further insulation with its PVC with Mylar coating material.
The Freedom Sound System is made up of water-resistant speakers and a booming subwoofer.
You can get the efficiency and power of 2 pumps but the energy cost of only 1! The 3 Person Lounger Spa has a special 240-Volt 5.0 BHP jet pump that does this. It also has an exclusive twin-turbo wet end paired with the Viton pump seal for added strength but efficient power cost.
The heavy-duty Whisper Hot heater quickly heats up but runs quietly even at full temperature. The HydroClear Ozonator purifies water using ozone bubbles which reduces frequent maintenance.
It will not overrun your patio or backyard with a length of 64" only.
Cons of The Aquarest Spas
This American Spas tub is only available online with no physical showroom.
You get to choose from 2 colors only which are Summer Sapphire/Mist and Sterling/Mist. If you have a certain look in mind for your patio, you might want to adjust the colors.
American Spas only deliver curbside which means you still have to haul the spa inside your home by yourself.
American Spas' 3-person lounge spa is a space-saving tub that can transform your backyard into a resort paradise. All the features are unquestionably amazing for its size. One of the biggest concerns was not seeing the product before the purchase.
At this price range, I would want to see the actual item and see if it is the same as the one online. This might work if somebody you know owns it already. But if not, then prepare for a big risk.
Who is This Product For?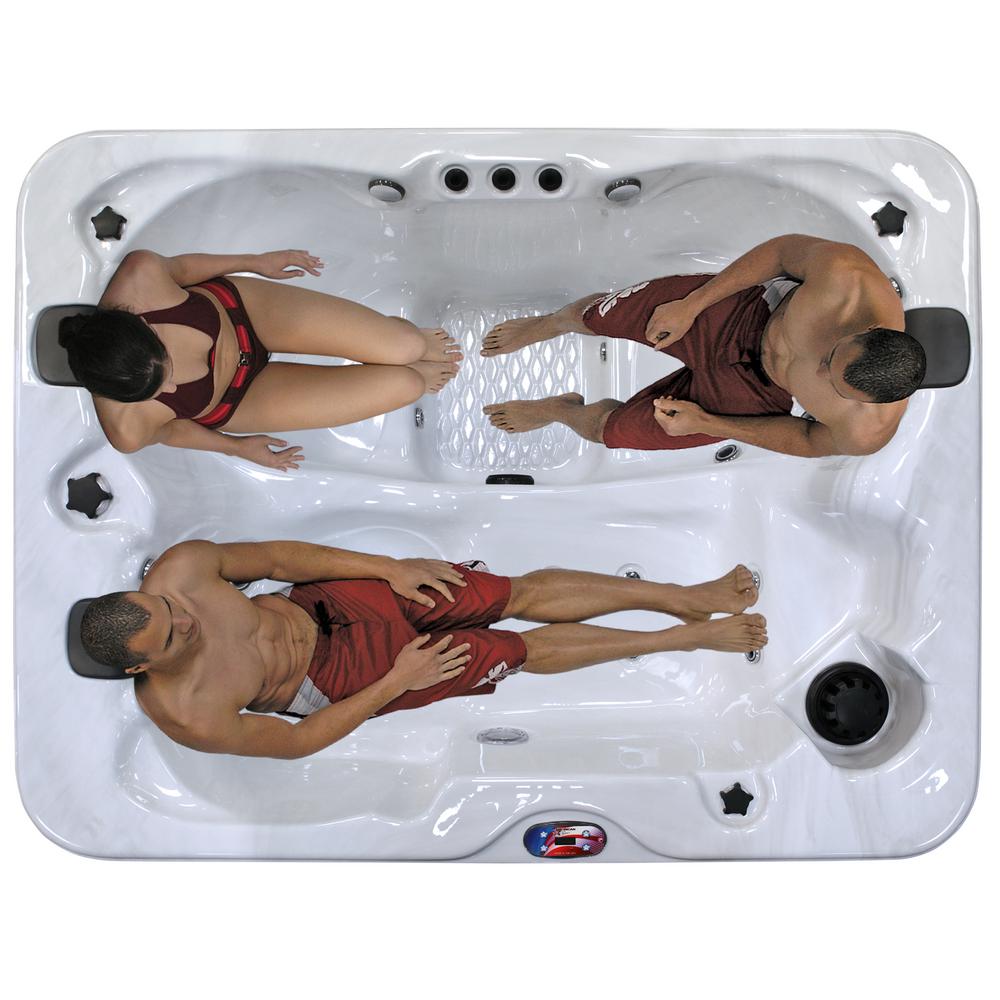 The 3-person lounge spa is great for couples or empty nesters who want a rejuvenating and relaxing day at any time of the week. The hydrotherapy from this tub is also good to lessen the pain from those suffering from muscle cramps, scoliosis, and arthritis. 
Customers Review
Most of the positive reviews were mostly about the fantastic build and the Freedom Sound System.  Here are some of the comments we found so far:
"It has so many jets and the lounge seat is amazing too. The Bluetooth link is a great addition to play my music."
"Excellent quality! Has all the features I wanted. Easy to install. Party time!!!"
"The neck jets are not as useful because they splash water all over my face."
Additional Tips 
Choose the right location to enjoy privacy when using the tub. Nobody wants peeping toms while you're enjoying your relaxation time. 
Final Verdict 
The American Spas 3-person lounge spa is a fully equipped cozy tub that's perfect for regular use. Most American Spas 3 person reviews rave about its amazing build, booming Freedom Sound System, excellent heater, and other amazing features.
The only problem, and probably the biggest issue, is the lack of physical showrooms to see the product before buying. For products this costly, I want to see what I am buying before getting on board. This may not be an issue for the hot tub itself but for the manufacturer as a whole.
That aside, it sure is a great product to consider. Hope our review can help you decide if it's the right tub for you or not.