As a family of four, you have different options to entertain your kids and have a good time with them. One of the exciting activities is to spend time together in a hot tub. Not only is it a good way to have quality time with your children, but it also provides all the therapeutic benefits to your family. The  Aquarest Spas Select 150 reviews will give you more details about a good home hot tub.
How good are Aquarest Spas hot tubs?
Many people are buying hot tubs mainly because of the health benefits that they offer. Unlike a jacuzzi or a normal bathtub, hot tubs come with advanced features that help improve your sleep quality, lower blood sugar, reduce stress, enhance muscle aches, pains and make your skin look healthier. Those benefits are offered by Aquarest Spas hot tubs, including the Select 150. Read on the Aquarest Spas Select 150 reviews to understand why we mention this model.
Aquarest Spas Select 150 reviews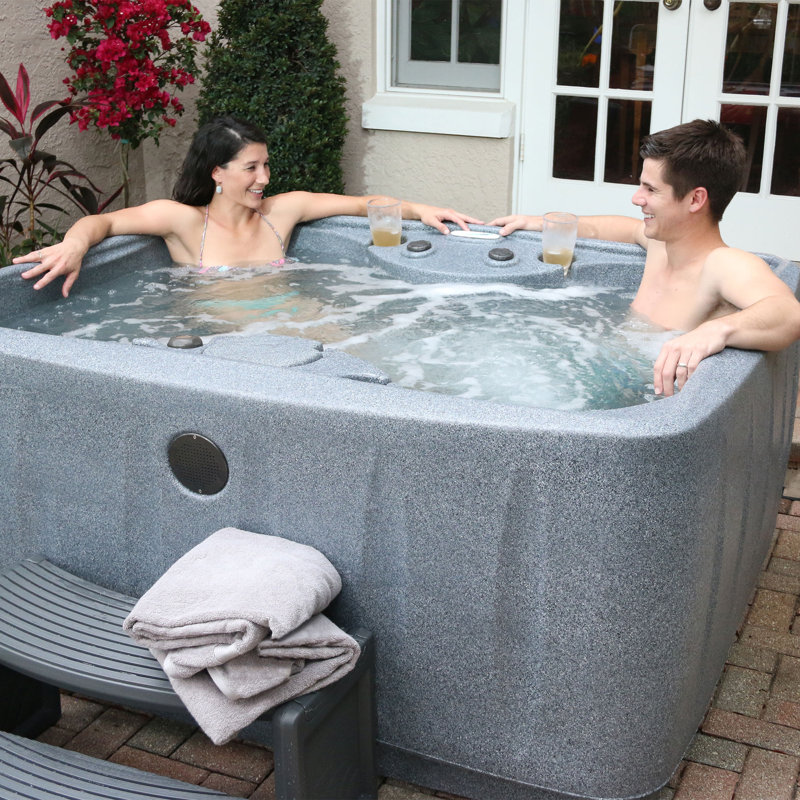 If you are purchasing a hot tub because of its therapeutic benefits, you have come to the right place. Not only does the Select 150 offer you all the above-mentioned benefits, but it also comes with full-foam, and it uses less energy.
It is tough and resistant to impact so you can rest assured that your home spa will last for a long time. Besides, it comes with lumbar arch support and multiple jets, which helps alleviate your aching back muscles and massage the back. If you have back pain, or you play sports often, you will be in love with this model.
The Pros of This Aquarest Spas Select 150
Simple to set up and easy to use
Quiet operation
Cons of The Aquarest Spas
Does not have comprehensive instructions
Sometimes it has a small filter issue
Key features of the Aquarest Spas Select 150
12 Stainless Steel hydrotherapy jets: This model makes you feel comfortable and relaxing thanks to the hydrotherapy jets. It offers you a real spa experience at your own house.
Use less energy: You can spend a lot of time in your hot tub knowing that it uses less energy because of full foam insulation and locking safety cover.
Perfect for 4 people: The 4-seat hot tub is ideal for a family of three and four. As a couple, you probably don't need a lot of seats. However, if your family is growing, you should get this model.
It is easy to install and use
Frequently asked questions
What jets does it use? All models from Aquarest Spa come with stainless steel hydrotherapy jets. They are adjustable and excellent for you if you need to relax in the hot tub. Make sure to position your muscle groups at the right place so the jets could create the optimal spa experience.
Does it have enough power? This model can perform well with 110v with 15 amp service. But if you want to use a higher power, you can. Just make sure to connect it to a GFCI cord.
How to install it? As we mentioned earlier, it is easy to install the Aquarest Spa. All you need to do is to place the hot tub in a solid foundation and plug it to a standard electric outlet.
Customers Reviews
Since this model is an outstanding product from Aquarest Spa, you can expect many people have used it. Here are a few reviews you should take a look at:
According to a user named Jim, "the product overall is of very good quality." He had been using it for over 2 weeks and "everything works as stated. Seems to be durable and is holding heat very well with the included cover." It is "great for 2 people, ok for 3 and 4 is a stretch." He likes the "price, quality, LED lighting, Waterfall, 100% filtration daily." And what he doesn't like about the model is that "pump cover screws are just lazily tapped into the roto-mold and there are no retainer clips."
Another customer with an account name  svc1964 is happy with his investment as "this hot tub is affordable and well made". He and his wife love it. "I have had two back surgeries and this helps my back. It's my therapy and my wife has a very stressful job as a teacher of young kids. She finds this to be very relaxing at night when she gets home."
However, Warren who "owned it for about a year" is not satisfied with his hot tub as "temp control shot. Set temp then it counts down till it shuts off."
Verdict
This model is an affordable home spa and it is suitable for a family of 3 and 4. It offers a relaxing spa experience right at your home. Make sure to read the Aquarest Spas Select 150 reviews carefully and if you think this is the right design for your family, give it a try!