What's the best way to kick back and relax after a long day at work or to reward yourself after a stressful week?
A two-person hut tub is one of the most intimate, relaxing, and coolest home appliances to own.
Keep reading to see some of the best 2 person hot tubs and find out all the pros and cons that will help you choose the best hot tub for you and your partner.
12 Best 2 Person Hot Tubs
1.  AquaRestPremium 300 2-person Plug and Play Hot Tub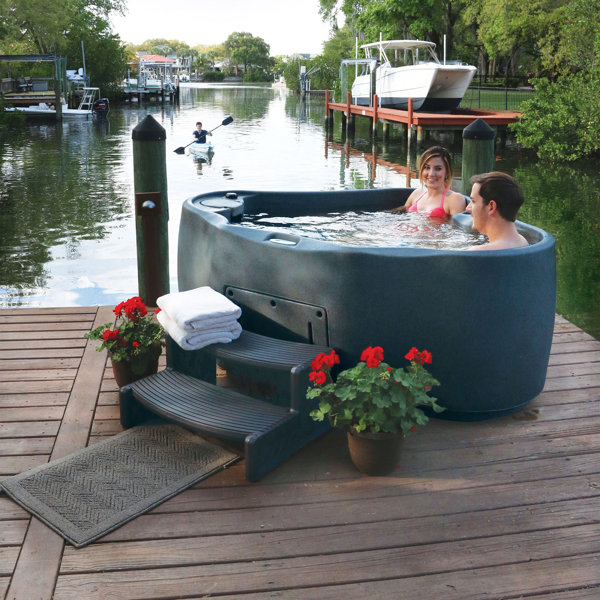 A chic model manufactured by AquaRest Spas, the Premium 300 is a rounded, triangular 2-person hot tub that is one of the best two person hot tubs to make on this list.
Coming in three different earth tone variations, it comes with full foam insulation and a sealing spa cover that will help you save up on electricity bills while still managing to enjoy the warmth of a great hot tub.
Digital control panel for temperature and jet settings
Easy Klean filtration system that can be easily changed and maintained
20 stainless steel underwater hydrotherapy jets for multi-level massage
Rotational Molded Thermal plastic body that can withstand all weather
Easy plug with 120 volts to 240 conversion availability
Ozonator for reducing chemicals and killing bacteria
See more: AquaRest Spas Hot Tubs on Wayfair
2.  QCA Spas Cordoba 2-person Plug and Play Hot Tub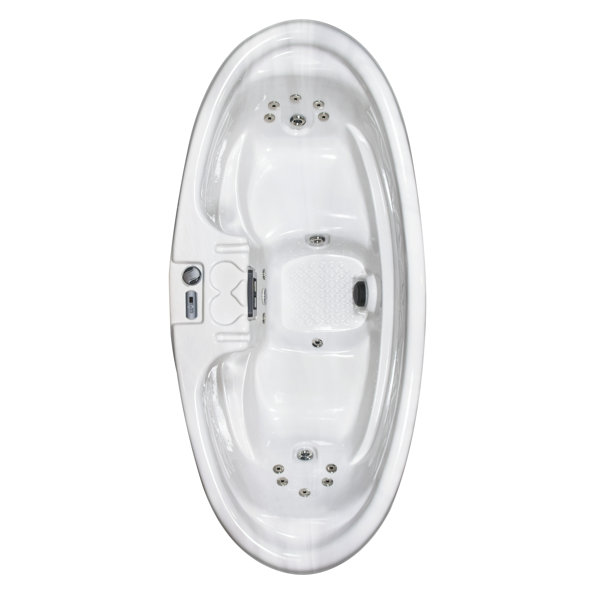 A sleek standard tub-shaped model with a sleek white inner body and a wooden slat finish side paneling, the Cordoba is QCA Spas' premium 2-person hot tub.
It clearly tops all the best 2 person hot tub reviews on the internet right now. It has a large storage capacity of 190 gallons of water, 30 more than AquaRest Spas' Premium 300.
16 power jets located on back panels and foot areas
Digital control pad for light, temperature, and power jets
Comes with an insulated and locking cover
Freeze resistant for outdoor use
Ozonator for sanitation and chemical reduction
See more: QCA Spas Hot Tubs on Wayfair
3.  American Spas 2-Person Premium Acrylic Spa Hot Tub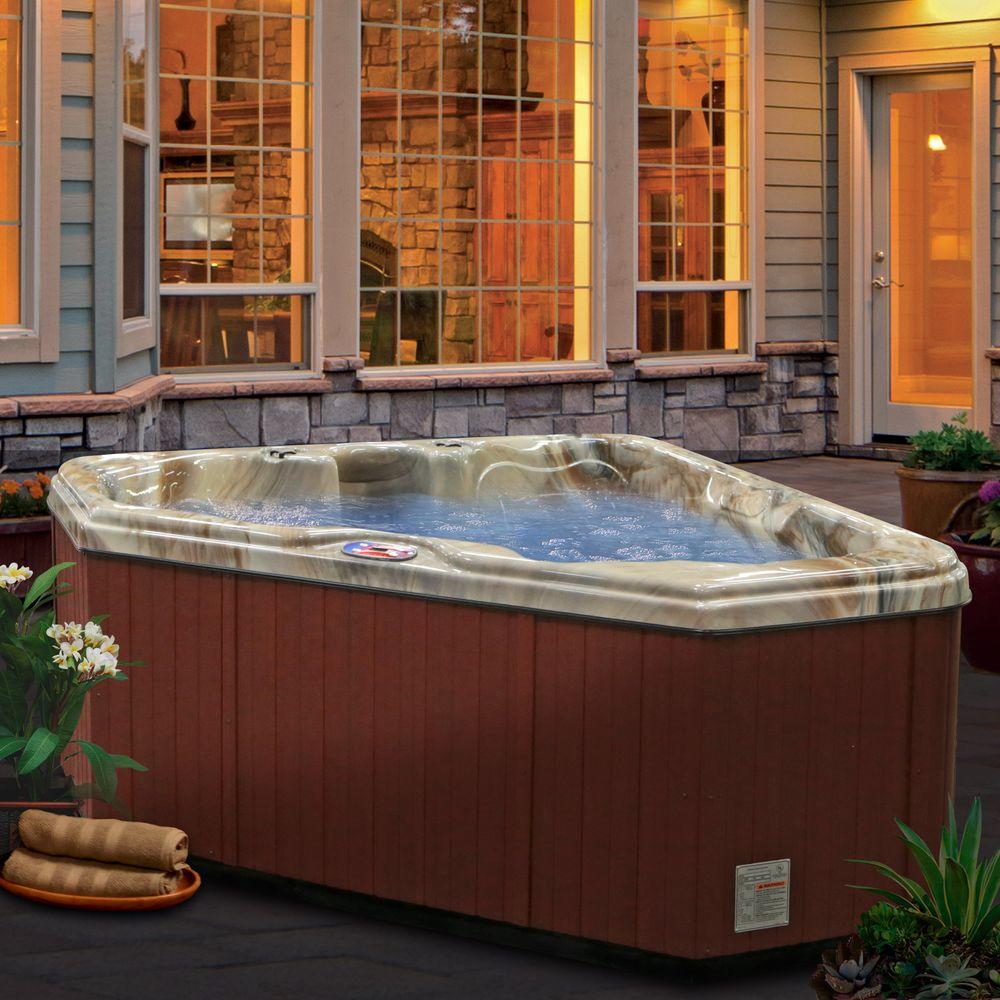 One of the pricier models from American Spas, this 2 person triangle spa is an American dream. Made with a 7-layer laminate fibersteel outer shell, this is one of the more durable hot tubs on the list.
The model makes use of the Energy Saver Thermo Layer Insulation blanket to keep the elements from cooling the internal temperature of the tub for you to enjoy your soak for longer.
Built-in HydroClearOzonator for sanitation and easy maintenance
28 stainless steel hydrotherapy jets all around the tub
Multicolor LED spa lights with 7 colors and 2 settings
Contoured seating that can contain up to 3 adults
Heavy duty titanium heater
See more: American Spas Hot Tubs on Homedepot
4.  American Spas 2-person 20-jet Hot Tub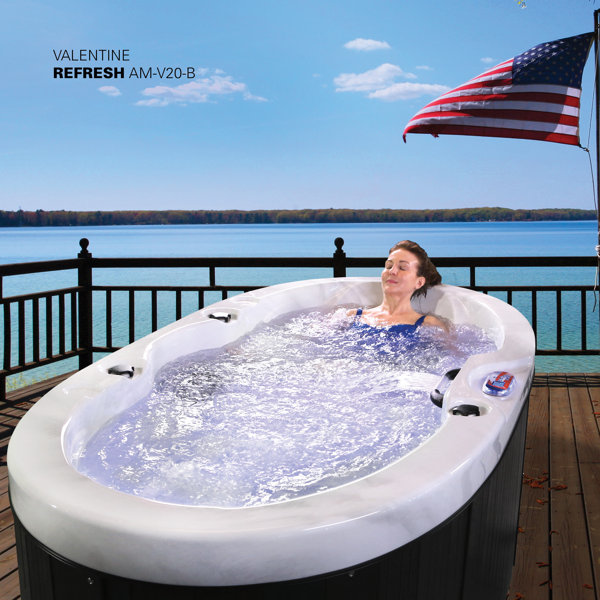 American Spas has come out with a further elevated model of a 2-person hot tub with this unit.
With a sleek inner shell coupled with a wood finished outer paneling, this is a chic, standard bath tub-shaped hot tub big enough for 2 adults to immerse in completely.
20 powerful stainless steel hydrotherapy massage jets
One side is positioned higher for a smaller body and the other is lower for a taller body
Multicolor LED light fixtures
Waterfall that fills the water whilst filtering it
Lightweight, easy open acrylic hydro armor cover
See more: American Spas Hot Tubs on Wayfair
5.  Laguna Hot Tubs' 2-person plug and play tub
A no-nonsense, very direct model when it comes to aesthetics, Laguna Hot Tubs' 2-person hot tub is a very solid unit with a singular colorway and material throughout the body.
It allows 2 adults to both recline without difficulty; the floor paneling molded ergonomically for a slightly bent posture.
Includes built-in cup holders
Moderate storage capacity at 150 gallons
10 power jets for underwater massage
Has an insulated and lockable cover
Slip resistant flooring for safety
See more: Laguna Hot Tubs on Wayfair
6.  Canadian Spa Company Yukon 2-person Plug and Play Hot Tub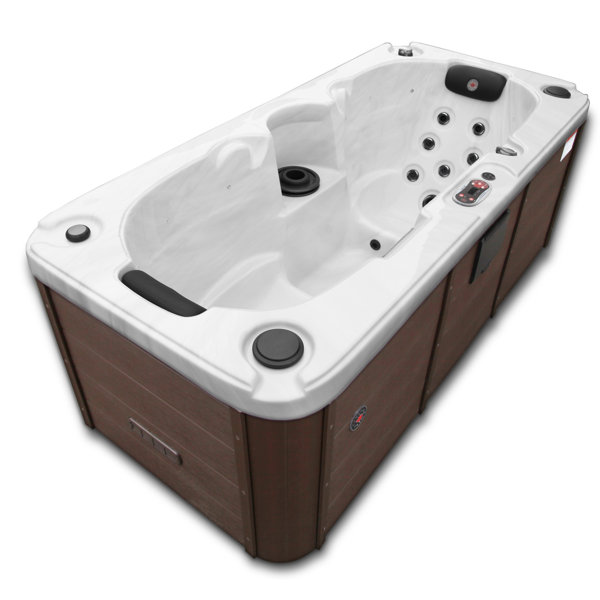 Manufactured by the Canadian Spa Company, the Yukon is a standard 2-person hut tub build. It is named after the tree from which its body is modeled after. It is a premium rate hot tub that is compact and easy to use.
The infrared insulated cabinet and high-density closed cell foam around the body makes sure to keep the tub nicely insulated for temperature modulation.
Adjustable 16 stainless steel hydrotherapy jets
Pop-up MP3 compatible speaker system
Multicolored LED mood lighting fixtures around perimeter
Insulated and Lockable cover
10 year shell warranty
See more: Canadian Spa Co Hot Tubs on Wayfair
7.  Aleko HT2PIN 2 Person Natural Pine Hot Tub
A more rustic model, Aleko's 2-person natural pine hot tub makes use of a charcoal stove boiler to heat up the tub.
This is for those who enjoy a more thematic experience, and also for those who would like to have a nice grilled or steamed meal while you enjoy a good soak.
500 Liter water capacity
Natural heating unit
You can grill food while waiting to heat up
Lowest price point for a 2 person hot tub
See more: ALEKO Hot Tubs on Homedepot
8.  SDI Deals 2-person Hydrotherapy Spa
SDI Factory Direct's version of a 2-person hot tub, this model allows 2 people to fully submerge themselves side-by-side instead of the classic face-to-face models popular in the market.
This is one of the more luxurious items on this list. With a pearly white, sleek body and black and silver accessory parts.
13 air bubble jets
6 adjustable massage jets and 6 back jets
Deluxe LCD screen control panel
Waterproof Headrest Pillows
Pull-Out Handheld Showerhead
9.  Home and Garden Spas X-2 3-person 31-Jet Spa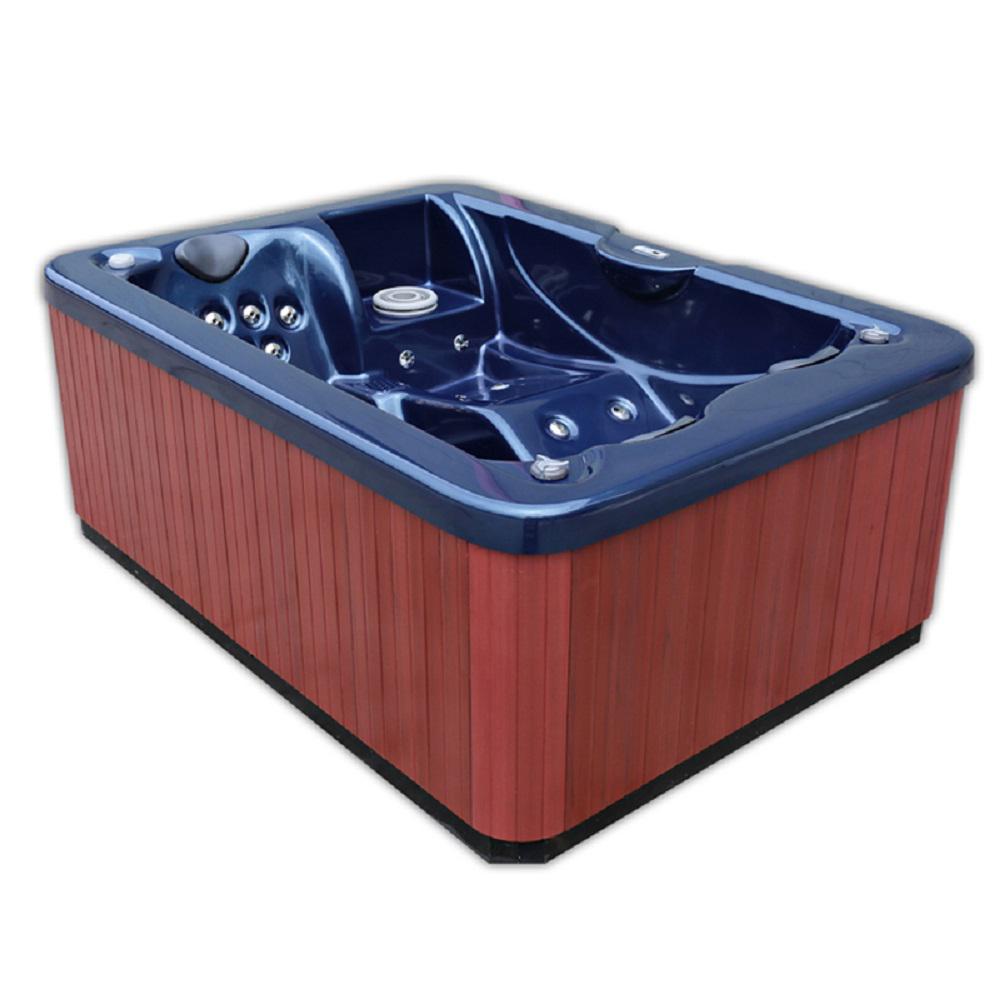 Created by Home and Garden Spas, this is a 2-person hot tub that can fit up to 3 people. One of the sleekest designs yet, It comes with a dark interior lining and a mahogany wood-textured outer paneling.
It is a rectangular-bodied, larger unit that can be used for those who want to lounge or just sit around for a good soak.
7 color LED lighting
Slip-resistant acrylic flooring
31 stainless steel jets positioned at the neck, shoulder, calves, and feet
High-density foam insulated body
See more: ALEKO Hot Tubs on Homedepot
10.  Essential Products Devotion Hot tub
Made by Essential Products, this too is a 2-person hot tub that can fit up to 3 people for a sit-down soak.
It is another example of a side-by-side model too with headrests on 3 corners and a small table or shelf-like fixture on the 4rth corner that serves as a tray for drinks or food.
Heavy-duty insulated cover with locks
Whopping 220 gallon capacity
24 adjustable, stainless steel power jets
Plug and Play model
11.  Aleko Oval 2 person Inflatable Hot Tub
An Aleko Hot Tub, this is one of the best 2 person inflatable hot tub models for those who want a more manageable hot tub to own.
This is a more accessible kind of hot tub that can be stored away and put back up whenever suitable.
Easy to store and set up
Comes with drink trays
Control panel for bubble jets, temperature, and filter settings
Great storage capacity at 145 gallons
12.  Intex 77in PureSpa Portable Bubble Massage Spa Set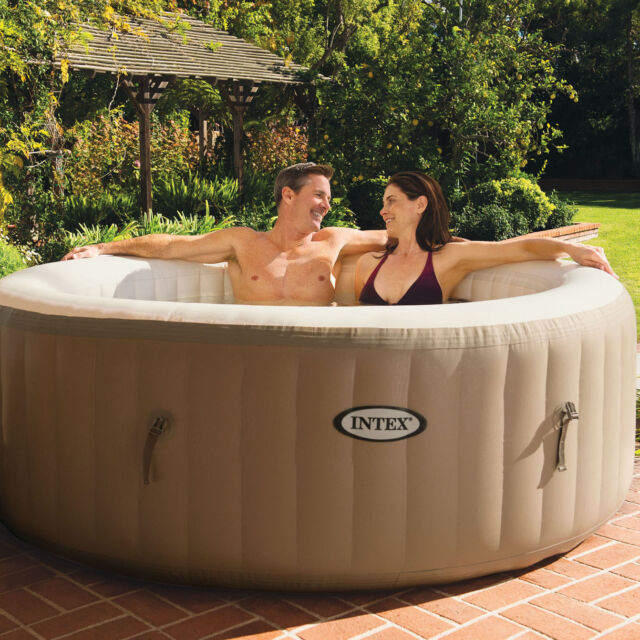 A beast of a hot tub, Intex'sPureSpa Portable Bubble Hot tub is an amazing example of an inflatable hot tub for two.
In fact, this model is actually built with for a total capacity of four people to sit up to the neck comfortably in.
The same model comes in an even bigger 6-person size too. This is one of the best inflatable hot tubs in the market right now.
Easy replacement cartridge filters
210 gallons fluid capacity
Doesn't flop or bend when sat on due to high strength fiber-tech body
Built-in Hard water treatment system for better skin
120 high power bubble jets
Conclusion
We have shown you overviews and the best features of some of the best 2 person hot tubs in the market today.
But our choice for the best two person hot tub is definitely the IntexPureSpa Portable Bubble Massage Spa Set.
Not only is this one of the cheapest hot tubs on the list, but it is also the most convenient one to own and use yet. It is durable, large, portable, inflatable, highly functional, and even comes with mechanisms to maintain soft water and to filter out chemicals and grime.
Although simple and not really a permanent unit to own, this is one of the more marketable and favorable units of all, topping even the more glamorous models that we have shown you above. So go ahead and get yourself one now!