The hot tub is a great place for you to have a nice chat with some friends over some drinks or bond with your significant other. If you're the type of person who loves spending time in a nice hot tub, check out our list of the best 4 person hot tubs that the market has to offer.
The 10 Best 4 Person Hot Tubs in the Market! 
For this review, we chose the best 4 person hot tubs based on their individual features and benefits. Through research and some usage experience, we narrowed our list down to 10 top products that you can choose from.
Take a look at our list of best hot tubs below:
1.  Lifesmart Spas Rock Solid Luna Hot Tub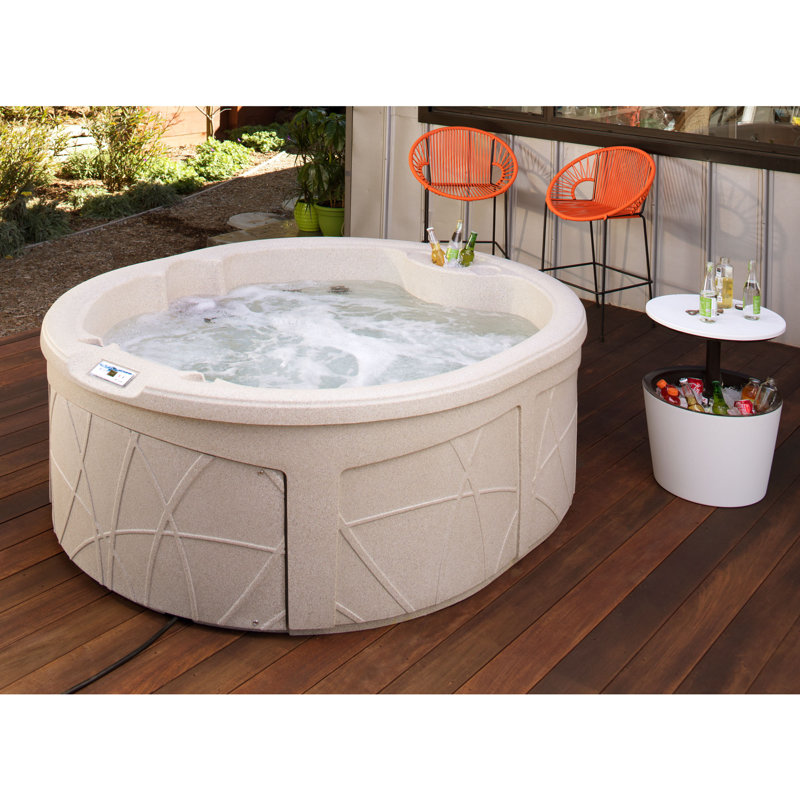 First up on the list is the Lifesmart Spas Rock Solid Luna Hot Tub. This is a very well-rounded hot tub that is easy to use (no installation needed), very energy efficient, and has a full foam insulation feature. Now, one of the more noteworthy and popular aspects of this hot tub is its energy efficiency.
The reason it is able to save a lot of energy is because it has a thermal lockdown cover which retains heat. The more heat it can retain, the less you need to spend for energy to heat up your tub.
Easy plug and play installation
Locking thermal cover
One side seat bench feature
13-jets feature
Digital control panel
2.  Lifesmart Bermuda DLX 20 Jet Hot Tub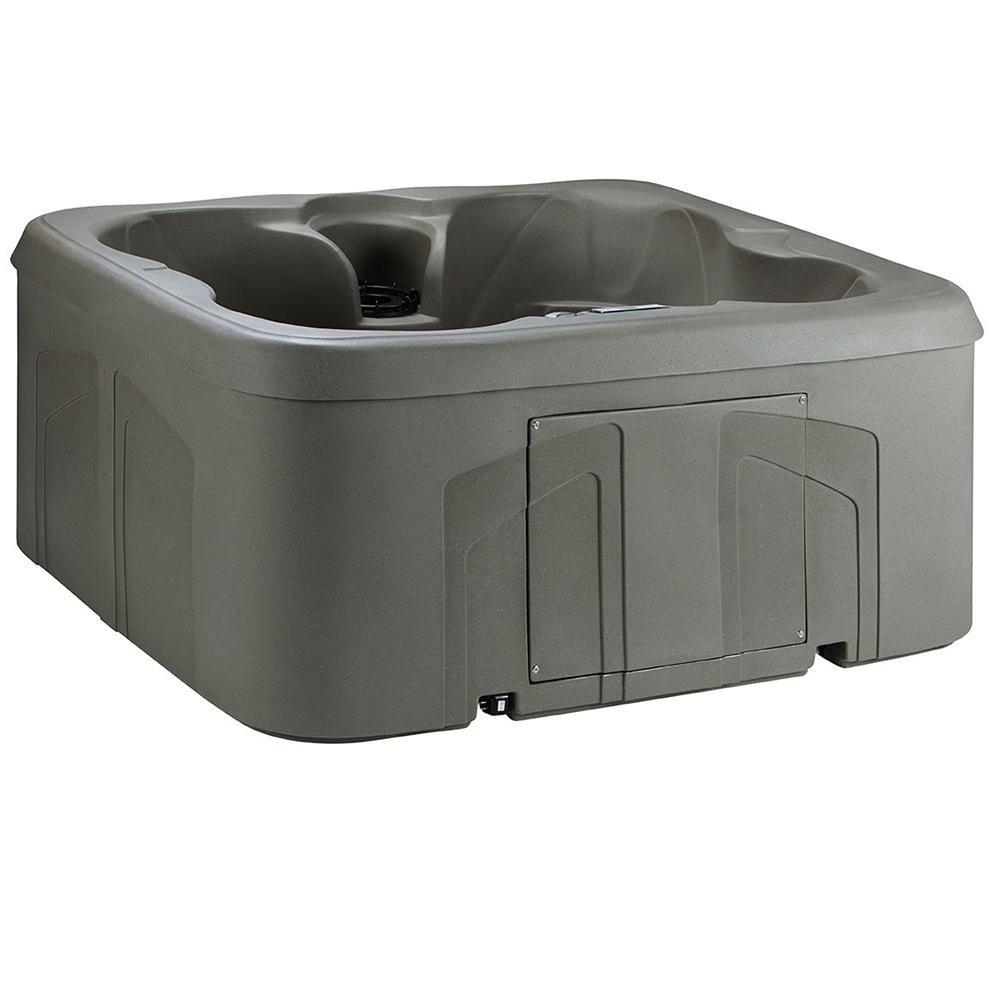 This is another pretty cool hot tub that comes from the brand Lifesmart. However, the main difference between this model and the first one is its shape. Instead of a circular shape, this one sports a square shape. Another significant difference between the two is its number of jets.
While the first one has 14 jets, this one has 20, making it a more powerful hot tub as a whole. It's great for those who want strong jet power for total relaxation.
20 jets
Plug and Play feature
Comes with LED lights
Ozone water care
Easy temperature control
3.  Aquarest Spas Select 150 4-Person 12-Jet Hot Tub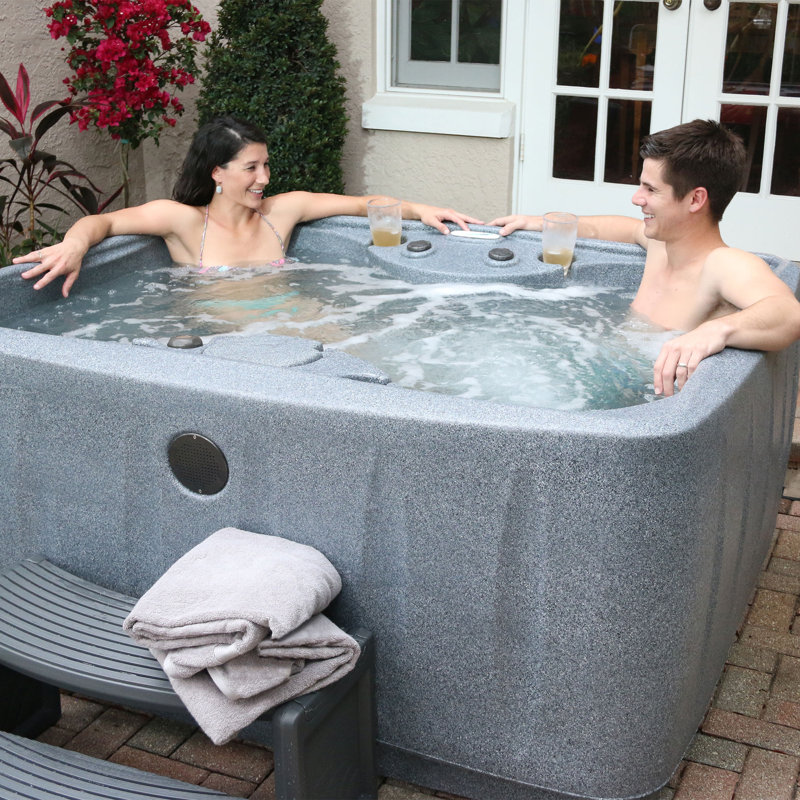 If you're looking for longevity and durability, this is the hot tub to have. This hot tub is made out of impact proof polyethylene material with its jets made out of very hard Stainless Steel. That alone will tell you that it's a hot tub that surely won't wear out very fast and won't get scratched very easily.
With a hot tub like this that's built to last, you won't have to worry about spending more money for repairs or buying a new one.
12 stainless steel jets
Very strong polyethylene material
LED backlit with waterfall
9 light settings
Lightweight and portable built
EZ Kleen filtration system
4.  Aquarest Spas Premium 400 4-Person 20-Jet Hot Tub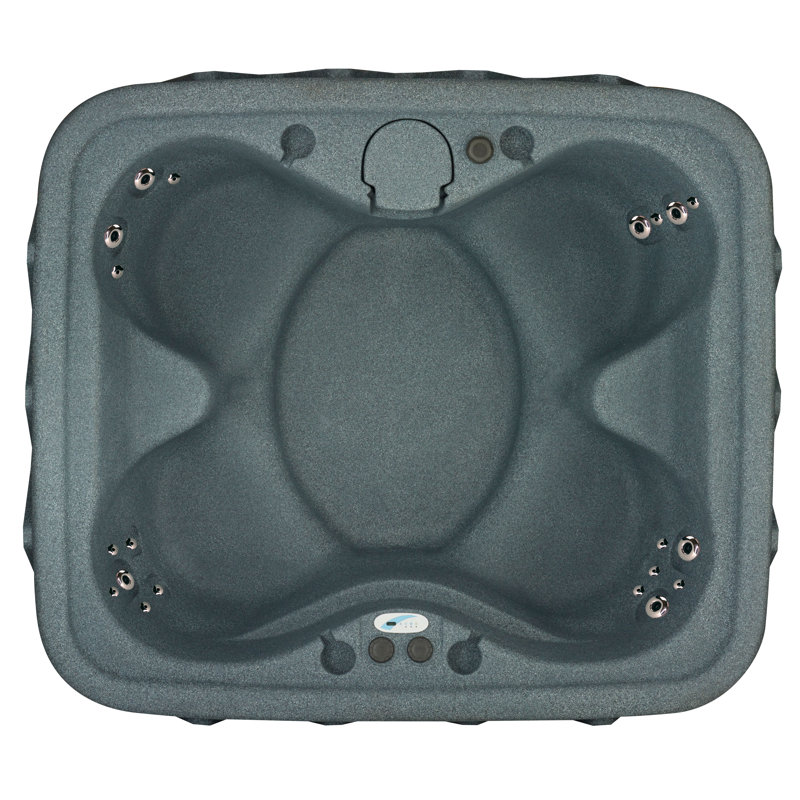 Premium hot tubs offer great features just like this Aquarest Spas Premium hot tubs. Not only is this hot tub extremely durable, but it is also very efficient in keeping the water clean.
First of all, it makes use of an EZ Kleen filtration system which keeps the water fully clean. At the same time, it also makes use of ozone to kill unwanted substances such as contaminants. It has a built in ozonator that can do all of these things with the utmost efficiency.
Very durable built
EZ Kleen Filtration
Built in Ozonator
Easy plug and play feature
Stainless steel water jets
5.  QCA Spas Malta Hot Tub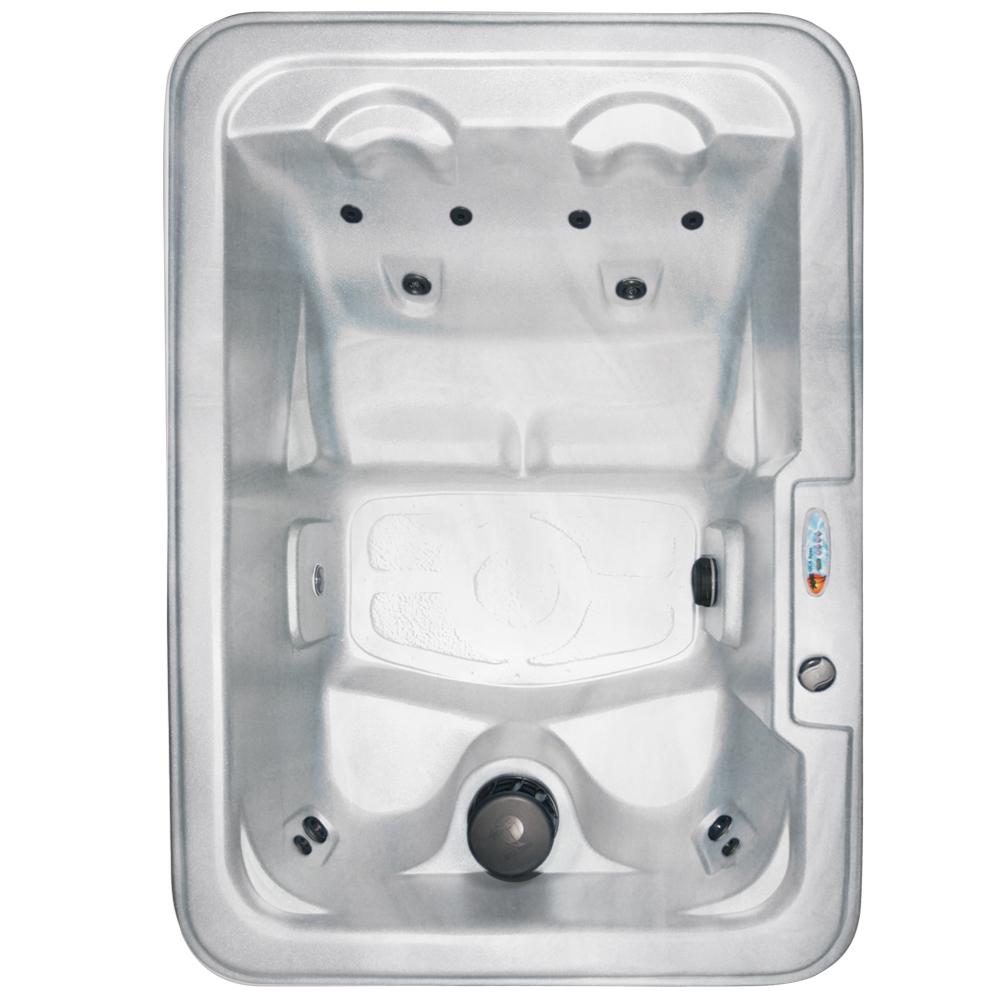 The Aquarest Spas aren't the only durable hot tubs on this list. The QCA Spas hot tubs have also made it here. To be a little more specific, the QCA Spas Malta hot tub is also known for its high durability being made out of a Lucite and Acrylic blend material.
The base layer, on the other hand, is made out of ABS for added impact protection. It is known to be completely weatherproof making it one of the best four person hot tubs for outdoor usage.
Made out of Lucite and Acrylic blend
Has an ABS layer on the base
Has a heat retention feature due to the polystyrene foam
Weather resistant design
Has an insulated cover
6.  Home and Gardens Spa Hudson Bay Hot Tub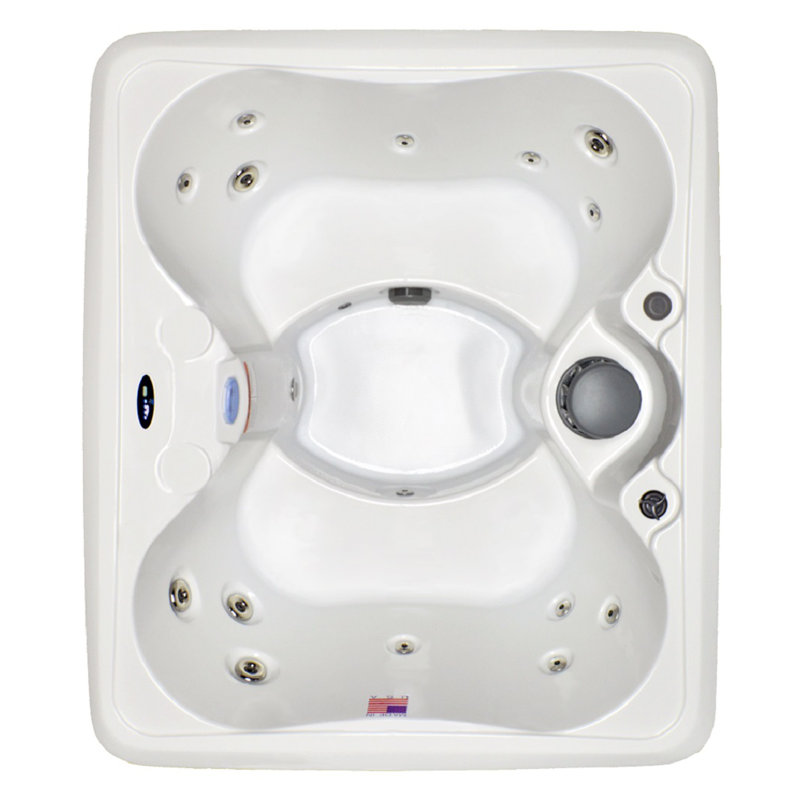 One of the aspects of this hot tub that can instantly grab you is its design and color. It is complete pearly white, making it look very clean and very appealing to the eyes. Aside from just aesthetics, it is also a very safe tub since its material is made to be slip resistant. It's great for those who are prone to accidents.
Comes with digital control board
Pearly white color
Slip resistant feature
Very durable material
Lockable cover inclusive
7.  Essential Hot Tubs Newport Lounger
Lounger is the perfect name for this hot tub since it's a great hot tub to really relax in. That's because it comes with a passive therapy switch that can give you a very light massage. If that's too weak for you, a simple push of a button can change that light massage into a stronger one which can help with muscle aches and joint pains.
Easy massage jet control
Contoured seating mold
3 therapy seats
Plug and play feature
14 jets included
8.  Premium Mont Blanc Inflatable Bubble Hot Tub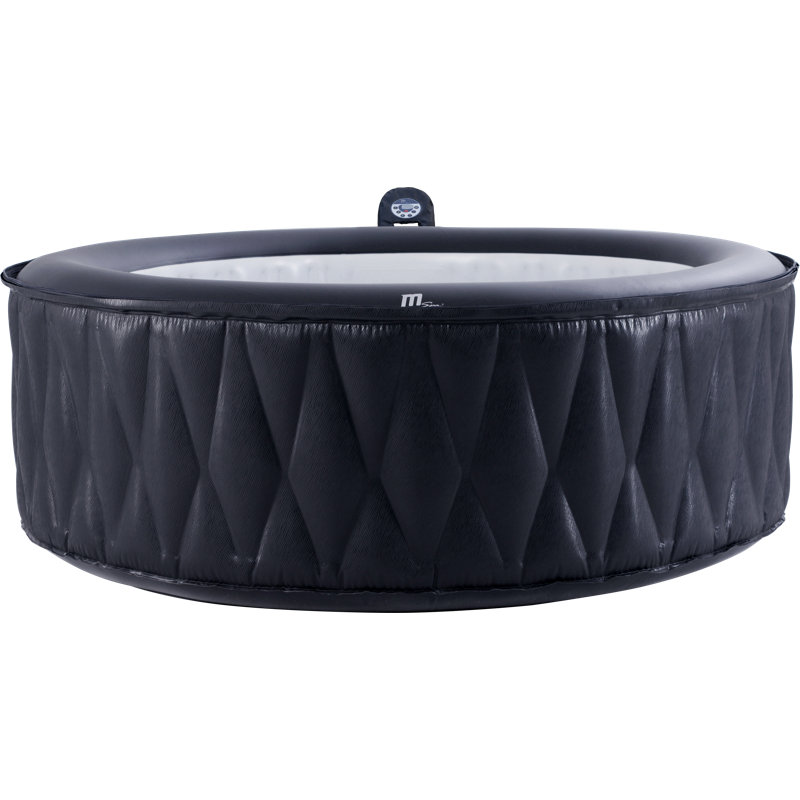 If you're into inflatable hot tubs, then this a product that will surely appeal to you. It is black, making it able to mix with pretty much any surroundings. It comes with 110 volts and has a water capacity of up to 245 gallons. It's a great inflatable hot tub for outdoors.
Beautiful black color
Vinyl material
Has amperage of 15 amps
Comes with air blower
Inflatable built
9.  Coleman Saluspa Airjet Inflatable Hot Tub
It might not have much in the looks department, but it does have a lot of cool things included in the package. In this package, you'll find a pool cover, a chemical floater, 2 filter cartridges, air pad guards, an Airjet system, repair kit, and a very comprehensive manual.
We can say that this has the most complete package that you can find in any inflatable tub pack.
Complete package
Relaxing Airjet system
Stop timer included
Controlled heater
Safety lock included
10.  Intex Pure Spa Inflatable Hot Tub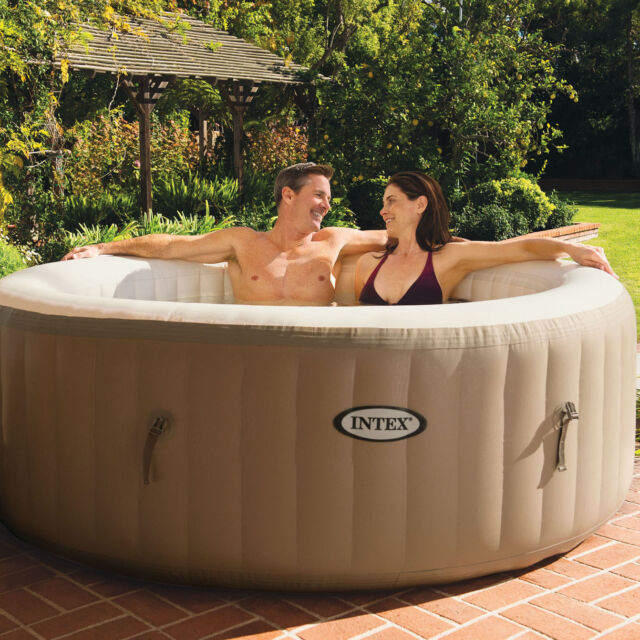 This is another inflatable hot tub that's great for your backyard. It's portable so it's easy for you to carry around. In fact, you can set it up in a matter of minutes. After that, all you need to do is use the control panel, and you can make use of up to 120 jets for massage and relaxation. Since it's so compact, you can even bring it with you on trips.
Beautiful brown color
Compact and portable
Has 120 bubble jets
Easy to use control panel
20-minute fast heating time
Conclusion
Now that we're done going through the 10 best 4 person hot tubs, let's discuss the best out of the best. For us, we'd most likely pick the Lifesmart Spas Rock Solid Luna Hot Tub. That's because it offers the most value for money. It comes with an adequate set of jets, digital control panel, and highly efficient insulation. But most of all, it is very energy efficient. That's why we know it can give the most bang for your buck.