Clicking this article means that you are interested to know the best above ground pool filters in the market. Luckily, we will give you so much more than just the above ground pool filter system reviews, but also some effective tips on how to score the best value for the money.
Why Are Pool Filters Very Important?
If you still have doubts about buying a pool filter on top of getting the best pool filter pump, then it's time to let go of that inhibitions.
The more time you spent on thinking whether or not to buy, the more time you waste and put your pool water vulnerable to algae, bacteria, debris, and other contaminants.
The best pool filter system is a must-have pool technology as it is the one responsible for cleaning and sanitizing the pool water, thus enhancing the pool water's quality. This means that you will have a clean and refreshing water to swim in anytime.
How does it work?
Pool filters don't work alone; they can only function when the above ground pool filter pump is also turned on. Therefore, the pool filters and the pool filter pump work together. They push the water through the filters, which then traps and removes the debris and contaminants present in the water. Depending on the type of filters used, some filters can remove particles at a microscopic level.
Things to Look for When Shopping for Above Ground Pool Filters
Now that we have established the importance of a pool filter, we will now discuss the features to look for when buying one.
Check them out below:
This is the most important thing to consider. In order for the pool filters to work efficiently, you must choose the right filter for the specific pool that you have.
In addition, since the filters work in conjunction with the pool pump, it is smart to always check the pump unit and model number.  Make sure your filter and pump are compatible. The size and the flow rate of the filter are some of the crucial things to check.
As a rule of thumb, the flow rate or the GPM of your filter must be at least the same with the GPM indicated in the pool pump. This means you can have higher flow rate but nothing lower. This is to ensure that the filters can withstand the volume of water push through the filters by the pool pump.
Another important thing to consider is the installation steps. Above ground pools are a type of pool that is installed above ground level. Thus, they follow a different installation process as compared to the most common pool type—the inground pools.
Fortunately, some pool filters can be installed within 10 minutes. There are also installation manuals available so that you can set up the filters properly.
It pays to always research if you need professionals to complete the installation, if the manual says so, then it is not worth it to buy that filter.
You need not have to hire a professional to install the filter. But you can, however, ask friend or family to help you out if they have the know-how. If you are a first-timer, there are plenty of YouTube tutorials to watch and follow.
Of course, you want the filter to last longer. Who wouldn't?
Ideally, the best above ground pool filter should last a year or a full season cycle. But these models are usually the advanced type and may cost a lot. If you want to settle in the mid-range price, get the filters than can last up to 6 to 9 months.
5 Best Above Ground Pool Filters Reviews
We want you to get the best deal in the market. That is why we created this list to help you narrow down your list.
After thorough research, we finally made our list of the 5 best pool filter system kits:
1.  Intex Above Ground Pool Krystal Clear Filter
Intex has been a trusted name when it comes to pool system and equipment. They are known to produce some of the best and high-quality pool filters in the market as well.
This Krystal Clear Pool Filter is a sand filter/pump system that is the perfect choice for those seeking a filter that runs automatically with a set time.
A smart and advanced technology is what makes this filter a constant favorite by many. Included in the package is control valve with 6 functions and the 24-hour timer setting.
This is the perfect and best pool filter pump system for 16-feet pools and above.
Best Features:
This runs quietly and smoothly, thus perfect for both outdoor and indoor above ground pools.
A very powerful filter with 3,000 gallon per hour (GPH) flow rate
Uses natural sand that gives excellent water filtration
Cleans and removes debris and particles at a microscopic level
Allows you to filter, backwash, rinse, and drain the pool system
Buying this pool filter system includes a strainer for trapping large clumps of debris
You can also buy this filter with a surface skimmer or maintenance kit (at an additional cost).
2.  Sand Master Pool Sand Filter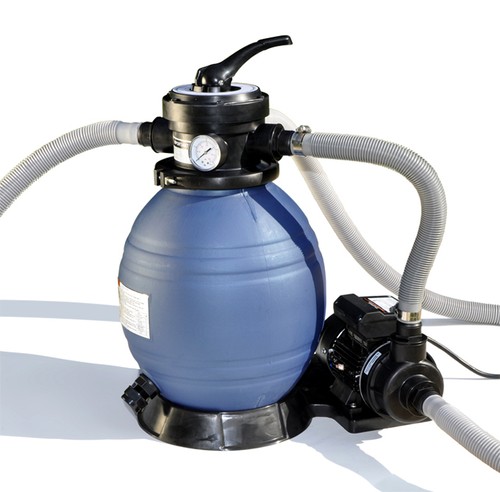 Another familiar and reputable name that manufactures some of the best above ground pool filters is the Sand Master. As the name entails, this brand masters the technology of the pool system.
This is a soft sided pool filter that is capable of cleaning pools up to 9,600 gallons. Thus, you can only use this pool filter for small above ground pools. Nevertheless, this model is an excellent choice for a quiet and fast filtration task.
It's important to follow the recommended operation steps when using this pool pump filter. This is because the filter can easily jam up. Also, this filter starts immediately when connected to the pump as it doesn't have a switch to turn on/off the filter.
Best Features:
Operates quietly without unpleasant noise
The perfect choice for smaller above ground pools that hold up to 9,600 gallons of water
It has a total of 42 pounds of sand
Has 4 functions, allowing you to backwash, rinse, and drain the system
The tank is also corrosion-resistant, making it really durable.
Comes with all the complete accessories needed such as the hoses and all the needed fittings
With one-year warranty service
3.  Hayward XStream Pool Filter Pump System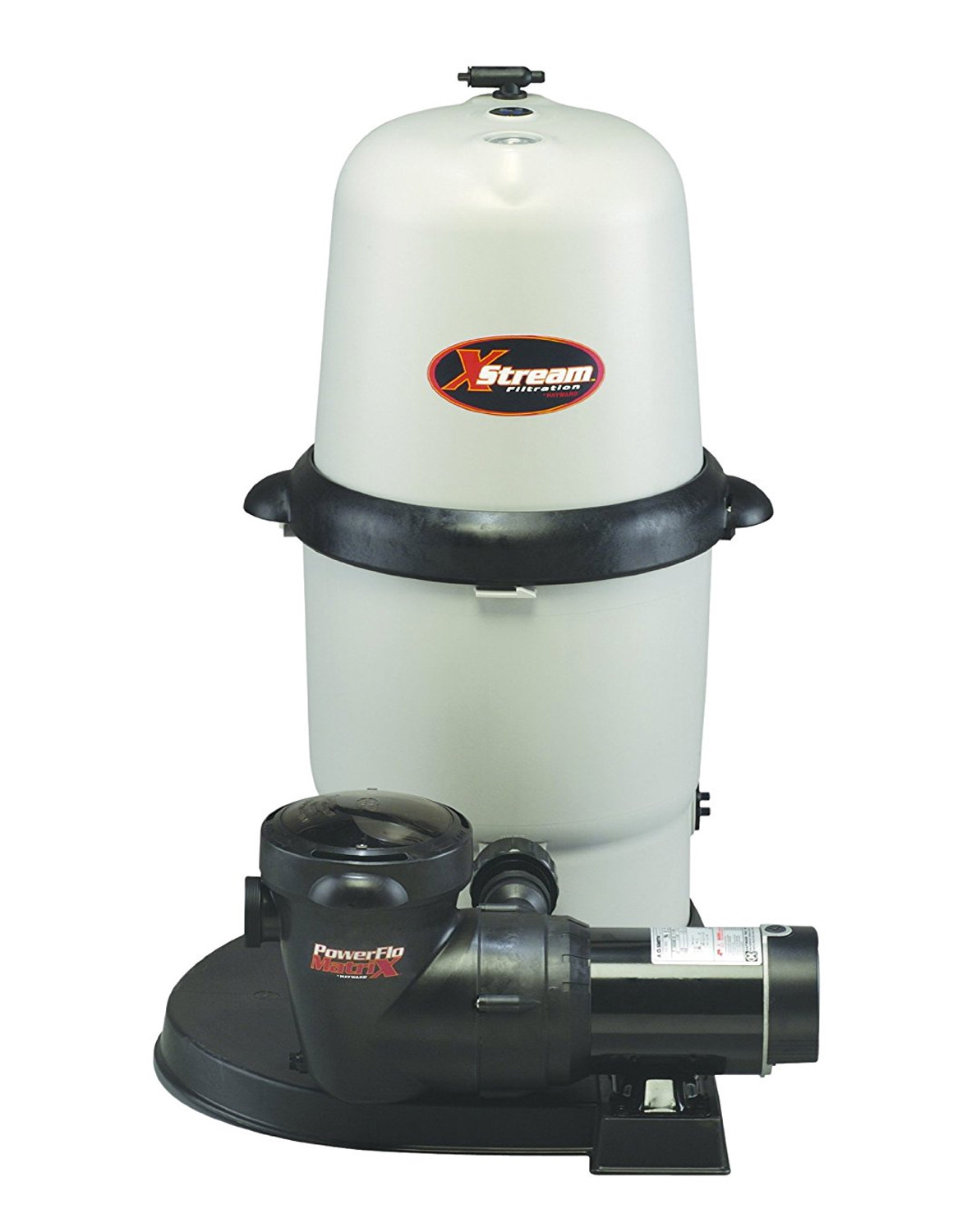 If you are looking for the most durable above ground pool filter in the market today, then the XStream Filter Pump System by Hayward is the perfect match for you.
This is a cartridge pool filter that is praised for its glass reinforced and corrosion-resistant filter tank. One glance and you can already tell that this is a premium pool filter.
Not many people are keen in using this filter because it's quite expensive. However, if you take into consideration the durability, power, and efficiency of this pool filter, then you get so much value to your money.
Best Features:
Ideal for large above ground pool a sit can filter water of up to 57,000 gallons
Very powerful and efficient and removes contaminants at a very microscopic level
Provides hassle-free and quiet operation, giving you optimum filtration and pool water sanitation
Has a safety catch which prevents the lid from being too tight
Can filter a lot more and a lot longer as compared to average pool filters available
Easy to install as it has flexible and robust plumbing
4.  GAME SandPRO Complete Pool Sand Filter
The next pool filter kit we have is a replacement filter kit for above ground pools. It works best for Intex pools and Bestway pools.
A lot of buyers vouch for its filtration performance and its efficiency. This is also recommended for beginners and novice as it has an easy to follow installation manual. On top of that, the GAME SandPRO pool filter is also easy to clean and maintain.
After some research, we can say that this is the best above ground pool filter replacement for medium-sized above ground pools.
Best Features:
Designed and engineered for above ground pools that hold up to 10,000 gallons of water.
Equipped with ultra-quiet filtration system that runs on a high flow rate at ½ HP pump power
Easy to operate and easy to install
Has 4 functions that allow you to backwash, filter, rinse, and winterize the entire pool filter pump system
5.  Rx Clear Pool Sand Filter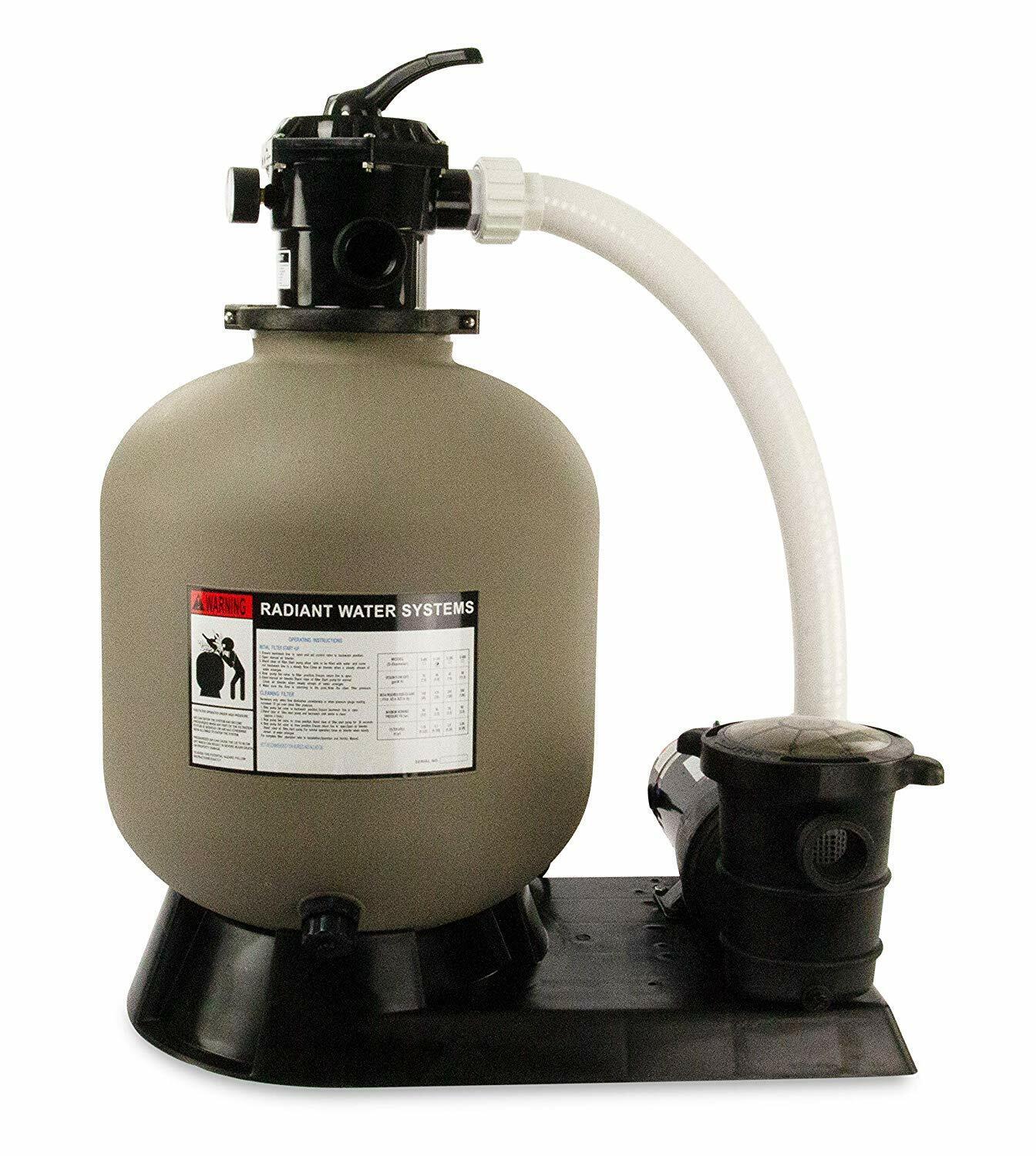 Last on our list, but definitely not the least, is this complete sand pool filter by Rx Clear. This is a full system that has a premium Niagara pool pump, corrosion-safe filter tank, high-pressure hose, hose fittings, and stainless-steel clamps.
When asked which of the pool filters on the list is the most economical choice for medium-sized pools, then the Rx Clear pool filter is what we would recommend.
Best Features:
Perfects for pools with 26,000 gallons of water
Very easy and safe to use
Installation instruction is simple to follow, ideal for beginners
At a budget-friendly price and full system package, this is an excellent pool filter for pool owners
With a 3-year limited warranty
Our Top Pick!
If you consider getting a highly durable and high-performance pool filter system, we would suggest you invest in Hayward XStream Above Ground Pool Filter Pump System. It is packed with amazing features, built to last for a long time, and has safety features too.
For the practical and economical individuals, we recommend the Rx Clear Above Ground Pool Sand Filter. It's inexpensive, can clean great amount of water, and has a 3-year warranty service.