A pool pump comes in handy in controlling the filtration and operation of the pool in order to get rid of debris and other contaminants. Having the best above ground pool pump will make all the difference when it comes to a clean and clear pool.
However, since the market is loaded with so many above ground pool pumps, finding the most suitable for your needs can be daunting. In this article, we will look at some of the best above ground pool pumps and their buying guide.
10 Best-Selling Above Ground Pool Pump Reviews
1.  Blue Wave NE6171B Maxi Pump for Above Ground Pools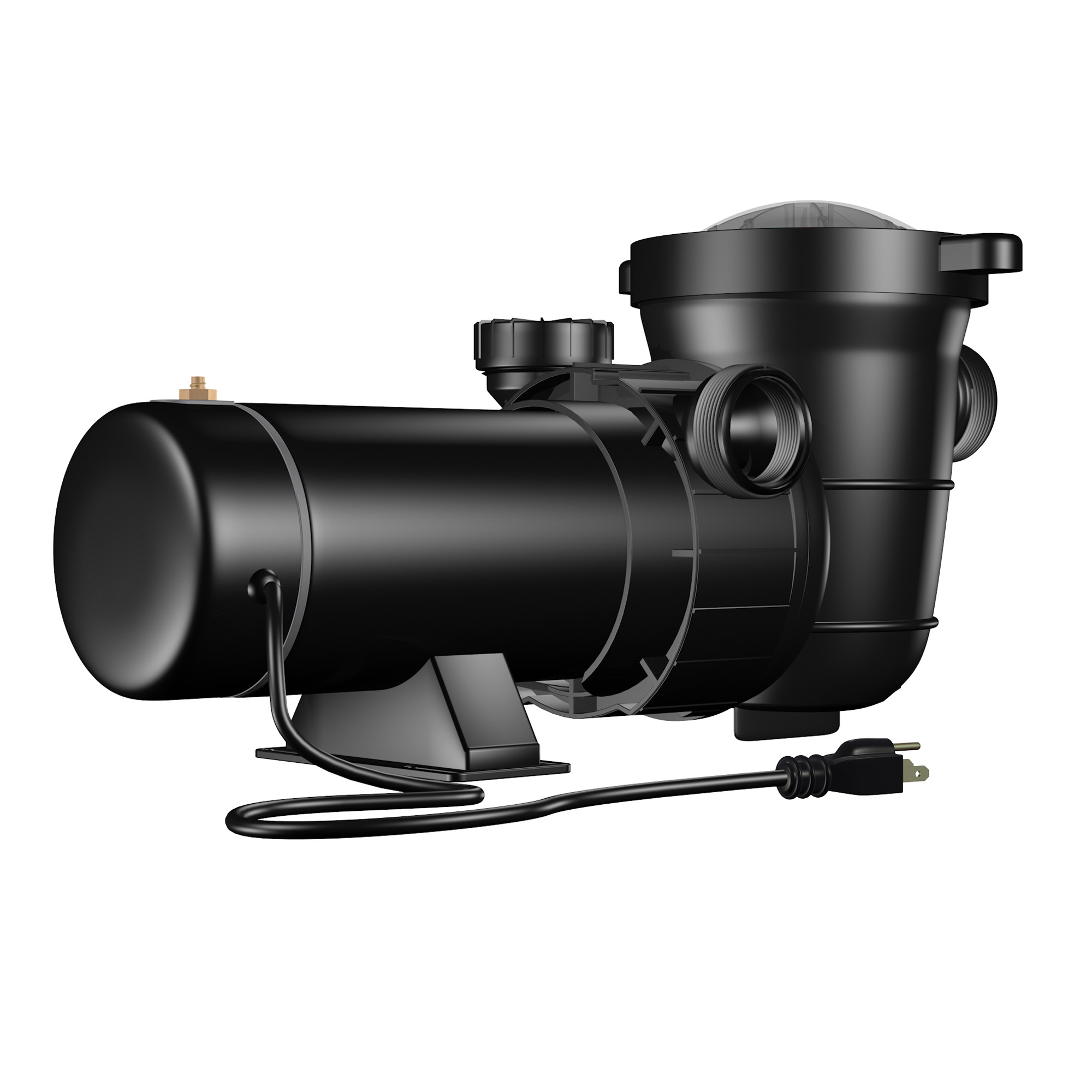 If you are looking for the best above ground pool pump that doesn't require technical installation, the Blue Wave NE6171B Maxi pump would be a great choice. This pump features a dual-port design that allows you to mount it horizontally or vertically.
Constructed from durable polymer, the pump is corrosion-proof and it lasts longer than other ordinary above-ground pumps. The 1.5 hp pump is energy efficient, features a 6-ft power cord and is made for 110-volt service.
We especially find the self-priming pump very useful since it doesn't require you to fill the suction side in order to fire the pump. Plus, you will love the extra-large clear lid that makes cleaning and maintenance easy.
Most people who have used this pump say that it has a powerful suction. However, others noted that the pump is not well rated and that it lacks a power switch and timer.
Things We Liked:
Dual-port design for flexible installation
Powerful
Quiet motor
High capacity
Weatherproof construction
Things We Didn't Like:
The pump needs adapters
Doesn't include a timer
No filter
Lacks on/off switch
Blue Wave NE6171B Pool Filter Reviews
2.  Harris ProForce 1.5 HP Above Ground Pool Pump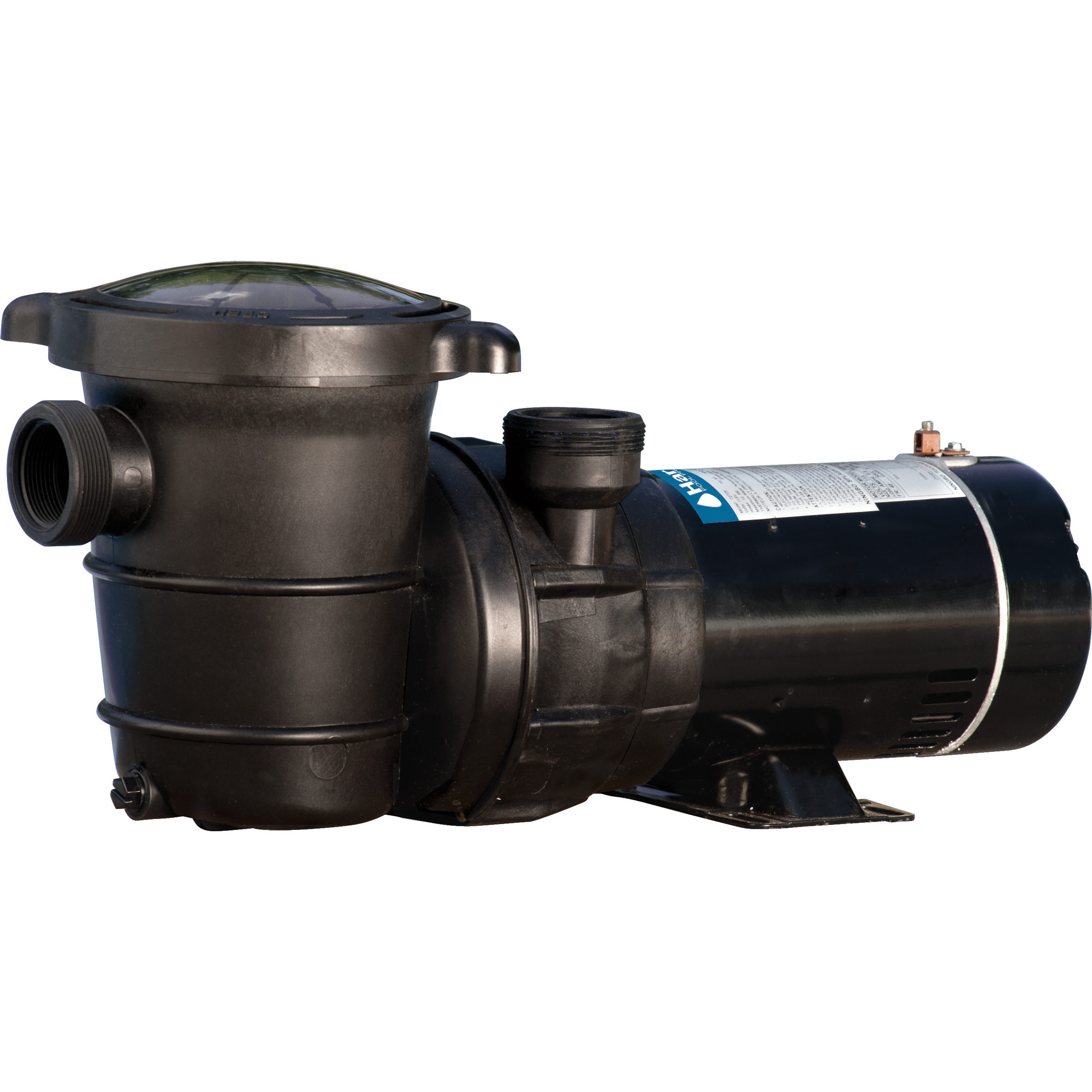 The Harris ProForce 1.5 hp pump is a model you would want to consider if you are looking for a pump that will give you years of service. This is thanks to its reinforced thermoplastic construction that is extremely durable and well-made.
Besides its sturdy construction, the efficiency of this pool is another thing that makes it stand out from other above ground pools. The pump is well-engineered and this makes it efficient and less noisy compared to its counterparts.
Another good feature of the ProForce Strainer is the large filter basket with clear lock and twist lid that makes it easy to clean and empty. Also, the fact that it has met all the CSA and ETL requirements makes it an exceptional choice.
However, one user said that the pump has a short lifespan, especially when exposed to weather elements like rain.
Things We Liked:
Sturdy construction and great durability
High efficiency
Large, easy to clean filter basket
Low noise
Things We Didn't Like:
Lacks on/off switch
Not suitable for storable pools
Prone to damage when exposed to weather elements
3.  Hayward SP1580X15 Power Flo LX Series Above Ground Pump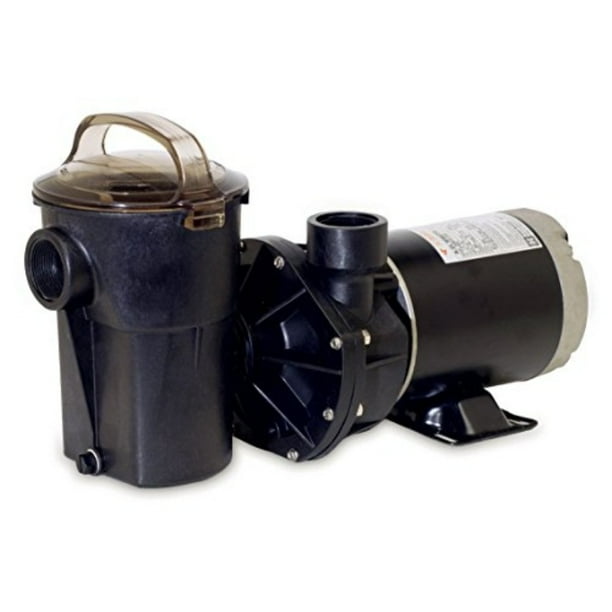 Coming from a trusted and reliable brand, the SP1580X15 is specifically designed for above ground use. This pump is equipped with a 1.5HP motor which is extremely powerful and will help your pool remain clean at all times.
Despite being powerful, the motor runs quietly than most pumps in the same product range. Hence, you can rest easy knowing that it is unlikely to interfere with your pool party.
The SP1580X15 is built with durable thermoplastic housing that makes it impervious to corrosion, cracking and sunlight. Interestingly, the pump comes equipped with a heat-resistant, dip proof double-sized seal that ensures long motor life.
The pump features a large basket strainer with a transparent cover that lets you see when the basket needs to be extracted.
Although some users admit that the SP1580X15 is a great model, a good number of them say that it has a short life span. Nonetheless, this is still a great above ground pool pump for value and performance.
Things We Liked:
Powerful motor
Operates quietly
Clear debris basket cover
Easy to install
Heavy-duty construction
Things We Didn't Like:
Lacks built-in timer
Filter cover gets stuck on
4.  Pentair Dynamo 1.5 Horsepower Above Ground Pool Pump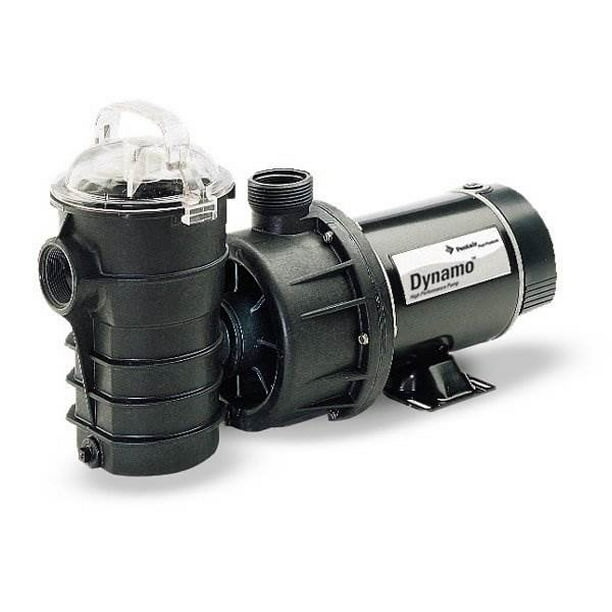 The Pentair Dynamo is one of the best above ground pool pumps that boasts durability and efficiency thanks to the high-quality hydraulic engineering. This pump features a reinforced fiberglass construction that allows for strength and durability.
Pentair Dynamo pump has unique pumping components that allow for great pressure in a variety of water flow rates. The pump features standard 1.5" ports that let you install it with ease.
What we find most impressive is the low energy requirements of the pump, which then translates to lower energy costs.The 1.5 horsepower motor allows for lower operating costs and lets the pump run more quietly.
Best of all, this model features an extra-large strainer basket that ensures pool maintenance at longer intervals. Moreover, the see-through lid eliminates the need to keep guessing whether the debris basket is full or not.
While this product is the best above ground pool pump, several customers say that the product failed within a few months of installation. There are also complaints that the device eventually gets noisy.
Things We Liked:
High-quality fiberglass construction
Quiet operation
Lower energy requirements
Great power
Easy installation
Things We Didn't Like:
Doesn't last long
Develops a loud noise during operation
5.  XtremePowerUS 1.5 HP Self Priming Above Ground Swimming Pool Pump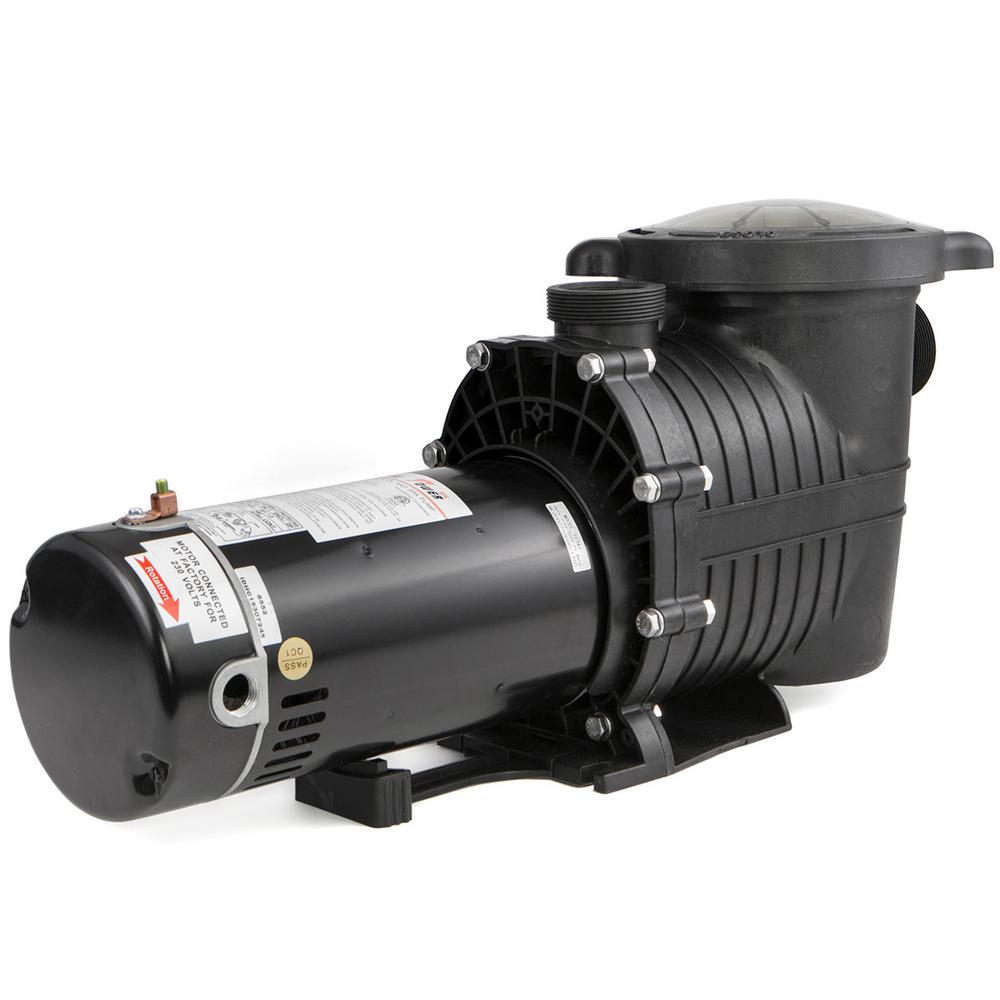 Designed for above ground pool application, XtremePowerUS is an excellent choice for retaining clean water in your swimming pool. The housing of the pump is constructed with a high quality polymer material that is corrosion-proof.
The pump is quite powerful thanks to its 1.5 HP motor that operates at 115 volt/60Hz currents. As a result, it can transfer water at a rate of 4900 gallons per hour; which is adequate for above ground pools of up to 36ft.
As an above ground pool owner, you probably know how difficult it can get to winterize this type of pool. Fortunately, the XtremePowerUS pool pump features a built-in drain plug that provides protection and resistance against cold weather and winterizing conditions.
We love the self-priming pump which releases air from water in order to prevent the motor from running dry. It includes a large strainer basket.
Additionally, the pump is UL and CSA certified to meet the standard of safety requirements. This way, you can be at peace using the product without worrying about your safety.
Things We Liked:
Drain plug for easy winterization process
High-performance motor
Includes on/off switch
Easy installation
Things We Didn't Like:
Low setting is not strong enough
Pump power could be better
XtremepowerUS 1 5 HP In Ground Pool Pump Reviews
6.  Yescom 1.5HP Above Ground Swimming Pool Spa Water Pump
This pool pump makes it easy to care and maintain your above ground swimming pool and spa. Equipped with 1.5 HP motor, this model can pump water efficiently and doesn't produce noise during operation.
Included in the pump is a big strainer basket for optimal maintenance. Besides, it gives a maintenance-free operation and comes with a manual to ensure that you install and use the pump with ease.
This pump is great to use on above ground pools and 24"-26" sand filter. Best of all, it has met the ETL and CSA requirements. Individuals who have used this pump say that it is powerful and quieter than most models.
Things We Liked:
Extremely powerful
Very quiet
Massive strainer basket
CSA and ETL certified
Things We Didn't Like:
Stops working after a while
Strainer needs frequent cleaning
7.  HappyBuy Swimming Pool Pump 2.5HP
This is the best pool pump by Happybuy features a 2.5 HP motor which is suitable to use in pools up to 80, 000 liters. Because of its large capacity, this pump is ideal to use in both residential and commercial pools and spas.
This product has an advanced s-tek flow system which is useful in ensuring increased efficiency with a continuous large flow rate of 448L/min.
Our favorite spec is the built-in thermal overload protection which is found in the removable strainer basket. This is a good thing as it offers protection when the water circulates and passes through the filter.
What's more, this pool pump is guaranteed to last for a long time as it is made with durable and corrosion-proof materials.  The materials have high resistance to the elements and chemicals usually associated with pool maintenance.
Most users also note that the pump is quiet and efficient compared to most models.
Things We Liked:
Wide application; residential and commercial pools and spas.
Large flow rate
Built-in thermal load protection
Strainer basket for debris collection
Constructed from durable and long-lasting material
Things We Didn't Like:
The 2.5 hp pump is not very effective
Installation documentation isn't clear
There is a need for hose fitting
8.  Waterway Plastic PH1150-6 I.5 Hp Hi-Flo Above Ground Pool Pump
Keep your above ground pools sparkling clean with this Waterway Plastic pool pump.
This model has a high flow rate that enables faster filtering cycles. The 1.5 HP is powerful and produces an exceptional vertical discharge performance that does a great job of circulation in your pool.
A highlight of this above ground pool is the 1.5" union and self-aligning union discharge. Also, it comes with high head capability with a 3 ft attached cord, 115-volt power cord and 6-inch pump trap that features a one-piece clear lid.
The pump features a wet end that can easily be rotated for hassle-free installation.However, some users say that the pump does not last very long and it stops working after a few uses.
Things We Liked:
Wet end for easy installation
Can be mounted either vertically or horizontally
High-performance motor
Produces no noise
Packs 115 volts of power
Things We Didn't Like:
Stops working after a few months
3ft cord may be too short for some users
Quality control problems
9.  Intex Krystal Clear Sand Filter Pump for Above Ground Pools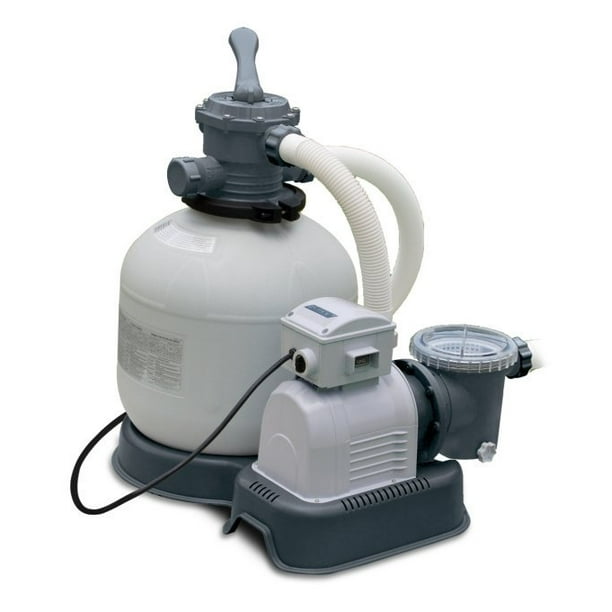 Are you contemplating getting above ground pool pumps that will give you the cleanest pool? This pump is equipped with a sand filter that comes in handy in cleaning your dirty pool within a few hours.
An exceptional feature is the 24-hour timer that allows you to program the pump to run when you are not using the pool. Plus, the strainer basket ensures a hassle-free cleaning experience and also adds to the life of the sand.
With this pump, you can achieve a flow rate of 3000 gallons per hour, which is adequate to filter pools of 16 inches and above. It also includes a heavy-duty tank, pressure gauge and 6-way valve for various maintenance options.
What we find most fascinating about this product is that it doesn't require maintenance, making it a cost-effective option. It just needs sand replacement which is done once every five years.
Things We Liked:
Built-in timer
Needs no maintenance
Suitable for large pools
Large strainer basket
6-function control valve
Things We Didn't Like:
Produces a little noise
Leaks sand
Heavy to carry
10.  Intex Krystal Clear Saltwater System with E.C.O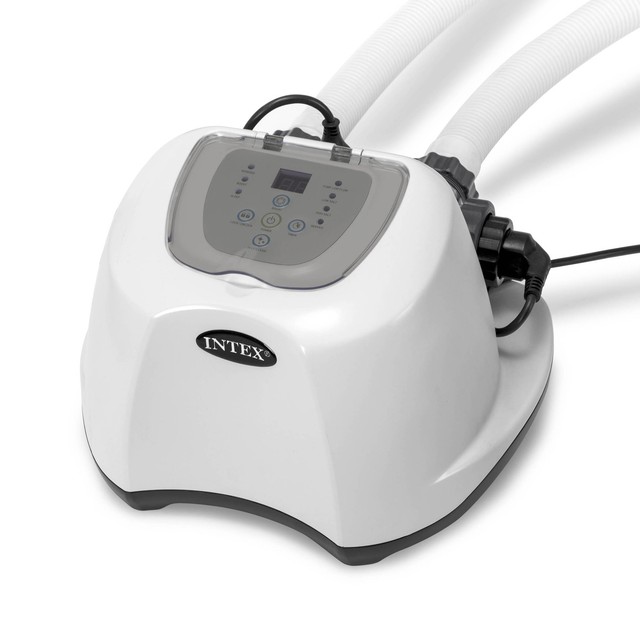 This pump comes in a sleek and stylish compact design with an enhanced digital control panel. This product connects to your filter pump with a flow rate of 700 to 3000 gallons per hour to keep your water clean and sanitized.
The Krystal Clear Saltwater System features Electrocatalytic Oxidation which uses natural salt to make natural chlorine. This makes the water much safer and eliminates the harsh side effects of chlorine and other chemicals.
Also, the Electrocatalytic Oxidation is responsible for splitting water molecules to powerful oxidants. These oxidants destroy organic contaminants such as algae and bacteria.
Nonetheless, some users have noted that the system shuts down when the salt drops. There is, therefore,a need to adjust the run time based on the salt difference.
Things We Liked:
Cleans water without harsh side effects
Digital control Features Electrocatalytic Oxidation that produces natural salt
panel for easy use
Sleek compact casing
Auto timer
Things We Didn't Like:
Issues with durability
Doesn't work well when the salt level drops
How to Choose the Best Above Ground Pool Pump
When shopping for an above ground pool pump, there are numerous factors that you need to keep in mind. They include;
1.  Size of Your Pool
One of the things that you need to consider when selecting the best above ground pool pump is your pool's volume of water. Once you know the size of your pool, it will be easier to determine the pump with the right horsepower.
For instance, if you own a standard pool, a pump with 1 to 2 horsepower would be ideal. On the other hand, the best above ground pool that is large will require a heavyweight pump with high horsepower.
2.  Energy Consumption
Once you have identified the right pump that matches your pool capacity, you now need to figure out its energy consumption. Knowing the amount of electricity that the pool pump consumes will help you avoid expensive utility bills that outweigh your budget.
For most models, the energy usage is usually indicated in the manual. Alternatively, you can research online or ask around. 
3.  Construction
This goes without saying especially if you are looking for the best above ground pool pump that will serve you for a long time. Make sure that the model you choose is made of quality material that will resist sunlight, heat and impact damage. The last thing that any pool owner wants is a pump that degrades and leaks over time.
4.  Filtration Type
The other factor is to consider the right type of filter for your needs. Basically, there are two types of filters for above ground pools; cartridge and sand. Each type has its benefits and shortcomings. Sand filters are cost-effective and can go for up to 5 years before needing replacement.
On the other hand, cartridge filters are an expensive option but they do a great job of maintaining clean and clear water. Another drawback of this filtration system is that it requires frequent replacement.
5.  Ease of Installation
The best filter pumps are easy to install and they do not require technical knowledge. For ease of installation, we recommend choosing models that do not use non-standard ports as well as those that don't need to be wired directly to your home's electrical system.
Also, make certain that the pump comes with a 3- prong electrical cord and makes use of standard 1.5" intake and drain ports.
Conclusion
With the best above ground pool pump, you can be assured of clean and clear water in your swimming pool at all times. While all the above pools are a great investment, the Intex Krystal Clear Saltwater System with Electrocatalytic Oxidation tops them all.
With this product, you can be assured of clean freshwater without the damaging effects of pool chemicals. The presence of Electrocatalytic Oxidation plays a major role in destroying bacteria and algae to give a safe pool environment. It also has a digital control panel and sleek compact design.
We hope that these above ground pool pump reviews will help you make an informed decision as you shop for your above ground pool pump.